Lacrosse strategy: Team Strategy for the Sport
Lacrosse Defensive Strategy: Key Strategies to Know
While a significant aspect of lacrosse focuses – understandably – on scoring that winning goal, another critical element can really make or break your game: the defensive strategy. This is an essential tool in learning how to play lacrosse; securing a strong, impenetrable defensive strategy can help focus your team, boost your performance, and increase your chances of winning – but just how do you craft the perfect defense?
The Situation
It is important to remember that defense in lacrosse will differ depending on the situation players find themselves in. There are several common game situations, and these include:
Settled – a settled situation occurs when all players are settled, or ready, as soon as the offense goes on the attack. This is common if there has been a temporary pause in play, such as out-of-bounds play, or a foul from either team.
Unsettled – conversely, an unsettled situation occurs when there's a very quick change of possession, and this offers one team a significant advantage, such as a fast break.
Power Play/Man-up Man-Down – this situation occurs where one team is down a player, usually due to a penalty. The team with the extra player will push forward and focus on scoring a goal, while the other team must focus on defense, trying to hold the line and supporting each defender until the penalty time has elapsed.
Common Defensive Strategies
Many commonly used strategies can help you improve your defense in lacrosse, and drilling these with the team can seriously improve your game and give you an advantage over any team – no matter how skilled. 
Man-To-Man Defense
This is a standard move in settled or regular play; each lacrosse defender is assigned their own zone or area to cover.
This defense strategy requires excellent communication between the team, and each will have 'slide' responsibilities, which requires them to cover a defender who gets passed – the secret is understanding how and when to switch the players for maximum impact.
Man to man defense may be a classic, but when used correctly with a team who knows how to work together, it can be a game-changer for your lacrosse match.
Zone Defense
Understanding how to beat a 1-3-1 zone defense is one of the most common questions asked in lacrosse. This relies on understanding zone defense – a popular alternative to man-to-man defense.
Rather than having a defender guard one specific player, each zone defender is given responsibility for guarding a particular side of the field, or 'zone,' as well as any offensive player who enters this area.
Those playing defense in this way must adjust their position on the field, depending on the ball's movements across the field. Zone defense can be super effective, as it severely limits the movements that the offense can make and gives more power to your defender.
Rather than focus on the next goal, the opposition will be forced to try and escape the defense, shifting their attention.
Additionally, a properly executed zone defense can cause surprise and offer a nice change of pace to keep your opposition on their toes.
Defensive Strategy Top Tips
Ultimately, learning how to become a top defender comes down to practice, experience, and teamwork. It is also important to overcome the psychological factor – it will be tempting to simply focus on the goal.
Quick Feet
Quick feet are a crucial aspect of lacrosse, and even more so when you are in defense; your success will depend largely on your ability to respond to the offense and how well you keep the offensive play in front of you and away from the goal.
Quick feet are integral; you need to move quickly, stay in the most advantageous position, and match the attackers' moves before they have a chance to make them.
Training moves such as jumping rope and running stairs can help boost your agility and improve your overall fitness.
Boost Stick Skills
The defenseman lacrosse stick can be a lethal tool, so making sure your stick skills are first-class is extremely important.
Ensure you can handle the ball and your stick, and you will have an enormous advantage over the other side.
Wall ball is a fast, accessible, and easy way to increase your stick skill – take the time to practice throwing, catching, passing, and scooping.
You also need to work with your stick as much as possible, until it becomes almost an extension of your arm and natural to use.
Communication
Communication is one of the most important features of a successful lacrosse team, and never more so than when you are attempting to mount a successful defense.
Practicing excellent communication skills helps you to respond instantly, work together as a team, and move before the other team has a chance to respond. 
Use Your Triangle
The triangle lacrosse formation has long been a secret to success, and it can be invaluable if you find yourself having to defend a fast break.
As soon as you get the hint that a fast break is on the cards, everybody needs to yell "fast break" – this is the signal to start setting up the triangle.
Remember that the defense will be a man down, meaning one defender will need to cover two attack players.
As the ball carrier moves towards the goal, the triangle must stay firm – the goalie may direct the team to "hold."
As the ball carrier approaches, the call changes to "rotate." As this suggests, all defensive players move as one – the 'point' of the triangle heads to stop the ball.
The back right rotates up to cover the other attacker.
The back left rotates across, ensuring that a strong defense is maintained while the ball is protected.
If a pass is made or a shot is attempted, the rotation will occur, helping to make sure all aspects are covered. 
Getting Good At Defense
The best way to get good at defense is simple: practice, practice, practice.
While there is a temptation to focus primarily on running offense drills, this can leave your defense weak and divided, creating an opening that the opposition will more than welcome.
Get used to running regular defensive drills and honing the skills you need to achieve excellent communication, good footwork, and strong stickwork, to name a few.
Practice The Drills
It is also a good idea to run the 'triangle' drill. Divide the team into two, with one side representing the opposition and the other the defense.
The opposition must create a 'fast break' and attempt to score while the defenders work to implement and hold the triangle – this can be the tricky part, as all players must know their role and stick to it.
If one point of the triangle falters, the whole defense will fall apart, leaving them wide open and vulnerable. Practice this and switch things up so that all players have a turn in either position and focus on improving speed, communication, and fluidity.
Taking the time to hone and refine your defensive skills and strategies can be a real secret to success, and ensure that every member of your team is confident, valuable, and able to bring vital skills to the game – no matter which side they are on. You can even practise lacrosse at home -for that it would be a great idea to get yourself a lacrosse rebounder and other equipment that's necessary for the game.
Strategic Plan | US Lacrosse
The USA Lacrosse Board of Directors adopted a five year strategic plan that will shape the organization's priorities from 2019 – 2023. The adoption was a key step in the planning process that occurred in the Spring of 2018.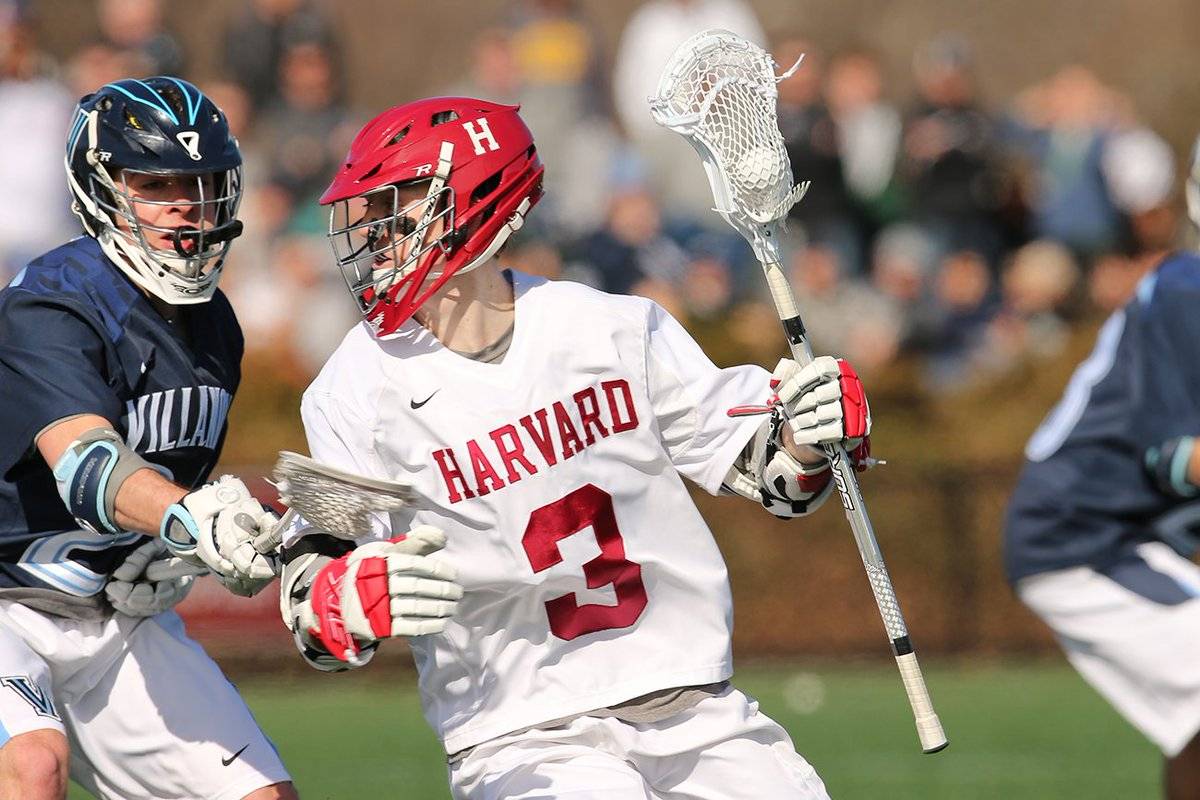 The plan focuses on five key areas:
Quality Player Experience: Providing and advocating for the highest quality experience for all players at every level is imbedded in the vision and mission of USA Lacrosse. It is the most important factor in securing the future growth of the sport. USA Lacrosse will continue to be a leader in the development of best practices that promote a fun, safe and rewarding experience for players, program directors, parents, officials and coaches at all levels of the sport.
Leadership In The Sport: The future of lacrosse relies on the increased accessibility of the sport and the vitality of community, town and recreation-based programs. USA Lacrosse will continue to develop effective relationship at all levels of the sport to positively influence its development. USA Lacrosse will continue its strong emphasis on diversity and inclusion within the sport so that race, gender, sexuality and economic circumstances are not barriers to play.
Increased Brand Recognition: The challenge remains for USA Lacrosse to build awareness of its missions, and correct misperceptions of organizational role and impact within the marketplace and expand knowledge of its wide-ranging initiatives that help grow and improve the sport. More effective efforts to clarify the role of USL, communicate the value of its programs and services, and deepen the understanding of constituents regarding USA Lacrosse's mission and vision will increase the ability of USA Lacrosse to positively impact the sport at all levels.
Secured Financial Future: USA Lacrosse has grown as an organization and helped fuel the growth of the sport nationally and internationally. It has expanded educational programs and developed community level resources; funded research for increased player safety and programs that have improved the quality of experience for all players; and invested at the local and regional level to break down barriers to play.
USA Lacrosse intends to build on these successful efforts and increase its capacity to drive the growth of the sport. 
Elevate Stature and Maximize Impact of National Teams: One of USA Lacrosse's greatest assets is its National Team Program. National Team players and coaches embody the best of USA Lacrosse and the sport, both on and off the field, and they inspire young players. With proper support, National Teams can elevate the stature of the sport and model USA Lacrosse's player development priorities. Increased investment in the National Team program will enable the country's greatest players to have a greater impact on USA Lacrosse's mission.
2019-23 Strategic Plan
What is Lacrosse? (Rules, Equipment, Origins & Strategy) – Lacrosse Pack
In recent years, lacrosse has burst onto the scene as one of the fastest growing sports in America. This has prompted people all around to ask what this sport is all about.
Lacrosse is a men's and women's team sport where players use netted sticks to carry, pass, and shoot the ball to score goals.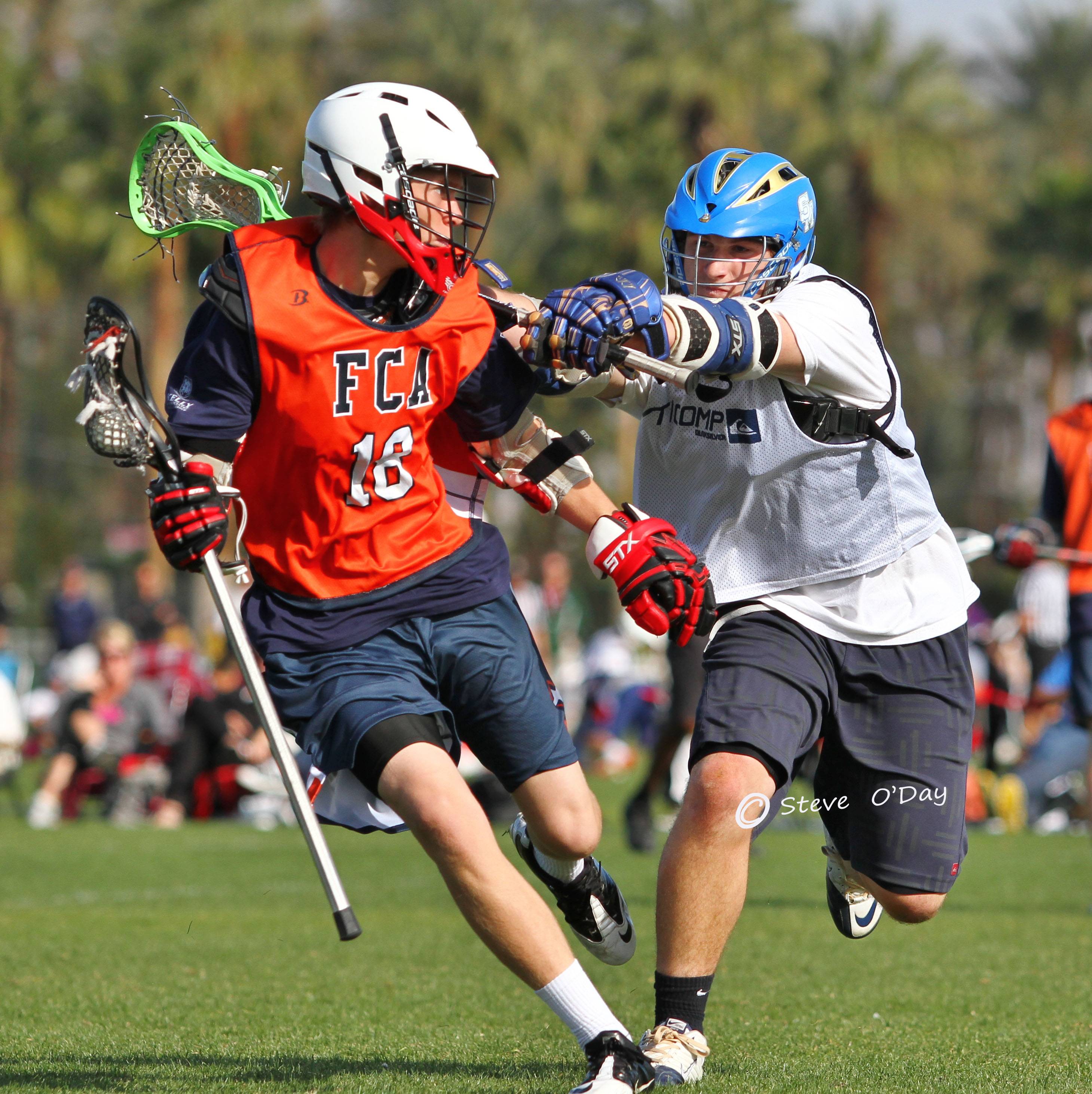 The victor is decided by whichever team puts the ball inside the opposing goal the most. Different versions of lacrosse exist, but this general premise remains the same.
There is a lot more to lacrosse than just that simple summary however. To get a full understanding of exactly what this sport is, it's necessary to take a look at the following:
the object of the game
the rules
the skills involved
the basic strategy
the player equipment
the origins of the sport
the growing popularity of lacrosse
All of these topics will be discussed in further detail in the sections below.
The Object of the Game
The object of lacrosse is to score more goals than the opponent. Lacrosse teams accomplish this in two ways. They score as many goals as possible on the opponent's goal and play defense on the other end to prevent opposing scoring opportunities.
A General Overview of the Rules
Lacrosse has a set of universal rules that govern the sport.
However, there are different versions of lacrosse where certain rules noticeably differ.
The Different Types of Lacrosse
Lacrosse is unique in that the rules between men's lacrosse and women's lacrosse differ tremendously, particularly in the realm of contact.
Men's Lacrosse – Men's lacrosse is the very definition of a contact sport. Defensive players are legally allowed to hit opponents, either with their body or their lacrosse stick, in an attempt to dislodge the ball from an opponent's stick on defense.
There are several different versions of men's lacrosse:
Field Lacrosse – This type of lacrosse is considered the outdoor version of the sport. It is played on a large, open field (such as a football field), hence the name field lacrosse. There are ten players allowed per team on the field at a time, making for twenty players in total.
Box Lacrosse – This type of lacrosse is considered the indoor version of the sport. The playing area is called a box rather than a field, hence the name box lacrosse. A box is essentially a hockey rink matted with turf instead of ice. With this type of lacrosse, only six players per team are allowed onto the playing area at once, making for twelve players total.
Intercrosse – This type of lacrosse is a shoot-off of lacrosse. Rather than having a netted head fitted to the end of the stick, a plastic basket is present instead. This is played on an indoor court with five players per side, making for ten players total.
Women's Lacrosse – Women's lacrosse is a non-contact sport. Defensive players are not legally allowed to roughly contact opponents in an attempt to dislodge the ball. Instead, they must use controlled, technical checks to knock the ball free on defense.
How the Game is Structured
The way the game is structured varies depending on the version of lacrosse that is being played along with the competitive level.
Four Quarters Equal One Game – Field lacrosse and box lacrosse games are typically broken down into four quarters lasting 15 minutes each. However, the length of these quarters can vary from league to league. For example, the quarter length for high school field lacrosse games are 12 minutes long.
Two Halves Equal One Game – Generally, women's lacrosse games are broken down into halves. Similar to the quarter system, the length of these halves may vary. At the high school level, women's lacrosse games are 50 minutes long, with each half being 25 minutes.
The Face-Off – Every men's lacrosse game begins with a face-off. The face-off is the means by which referees fairly establish possession after every goal and at the start of every quarter. Two face-off specialists from each team meet at the center of the field and a ball is placed between them. Once the whistle is blown, each player tries to gain leverage over another to win possession, mainly by way of their speed and physicality.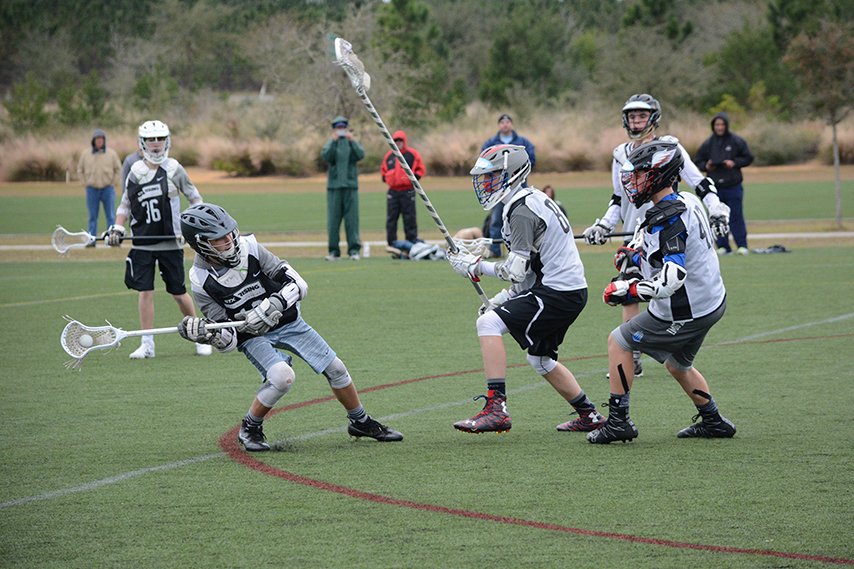 The Draw – Women's lacrosse games start with a draw. The draw is similar to the face-off in that it is utilized after every goal and at the start of every quarter. Two players position themselves at the center of the field. From here, the official places a ball in between their two horizontally held lacrosse sticks. At the sign of the whistle, the ball is propelled high into the air as each player maneuvers their lacrosse stick up and away.
Overtime – Formal lacrosse games do not end in ties, so an overtime period is used to decide the winner. The overtime period is sudden victory, meaning that the first team to score wins the game.
How the Scoring Works
A score in lacrosse is called a goal. Each individual goal counts for one point on the scoreboard. It's important to note that a lacrosse score is called a goal and the netted cage that teams try to score on is also called a goal.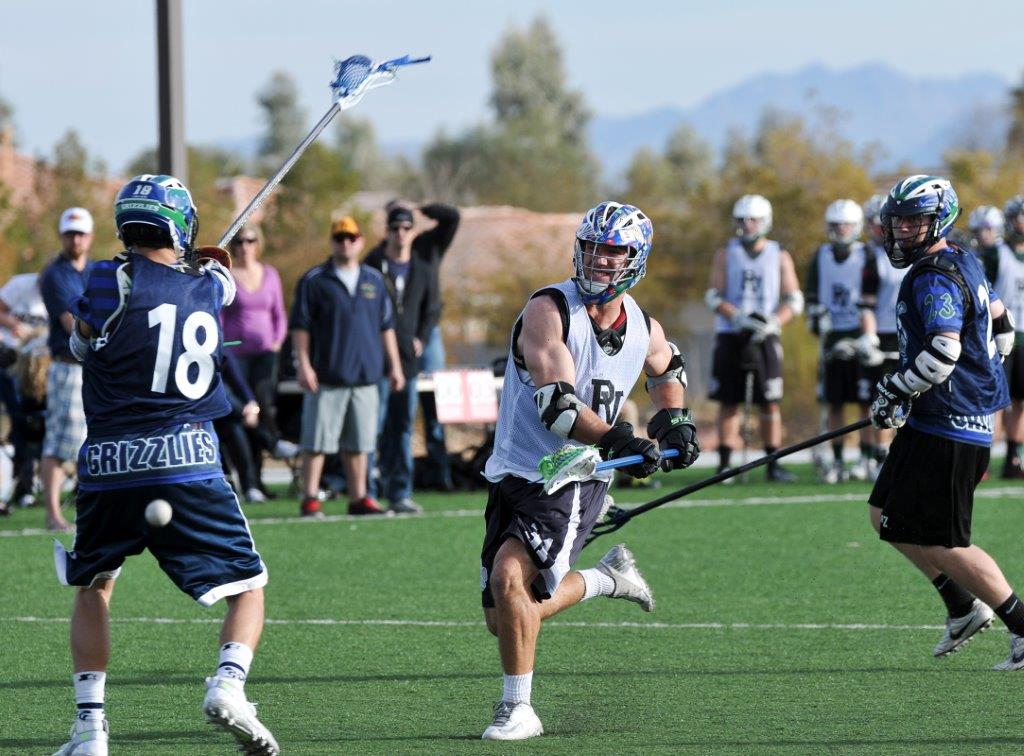 To score a goal, offensive players must maneuver themselves in a position that's close to the netted cage, ideally towards the middle of the field. This way, they have the best angle—and ultimately the most amount of open space on the opposing goal—to shoot at.
However, offensive players cannot venture too close to the goal due to the presence of a circular area called the crease. The crease restricts offensive players from moving in extreme proximity to the goal. The crease can only be accessed by defensive players, such as the goalie.
The likelihood of scoring increase as ball carriers evade the on-ball pressure from defenders. In short, the more uncontested the shot is, the greater the chance of it going in. Offensive players use tactics like running, dodging, passing, and fakes to create these open shots.
All of these efforts must be taken because each goal is protected by a goalie. The primary job of the goalie is to prevent the ball from going into the back of the net.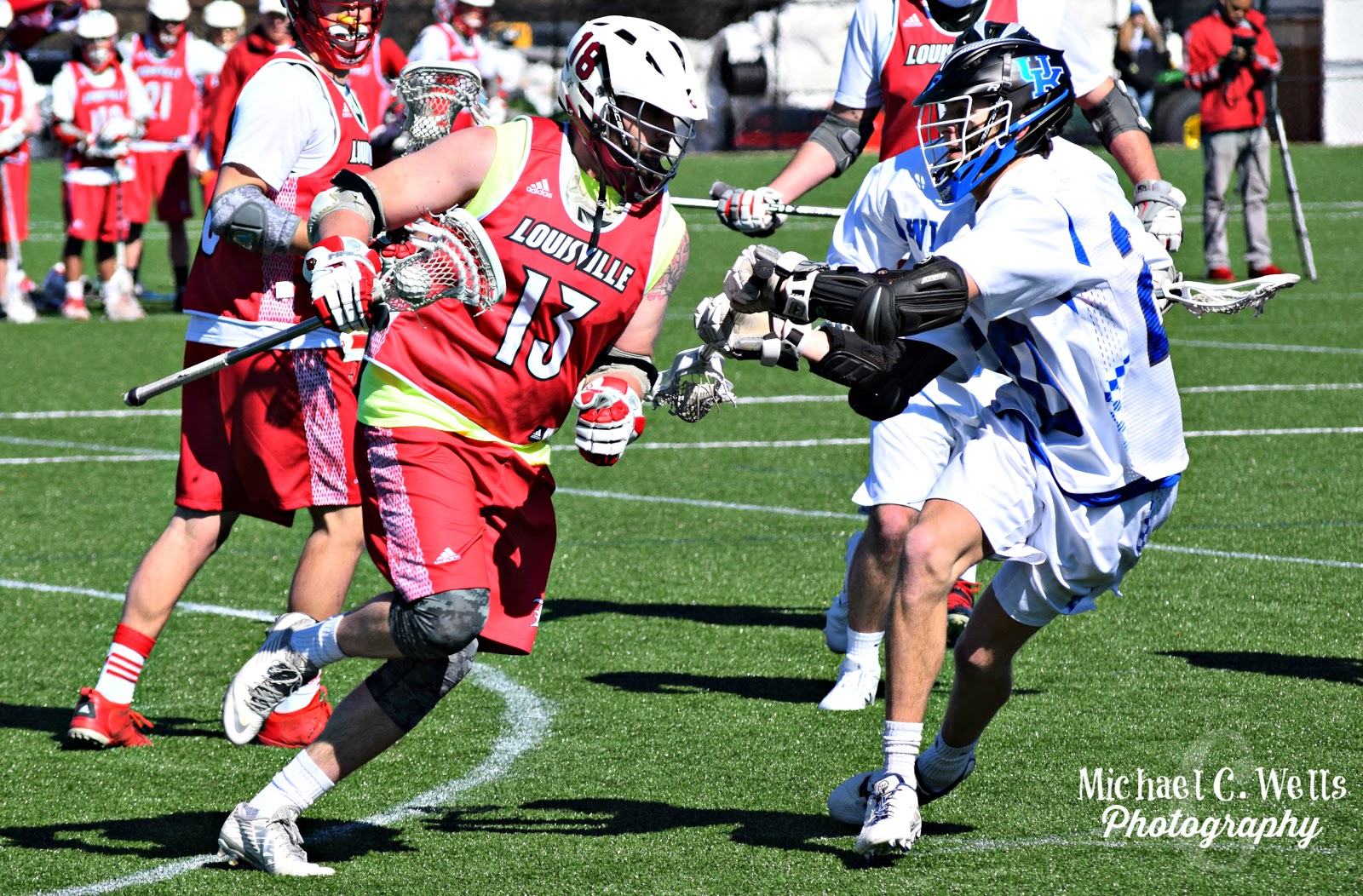 Shooters must optimize shooting angles, use deception to their advantage, and generate power behind their shot to sneak the ball past the goalie.
As soon as the ball crosses across the imaginary plane at the front of the cage (commonly referred to as the goal line), the shot is considered a goal. It does not matter if the ball bounces into the goal and back out. The goal still counts.
Lacrosse teams score about ten goals per game, give or take. A lacrosse goal is not nearly as common as a made shot in basketball, but it's also not nearly as rare as a goal in soccer.
Standard Penalty Procedure
The penalty for lacrosse teams that violate the rules vary depending on the severity of the violation. The three types of penalties are described below.
Forfeit of Possession – This type of penalty is issued for minor infractions. When a referee witnesses one of these minor infractions, they promptly blow the whistle and stop play.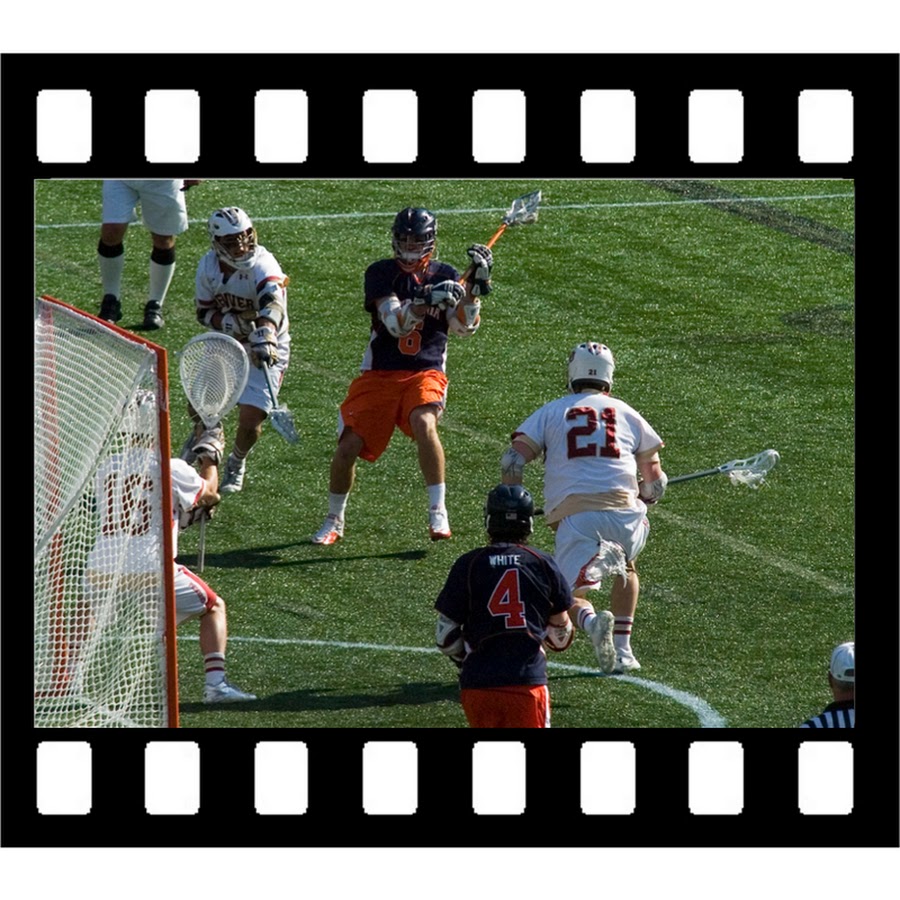 From here, the offending team drops the ball on the ground, a player from the other team picks the ball up at that spot, and play restarts.
Temporary Suspension from Play – This type of penalty is reserved for more serious fouls. With these fouls, referees throw yellow flags onto the field to indicate that a personal foul has occurred.
Depending on how severe the foul is, the specified length of the suspension may be shorter or longer. The offending player must serve out their suspension time in the penalty box.
During this time, their team must continue on at a one player disadvantage. Once the specified suspension time has been served, the offending player may return to play, allowing their team to return to even strength.
Disqualification – This punishment is reserved for only the most reckless and malicious kinds of penalties. Although rare, this penalty is issued under special circumstances where the offending player caused a great deal of potential harm.
You can find more information about penalty procedure by clicking over to How Penalties Work in Lacrosse: A Helpful, Illustrated Guide.
Essential Lacrosse Skills for Success
To succeed as a player in the sport of lacrosse, there are a couple of fundamental skills that are absolutely vital. Without these skills, it will be difficult to gain a foothold in this sport.
Cradling
The very first skill that all lacrosse players learn is how to cradle the ball with their lacrosse stick.
Put simply, cradling is the means by which players possess the ball while moving around the field. It involves a curling motion of the wrists and arms to secure the ball within the netting of the stick, otherwise known as the pocket. This act of cradling exploits the centripetal force, which reduces the chances of the ball being knocked loose, even in the face of defensive checks.
This is arguably the most important skill in lacrosse because it allows players to move about freely on the field without turning the ball over.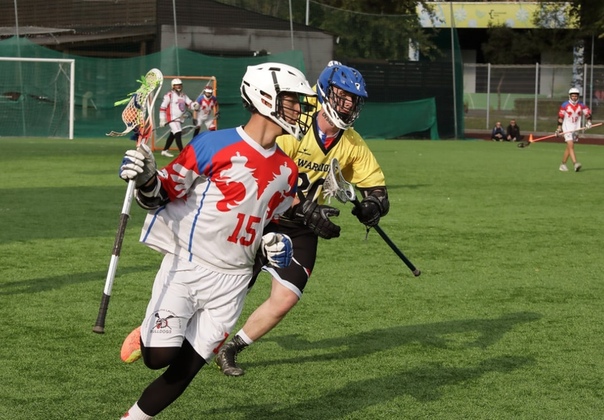 Player movement is imperative to lacrosse success. Players that fail to learn how to cradle will have a hard time keeping up with the up tempo pace of the game.
Passing
Another major lacrosse skill is the art of passing. Players are allowed to move the ball directly between teammates by way of airborne throws.
Ball movement is key to manipulating opposing defenses and creating viable scoring opportunities on offense. It allows teams to attack from various points on the field, which keeps the defense guessing.
To pass with a lacrosse stick, players must push with their top hand and pull with their bottom to thrust the ball out of the pocket toward their intended target. This takes time and patience to master, as every player has a different throwing technique and unique pocket string job.
Players need to be able to throw the ball with precision and accuracy in order to deliver the ball to another teammate's stick without error.
There are times where offensive players will be forced to thread the ball through tight windows to get the ball to a teammate. A player that lacks passing accuracy will inevitably hurt their team's winning chances.
Catching
If passing is of vital importance in lacrosse, you can safely assume that catching is equally crucial. Even the most accurate passers throw an imprecise pass from time to time. For this reason, players need to have sufficient hand eye coordination to catch the majority of passes that come their way.
As aforementioned, passing technique involves a pushing with the top hand and a simultaneous pulling with the bottom hand. The process of catching is the exact opposite. It involves a pulling with the top hand a pushing with the bottom hand to accept the ball in the pocket.
In order to catch consistently, players need to have soft hands. A player that refuses to give with the ball as it contacts their lacrosse pocket will not be able to catch many passes.

The ball will simply bounce out of the pocket due to the force of the pass.
This takes many repetitions to truly master, as timing the movement of the lacrosse stick to coincide with the pass can be tough at first.
Shooting
Another essential skill in lacrosse is shooting the ball with velocity and precision. Since the object of the game is to score more goals than the opponent, it only makes sense that shooting would qualify for this list.
It's difficult to become proficient at shooting because of all the different ways players can shoot the ball. Lacrosse players must be able to score the ball up close to the goal, as well as far away. They need to have the capacity to catch and shoot quickly. Shooting on the run is a must. The most talented shooters even have to work on releasing the ball from a variety of different angles, such as overhand, sidearm, or underhand.
If you think that's a lot already, try being able to do all of that with both hands.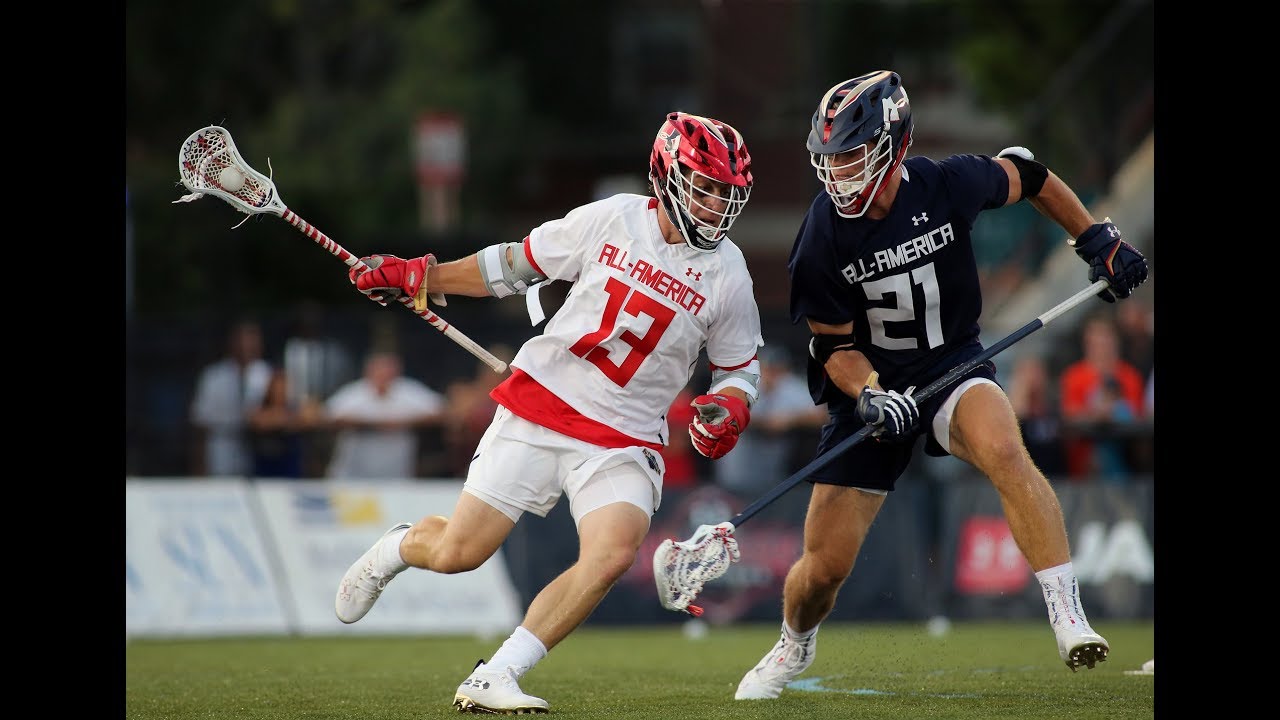 Needless to say, there's always something to improve upon when it comes to shooting with a lacrosse stick. As the competition increases, players need to have a vast repertoire of shooting skills to maintain a high level of performance.
Checking
Up until this point, we've discussed essential skills that are geared toward the offense. You're probably wondering, "What about the essential skills for the defense?"
The foremost skill for the defensive side of the ball is checking. There are two types of defensive checking techniques: body checks and stick checks. It's important to bear in mind that rough body checks and rough stick checks are only allowed in men's lacrosse. In women's lacrosse, technical stick checks that are performed in a controlled manner are allowed.
Body Checks – This type of check is performed to force a ball carrier off their intended path. A legal body check must be done above an opponent's waist, but below their shoulders.

Contact is only limited to the front and side of the body. Any deviation from these rules will draw a penalty from the officials.
Contrary to popular opinion, body checks in lacrosse are not the same as tackles in football. With lacrosse body checks, the intent is to drive an opponent off of their desired course through physical contact.
Stick Checks – This type of check is meant to apply pressure to a ball carrier and disrupt their stick handling ability. By doing so, defenders also increase the likelihood of generating a turnover by jarring the ball loose from the opponent's stick.
In men's lacrosse, players can initiate significantly more contact with their stick checks by applying pressure on an opponent's hands as well as their lacrosse stick. Since women's lacrosse players are not equipped with protective gloves, only light contact with the opponent's stick is considered legal.
Scooping
Yet another essential lacrosse skill to add to this list is scooping up ground balls that are loose on the field.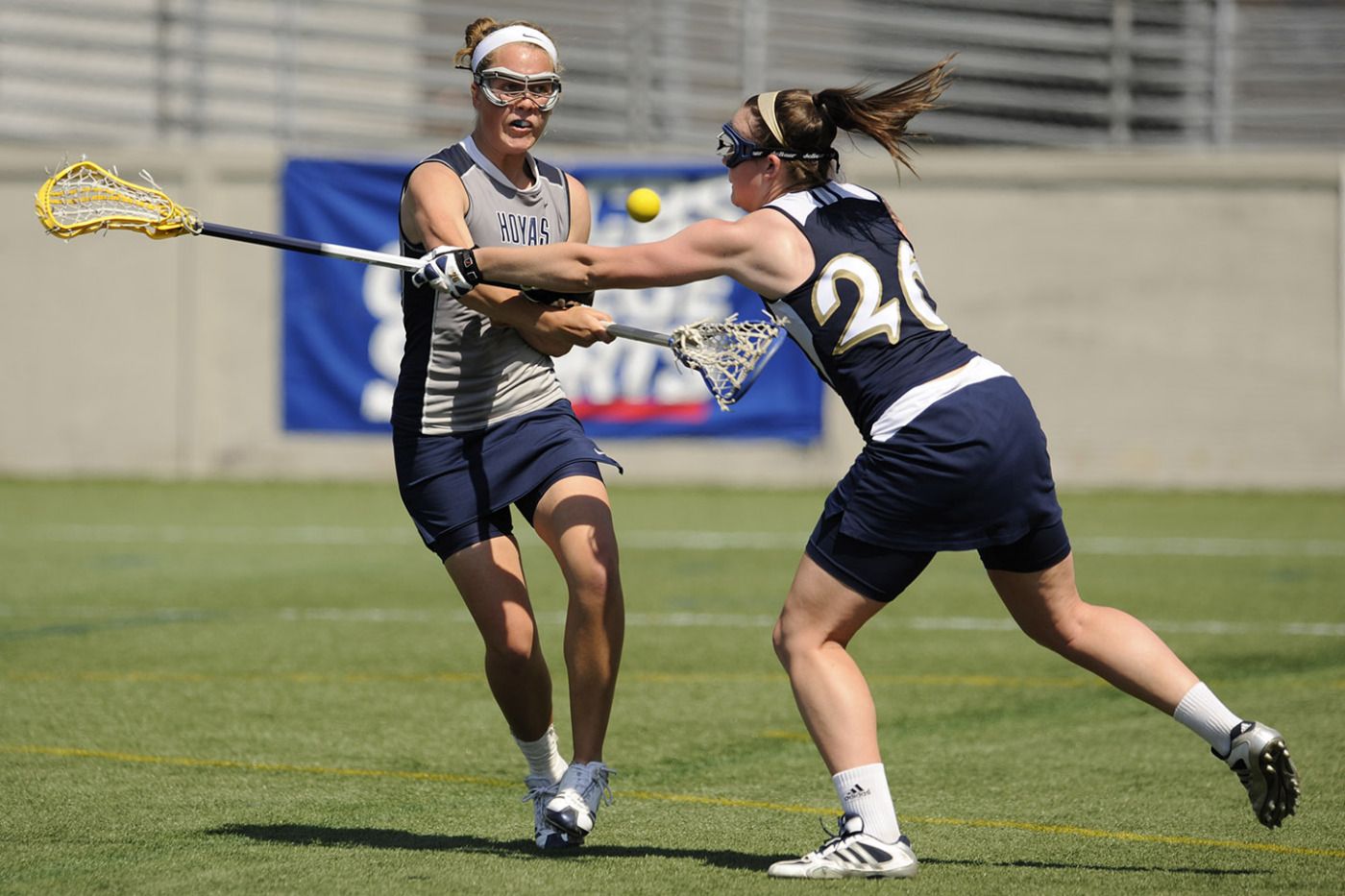 On paper, this skill may seem simple enough. After all, how hard can it be to gather up a ball that's just sitting on the field, right?
Unfortunately, this is not the case for the majority of ground balls. Ground balls result from errant passes, errant shots, defensive strips, and face-offs. Ground balls serve as opportunities for teams to earn extra possessions, similar to rebounds in basketball. By scrapping for these loose balls, lacrosse teams use their extra possessions to create further scoring opportunities, which increases their likelihood of winning the game.
For this reason, practically every player on the field swarms to 50/50 ground balls that are loose on the field. With so many players vying for possession, the ball bounces in all sorts of directions, making it difficult for players to gather possession.
Often times, it's the player that's willing to put their body on the line that comes out with the ball. Not many players are willing to thrust themselves into the thick of the scrum for a mere extra possession.
Dodging
Lastly, dodging is another tool that offensive specialists must have in their back pocket. Essentially, dodging is the means by which ball carriers manipulate defenders so they can get past them.
Dodging is key to beating on-ball defenders in one-on-one situations. Ball carriers cannot only rely on pure speed to run past defenders. At some point, they will need to throw in a few wrenches into their attacking scheme as well.
There are a variety of dodges players can use to get past defenders. The most notable of which are listed below:
Bull Dodge
Split Dodge
Face Dodge
Roll Dodge
Question Mark Dodge
Swim Dodge
You can find more information about how to perform each of these dodges by clicking over to Lacrosse Dodging: 6 Ways to Get Past Defenders in Lacrosse.
Offensive plays almost always start with a dodge to force the defense to rotate over.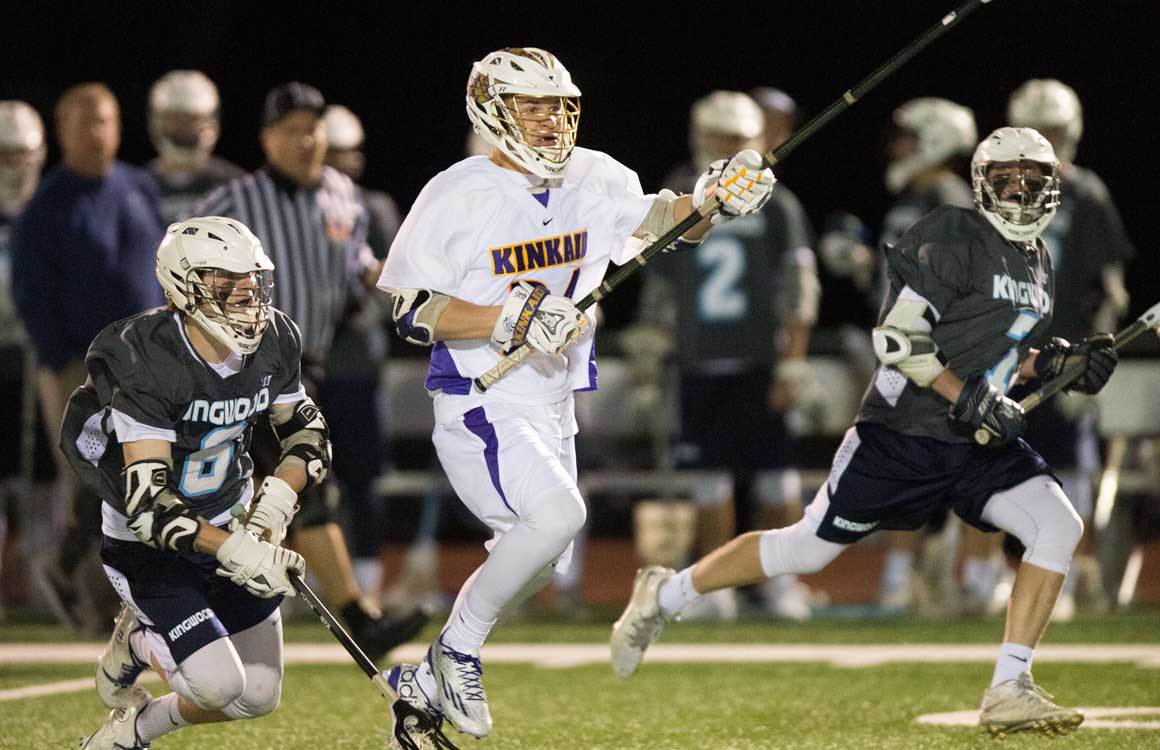 These rotations throw the defense out of sorts, opening up scoring opportunities for the rest of the offense. It also grants the ball carrier separation to either pass or shoot.
Without the prospect of dodging, it's awfully difficult to jumpstart an offense. The most stagnant offenses are often the ones that encounter the most difficulty with dodging. For this reason, offenses need playmakers equipped with speed and agility that are willing to take it upon themselves to beat their matchups in one-on-one situations.
A Short Description of Basic Lacrosse Strategy
There are a few universal strategies that nearly every lacrosse team implements. Although every coach has their own playbook tendencies, they all generally stem from a few basic concepts.
Offensive Strategy
To start off, lacrosse offenses always initiate with a one-on-one dodge to get the defense to rotate, as discussed previously. These dodges can originate from a variety of locations.
Typically, offensive players like to start their dodge from one of the four corners of the half field set:
Top Right
Top Left
Bottom Right
Bottom Left
The dodges that initiate from the bottom corners are actually located behind the goal, so not all dodges originate from up top.
When a ball carrier is able to dodge past the defender, they immediately look to score by running toward the goal. From here, one of two things happens.
---
Scenario 1 – None of the other defenders provide support, leaving the ball carrier to have a free, uncontested shot on goal. Dodgers are taught to shoot the ball if they do not see any help defenders coming.
Scenario 2 – One of the other defenders provides help, but leaves their defensive assignment behind in doing so. This opens up another teammate for an uncontested shot. Dodgers are taught to quickly move the ball to another teammate as soon as they draw another help defender.

---
In essence, the overarching objective of the offense is to create a free, uncontested shot. The offensive strategy for lacrosse is very similar to that of basketball.
In basketball, players attempt to dribble past defenders in order to draw help. If there's no help coming, they shoot the open shot. If there is help on the way, they swing the ball to get it to whoever has been left open. This same basic concept applies to lacrosse, except the mechanics are slightly different.
In addition, fast breaks are also a large part of scoring goals on offense. Lacrosse has been called The Fastest Sport on Two Feet for good reason. As soon as the opposing team commits a turnover, players are off to the races to beat the other team to the other end of the field.
If the ball carrier is able to beat everyone to the other end of the field, they provide their team with a fantastic scoring opportunity because the defense will be completely unprepared for this unsettled situation.
Defensive Strategy
Lacrosse defenses also have a set of tried and proven strategies that they like to implement. Generally, there are two defensive strategies that teams have the choice of using for games: man-to-man defense and zone defense.
---
Man-to-Man Defense – This is the standard defensive scheme that teams prefer to set up with. In this defensive scheme, each defender matches up against an opposing player on the offense. They cover their defensive assignment at all times, unless another defender needs support.
Zone Defense – This is an alternative defense that lacrosse teams run. With zone defenses, each defender is assigned a specific section of the playing area to cover rather than a player. Any time that the ball carrier enters their zone, they apply pressure on them. In order for this to work, everyone must defend their respective zone.
---
Inevitably, there are times where ball carriers will dodge past the on-ball defender, allowing them a free path to the goal.

In order to shut this scoring opportunity down, the rest of the defense must rotate over.
Ideally, the defense wants to close off the ball carrier's free path toward the goal, buy time for the on-ball defender to recover, and leave the player farthest away from the ball open. If there has to be an open offensive player, it might as well be the player farthest away from the action.
In lacrosse, the defensive shift of another player to the ball carrier to stop them from having a free shot on goal is called a slide. The slide is an important concept to understand, as it is what all lacrosse defenses are founded upon.
Additional information on defensive slides can be accessed here at What is a Slide in Lacrosse – Definition & Examples.
Breaking Down the Different Lacrosse Positions
Along with basic offensive and defensive schemes, lacrosse teams also categorize the players on the field into positions.
By doing so, each player can specialize their skill set toward one particular area of lacrosse.
Midfield – These players play both offense and defense. They serve as the intermediaries between both sides of the ball, following the ball back and forth between the different field ends. Consequently, midfielders typically run the most relative to every other position.
Attack – Players at this position are the primary playmakers on offense. They're predominantly stationed in the offensive zone and are entrusted with the responsibility of creating viable scoring opportunities through dodging, passing, and shooting. For this reason, attackers have a superior set of stick skills when compared to the rest of the team.
Defense – These players act as to the antithesis to the attack. They're specialized for the defensive end and guard the most dangerous offensive threats that opposing teams have to offer.
In men's lacrosse, defenders are equipped with lacrosse sticks that are significantly longer than the average lacrosse stick, called long poles.
Goalie – The main purpose of the goalie is to serve as the last line of defense. They try to stop opposing shots from entering into the goal by utilizing their lacrosse stick and body to get in front of the ball. Goalies also organize the defense and coordinate the clearing effort through their communication on the field.
You can find more detailed information about the various lacrosse positions by clicking over to The 4 Major Lacrosse Positions: A Beginner's Guide.
A Brief Summary of the Player Equipment
The mandatory equipment for lacrosse varies depending on whether you're playing men's lacrosse or women's lacrosse. Since men's lacrosse is a contact sport, much more protective equipment is required compared to women's lacrosse.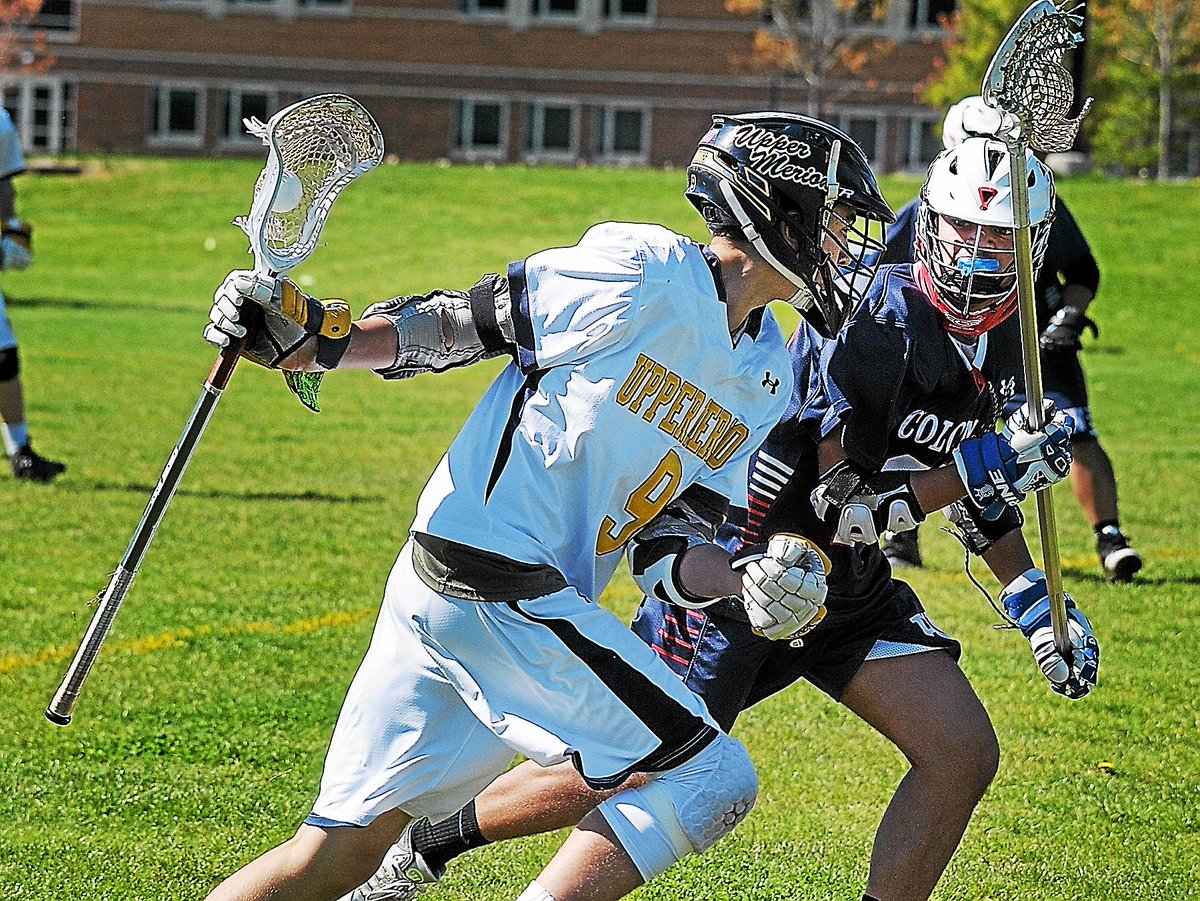 Mandatory Men's Lacrosse Equipment
Helmet – A NOCSAE certified helmet is needed for men's lacrosse to prevent head injuries, such as concussions.
Mouthguard – A mouthguard is also required to protect the teeth, lips and jaw. Mouthguards also help to stabilize the head and neck in the event that contact is made to this sensitive area.
Shoulder Pads – The shoulder pads required for lacrosse are not like the ones required for football. Where football shoulder pads are made with a hard plastic outer covering, lacrosse shoulder pads are fitted with high density foam and are noticeably softer.
Arm Pads – Arm pads are required to fit around the elbow to protect against defensive stick checks and body checks.
Gloves – Gloves are another piece of essential protective equipment meant to protect against defensive stick checks and body checks.
Cleats – Grass or turf cleats allow players to have traction on the field, so they don't have to worry about slipping or falling on accident.
Lacrosse Stick – The lacrosse stick is by far the most important piece of equipment, considering it's the centerpiece from which all lacrosse maneuvers are made.
Protective Cup – Lastly, male players must wear a protective cup to safeguard against errant checks and throws.
It is important to note that men's lacrosse goalies wear specialized protective equipment that is better able to absorb the impact of lacrosse shots. Typically, the regular field player equipment is not sufficient for protecting against oncoming shots.
Men's lacrosse goalies also have their own specially designed lacrosse sticks that feature a greater surface area. This provides goalies with a better chance at making saves.
Mandatory Women's Lacrosse Equipment
Goggles – Eyewear helps to protect players' eyes from stray defensive stick checks.
Mouthguard – Guards against injury to the teeth, lips, and jaw.
Lacrosse Stick – The lacrosse stick is the tool by which all fundamental lacrosse maneuvers are performed.
Cleats – Proper shoe wear allows players to make sharp cuts on the field without fear of injury. These cleats are not allowed to have metal spikes.
Women's lacrosse goalies have their own set of equipment to protect against the force of high velocity shots. Protective eyewear is simply not enough to ensure safety in the net. For this reason, they wear a helmet, a throat piece, gloves, a chest protector, and leg pads to reduce the injury risk. Moreover, they also have their own specialized stick that's meant specifically for making saves.
The Origins of the Sport
What many people fail to realize is that the roots of lacrosse date back to the early days of American history, prior to any European settlers. The Native Americans were actually the ones who founded the sport of lacrosse.
Due to the inconsistent data surrounding the sport's origins, it's difficult to accurately reconstruct how the sport was played during these times.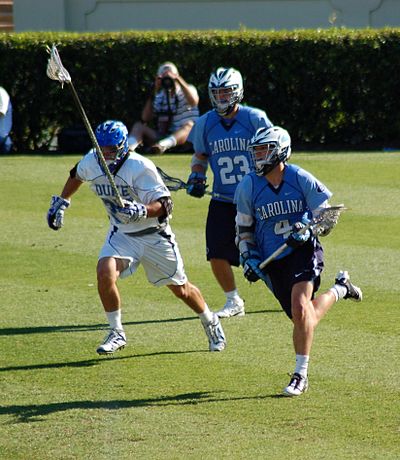 In these early days, lacrosse actually wasn't even called lacrosse. It was called stickball. It was only when the sport was first witnessed by early French pioneers that the name lacrosse came about. For those of you that do not know, lacrosse is a general French term that is used to describe any game using a stick and a ball (source).
Tribes all across North America played the sport of lacrosse. The game had a strong presence in the southeastern tribes, the Great Lakes, and the northeastern tribes in particular. Some examples of tribes that practiced lacrosse include the Cherokee, Seminole, Potawatomi, and Iroquois (source).
To Native Americans, lacrosse was not just a simple form of recreation. It played a significant role in their culture and was said to involve higher divine powers. Consequently, Native Americans conducted formal rituals and ceremonies to honor the game.
Lacrosse was not always used in a good-natured manner.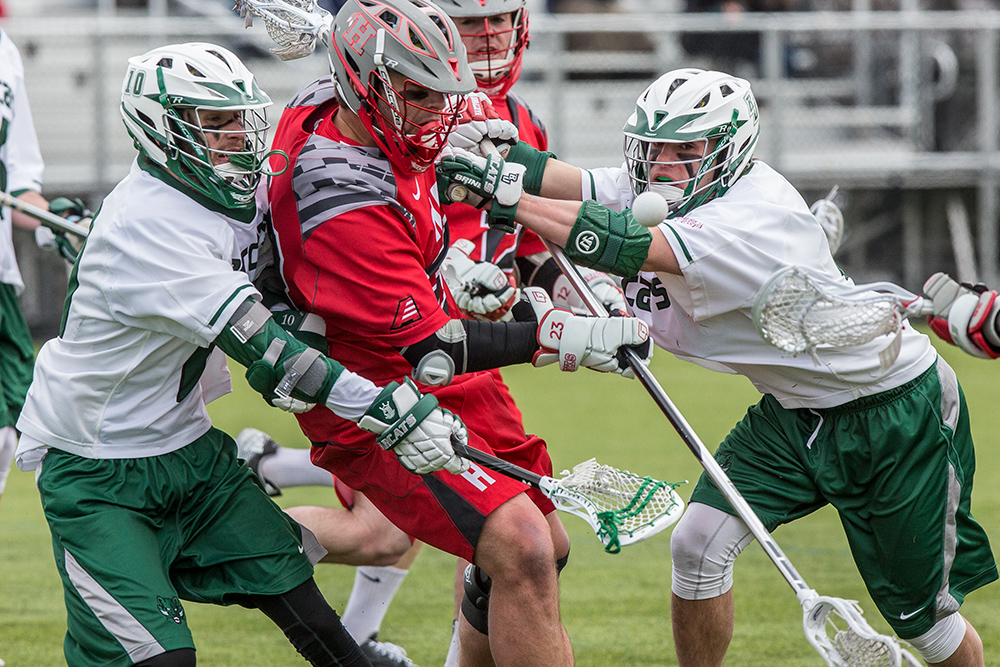 Occasionally, lacrosse was used for the purpose of settling territorial conflicts between tribes. Wagering on lacrosse games was also another widely popular activity in the Native American community. With that being said, it's important to note that the majority of lacrosse games were conducted in a peaceful manner.
The sport of lacrosse still remains an integral part of the modern Native American community. In fact, the Iroquois Nationals are consistently one of the most competitive teams at the Lacrosse World Championships (source).
The Growing Popularity of Lacrosse
In recent years, lacrosse has exploded onto the scene with participation increasing year after year. To give you some perspective, lacrosse only had 253,931 players in 2001. Since then, participation has risen to 829,423 in 2018 (source). That's a 326% increase!
The best part about this trend is that it doesn't look like it's going away anytime soon. Participation is still skyrocketing and the lacrosse industry is growing as we speak.
New lacrosse companies are beginning to pop up and there are even attempts to bring lacrosse to the mainstream media.
The Premiere Lacrosse League (PLL), a professional field lacrosse league founded by Paul Rabil, had its inaugural debut in 2019. The PLL has partnered with NBC sports to televise these games in an effort to grow the game. According to NBC sports, the inaugural 2019 season exceeded financial expectations, drawing in many more viewers than originally anticipated (source). Since then, the PLL has even added an expansion roster to reflect this growing demand for lacrosse.
Paul Rabil has also made several bold moves with the PLL rules in hopes of making the sport more attractive to casual sports fans. Some of these rule adaptations include (source):
15 Yard 2-point Arc – Any shots scored beyond 15 yards away from the goal will count for two points instead of one.
Shorter Field Dimensions – Ten yards have been taken away from the middle of the field, bringing the goals closer together. This allows for more fast break opportunities and ultimately more scoring.
Allowance of Fighting – Players are allowed to settle disputes physically on the field, much like hockey.
All of these rule modifications seem to be working, as the PLL is accruing a greater audience seemingly with every game. This may prompt other professional lacrosse organizations, like Major League Lacrosse (MLL) and the National Lacrosse League (NLL), to follow in the footsteps of the PLL.
Admittedly, I never thought I would see the day where lacrosse was playing on my local gym's television. Fortunately, I've been pleasantly surprised with the recent growth in the sport. All in all, the future looks extremely bright for lacrosse. Hopefully this success will continue in the coming years.
Is Lacrosse the Sport for You?
With all this information in mind, you're probably wondering whether or not lacrosse is something that might be up your alley. From my own experience, I can say with confidence that every young athlete should try lacrosse if they have the chance.
Coming from a soccer and basketball background, I had no intentions of playing lacrosse initially. It was only when my friends introduced me to the sport that I gained a little bit of interest in lacrosse. After picking up a lacrosse stick and shooting on a goal for an hour, I was hooked for life. If you still need convincing, check out the pump up lacrosse video below!
The thing that makes lacrosse special is that anybody can play it. Whether you're a girl or boy, short or tall, slow or fast, it really doesn't matter. As long as you have solid stick skills and a knowledgable understanding of how the game is played, you'll do just fine.
So if you have yet to pick up a lacrosse stick, I highly recommend you do so! It's well worth the time.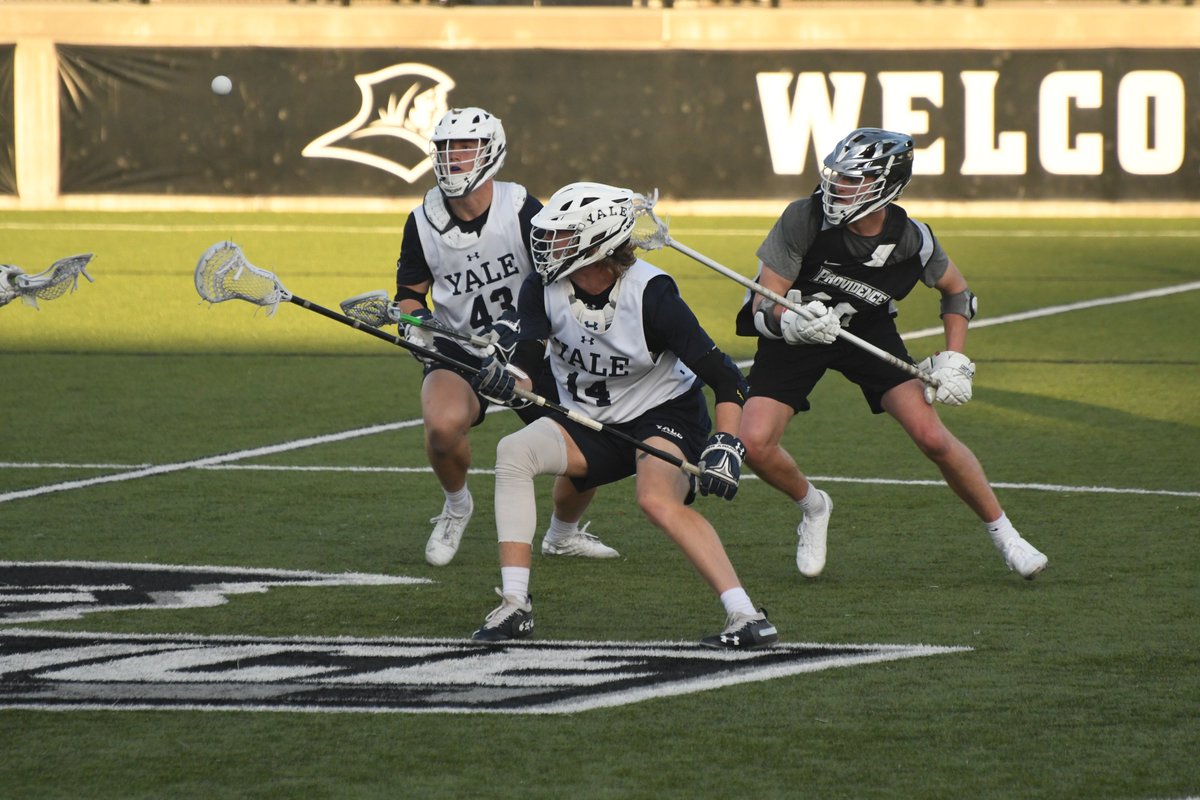 Sources: 1 2 3 4 5
Two-way Strategy Pays Off In Waterdogs First-Ever Win
It wasn't just the game-winning goal. Every piece of the club's first win was emblematic of the gritty team Copelan built. The Waterdogs won the groundball battle 47-24, they dominated the faceoff stripe with wins on 82 percent of the draws, and when it came time to close the game out, the man who Copelan anointed to lead his squad drilled a shot stick-side high on a goalie that had already stopped 21 shots. It was Waterdogs lacrosse through and through and provided a small sample of why the expansion team could make a run in the elimination round. 
With the club's first win, the Waterdogs (1-3) secured the fifth seed and will play the Redwoods (2-2) in the first round of the elimination games. The Chaos, the only team not to pick up a win in group play, secured the seventh seed and will play the loser of Sunday's Archers- Whipsnakes matchup.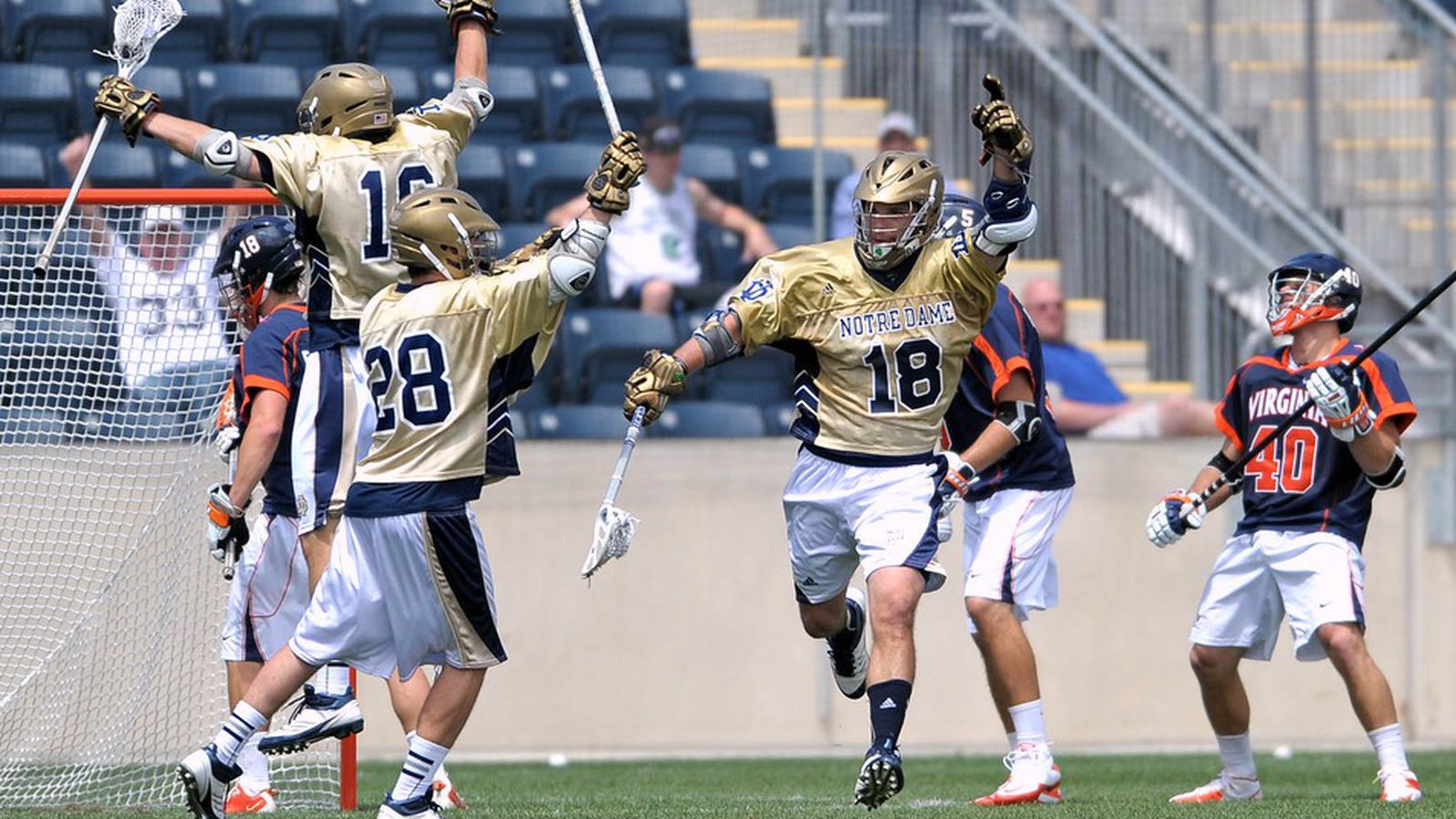 Through three games, the Chaos offense hasn't consistently produced goals. Some of the issues stemmed from individual play on offense rather than utilizing the two-man game or ball movement. The trend continued through the first half on Saturday, though this time it led to a halftime lead. 
Austin Staats barreled at a defender then drove to his left for his first PLL goal while Connor Fields and Curtis Dickinson dodged and scored around the crease. The offense scored goals when it needed to through those means, including a Dhane Smith goal with less than 10 seconds to force overtime, but it just wasn't enough. With a goalie tallying 21 saves on the other end of the field, Chaos didn't match his play. 
Riorden saved close-in shots that traveled from a high release point to a high portion of the net. He saved bounce shots from beyond the two-point line, something many goalies have struggled with. He saved shots from the left and shots from the right. At times, it seemed like there was nothing he wouldn't save.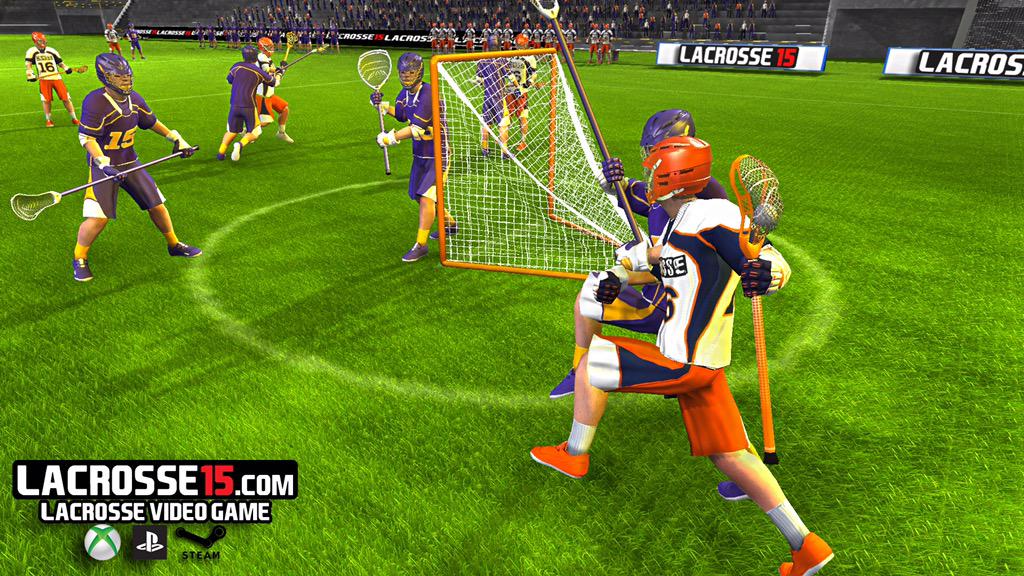 So the Waterdogs had to attack when they had numbers. In the first half, the Waterdogs opportunities came often in early offense, including a two-point shot from Rees. While winning 80% of the faceoffs in the first half, the Waterdogs created scoring opportunities from the stripe. Jake Withers (8-of-11) stayed on offense following several faceoffs, one of those possessions led to Zach Currier's first goal in the PLL. To set up Currier, Withers utilized another scheme Copelan had planned on since day one of the franchise. With a plethora of Canadian players, including Withers and Currier who've been playing together since they were eight-years-old, the Waterdogs wanted to play some two-man games. On this play, Withers picked Currier's defender up near the two-point line, freeing Currier's hands for a drive down the alley and a sweeping low to high shot.
Under Armour Strategy 2 Complete Lacrosse Stick
All reviews are moderated and reviews will be posted at our absolute discretion.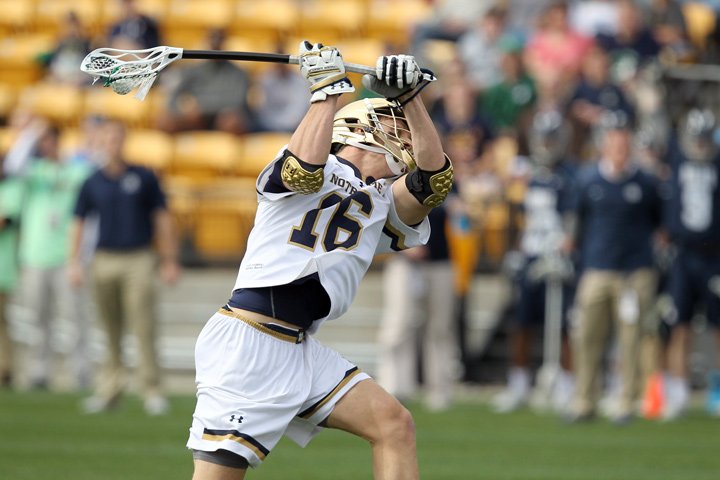 You grant Source For Sports and its affiliates the right to use, publish, and display the review. SourceForSports.com will use the review in accordance with the Privacy Policy and Terms & Conditions of this website.
Rules of Engagement and Acceptance of Terms
SourceForSports.com monitors are reviews posted within the site, which are subject to the brand's basic standards, and reserve the right to edit, alter, delete, and remove at our discretion.
Customers, like yourself, have the ability to leave feedback on products purchased to help shape opinions of other customers before making a future purchase. The Product Review feature is intended to be a space for user generated content that we encourage feedback, negative or positive, about the products found in store and online that are sold at Source For Sports.
By providing feedback using the Product Review feature, you agree to all of the terms and conditions contained herein ("Product Review Terms of Use").
  Source For Sports reserves the right to change these Product Review Terms of Use and you agree that each visit you make to this feature shall be subject to the current Product Review Terms of Use.
Source For Sports strongly encourages users who leave a review to respect fellow community members. You specifically acknowledge that Source For Sports is not liable for defamatory, offensive, infringing or illegal materials or conduct, or that of third parties. We will review all comments and will remove any that are inappropriate or offensive. We will leave what you share that relates to the subjects covered on these site pages. You understand and agree that Source For Sports reserves the right, in its sole discretion, to remove any postings, including those that are:
Reviews that are abusive, defamatory, or obscene in nature;
Reviews that are fraudulent, deceptive or misleading;
Reviews that are not relevant to the product being reviewed;
Reviews that attempt to solicit responses from others;
Reviews in violation of the privacy rights of any individual.
Reviews that are deemed acceptable will be posted in it's entirety, without edit.
To write a review on SourceForSports.com:
Navigate to a product you wish to review
Navigate to the Product Details Page of any product on the site
Scroll down to the bottom of the Product Details Page of any product and click or tap
Northwestern lacrosse falls in a defensive battle in the Final Four
Joshua Hoffman/Daily Senior Staffer
Senior midfielder Brennan Dwyer defends a Syracuse player during Friday's semifinal in Towson. Dwyer recorded five draws during the defeat.
---
Lacrosse
---
TOWSON, Md. — Northwestern's fire-powered offense set records this season, including a new national mark for average goals per game. 
But that offensive strength couldn't save the Wildcats (15-1, 13-0 Big Ten) from defensive troubles in the Final Four.
NU struggled early on in Friday's Final Four matchup against Syracuse, facing a 10-4 deficit at halftime — largely because of fouls.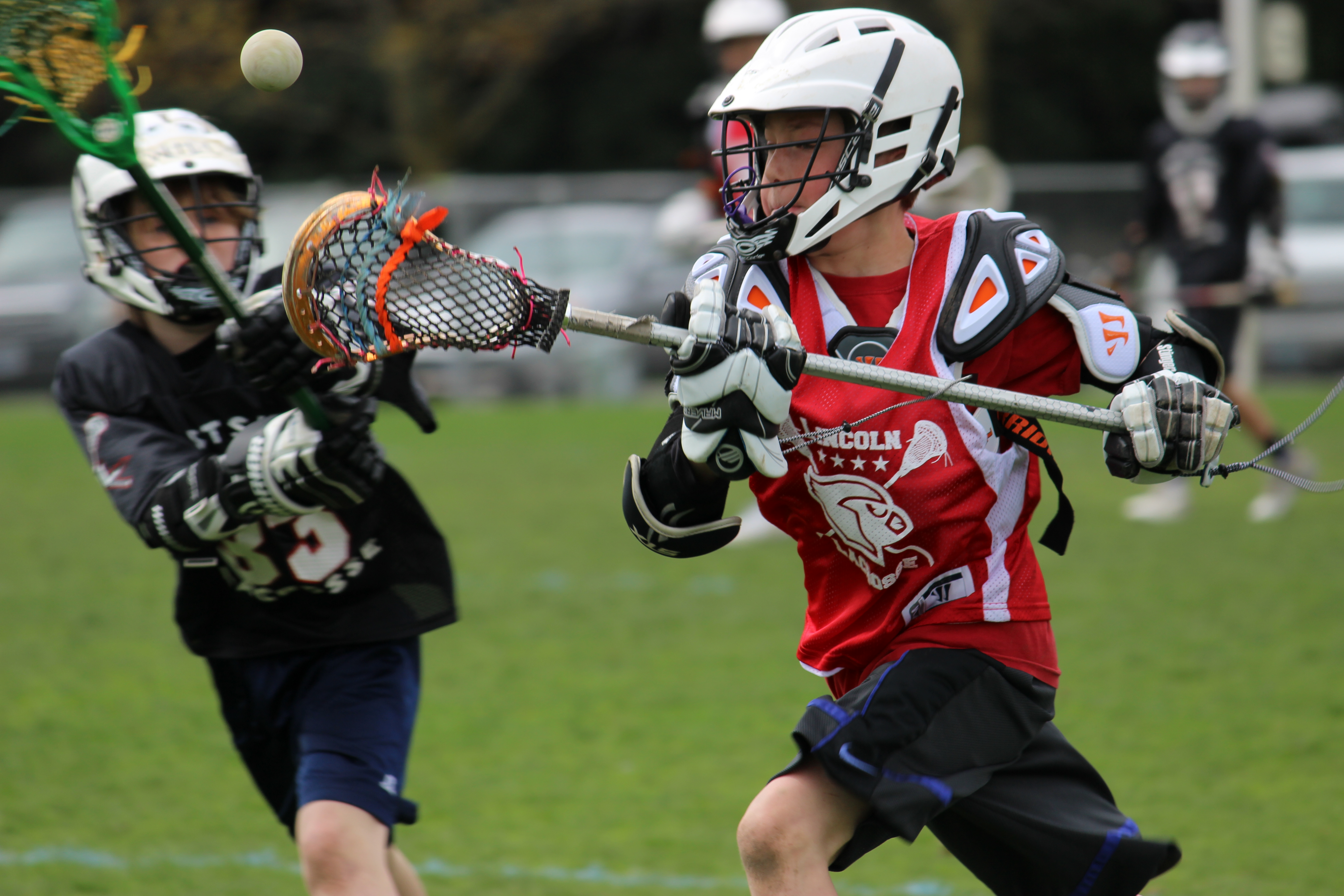 The Cats received three yellow cards and committed 26 fouls to Syracuse's 12 at the half. By the end of the semifinal matchup, NU had committed 49 fouls and received seven yellow cards in addition to a green card.  In comparison, the Cats only fouled Denver nine times in the second round of the NCAA Tournament and tallied just 21 against Duke in the NCAA Quarterfinals.
Coach Kelly Amonte Hiller said she plans to rewatch the game and re-examine the fouls. Regardless, she said NU got in its own way on Friday. 
"You can't go into a game like that and serve penalties the whole time," Amonte Hiller said. "It's impossible to overcome."
The Cats also trailed on the draw throughout most of the matchup, finishing with 14 draw controls to the Orange's 19. As Syracuse won the draw, it provided them more offensive opportunities and forced the Cats to defense.
Amonte Hiller said the combination of struggles on the circle and yellow cards were key in allowing Syracuse to capitalize offensively early on and kept NU from staging a comeback.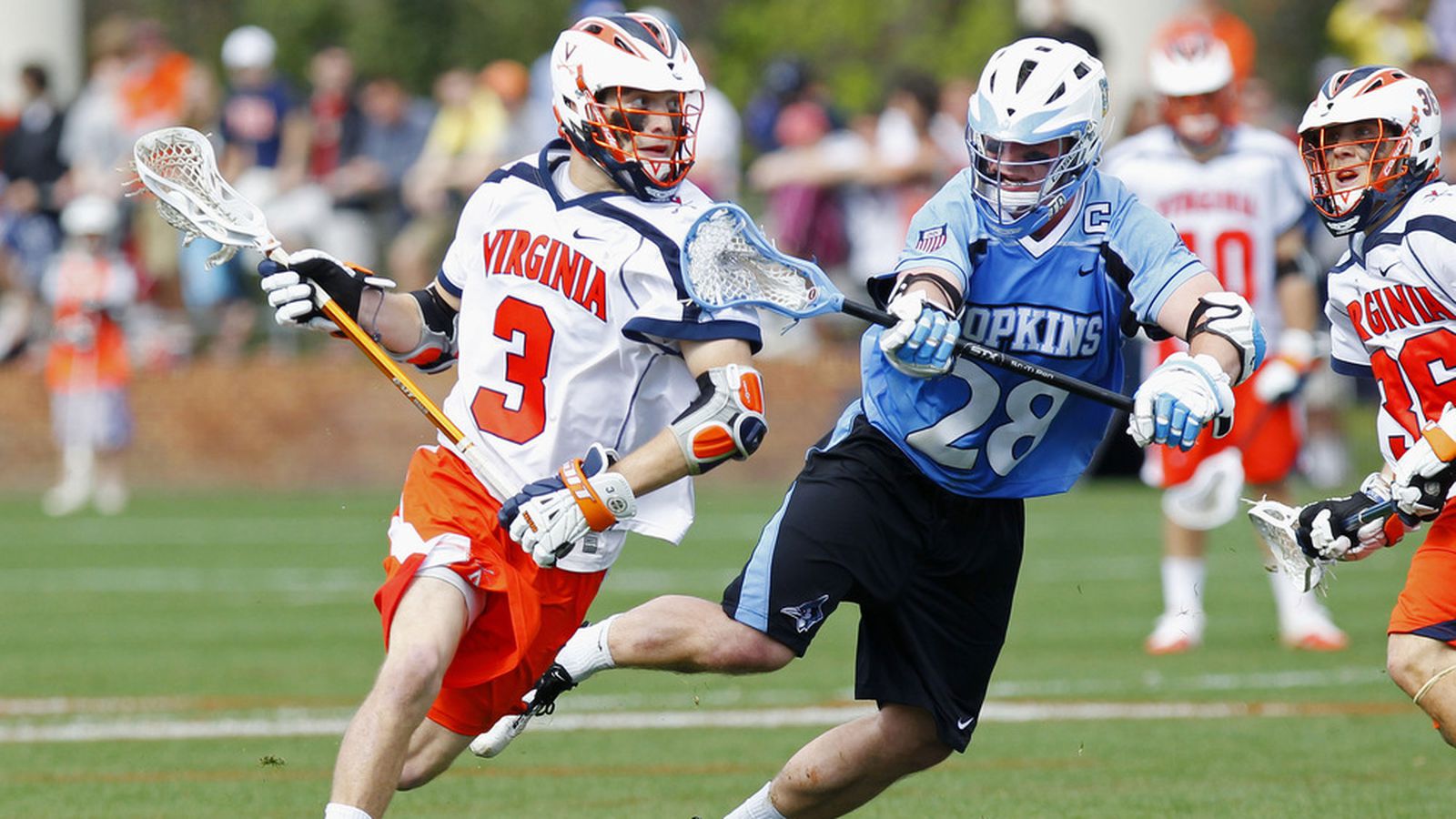 Junior goalkeeper Madison Doucette anchored the Cats' defense in her second season as a starter, supported by senior defender and Tewaaraton nominee Ally Palermo. Palermo was typically the only true defender listed on the starting lineup, working with several midfielders who would take turns switching between midfield and defense.
NU often used an active, 12-player ride throughout the season, meaning Doucette would sometimes leave the goal to play active defense. This led to difficult situations on Friday, when Doucette allowed multiple open-net goals.
Emma Ward fires one in!!!

📺 @espn #NCAAWLAX x @CuseWLAX pic.twitter.com/7VTwLjQ5A2

— NCAA Lacrosse (@NCAALAX) May 28, 2021
While the Cats' defense struggled, the Orange excelled. Syracuse held NU to just 13 goals — the Cats' lowest output all season. The Orange also held junior attacker Izzy Scane, who leads the country with 6.12 goals per game, to just four goals in the matchup.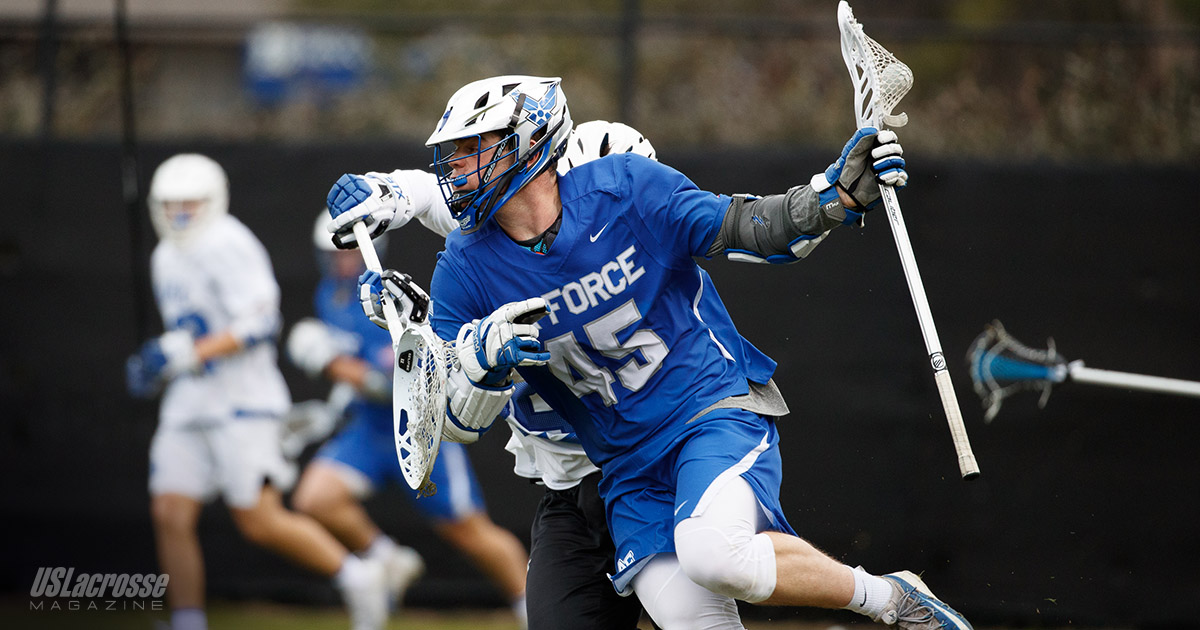 Senior attacker Lauren Gilbert, who ranks 11th in the country in goals per game, only notched two goals as well.
Syracuse coach Gary Gait called Scane a "tremendous player," but said the Orange's team-oriented strategy allowed them to succeed against NU.
"Our defense was dialed in, and it was a team effort," Gait said. "It wasn't a shut-off, it wasn't a face guard, it was just great team defense and that's what we pride ourselves on."
Although Syracuse's entire defensive unit played strongly, graduate student goalkeeper Asa Goldstock played a prominent role on Friday. She recorded 10 saves on 23 shots, including a big stop just as the Cats narrowed the lead to three in the second half.
Scane called the Orange's defense "high pressure," saying that it caused the NU offense to play "a little scared."
"If we had played completely our game, it would've been a little different," Scane said. "Syracuse did what they were trying to do in terms of messing with our offense… Overall, it was not our best day and it's not a great time to not have our best day.
"
Email: [email protected]
Twitter: @charvarnes11
Related Stories: 
— Lacrosse: No. 2 Cats defeat No. 13 Maryland for 2021 Big Ten Tournament title
— Lacrosse: How Izzy Scane went from the backyards of Michigan to front and center in the Big Ten
— Lacrosse: No. 3 Northwestern sweeps No.7 Penn State in weekend double-header
National Lacrosse League build a fan-first digital strategy
NLL delivered real-time highlights and social videos for the 2019/20 season
The NLL is North America's largest professional lacrosse league, ranking third in average attendance for pro indoor sports, with 13 teams in key markets across North America.
During the 2019/20 season, the National Lacrosse League (NLL) used Grabyo's browser-based platform to strengthen the social content proposition. Building on the success of 2018, where the NLL's digital viewership grew significantly through Turner and B/R Live- average unique views up 27%.

Creating a fan-first digital strategy, looking to grow their audience, NLL used the cloud video platform to produce and deliver near-live highlights to fans across social media.
That's goal number 3 for number 5!

"Fake the dunk. Fake the pass. Then go-ahead and dunk it. That is just a spectacular goal for @connorfields05" pic.twitter.com/HOzDzztASu

— NLL (@NLL) March 8, 2020
To reach high engagement levels, NLL had to ensure it was first to market, by reacting quickly to the action happening on the field and editing and distributing these clips to social channels. Using Grabyo, it was able to position itself as the go-to channel for updates and highlights, with fans served video content as it happens on the pitch. These included popular clips such as goals and moments of skill, allowing fans to watch and re-live the most exciting moments.
Optimizing the clips was essential for fan engagement, encouraging fans to interact with the action on a variety of social platforms.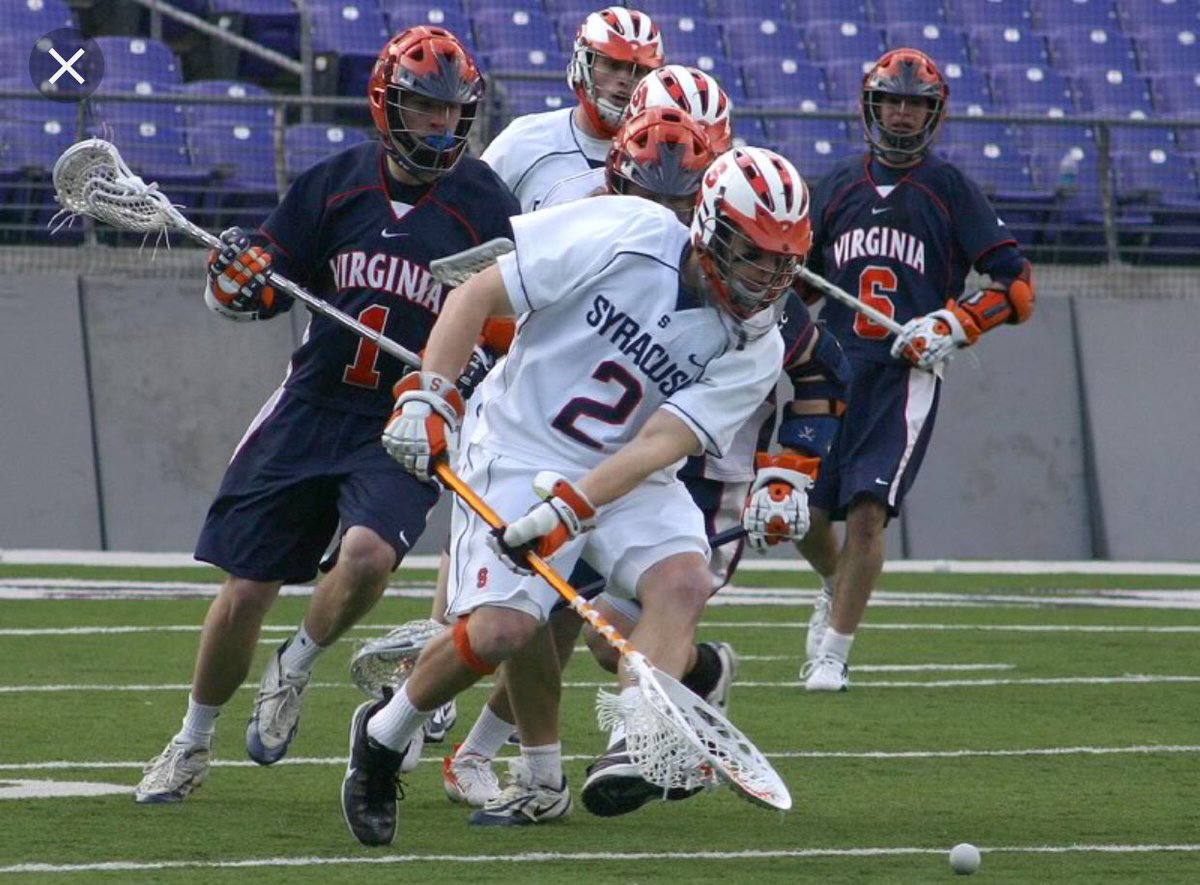 The digital team curated the content in a way that was suitable for mobile viewing using the Grabyo platform, allowing multiple clips to be published in a number of different formats.
For the NLL, sustaining the success of the 2018 season was crucial. By being the first to market with clips and highlights established their social channels to be the go-to destination for lacrosse fans.
Stay in touch
Join 8,000+ other professionals in getting the latest video industry news, trends and updates from Grabyo straight to your inbox.
90,000 Does keyword cannibalization harm your SEO?
Published: 2021-01-20
Keyword cannibalization is a common problem that affects all types of websites. To make matters worse, some marketers are unaware that their website might be facing this problem. Instead, marketers often look at a website page by page rather than the entire website when it comes to keyword targeting.
In fact, many websites face this problem due to historical content or lack of a clear search strategy. It's important to identify and tackle a serious SEO problem in order to maximize your search visibility and plan for your future content creation.
Before explaining what keyword cannibalization is, it is important to understand why this problem is relevant in the digital marketing industry. In today's world, many websites are confronted with historical content that is still ranked against targeted criteria.It is often overlooked that this historical content can compete with new content being generated, leading to traffic or keyword cannibalization.
What is keyword cannibalization?
Keyword cannibalization is when you have multiple pages on your website that mostly target the same keyword and / or keyword topic. This situation often occurs due to CMS issues related to parameter pages, and also because the same keyword is deliberately used across multiple pages.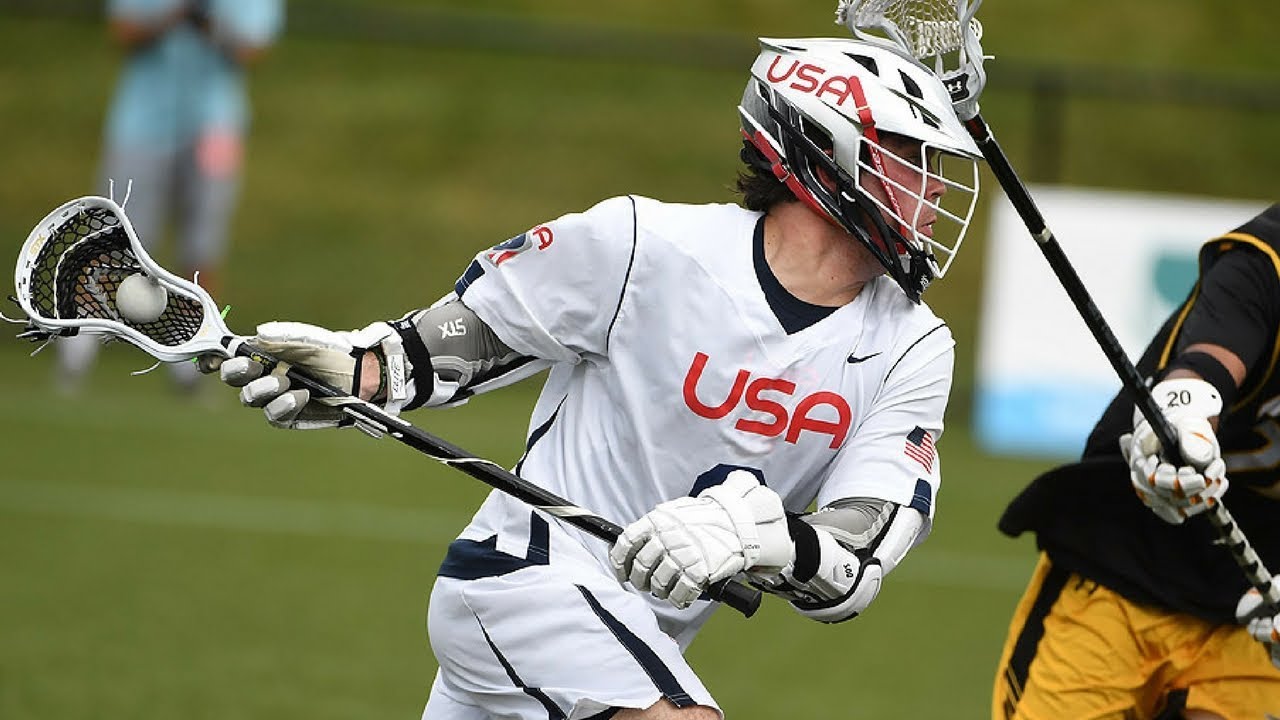 Unfortunately, this SEO issue still occurs on multiple websites, which can affect your search engine optimization (SEO) results as each page can compete with each other on search engine result pages (SERPs). There are several reasons why you would like to fix the cannibalization issue, including:
Decreased authority between pages: Multiple pages with the same main keyword topic can make it difficult for search engines to understand which page is authoritative.
Inefficient page crawling and indexing: Having multiple pages that compete with each other forces search engines to crawl unnecessary pages.
One of the biggest problems this causes is that search engines need to choose the best page for a given keyword topic. In other words, it means that you are in competition with yourself.
Hypothetical Example
To explain how a website might encounter a cannibalization problem, let's look at a hypothetical example.This example focuses on the lack of internal website structure and overall keyword targeting strategy.
For example, suppose you have an e-commerce website that sells lacrosse equipment (selfish plugin since I am training lacrosse and the season has just begun). Most e-commerce websites use options to filter / sort products. In this example, our lacrosse store has a page for "lacrosse heads" that shows all the lacrosse heads we sell.We can run into a problem if we have multiple pages of parameters for each manufacturer of "lacrosse baits".
In this example, our store might have a Lacrosse Heads page with the URL www.lacrossestore.com/lacrosse-heads. Then on the page we offer to select a manufacturer, as a result of which a new parameter page www.lacrossestore.com/lacrosse-heads?brand=1 opens. Basically, this page will have the same title tag and keyword subject that can compete with the home page www.lacrossestore.com/lacrosse-heads. It would be difficult for a search engine to know which page is the authoritative source for lacrosse goals. We will also miss the opportunity to rank individual manufacturer pages related to a product.
Avoiding Keyword Cannibalization
The first step to avoiding keyword cannibalization is to use a map or validate keywords for individual pages. You should have a general idea of ​​what keywords are used on each page of your website when building a website or auditing existing pages.You can use Google Sheets or Excel to document your keyword strategy for each page so you don't have the same keyword on multiple pages.
The second step to avoiding cannibalizing your strategy is to use the right tools. You can use tools like Screaming Frog to analyze your website structure and any common keywords in title tags, meta descriptions, title tags, alt text, and other areas.When analyzing the structure of a website, Screaming Frog can help visualize it using the Tree View (shown below). This view can make your life easier when you see how your website is structured much more efficiently than browsing URLs.
You can also use the Screaming Frog Internal Link Report to analyze the internal link text for landing pages. By analyzing the anchor text for your pages, you can ensure that you are using the correct keywords for each link to signal the search engines what the landing page is about.
Another useful tool for preventing keyword cannibalization is the Siteliner. Siteliner is a fairly affordable option that checks your site for internal duplicate content. Internal duplicate content can lead search engines to not fully understand what the page is really about. Instead, focus on having one authority page for each keyword topic.
As we discussed earlier, duplicate content can also be the result of problems with the Content Management System (CMS).The CMS can use options to change the content for users, but the title tag and title tags remain the same. When faced with a problem with parameters, you have several options for solving the problem.
The first option is to create static pages for parameter pages that have keyword topics with good search visibility. A static page will be easier to optimize for a specific keyword topic. Other options for resolving the parameters issue are to use Google Search Console to exclude URL variations, or to use a canonical tag that points to the original page.
It's time to improve your SEO strategy
It's time to audit your site to make sure you are not cannibalizing your search traffic. Auditing your website for keyword cannibalization not only helps to avoid performance issues, but it can also open up additional opportunities to expand your search area.
Let us know if you think your website is experiencing this issue so we can help you get as much search traffic as possible.We can help you use your analytics to uncover SEO opportunities for your site.
Psychology of the "gladiator effect" and female lacrosse World of Psychology
Source: Laura Miele, Ph.D.
Today, while reviewing my student's comments regarding the use of helmets in women's lacrosse for a course I teach at Ohio University, Performance and Conditioning for Coaches, something caught my attention.There is ongoing discussion about the use of helmets and the possibility of creating a "gladiator effect," which means it will create a more combative athlete. I found this quite interesting as Lacrosse in general is a high contact sport and the idea of ​​using helmets is primarily about the ball or head. Worryingly, with the use of helmets, these athletes will become more aggressive and, in turn, more head-to-head. The psychology around me amazes me because the debate is whether helmets should be worn or not.With the rules now, women lacrosse athletes have a choice. I cannot understand how we are more aware of concussion and traumatic brain injury (TBI) these days than ever before, but we are more concerned about our girls becoming too aggressive. Why is there a choice with something that can actually potentially reduce the occurrence of life-threatening or traumatic brain injury?
Abachuk & Johnson (2017), Helmets in Women's Lacrosse: What the Evidence Shows, discusses how American women's lacrosse is the second highest rate of concussion in American football.So where is the debate for helmet use? The article further examines the American Society for Testing and Materials (ASTM International) Standard F3137 as the first-ever quality standard for women's lacrosse headgear "designed to reduce the effects of stick and ball forces in women's lacrosse." This standard was created to assist in the reduction of potential head injuries in the Lacrosse game. But the worry is that helmets will change the game.Where is the concern for safety? In this situation, safety is paramount.
Abachuk and Johnson (2017) provide an excellent argument for cost-benefit risk analysis. Due to the aggressive nature of certain sports, head injury is a serious risk. Regardless, if the psychology is that wearing helmets in women's lacrosse would make these athletes more aggressive, it is important to communicate that there are still risks in the sport of lacrosse. This has already been demonstrated through research and observation of injuries.
What if the "Gladiator Effect" psychological premise is incorrect? Are we establishing safe practices because of the concept? Subsequently, once an athlete inflicts serious injury and / or TBI, there are more psychological problems that they will have to contend with. Unless the "gladiator effect" is a proven concept, nothing should stop the standard of helmet use or any other method of preventing injury. In fact, psychologically, athletes can feel safer with helmets and they can even become better players.
90,000 competition, ball, athlete, action energy, game, lacrosse
competition, ball, athlete, action energy, game, lacrosse | Pikist
competition, ball, athlete, action energy, game, lacrosse
Related royalty free photos
youth, soccer, game, football, young, play, team, ball, field, player, sport
Public Domain

football, american, game, runner, ball, on the way back, ball holder, landing, stadium, sport, team
Public Domain

lacrosse, goalkeeper, tender target, athlete, sport, uniform, loose, keeper, man, person, athletic
Public Domain

baseball player, buddies, in the field, sport, play, glove, infielder, field, ground ball, action, college
Public Domain

lacrosse, loose, game lacrosse, game, athletes, lacrosse players, stick, network, sport, competition, field
Public Domain

sport, soccer, athlete, player, soccer, game, action, competition, field, grass, activity
Public Domain

action, basketball, ball, athlete, cover, court, fun, game, jacket, leisure, man
Public Domain

soccer, soccer, soccer players, kick, kicking, soccer ball, game, competition, action, youth, boys
Public Domain

soccer, football, soccer player, sport, ball, game, player, field, grass, boy, competition
Public Domain

lacrosse, air force, Ohio, game, sport, sports, network, players, competition, close up, action
Public Domain

competition, game, interaction, victory, board game, action, pawn, pawns, win, lose, parlor game
Public Domain

soccer, runner, wrestling, sports, american runner, tackle, on the way back, ball holder, run, landing, game
Public Domain

football, soccer, angle, ball, sport, sports ball games, sports field, ball game, soccer ball, corner shot, lines
Public Domain

soccer, goalkeeper, competition, game, ball, sporty, match, athletes, goal, soccer, effort
Public Domain

quarterback, american football, sport, competition, super bowl, sports ball games, athletes, protective clothing, rugby union, ohio, shea smith
Public Domain

action, marathon, running, asphalt, athlete, cameraman, championship, runner, competition, pavement, race
Public Domain

cradle of newton, balls, sphere, action, reaction, illustration
Public Domain

baseball player, buddies, in the field, sport, play, glove, infielder, field, ground ball, action, college
Public Domain

football, soccer, pitch the ball, center, ball, sport, sports ball games, soccer field, ball game, grass, field
Public Domain

softball, pitcher, female, sport, game, competition, player, field, ball game, glove, cap
Public Domain

lacrosse, player, sport, stick, athlete, college, team, ball, equipment, helmet, field
Public Domain

baseball, runner, action, player, athlete, running, game, field, sport, base, ball game
Public Domain

basketball, player, game, sport, ball, athlete, competition, play, active, basketball player, action
Public Domain

quarterback, american football, run, landing, game, stadium, sport, team, ball, players, competition
Public Domain

blue, glass, marbles, kids, games, play, round, colorful, balls, marble, game
Public Domain

baseball, player, action, game, sport, uniform, ball, young, field, athlete, boy
Public Domain

high jump, track, field, competition, college, athlete, man, bar, event, action
Public Domain

soccer, soccer, sport, ball, game, player, field, grass, competition, action, team
Public Domain

fun, play, soccer, boys, sport, athlete, competition, ball, team
Public Domain

american football, sport, competition, super cup, sports ball games, athletes, protective clothing, rugby league
Public Domain

child, soccer, play, kick, soccer player, ball, soccer, sports, athlete
Public Domain

Running, runner, long distance, fitness, female, athlete, endurance, fit, health, woman, competition
Public Domain

ice hockey, puck, players, game, pass, forward, contact, sticks, goal, athlete, competition
Public Domain

basketball, game, competition, sport, ball, team, play, court, gym, action, basket
Public Domain

action, adult, Paralympics, prosthetic, athlete, champion, competition, disability, disabled, effort, fast
Public Domain

people, competition, adult, outdoors, wear, foot, action, person, recreation, athlete, race
Public Domain

basketball, player, athlete, game, action, ball, sport, competition, active, man, court
Public Domain

lacrosse, loose, player, sport, stick, competition, game, athlete, helmet, action, uniform
Public Domain

volleyball, net, volley, girls, ball, activity, active, sport, player, competition, game
Public Domain

Jump, kick, man, sport, athlete, action, adult, competition, kicking, strong, professional
Public Domain

soccer, soccer, kick, ball, game, play, sport, field, competition, grass, player
Public Domain

soccer, runner, ball, wrestling, american runner, on the way back, ball holder, middle, run, landing, game
Public Domain

volleyball, blocked shot, net, girls, action, block, sport, athlete, ball, competition, game
Public Domain

football, players, on the way back, competition, ball, game, team, field, grass, athlete, sport
Public Domain

Fabio Coentrao, player, athlete, soccer, football, game, sports, competition, ball, field, grass
Public Domain

soccer, goalkeeper, player, kick, game, play, sport, ball, action, competition, grass
Public Domain

soccer, players, action, game, reception, recipient, acrobatic, sport, american football player, ball, helmet
Public Domain

competition, ball, game, team, athlete, player, action energy, soccer, people, movement, football
Public Domain

football, american football, quarterback, runner, ball holder, competition, helmet, sport, play, college, game
Public Domain

basketball, basketball player, basketball girls, man, young, game, athlete, ball, sport, player, competition
Public Domain

baseball, runner, coach, little league, sport, youth, ball game, athlete, game, action, uniform
Public Domain

board, game, competition, strategy, business, win, pieces
Public Domain

basketball, player, driving, ball, sport, game, athlete, competition, action, active, man
Public Domain

tennis player, woman, racket, running, sport, serve, court, lifestyle, young, fitness, athlete
Public Domain

football, american, scrum line, defense, offense, sport, game, ball, teams, competition, players
Public Domain

basketball, player, basketball girl, girl, ball, sport, game, athlete, competition, active, play
Public Domain

soccer, kick, ball, soccer, competition, player, field, female, athlete, concentration, focus
Public Domain

football, junior league, action, american, player, on the way back, ball holder, ball, competition, game, sport
Public Domain

swimmers, swimming, race, competition, pool, water, stripes, sporty, athletic, athletes, olympic games
Public Domain

swimmer, competition, competitive, sport, water, athlete, race, pool, swim, action, cap
Public Domain
Load more
90,000 Sup-Ball Competitions in Vladivostok on July 29, 2018 in Paris
Event added to favorites
Select a category
Add to favourites
The Sup-Ball competition will take place on July 29 in Vladivostok.
Free admission.
The object of the game is to score goals into the floating goal (in this case, hit the buoy) by kicking or hitting the ball with a paddle. Anyone can take part in the event.
What is Sup-Ball?
The game is called Sup Polo or Sup-Ball. This is a game that will always push you to your physical limits, hone your strategic skills and laugh like never before.
Sup-Ball is a mix of netball, water polo, lacrosse and rugby.The rules of the game were invented at the Manly Kayak Center in Sydney and the Manly Bar. They take water entertainment to the next level – a unique game that everyone can play.
Program:
Sup-Ball Competitions;

90,019 music from the DJ;

contests and prizes.
Rules of the Game:
Players can grab each other, jump onto someone else's board and push others into the water, preventing a goal;
Players may not touch other players with the paddle, as this could result in injury.
Start of the competition at 11:00.
For inquiries by phone: +7 (908) 445-49-83, +7 (994) 006-43-00.
Paris bay
Up
Full version of the site
Financial Encyclopedia – Financial Concepts and Terms
Financial Encyclopedia – Financial Concepts and Terms
Skip to content
Financial Concepts and Terms
Stock Market News In Real Time: S&P 500 Shows Third Day In A Row, Achieves One-Week Advance After Roller Coaster Week
The private equity holiday is coming to an end and we're tired, Carlyle explains.
Nike Earnings Preview: Supply Chain Challenges
Arctic oil and gas production thrives despite climate concerns
Citi does not rule out that natural gas will cost $ 100 in a cold winter
HSBC CEO Sees Market Impact of Evergrande Debt Issues
California Governor Signs Bill to Tackle Unsafe Storage Quotas
Some Evergrande Offshore Bond Holders Do Not Expect Thursday Payouts – Source
China prepares for the fall of Evergrande – WSJ
GE Announces Largest Acquisition Under CEO Kalpe
2 "Strong Buy" Penny Stocks Heading For Three-Digit Rises
Democrats want to reduce the number of "hidden moneylenders"
Rapper Helps Open a Free Grocery Store at Georgia High School
Impact of inflation on low-paid workers
U.S. Household Wealth Soars To A Record $ 141.7 Trillion In Q2, According To The Fed
Big Stock Market Drop Still Lurks: Strategist
US sues to stop American Airlines partnership with JetBlue
Facebook Falls After Apple Warns Ad Tracking Will Slow Growth
Trader Spent $ 50 Million Options Betting on S&P 500 Rally
Kanu: These beaten EV stocks offer a favorable entry point, analyst says
Volkswagen builds new EV battery systems plant in China
California Governor Signs Warehouse Worker Protection Act
California Governor Signs Warehouse Performance Quota Act
You may soon be able to insure yourself against the collapse of the social security system – but is it worth it?
Investors expect rate hikes as Fed's rate cut plan is almost certain
ARK's Katie Wood says Wall Street isn't in a bubble
Is a housing collapse coming? Eight experts give their opinion on this possibility
Evergrande bondholders seek clarity on payments after Thursday's deadline dwindled
Influential People with Andy Server: Anna Wojcicki
Yahoo Finance Presents: Former CFTC Chairman J.
The "rather spoiled" market gives the Fed a "thumbs up" even as inflation rises: Morning summary
Target will spend $ 75 million to hire fewer holiday workers, offering current employees more hours of work
Fed Signals Potential 6-7 Rate Hikes By 2024 Amid Talk Of Rate Cuts
China Oceanwide Seeks To Save American Deals As Evergrande Switches To The Other Side
Evergrande's main sponsor, Chinese Estates, may sell its shares
Founder and CEO of Contextlogic trades in the company's shares in the amount of $ 474.28 thousand
Natural gas crisis – a much needed reality check
Stocks rally on upside optimism; profitability rises: Market overview
Chinese stocks, from real estate to tech, jump amid Evergrande respite
Australia sues Neoen for lack of power from Tesla backup battery
COO Coinbase Confirms The Company Will Release Proposals To Regulate Cryptocurrencies
Preliminary Survey of Unemployment Claims: Another 320,000 Probably New Applications Last Week
9 Momentum Stocks to Buy with Extra Growth
BlackBerry Exceeds Quarterly Revenue Expectations With Cybersecurity Improvement
Pfizer vs. Moderna vs. Johnson & Johnson
Stephen Weiss shares his next steps for the FedEx position
Senate Democrats Strengthen Scrutiny of Check Form Firms
Elizabeth Warren and Democrats attack SPAC kings
ARK's Katie Wood says Wall Street isn't in a bubble
Stocks Rise, Dollar Falls As Investor Risk Appetite Expands
90,000 A shaky concept for the separation of strategic forces
Academician Sergei Rogov, together with generals Viktor Yesin and Pavel Zolotarev, asked the question: should the nuclear planning of America and Russia forever be based on the need to keep thousands of nuclear warheads in constant readiness for an immediate strike against each other? And they came to the conclusion that such a model "guaranteed stability during the confrontation between the two irreconcilable rivals during the Cold War," but henceforth "is incompatible with the strategic partnership proclaimed by Presidents Putin and Bush."
Based on the example of relations between other nuclear powers – France and England – a solution was found "to move from ensuring stability by demonstrating a convincing ability to be ready to strike at any moment to stability achieved by convincing the enemy that you do not intend to carry out a preemptive strike, under all circumstances, strike back with a crushing blow. " In other words, "if we knew that the United States has the ability to launch only 500 warheads at a time, then we could also take similar measures.Another 500 or 1000 could be kept at a lower readiness level. The rest are even lower. This is a classic scheme for the separation of forces according to the time of their entry into the battle. The task of which is to show that there are not enough forces in the first echelon for a disarming and decapitating strike. In this case, even a surprise attack will not save you from retaliation. And it will not be possible to mobilize the second and third echelons imperceptibly – after all, there are our national means of detection. "
MINIMUM FIELD OF POSSIBLE CALCULATIONS
The concept, seemingly ideal from a theoretical point of view, in practice can be fraught with a huge number of miscalculations.As they say, it was smooth on paper, but they forgot about the ravines. And the point here is not even about the fact that Russian and American missiles, due to their design features, have fundamentally different periods of readiness change. These are all trifles in comparison with a whole series of questions concerning the mechanism for implementing the "echeloning" of strategic nuclear forces (SNF).
I cannot agree with Sergei Rogov that it is possible to compare the foreign policy relations between the Russian Federation and the United States with the relations between France and Great Britain.No, of course, Russia and the United States are not India with Pakistan and not China with Taiwan, but nevertheless, one cannot close our eyes to the existing contradictions in the foreign policy of the two powers. Yes, "the entry into the sea of ​​a French or British submarine with an SLBM does not cause tension on the other side," but neither Britain nor France are conducting exercises on the deployment of strategic nuclear forces, aircraft carrier formations, submarines with cruise missiles on board against each other. Russia and America have a unique system of relations, and blindly copying other people's models is unacceptable here.
HELPFUL REMAINS OF COMMISSIONING OBJECTS SNF
What will happen if – as the new concept suggests – each side of the nuclear confrontation, instead of 1700-2200 warheads remaining by 2012, keeps only 500 warheads in constant readiness for launch? It would seem that such a quantitative change will not develop into a qualitative one and the abandonment of nuclear deterrence through intimidation, which Rogov spoke of, will not happen (as in the case of leaving some 50 warheads on alert).
But the pitfalls of such a reduction lie in the traditional belief that all nuclear warheads available on both sides will surely hit targets on enemy territory. Supporters of nuclear reductions sincerely do not understand why the Soviet Union and the United States during the Cold War accumulated many times more nuclear warheads than is required for the notorious "inflicting unacceptable damage" by McNamara.
For some reason, they never thought about how many of the intercontinental ballistic missiles (ICBMs) standing on duty would not be able to launch from mines due to a technical malfunction, and how many of those launched, for the same reason, would not overcome halfway to the enemy's territory, how many combat blocks will be destroyed by the enemy's anti-missile defense (ABM), how many of the warheads that have broken through the missile defense will fall too far from the target or will not work at full power.But, most importantly, when considering the issues of nuclear confrontation, most authors dwell on the scenarios of a classic nuclear war, when an aggressor hits strategic targets of the enemy exclusively with nuclear weapons. The theory of global non-nuclear war, proclaimed by America back in the 1980s, is still unnoticed for them.
Of course, a clash between the United States and Russia in the near future is hardly possible, but "si vis pacem, para bellum" or, as the slogan in Admiral Makarov's office said, "remember the war."Why does Academician Rogov think that America, in this case, will deliver the first strike with nuclear ballistic missiles (BR)? But what happens if a nuclear missile strike is preceded by a strike by precision-guided weapons in conventional equipment?
And suddenly a concept is put forward according to which only a part of the strategic nuclear forces is in readiness for use. For example, only one missile attack warning system station is on alert (most likely, it will be the Don radar station near Moscow, which also manages missile defense systems) and several regiments of strategic missile forces (Strategic Missile Forces).The rest of the radars of the missile attack warning system (EWS) have a reduced staff and will be switched on only if it becomes known that the Americans are loading Minuteman missiles into the mines. The empty mines of the remaining units and formations of the Strategic Missile Forces are waiting in the wings, all mobile launchers of the Topol-M ICBMs have accumulated in one hangar, the SPRN spacecraft are not in orbit, but are decorously stored on Earth, and a couple of surviving nuclear submarines armed with ballistic missiles (SSBNs) of the Navy, and all ballistic missiles are neatly stored in the warehouses of the 12th Main Directorate of the Ministry of Defense.It turns out very conveniently!
Will the remnants of the Russian Air Force and Navy be able to prevent a precision weapon strike at the remnants of SNF combat-ready facilities? Have the authors of the concept from the Institute of the USA and Canada thought about this? Did they think that destroying two thousand or 500 ready-to-use warheads in a silo launcher (silo) and on board SSBNs by a Tomahok SLCM strike are fundamentally different things? Did he ask the question how many anti-submarine ships of the Russian fleet will be able to go to sea today, how many fighters will be able to lift the Air Force into the air?
Let's assume that the enemy managed to destroy 80% of our warheads even before the ICBM was launched.Then in the first case (in the presence of two thousand nuclear warheads) we will have 400 warheads, and in the second (500) – only 100. launch, the territory of the United States will reach just such a number, which will be "in the teeth" of the NMD system under construction in the coming years. It turns out that with the echeloned use of strategic nuclear forces, the first "echelon" will not be able to fulfill the task of destroying even a small part of the assigned targets, and the remaining "echelons" simply cannot be "put into action."As a result, such a concept of building up nuclear forces leads to a devaluation of the strategic nuclear forces as such.
A paradoxical situation is emerging: the reduction of warheads on alert on both sides does not increase the level of international security, but, on the contrary, leads to a certain imbalance of forces. We do not care how many warheads are aimed at us – 500 or two thousand – in any case, it will not seem small. But for Americans, the difference is significant. So, if a nuclear war is unleashed by the Russians, having two thousand nuclear warheads, then they are able to inflict a "disarming and decapitating strike" on the United States (with such a formulation, Academician Rogov obviously wanted to say that, first of all, strikes will be applied to military targets and the system management), but it is worth adding "bleeding", implying the destruction of the national economy.But if Russia unleashes a war with 500 nuclear warheads, then it will not even succeed in a "disarming" strike: Russian missiles will be aimed primarily at silo launchers of Minuteman ICBMs, but it is impossible to hit American SSBNs in the sea.
Of course, one can fantasize about the breakthrough of Russian submarines (submarines) into the Atlantic and the Pacific Ocean, where, despite the absolute superiority of the US Navy and the NATO Joint Naval Forces (OVMS), they sink enemy SSBNs one after another.Although, I'm afraid, we have less combat-ready nuclear submarines than America alone. But even the one and only non-destroyed Ohio-class SSBN is 24 Trident-2 missiles with ten warheads each!
It turns out that Rogov's concept of preventing nuclear war without activating reserve echelons of strategic nuclear forces works. But only for Russians. But if the Americans "do not have enough" 500 warheads for a "disarming and decapitating strike," they will always be able to "compensate" for the shortfall with a strike from precision non-nuclear weapons.We do not have such an opportunity. Several multipurpose nuclear submarines with Granat cruise missiles will not be able to solve such a problem both due to their small numbers and due to the superiority of enemy forces at sea and in the air. To minimize the likelihood of unleashing unpunished aggression, it is necessary either to build up strategic non-nuclear forces themselves (which is impossible for economic reasons, and will entail retaliatory measures from the enemy), or to demand their reduction by the other side.
HOPE FOR A "CAREFUL" STRUGGLE FOR DEMOCRACY
According to Sergei Rogov's assumptions, the mobilization of the second and subsequent "echelons" occurs as information comes from the "national detection equipment". What is meant here? Reconnaissance spacecraft? Good. But the United States has two such systems that make it possible to quickly track changes in the state of strategic targets of a potential enemy in global coverage and on a time scale close to real.These are Keyhole optoelectronic control systems and Lacrosse radar control systems, each of which includes two functioning and one reserve spacecraft in orbit, plus satellites-relayers of the extracted information. But even wealthy America cannot afford the 24-hour operation of optoelectronic control satellites: they monitor not only rarely, but extremely rarely. And Russia is unlikely to have in mind several hundred loyal and incorruptible candidates capable of overseeing all entrances to silo launchers of ICBMs and SSBN berths around the clock right on the territory of the United States?
Another reason for the reduction of warheads on readiness for launch, the academician calls the activities of terrorists and the possibility of unleashing a nuclear war between Russia and America due to provocations from a third state.Needless to say, neither Pakistani, Indian, nor North Korean BRs are able to reach American territory? Moreover, modern means of warning systems (both our early warning system and the American HID) are able to determine the parameters of the flight trajectory of a ballistic missile with an accuracy sufficient only for target designation by means of PR. What can we say about the establishment of the nationality of the rocket?
Academician notes that seven countries have submarines with nuclear missiles. But apart from the USA, Russia, France and England, only the PRC has SSBNs.Does it make sense to point out the high accident rate of the only Chinese SSBN and the low flight range of its ballistic missiles, while the United States created the most complex hydroacoustic control system of the world's oceans during the Cold War?
There is another hidden danger of this concept. If such a "echeloning" of strategic nuclear forces is implemented in the modern Russian economy, there may be supporters of reducing defense spending, using this concept as a theoretical justification for the presence of "extra" nuclear forces and assets in the RF Armed Forces.And the first such "superfluous" component of the strategic nuclear forces can be called their naval component (this despite the fact that only SLBMs, in accordance with international obligations, will be equipped with multiple warheads). The main "arguments" here can be cited as the insufficient number of naval personnel for the safe deployment of SSBNs at sea, and the protracted tests of the new Bulava SLBM, and three unsuccessful launches of the upgraded Sineva SLBM out of four carried out during the Security 2004 ", and the death of the Kursk nuclear submarine, and the banal lack of funds for military shipbuilding.Indeed, why spend colossal funds on the maintenance of the Navy, if the remaining SSBNs in its composition will go out to sea only in the event of an obvious threat of nuclear war, and during exercises, it will be either unsuccessful to shoot or sink? Russia, you know, is a land power.
One of the controversial issues was and remains the question of the possibility of the conflict itself between Russia and the United States. Who knows, maybe the setbacks in Iraq will force the American leadership to fight for democracy and "world peace" by the method of missile and bomb strikes more "carefully."But we should not forget about the events in Yugoslavia, when the implementation of the principles of warfare of the sixth generation successfully solved most of the military, economic and political problems.
In addition, in the foreseeable future, the abandonment of the nuclear deterrent model (we are talking about the readiness to inflict damage on the aggressor that is unacceptable for the further continuation of hostilities) as the basis of the state's (primarily Russia's) defense capability will also be hindered by economic unwillingness to build the 21st century Armed Forces and backwardness views of the military-political leadership on the geopolitical situation in the world and the means and methods of waging wars in the future.
No comments found for this item.
FIFA strategy 18 1xbet | UNKERPANEL.RU
But closer to the year, the game separated from other esports disciplines. Tournaments and leagues appeared within the client itself, and the usual LANs became a rare occurrence.
Betting on cyber football 1xbet
Almost all major FIFA tournaments have come under the auspices of the developer, and their number has significantly decreased. Despite this, bookmakers continue to accept FIFA esports bets for the main events of the year.Some bookmakers, for example 1xBet, offer bets on computer simulation of matches in the game.
It is worth deciding what you want to bet on: an e-sports match where real people play or a computer simulation of an e-football game.
The first option is suitable for those who follow tournaments and the professional scene. The second one is for fans of betting on football in the absence of real matches. The painting is minimal. Usually only the baseline 1X2 is available, less often totals and handicaps on goals.Matches are played in the usual bo3, bo5 formats, and so on. That is, several championship titles can be played in one tournament on different platforms.
Almost always, the lane on FIFA is only available in the prematch. Bet on cyber football is offered by a limited set of bookmakers. Objectively, 1xBet is the best. In it, FIFA matches are played around the clock, and most importantly, live is available. Not a bad alternative to football if there are no interesting matches in real life or if you want to make FIFA bets for fun.But the result of the game is difficult to predict, because everything happens completely by chance and is simulated by a computer.
But the coefficients are higher than for the esports FIFA. All popular strategies that are practiced in football betting are applicable to betting on fifa:
The generalized essence of strategies is the search for patterns based on the latest results or statistics and the bet that it will continue or, on the contrary, will be interrupted in the next match. For example, if a team plays 5 matches in a row without draws, the probability of a draw in the sixth game is statistically very high.
And it makes sense to bet on a draw. Every such strategy for betting on FIFA works better in the case of cyber football, that is, in a computer simulation. Yet there it is more likely to grope for trends. You need to know the competitive scene perfectly, follow the esports players, watch the recordings of matches, understand the intricacies of the regulations, know the mechanics of the game itself, and so on. It is important to wait until the end of the meeting, and then bet on Mobi 1xbet skachat live, if the bet did not go through at the previous step.
Place your bet on X even when one of the teams is already in the lead. This gives you a chance to catch a large coefficient. Among the strategies for betting on e-football, there is a recognized hit.
We are talking about the strategy of Denis Wert, who allegedly found a bug in a simulation from FIFA and was actively selling his find on the network. There is another information businessman who allegedly outwitted the bookmakers.
Let's take a closer look at Werth's miracle strategy. But this should be done already in live, when 20-25 virtual minutes have passed.It is important that the score by this time has a coefficient for TB of 2.5 and is higher than 2.1. The author declares that the overwhelming majority of bookmaker clients bet on odds below 2.0 TM 2.5.
That is, an overestimated coefficient appears on TB 2.5. And you allegedly bet on value at the moment when quotes exceed 2.1. In this variation of the strategy from Werth, you need to enter the matches at the minute when the score is established. Acceptable odds for bets: 2.3 and higher. At the same time, the coefficient for TB of 0.5 has already exceeded the level of 2.0.This is a strategy for the Russian eSports championship. It is recommended to bet that there will be goals in both halves. The author claims that goals scored at the end of the first half regularly occur in the scary advertising of 1xbet of the Russian championship.
When implementing TB strategies, it is recommended to avoid matches with the participation of Russian teams. Werth claims that they play TM regularly. It is not suitable for other tournaments in the e-football section. The author tested the strategy for a month, selecting 72 matches daily.On paper, the results look amazing. However, the author entered in advance the average coefficient of 2.5. Although there are coefficients of 3.0 and even 3.5. Usually 1.3 odds are available from the 1st minute. On average, 7 out of 8 bets pass.
At the same time, in order to improve financial results, it is recommended to make several bets during the match as the quotes increase. Under the terms of the first system, bets are placed on the world league in which the national teams. PariMatch virtual football has detailed team statistics, including head-to-head matches in the season.According to the terms of the strategy, matches are selected in which teams with equal or approximately equal balance in head-to-head matches play against each other.
The bet is placed on the national team, for the victory of which the higher odds are offered. The second strategy is as simple as possible: bets on TB 2.5 with odds ranging from 1.70 to 1. There are additional conditions: A systematic approach gives success even in e-football betting. Dominican Republic. Cook Islands. Myanmar Burma. New Zealand. Channel Islands.
Papua New Guinea. Puerto Rico. Saudi Arabia.
Cyber ​​Football Betting | Fifa
Northern Ireland. North Korea. North Macedonia.
Saint Kitts and Nevis. Solomon Islands. Trinidad and Tobago. South America. South Korea.
Accurate Score Cyber ​​Football L Fifa Lightscore – Free mp3 download
Europa League 5 FIFA Champions League 5. There are no events for the selected period. Category from A to Z.
.