Notre dame lacrosse defensive drills: Notre Dame's 'Asterisk' Defensive Drill
Men's Lacrosse Announces Hiring Of Assistant Coach Neil Hutchinson – Notre Dame Fighting Irish – Official Athletics Website
University of Notre Dame Baumer Family Head Men's Lacrosse Coach Kevin Corrigan recently announced the hiring of Neil Hutchinson as an assistant coach. Hutchinson joins the Irish from UMBC.
 
"I am extremely excited and honored to join the coaching staff here at the University of Notre Dame," said Hutchinson. "Thank you to Jack Swarbrick, John Heisler, Coach Corrigan, Coach Byrne and Rob Simpson and the entire administration for the opportunity to join the men's lacrosse program. I am excited to work with such special student-athletes and help this program accomplish its goals."
 
"Neil is a bright, enthusiastic, hard-working coach with a passion for working with young people," said Corrigan. "He is just a great fit for our program. We are excited to have Neil on board."
 
Neil Hutchinson's came to Notre Dame from UMBC, where he served as an assistant coach for the Retrievers for two seasons.
Prior to his time at UMBC, Hutchinson was the volunteer assistant coach at his alma mater, Towson University. 
In his first year fully on the Tiger staff in 2015, Hutchinson worked closely with the team's three goalkeepers, with duties including warm-ups and technique drills. The work paid off as Hutchinson saw senior Tyler White earn third team All-America honors, as well as being tabbed Colonial Athletic Association (CAA) Defensive Player of the Year, just the second Tiger to earn that honor. 
In 2016, White finished with the best goals against average (6.89) in the nation, backing a defense that allowed a national-best scoring defense (7.26).
Hutchinson also worked with the Tiger man-up unit, which executed at 43 percent in 2016, good for 20th-best in the country. 
Hutchinson transferred to Towson prior to the 2013 season from CCBC-Essex where he was the 2012 Maryland Junior College Offensive Player and Midfielder of the Year. He played 11 games as a senior at Towson before an injury cut short his campaign.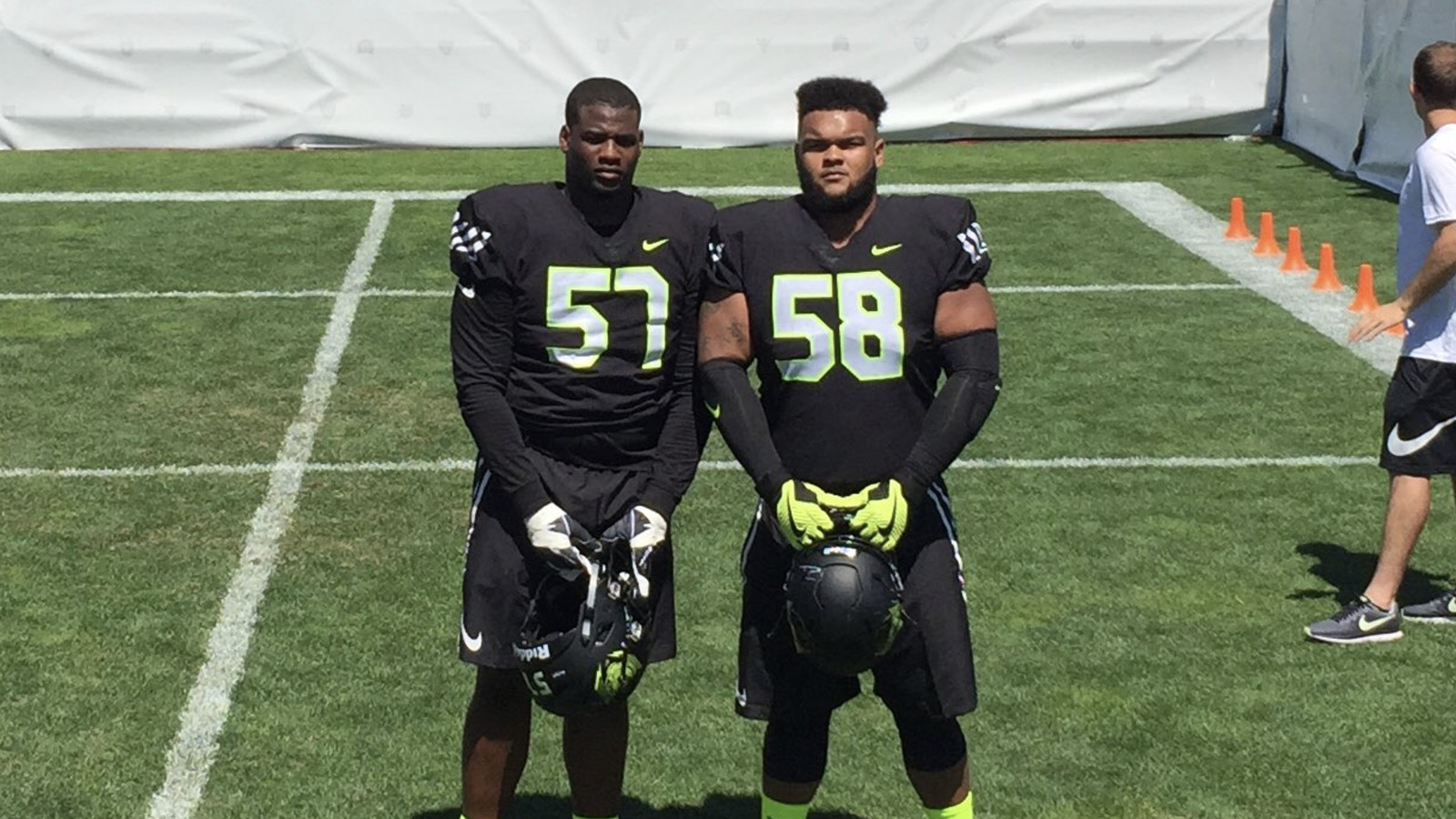 He totaled four assists as part of the Tigers' second midfield unit. Hutchinson spent 2014 as a student assistant with Towson before taking the volunteer assistant position that summer.
The Baltimore native prepped at Loyola-Blakefield and earned his bachelor's degree in kinesiology from Towson in 2014.
— ND —
The University of Notre Dame men's lacrosse team pursues excellence on and off the field through the three pillars in which the program is built: Character, Culture & Community. These three foundational values guide the promise of the program, which is to provide its student-athletes with the most compelling and enriching experience in all of college athletics. Through academics, competition, service and travel, the program aims to immerse its players in situations that enhance their student-athlete experience to help them become the people, students and teammates they aspire to be.
Follow the Notre Dame men's lacrosse team on social media and the Internet …
Click here to follow ND Lacrosse on Twitter
Click here to follow ND Lacrosse Coaching Tips on Twitter
Click here to learn more about the ND Lacrosse Experience on Twitter
Click here to like ND Lacrosse on Facebook
Click here to subscribe to NDLaxTV YouTube Channel
Click here to read the latest news on ND Lacrosse
Click here to learn more about ND Lacrosse Camps
Click here to learn about ND Lacrosse community service on Twitter
3 Great Youth Lacrosse Drills for Kids
If you're like me, you may have to do a double take whenever planning a practice for kids.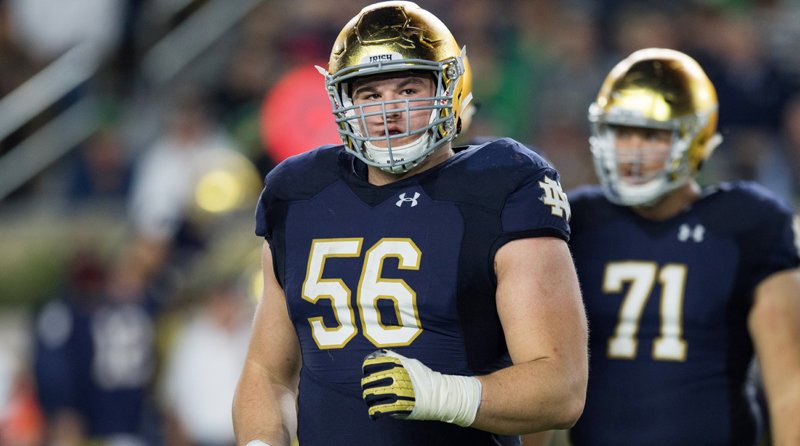 Those favorite lacrosse drills you had as a player might not be appropriate for youth players who are newer to the game and don't have the ability to do what adults and teenagers can do.
Below, I detail three drills that I like to run when I'm working a youth lacrosse practice.
Three Great Youth Lacrosse Drills for Kids
Ground ball Train
This drill, originally provided by Coach Gerry Byrne while at Notre Dame, is an excellent lacrosse drill for all levels, including youth. We all know how important ground balls are, and this drill allows players to get a crazy amount of reps in a short period of time. An added bonus is the conditioning involved!
One of my favorite things is that if you have a few players who aren't quite up to par yet, they won't take away from the experience of the other players, because it's an isolated drill.
The key in this drill is doing it correctly, meaning players are cutting at the right time, everyone is talking, and we are following the coach's prompts (catch left throw right, catch right throw right, etc.).
Classic Z Drill
Tucker Durkin does a great job of explaining an absolute staple in coaching circles: the Z drill.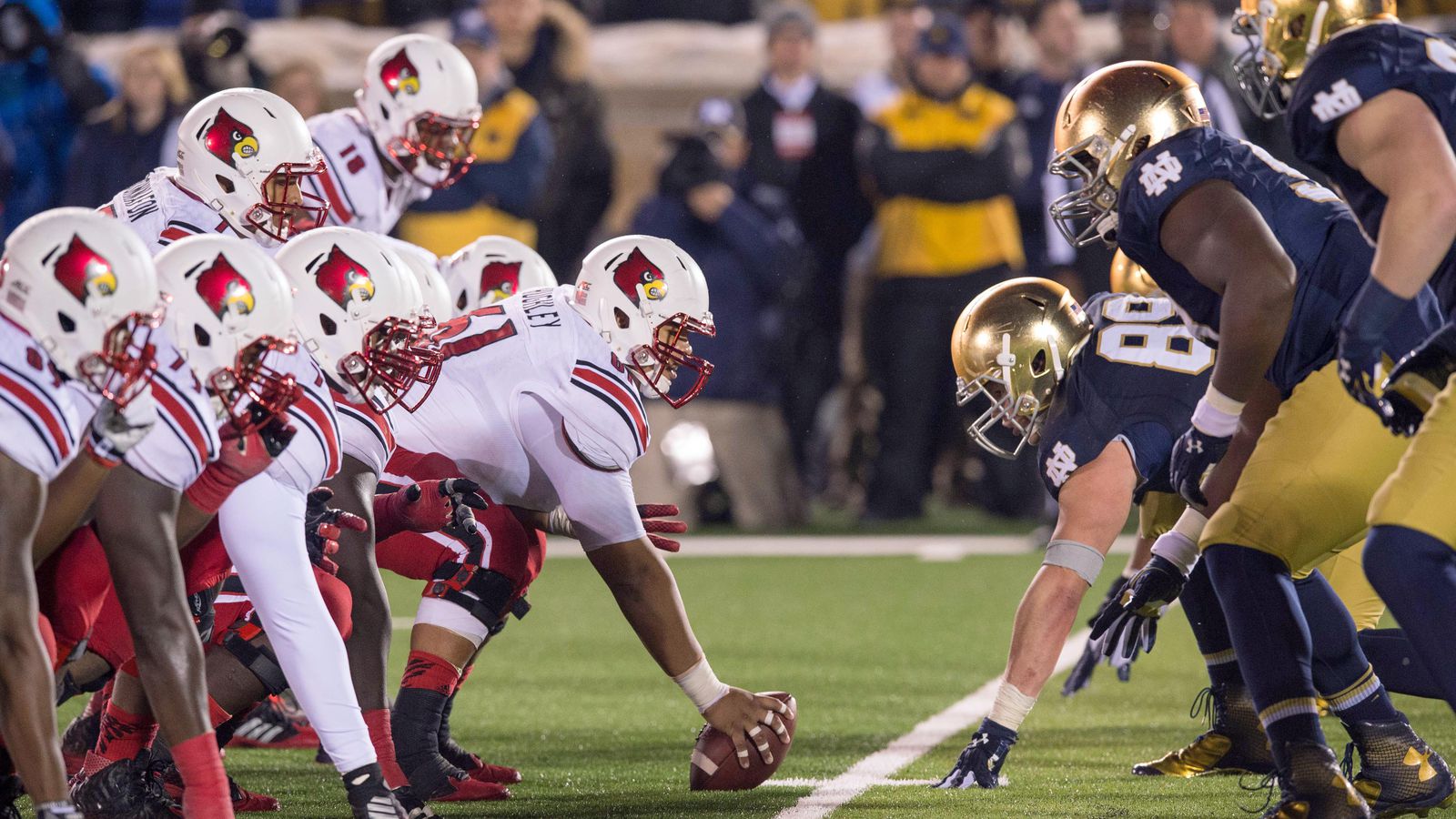 We've seen this drill run in some fashion across multiple sports. It's a drill that definitely is designed for defensive players but benefits every position on the field. At its core, it's a great footwork drill, but it's also a great way for players to work on defensive approaches (footwork, low center of gravity, stick out front, approach angle). It's one of those drills that's easy to learn but hard to master.
The players in the video below make it look easy, but they're some of the best high school players in the country. Trust me, your youth lacrosse practice will have plenty of coaching opportunities when you run this drill.
4/6/2021 – Lacrosse Plan

Time
Drill
5 Min
Active Stretching
10 Min
Over the Shoulder Pass Drill
10 Min
Notre Dame Whirlpool Passing Drill Notre Dame Whirlpool Drill

Use as many goals as you can
6 Person Drill, form 3 lines, 2 at X, 2 at GLE about 10 yards away from the goal, and 2 at the top of the alley opposite the GLE guy
The top Alley guy starts with the ball, does a corner dodge toward the goal and makes a pass to the guy at x
The guy behind gives an outlet pass, presenting stick in the air hitting the guy on the run to the opposite side of the goal

The GLE guy cuts down the center crease receives a pass from the X guy and then passes back to the Alley top line

10 Min
Revenge 1 on 1 Ride Drill

Put a goalie in the cage
Cone off a sideline and a restraining line
Lineup defense and offense at the end line
Defense grabs a ball and tries to run up field, must stay inside the lines
When the defensive player hits the box line, drops the ball and it turns into a 1v1
Riding guy works on pushing him out or stalling him

2v2 with two middies at the mid line, middie locks on

10 Min

Rides and Clears
5 Min
Water
10 Min
Picking up cutters

two feeders behind the cage
pass the ball back and forth
2 defenders and 2 offensive guys top of the box
defenders head on a swivel yelling which player has the ball while watching their guy
offensive guys cut, defender denies the cut
defender should what the cutter's hips not his head, shoulders or eyes

5 Min
Water
10 Min
Dice Drill

Best to run with 25+ kids but need 19 min (4 lines of 4 guys, and 2 crease guys, and 1 goalie)

Put guys on the field in a 5 v 5 dice pattern
Add a second crease at the five/five its 2 points and encourages a middle shot
Kids play 5 v 5, making the east/west dodge rule, if dodging and don't have a shot, pass and cycle continues
Look to score in the middle, if you don't have it move the ball twice and dodge again
Bonus: every ball pass sub both the off/def guy

20 Min
6 v 6 Half Field

Game situations

3 Man
Face-offs
Substitutions
EMO/MD
Clears/rides
A Guide to Lacrosse During Spring 2020 – Lilac City Lacrosse Club
Notre Dame Lacrosse sent out this 2020 Team Workout to current and former players.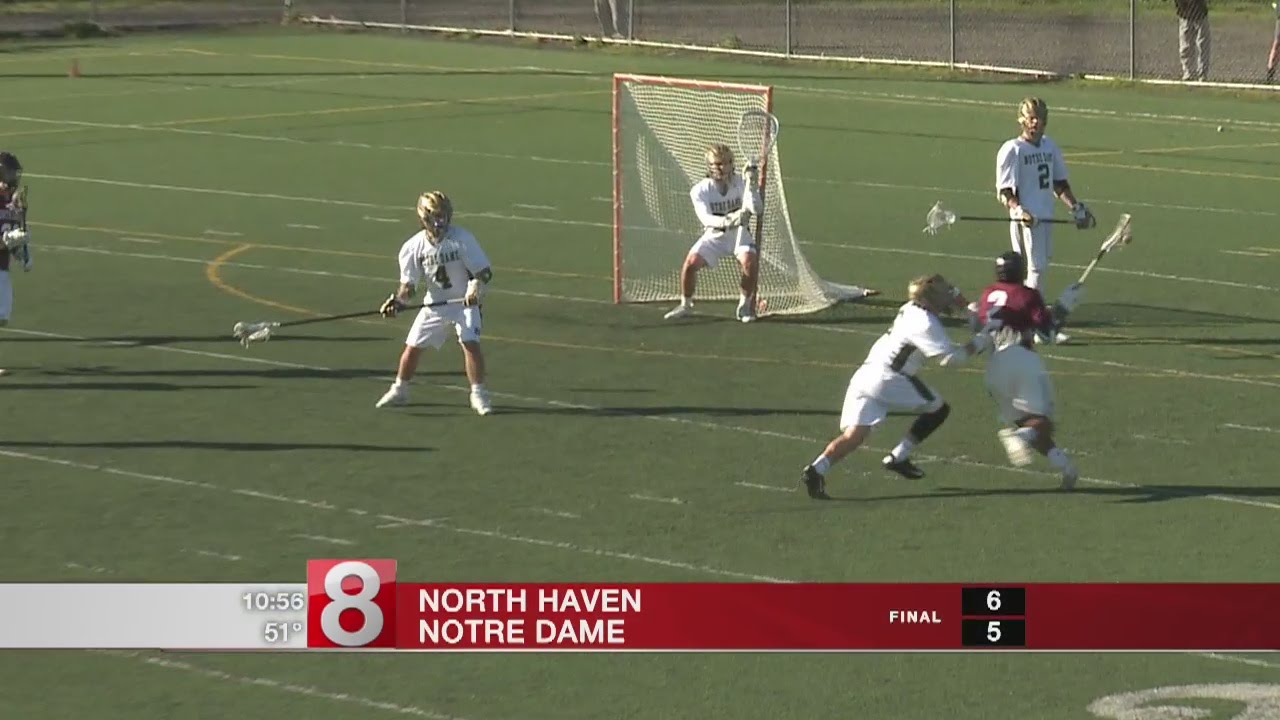 This is great!!! – Link
Stuff your LiCi Staff Dug Up:
1.     Cone Drills – A staple.  Easy to set up, not easy to do (smiley face):
2.     Jump Rope – Jumping rope is great for foot, leg and arm strength and great for endurance.  This workout is good.  The guy leading it is a goof ball but ignore that and focus on the routine (and keep your shirt on).  If you don't want to bother with the annoying guy, try this… Start by trying to do intervals of 30 seconds and work your way up to 2-minute intervals. If you're really hardcore, try to do 10 rounds of 3 minutes w/ 1-minute rest in between each round.
3.     Squats – No weights required.  Hands on hips or pointed out straight, go down until upper legs are parallel to the ground.  Do 3 sets of 12.
4.     Pushups – Try this simple ladder.  1 (rest for 10 seconds), 2 (rest for 10 seconds), 3, (rest)….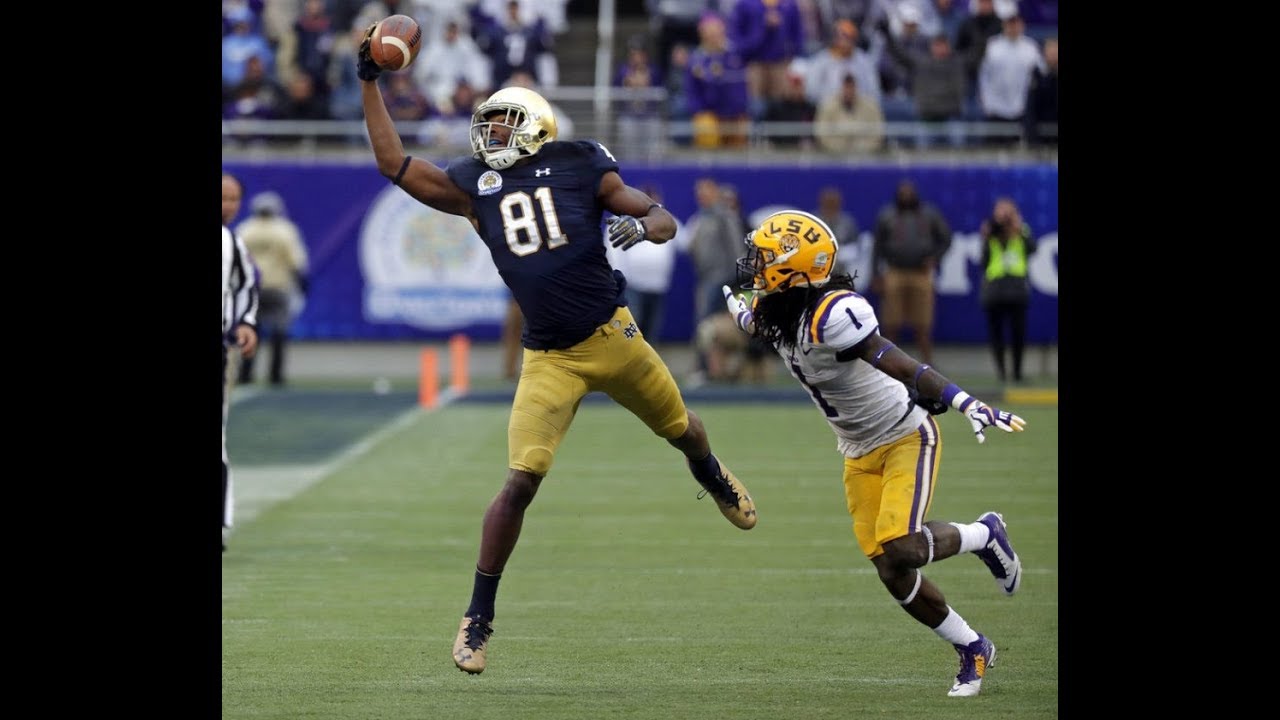 on up to 10.  55 pushups. Do this 3 times a day.  Older guys, a set of 100 twice a day.
5.     Sprints – That part of practice most of you hate…but do some of this and you will hate sprints a lot less. Try 10 minutes of sprint intervals (ladders or 50 yard up-and-backs) rest for 30 seconds between sprints.  If you can get to a football field and try the 500 yard "sprint".  That is, see how fast you can run the length of the field five times.  It's too far to sprint, so pace is a key component.  Build endurance fast.
6.     Wall Sits – Legendary ND Defensive Coach Gerry Byrne, says he sleeps "in an athletic stance." It's a joke but getting "low" in lacrosse is key for good defense and this is meant to enforce that concept.  Help your athletic stance by doing 3 sets of 60 second wall sits (60 second rest in between).
7.     Long Runs – Do 1 long-run per week. Ultimately, try to work up to the point where you can set the timer for 1 hour and run at a steady pace for the entire time.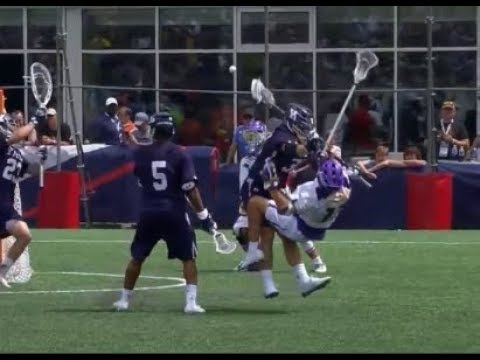 Throw on some music and pace yourself (nice and slow to start) so you are not breathing very hard during the run.
8.     Tree Dodging and general goofing – There is no substitute for just having a stick in your hands or nearby.  This video is a little bit dramatic for my liking, but I do like that Paul Rabil shows some not-so-traditional ways of getting in reps with his stick.
Last, WALL BALL, WALL BALL, WALL BALL.  Watch this, video.  It is great.  But this is sooo simple.  Just hit the wall guys.  Just hit the wall.  Please do this every other day (at least).
At Notre Dame, Maryland men's lacrosse had its lowest offensive output in a year
The Maryland men's lacrosse team used transition offense on Feb. 18 to demolish High Point, 19-5, and claim its third-straight win to begin the season. Afterward, coach John Tillman told reporters his traditionally slow-paced attack would continue to push the tempo in future contests.
With senior attackmen Matt Rambo, Colin Heacock and Dylan Maltz leading the front line, the coach said he trusted his team to play at a quicker speed than previous seasons.
However, in a 5-4 loss at Notre Dame on Saturday, Maryland was forced to play at a more deliberate pace. Despite the Terps' increased patience, the squad struggled to protect the ball, wasting a strong defensive effort in the defeat.
"I think candidly both teams really wanted to play fast," Tillman said. "But both teams did a good job trying not to let the other team get out and get breaks."
[READ MORE: Maryland men's lacrosse struggled in the faceoff X during its first loss of the year]
During a 4-0 start to the year, Maryland scored at least four goals in a quarter nine times. But in the loss to Notre Dame, the Terps scored four goals total and committed a season-high 20 turnovers.
Rambo, Heacock and Maltz fumbled the ball on 12 occasions while registering just four combined points.

Tillman credited the Fighting Irish for playing tough defense, causing 13 turnovers, but lamented his team's unforced giveaways. He said the mistakes came from basic exchange passes and poor decisions — unusual problems for a veteran unit.
Saturday's display, combined with an inconsistent offensive performance in a win over Yale the weekend before, forced Tillman to question the amount of time he's spent on ball security drills in practice. After all, the coach felt the whole team was careless at Notre Dame.
"That's something we're going to have to look at and talk to the guys about," Tillman said. "Being able to handle the ball well and handle it clean is important … Are we doing enough work on that and emphasizing that? [We have to] make sure we're practicing with game-like passes at game-like speed all the time."
Maryland's turnovers placed the defense under pressure, but the group held the Fighting Irish to five scores, its best effort against a ranked opponent since a 10-5 win over then-ranked No.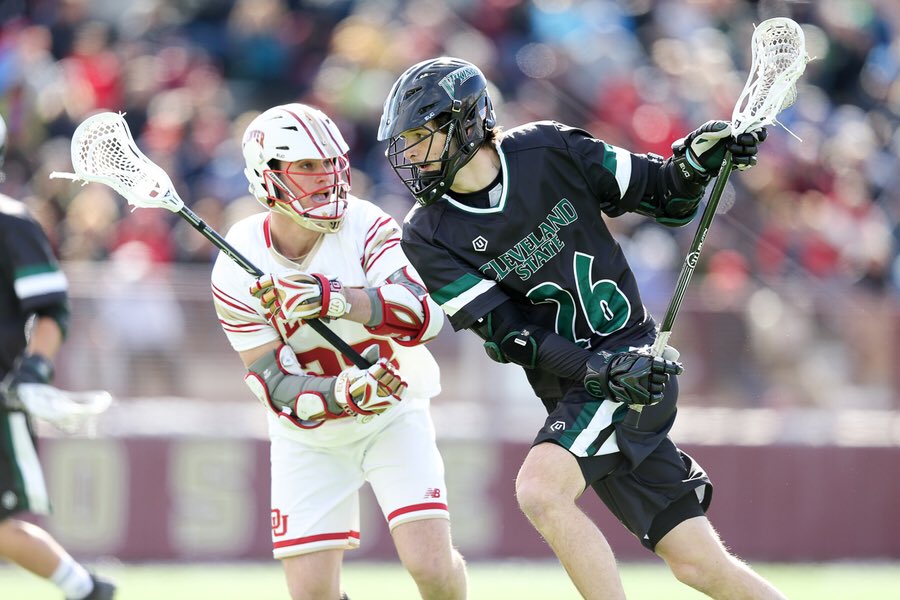 7 Navy last season. On Saturday, the Terps went 15-for-15 on clears and forced 12 giveaways.
The stable display from a defense Tillman described as a "work in progress" a few weeks ago made an impression on the coach.
"The guys [on defense] did a pretty good job today," Tillman said. "Not only the score, but I actually thought they played so much defense, too … For all the defense we actually played, the fact we only gave up five goals was pretty impressive."
But Maryland's inability to keep the ball and consistently find the back of the net prevented it from overcoming Notre Dame.
The Terps hope to rediscover the dynamic offense that led to 62 goals through their first four contests. They know subdued performances like the one against the Fighting Irish will not produce much success in the future.
"When you score four goals," Tillman said, "you're just not going to win."
Gerry Byrne Set to Take the Reins of Harvard Men's Lacrosse | Sports
After 16 seasons as an assistant coach for one of the nation's most consistently competitive Division I men's lacrosse programs, Gerry Byrne had no shortage of offers once he started fielding calls about head coaching positions.
When push came to shove, though, Byrne wasn't lured away from his assistant coaching job at the University of Notre Dame by one of the already-established D-I powerhouses that he entertained offers from. Instead, it was Harvard — a team that finished with a sub-.400 winning percentage last spring — that got him to leave South Bend, Ind., the town where Byrne attended graduate school and raised his family.
The decision, on its face, is somewhat perplexing. Byrne said that he "ultimately would have been the head coach" of the Fighting Irish "at some point." Notre Dame has appeared in the NCAA tournament for 13 straight years and made a run to the quarterfinals last season. But he opted to leave for a program that has made it to the national tournament just twice over the same timespan.
Why?
"This was unbelievably appealing," he said. "It's Harvard."
In an interview in his still-under-renovation office inside Dillon Fieldhouse, the former UMass Amherst standout made clear that he is excited about the challenge of bringing Harvard men's lacrosse back into the national spotlight.
"It's a much more interesting to take this opportunity now because Harvard's not happy with where they are," Byrne said. "There's a belief — I would say almost an expectation — that Harvard should be in the national conversation in lacrosse when they see teams in their league already in the national conversation. I have been fortunate to have been offered every really good job over the last 10 years and said no for different reasons — family, or timing. And this one, which is the furthest away from being in that [national] conversation, was the most interesting."
Byrne acknowledges that there is work to be done in order to get the Crimson to compete on a national level. Harvard finished last season 5-8, with just one win over an Ivy League opponent.
"They lost big in a lot of games," Byrne said, "which is big by lacrosse standards — almost big by football standards at times."
But still, he says there isn't a large talent gap between the Crimson and the rest of the Ivy League.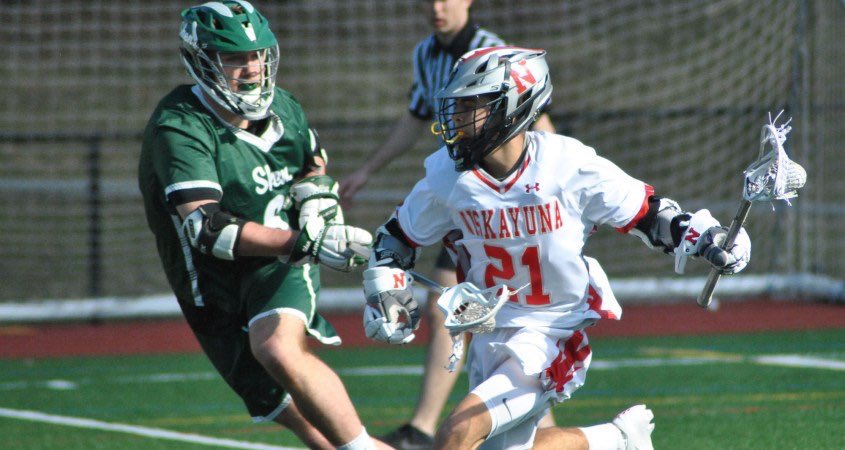 "The difference between a team that's 10-5 and one that's 5-10 is usually not as wide as it would appear to be," Byrne said. "I don't believe there's a massive talent gap between Harvard and the other teams in our league. The presumption from maybe your perspective would be, 'Wow, what do you have to fix.' And part of it is just a kind of a clarity of goals — a clarity of expectations, and clarity of the pride and the privilege of being a student-athlete at Harvard."
Captain Kyle Anderson says that the team has practiced with an urgency this fall that he hasn't seen in past years.
"When we came back to school, there was a different intensity and a different tenacity, especially out of our upperclassmen, who have done an amazing job," the senior said.
Anderson interviewed the final six candidates for the head coaching job on the phone.
"I was kind of keeping guys in the loop as much as I could and giving some feedback to the other seniors," Anderson said. "Honestly, everyone was really hoping that Coach Byrne would take it.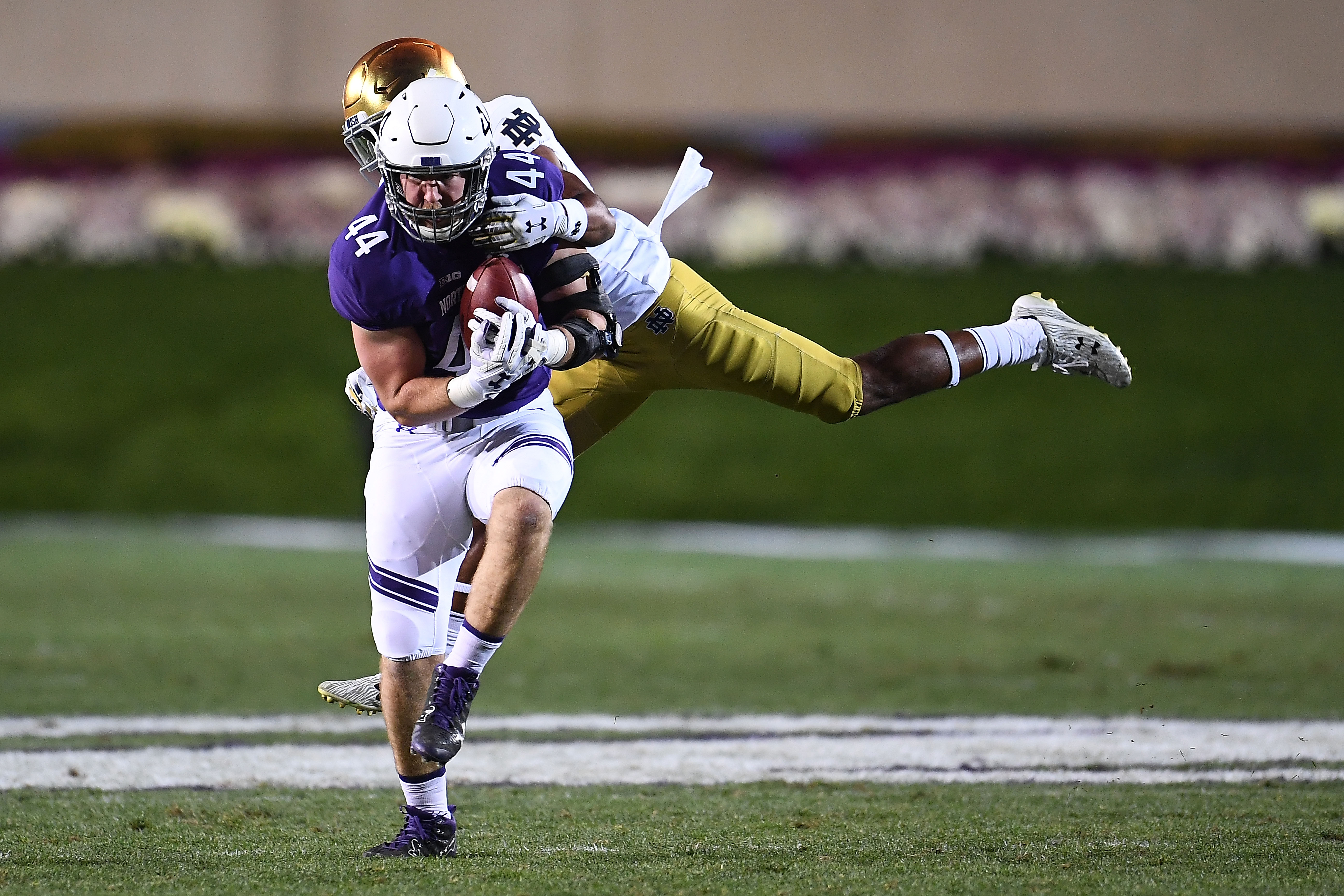 … We're just really happy that he took it."
The team was without a coach for more than two months over the summer. During that period, upperclassmen organized workouts and ensured that players stuck to a program given to them by the strength and conditioning coach in the spring.
Byrne, who Anderson describes as a coach who is "really well-known in the small community of lacrosse" as a "defensive genius and a cultural driver for the Notre Dame team," has brought a new coaching style for players to adjust to.
"His coaching style is definitely different from our previous coach, but I think teams adjusted pretty well," senior midfielder Nigel Andrews said. "He's definitely a coach who demands respect from his team."
Andrews said that Byrne is more outspoken in practice than former coach Chris Wojcik '96, whose contract wasn't renewed in early May.
"Previous years, if we messed up in practice or something, most of the times it would be assistant coaches or us stopping practice and getting on guys," Andrews said.

"There wasn't a lot of yelling, you could say. But I'd say Coach Byrne is definitely more vocal during practice, getting on guys and making sure everybody's doing drills in such the right way."
Anderson described the changes that Byrne has brought to practices as "refreshing."
"Byrne is definitely a much more intense presence on the field, and I think that's something that we have needed as a team," Anderson said. "People are starting to understand, even though you're getting criticism and you're getting instruction, it doesn't really reflect badly on you as a person, he just wants everyone to get much better."
Players also said that Byrne sets forth few off-the-field rules for the team.
"He expects us to basically hold each other to a high standard, which has definitely been awesome so far," Andrews said. "It has definitely made the team closer and I think it's worked out pretty well."
Despite last year's disappointing results, the men's lacrosse team hardly sees itself as in the midst of a rebuilding phase.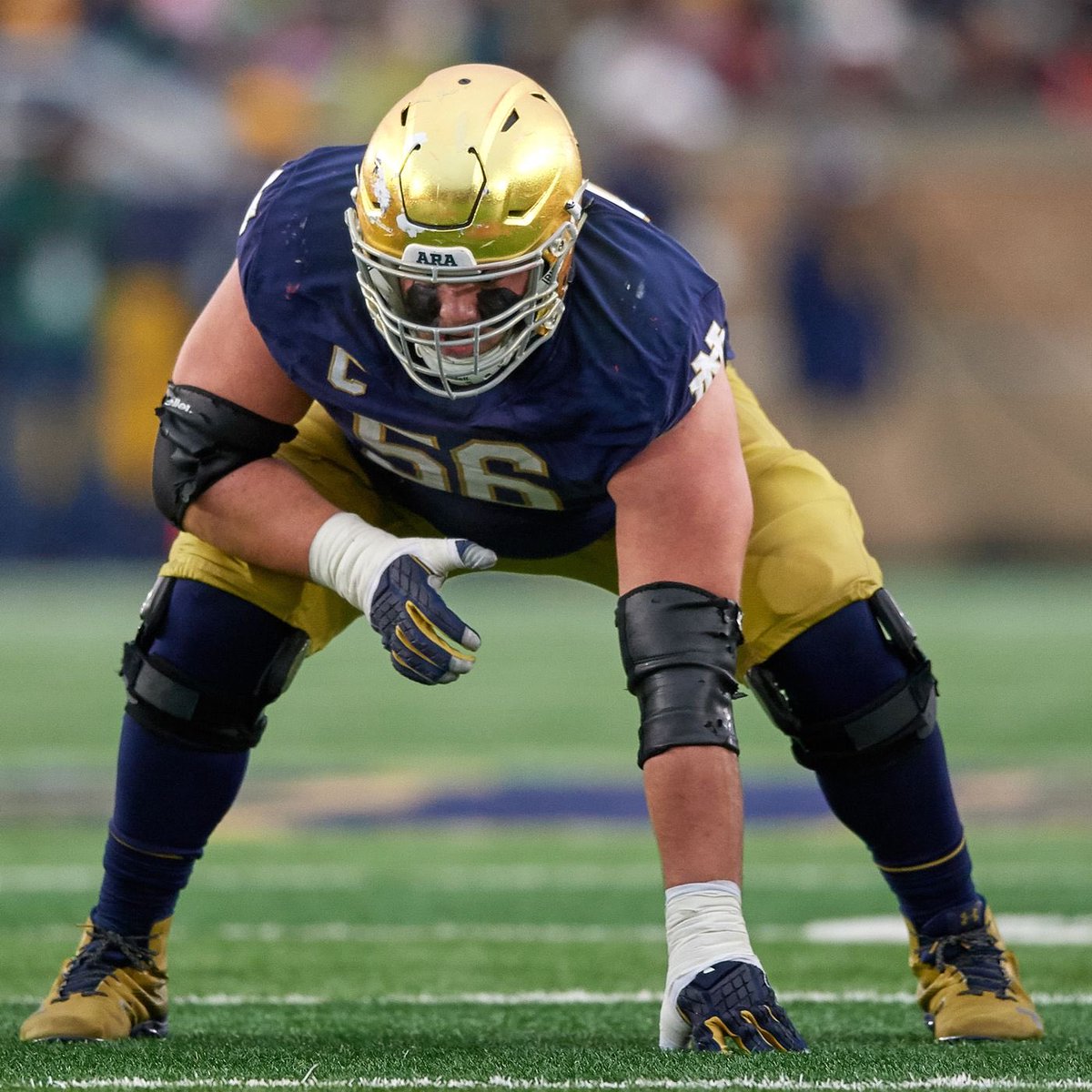 "Since I've been here, our team has always had tremendous talent," Andrews said. "It's just about organizing ourselves right away and utilizing our talents correctly. I definitely think that Coach Byrne is somebody who will be able to utilize us — utilize the guys that we have — the right way. So I definitely think that this year we could make a deep run into Ivy League tournament and the NCAA tournament."
For Byrne, the challenge of cultivating a winning culture for a struggling Harvard team was what brought him to Cambridge.
"The excitement of creating something that's never been before — what's more romantic than that?" Byrne asked.
Ohio native Matthew Schmidt will make his stops for Notre Dame lacrosse
Matt Schmidt's introduction to lacrosse came in seventh grade in his native Ohio.
"My middle school was starting a new lacrosse program and needed a goalie," Schmidt said. "I wasn't scared of the ball, and i instantly fell in love with the game and the position.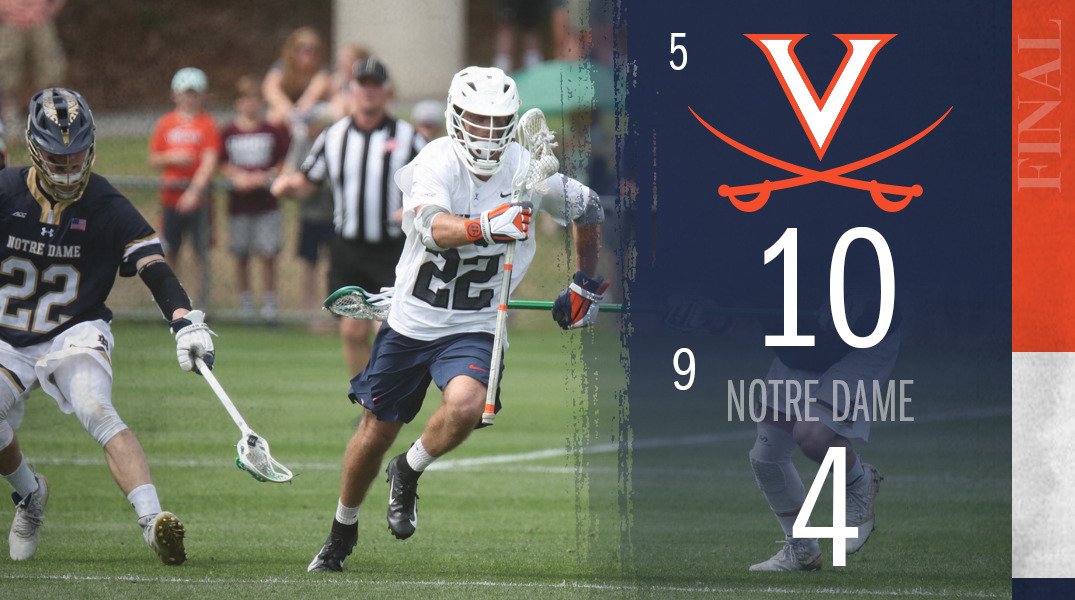 I knew I wanted to play in college, so I put all of my effort towards achieving this goal."
Fast forward just over three years later and Schmidt has done precisely that in fact.
Schmidt has verbally committed to Notre Dame, a decision reported by Joe Lombardi on LaxLessons.com's Lacrosse Insider premium coverage section.
Schmidt is reclassifying as a member at the Class of 2017 at the Culver Military Academy in Indiana after transferring from Columbus Academy in Gahanna, Ohio.
The 6-foot, 180-pound Schmidt, a righty, is a technically sound position goaltender with outstanding footwork and communication skills.
Now, here's a Q&A with Matthew on his commitment.
What were the main factors in your decision?
The second i stepped on campus at Notre Dame, I knew it was where I wanted to go.
The huge campus provides a big university feel, while the amount of students that attend is small.
There is so much support for students in their academic endeavors, as well as the student bodies support of the lacrosse program.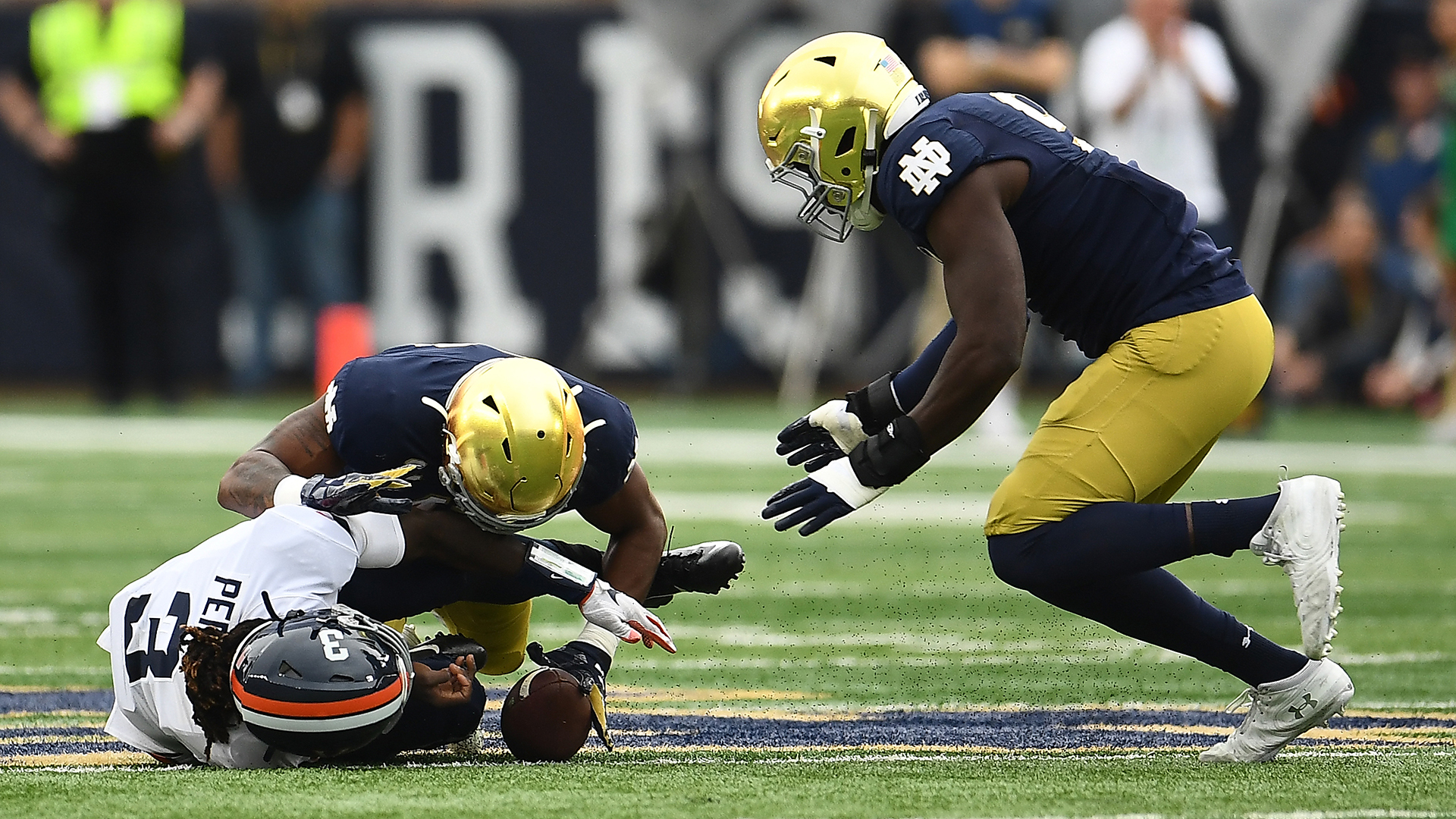 The coaches made me feel right at home with their unique ideas and philosophies including spring and summer trips around the country as well as global visits.
What other schools were you considering and what schools did you visit?
Harvard, Yale, Cornell, Ohio State and Delaware.
I also play football on the varsity level as a defensive end.
What travel team do you play on what showcase events did you participate in?
I play for Resolute Elite 2017 under Matt Lee and Midwest Select 2017 under Jon Posner.
I played in Nike Blue Chip, Maverik Showtime, NSCLA Warrior Select Showcase, B'more Showcase.  All Star at Baltimore Summer Kickoff 2 and FLG in 3d.
Any final thoughts?
I would like to thank all of my coaches: Stefan Schroder, Jon Posner, Matt Lee, Greg Bice, Anthony Kelly, Mike Gabel and the late Mark Barren who introduced me to the game.
gaz.wiki – gaz.wiki
Navigation
Languages
Deutsch
Français
Nederlands
Russian
Italiano
Español
Polski
Português
Norsk
Suomen kieli
Magyar
Čeština
Türkçe
Dansk
Română
Svenska
.