Lacrosse speed training: A 12-Week Progressive Power, Speed, Agility and Conditioning Program for Lacrosse
Top lacrosse conditioning drills for speed, strength, and stamina
As a lacrosse player, maintaining peak fitness is a crucial part of your game. Whatever position you play, you need a combination of speed, strength, stamina, agility, and balance to give yourself a competitive edge. Unlike some sports or athletics disciplines, this requires that your lacrosse conditioning program incorporates a wide variety of drills and training exercises to maximize your ability on all fronts.
It's just as important to maintain lacrosse conditioning workouts during the offseason as it is during the season. You don't want your performance to dip, therefore starting the next season on the back foot. But this is also a perfect time to concentrate on new conditioning drills without the recovery time you need after weekly games.
In this article, we'll look at a classic program of lacrosse workouts for a midfielder.

Of course, this program would be suitable for any positional player, with some slight adaptations. For example, more focus on strength for defensive players, more focus on speed and agility for attackers. But it's a good starting point for any player.
We can split up lacrosse midfielder drills into three distinct areas – sprint, circuit, and pool. Let's have a look at the type of conditioning drills associated with each one.
Sprint training
The main purpose of these lacrosse conditioning drills is to develop players' speed and stamina. Lacrosse is an extremely intense sport in terms of running, with players covering huge amounts of distance during the game. Players in all positions need to have the explosive speed to outrun opponents and the stamina to keep this up even towards the end of the game.
T-Drill
Set out 4 cones in a square measuring 10 yards on each side. Then alternate the following patterns:
• Pattern A: Sprint between each cone in a square
• Pattern B: Sprint figure 8s around the opposing corners
• Pattern C: Switch: jog backward, sprint, jog backward, sprint
Pro Agility Drill
Set 2 cones 10 yards apart on a touchline, and stand between them. Begin with your feet either side of the line, and one hand down, touching the line. Sprint to the right cone, touching it as you pass, sprint back down the line to the left cone, touch, sprint back to the middle.
L-Drill
Set 3 cones in an L shape with each side measuring 10 yards. Start with your hand on the ground, just to the outside of one of the end cones. Sprint to the corner cone and touch it.
Sprint back to the starting cone and touch it. Sprint around the corner cone and inside the other end cone. Sprint back to the corner cone, then to the starting cone to finish.
Circuit training
Circuit drills build strength and agility and assist with balance, all of which are key skills for any player, whether in evading opponents, shifting position quickly or handling their lacrosse stick accurately while running. Move from position to position, at each step do one of the following drills:
Position 1: Push-ups – develop upper body strength
Position 2: Side shuffles – practice agility and swift movements
Position 3: Prisoner squats – build lower body strength and stability
Position 4: Lateral hops – increase balance and strength
Position 5: Burpees – develop explosive strength and agility
Pool training
There are a number of lacrosse drills that can be done in the pool. Pool work is particularly important as it provides a low impact environment which is conducive to recovery, or simply to break up the schedule of circuit or sprint training and use other muscle groups to avoid fatigue. Two popular water-based drills which are well suited to lacrosse players are:
Relay
Lacrosse players line up in two teams of four or five, with one player from each team swimming a length or a double-length.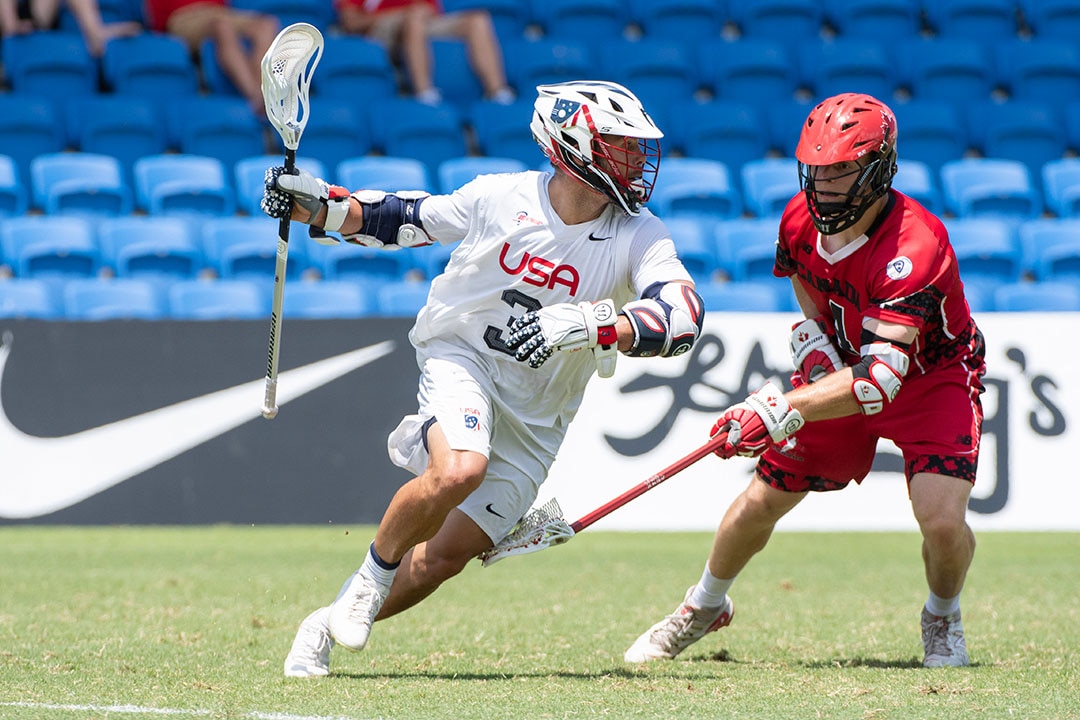 The teammates then assist them out of the pool, and once they have both feet on the side, the next team member can dive in to continue the relay. Repeat until all team members have swum, with the first team to get all members "home" judged the winner.
Retrieval
Either in singles, pairs or teams, lacrosse players take turns retrieving an item from the floor of the pool. This can be run as a timed event, or more than one item can be dropped at once and the drill can be run as a head-to-head race. As well as building strength and agility, this exercise is also great for improving breathing techniques and lung capacity.
Difference Between Speed and Conditioning
Editor's Note: Let's extend a special LaxAllStars.com welcome to our NEW Strength Training provider, Volt Athletics. Volt, a cutting-edge sports technology company out of Seattle, WA, provides athletes big and small with affordable access to elite-level strength and conditioning .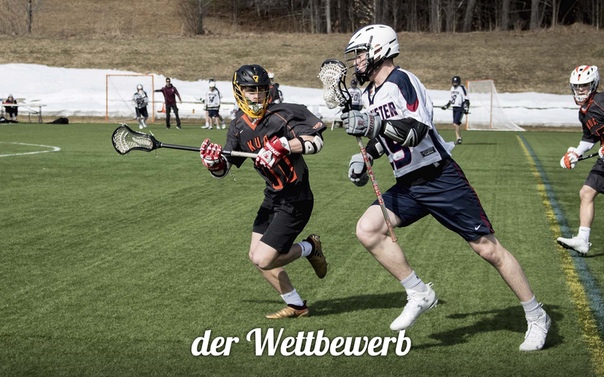 Learn more about Volt and find out how becoming a member of LaxAllStars.com can help you SAVE on your workouts!
[mks_separator style="solid" height="4″] When lacrosse athletes prepare for a season, they often overdo the conditioning side of training and don't spend enough time training their speed, agility, and quickness (SAQ).
SAQ and conditioning are two separate components of a well-rounded lacrosse athlete, and need to be developed separately to make your game fully complete.
Here are 3 key rules to remember when training speed and conditioning for lacrosse.
#1) Speed Training is Not Conditioning Training
In order to be fast, you need to train fast. Seems pretty straightforward, but here is where a lot of athletes get it wrong. They treat their speed work AS conditioning work—running sprint after sprint at sub-maximal effort levels with minimal rest between sets.
But speed training means you need to be A) going ALL-OUT, and B) FULLY RECOVERING before the next sprint or drill.

Speed work is about quality over quantity. As soon as too much fatigue sets in, you'll no longer be in a position to drive adaptations in speed.
Focus on training either speed OR conditioning, and you will train both RIGHT.
#2) Long Miles Don't Translate to Fast Breaks
Athletes often think that running long miles is the best way to get into game-shape.
It's not.
You never run long and slow during a lacrosse game, do you? The game is made up of multiple high-intensity sprints with some light recovery. Running extended miles may get you into better shape for long-distance running, but it won't get you into better shape for a lacrosse game.
Proper conditioning for lacrosse should improve your repeat sprint ability (RSA). The ability to move quickly, recover, and go right into another sprint is crucial to being a game changer.
Now, having good RSA doesn't necessarily mean you're the fastest athlete on the field, but it does mean you can last the whole game and still have enough in the tank to compete at a high intensity when others fatigue.

Running long distances does have its place in building what is called an "aerobic base," which is shown to help with overall recovery from high-intensity sprints, but it shouldn't constitute the majority of your conditioning training.
#3) Train Speed Early, Train Lungs Later
Early in or directly before your training or practice should be reserved for fast-paced drills, all-out sprints, or combinations of the two with FULL RECOVERY between drills.
At the beginning of your training session or practice, train SAQ drills, speed ladders, or all-out sprints up to no more than 10 seconds of work. Make sure you rest NO LESS than 2 minutes between sprints in order to fully recover.
Your conditioning work should be saved for the end of practice, when you can exhaust all that's left in your tank. This is where you build that mental toughness and develop your ability to stay strong late in the game.
Longer sprints with shorter rest times, or shuttle drills consisting of quick changes in direction after quick sprints of 20 to 30 yards, are ideal for building repeat sprint ability.
Unlike speed training, conditioning training requires you to be in fatigue.
If you can push into the red zone, recover, and repeat, you'll be fit and ready in no time.
LACROSSE TRAINING – Sport Fitness Advisor
A lacrosse training program must carefully balance the rigours of one of the most strenuous team sports. The sport requires the physical and performance qualities of most other sports combined.
Very few studies have been carried out on lacrosse athletes and little scientific information is available. From research that has been completed, it is clear that players must posses size, strength, power, speed, agility and endurance. Players are almost constantly moving as they attempt to manoeuvre the ball into the goal (1).
On the whole, players have been shown to have average aerobic capacities, similar to basketball and football players but less than distance runners or swimmers. Midfield players on the other hand, have significantly greater endurance than attackers or defensive players and their aerobic endurance compares favorably to more traditional distance athletes (2).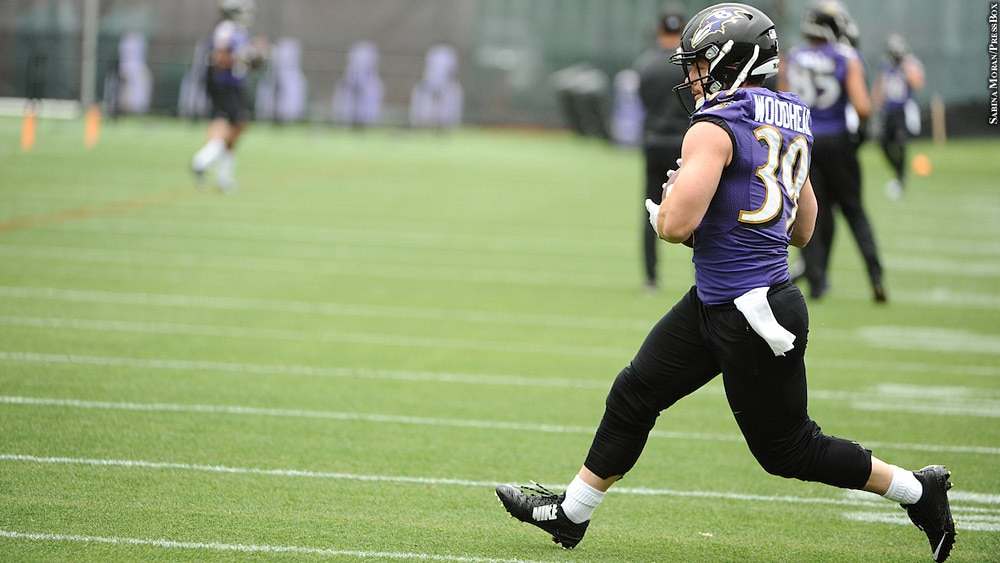 This makes sense as midfielders are the only group of players permitted to move up and down the entire length of the pitch.
Lacrosse players require a high bodyweight to cope with the aggressive physical contact in the game. However, a higher than average bodyweight must be coupled with a low body fat percentageas players are required to manoeuvre quickly around the field of play. Lacrosse players tend to have a lower body fat percentage compared to other athletes such as football, basketball and ice hockey players (2).
From a conditioning point of view then, lacrosse players are one of the few groups of athletes that will benefit from a phase of hypertrophy strength training to increase lean muscle mass. However, size is not the only objective. Maximal strength, explosive power and power endurance are also important outcomes of a strength training program. Not surprisingly attackers and defensive players tend to have greater need for strength and power compared to midfield players (2).

All positions will benefit from both aerobic and anaerobic endurance training, and while this may be more predominant for the midfielders, attacking and defensive players could also improve their performance over 60 minutes with greater stamina.
Speed and agility training is also an important element of a lacrosse training program – for all positions. As with soccer or rugby for example, one of the challenges of designing a suitable lacrosse conditioning plan is combining all the required elements of fitness without one negatively affecting the other…
Take a look through the articles below. They cover the different elements of fitness important to lacrosse players. You will also find sample programs, sessions and drills to help you become a fitter, more complete player.
Lacrosse Training Articles
Interval Training for Sport-Specific EnduranceEvery position in Lacrosse requires a high level of endurance. As a multi-sprint sport, interval training is much more sport-specific than other types of endurance training
Training to Increase Lactate ToleranceThe intermittent nature of Lacrosse, with short rest intervals, means that blood lactate can quickly accumulate.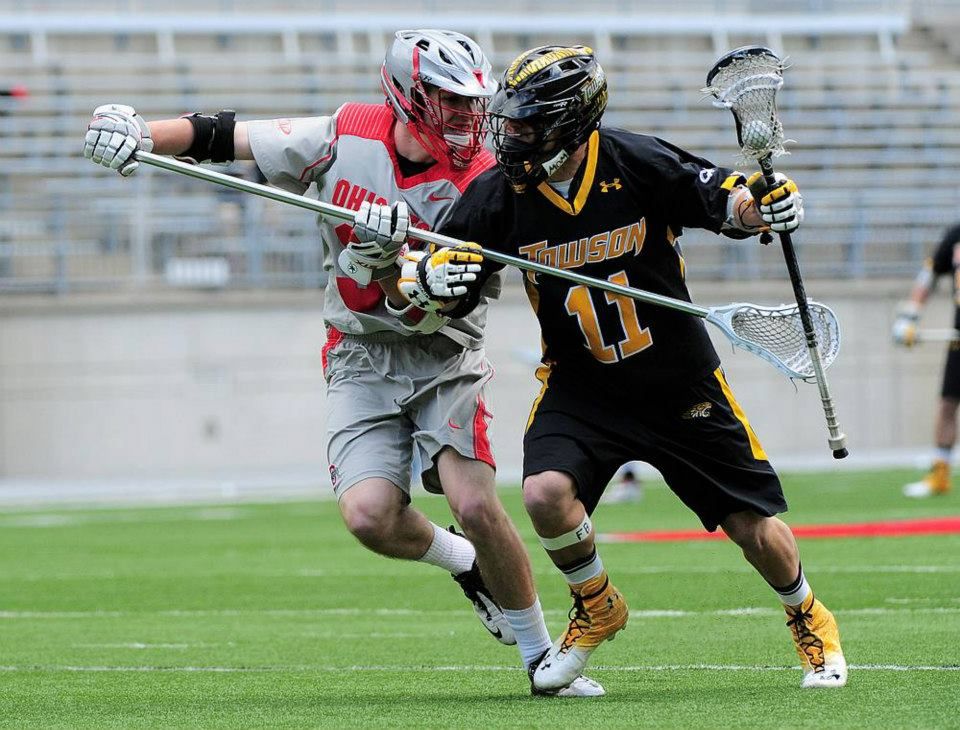 This is extremely debilitating but lactate tolerance training can have a significant effect on coping and recovering with the effects of intense exercise
Strength Training The Sport-Specific WayLacrosse players are unique. With heavy physical contact the norm, players benefit from muscle bulk (hypertrophy training). But too much reliance on the bodybuilding approach will be to the detriment of their power and muscular endurance two other crucial elements in the all-round Lacrosse player
How To Design Resistance Training Programs For AthletesHere is the step-by-step process of developing a sport-specific strength training plan – one that meets the demanding nature of the sport…
Power Training for AthletesStrength and power are not the same. Do Lacrosse players need to be powerful? Definiately. Learn how you can convert a solid strength base into explosive power on the field…
Plyometric Training for Developing Explosive PowerPlyometrics is used in many sports as an effective way to increase speed and power.

Lacrosse players can benefit from both upper and lower body plyometric exercises…
Using Power Cleans in Sports ConditioningPower cleans can be useful for developing explosive power (in appropriate sports). Use this technique guide and animated images to see how the lift should be performed…
The Speed Training ProgramSpeed, agility and quickness play a major role in Lacrosse training. Here's how to design a speed training program and how to use and combine various types of drills…
Speed Drills for Maximum VelocityThese speed drills are used to develop basic, all-out speed and acceleration off the mark…
Speed & Agility DrillsThese agility exercises are easy to set up and require little or no equipment. They are ideal for teams and individual training…
Ladder Agility Drills for Quick Feet & CoordinationSpeed ladders form an integral part of many speed training programs. These five drills will improve your foot speed and coordination…
Flexibility Exercises for HockeyIncreased flexibility may reduce the risk of certain injuries.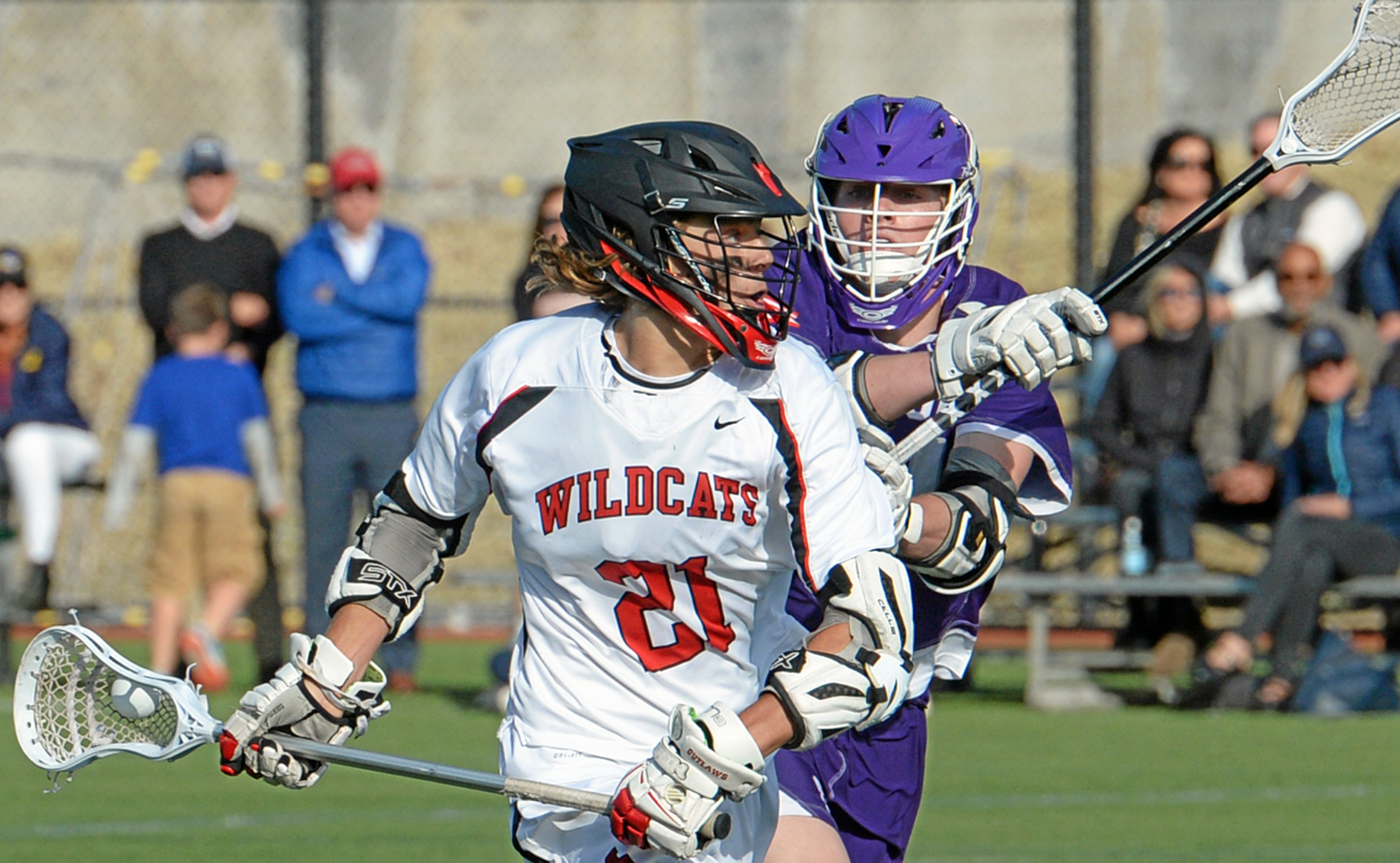 It may also allow a Lacrosse player to move with greater dexterity, agility and finesse…
Dynamic Stretches & Stretching RoutineDynamic stretching is now recommended over static stretching before a game or ice hockey training session…
A Sample Off Season Lacrosse Training ProgramThe off or closed season is typically about rest and regeneration. But that doesn't mean doing nothing at all…
Best Hockey StickThe Franklin Sports NHL 1090 Hockey Stick is our best hockey stick, which is easy to grip so it is[…]
References
1) Schmidt MN, Gray P, Tyler S. Selected fitness parameters of college female lacrosse players. J Sports Med Phys Fitness. 1981 Sep;21(3):282-90
2) Shaver LG. Body composition, endurance capacity and strength of college lacrosse players. J Sports Med Phys Fitness. 1980 Jun;20(2):213-20
10 Effective Cone Drills for Increased Speed and Agility
Like many sports, Lacrosse requires speed, solid footwork and a high level of agility.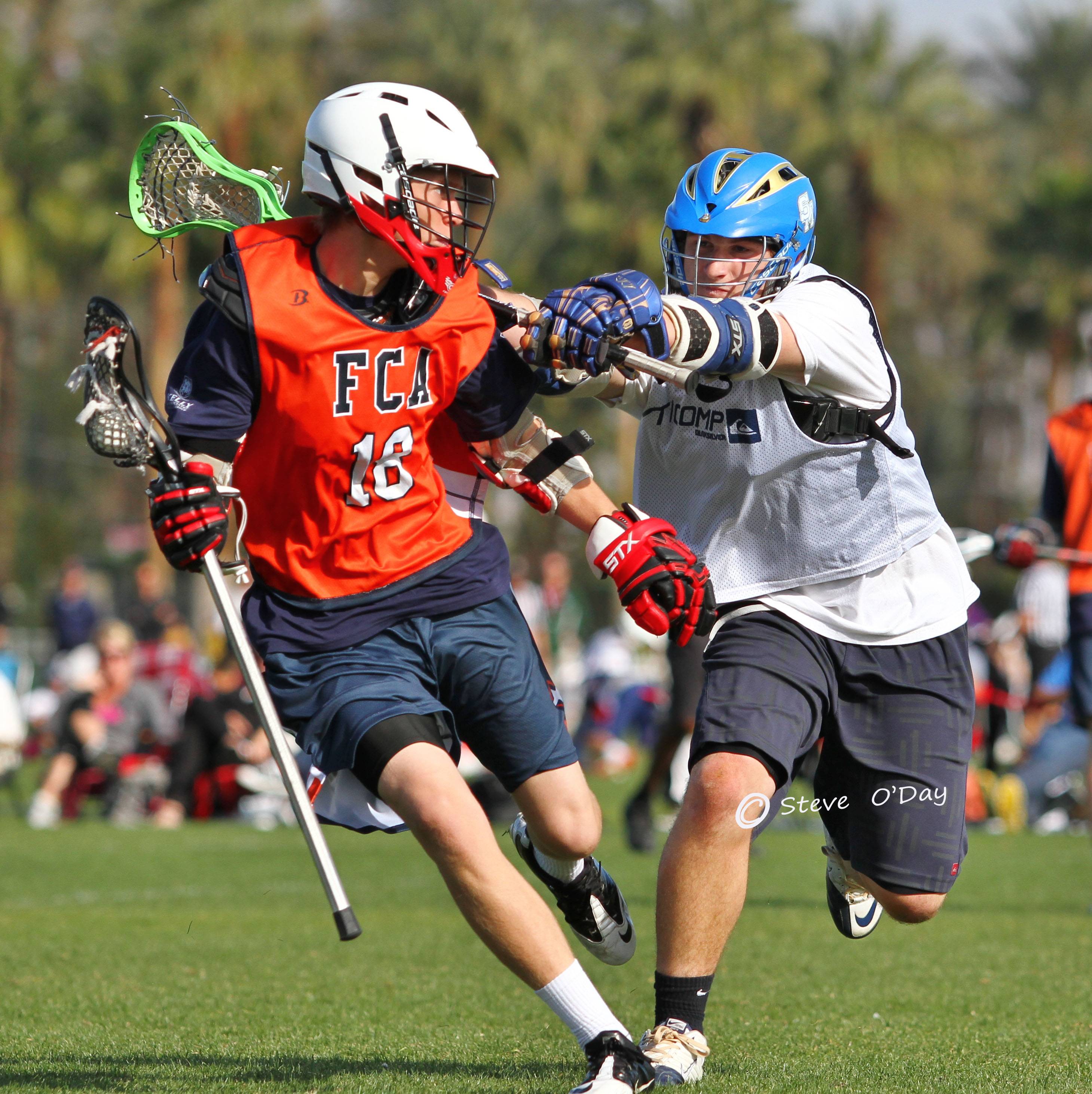 Cone drills are simple exercises that will help to build quick feet, acceleration and change of direction. KingSportsTraining has created an excellent video series clearly demonstrating 10 effective cone drills to help increase your speed and agility.
X-Drill
The X-Drill works multiple sports postures; change of direction, change of footwork and change of angle.
123 Back
This is a reaction drill that you can do with a training partner or coach. The goal is to react with speed and sprint to the correct cone. You have to think and accelerate, this is a great way to simulate the defensive aspect of sports. The video shows how to set up the drill and how to perform it.
3 Cone / L-Drill
The 3 Cone or "L-Drill" is one of the most popular combine drills used to measure speed and agility. This drill requires multiple changes of direction in a small space. For more info, check our blog on the in depth instructions on this drill here.
Pro Agility Shuttle
Also known as the 5-10-5, this is the most popular combine drill used to measure quickness and agility.

This drill require 3 cones, with a series of complete changes of direction. See our in depth technique training on this drill here.
Run-Shuffle-Run
The ability to transition in and out of a lateral shuffle is very important in sports like baseball, tennis, basketball and football. This drill works on getting in and out of this position with speed.
Cone Alley v.1
There are three versions of cone alley, all with the same cone set up. The first version works on getting in and out of the back pedal with a slight angle.
Cone Alley v. 2
Version 2 of cone alley adds a hip rotation by cutting in and out of a cross over. All three versions of Cone Alley work great with the OverSpeed Trainer 360 for added training.
Cone Alley v.3
Version 3 of cone alley adds a lateral shuffle to a spring and crossover run. This is a highly dynamic drill for all sports.
Staggered Shuttle
The staggered shuttle is an abbreviated version of the pro agility shuttle.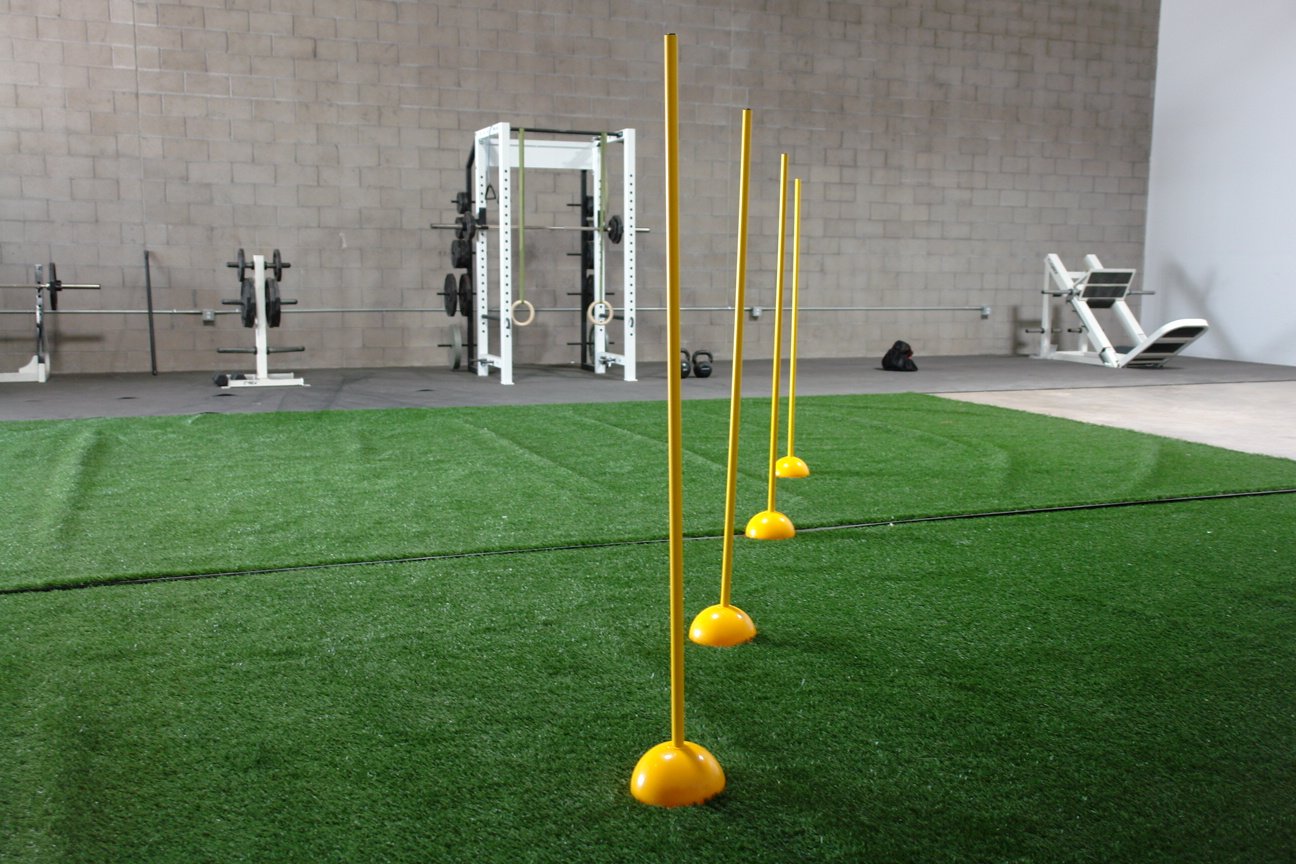 This is a quick change of direction that forces you to get your footwork set into a powerful position.
Run-Shuffle-Shuffle-Run
A shorter version of Run-Shuffle-Run, you are working on changing direction with a lateral shuffle. This is another great drill for defensive players and has added training effectiveness when used with the OverSpeed 360 Training Cable.
Speed Training for Lacrosse – Outlaw: Speed + Strength
The skillset required to be successful at Lacrosse is truly unique…
There is not another sport that has such high demands for speed, strength, rotational power, and tactical precision.  The interesting thing about Lacrosse is that it truly is a running game with a high requirement for strength and power while on the move.
Now, knowing that Lacrosse is a running game, how do you develop the correct speed abilities during the off-season to produce a lightning fast athlete for next season?
For the athletes in our program we focus on three specific speed qualities:
Acceleration
Reactional Agility
Top End Speed
Each one of these speed qualities has a very different method when you look at how we are going to develop them.

First and foremost, we want to establish proper movement mechanics for both linear and lateral speed. This means that we want to make sure the athlete has the proper posture while running, their hands and feet are doing the correct things, and that they are moving as efficiently as possible. Once we have reached a high level of movement efficiency we can begin working towards the three traits listed above.
Let's assume that we have built the foundation needed for proper movement and we are progressing towards building acceleration, reactional speed, and top-end speed. How do we attack the training for each of these speed qualities? 
Acceleration: this is the first 10-20 yards of a sprint. When training acceleration we look at how we drive out of a stopped position with the goal to get to our top-speed as fast as possible. To accomplish this we work on starts from varied positions. Since Lacrosse athletes do not come out of a set position like football players we try to get them comfortable acceleration from a number of starting positions.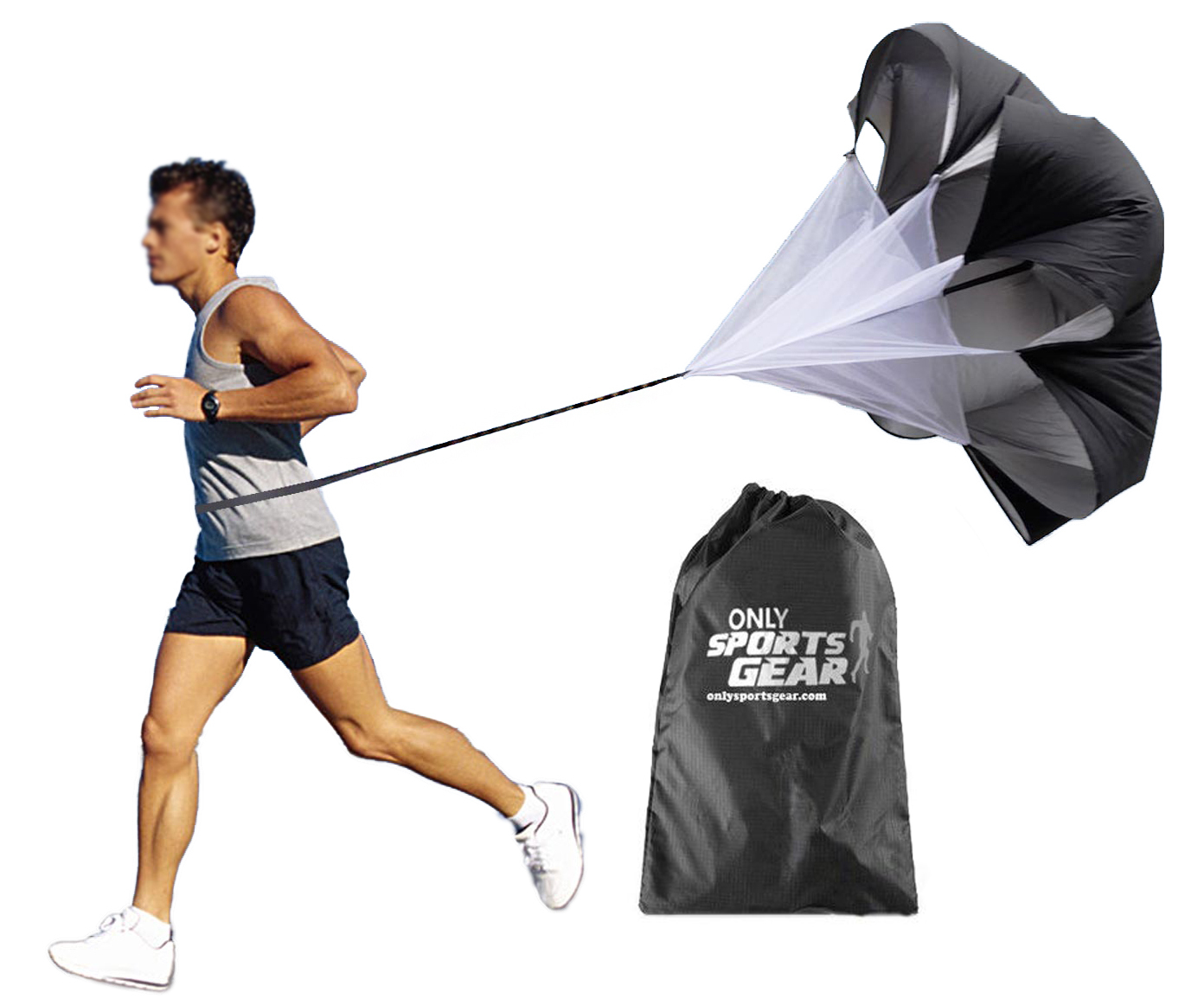 From there the goal is to produce as much force as possible with their legs and for them to drive out of the starting position. Posture and body position plays a big role in this. 
Reactional Agility: this is movement from side to side or front to back where the athlete is mirroring the coach or another athlete. The reactional component is vital because on the field there will not be predetermined places where the athlete will have to cut. They must react to their opponent rapidly in order to beat their man. For this, we use a number of partner mirror drills, reactional start stop drills, and coach directed reactional cuts. In my opinion, this is the most important of the speed qualities because the unpredictable nature of the training has a direct cross-over to the unpredictable nature of the sport.
Top-End Speed: how fast can you possibly run? As we said before, Lacrosse is a running game! Top-end speed is a measure of how fast you are at your absolute fastest.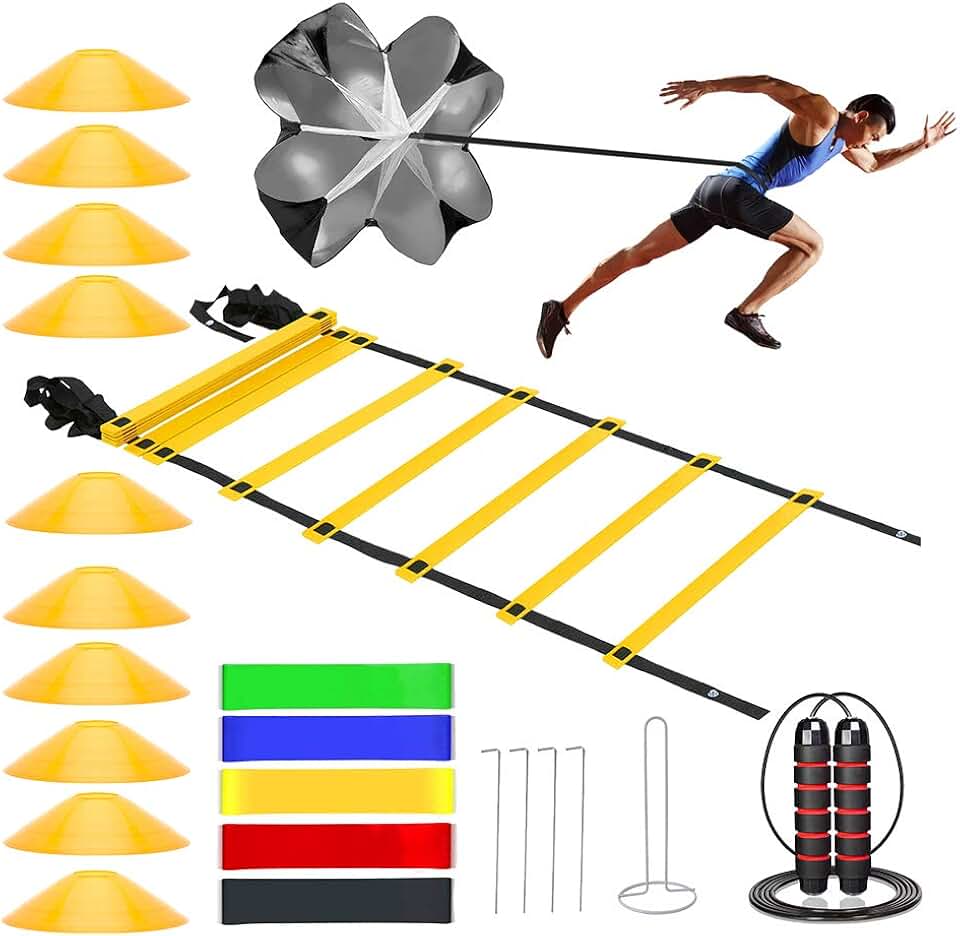 To train this we do two things: extended distance (30-50yd sprints) sprints and competition based sprints. If you want to run fast the most effective way to train it is to compete. When training top-end speed we always have everything on a stopwatch or in a race setting. Put an athlete on the clock or in a race and your guaranteed to have a better time sprinting. 
Ok, so now you know the three areas of speed development for Lacrosse athletes. But, how do you implement them into a comprehensive training program? 
For us, we aim to have our athletes training three days per week ideally. If that is the case, then we will program each of the three qualities on one of the three days. However, if we only have two days then day 1 will be acceleration and day 2 will be reactional speed. At the end of each of the two days, we will do some form of competition based sprinting to train the top-end speed.
I hope this short article helped outline how speed training for Lacrosse should be implemented year-round.
As always, my goal is to provide the best content for you. With that said, if there is ever a topic you would like covered please let me know.
6 Lacrosse Conditioning Drills You Can Use to Never Get Tired! – LaxWeekly
In lacrosse, the most conditioned athletes are usually the ones who are most successful. If you get tired easily, your performance will decrease and your coach might sub you out for a more well rested player. Lacrosse is not an easy sport to train for – there's a large variety of movements including starting, stopping, sprinting, walking, etc. Here are the best lacrosse conditioning drills you can do in order to get into the best "lacrosse shape" possible. 
100M Sprint Every Minute – Find a local track or football field with lines and bring your phone or a watch with you. Now do a 100 meter (or yard) sprint and start your stopwatch. You should finish probably within 20-30 seconds. Now rest for the remainder of that minute and repeat with another 100M sprint.

Keep doing this until you get to 16 minutes. Congratulations, you just sprinted an entire mile!
This is one of my favorite lacrosse conditioning drills because it mimics the cadence of a lacrosse game. You usually sprint all out for a few seconds, then rest, and do it again. Plus, I like the idea that I sprinted an entire mile when completing this workout. 
Pretend Lacrosse – This is one of my go-to drills that I recommend all lacrosse players try. Go out to a lacrosse field and bring a bucket of balls with you. Based on your position, simulate what kinds of movements you would make in a game. For example, if I'm an attackman, I probably sprint around trying to get open for about 30 seconds. Then once I get a ball, I do a dodge and maybe pass the ball. Then I get the ball again and do another dodge and shoot. If I don't score, I get back on the ride and try to get the ball back. Then I rest for a few minutes and repeat. 
The same thing can be applied to a midfielder.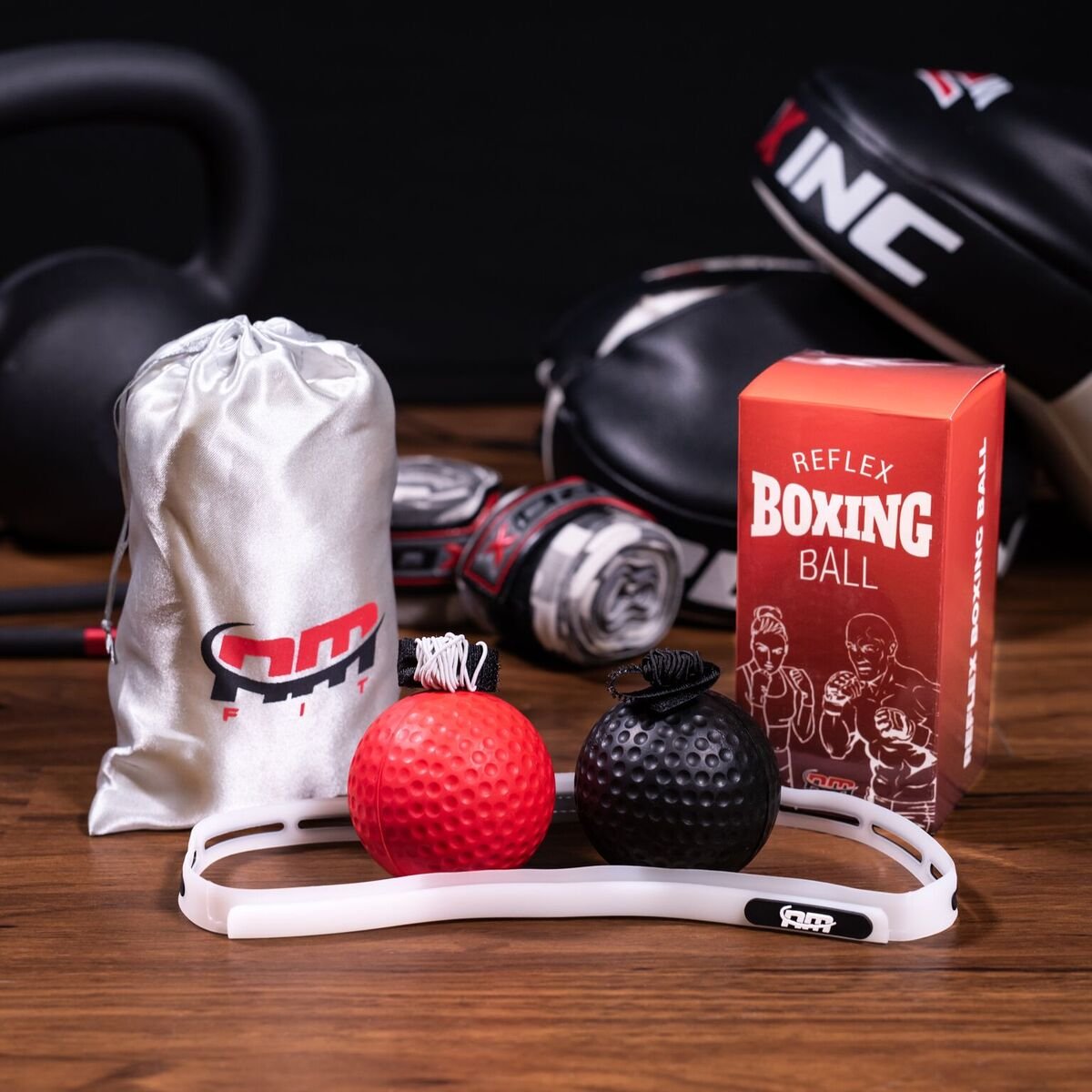 I would bring the ball down, pass it, then sprint to get open, dodge and shoot and shot on the run. Then I would sprint back down the other side of the field and pretend to play some defense. 
You might look crazy as if you're playing lacrosse with yourself, but this will be as close as it gets to what you would actually do in a game. Do this once a week and watch yourself be in the best shape of your life. 
Jump Rope – Jump Rope should become a staple of your lacrosse conditioning program if it is not already. You work on so many different things at once when you jump rope – conditioning, footwork and agility, speed, etc. You don't need a super fancy jump rope, just use the one at your local gym or borrow one from a friend. Start by doing intervals – something like 1 minute on and 1 minute of rest. Repeat this 10-20 times. My only knock on jump rope is that it's boring, so I try to play music or something I can skip along to. 
Stairs – Many of my old lacrosse practices ended with me sprinting up the stadium stairs as fast as possible.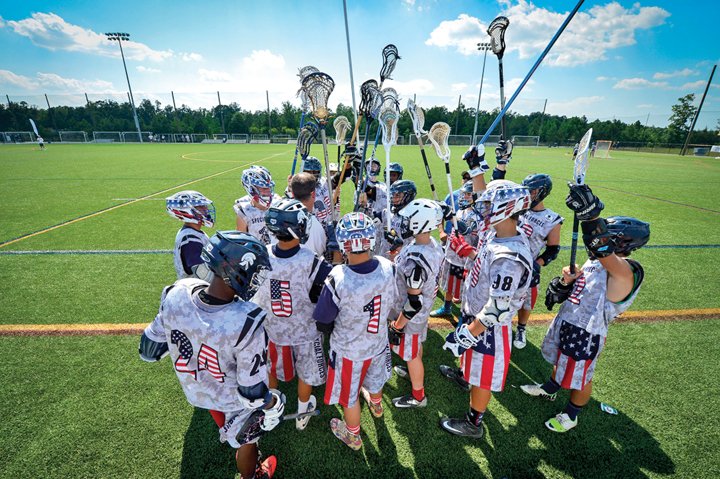 Although I hated when my coach made me do it, I was thankful during games when I was much more conditioned than my opposing team. If you have a set of stairs you can run up, I would go out and try to see how many times you can run them up and down. Then you can try jumping up the stairs with one foot for an extra challenge. 
Hill Runs – Another easy way to add resistance to your running is with hill runs. It's simple – find a hill and run up it as fast as possible. Walk down the hill and repeat as many times as you can. Have a target goal in mind – perhaps 5 hill runs to start. Then the next session, go for 6, then 7 and so on. For a super hard workout, wear your lacrosse pads while running up the hill and you will be drenched in sweat, but also in amazing shape. 
Long Runs – Don't underestimate the power of a long run. While most conditioning should consist of high intensity exercise such as sprinting, there's also a time and place for slow and steady runs.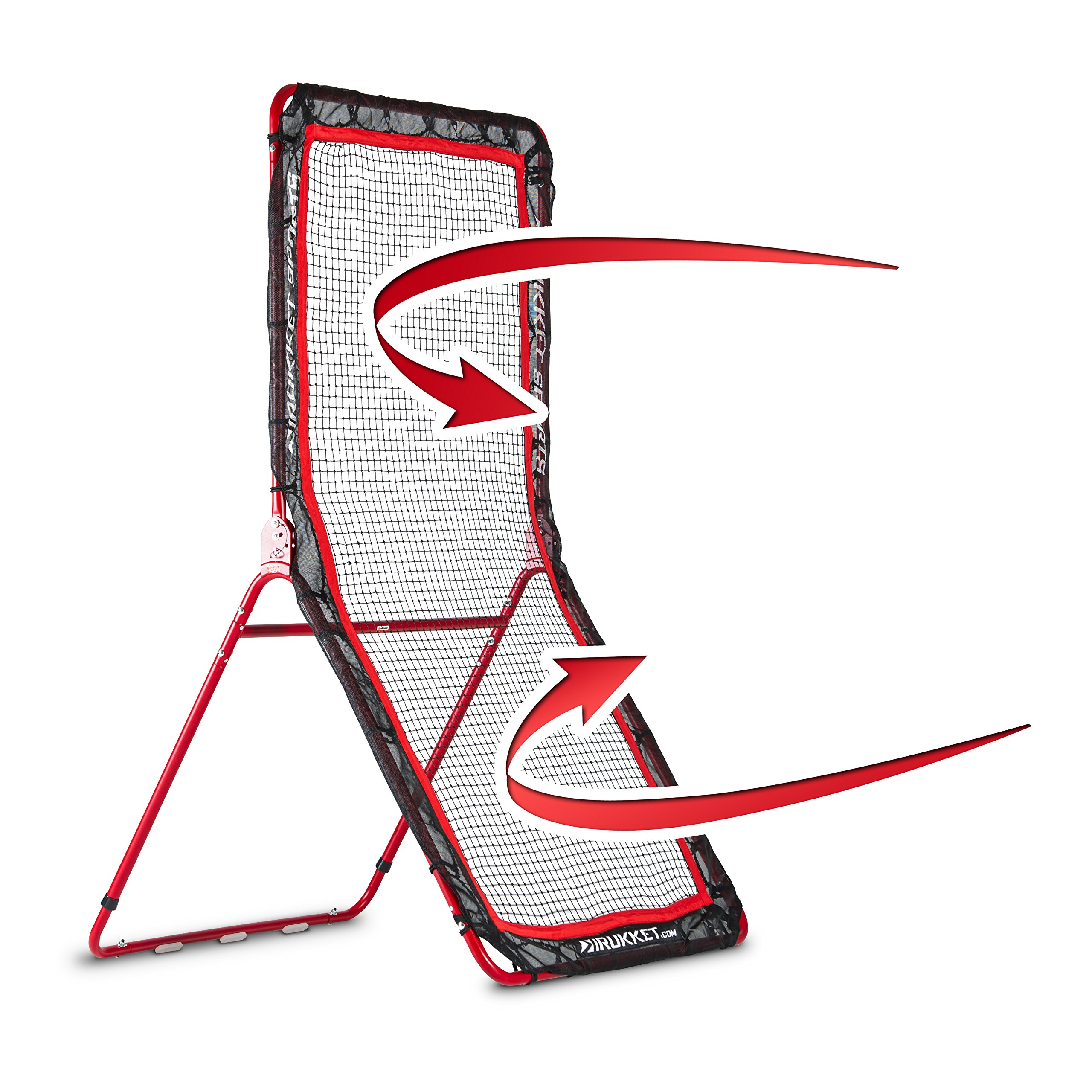 I would try to incorporate these once a week into your routine, and have a time goal. For example, try to run for 30 minutes without stopping, but go at a pace that you can maintain the whole time. You could work your way up to 60-90 minutes easily! 
Women's Lacrosse Training Tips: A Modern Twist
Getting ready for the upcoming Lacrosse season should include a mix of cardio and strength workouts, as well as ball throwing, catching and stick training to improve your game. If your team is a bit sick of the typical 5-mile endurance run or the boring wall-ball routines, here's a few tips to put a modern twist on their Lacrosse workout.
Wall Balls, With A Twist
Growing tired of facing that wall for twenty minutes a day with the same old routine? Shake things up by adding a some twists and movements to your wall ball routine. Try moving laterally back and forth in front of the wall, alternating hands and leading passes. Give it an extra twist by throwing right, and then run left facing the wall.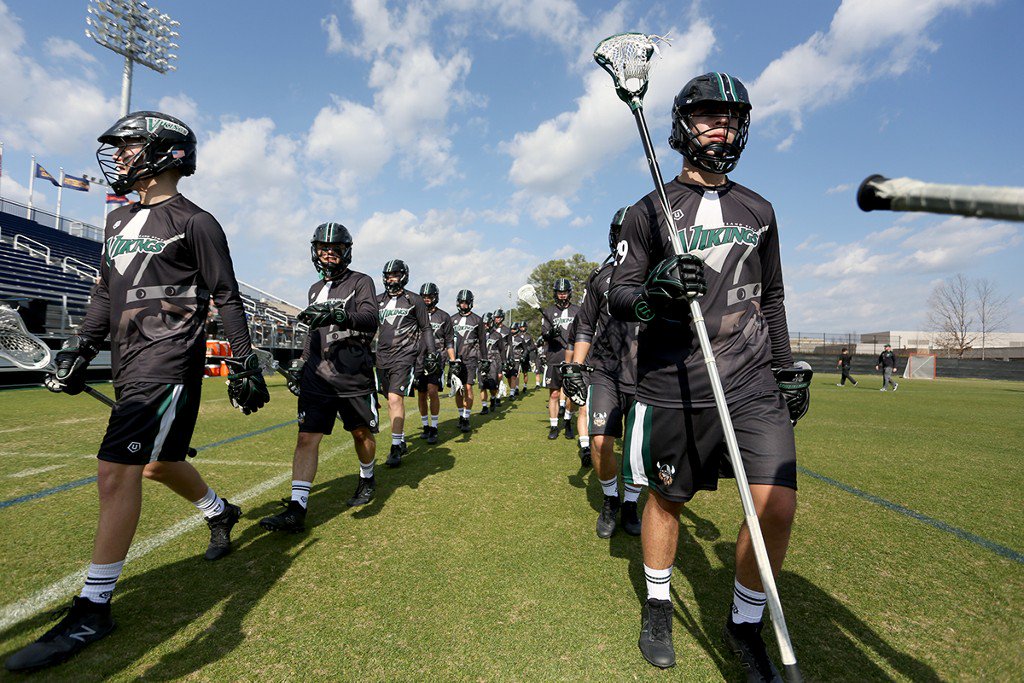 Then try throwing left, followed by running right facing the wall again. Alternate your classic stationary wall balls with these fast-paced moving routines for Lacrosse training that keeps you on your toes.
To The Ladders, For Agility
Bust out those agility ladders to hone-in your quick Lacrosse movements. Kick up their boring routine by stepping outside of the box, or rather – the ladder. Working not just inside, but also outside the agility ladders will improve your quick-stepping abilities and speed. As they move from an agility routine and stepping outside the ladder, have a teammate toss you a ball. Learning to stay alert to catch while still maintaining foot coordination will keep them upright and moving efficiently in an actual Lacrosse game.
Interval Sprints as a Workout
Skip the long-distance runs and focus on short, powerful sprints to increase endurance this season. Lacrosse is all about speed and power on the field, and the faster their running time is, the quicker they'll be to make the goal.

Try sprint intervals in sections of 20-40 seconds full power, and then recover at a jogging pace for 45 seconds to 1 minute. Sprints will not only improve their running abilities, but also up their endurance and improve heart health.
Chopping Ropes, For Core Strength
Not literally chopping ropes, of course. Put the axe down. But, the whole "chopping" action will get their core strong for those quick Lacrosse movements. Set-up their gym workout with a cable machine at their side and a pad until the knee furthest away from the cable machine. Set the cable weights at a comfortable level (but still challenging), then have them kneel down and start chopping. Sound confusing? Check out a video of this core training drill here.
More Intervals, Just For Fun
Intervals are fun if you make them fun. You've got your interval sprints going on to improve your Lacrosse team's speed and endurance – but interval training can also be applied to several other Lacrosse workouts.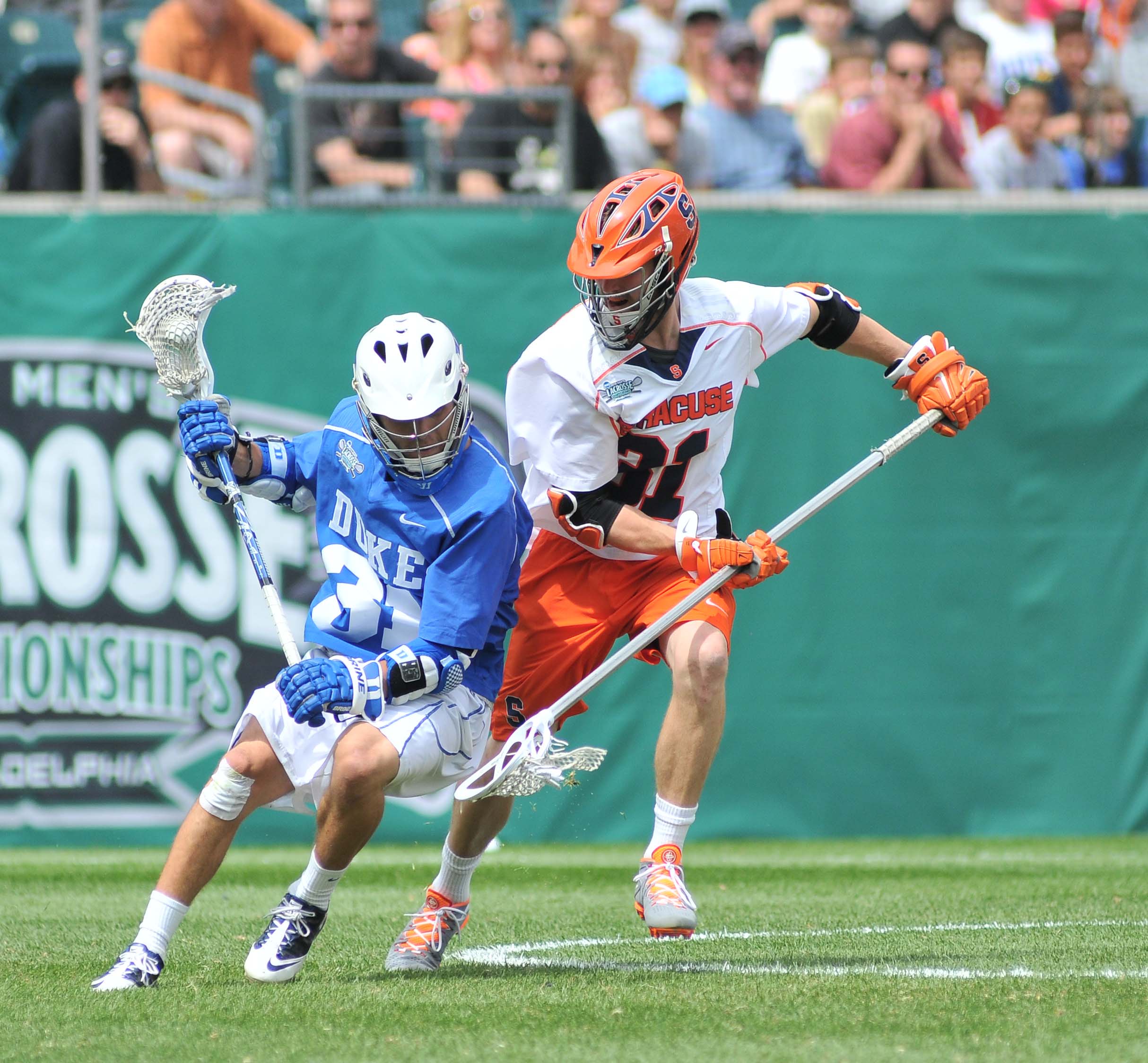 Try interval rotations with push-ups to side-shuffles across the field and throw in some stationary squats for an extra boost of power. Intervals are great for cardio and endurance – but combining them with strength training and weights will be even more beneficial for the Lacrosse season.
As the women's Lacrosse season approaches, training becomes imperative to prepare for success. By putting a modern twist on your old routines, your team will not only stay interested in training, but also improve their agility and performance to make for a great season.
90,000 Lacrosse in wheelchairs. An interview with one of the founders of the new sport Ryan Baker – RECIPE Lacrosse is a new team game that has features in common with basketball and other wheelchair sports, as well as those that wheelchair users do not play at all – football or water polo.
Interview with one of the founders of the new sport Ryan Baker
How did the idea of ​​creating a new sport come about?
The idea came in the winter of 2009 during a trip to a ski resort in Colorado with my friend Bill Lundstrom.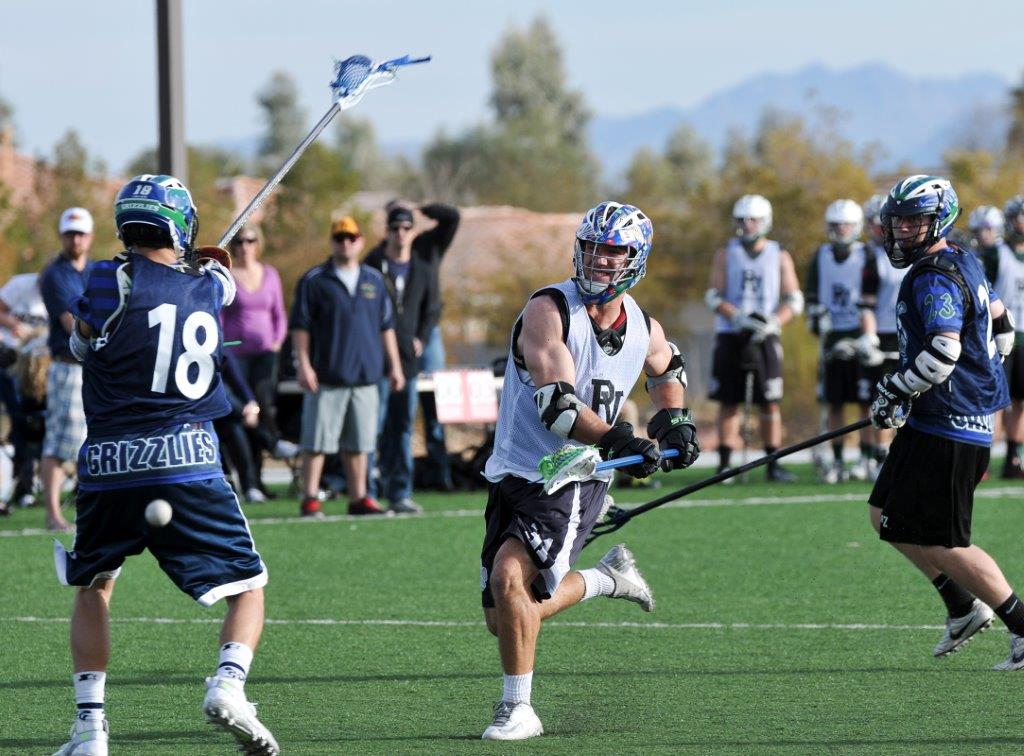 Bill and I were sitting with friends one evening, talking about sports and other active pastimes available to wheelchair users. I talked about my thoughts on lacrosse: if I can get around in a wheelchair with a tennis racket in one hand, then I can just as well hold a lacrosse club. That evening, Bill and I began to search the Internet for information on "wheelchair lacrosse." However, we couldn't find ANYTHING. So the decision came to create a new sport.
Why did you choose your own sport instead of tackling existing sports like wheelchair basketball? Or tennis?
I do not want to offend basketball players and express disrespect for the game, but personally, I have never felt any interest in throwing on the ring.Undoubtedly, it is the most popular sport among disabled people and attracts the most attention, as well as rugby for quadruplers. They are great athletes. I have been playing tennis for a long time, and have traveled all over the country, participating in tournaments.
Nolacross is a completely new team game that shares features with basketball and other wheelchair sports, as well as those that wheelchair users do not play at all, such as football or water polo. The course and speed of the game are ideal for us, and passing, catching the ball and shooting at goal are very different from anything that exists in other sports.I am sure that having tried to play lacrosse in wheelchairs, it is impossible not to fall in love with him.
How many people usually go to your training sessions? Are the women playing?
If everyone comes, we will count 15 players, but it is usually difficult to gather everyone, especially those with families or other obligations. We play on Sunday morning and this is not the best time. But we have no choice – it is at this time that the site is free. Women play too.
What platforms do you use to play, and why exactly these?
We play on the roller hockey rink, which is provided to us free of charge.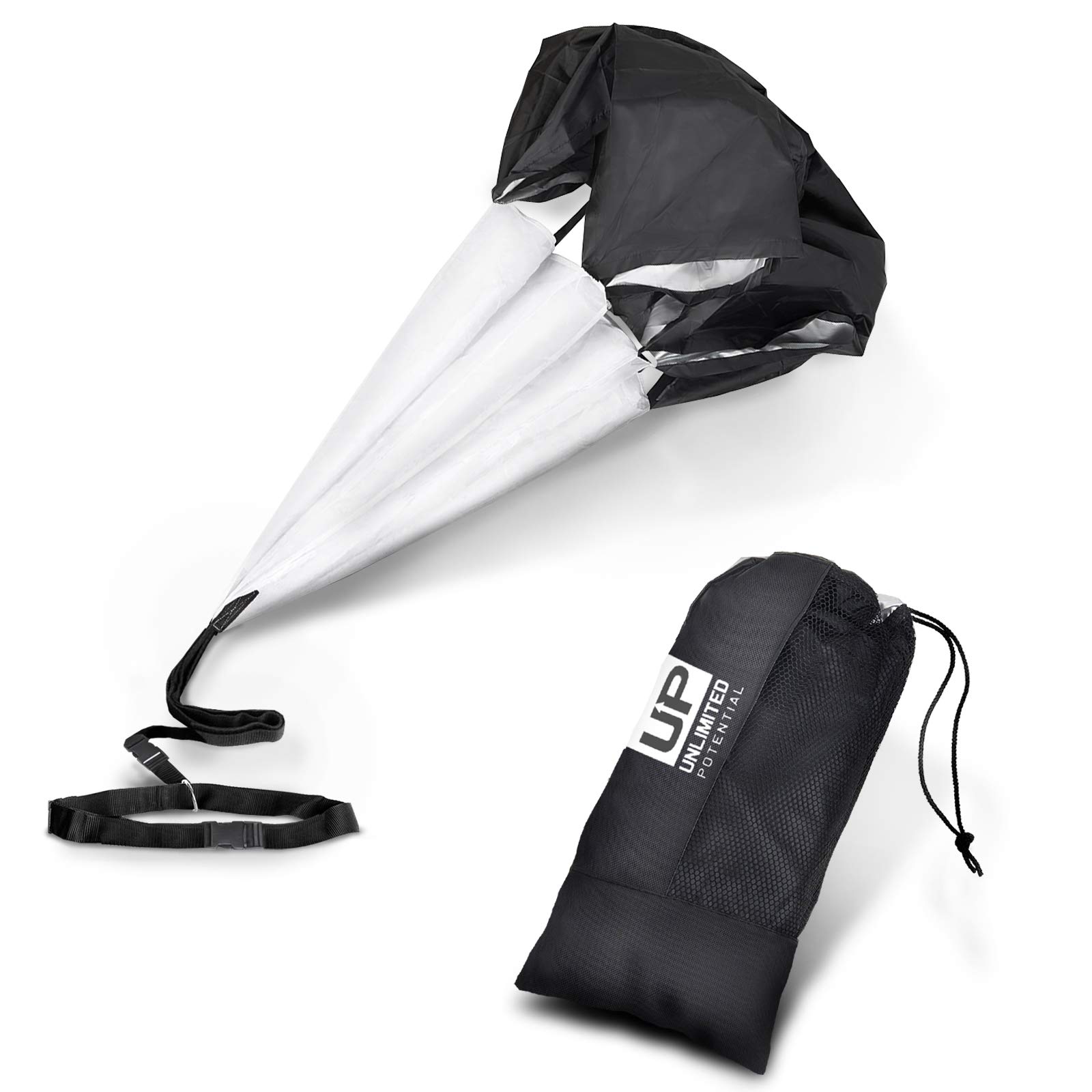 Our time is limited, as we have to give way to children's hockey sections and adult athletes. In general, there are many sites for the game, but the owners use them to make a profit, and we do not want to deprive them of their earnings. Now we are looking for ways to build a special site for us and our program. You could practice in the gym or in the parking lot, but the playground should have bumpers to maintain good speed.
Are there wheelchair users in other cities in America and other countries?
People from different states, from Canada, Germany, Great Britain, Turkey, Ireland, turned to us for help and advice… However, the reality is that a full-fledged sport cannot be formed overnight. At present, our task is to continue doing what we do and to popularize this sport around the world. We pay great attention to ensuring that everyone plays according to the same rules and on the same sites, marked according to the same rules. To achieve this goal, we run hands-on sessions and demo games for lacrosseurs and their coaches.
We travel across the country, have been to Canada.
What are the rules of the game, how are they different from regular lacrosse?
There are two main types of lacrosse – on the field and in the box. We took the second option as a basis and in developing the rules aimed to minimize the changes that are necessary to adapt to the needs of wheelchair users. We use the same equipment, from helmets and elbow pads to golf club specifications. Each team consists of seven players: a goalkeeper, two defenders, two midfielders (midfield players), two forwards.The sticks are 40-56 "long, with the longest sticks at the defenders (56"). The goal is a standard hockey goal that is installed farther from the back board to allow more room to play behind the net. The goal area is marked with bright sticky tape. Use a rubber lacrosse ball (140g). The stroller is a basketball. Hand play is not allowed. The game consists of four periods of 15 minutes. To form a team and involve players with different types and degrees of disabilities, we have developed a classification system, according to which each player is assigned a certain number of points, which are used to calculate the total number of points of all team players on the field; it should not exceed 12.

How do you see the future of wheelchair lacrosse?
We are confident that the sport has good potential for inclusion in the Paralympic Games, but in order to apply, it must be played internationally in at least 8 countries. We have already developed the foundations of the rules and classification, the further development of sports is a matter of time. Unlike basketball and wheelchair rugby, lacrosse is a less traumatic sport, which makes it more attractive for those who do not want to risk their health.Over time, it will become one of the most popular and exciting wheelchair sports.
For sports details visit http://www.wheelchairlacrosse.com/
Video showing basic ball handling: http://www.youtube.com/watch?v=eIEZ5MB6_u8&feature=player_embedded#!
gaz.wiki – gaz.wiki
Navigation
Languages
Deutsch
Français
Nederlands
Russian
Italiano
Español
Polski
Português
Norsk
Suomen kieli
Magyar
Čeština
Türkçe
Dansk
Română
Svenska
90,000 Hockey terminology – definition of concepts: hook, forechecking, lacrosse
Hockey is a spectacular and exciting game, it is watched on TV, the boys often arrange evening matches in their courtyard.

Sports sections are also developed, today almost everyone can enroll in an amateur team. On the equipped sports grounds, you can find sports hockey boards that help in training and even in holding games.
Before visiting a coach, you need to learn the real "basics", to which the list of terms belongs. The complete vocabulary includes amateur jargons and common words used by hockey players and referees. This is real basic information, without which it will be very difficult to conduct a workout.In this article, we will talk about the basic concepts and give them a decryption.
Contents:
Popular hockey terms
Popular Hockey Slang
Popular hockey terms
When signing up for a session, try to remember the following concepts:
slapshot – throwing the puck with a wide swing, but hitting the ice, is usually a deceptive maneuver and is used to pass;
hook – side kick with puck throw;
van timer – it is also called a one-touch throw, when a player hits it in one movement to attack the opponent's goal;
forechecking – active throwback of the puck in the field of the opposing team;
feint – any action that is performed to deceive the enemy and mislead him;
lacrosse – contact interaction of the enemy in his zone with throwing the puck into the goal;
hip check – interaction with the enemy with his reception on the hip.
Popular hockey slang
In training, to communicate with the players and with the referee, you need to know hockey slang – for example:
sit on the bank – if the player is constantly sitting on the bench;
to roll on rails – to play predictably and without tricks, such a player is usually called a "tram";
go along the side – if you rush past the enemy along the side at high speed;
Curious – usually called left-handers, who have the club on the right;
play with a train – leave the puck to your player who is moving from behind;
play carousel – leaving the puck to the previous players one by one while moving in a chain.
This is just the most common slang used by players in training and during matches. When visiting a section or an ice arena, such concepts can be quickly remembered. Often the commentators themselves use this slang, but they often support their judgments with explanations for the audience.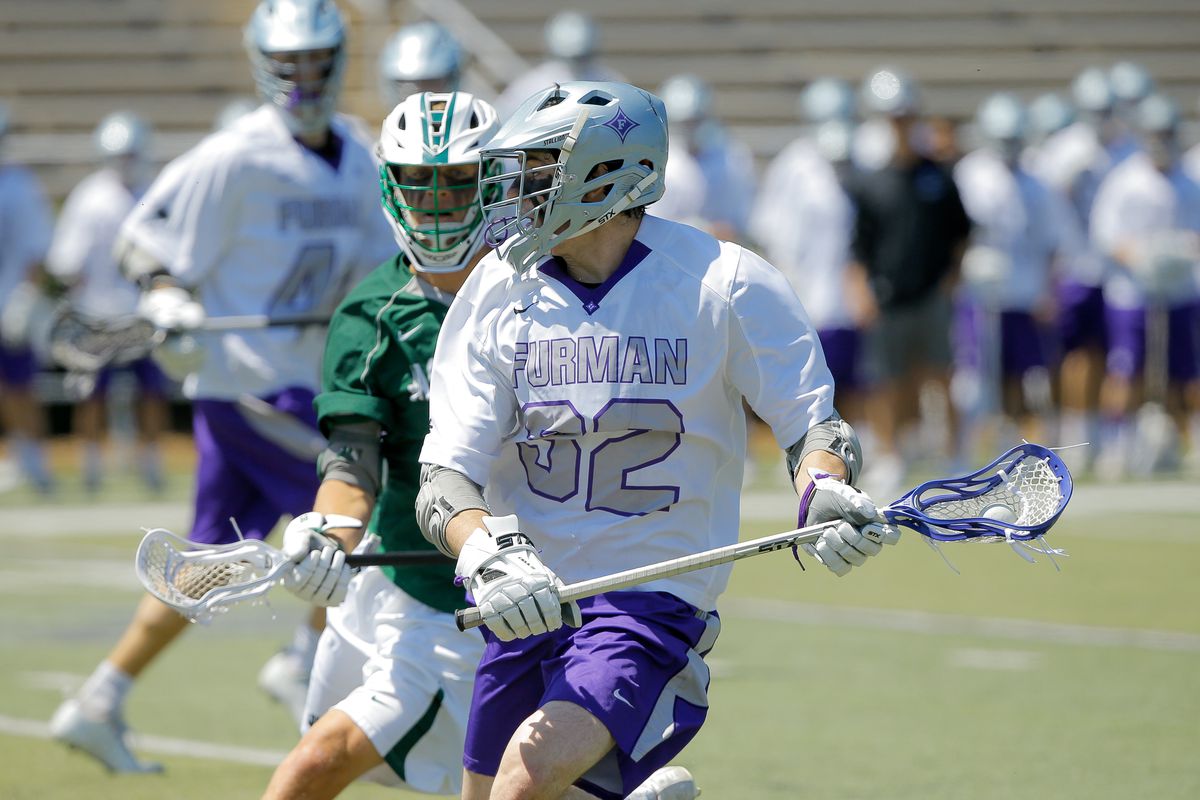 90,000 Training for Women Sprinters – Other 2021
Women sprinters train all year round to improve their sport. Sprint competitions include 100m, 200m and 400m running and obstacles.To thrive on race day, female sprinters follow dynamic training plans that include speed training, plyometrics, strength training, and rest. All workouts should begin with a five to ten minute warm-up and end with recharging and stretching.
Speed ​​drills
Sprint is an anaerobic sport, which means that sprinters work so hard that the blood flow cannot deliver oxygen to the muscles fast enough. This causes a build-up of lactic acid, the burning sensation we feel in our legs when our muscles begin to fatigue.Female sprinters work hard to improve their milk threshold and continue to run for longer without bumping into lactic acid build-up. Speed ​​exercise helps athletes build speed by simulating race day conditions. Sprinters must complete four to 10 repetitions, either slightly longer or shorter than their particular event.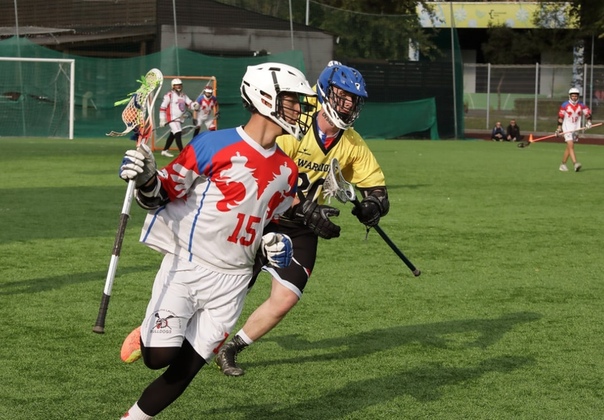 Shorter reps will be done at maximum milk capacity, while longer reps will be done at a slightly lighter pace.Speed ​​workouts are usually done on the trail, but can also be done on hills for added difficulty. Speed ​​training will be done two to four times a week, depending on the season.
Plyometrics
Plyometrics involves rapid leaps in muscle strength that cause muscles to achieve maximum strength in a short amount of time. Female sprinters can greatly benefit from adding plyometrics to their training plans. In a sprint, runners must reach their maximum speed as quickly as possible.Doing regular workouts such as jumping and high knees can help sprinters push starting blocks and maintain a fast pace to the finish line. Plyometrics can be performed with weightlifting or after warm-up and should always be performed on soft surfaces such as grass.
Strength training
Female sprinters require more muscle mass than their sprinting counterparts. This is because sprinters use an incredible amount of explosive muscle power to achieve and maintain a fast pace.
A well-designed workout plan for female sprinters should include two days per week of strength training to target all major muscle groups with a focus on the muscles of the lower body.
Rest and Recovery
Adequate rest and recovery is an important part of any female sprinter's training plan. This can mean complete rest, which gives tired muscles a chance to recover from being pushed to their limits during a race, or outdoor activities such as longer runs done at an easy pace to cleanse lactic acid and increase endurance.During peak season, female sprinters should plan for at least one day of rest per week after the races. During the rest of the year, sprinters may choose to rest one day or, if feeling strong, go for a slow, light run to recuperate.
90,000 How do I train my calf muscles?
Whatever will significantly improve your vertical will work on your technique in addition to the aspects of muscle strength. A constant vertical will be very different from trying to jump to catch a disc with a near full run.
There are several different components to this type of vertical jump.
Blocking is the term most commonly used in gymnastics, and it means taking a horizontal impulse and turning it into a vertical impulse. This is accomplished by the fact that you can place your foot, both legs, or arms to stop the horizontal movement without stopping, and give an upward push to transmit the momentum upward. The trick is that you can NOT completely stop when you do this.One of the best visual examples is the high jump. They come in at an angle, bend slightly and put their foot down, and move their other foot up and help to run over to the jump. There are tons of tutorial videos for this (blocking, I mean, not high jumps).
Next comes the arm / leg movement. Part of this upward movement is enhanced by raising the arms upward and moving upward without leaning on the leg. This requires not only strength, but also time and flexibility, so they are all coordinated together to add momentum to your movement.
It just takes practice.
Flexibility is another component. The more vertical you can lift your knee up, the better your jump will be. If you are not very flexible, then you will be wasting some of your momentum in front of you, rather than contributing to the upward movement. The tighter your body and the higher you can control your knee, the more it will add to your desired direction of motion. This means that all squares and hamstrings must be flexible.
Watch high jumpers, parkour, martial arts tricksters, gymnasts.Everyone will have much larger vertical leaps from moving in their vertical position. There are some NBA players who cannot jump from a standing jump, but can hover over the rim, jumping out of motion.
A final consideration is the ability to activate the stretch reflex, which will add extra weight to the jump. This can be done by adding plyometrics to your exercises to help you learn how to use it. But again, plyometrics are a little more advanced, which also means a higher risk of injury.