Lacrosse goalie chest protector reviews: Warrior Nemesis Pro Goalie Chest Pad Review
Warrior Nemesis Pro Goalie Chest Pad Review
I remember when I first stepped into the goal. Our starting goalie handed me his late 90's STX chest protector and I remember thinking – where's the rest of it?
Chest protection for this generation of keepers sure has evolved since the earlier days of lacrosse, with more research and more protection added into each new addition to a company's chest pad product line.
It's great to see this evolution for our position when it comes to keeping a goalie's chest safe.
This post is my review of the Warrior Nemesis Pro chest protector.
Warrior Nemesis Pro Fit
I was a bit skeptical on how the Warrior Nemesis Pro chest protector would conform to my body due to the amount of protection Warrior has offered here.
At first glance this chest pad appears bulky, however it honestly is the best-fitting chest pad I've ever used.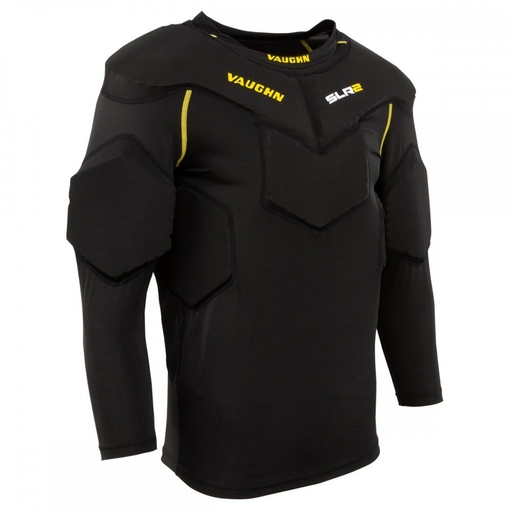 I cannot stress enough how great the chest pad felt once tightened around me.
Common problems associated with chest protectors are either they are too loose, too bulky, and hinder the save movement. In some cases, all three.
However, the Warrior Nemesis Pro is balanced out nicely here and I don't have any complaints regarding the fit.
As you can see in the picture below, the dual-straps click in nicely and are tightened with the straps to fit the shape of your body.
When I am in my goalie stance with the chest pad, I don't feel any baggage, which can often happen with chest pads, (hanging off your torso in your stance.)
Another common issue I've found with chest pads is the throat guard getting in the way of the upper-area of the pad, often resting on it. Warrior did a great job making sure that the nemesis pro was perfectly formed for the throat guard, resting right where it should on the goalie.
This chest protectors comes in just two sizes but with the straps you can easily adjust it to fit all different heights, weights, and body types:
Overall, this is honestly 100% the best fitting chest pad I've had the pleasure of using.

Warrior Nemesis Pro Weight
The Warrior Nemesis Pro is on the heavier side when it comes to chest protection.
That is because it's loaded with so much protection. But as a goalie, I didn't notice the extra weight and I gladly trade that extra weight for the feeling of protection I get when this bad boy is strapped on my chest.
If you're wanting to get the lightest chest pad, look elsewhere. It wasn't as light as a Warrior Burn Pro chest pad, but does offer a better fit and more protection than its lighter counterparts.
That said, it also isn't the heaviest of chest protectors. The STX counterpart, the STX Shield 500 chest pad, is definitely feels bulkier and heavier than the Warrior Nemesis Pro pad.
Overall here, you're exchanging a bit of weight for maximum protection, which is up to how you play, but for me personally, it wasn't a bad trade-off whatsoever.
Warrior Nemesis Pro Protection
So, just how well does the Nemi Pro actually protect that precious chest of yours?
Well, in my opinion, I'd say it offers the most protection out of any chest protector on the market.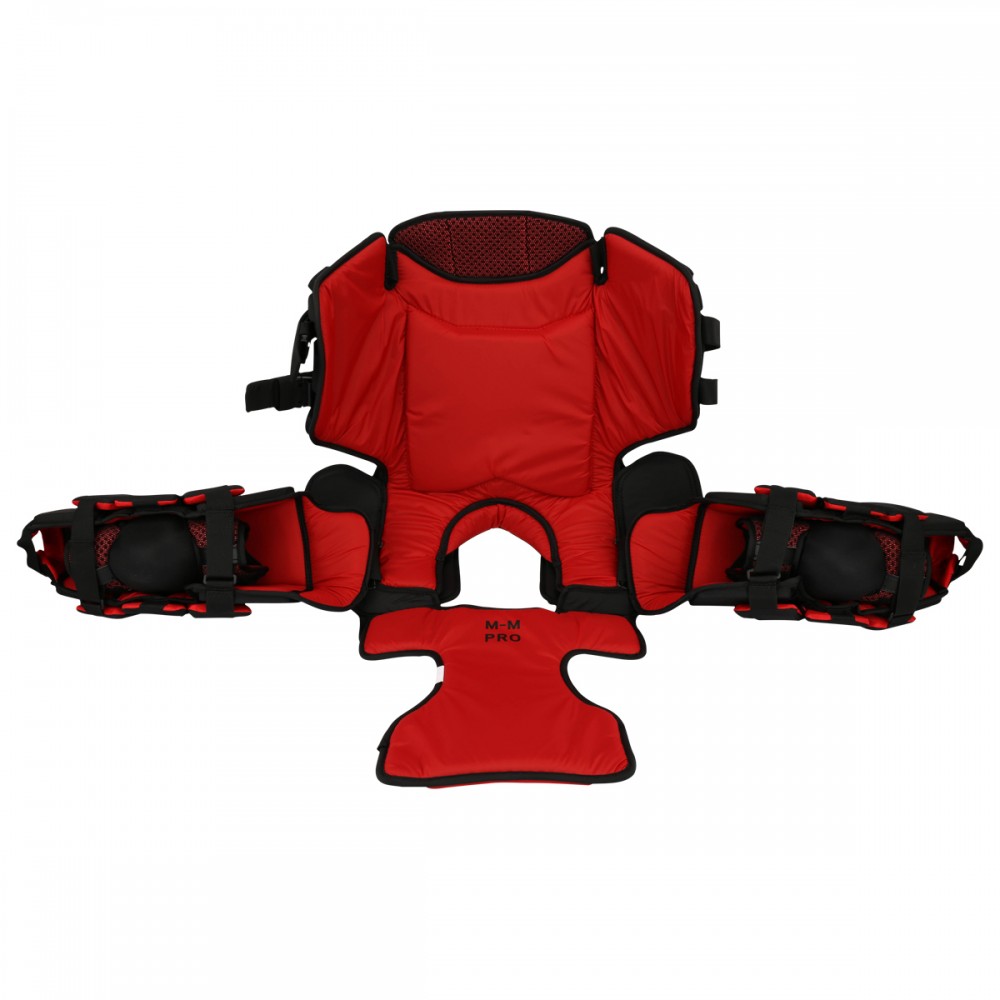 Now, breaking that down, certain chest pads like the STX Shield 500 offer more padding in the center-piece.
However, the Nemesis Pro offers more protection, covering the entire frontal area of the keeper, and in an incredibility comfortable way.
Most modern chest protectors, like the Nemi Pro, include a reinforced chest plate. I think this should actually be a mandatory protection item since there are stories of goalies getting hit in the chest at the exact wrong moment and causing death.
Warrior offers a floating belly pad on the Nemesis Pro that not only offers as a bit more protection, but also keeps the chest protector from rising up on low saves. Not many chest pads have that feature.
The chest piece is reinforced with D30 and IMPAX foam technologies. In simple terms, these technologies offer some of the best impact absorption in the world and is used in heavy-duty protection products such as protection for moto-racers.
With a couple weeks of use, which included many practices and four games, I managed to take a few shots off of my chest, and I felt almost nothing except the sweet satisfaction of a save.

Using my late 90's STX chest pad I specifically remember a few shots that took my breath away. A very unpleasant feeling for a goalie.
With the Warrior Nemesis Pro, I feel like my entire torso is covered inch to inch, and reduces the impact to nearly nothing.
Overall, I'd say it's one of the most protective chest pads available today.
Warrior Nemesis Pro Design
A goalie's chest protector is typically covered with a game day jersey or at least a practice penny so design is not the most important factor.
That said, I'm in love with the overall design of the Nemesis Pro.
In terms of aesthetics, it looks fantastic. The base color is a cool gray with silver outlining throughout the chest pad, which gives it a slick, clean look that I personally find to look amazing.
Warrior also did a great job of designing it to conform to your body. Like I said previously, the adjustment straps have such a wide range of movement that I think it'd be pretty difficult for this chest pad not to fit to perfection.


My only real issue with the design would have to be the back straps. I find they get tangled up here and there, which is a minor annoyance at times. It isn't a frequent issue, but since the neck sleeve is so loose, (will send specific pic) it can cause unwanted tangling in the back at times.
Other than that, however, the design of the Nemesis Pro is great!
Warrior Nemesis Pro Price
Now to everyone's favorite topic, how much does it cost?
At the time of this writing the Warrior Nemesis Pro comes in around $160. 
You can get it on LacrosseMonkey.com here. As I've mentioned in our gear review posts I always try to use LacrosseMonkey.com as I've had nothing but great experiences with them.
This is definitely a premium chest protector. As I discussed in this post, if you're just starting out as a goalie buy a different chest pad. Don't start with this one.
The price is a bit high, but, it is also one of the premium chest pads available for purchase.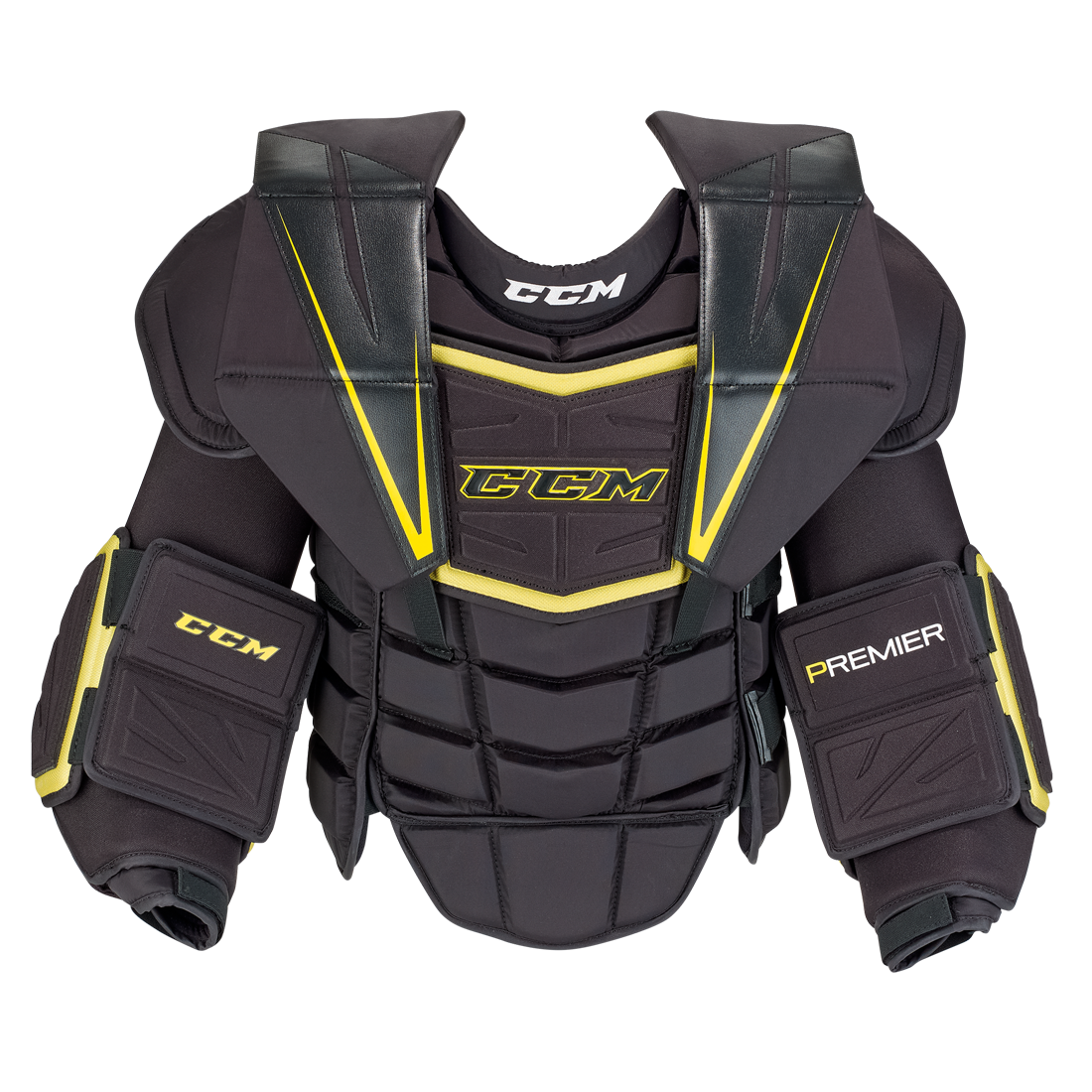 The Warrior Nemesis Pro costs the same as the STX Shield 500 and I think the former is overall a much best chest protector.
Sure, some of the other premium chest pads are great as well, but with my use of the Nemi Pro, I feel a uniqueness in not only how it fits, but how it feels that I can't get over.
I say if you can save up for this chest pad, or ask for it as a Christmas gift this holiday season, you wouldn't be disappointed.
Conclusion
So, let's break this down for us lax goalies on how the Warrior Nemesis Pro stacks up to our expectations.
Fits nearly perfect, with only issue being the back straps connected to the neck sleeve tangling up at some points
Zero restriction with arm movement, making getting to shots an ease (no more getting your arms tied up to make a save!)
One of the most protective chest pads available, covering practically every inch of the torso
Weight comes in a bit heavy, but is a sacrifice for amount of protection
Comes in a bit pricy, but one of the most premium chest protectors available today
With that brief recap of the Nemesis Pro, I think there's no denying it being one
the best chest pads to purchase today.

Of course, like every piece of equipment, it has its setbacks, such as weight, but compared to other chest protectors I've used in the past, there doesn't seem to be any comparison.
Whether you're looking for the ultimate protection piece, or want a chest pad that fits flawlessly, I think the Warrior Nemi Pro chest pad is a great buy!
Grab the Warrior Nemesis Pro here at LacrosseMonkey.com
Until next time! Coach Damon
Anything I missed in this Warrior Nemesis Pro chest protector review? Leave me a comment down below.
New Lacrosse Goalie Chest Protector Rule in 2021
Last week I posted my review of the new Maverik Rome chest pad.
Rightfully so, many of you asked if this chest pad was approved for the new rule change passed by US Lacrosse.
What rule change you ask? Let's back up.
Because unlike this rule change, the one I'm about to outline is very real.


US Lacrosse Approves Chest Protector Rule Change
Among the 2019 rule changes introduced by US lacrosse was a change meant to ensure that goalies were not using faulty chest protectors.
The rule changes will be included in the 2019 US Lacrosse Boys' and Girls' Field Lacrosse rulebooks.
The rule change was implemented to reduce the risk of a rare yet deadly injury called commotio cordis.
In layman's terms, Commotio cordis, is a heart rhythm disruption caused by a blow to the chest, i.e. a shot, and causes the heart to stop beating resulting in sudden cardiac death if not immediately treated with AED device.
Before the goalie moms and dads freakout and ban their kid from playing goalie, understand that this is extremely rare – according to NOCSAE approximately 5-15 athletes (of all sports) die each year from commotio cordis.
Yet we should applaud US Lacrosse for making this rule change to ensure that it never happens to even 1 goalie.

The rule change was approved in 2019 but doesn't go into effect until 2021 for US Lacrosse boys' and girls' youth field lacrosse which will allow lacrosse manufacturers to get the right approvals needed for their chest protectors.
Here is the exact line from the rulebook which will apply for both boys and girls:
*Note: Beginning in 2021, only a goalkeeper chest protector designed for lacrosse that incorporates the NOCSAE ND200 will be legal for play and shall contain an SEI certification mark.
Additionally, in boys lacrosse only, by 2022 all field players must have heart protection as well:
* Note: Beginning in 2022, field players must wear protectors for commotio cordis that meet the NOCSAE ND200 standard and contain an SEI certification mark
I think that means we'll start to see shoulder pads that have the additional heart protection in the 2022 season.
Chest Protectors Meeting NOCSAE Standard
Many of the top chest protectors in the game already include the additional protective piece that meets the NOCSAE standard.

In fact, even the old STX chest protector I played with in my college days in 2003 had an additional plate over the heart that gave me this protection.
That said, all the lacrosse chest protector manufacturers will need to submit their products for testing in order to receive the SEI certification mark.
To check the list of approved chest protectors, you can go to this site: https://www.seinet.org/search.htm
Then select program = NOCSAE: Chest Protectors (Lacrosse) (ND200-17a).
At the time of this writing the only approved chest pad is the Warrior Nemesis:
Edit: Here are the list of now approved chest protectors as December 29, 2020. And the Warrior Nemesis is no longer on there??
You basically have just 5 chest protectors to choose from (top center Warrior Nemesis is now no longer approved):
Here they are:
I think all other manufacturers are still working to get their proper approvals before 2021.

Most modern chest pads – like the Maverik Rome I reviewed last week – contain the reinforced chest plate and protection that helps reduce the chance of commotio cordis however it is NOT on the list of approved chest pads.
Even the Warrior Nemesis Pro – the sequel to the Warrior Nemesis – isn't on the list yet. But you can clearly see the additional protection over the heart that this chest pad provides.
Edit: This chest pad is now approved.
So I think for the majority the chest protectors available, it's a question of getting the official certification, not a question of having to redo the entire chest protector's design to help prevent the commotio cordis.
For example, there's a company called Unequal which makes a goalie chest pad called the Hart. It's specifically designed with reinforced heart protection and yet it is NOT on the list of approved chesties yet. Head scratcher. I reached out to Unequal to see what was going on but never heard back.

If your goalie is using a chest pad from circa 1990 then we may have a problem. But if they're using a newer version, odds are they'll be ok.
The thing that's still unknown for me is exactly how referees will enforce this new rule.
Does the chest protector get an additional sticker if it appears on this approved list? Or does simply being on the list justify the chest pad's legality?
During the 2021 USA LaxCon, PLL and top NCAA official Matt Palumb (also an outstanding goalie at Syracuse btw) said that it the responsibility of coaches and goalies to ensure they're playing with legally certified gear.
Watched ref Matty Palumb on LaxCon conference. Danced around the answer a little – but basically said refs will not check goalies for certified NOCSAE chest protectors. That's on the coach and goalie to make sure they're using legal certified gear. #laxcon

— Coach Damon ? (@laxgoalierat) January 15, 2021
So according to him, refs will not be lifting up jerseys to check for certified chesties.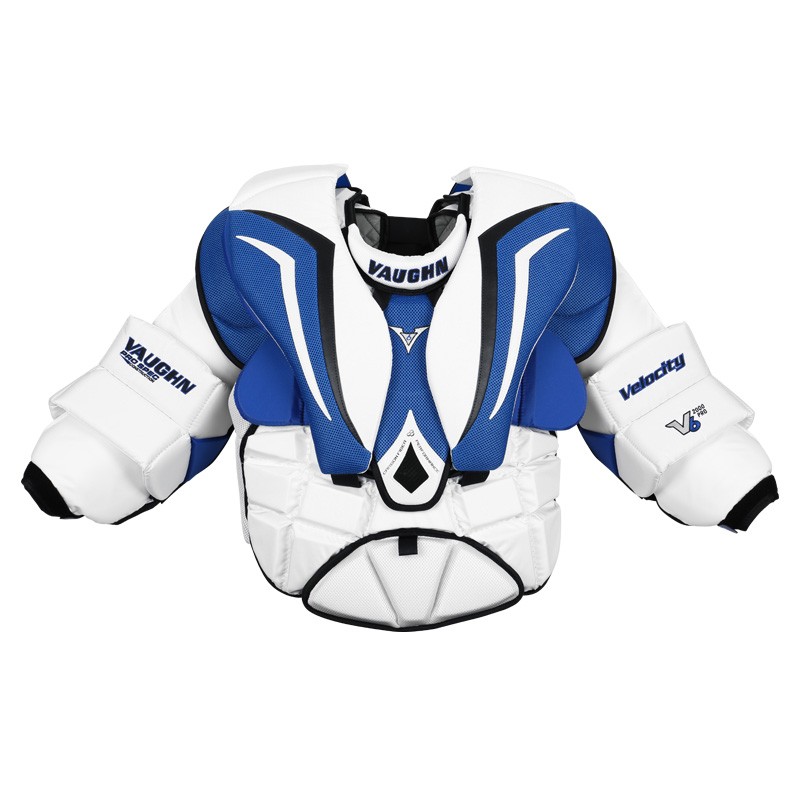 It's on us as goalies, parents, and coaches.
When will remaining chest pads get approved? No clue. There's a quite a few chest protectors for goalies and I imagine it takes a quite a while to finish official testing of each.
Conclusion
US lacrosse passed a new rule regarding chest protectors that takes effect in January 2021.
Each goalie chest pad must be SEI certified which is done to ensure the goalie has the additional heart protection that help reduce a rare case of getting hit in the chest at the wrong time and having the heart stop.
By the following year even field players will need heart protection so good on US lacrosse for continuing to preach player safety. Now – what about goalie concussions?
So far only 5 chest protectors have received the approval from NOCSAE so for the 2021 season be sure you're using one of these 5 chesties:
Until next time! Coach Damon
Any questions about this new rule for goalie chest protectors? Leave me a comment down below.

###
Photo credit
Best 6 Goalie (Lacrosse) Chest Protectors (2021) Reviewed
Just like any other contact games, goalies take all the beatings, and therefore, it is imperative for them to take whatever precautions available in the market just to keep them safe from bodily contacts.
In the year 2019, the US Lacrosse Governing body has introduced a new rule to safeguard the interest of the goalie. The idea behind this proposal is to eradicate the use of faulty chest protector. This chance will go a long way to keep the lacrosse goalies from harm's way and eliminate the possibility of Commotio Cordis during the game.
Commotio Cordis is a rare but deadly condition when the heart of a player receives a deadly blow to the chest and thus loses its ability to function properly for a few seconds and this could lead to a massive cardiac attack. This can lead to sudden death if the person does not get immediate medical attention or gets treated with an AED device.


However, there is no reason to get freaked out because the chances of a goalie developing Commotio cordis during the game are very rare. All you have to ensure is that the goalie chest protector that you are planning to purchase has got an SEI certification mark and it should meet the criteria set by the NOCSAE ND200 and your kid will be just fine.
Best 6 Lacrosse Goalie
Chest Protectors
Affiliate Disclaimer: This site is reader-supported and we earn commissions (at no additional cost to you) if you purchase products from retailers after clicking on a link from our site.
1. Maverik Max EKG Lacrosse Goalie Chest Pad

Maverik Max EKG Lacrosse Goalie Chest Pad is ideal for those goalies who don't like to stay stationary during the game. It is best suited for those lacrosse goalies who stop at nothing. Maverik Max EKG Lacrosse Goalie Chest Pad does not restrict your movement in the game in one way or the other. Its progressive design sets it apart from the rest of other lacrosse goalie chest protectors that are available at this price point.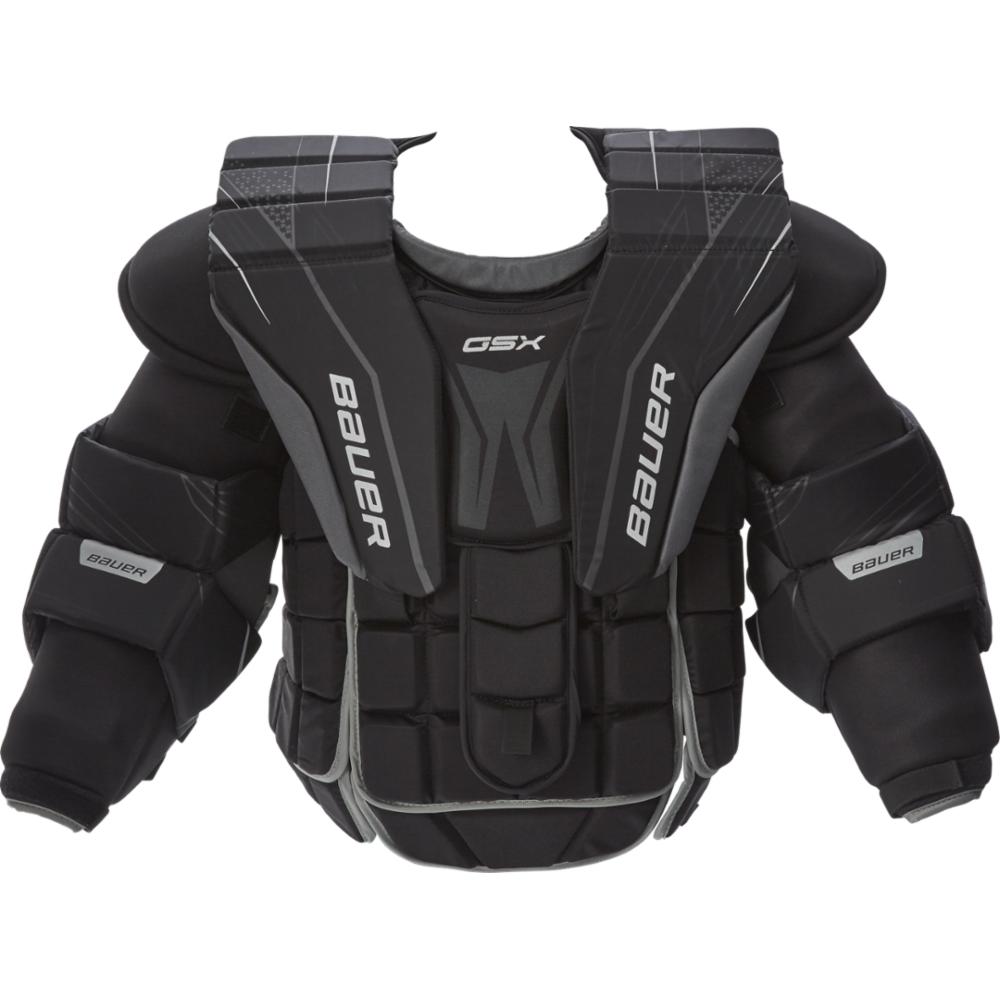 Worried about commotio cordis? With Maverik Max EKG Lacrosse Goalie Chest Pad, you don't have to worry about such things anymore. All the performance standards set by the NOCSAE ND200 are met by its External Kardiac Guard which is reassuring for most of us. Maverik Max EKG Lacrosse Goalie Chest Pad is highly customizable and can be personalized easily and effortlessly by making proper use of adjustable back straps and elastic straps. Impacts will be absorbed effectively by its Anaform chest plates but for sure, they will not weigh you down.
2. Reebok 5K Goalie Chest Protector

Reebok 5K Goalie Chest Protector is a perfect fusion of protection, precision, and power. It protects you from the impact but not at the cost of comfort and flexibility. Staying cool during the game is a challenge especially for the Goalies because they are wrapped in numerous armors from head to toe just to stay safe during the game.
But with Reebok 5K Goalie Chest Protector, you don't have to worry about keeping your body heat under check because it has got its flagship – Reebok Play Dry that will wick away the sweat from your body and thus allowing it to cool itself down naturally.

The shoulder straps are not restraining at all and it is extremely lightweight.
3. STX Lacrosse Shield 400 Chest Protector

STX Lacrosse Shield 400 Chest Protector complies with NOSCAE standards and that means, you don't have to worry about the safety of your kid anymore. This lacrosse Goalie Chest Protector is ideal for those intermediate level players who don't want to choose between superior protection and mobility. Floating chest plate comes included and they will keep you protected from impacts. It is highly adjustable. Use the strap to personalize the fittings.
4. STX Lacrosse Women's Sultra Goalie Chest Protector

STX Lacrosse Women's Sultra Goalie Chest Protector is one of those few lacrosse goalie chest protectors are that specifically designed for female lacrosse players. Compared to traditional lacrosse chest protectors, STX Lacrosse Women's Sultra Goalie Chest Protector offers superior fittings, and the chest and stomach area is super stretchable and thus making it ideal for female lacrosse players.

To eliminate odors, Microbe shield protection is used and we must say that it is working like a charm. Both the shoulder caps and belly pad are removable and thus allowing you to customize it further.
5. Maverik Rome Lacrosse Goalie Chest Pad

Maverik Rome Lacrosse Goalie Chest Pad has made a mark in the lacrosse circle by offering superior fitting that can give other lacrosse goalie chest pads a run for its money. Made from breathable fabrics, Maverik Rome Lacrosse Goalie Chest Pad offers greater protection from impacts during this game. Split chest panel allows greater movements without making zero compromises on the safety front. Made from Triple density foams, Maverik Rome Lacrosse Goalie Chest Pad is super soft but it hardens itself on impact. Maverik Rome Lacrosse Goalie Chest Pad will give 100% protection to your clavicle and sternum and that too without spending an astronomical amount.  
6. Unequal HART Goalie Chest Protector

Unequal HART Goalie Chest Protector is an engineering marvel and is made from military-grade materials to ensure superior performance under all circumstances.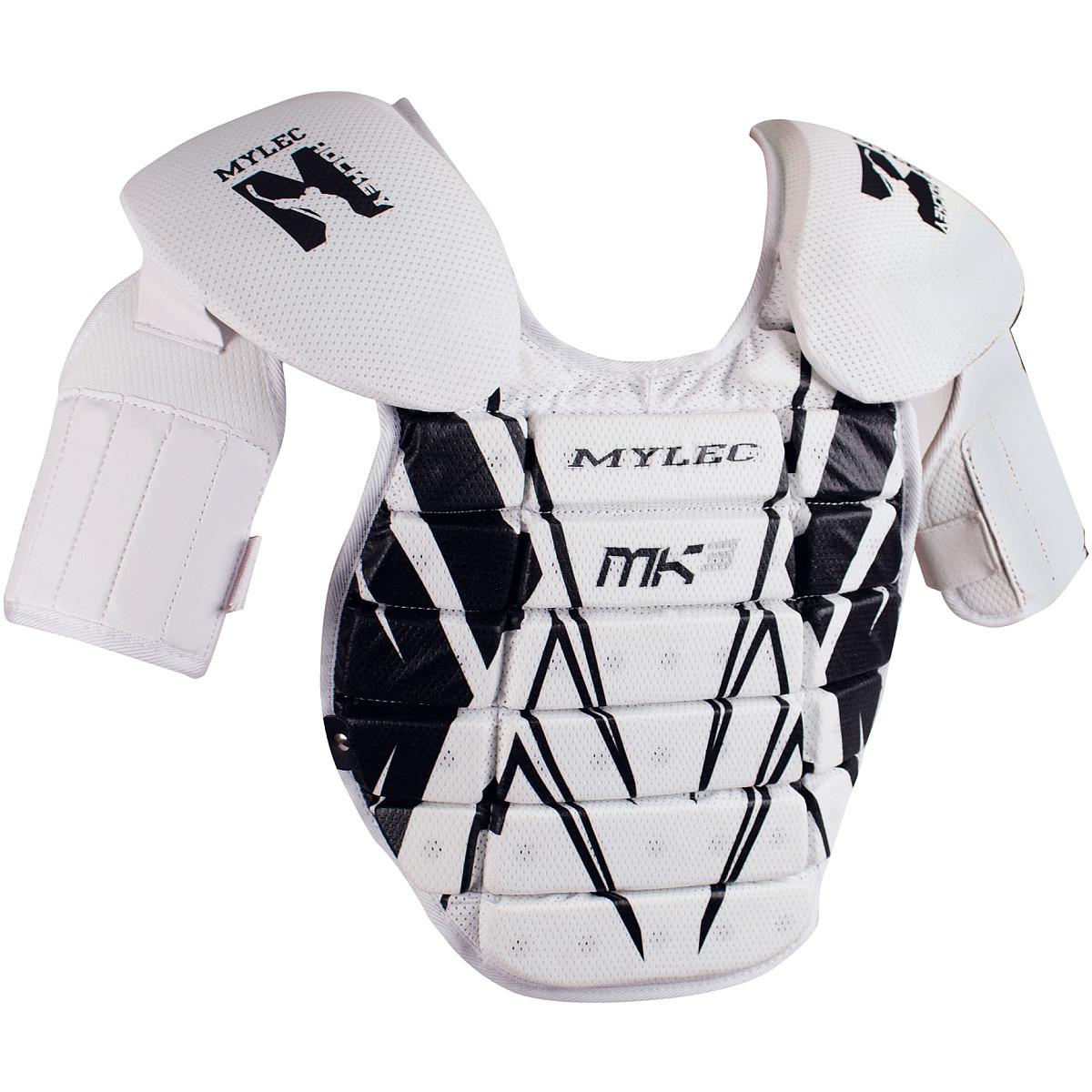 You have got a removable Gut Guard and chest wall HART Accessory Pad plus with this and these accessories will restrict your movement in one way or the other. Unequal Hart Pad Technology reduces the possibility of commotio cordis. Your heart will be protected from impacts and clinical tests conducted by Tufts Medical Center have proven it already. Optional LOWER Abdomen Protection can be removed if you wish so.
Last modified: March 2, 2021
Best Lacrosse Goalie Chest Protectors for 2021
Lacrosse Goalie Chest Protector Buying Guide
Beyond our list of the best chest protectors on the market, we wanted to provide you with the tools to make informed decisions when it comes to a chest pad that we may not have covered.
Here are some things to consider when choosing a chest protector.
1) Protection
It's in the name—chest protector—so needless to say this is the most important factor when choosing a product. The two elements of protection to keep in mind are padding and coverage.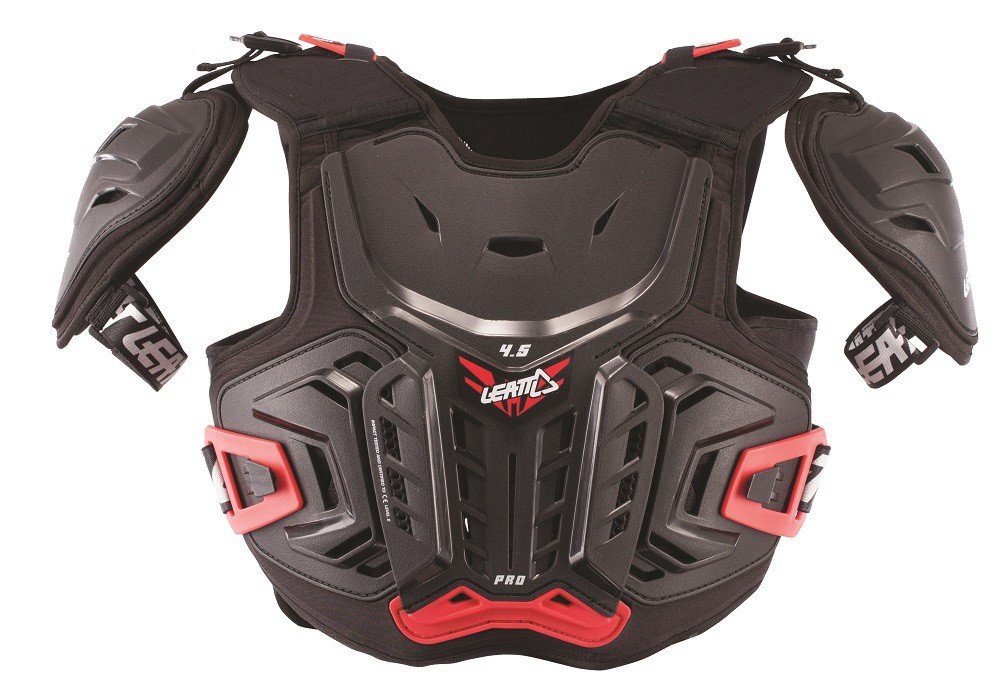 Padding has seen a major leap forward with the introduction of ND200 standards, with reinforcement now being an emphasis around the sternum/center chest area. A lot of the high-end protectors feature foam with fancy names that distribute force at the point of impact to lessen blows.
Coverage area is the next major component. Does a protector cover the vital points properly and how long or wide does that area go? These are the important questions to ask especially depending upon your body type. A longer torso may need coverage around the base for instance.
2) Comfort & Flexibility
As always, comfort and the flexibility offered in a pad are two other huge elements to consider in the selection process. As much as you need to feel protected, it's all pretty pointless if you cannot make the movements necessary to man the cage properly.
A lot of pads offer adjustable straps at each fit point—shoulders, ribs, waist, and back—to customize the fit to your liking.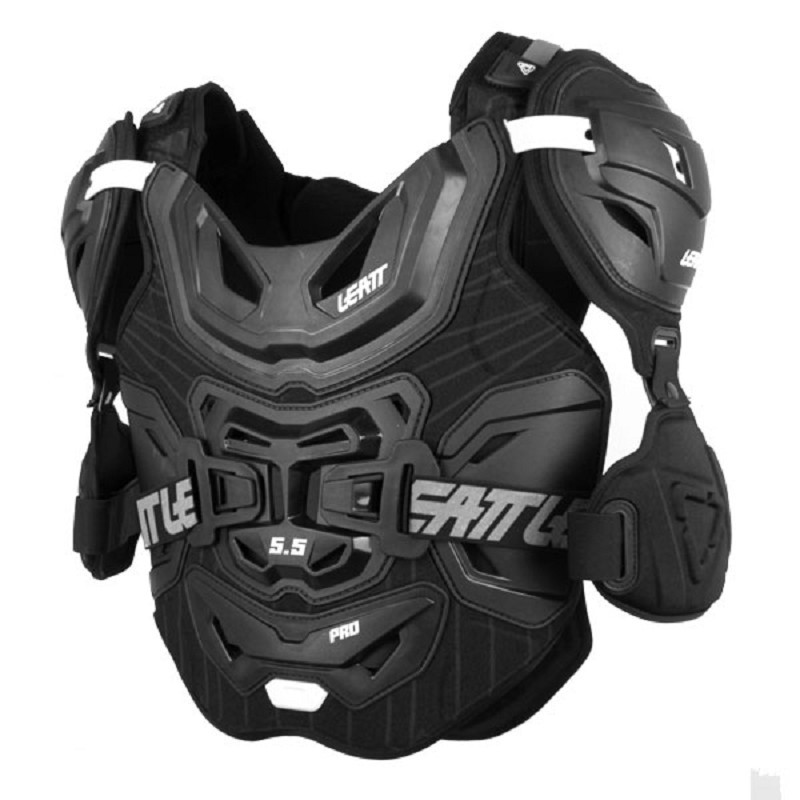 The additional removable components have also made this generation of chest protectors extra personalized to your preferences of play and fit.
Another major consideration is the rigidness of the central padding. Some pads will bunch during movement while others will be so stiff you end up with your protector giving you an uppercut at every high sniping shot you move to save. The latter scenario may be more manageable for those keepers with larger frames while bunching may be less of a nuisance for smaller goalies.
Basically, your body type is something to put at the forefront of your mind when judging a protector's potential comfort and flexibility.
3) Durability
We always look for the highest quality we can get in a product; something that will last us for season after season.
Some elements to consider when it comes to longevity are the quality of straps (and their connecting elements) as well as the dependency on things such as Velcro in removable pieces.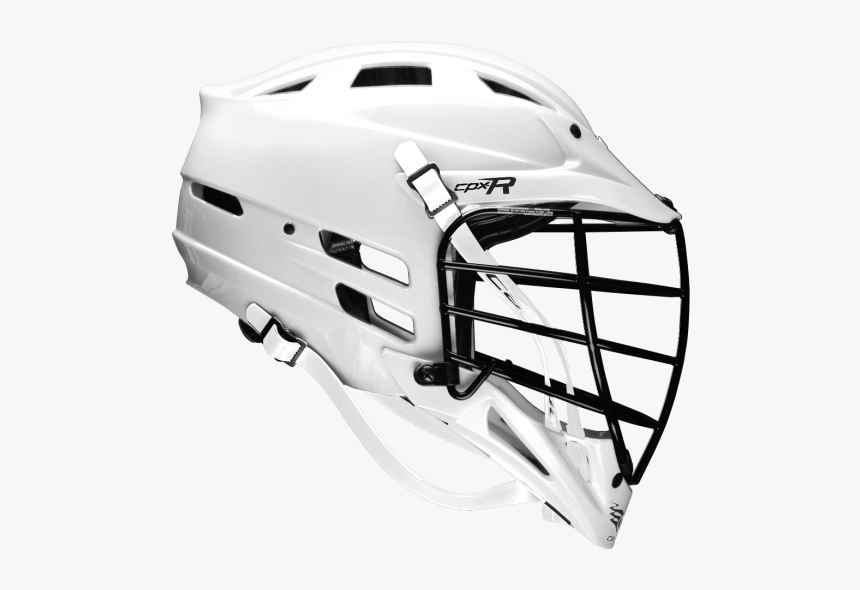 These pieces have a tendency to be the most vulnerable points when it comes to breaks so any questions regarding their quality should give you pause as to their durability.
Durability will be a hard element to judge considering the change over in chest protectors to meet the new ND200 standard. Most compliant protectors are barely a year old so there is not a lot of first-hand input in this regard. Trust your gut if you have any doubt as to the quality of a protector's construction or material.
4) Breathability
You need a chest protector that will not soak up sweat or external moisture over the course of a game. The last thing a goalie needs is to be carrying around a twenty-pound sponge for four quarters.
Some pads will note moisture-wicking tech built into their product. This is definitely something to look for in a listing.
5) Customer Reviews
As noted under durability, there may not be a ton of feedback on this new generation of chest protectors given the advent of ND200 coupled with the truncated 2020 season for many.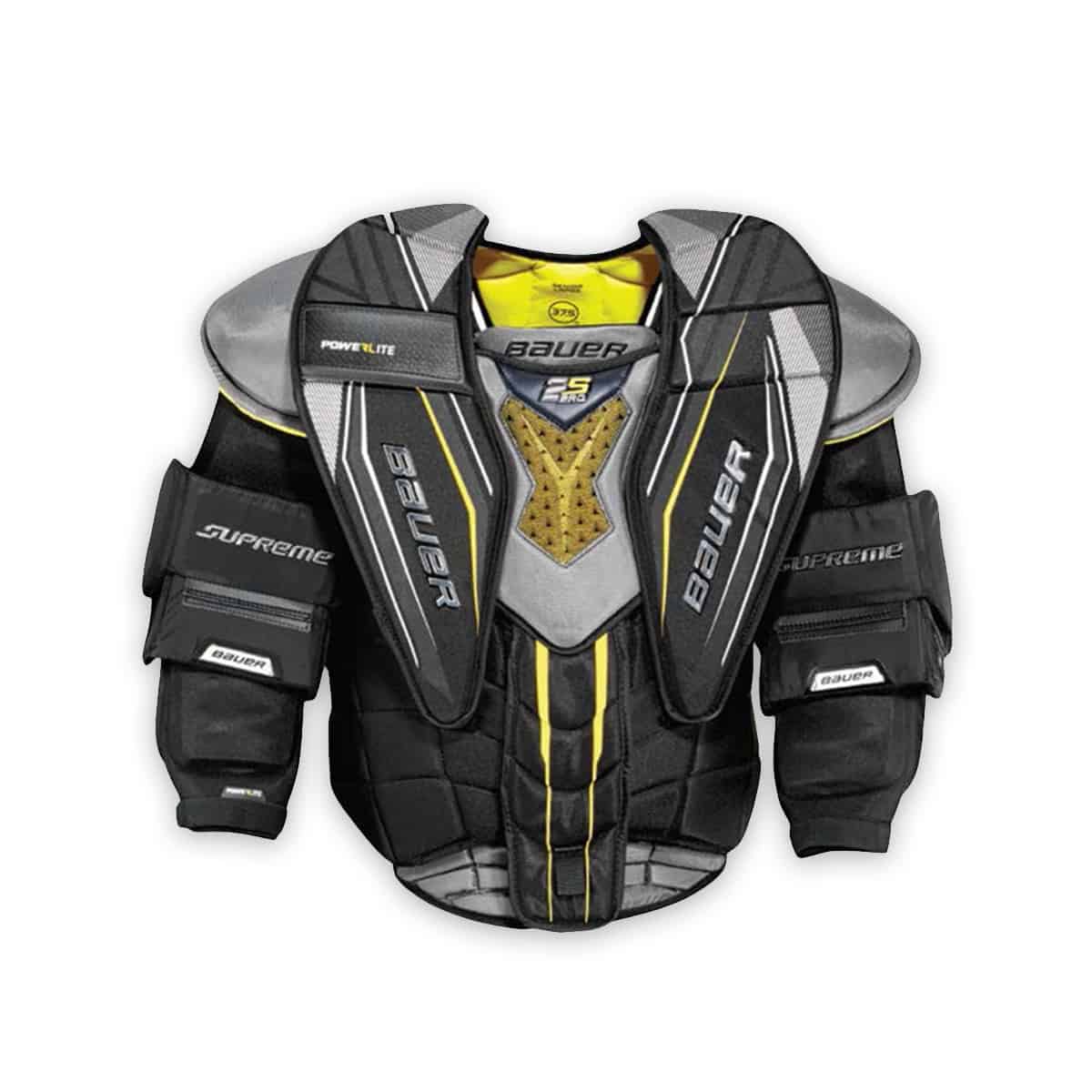 Still, there is some feedback out there for protectors.
Like we say for every product we cover, do your own research. Look for customer reviewers as more and more feedback is always coming out each and every day.
Other customers are an invaluable resource in judging elements like durability and comfort; they can also help you escape the unspoken pitfalls of certain products.
And do your part as well—pay it forward by reviewing any protector you settle on as well.
6) Budget
As previously demonstrated in our lacrosse goalie gloves buying guide, the market tends to put a premium on position-specific gear and chest protectors are no different.
It may be hard to find something that fits your budget but do not forget that you are paying for one of the most important pieces of protection you can have next to your helmet.
If you are looking to cut costs, it is great to look at scaled-down versions of the top of the line outputs on the market. STX has done a tremendous job of putting out subsequent, cheaper protectors that still employ high-end design techniques.

Like anything though, you get what you paid for, so cutting costs here may leave you vulnerable in the areas of protection and longevity. Do not expect some of the cheaper options out there to last you season after season.
Best Lacrosse Goalie Gear of 2021
Please check out our Lacrosse Rebounder on Amazon. It is designed and sourced by a laxer for laxers. It is $100, much cheaper than every other comparable rebounder on the market.
Lacrosse goalies are the backbone of the game! And You always nee dot choose best Goalie gear ?
They are always making crazy saves on the field, getting pelted with high speed shots, and putting their body on the line in every game.
To be honest,
Being a lacrosse goalie requires you to be tough, both physically & mentally.
You must be physically strong enough to take the force of strong shots by offending the team. Also, you must be mentally tough to not lose your nerves when you see your opponent coming for you.

The position of a goalie requires you to wear special equipment that will help protect you from fast moving lacrosse balls.
So, getting the right lacrosse goalie gear is very important
But buying the top of the line isn't always an affordable option, you must look for plenty of styles of the different gears which will make sure you're safe and moving freely on the field.
Here's our favourite Lacrosse Goalie Gear 2021
Best Gloves :Maverik M3 Gloves
Best Stick : STX Eclipse Prestrung
Best Chest Pad : STX Shield 500
Best Pants : Shock Doctor Lax
Best Helmet : Cascade CPX-R
Best Cleats : New Blance Freeze
1. Best Lacrosse Goalie Gloves
The Goalie gloves are different from the gloves of a field player.
Because of the nature of position of the goalie, their gloves have a reinforced thumb pad and fingers, whereas the field players do not.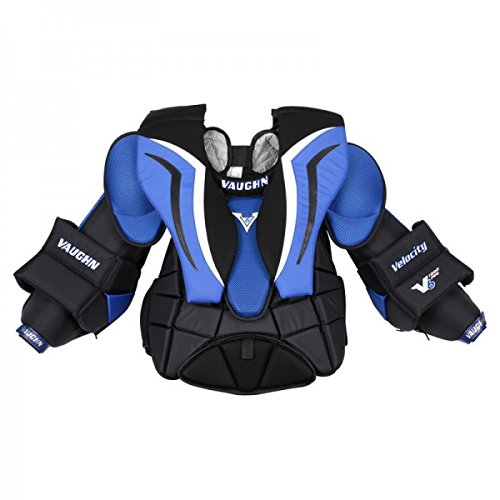 This padding reduces the chance of thumb getting injured by getting hit on the hands.
The pads present in the thumb and finger part of the glove helps to break the extent of force with which a ball is thrown at them.
#1. Maverik M3 Gloves
If you're one of those goalies looking for high performing gloves in every aspect possible, Maverik M3 Glove is the one for you.These are totally different from other maverik gloves. M3 goalie gloves come with a Traditional fit & additional volume for fingers allows for extra comfort & flexibility.
These Gloves are very soft and have a natural feel with Ax Suede. And the inhaler mesh palm allows for more airflow through it.
Available in 4 attractive colours: Black, Red, Royal & White in Medium & Large sizing.
Product Key Features
Traditional Fit Profile : Maverik M3 Gloves is built on a more traditional fit profile with some additional volume in the fingers. This adds more protection and safety to the goalies.
37.5 Technology Liner : No Goalie Wants to play with dirty & sweaty gloves. The 37.5 Technology liner helps to evaporate the sweat and heat from within the gloves. This unique feature of the gloves makes them smell fresh and remain dry throughout the game.
Soft & Durable : These gloves are crafted with AX Suede which makes them soft and very natural to feel on hands. Also this ensures high durability of the gloves.
More Airflow : If your gloves get sweaty then hands will slip very easily. The inhaler mesh palms allow air to pass through the gloves & eliminates the problem of slipping from sweat.
#2. Brine King 5 Lacrosse Goalie Gloves
Brine King Superlight lacrosse goalie glove is a lightweight glove that won't get in your way or compromise on protection.
These have water resistant lining that keeps the gloves dry in any weather condition.
Also the hydrophobic lining keeps these goalie gloves free from unwanted sweat and it's gross smell. Flexibility of these gloves ensures protection throughout the game.
Product Key Features
TruVents : The Truvents technology helps to increase the ventilation to the backhand of the gloves. And this keeps you cool even when the weather is blazing hot.
Textured Nash Palm : These gloves have Textured Nash Palms which provide an improved feel of the stick to give you more controlled and firm grip on it. It also increases the goalie's confidence in the game.
Floating Cuff : The Floating cuff around the wrist of this glove gives you a protective advantage during the aggressive faceoffs or while scooping the ground balls.
#3. Warrior Regulator 2 Lacrosse Goalie Gloves
With Warrior Regulator 2 goalie gloves you can feel so good even when you are stopping bone crushing shots.
These gloves are designed with padding that absorbs high impact shots and redirects that force away from your hands.
AX Suede palm is a thin in design which is a single layer of incredible touch to the goalie's hands. Comes with decent protection as well as comfort.
Product Key Features
New Lock Thumb Lock : The Warrior Regulator 2 has a New Lock Thumb which easily withstand highly aggressive shots. It comes with high impact foam which absorbs the force from hard hits.
Bone Protection : The advanced Bone protection backhand and finger protection layer of the gloves ensures safety of the goalies and keeps them tension free on the field.
AX Suede Palm : AX Suede palm is a thin, single layer which gives a soft and incredible feel to the player. And helps a lot in defending bone crushing shots.
#4. [Beginners] STX Shield Goalie Gloves
STX spent hours to come up with a perfect goalie glove for the younger players to improve their skills.
It has a flexible thumb guard with patent pending design made from a resin material which increases its strength and toughness.
These gloves have reduced length cuffs to increase mobility of the wrist and allows your hands to be free and fast on the field.
This is available in black color in 12inch size.
Product Key Features
Fixed Thumb Guard : New fixed Thumb guard helps to maintain the hand safe from unwanted injuries. This advanced feature of the Shield gloves makes it the perfect glove for goalies.
Extra Protection : Extra protection for the tip of the thumb is provided with this glove. It has a flexible thumb guard which offers toughness and mobility to all the goalies.
Reinforced Protection : The Backhand of STX glove is a patent pending design made from a resin material which increases toughness and strength. This allows a goalie to defend many shots.
Single Piece Nash Palm : The single piece Nash palm of the gloves is added for an improvised feel of stick. Also it has perforated holes which makes the gloves breathable and fresh.
2. The Best Lacrosse Goalie Sticks
The lacrosse goalie stick is very different from traditional lacrosse sticks used to play lacrosse. Larger lacrosse head allows easier saves. And lacrosse goalie shaft is shorter in length, around 40 inches which gives a goalie enough control and mobility. I
n earlier days, the sticks were made of wood or fiberglass. But nowadays the heads are synthetically made and shaft from aluminium. Checkout this high quality and cheapest sticks below:
#1. STX Lacrosse Eclipse Goalie Complete Stick
Eclipse Goalie glove by STX has an updated sidewall geometry that provides increased stiffness without adding any weight.
New scoop design enhances the ground ball performance during the game.
A secure grip is provided with the help of ergonomic throat design. It is strung with 12-diamond semi-hard mesh and includes a 34 inch outlet platinum handle.
Product Key Features
Increased Stiffness : The STX lacrosse eclipse goalie stick is made with updated sidewall geometry which increases the stiffness and strength of the string without adding weight.
New Scoop Design : If you are looking to improve your ground skills then this stick is for you. The new scoop design provides enhanced ground ball performance.
Ergonomic Throat Design : Another great thing about this product is it's Ergonomic Throat Design. This helps a goalie to have a secure and firm grip on the sticks.
Additional Sidewall Holes : An expanded array of pocket styles are provided with the help of additional sidewall holes present on this stick.
#2. Brine Eraser 2 Lacrosse Goalie Unstrung Head
Eraser 2 by Brine is the state-of-art goalie head. It is a redesigned and reengineered version of its kind. With this lacrosse head erase all your doubts.
Design of this head is always better than the previous ones and this is one of the top choices by Men and women players.
Sidewall of this head provides stiffness and added strength that every goalie needs. Available in white color.
Product Key Features
Strategic Core-Tech Sidewall : The sidewall of this unstrung head is manufactured with Strategic Core-Tech which provides additional stiffness and strengths that goalies need during the game.
Offset Sidewall : The offset sidewall present in this head improves accuracy and control while goalies are passing on the field.
Available in 4 Ways : It is rare to find a lacrosse head available in multiple colors. This one exception is available in 4 colors.
#3. Warrior Nemesis 2 Lax Goalie Head
This is a pre launch of the warrior's best selling goalie head of all time.
And it is the only one goalie head in the world to feature Warrior's patented Flared sidewall which directs shots into the center of pocket.
The lax goalie head is made from super tough, durable nylon materials that can stand out even in blazing heat. Recommended by many happy users.
Product Key Features
Best Selling Goalie Head : This is Warrior's best selling goalie head of all time. It is made with high quality materials and loved by so many users from different places.
Flared Face Design : The Flared face design of this head helps to push all the shots into the center of the pocket.
Ultra Rugged Sidewall : The Ultra-rugged sidewall design of this head provides durability against the fastest shots coming toward a goalie.
3. Best Lacrosse Goalie Chest Protectors
Some of the Chest protectors come with an additional arm and shoulder protections just like shoulder pads but some do not. A Chest protector without an additional arm padding provides you more mobility. But if you are looking for more protection for younger players then you must go for the arm padding.
#1. Brine King Superlight Chest Protector
The Brine king Chest protector is just like the Brine Eraser Stick which has been around for a long time and also a reliable option.
This is a solid, comfortable and protective chest pad for goalies who needs extra performance without sacrificing mobility.
The new design of the pad helps to flex with your body which keeps you mobile during low saves or when you run outside the crease. And it is made up of high density impact absorbing foam.
Product Key Features
Dual Density Construction : Brine King Superlight chest protector has Dual density construction with ICS sternum that provides improved impact protection for goalies.
Multiple Break Construction : The Multiple Break Construction keeps it form fitting and always flexible. This is very helpful while a difficult save.
Dual Vectro Strap : The Dual Vectro strap of this chest pad helps to keep it firm in the right place just as a goalie would like it.
#2. STX Sultra Girls Lax Goalie Protector
The STX Sultra Goalie protector is designed specifically for the female players.
This chest pad features stretch zones in the chest, shoulders and stomach area. And it has the option of a removable stomach and shoulder pads.
This pad is cut wider in the chest and shoulder to have more mobility during the game. And it is manufactured with an antimicrobial material to prevent bacteria from forming and to avoid smell.
Product Key Features
Female Fit : STX Sultra is the first chest protector specifically made for female fit. It provides perfect protection without restricting free movements of female goalies in the game.
Stretch Zones : Sultra chest protector features multiple stretch zones in the chest, shoulders and stomach area. Also, women specific sizing provides better fit than traditional chest pads.
Customizable Protection : Yes, this pad has customizable protection as the stomach and shoulder pads are removable.
Multiple Size & Colors : These Chest protectors are available in whooping 4 different sizes and 2 attractive colors.
#3. STX Shield 300 Goalie Chest Protector
The STX shield goalie protector is low price lax equipment but does its job perfectly for youth players.
It is STX only cardiac silhouette coverage of the mid-chest area. It comes with a floating chest plate which offers protection & mobility.
Also, the removable stomach pads and shoulder caps are provided for additional coverage and safety. It has adjustable straps which ensures the player is feeling comfortable all the time.
Product Key Features
Cardiac Silhouette : This is STX only cardiac silhouette coverage for the mid-chest area for protection that is needed for a goalie.
Floating Chest Plate : The Floating chest protector ensures protection from impactful shots and also keeps a player mobile.
Removable Stomach & Shoulder Pad : Additional coverage is provided with the help of Removable stomach and shoulder pads. This also makes the protector customizable as per player's needs.
Strap System : The Strap system of this chest protector offers adjustability just as a player needs according to his size and comfort.
#4. Shock Doctor Lacrosse Fit Compact Short
You can never ignore the safety of your special parts. So, Jock straps are very important.
Especially if you are a goalie then you must be ready to take those high speed shots. That means protection must be your top priority.
ShockSkin 5-pad protection features integrated foam and fabric padding which is lightweight and breathable.
It has vented pads to protect and contour to the hips, thighs and tailbones. Also the cup lock system is extremely comfortable.
Product Key Features
Leading Sports Protection Manufacturer : Shock Doctor is a leading Sports protection manufacturer that provides top performance and protection. It is worn by professional and college athletes worldwide.
Ultimate Comfort & Protection : This compact shorts has Shockskin integrated fabric and vented foam pads which are secured by high frequency seams, moves and contour with the different body parts for ultimate comfort & protection.
X-Fit Brief Cup Retention System : The much needed cup protection is provided by the cup retention system. It integrates a wraparound internal mesh or supporter for unparalleled comfort, fit and stability of proper cup position just as a player needs.
Relaxed Fit : It is developed with an exclusive pattern for ideal anatomical fit without compression and ensuring maximum freedom of mobility.
Impact Protection : An added shock protection is provided in critical areas. It also enhances primary gear coverage for hip, thigh and tailbone. And has a fabric that helps to remove moisture.
Ultra Carbon Flex Cup : This provides advanced multi-stage impact protection which transfers shock away from vital areas. While flex curve design gets maximum comfort and fit.
4. Best Lacrosse Goalie Helmets
The best thing about lacrosse goalie helmets is they have the same specs and models as field players. So they are easily interchangeable. But you must add the throat protection to add more protection if you are a goalie.
#1. Cascade CPX-R Lacrosse Goalie Helmet
The Cascade CPX-R is the best lacrosse helmet in the market for both Goalies and Field players.
It features Seven Technology Liner system which transfers the energy throughout the helmet to reduce unwanted injuries.
This comes with a chin strap that keeps the helmet in place all the time. Available in white color and one size that fits all.
Product Key Features
Impact Attenuation System : This helmet features a groundbreaking attenuation system. It helps in managing energy transfer after direct impact.
Seven Technology Liner System : The Seven technology Liner system displaces energy within a few seconds. It helps to transfer the energy throughout the helmet and reduce the risk of injuries.
Includes White Chin Strap : The white chin strap of the helmet keeps it in the right place without worry of getting off from the head of a player.
One SIze Fits All : Yes, you heard it right. It comes in only one size which fits every lacrosse player without any doubt.
#2. Cascade CS Youth Lacrosse Goalie Helmet
The Cascade CS Youth goalie helmet comes with a throat protector, that too at an affordable price.
It has the most unique visor with a streamlined look. The helmet offers great comfortability and protection.
Especially designed for players under age 12 who are looking for lightweight and a protective helmet.
Great customer service is provided by the makers and gets shipped in no time.
Product Key Features
Streamlined Look : This is a newer advancement of the lacrosse helmet, it has the most uniquely designed visor and shell combo which gives it a streamlined look.
One Piece Shell Design : The One piece shell design to sweep the front shots and collisions on the helmets to avoid injuries.
Polypropylene Foam : Cushion inside this lacrosse helmet is made up of Polypropylene foam that ensures much needed protection with comfort.
Designed for Young Generation : This helmet is designed for players under age 12. It is lightweight and a safe option for the younger generation of laxers.
Improves Visibility : As this comes in a mask design it improves player's visibility on the field. It helps to save many shots with ease and comfort.
5. Lacrosse Goalie Cleats, Shoes & Pants
Some goalies prefer to run on the field with footwear that has cleats or not. So, you have got two options to choose from, best lax cleats or best lax shoes. It's all your choice and preference, so go with what excites you the most.
Also, don't forget the importance of lacrosse goalie pants, or griddles. This helps to keep your lower half protected from the fast shots. We have listed our favourite picks for you.
#1. New Balance Freeze Men's Lacrosse Cleats
New balance freeze is the game's first ever lacrosse specific cleat.
This 9.9 oz cleat features one kind of quixrail plate built to support the extreme cuts a lacrosse player has on the field.
This cleat enables every player to cut harder with its exploweave saddle and full bootie tongue construction. If you want to be fast & achieve your goals, go for this one.
Product Key Features
100% Synthetic : The New Balance Cleats are designed with 100% synthetic material which makes it a must buy. It increases durability and accuracy on the field.
Base Lugs : The Base lugs provided at the bottom provide an unparalleled underfoot traction and unmatched rotational release.
Dual Density TPU Plate : Dual density TPU plate of this cleats offers the perfect combination of flexibility, stability and traction just as a laxer needs.
Quixrail Plate : The cleats features Quixrail plate which delivers superior traction with lugs designed to mirror the extreme cuts taken by lacrosse players.
#2. Under Armour Highlight Women's Lacrosse Cleats
Under Armour Women's lacrosse cleats have the same intention as Men's, to make all athletes better with their innovative design and comfort.
The supportive ankle of the cleats helps to maintain speed without being dragged down by heavy shoes.
The molded 4D foam footplates ensure the player's comfort and mobility isn't affected. This is a diverse product which is made for Men, Women and Youth as well.
Product Key Features
Synthetic Sole : These cleats are manufactured with 100% Synthetic sole which offers great stability and easy mobility on the field. It makes the cleats highly durable.
Lightweight Textile Upper : The Upper part of the cleat is made up of textile which is very lightweight. This is why the cleats are breathable & provides lockdown feel.
Smooth Toe Box : Toe comfort is the must for any footwear, especially if you're playing a highly active game like Lacrosse. These cleats have smooth synthetic material in the box that forms foot and gives maximum comfort.
Molded 4D Foam Footbed : One of the best things about this is the molded 4D foam footbed conforms to the foot's exact shape by eliminating possibilities of slippage and also reduces cleat pressure.
#3. STX Lacrosse Breaker Goalie Pants
The STX Breaker Goalie Pants are special shock-stopping goalie pants that are made with low rebound foam.
Many goalies prefer these pants as an additional on the areas around your quads, hamstrings and jock area.
These lightweight pants are very helpful in making saves and still being protected from them. Suitable for both beginner and advanced laxers. Available in Small, Medium and Large size.
Product Key Features
Form Fitting & Low Profile Spandex : These STX goalie pants have form fitting and low profile spandex with redesigned pad configuration which ensures better fit and breathability. So stop worrying about sweating too much.
Low Rebound Foam : The shock stopping and low rebound foam are used to construct these pants. This feature helps to save aggressive shots without compromising safety.
Fits All : As these pants are available in three different sizes which are Small, Medium & Large, they fit to all players.
#4. Warrior Burn Lacrosse Leg Pads
Warrior Burn Leg Pads are spandex-type shorts that are worn just like regular shorts.
These has protective padding in the hips, quads, and outer area of the legs to protect from impactful shots during the game.
These lightweight leg pads are designed with VPS foam that offers much needed protection and flexibility. Available in small, medium and large sizes.
Product Key Features
Spandex Type : The Warrior burn pads are a spandex type shorts that slide in just like regular shorts.
Protective Padding : These have padding in the hips, quads and outer part of legs from shots. It also has a sleeve for the cup which ensures additional protection.
Ultimate Flexibility : It has a Wartech compression fit that provides ultimate flexibility of movement with much needed comfort for the players.
Lightweight VPS Foam : The lightweight VPS foam this pad acts as a protective layer for aggressive hits without weighing a player down.
Throat guards are the mandatory piece of lacrosse gear for a goalie. It is very important to wear throat guards that cover the neck completely to avoid serious injuries. Also, Lacrosse shin guards and elbow pads are optional gear pieces if you want protection in that specific area.
#1. Cascade Lacrosse Goalie Throat Guard
Cascade goalie throat guard is the top quality throat guard available in the market.
These are designed specifically for goalies, with tempered plastic throat guards attached to the helmet with screws and bolts.
This is one of the safest options available for you if protection is your topmost priority in the game.
Product Key Features
Superior Throat Guard : Cascade lacrosse throat guard is the superior throat guard which can be attached to the helmet with screws & bolts. It doesn't need straps unlike others.
Safest Neck Guard : This is one of the safest lacrosse neck guards. It is least restrictive to the goalies which helps to keep moving without getting trapped under the chest protector.
Easy Installation : The throat is easy and quick to install. Holes need to be drilled in case of few players. And it works the best protection.
#2. Brine Lacrosse Goalie Shin Guards
Shin guards are specifically used by female goaltenders and youth players.
These shin guards by Brine come in one size that fits all. It is easy to attach and detach as well.
Material of these guards doesn't let sweat rest and is easy to clean in no time. This perfect gear if you are looking for a lightweight protection.
Product Key Features
Flex-point hard shell plates : Maximum protection and improved comfort is provided by the Flex-point Hard shell plates.
No Sweat : Don't worry about sweating too much when you have these pads on. The sweat can be easily cleaned too.
Low Profile Padding : The low profile padding of these pads on the shoes protects the ankle from injuries by wrapping around the leg.
#3. Brine Clutch Elbow Pad
Clutch means faster reaction time, this helps to react a player before the opponent makes the next move.
These Elbow pads by Brine are designed to keep you ahead of the defense.
These are anatomically fitting and lightweight pads made with latest technologies to improve protection and comfort for all the players.
Product Key Features
Single Piece Construction : Flexible fit is provided with the single piece construction with Grid-flex.
Compression Molded Foam : Compression molded foam allows to absorb extreme impacts without being too heavy.
Ventilator Stretch Sleeve : Ventilator stretch sleeve of the elbow pads provides superior fit and comfort and flexibility. It also keeps the pad dry.
#4. Shock Doctor Lacrosse MouthGuard
This Gel Max Mouthguard offers best protection and comfort with a convertible tether that helps to use it as strapped or strapless.
The triple player mouthguard is an all-round performer and perfect for all ages.
With advanced protection it also ensures easy breathing with it's intelligent construction. Available in more than 10 attractive colors.
Product Key Features
Custom Comfort & Fit : Get fit liner technology is easy to fit and the mold forms are designed specifically for your teeth and gums. It provides a comfortable fit available in a variety of colors.
Breathable : The mouthguard comes with integrated breathing channels which makes it easy to breathe and still maximizes its performance.
Professional Dental Protection : No one wants to break their teeth while defending powerful strokes by attackmen. This mouthguard esnures Professional dental protection so you can come out of the field with a wide smile on your face.
Buying Guide – The Best Lacrosse Goalie Gear 2021
Lacrosse goalies are one of the most athletic players on the field. So in order to take advantage of that athleticism , you must have an equipment that is going to protect you, work with you and keep you moving.
The latest advancement in lacrosse equipment has made it more advanced, so they aren't bulky or restrictive as before.
That means now protection doesn't need to be heavy or restrictive for the crease goalies moving on the field.
Men's mandatory protective equipment doesn't differ much from the women's, but the most important equipment like the helmet, throat guard, chest protector and sticks are the most essential to have for all levels of players.
Goalie Gloves
Goalie Sticks & Heads
Chest Protectors
Goalie Helmets
Goalie Footwear & Pants
Throat Guards, Shin Guards, Elbow Pads, Pants & Jock Pads
[VIDEO] British Guy Explains the Essential Lacrosse Goalie Gear
Best Lacrosse Goalie Equipment: The Final Word
The Best Lacrosse goalie gear depends on the individual. For some goalies, flexibility on the field is top priority, and for others stiffness in the equipment is what works. So you have to try it on and then choose the one.
Lacrosse goalie equipment can feel restrictive when you start with them as a beginner. But it must be broken in first to use it properly. A Player's satisfaction is what matters while choosing a gear equipment. Yes, comfort and flexibility are important factors, but you shouldn't choose anything unless you have tried it on.
So go with the equipment that allows you to play your best without any fear and second thoughts of getting injured or missing the shots.
The Best equipment is the one that keeps you protected all the time and is reliable for the position you play in the game.
Choose the one that builds up your confidence and makes you play like a Beast ! and that's wrap for best lacrosse goalie gears!
STX Shield 200 Lacrosse Goalie Chest Protector – Black, Grey
STX Shield 200 Lacrosse Goalie Chest Protector – Black, Grey
Model: Shield 200
Model Number: PD CP20 01 BK/GY
Color: Black, Grey
Sizes: Small, Medium, Large
Lacrosse Goalie Chest Protector
Features
Strap System offers vertical adjustability
Meets NOCSAE standard for chest protection 
Optional Stomach Pad for additional coverage
Multiple Hinges enhances fit, allowing for unrestricted mobility
Hard Plastic throughout chest plate and shoulder caps for added protection
Sizing (Height)
S:     4'7″ – 5'4″
M:    5'4″ – 5'9″
L:    5'9″ – Over
Everysportforless says…
The STX Shield 200 Lacrosse Goalie Chest Protector is the ideal choice for any lacrosse goalie who needs better protection. The Shield 200 Chest Protector is made with Hard Plastic throughout the chest plate and shoulder caps for enhanced protection in the key areas. The Multiple Hinges improves the fit which allows for unrestricted mobility. The Strap System offers vertical adjustability so you can personalize the fit to your own body better. Overall, the STX Shield 200 Lacrosse Goalie Chest Protector has a ton of great protective features that will help you stay protected in the key areas where you need it the most.
Warranty & Return Info
Easy Returns – Money Back Guarantee
Everysportforless.com is committed to bringing you an easy and fair customer friendly new/unopened return policy. If you are not 100% satisfied with what you have purchased from Everysportforless.com, return it within 60 days of purchase and take advantage of no-hassle money back guarantee. We'll refund you the product price on any returned item(s). You won't have to worry about your refund or store credit. We have you covered. To quote Brianne P. of Naples, Florida, "Rockstar Customer Service"
Note: We do not accept returns on used products. All returns must be in their original packaging with original hang tags and shoe boxes must be free of tape and labels. Otherwise a restocking fee may apply.
Warranty
All of the products we carry are from the top name brands in the industry and come with a full manufacturer warranty covering any and all product defects. If specific Warranty information applies for a product it will be available by clicking the warranty tab just above the description. If you have any questions about the warranty on a given product, let us know via email at [email protected]. 
For an in-depth look at our Return Policies please visit our Returns & Shipping Page
New Chest Protectors Guard Against Commotio Cordis
Last fall, US Lacrosse approved rule changes requiring that boys' and girls' goalies wear chest protectors that meet the NOCSAE performance standard ND200. Language to that effect was added to the 2019 US Lacrosse rulebooks, as well as the 2019 NFHS/USL Girls' High School Rulebook.
Implementation of the rule, however, was delayed until 2021 in order to allow for product development by equipment manufacturers. Evidently, that delay was not needed.
In time for the 2019 season, Warrior Sports has rolled out a goalie chest protector, the Nemesis Pro Chest Pad 19, which meets the new standard and is tested to reduce the likelihood of commotio cordis. The new product is an upgrade of Warrior's traditional Nemesis protector, and now includes a foam chest plate with inserts that provide enhanced impact absorption at both high and low speeds.
The new Nemesis 19 has been certified by the independent Safety Equipment Institute (SEI), and is available for purchase in adult sizes. Warrior intends to have smaller sizes, suitable for younger players, certified by mid-year.
"In regards to product design, we wanted to keep it in the same family," said Rick Janisse, product engineer at Warrior Sports. "The biggest change was to the sternum area and the pads."
STX is also expected to have SEI-certified chest protection products on the market later this year. The company will initially offer goalie chest protection at three price points, including a youth product. At the same time, STX could be the first manufacturer to release certified chest protection for field players, although it has not yet disclosed specific design information.
"This has been a multi-year process and we've done a lot of work with different laboratories," said Patrick Gowan, director of product management at STX. "It's been an interesting challenge."
The NOCSAE performance standard ND200 was formally approved in 2017 after being developed based on significant research and testing by Dr. Mark Link, a board-certified cardiac electrophysiologist and worldwide authority on commotio cordis — a type of sudden cardiac arrest caused by a blunt, but often relatively mild, blow to the area of the chest directly over the heart occurring during a precise moment of the heart's cycle.
Rule 178 – Procedure for taking a free throw / Special situations Rules of the sport of hockey (approved by order of the Ministry of Sports of Russia dated 17.08.2018 N 729) (as amended on 22.02.2019)
RULE 178 – PROCEDURE FOR EXECUTING A PENALTY SHOT / SPECIAL SITUATIONS
1. If an opposing hockey player interferes with or distracts the free throw shooter, resulting in an unsuccessful shot, the referee authorizes that skater to re-roll the free throw and imposes a disciplinary penalty on the offending hockey player.
2. If the official of the defending team, who is on the players bench, interferes with the actions of the free throw shooter or tries to distract his attention and the shot is unsuccessful, the Referee authorizes the defensive player to re-roll the free throw and imposes team representative Disciplinary penalty until the end of the match.
3. The use of the "snail" maneuver (turn in motion by 360 °) while approaching the gate is prohibited.
4. A lacrosse maneuver in which a skater places the puck on the hook of his stick and flips the puck in mid-air while moving is not allowed.
5. If one of the following actions occurs, the goal will be scored:
5.1. The puck hits the post and bounces into the goal;
5.2. The puck hits the goalkeeper and bounces back into the goal;
5.3. The puck hits the post, bounces at the goalkeeper and then into the goal;
5.4. The puck hits the goalkeeper, bounces into the post and then into the goal;
5.5. The puck hits the goalkeeper, who slides into the goal net with the puck.
6. When the coaches of the teams concerned have chosen a specific fielder and goalkeeper for the free throw and goal defense, no substitutions are allowed if a re-shot is to be made due to a foul or goalkeeper foul, except in the event of injury. In such a case, the coach may appoint another fielder to take the shot or a substitute goalkeeper to defend the goal on the free throw.
7. During the free throw or the winning streak, when the puck enters the goal net and the frame of the goal is moved from the plastic retainers or is in a non-standard position due to the goalkeeper's actions or his attempt to deflect the puck, the goal is scored without video viewing.
8. If, during the free throw or the series of shots that determine the winner of the match, the goal frame is displaced from the plastic retainers or is in a non-standard position due to the goalkeeper's actions or his attempt to deflect the puck, but the puck does not enter the goal, the goal is not scored. is counted.
9. The free throw is considered complete and a goal is not scored if the throwing field player takes action to distract the goalkeeper using any available means.
10. If a spectator interferes with the execution of the free throw, causing the field player or goalkeeper to be unable to perform their functions properly, the referee will award a re-shot.
11. If the free throw is realized when one of the teams is playing in the majority, the penalized skater may not return to the ice.
12. During the free throw, the match time on the scoreboard must be stopped. It remains disabled during the free throw.
13. If a team is playing without a goalkeeper wearing goalkeeper gear when a free throw is awarded to that team's goal, the team must designate a skater as the goalkeeper and grant him full goalkeeper rights. This skater must follow the same rules as the normal goalkeeper during the free throw.However, he is not required to wear all the goalkeeper's equipment. After the free throw is taken, he will be reassigned back to the fielder. This situation only applies if a free throw has been awarded.
GAME SITUATION 1: If a skater breaks his stick during the free throw, there are four possible solutions:
1. If a skater throws the puck into the goal and the stick breaks during the shot, a goal will be scored;
2. If a field player misses the goal and the stick breaks during the throw, the free throw is completed;
3.If a fielder's stick breaks and then he shoots and shoots the puck into the net, a goal will not be scored;
4. If a skater breaks his stick at any time before the throw, the free throw is completed.
Men's / men's sports shirt with lining, compression, protective, ribbed, chest, basketball, Football, hockey, cycling
Description
Details:
Polyester + Spandex + EVA Foam Highly resilient sweat absorbent fabric, UV protection, anti-collision of polyethylene particles EV
What is the use of this protective pad?
-Provides strength and stability to your shoulder, chest, waist, back with a snug fit
-Reduce important body part aches and swelling
-Faster and easier recovery after exercise, injuries, as increased oxygen helps to remove lactic acid
-More effective warming up as your muscles heats up faster
-Improve your performance with better muscle support
-Breathable and comfortable as we use anti-itch material, it will be cool on a hot day and will be warm in cold weather
-Stay in place and not glides down during your activity
-Stays in shape even after repeated washes
-Antibacterial material to reduce odor
-Provides more flexibility and movement without chafing or irritating the skin
Which sport is it suitable for?
– Basketball
– Paintball
– Volleyball
– Rugby
– Martial arts
– Lacrosse
– Pancakes for CrossFit
– Athletes
– Cycling
– Roller blades / skates
– Contact sports
– On roller
Size (cm / in) Shoulder Bust Sleeve Length
Asia M-40.5 cm / 15.9 "66 cm / 26.0" 15 cm / 5.9 "
Asia L-42 cm / 16.5″ 69 cm / 27.2 "16
Asia XL-43.5 cm / 17.1″ 72 cm / 28.3 "17 cm / 6.7"
Asia XXL – 45.5cm / 17.9"75cm / 29.5"18cm / 7.1"
Please note:
Package includes: 1 x lined shirt
You can pay: Credit card / webmoney
Transfer / debit cards / Western Union / QIWI Wallet / escrow
If you do not know how to pay money, please check link
Http: // help.aliexpress.com/payment_method.html
1. We will dispatch your item within 3 days.
2. Items will be shipped by economy shipping, we offer free shipping. If you want express delivery, please contact us.
3. Delivery time: 1) Airmail (3-5 weeks) (Free shipping + tracking number)
2). EMS (1-3 weeks delivery with tracking number, extra shipping cost required)
3).DHL (5-10 days delivery with tracking number, extra shipping cost required)
UPS, FedEx, TNT can also be used!
4. For the holiday season (Christmas, Chinese New Year, etc.) may delay the goods, hope you can be patient. Thank you for understanding!
5. We are not responsible for any custom duty or import tax. We always mark less than 20 USD on the parcel, and usually there is no tax.
Helpful hints:
1.If the package is lost, stolen, damaged, or you are simply not satisfied with it, we hope we can help you solve the problem, we can replace a new one or refund your money.
2. We will try our best to solve the problem, please contact us before posting negative feedback, thank you!
90,000 New goalkeeping equipment sizes in the NHL
"He was very emotional and said there is a lot that can be done in this area because goalkeepers seem so big," said Kay Whitmore, NHL vice president of hockey operations."We owe him and must finish the job he started doing everything right."
First in the league, goalkeepers' leg pads and shorts were squeezed. Now in training camps, goalkeepers work in smaller bibs and arm protectors. They were made in accordance with new NHL and NHLPA rules
[See also: Crawford doesn't know when to return]
Actually, increasing the number of goals scored is not the main goal.Goalkeepers must parry shots with skill, not equipment. They should be comfortable in it. It should protect them, but it shouldn't be too big to stop the puck. A goalkeeper weighing 100 kilograms doesn't have to look like he's all 120.
"It is generally thought that we want to increase the number of goals scored. That's right," said Matthew Schneider, special assistant to NHLPA executive director Don Fehr. that this consideration is irrelevant.But it's equally important to make the game fair. We want to write rules where gear doesn't give players an advantage. "
Whitmore doesn't know how the innovation will affect performance, but expects the gap between top and mid-level goalkeepers to widen.
" It's about skill and preparation. This is what makes the game interesting. Goalkeepers must be protected, but otherwise everything must depend only on him, – he said. "This is the main thing."
* * * * *
Compare the photographs of goalkeepers from the 1980s with those taken in the early 2000s. The difference is huge. Now look at how the equipment has changed from year to year. So the changes are almost imperceptible. Goalkeeper uniforms have been talked about for many years, but how do you know when to do something and what exactly?
At one time, the NHLPA conducted a survey among goalkeepers to find out what they would prefer: increase the size of the goal or reduce the equipment? The answer was unequivocal.
"I thought at least a few people would vote for the big gate," Schneider said.- Nothing like this. In fact, increasing the goal would lead to a whole series of problems. "
However, the reduction of equipment also did not come without difficulties. Easy to say, but difficult to do. There are more than 100 goalkeepers of different sizes in the league. There are also minor leagues and about six companies that spend money and time developing shin guards How to formulate requirements How to implement them
Shin guards and shorts were relatively simple. As a result of the new rule in the league, shorts appeared not only in sizes L and XL, but also in M ​​and even S sizes.Few play L and XL.
"The number of sizes has increased," Whitmore said.
It was more difficult to protect the chest and arms. There are subtleties here due to the fact that this is a special part of the body. Imagine spending many years in equipment that protects all parts of your torso, trusting this protection and feeling comfortable in it. And then someone decided to change everything. And you have to parry the pucks launched by the composite clubs, which fly at great speed. Nobody in the NHL is going to go back to wooden clubs.
"This piece of equipment is of great importance to goalkeepers, it cannot be compared to how the field players treat breastplates," Schneider said.
The NHL and the union consulted many goalkeepers and kits, first defining the key parameters for the change and then diving into the details.
"First and foremost, we wanted the shin guards to follow the shape of the athlete's body. But not at the expense of protection," Whitmore said. "We wanted to remove protection where there is no body."
The text of clause 11.3 of the Rules of the Game of Hockey in the NHL (Protection of the chest and arms) consists of 608 words. "The goalkeeper's shoulder pads and pads must be anatomically proportional and take into account the individual physical characteristics of the goalkeeper." After that, the exact dimensions of the shields on the elbows, forearms, shoulders, collarbone are indicated.
Shields on the elbows decreased from 18 cm to 15 cm, on the forearms and biceps – from 14 cm to 11.5 first, and then to 10. The shields on the collarbone cannot protrude more than 5 cm above the shoulder.Shoulders cannot increase the shoulder by more than 4 cm.
[See also: NHL players never succeed alone]
neck to shoulder and from shoulder to forearm. They must not rise and increase the size of the goalkeeper when he kneels. The league has introduced some other parameters that will not allow you to bypass this rule.
"The most common complaint I hear is that goalkeepers look square.People are not like that, "Whitmore said.
Each set of equipment is sent to an independent referee in Philadelphia, who puts the shin guards on the dummy and measures them with a scanner. Then he either approves or rejects the form. Such technologies did not exist several years ago but now, thanks to them, these innovations have become possible.
Then all the equipment is sent to Whitmore in Toronto, where he inspects it and sends it to the team.If Whitmore does not like something, he should not rely only on visual perception.He can also submit the form for scanning. One day he had to do it.
"Scanner confirmed that part of the shield was incorrectly assembled," Whitmore said.
* * * * *
Will the field players notice the changes?
"I really hope so," laughed Pittsburgh Penguins center forward Sidney Crosby. "I want to believe it will show."Sometimes the changes are not visible. "
Fielders may not notice the difference. Schneider compared the old equipment to the new, putting them side by side, and did not see the difference. And he has 1289 NHL games under his belt as a defender, and he participated in this process from the start
And goalkeepers can see and feel the difference on the ice Opinions differ depending on circumstances and tastes A goalkeeper's career is at stake, but no one has ever played in a new kit or could get used to it.
"What can I say," says Vegas Golden Knights goalkeeper Marc-Andre Fleury.- I do not know. I don't think this is bad. I don't see anything terrible in this. There is a feeling that something has appeared on the hands, but it needs work to get used to it. "
Fleury is considered to be one of the goalkeepers who should gain an advantage because he plays in an athletic manner. it is 189 cm and weighs 81.5 kg.
"I'm not a big goalkeeper, am I? – he said. – I can even be considered small. So I have to be quick to play in the league. "
This is the main thing. Goalkeepers need to get used to their shape, and they don't have to be big, they have to be fast.
[Latest NHL News on Twitter @NHLrussia]
Whitmore is constantly in touch with the goalkeepers and specifies the individual characteristics of each kit. He will continue to work on this during the training camp and in the regular season.
"To each his own, – said Whitmore. – There are those who do not pay much attention to equipment, but there are very picky guys.This will always be so, and you need to be ready for this. Each case must be considered separately. Everyone plays differently. The puck can go where, from their point of view, there is little protection.