Lacrosse cradling tips: Learning Lacrosse: Cradling | PRO TIPS by DICK'S Sporting Goods
Stick Protection – Lacrosse Tips
Lacrosse Video Tip
Presented by Brian Lalley, Camp Director
Pacific Lutheran University – Boys Lacrosse Overnight & Day Camp
Xcelerate Nike Lacrosse National Program Director, Brian Lalley, goes through the keys of stick protection:
Stick Protection
Ball security is something you hear talked about all the time in the sport of football. The importance of field position and not giving up possessions to your opponent.

This is so important in football because it doesn't generally happen at a high frequency, so a big turnover can be the biggest difference in the game. It not only gives the possession to the other team, but it generally is partnered with a big momentum boost. There are naturally a lot more turnovers in a lacrosse game than a football game. But where are they occurring? We should be able to minimize personal and team turnovers with good stick protection.
Stick Position
The basic rule in protecting your stick is to keep your body in between your stick and your pursuing defender. A great way to see if you're doing this correctly is to practice cradling in a mirror. While looking in the mirror, you should not be able to see the head of your lacrosse stick. What you see in the mirror is what your defender sees. Make sure you have your top hand up by the plastic and your bottom hand by your butt end which will allow you to support your whole stick and absorb checks between your hands.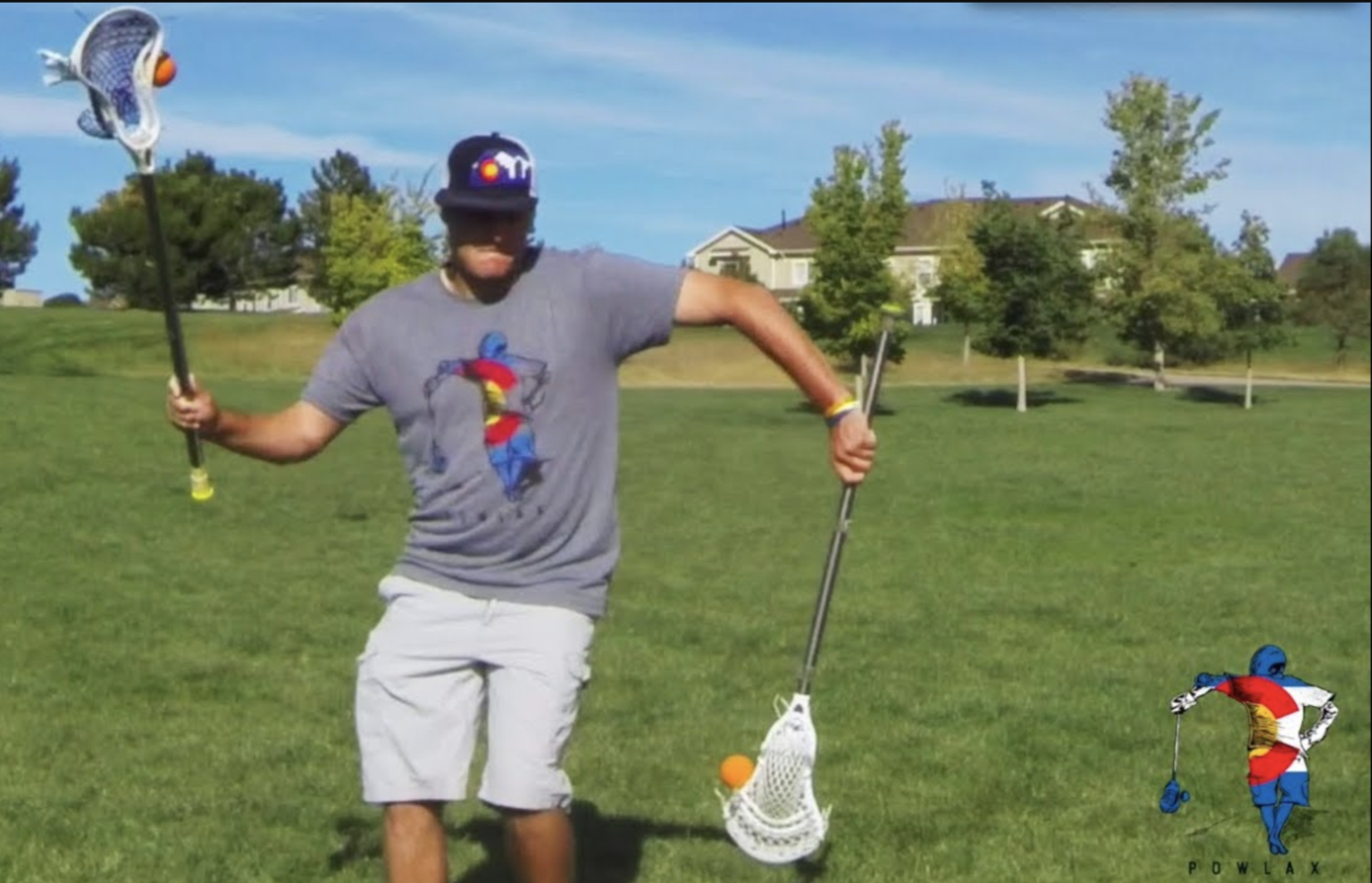 Cradle
Our cradle is also very important to stick protection. New players tend to run around holding their stick flat and the ball rattles around in their pocket. Cradling not only keeps the ball in the pocket of our stick, but it also makes our stick a moving target, making it harder on the defensemen with crafty stick checks.
Change of Speed and Direction
The next most important piece to protecting our stick is change of speed and direction. If we are just running in a straight line, or even worse, not running at all, we become a much easier / predictable target for a defender. Throwing and landing a good stick check requires good timing and anticipation of the ball-carrier's movements. Changing our speed and direction will make that timing and anticipation much harder for the defender trying to dislodge the ball.
Rotate Hips and Shoulders with the Check
As a defender throws a check, either in front or behind you, it is important to turn your hips and shoulders with it.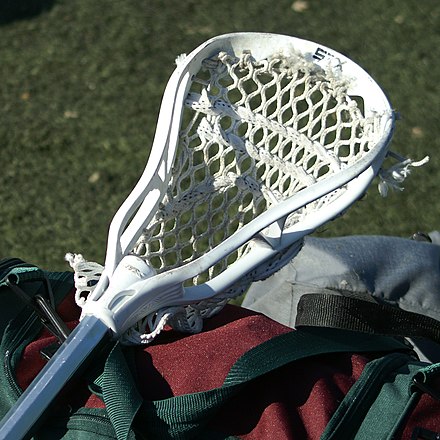 This will take the head of your stick away from the check while still keeping your body between you and your defender.
Xcelerate Nike Lacrosse Camps
Building confidence is an essential component to a young person's development and a very important step in achieving success both on and off the field. Our goal at Xcelerate Nike Lacrosse Camps is to provide the leadership necessary to help build this confidence and to help each camper reach their full potential. We want everyone that spends a week with us to leave camp knowing they can achieve anything!
Lacrosse Goalie Tips for Eliminating Rebounds
Lacrosse goalie's have one of the most difficult tasks in sports. Not only do we have to prevent a high velocity shot from entering the goal but we also have to control the rebound and lead the clear so we can get our team back on offense.
Every rebound you give up is another opportunity for the opposing team to score.

Therefore lax goalies must work hard to ensure they're eliminating rebounds on every save.
In this post I want cover tips that I teach young goalies to help them control rebounds.
Soft Hands Eliminate Rebounds
Not giving up rebounds starts with having "soft hands".
If a hard shot hits the pocket of your stick and your hands and arms are firm like bricks there's a good chance that shot is going to pop out for a rebound.
Before I played lacrosse, I played infield in baseball and you'd always hear the concept of soft hands here too so that a grounder wouldn't hit your glove and pop out.
When you're learning how to field a grounder as an infielder they talk about staying loose, not tensing up your body and then timing the grounder with your footwork. Same thing applies to saves as a lacrosse goalie if we want to prevent rebounds.
Having "soft hands" in lacrosse starts with a light grip on the stick.
When the ball hits the mesh of your stick, your loose grip will give a little and help reduce rebounds.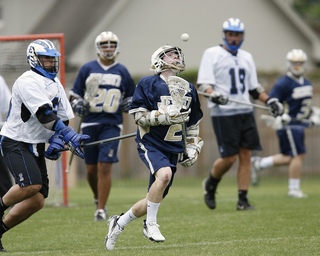 Your bottom hand grip can be a little tighter to ensure the stick doesn't rotate when hit with a shot. However the top hand should be very relaxed.
If your top hand is too tight when the ball contacts the mesh the force could pop it out and create a rebound.
To train your goalie to have soft hands there are a few goalie drills that you can do.
Tennis Balls
The lighter tennis balls are harder to keep in the stick's mesh during a save. So practice not giving up rebounds in practice with tennis balls.
You'll really need to ensure your grip is relaxed to not give up a rebound with a tennis ball.
An interesting idea, especially if you're practicing solo, is to use a tennis ball machine like those found at Tennis Racquet Central to fire shots at you.
Shots With a Shallow Stick 
Later in this post we'll discuss how your stick's mesh and pocket depth impact rebounds. The quick summary is a shallow goalie pocket will give up more rebounds.

Read this to determine the ideal goalie pocket depth for your stick.
So to practice not giving up saves, we'll intentionally use a goalie stick with a shallow pocket during warmups to focus on having soft hands.
Only with soft hands will you be able to eliminate rebounds when using the shallow pocket goalie stick.
But most importantly the hands have to be comfortable. The hands have to be relaxed.
Hot Potato
This goalie drill I learned from the MLL's Brian Phipps. It's called "Hot Potato" and is meant to develop soft hands in lacrosse goalies and thereby reduce rebounds.
This is a drill I'll work into the beginning of practice to get the goalies going.
You simply throw the ball back and forth – catching and releasing as soon as possible – and ensuring that you're 1.) watching the ball at all times and 2.) receiving the ball with soft hands.
You should not be snatching or stabbing at the ball but rather receive it like an egg, the same way attackman/middies are taught to catch a pass.
Here is a GIF of Mr. Phipps demonstrating the drill with 2 people:
Some variations of the Hot Potato drill:
Perform it against a wall when you're alone
Play in a group of 3-4 so you really have to track the ball (try some no look throws)
Play "P-I-G" or "H-O-R-S-E" where each player gets a letter if the ball is thrown to them and they drop it or snatch at it.
In each case the goalie is focused on watching the ball into his/her hand and receiving the ball with soft hands.
Work those 3 drills into your practice routine and hopefully you'll find that you give up fewer and fewer rebounds.
Don't be a Statue
A goalie's entire save motion should be fluid.
At no point should we be frozen like a statue. In fact when goalies get frozen at some point in the save motion, rebounds are often the result.
I see this happens frequently on off-stick saves. The goalie will make the save but then stay frozen like a statue at the end of the save movement.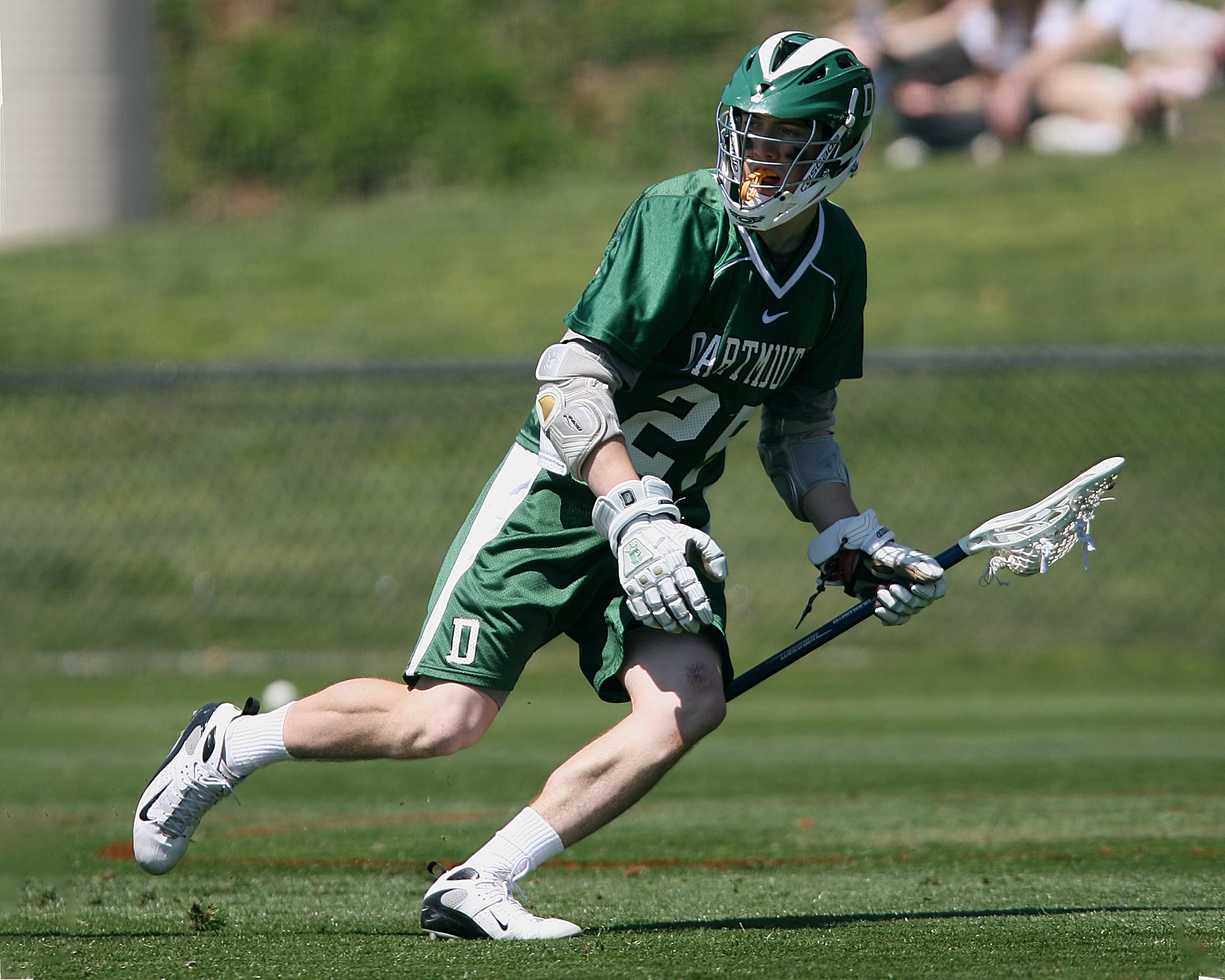 Never be a statue. Always be fluid and finish every save.
That will help you reduce rebounds.
Give the Top Hand a Slight Cradle
When the ball makes contact with our stick we can give the stick an ever so slight cradle.
This will help ensure that the goalie controls the rebound.
This slight cradle is best displayed visually so here is "Doc" Dougherty  explaining the concept:
The Right Stick
A goalie's stick will have a lot to do with their ability to control rebounds.
Back when I played in college there were fewer options for goalie mesh. When you strung up a goalie stick, you had to spend hours and hours breaking in the mesh.
A goalie stick with mesh that is not properly broken in will be like a tennis racket giving up rebound after rebound.
These days there is goalie mesh like East Coast Dyes Semi-Soft Wax Mesh or Jimalax 12 Diamond Goalie mesh that is much easier to break in thereby reducing rebounds.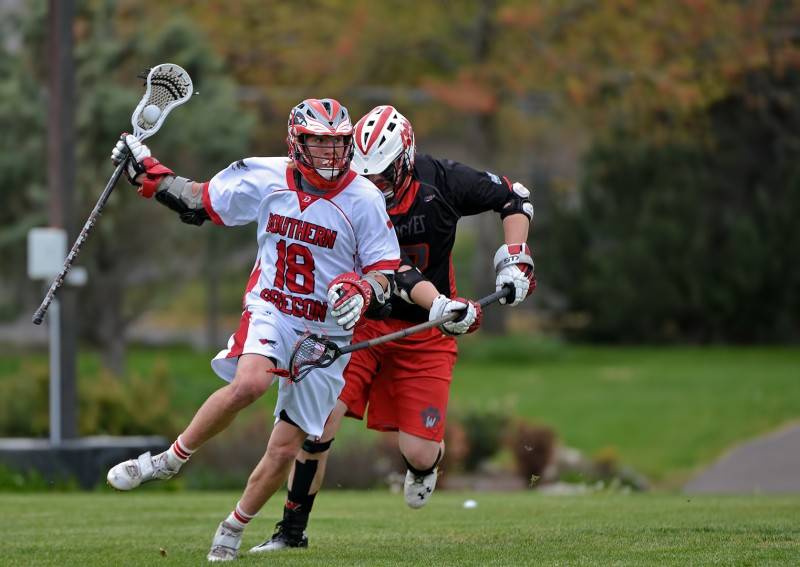 However anytime you get a new stick strung up be sure to spend adequate time breaking it in before that stick sees action in the games.
Another element of the stick that effects rebounds is your pocket depth.
A shallow pocket will give up more rebounds. Thus the reason we specifically train with a shallow pocket stick to develop soft hands.
Before you run of and make your pocket as deep as possible know that its much easier to throw outlets with a shallow pocket.
Deep Pocket: Less rebounds, harder to clear.
Shallow Pocket: More rebounds, easier to clear.
Therefore I typically recommend a balance with about 2 to 2.5 balls of depth in the pocket.
Trap and Scoop Rebounds
No matter how soft your hands and how great your stick is, there will still be an occasional shot that pops out around the crease.
In this situation its crucial for the goalie to clamp the ball with the back of their stick.
If you clamp outside of the crease, offensive players are legally allowed to attempt to pry the ball loose by dragging their stick under yours.
If this happens defensive players should be salivating as they can body check these pesky attackman and make them wish they never tried that move.
If the goalie has a foot in the crease, no contact may be made with the keeper. Thus always keep a foot in the crease if possible.
I teach my goalies to drag the ball back into the crease if they're clamped just outside.
With a foot in the crease nobody can contact them so you can use your body to "box out" attackman and ensure your team gets possession of that ball.
Invert the Mesh Before the Shot
One final tip for helping to eliminate rebounds.
Before the shot – invert your mesh. That is push the back of the mesh through the front of the stick.
This won't drastically reduce rebounds like the other concepts in this post however it's my belief that it helps.
When the ball hits the inverted mesh there will be more give and a higher probability that the ball stays caught in your mesh like a fishing net.
Conclusion
Learning to control rebounds is an important element of any goalie's game.
Keep these tips in mind when you're out on the field and hopefully the number of rebounds you're giving up will diminish drastically:
Develop soft hands
Don't be a statue
Give a slight cradle
Get the right stick
Clamp and scoop
Invert your mesh pre-shot
Remember every rebound you give up is another chance for the opposing team to score.
Until next time! Coach Damon
Any goalies or coaches have any additional tips on eliminating rebounds? Leave me a comment down below. 
Cover photo credit – JCCincy
Practice! Drills to Do on Your Own or With a Parent or Friend
More from Coach B
To improve, it's essential that players practice their game on their own.  High school lacrosse players may only practice 6-8 hours per week.  On non practice days, players should work cradling, scooping and throwing/catching/shooting on their own.
Whether a player teams up with some other teammates, practices with a parent or just works on his own, the benefits of working fundamentals outside practice will pay dividends as the season progresses.  Self practice can be nothing more than standing and cradling a ball in the stick (on both sides) for a few minutes.  It can be nothing more than tossing a ball on the grass, running and scooping it up over and over. 
Any little thing helps.  Below are a bunch of different drills that a player can do on his/her own and with the participation of a parent, sibling, or friend.

Drills For Player To Do On His/Her Own
  
1. Wall Ball Drill
             
Stage 1 – Quick Stick/Rapid Fire:
Line up 3-5 yds from a concrete wall or LAX WALL.  First, throw 50 right side throws and catches without cradling.  After completing 50 right side throws and catches, do the same with the left side.  Notice that I didn't say start with your strong or dominant hand.

  With "wall ball" anything you do right side, you follow up with left side.  This Stage allows the player to work on quick sticks, hand-eye coordination and timing.  The player will become better about getting rid of the ball in a timely fashion without even noticing it by practicing this Stage.
 Stage 2 – 10-12 Yard Passing:
Line up 10-12 yds from the wall.  Start with 30 right hand throws, which will come back to you on one bounce.  When player retrieves ball from the one bounce, cradle one, then follow up with the next throw to the wall.  After completing 30 right hand throws, do 30 on the left.  (Depending on the player's age, you should adjust the distance from the wall accordingly)           
 Stage 3 – Throwing and Catching On The Run:
This drill can't be performed on the LAX WALL you buy at the store.  This drill requires a long concrete wall, such as the side of a school building.  First, line up 5-7 yds from the wall on the far left side of the wall.

  Typically I begin this drill with the stick in my right hand and while I run along side the wall (towards the other end), I throw the ball and catch it on the run.  The important aspect is to throw the ball on the run and not always catch it on the stick side.  During practices and games, the player does not always receive a pass on the stick side so when training with this drill, the player should throw the ball against the wall and catch it cross hand (or across the face).  After running one length of the wall, run back to the other end throwing left handed (doing the same thing as you did with the right hand).  Keep going back and forth for about 5 minutes.  (see last page for a typical Wall Ball workout)
 Stage 4 – Shooting: 
line up approximately 12-15 yds from the wall.  Get into proper shooting formation (hands loose and high, three quarter/overhand motion, snapping hips, and following through) mark a few places on the wall with tape or chalk to aim at.
  Shoot at about 80% effort, having the ball come back to you on one bounce.  Depending on where the player aims, the ball may take bounces that aren't the same so the player will have to work a little bit to retrieve the balls.  Start with 25 right, and follow up with 25 left.
 2. Throwing
            Proper form is to throw over the top.  Drills to help reinforce this:

Throw against a wall on one knee (if right-handed, kneel on right knee).  When throwing side-arm, the ball will automatically spin, making it difficult to catch on the return.  The player will also hit himself on the left thigh with the butt of the stick.  This is how to reinforce proper over the top throwing.

Kneel 2 feet from a wall and practice throwing motion.  This will force the overhand throw.
3. Scooping (ground balls) [Ground Balls Win Games!]
Scatter some balls on the grass and run and scoop.  Emphasis should be on stick position being almost parallel to ground and head should scoop through the ball.  
Roll balls out against wall and scoop them up on the return (bring stick up to protected position)
Practice both right and left handed scoops
4.  Dodging
Player uses natural surroundings such as a tree to practice various dodges.
5.  Cradling
Player very simply practices cradling on both right and left, switching hands every 2-3 minutes
Set up cones or markers on a field or in back yard and practice running around each cone with cradling ball in stick.  Player should try and switch hands as player rounds each cone.  After getting comfortable with this, players should do this at full speed (game-like situation)
Drills That You (Parent) Participate In With Your Player
 1.  Basic Catching and Throwing

Stand 15 feet apart and have a catch.  If parent is not skilled with a lacrosse stick, he/she can use a baseball mitt.  Player should practice catching and throwing on both right and left sides.   Be sure throwing is over the shoulder and not side arm.
2.  Scooping (ground balls)
Parent rolls balls out to player, player scoops with proper technique and tosses ball back to parent.  This drill can be performed with parent standing at different angles to player (such as the 3:00 and 9:00 positions (left and right sides)).
Parent places ball on ground, stands with a stick over the ball and has player scoop through.  This allows player to develop skill of scooping throw crowded or tight situations.
3.  Shooting Drills
If you have a goal or net in your back yard, or you go to a school that leaves a goal out on the field, have the player catch a pass from various spots (thrown by the parent) and shoot on the goal. 
Stand about 5 yds from the side of the goal, have player cut around a cone placed at different points near the goal crease, player should catch and shoot on the turn.
Have player start behind goal.   Parent in front.  Yell "go" or "break" and have player come around from the back.  Feed player a pass as player is parallel with goal line and then shoot.  Do this with player coming both from right and left sides of goal.
Have player stand about 5-7 yds in front of goal with back turned to goal.  Parent should be positioned on side of goal.  Parent yells "turn" and immediately feeds a pass to the player who turns catches and shoots.  This allows the young player to develop skills for finding the ball in flight, catching and shooting.  (be sure player wears a helmet for this drill).
A note on conditioning: 
Lacrosse is a game requiring frequent quick bursts of speed.  Thus, distance running/jogging, while good for conditioning and stamina, does not really help the lacrosse player to build his "game" skills.  Better yet is to run full sprints of 30-40 yards at a time up and down a field.
Wall Ball Routine
25-30 minutes (the immediately below drills can be done on a Lax Wall or actual wall such as at a school)
50 quick stick R hand
50 quick stick L hand
50 quick stick alt.

hands
50 1 handed R
50 1 handed L
50 catch, cradle R hand
50 catch, cradle L hand
50 forehands to cross hand R to L
50 forehands to cross hand L to R
50 throw R catch L, throw L catch R
2 xs (this drill is typically done on an actual wall such as at a school)
Run along wall throw R catch R
Run back throw L catch L
2 xs (this drill is typically done on an actual wall such as at a school)
Run along wall throw L catch cross hand
Run back throw R catch cross hand
All drills to be done with gloves and helmet
90,000 Unknown stories of the "birth" of famous sports games
Sports games play a significant role in the lives of many people. In addition to being a real spectacle, sports games are also closely linked to the national identity of many countries, being an industry worth $ billion.
Have you ever wondered how these sports games originated? Even if you think you know, the most interesting thing is that the stories of the origin of sports games are filled with myths and legends.
We present to you real stories about how these favorite games appeared.
10. Lacrosse
Lacrosse is the oldest sports team game in North America, originating among the Native Americans of East Woodland and some of the Indian tribes of the Great Plains. The game was played by the warriors of the tribe to keep fit. Many of the rules were different from modern lacrosse.
In addition to keeping the warriors in good shape, this game was also important to society, helping to strengthen diplomatic alliances and maintaining social conformity.In addition, they used it as a form of worshiping the gods.
Europeans became interested in the game in the 1840s, and in August 1844 the first match between a team from Europe and the Mohawk took place.
In 1856, the Montreal Lacrosse Club was formed in Quebec, Canada. After a visit to Montreal by the Prince of Wales in August 1860, the popularity of lacrosse increased even more.
A month after the Prince's visit, a dentist named William George Beers wrote the first official rules of the game and instructions and replaced the buckskin ball with a rubber version.Since then, the game has grown in popularity and there are currently two professional lacrosse leagues in North America.
9. Golf
The origins of golf are hotly debated. All the credit is attributed to themselves by the Scots and, I must say, they have a certain right to this. The modern education of the game began in the middle of the 15th century in Scotland. The rules of the time included swinging the club over the ball and moving it from point A to point B using as few moves as possible.
However, there is evidence that the roots of the game go back to the small town of Loenen aan de Vecht in the Netherlands when the game was played there in 1297. This year was the start of an annual tradition where, on Boxing Day (December 26), the townspeople played a game called "colf". The game consisted of two teams of 4 people who took turns hitting a wooden ball with a wooden stick in the direction of several consecutive targets.
In addition to the 1927 mention of "kolfe", there is further evidence of golf-like games played throughout the Netherlands centuries before the first mention of golf in Scottish literature in 1636. However, as stated earlier, there is a heated debate on this issue, and many Scots do not believe that this is true.
8. Hockey (on ice)
Canadians are generally considered polite and humble people. However, there is one thing that many Canadians can proudly and emotionally boast of, that ice hockey is their national heritage.According to them, this is their game. They are the best at it, and they came up with it.
However, according to one book published in 2014, hockey probably originated in England. There are references to this game dating back to the early 1790s, and it also remains unclear who invented the game. The game is known to have been popular in England for centuries. Famous people who played hockey include King Edward VII and Charles Darwin.
With regard to why the game was named that way, there is a theory that a cork plug was originally used as a puck.Corks were commonly used as stoppers for beer kegs, and the popular drink of the time was hock ale.
The reason Canada is often associated with hockey is because the first public match was staged in Montreal on March 3, 1875. Before that, this game was simply played on occasion.
7. Rugby
Rugby allegedly got its start in 1876 when 16-year-old William Webb Ellis, playing football at the Rugby School in Warwickshire, England, picked up the ball and ran with him.Unfortunately, this story cannot be true, because Ellis died in 1872, that is, 4 years before the events that are attributed to him.
In reality, the game actually originated in a school in the city of Rugby, and this was facilitated by the headmaster Thomas Arnold. The rules were first written in 1845 and the game is believed to have grown out of football, but it remains unclear who was the first person to pick up the ball and run with it.
After graduating from high school, students who learned the game wanted to continue playing it as adults.This was how the first inter-county games were organized, leading to the formation of the first clubs, which in turn led to the formation of the International Rugby Football Board in 1884.
6. Cricket
For many North Americans, cricket is a bit of a mystery and seems like a rather complicated game. However, cricket is loved in many other countries around the world, attracting billions of spectators. In fact, it is the second most popular sport in the world.
Cricket is believed to have originated in the 13th century in the English countryside, where it was played by shepherds. The goal was the gate of a sheep pen, and a ball made of rags or wool was driven into the target. The opposing player had to use a curved shepherd's cane to hit the ball and prevent it from hitting the target.
The game gained popularity throughout the region and continued to be played for centuries. The first recorded cricket match (with 11 players on each team) took place in 1697 in Sussex.His prize fund was 50 guineas.
Eight years later, the first inter-counties match took place with the teams of Kent and Surrey. Probably, the rules already existed at that time, but the oldest rules of the game known to experts date back to 1744.
5. Tennis
It is believed that even the ancient Egyptians, Greeks and Romans played a peculiar form of tennis. However, the origins of modern tennis date back to around 1000 BC.AD, when in one French monastery monks began to play it. They played with their hands and a wooden ball, so the game was more like volleyball.
The net was usually a rope stretched across the courtyard. This is also where the name of this sports game was born. During the game, the monks shouted "shadows" ("tenez"), which in French means "hold!", While throwing the ball.
Over the next two centuries, the game gained popularity throughout Europe, and by the 13th century there were already 1,800 indoor courts.By 1500, wooden racket frames tied with strings made from sheep's intestines, as well as balls made of cork, became widespread.
However, this game was significantly different from modern tennis, which appeared in 1873, when the rules of the game were first published. In 1877, the first tennis tournament was held in Wimbledon, at which a decision was made on the form of refereeing and the tennis method of scoring was adopted.
4. Basketball
We bet it came as no surprise to you that Canadians claim to be the inventors of hockey.However, did you know that Canadians actually invented one of America's most beloved sports games, basketball?
Dr. James Naismith of Almonte, Ontario, was born in 1861. After several years as a lumberjack, he earned his degree in physical education from McGill University in Montreal. After completing his studies, he moved to the United States, where he got a job at the International YMCA Training School in Springfield, Massachusetts.
There he was instructed to find a suitable occupation for a group of "irreparable". Winters in New England were chilly and the guys were forced to stay indoors: they quickly got bored with indoor games that they played all day. Naismith developed basketball from a game called "Duck on a Rock", which he played as a child. Naismith took two fruit baskets from the janitor, which he hung on opposite sides of the gym, and used a soccer ball.
The first game took place on December 21, 1891 and ended 1-0. In the end, holes were cut at the bottom of the baskets, because the janitor was tired of going up the stairs every time to take out the ball.
Since then, the game has grown in popularity, and Naismith lived to see basketball become an Olympic sport in 1936 in Berlin. The creator of this sports game passed away on November 28, 1939.
3. Baseball
The most common legend about baseball's origins is that it was invented in Cooperstown, New York, in the summer of 1839 by Abner Doubleday.Having come up with the game, Doubleday went further and became a hero of the American Civil War. The only problem is that it's not true. In 1839, a man with that name and surname lived in West Point (West Point).
Baseball probably evolved from two English games. The first game, called English rounders, was a children's game that came to New England with the colonists, and the second was cricket.
The founding year of modern baseball is 1845, when a group of New Yorkers formed the New York Knickerbocker Baseball Club.The most influential member of the club was a bank clerk named Alexander Joy Cartwright, who came up with many of the rules that became the foundation of baseball.
2. American Football
The first game, which eventually became American football, was played between Princeton and Rutgers on November 6, 1869. However, it was more of a football match. After the game, the Yale people developed their own sports game and called it "The Boston Game".
It looked a bit like football, but if a player was chased by an opponent, he could pick up an oval ball and run with it, or throw it away, or pass it. If a player from the opposing team did not run after him, then he should have kicked the ball, writes Bugaga.
On May 14 and 15, 1874, the Yale hosted the McGill University team from Montreal, which also had their own set of rules for football. On the first day, they played the Boston Game. On the second day, they played a "McGill version" of football, which had more rugby elements.Each team had 11 players, they played with an oval ball, and the player could pick up the ball and run with it at any time.
After two games, the Yale team decided they liked the McGill version better and accepted the rules. Yes, you read that correctly: the fundamentals of American football were developed by a Canadian university.
1. Football
Football is the most popular sports game in the world today, and perhaps because it is an innate part of human life.Games like soccer can be dated back to 2500 BC, when people in ancient Egypt kicked a ball during a fertility festival.
In China from 476 to 221 BC. people played a game called jichu, which roughly translates to kick the ball. The idea of ​​the game was to throw a leather ball stuffed with feathers through a cloth that was hung between two posts. Players could use any part of their body except for the hands. Warriors played this game to keep fit.
A similar game was also played in Ancient Rome. Each team had 27 players, and all they had to do was get the ball into the other team's goal. And since the action took place in ancient Rome, people were often injured and killed while playing, which sounds much more exciting than watching modern football.
Football-like games continued to be played until the Middle Ages, and the modern era of football began in 1863. Then rugby football and football split from each other, and the Football Association was formed in England.This governing body has developed most of the rules and guidelines that gave birth to modern football.
---
90,000 Twitter Co-Founder on Infinite Possibilities Life's Work Stone Bus
image
I grew up in a well-to-do town; my parents divorced when I was still a child.My father almost did not participate in my destiny, and we lived very poorly. Many boys I know have played baseball and football for the Little League and Pop Warner teams, and I was mowing lawns at the age of eight to make money.
In high school, I realized that being a member of a sports team automatically puts you in the party. I was a strong teenager, but I did not work out with team sports – I tried basketball, baseball, and football, but nothing came of it.In our school, the boys did not practice lacrosse, and I decided: since no one knows how to play it, everyone will be on an equal footing with me. I convinced the director to create a team if I can find a coach and recruit enough guys. And I succeeded. Eventually I learned to play lacrosse well and became the team captain.
There is a valuable lesson to be learned from this story that applies, by the way, to business. For some people, an opportunity is a set of circumstances conducive to the accomplishment of something (this is the definition given in the dictionary).They believe that opportunity comes naturally. You "notice" her or wait for her to "knock" on you.
I look at it differently. I am convinced that we ourselves must create circumstances and that opportunities are what we build, not what we expect. Looking back over the first 40 years of my life, I see that I was constantly generating opportunities, instead of standing and waiting for them to turn up. This was the case at the very beginning of my career, and later, when my friends and I created Twitter, and now with my latest projects.Entrepreneurship is essentially about creating your own capabilities. Especially when it comes to a startup. You simply designate yourself as a director and start planning.
Here's how I got my first permanent job, for example. At that time I was studying at the University of Massachusetts in Boston, receiving a scholarship, but I didn't really like it all. I did a part-time job at Little, Brown – they were moving, and I was carrying boxes. There I met people who made book covers.They had just switched from paper to computers. As a child, a friend of mine had a Macintosh, so I was able to work in Photoshop and Quark for a long time.
Once, when no one was in the office, I came across a technical assignment for the development of a cover for a book. I quickly completed it on the computer, and then put it in a pile of ready-made sketches – and did not tell anyone. A few days later, the publisher's chief artist began to look for the author of this cover: both the editors and the sales department considered it the best.When he found out that the loader had invented it, he was very surprised. Since I knew design programs, he offered me a permanent job. I thought: since people are getting a university education in order to get such a job, then I will leave the university, accept the offer, and I will also consider my activity as a study. The main artist became my mentor and close friend, and I learned a lot about design and creativity.
image
Create culture, transfer power
In the end I left Little, Brown and started my own design bureau, but then it turned out that there were not so many orders for the development of book covers.It was the late 1990s – a time of active development of the Internet, so when someone asked me to make a website for him, I quickly got up to speed. Over the next few years, I learned a lot more. I moved to New York and co-founded a social media startup, but I didn't like the way things were going there and returned to Boston.
In 2003, Google announced the purchase of Blogger, one of the first online diary services. I read the blog of the site's founder, Evan Williams, and wrote to him that I think we need to work together.On Evan's recommendation, I was supposed to be taken to Google. I drove to California thinking the job was in my pocket, but instead ended up in an interview that lasted all day. The people I spoke to didn't understand why they should hire a guy with no education, because Google hired mostly graduate programmers. But Evan convinced them. I really enjoyed working with him, and after the company went public, my options went up significantly. If I had stayed there, I would have become a millionaire, which is very cool for someone who grew up on welfare.But Evan left to start a new company, and I had to ask myself: why did I come to California – to work at Google or to work with Evan? I chose the latter.
Evan named his company "Odeo". We tried to create something like podcasting. The venture was not exactly a failure, but it was not crowned with success, in part due to the fact that Apple, with the growing popularity of the iPod, began to actively develop podcasts. By early 2006, it became clear that our business model would not work.Then Evan invited us to pair up and come up with a new product in two weeks.
image
Jack Dorsey was my best friend in the company – and of course I chose him as my partner. At the time, he was using the AOL messenger, where he could update his status when he went offline – for example, write "Out for lunch." "Maybe we can beat the short status updates somehow?" Jack suggested.
We started with mobile phones – updates had to come to them in the form of SMS messages.Having made a prototype, we presented it to the company two weeks later. No one was particularly impressed, but Evan asked us not to give up. Over time, things went smoothly. When we came up with the name of the project, we asked colleagues to write their proposals on a piece of paper. One of them wrote "Twitter" and I really liked it. Then I drew a bird that became the site's logo. I also developed basic terms – for example, "read" someone (initially they wanted to make a "Listen" button). Jack and I jointly patented Twitter technology.As a child, I wanted to become an inventor, so I am very proud of this patent.
Everyone who worked on Twitter was a programmer or computer scientist – except me. I began to think about what contribution I could make to the common cause. I am a designer. My job is to bring humanity to technology. I focused on the product and suggested a few changes. I also figured out how to tell the world about us. At first, everyone asked how many users we have: always give engineers numbers.I convinced everyone that the answer to such a question should be: "It doesn't matter" and that you need to strive to develop the brand. Shortly before that, a friend from Google asked me: "How would you like to see Twitter in five years?" This is what I insisted on thinking.
Another challenge I saw in the creation of a special culture. Whether you like it or not, every organization has its own culture, and if you do it, it can significantly strengthen the company. One of the paths I took was the daily blog posting on our site.I wanted to show that we are ordinary people with our weaknesses. I think a lot of companies should admit it. At the beginning, our site often "crashed", and I honestly said about it: "We broke down. The reason is this. There will be no more such breakdowns – at least I'm sure of that. "
In addition, I have formulated our public position. I am totally for freedom of speech. We shouldn't remove content just because we don't like it. We have identified a very short list of reasons – mostly legal – for the removal of content.I insisted that Twitter should be politically neutral. This was very important when activists of the Arab Spring and participants in other political events began to use it. Later, when reports of NSA surveillance in the US were released, Twitter was found to be the only tech company that refused to help the government track its users. I was very proud of that.
image
I never wanted to run a company and never did.I've always considered myself a supporting actor. I did not strive for power – I admired my fellow leaders and tried to support them and strengthen their rear. This was especially important when the leadership on Twitter was changing: I thought it was my job to smooth corners. Initially, the company was headed by Jack Dorsey, but at some point the board of directors decided to replace him with a more experienced person – and chose Evan for this role. There were people who wanted to get rid of Jack immediately, but I persuaded them to leave him in the company to ensure a smooth transition of power.
Then Evan and I hired Dick Costolo as director of operations. He's great with the product, he's smart and incredibly funny – we hung out a lot. When the board of directors decided to make Dick the CEO, I persuaded them to keep Evan on Twitter for another position, and in the end they agreed. Every time we change a leader, I tried to help employees shift their gaze from the old leader to the new one and explain to them how important it is to think about the good of the whole company, and not just the people working in it.
It's a shame that boards of directors tend to fire executives so often. In fact, this is the only thing that they can do. They cannot improve the company's product. They cannot improve its key indicators. So if things don't go well, they change leadership. Now that I myself sit on boards of directors, I try to counteract this impulse. I usually say: "Let's not fire the CEO, let's help him. Let's find out where his weakness is and make him stronger. "Even when a change of leader is indispensable, it can be carried out much more elegantly than usual.
Gain access to world knowledge
The idea that formed the basis of my last venture, Jelly Industries, came to my mind, one might say, by accident. I like to walk and talk at the same time – I often make appointments with smart, cheerful people during long walks. In 2012, I took a walk with Ben Finkel, my Twitter colleague.We talked about how search engines work and what we would do if we needed to build a new one. I remembered Google's VP of Search saying, "There is a wealth of information on the Internet, and yet much of the world's knowledge is still locked in people's heads." How to create a system that will fit into their heads? We have developed an application that links all social networks together and allows users to ask questions. We named it "Jelly". It is built on the idea that people want to help each other out and therefore love to answer questions.The app turned out to be good, but nothing more. Even if we had fought over it for four years, the success would have been marginal. I wanted to create something more prominent.
In 2014 we made a new application, "Super" – short for "superlative" (superlative). By and large, it appeared as a result of work on "Jelly": we tried to determine the "pros" of that program. "Super" gives users the start of a phrase, "Best …" or "Worst …" or "I like …" and prompts them to finish it.This encourages people to share thoughts that they would not have expressed on other platforms. Based on the culture of remix and mashup, this app allows users to write emotional and expressive posts.
This is my first time at Jelly as CEO. Having watched other executives work for years, I realized that startup failure is usually due to a lack of communication. In our company now there are only seven people, we are sitting in one room, so it can be assumed that we have a complete understanding.But this is not so, and my task is to achieve this, even if I have to spend half the time on communication.
The same applies to the board of directors. If he does not receive information from you, then he decides that things are bad. If you tell him, "Things are bad," he at least thinks, "Great, he understands this – he knows that things are bad." I send a letter to the board of directors every week. I reply to messages from all users. I constantly communicate, because I know that this is the most important task of a leader.
History and development of the game basketball
Most team games have been known since ancient times, our distant ancestors played their prototypes. However, the date of creation of one of the most popular games of our time is known for sure. It started with eighteen students in a US school and has grown into a game played by over 500 million people around the world. This is basketball.
Features of the game basketball.
The object of this game is to throw the ball into the opponent's basket and thus score more points than the opposing team. Teams consist of ten players, a maximum of five of whom can be on the court at the same time. Substitutions are not limited during the game. Although basketball can be played outdoors, it was invented as an indoor indoor game for the winter months. Basketball quickly became a spectator sport and is now attracting huge audiences to gyms, especially in the United States, South America and Europe.Here he was very popular with people of all ages.
The history of basketball.
It all started with two baskets of peaches in a gymnasium in Springfield, Massachusetts in the freezing winter of 1891. During classes, the students were frankly bored and the teacher, James Naismith, tried to figure out what to do with them. At first, he wanted to transfer popular games, such as football or lacrosse, to the hall, under the roof, and then decided to introduce them to a completely new game, the approximate rules of which he had been thinking over for several years.As a physical education instructor, he taught gymnastics, but was constantly looking for something new. He got the idea to nail peach baskets onto balconies as targets at opposite ends of the gym and throw a soccer ball at them from below.
He did not come up with a similar game from scratch. Since ancient times, a children's game called a duck on a rock has been popular in North America. In it, pebbles are thrown up, it is necessary that they fall on top of a larger stone. Initially, that basketball was significantly different from modern basketball.There was no dribbling, it was simply thrown from one player to another, and then thrown into baskets with a closed bottom. Accordingly, the ball got stuck there and had to be constantly taken out with the help of a ladder.
The very next year after the invention of the game, the rules of women's basketball were developed. They did not differ significantly from the men's game. The rules of basketball gradually changed, at first they allowed dribbling, then the bottom of the baskets was cut off so that the thrown ball would fall out on its own.The number of players in the teams also changed, if at first there were 9 of them, then in the end it became 5. The ball used was changed in 1929, it became larger in size of the soccer ball that was played before, and it also bounced better from the floor hall. In 1949, the National Basketball Association (or NBA) was formed from the merger of the National Basketball League and the Basketball Association of America.