How to hold a lacrosse goalie stick: The 7 Elements Of The Perfect Lacrosse Goalie Stance
The 7 Elements Of The Perfect Lacrosse Goalie Stance
Getting into a perfect lacrosse goalie stance before every shot is half the battle when it comes to making consistent saves as a lax goalie.
One of the first things a new goalie should learn is how to get setup in the proper stance that will maximize his or her ability to make saves.
When you analyze video or still images you'll often notice that when a goalie is setup in a bad stance at the time of the shot's release, the ball goes in.
How much you wanna bet this shot goes in?
The overall governing rule for a perfect lacrosse stance is to get into an athletic position.
If there's ever a question about your stance, just ask yourself am I in an athletic position?
A proper goalie stance is also one that we can routinely get into and is the same every time.
The stance should be comfortable and also put the goalie into the best possible position to attack the oncoming shot.
As I've mentioned before on this blog, there are many styles of lacrosse goaltending. Each goalie may have some differences in his or her stance however these are the 7 elements of the perfect lacrosse goalie stance and every great goalie will have these.
I teach my goalies to setup with their feet a little wider than shoulder width.
This is the way I felt most comfortable in the cage. I could move in any direction out of this stance and I always felt like I was in a good athletic position.
The base stance of a lacrosse goalie is often compared to that of NFL linebacker. Lacrosse goalies obviously setup with their hands up and ready to save a shot.
You never see an NFL linebacker setup with feet only shoulder width apart standing up straight.
Some goalie coaches do recommend feet shoulder-width apart, which is fine. But any narrower then shoulder width and you're not in an athletic position.
Other goalies use more of a wide base with their setup.
This stance can be effective too, especially for the taller goalies but it does come with some pros and cons that I discuss in this post (wide base stance).
When you analyze the play of today's top MLL and PLL goalies, you'll notice that the majority use a slightly wider than shoulder width and the rest use the wide base.
We should also be on the balls of our feet so that we're ready to move. You should be able to slide a credit card underneath your heels.
The second element of a perfect lacrosse goalie stance is to have your knees bent nice and low.
Having bent knees automatically puts us in an athletic position.
If you bend your knees nice and low, it's very easy to popup for the higher shots and the bent knees means you're already lower to the ground to simplify the process of saving low shots.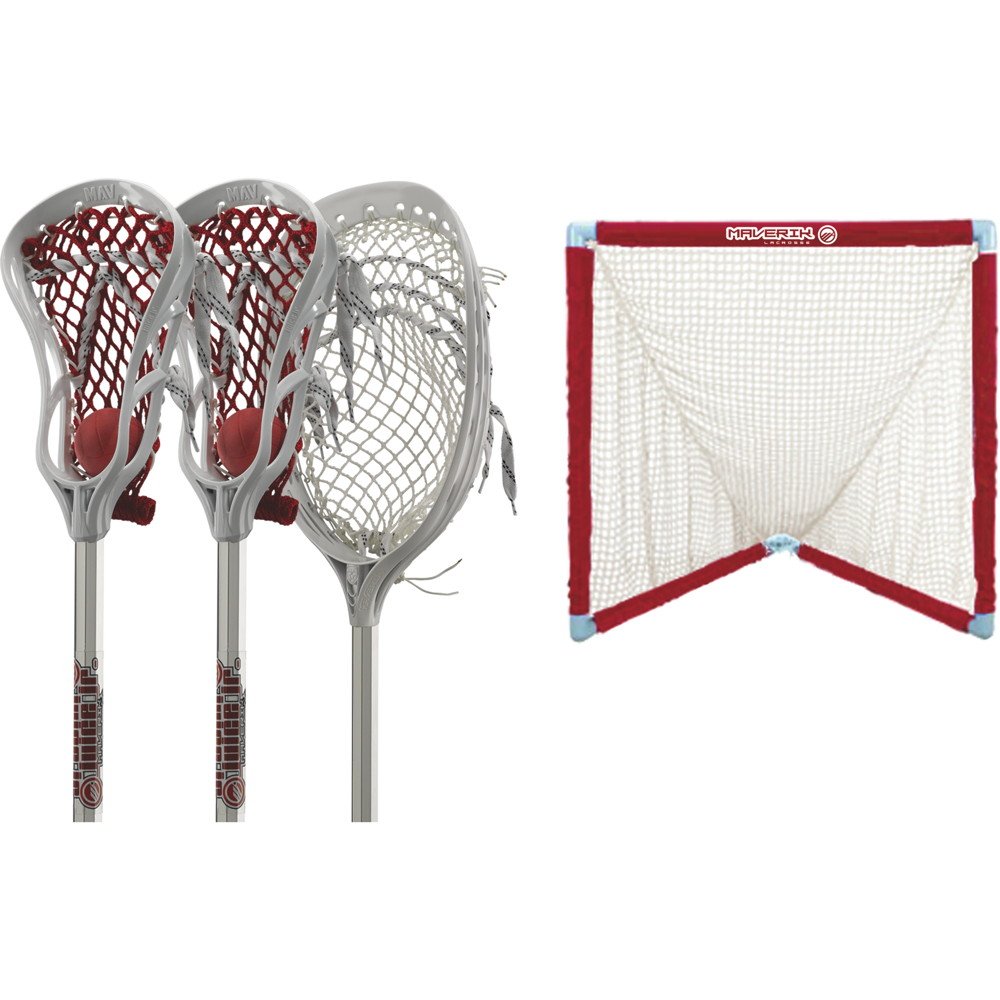 Another benefit of having your knees bent is that the weight automatically goes on the balls of your feet which is want we want.
We don't want to have our weight on the toes nor on the heels.
Many goalie coaches teach their goalies to have their weight on their toes. The problem with that is the goalies are off-balance and falling forward as to the shooter winds up or makes a fake.
We want a stance that is completely still when the shooter is the winding up.
Here is Trevor Tierney setup in a perfect lacrosse goalie stance.
How much you bend your knees will depend on your personal style and what feels most comfortable for you. Some goalies get into a deeper squat while others choose a slight knee bend.
But the important thing is you must have bent knees in the perfect lacrosse goalie stance.
Having a nice straight, flat back in your stance ensures you take up as much room as possible in the goal.
We'll also ensure our shoulders are broad for the same reason.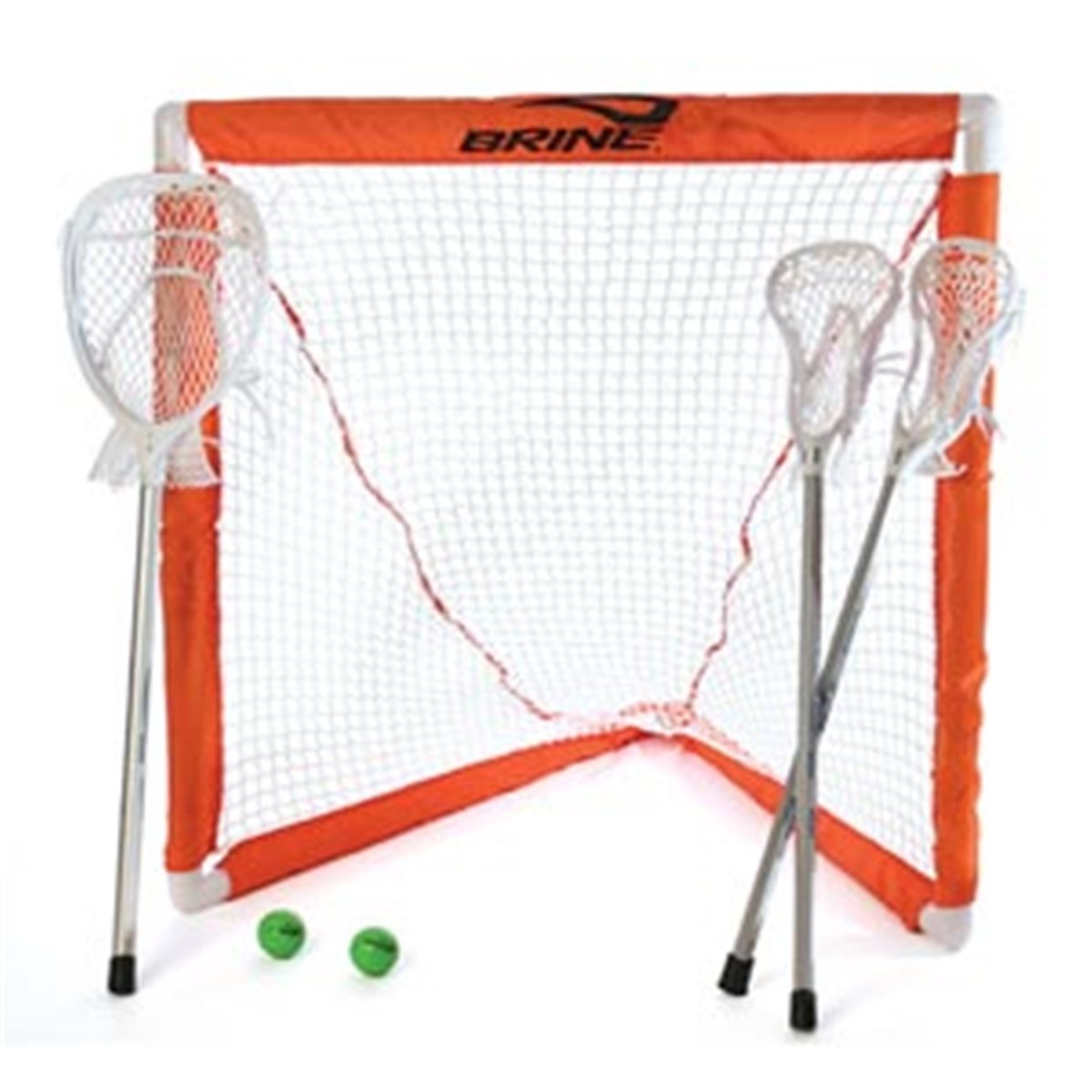 However nothing awkward, as we always want to be comfortable in our lacrosse goalie stance.
As we make saves we always want to be "BIG" in the cage. Having a straight back in your stance and during the save process will help ensure we're staying BIG and thus increase our save percentage.
While keeping my back straight I like to have a slight bend forward at the hips. Always in a comfortable, athletic manner.
45 degrees of bend is too much. I'd recommend something like 20 degrees which puts us in a comfortable, athletic position. This is going to position our chest slightly in front of our hips.
Your back and chest should always be square to the shooter.
Side angle of a great lacrosse goalie stance.
I love the visualization of thinking of the NFL linebacker stance, a position that the great John Galloway refers to as "Ray Lewis Ready".
Hand position is extremely important.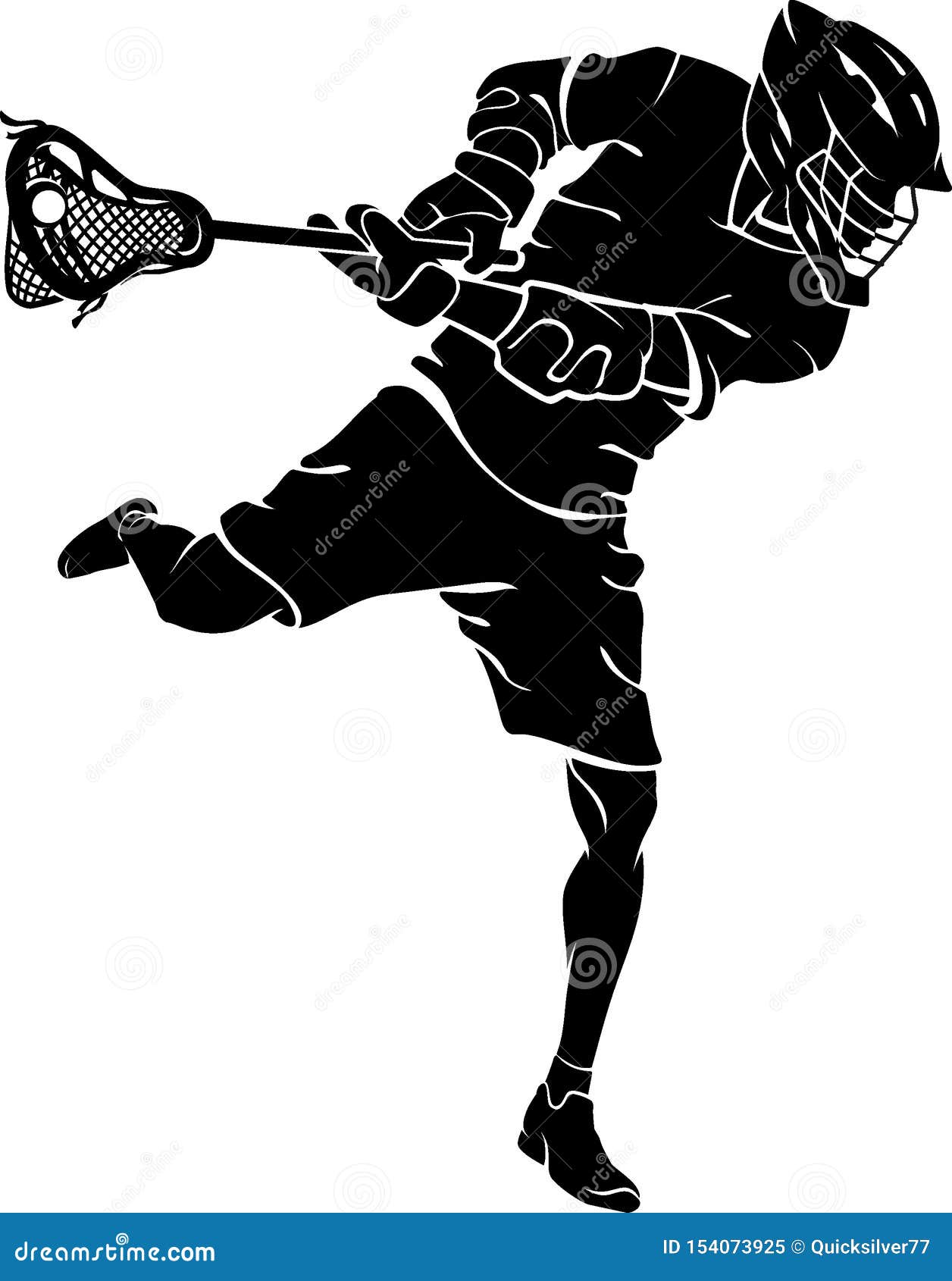 Both in where your hands are on the stick and their positioning to your body.
I like to have my hands about chest-width apart or about 12 inches (30 cm) apart.
If your hands are too wide, the rotation of the stick becomes too long and will inhibit our ability to make those off-stick hip and off-stick low shots where the stick must fully rotate.
With your top-hand placement, you have a few options:
I prefer to setup with my top hand touching the plastic (#2 above) but I know plenty of goalies who like to grip the plastic to prevent stick rotation when the ball makes contact.
In certain circumstances, such as with a very small youth goalie (< 5 foot) it makes sense to have the top hand be under the plastic throat (#3 above) of the stick an inch in order to help the goalie reach all corners of the goal.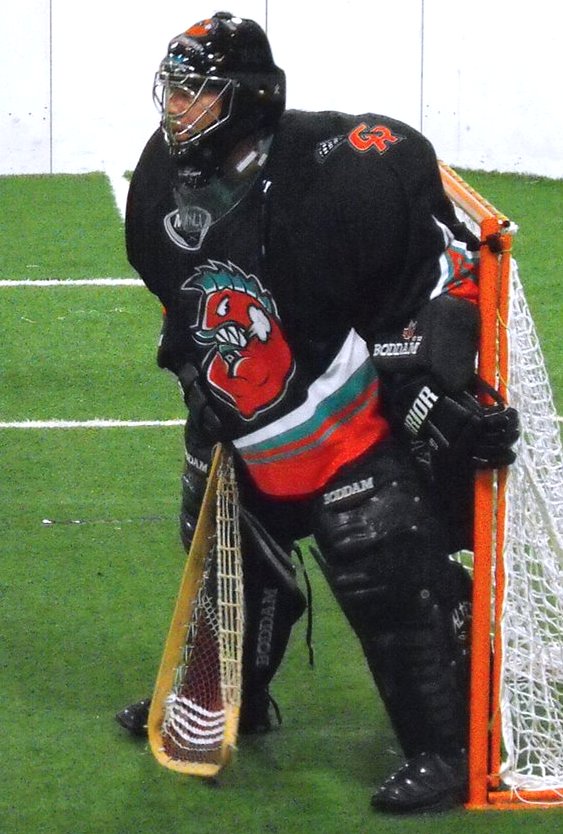 Regardless of where your top hand is, the bottom hand is about 12-18 inches below. With our hands that far apart we can make quick movements and rapid stick rotations when needed.
Place tape on your stick so that you know where your hands should be every time.
The final point regarding your hand position is that the top of your stick should not be above the crossbar when you set up in your stance. If it is, you're protecting an area that's not a goal and that's a waste.
This means, taller goalies (about 6′ and above) either need more knee bend or lower hands so that the top of their stick is at the top of the goal.
Shorter goalies can have their hands as high their eyes if the stick doesn't go past the top crossbar.
Or they can also set up very low like current MLL goalie Adam Ghitelman.
The next element of the perfect stance is arms out away from your body.
If your arms are too tight, moving the stick around is a difficult task.

Also with your stick in tight, it might become caught on your face mask or gear during a save.
Our arms should be out and away from our body while still maintaining a bend at the elbow. Locked elbows are no good as any locked joint is not an athletic position.
One tip to find the right arm position. Fully extend your elbows, then bring them 1/2 way back. This usually results in a nice athletic positioning of the arms.
To practice having your arms out and away from your body, try the Defensive Stick Drill where we use a long stick to make saves. If your hands are not out away from your body in this drill, the long stick will hit the goal.
By having our hands out we can attack the ball quicker and reduce the amount of distance we need to cover to make a save.
Scott Rodgers' goalie stance is seen above.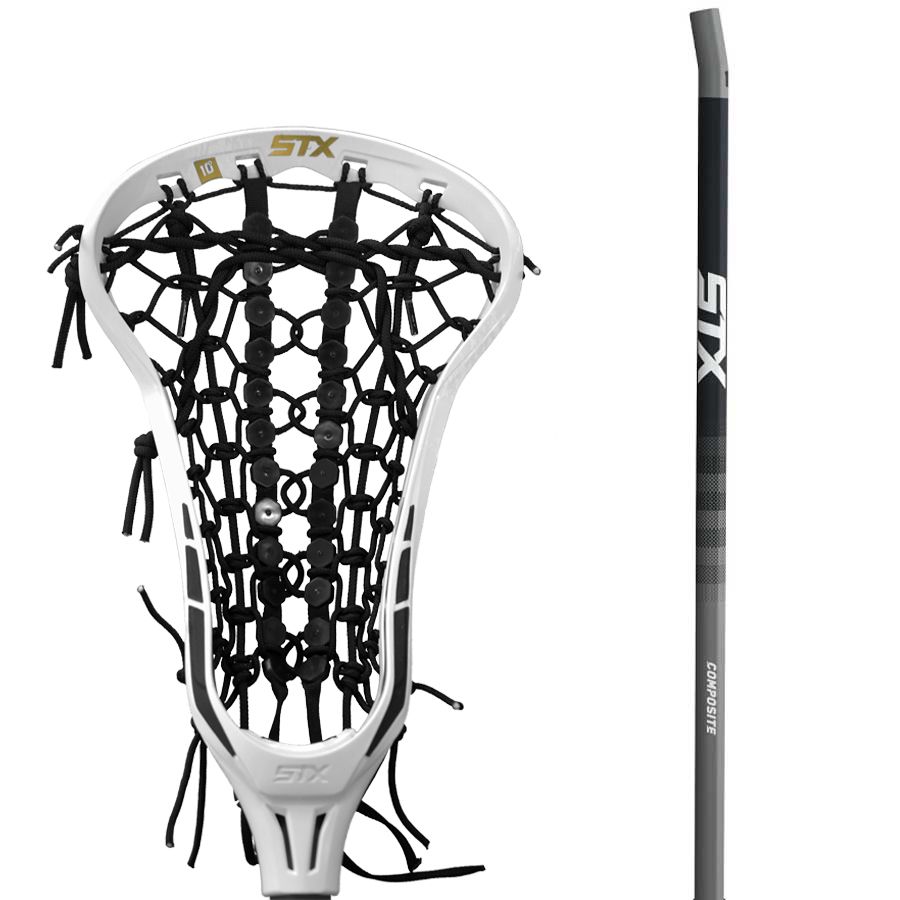 I don't know all the details of a perfect lacrosse defensive stance for long-poles but I'm pretty sure that defender in the pic is NOT doing it 🙂
When we grab the lacrosse shaft with our hands we want to grip to be loose – ideally with only our thumb, first, and second fingers.
The grip should be loose while still maintaining control of your goalie stick.
The light grip with the thumb and forefinger allows the hands to rotate to cover all corners of the goal.
Your hands should be on the stick so that the wrists are to the back of the stick. Again, this will provide the best rotation of the stick to all areas of the cage.
You should be able to freely and easily rotate the stick 360 degrees with no limitations. If you can do that, you've got the right grip.
The goalie's grip exposes the goalie's thumb to damage from shots so be sure you've got a pair of lacrosse goalie gloves that have a reinforced thumb to protect yourself.
The final element of a perfect lacrosse goalie stance is to be completely relaxed.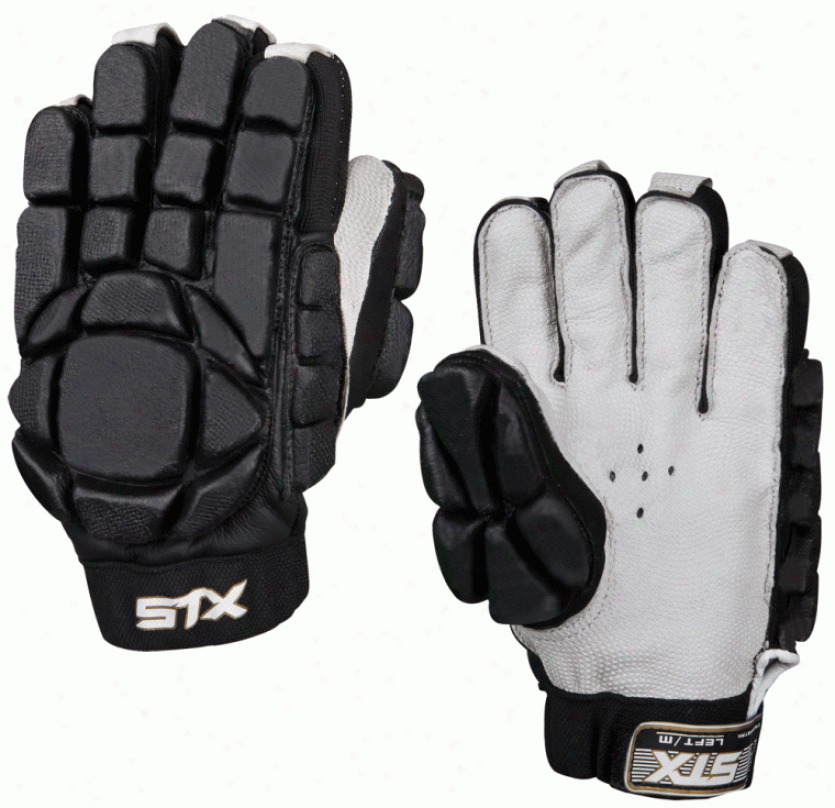 We cannot have tension in our body because it limits our ability to react.
One of the main reason we give up rebounds is that we're stiff. Also one of the main reasons we bite on fakes or have a false step is because our bodies are too tense and we go for that first movement.
We're gripping the stick nice and light with our hands too. And all other limbs are relaxed and ready to go.
If you're relaxed in your stance you can stay in it all day. Or at least long enough to endure a long 4-minute possession from the opposing team.
Once you're able to set up in the perfect lacrosse goalie stance, one great exercise is the mirror training lacrosse drill.
That is, set up in front of a mirror and see how your stance looks.
Your lacrosse goalie coach can provide feedback on your stance but once you understand the basics you can practice it in front of the mirror to ensure consistency and perfection every time.
Another great drill is to walk the line where we practice our stance by visualizing and making imaginary saves.

Before making a save in this drill, setup in your stance.
Work on the things you need to correct to make your stance perfect.
With the goalies I coach one thing I constantly harp on is the need to be able to get into the same exact stance over and over, without thinking about it.
The perfect stance should just be 2nd nature for every goalie. And this only comes through repetition.
If you're uncomfortable in your stance you might need to build the leg and shoulder muscles to increase their endurance.
I often find it helps to study the pros so here are photos of MLL goalies setup in their stances.
Each goalie is going to have a little uniqueness to their goalie stance but notice how every goalie is in an athletic position to make a save.
Do you see the 7 elements of the perfect lacrosse goalie stance demonstrated throughout these photos?
Here is PLL Redwood goalie Tim Troutner discussing how he teaches the perfect lacrosse goalies stance:
The Right Stick
A goalie's stick will have a lot to do with their ability to control rebounds.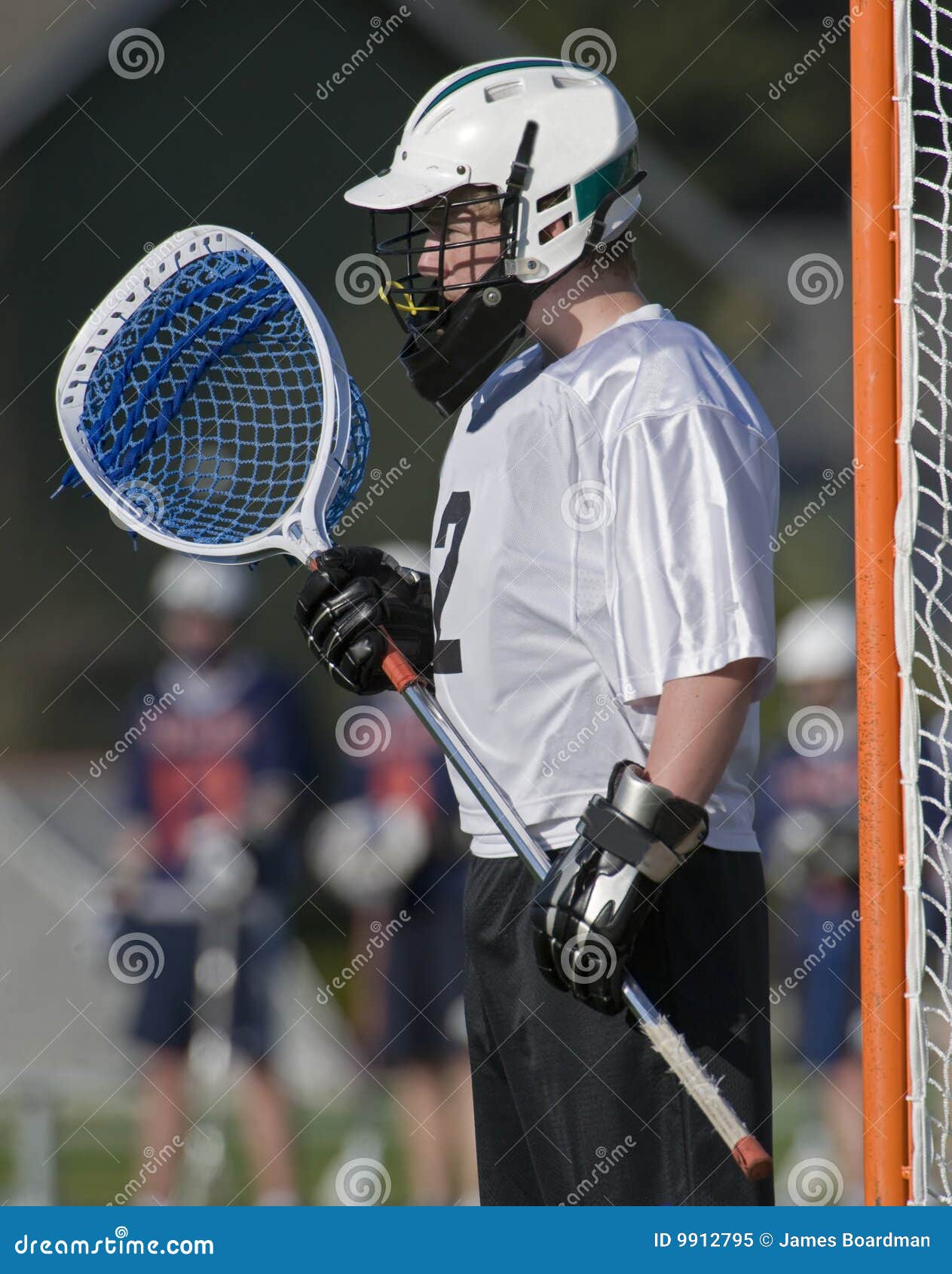 Back when I played in college there were fewer options for goalie mesh. When you strung up a goalie stick, you had to spend hours and hours breaking in the mesh.
A goalie stick with mesh that is not properly broken in will be like a tennis racket giving up rebound after rebound.
These days there is goalie mesh like East Coast Dyes Semi-Soft Wax Mesh or Jimalax 12 Diamond Goalie mesh that is much easier to break in thereby reducing rebounds.
However anytime you get a new stick strung up be sure to spend adequate time breaking it in before that stick sees action in the games.
Another element of the stick that effects rebounds is your pocket depth.
A shallow pocket will give up more rebounds. Thus the reason we specifically train with a shallow pocket stick to develop soft hands.
Before you run of and make your pocket as deep as possible know that its much easier to throw outlets with a shallow pocket.
Deep Pocket: Less rebounds, harder to clear.
Shallow Pocket: More rebounds, easier to clear.
Therefore I typically recommend a balance with about 2 to 2.5 balls of depth in the pocket.
Trap and Scoop Rebounds
No matter how soft your hands and how great your stick is, there will still be an occasional shot that pops out around the crease.
In this situation its crucial for the goalie to clamp the ball with the back of their stick.
If you clamp outside of the crease, offensive players are legally allowed to attempt to pry the ball loose by dragging their stick under yours.
If this happens defensive players should be salivating as they can body check these pesky attackman and make them wish they never tried that move.
If the goalie has a foot in the crease, no contact may be made with the keeper. Thus always keep a foot in the crease if possible.
I teach my goalies to drag the ball back into the crease if they're clamped just outside.
With a foot in the crease nobody can contact them so you can use your body to "box out" attackman and ensure your team gets possession of that ball.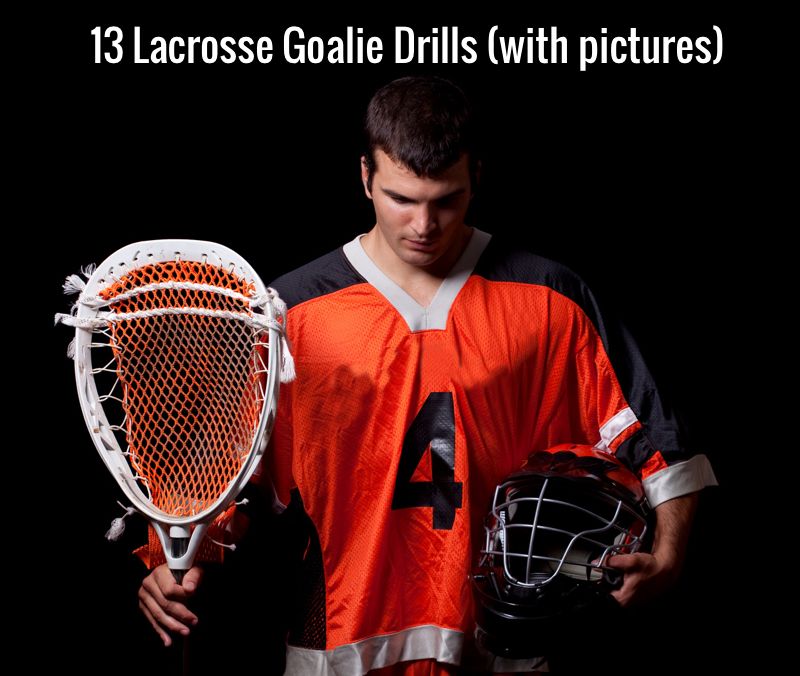 Invert the Mesh Before the Shot
One final tip for helping to eliminate rebounds.
Before the shot – invert your mesh. That is push the back of the mesh through the front of the stick.
This won't drastically reduce rebounds like the other concepts in this post however it's my belief that it helps.
When the ball hits the inverted mesh there will be more give and a higher probability that the ball stays caught in your mesh like a fishing net.
Conclusion
Learning to control rebounds is an important element of any goalie's game.
Keep these tips in mind when you're out on the field and hopefully the number of rebounds you're giving up will diminish drastically:
Develop soft hands
Don't be a statue
Give a slight cradle
Get the right stick
Clamp and scoop
Invert your mesh pre-shot
Remember every rebound you give up is another chance for the opposing team to score.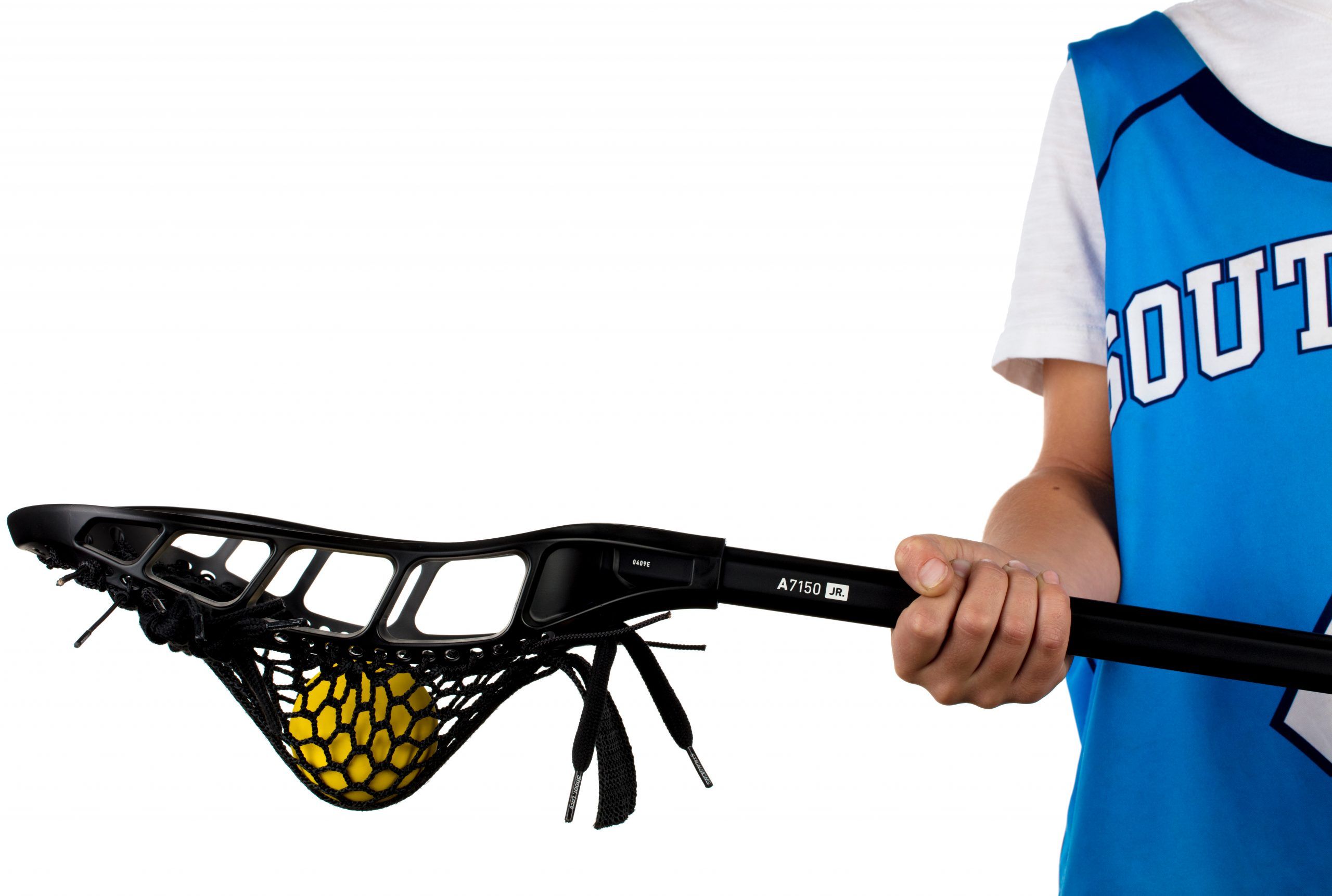 Until next time! Coach Damon
Any goalies or coaches have any additional tips on eliminating rebounds? Leave me a comment down below. 
Cover photo credit – JCCincy
9 Tips for First Time Goalies
NO MATTER HOW GREAT OF A GOALIE YOU ARE NOW, ALL GOALIES START FROM ZERO. IN THIS POST WE COVER TIPS FOR FIRST TIME LACROSSE GOALIES.
Every lacrosse goalie has to start from zero.
Many goalies start out at attack or middie and then make the conversion later in their career as I did. 
I spent an entire collegiate career playing in goal and I've now coached goalies for about 15 years.
With all that experience here are 9 tips for lacrosse goalies just getting started. 
Get the Right Goalie Gear
Any goalie stepping into the cage for the first time should be outfitted in proper lacrosse goalie gear.
Feeling protected will give you more confidence and help eliminate the inherit fear that comes with someone firing a 90mph rubber bullet in your direction.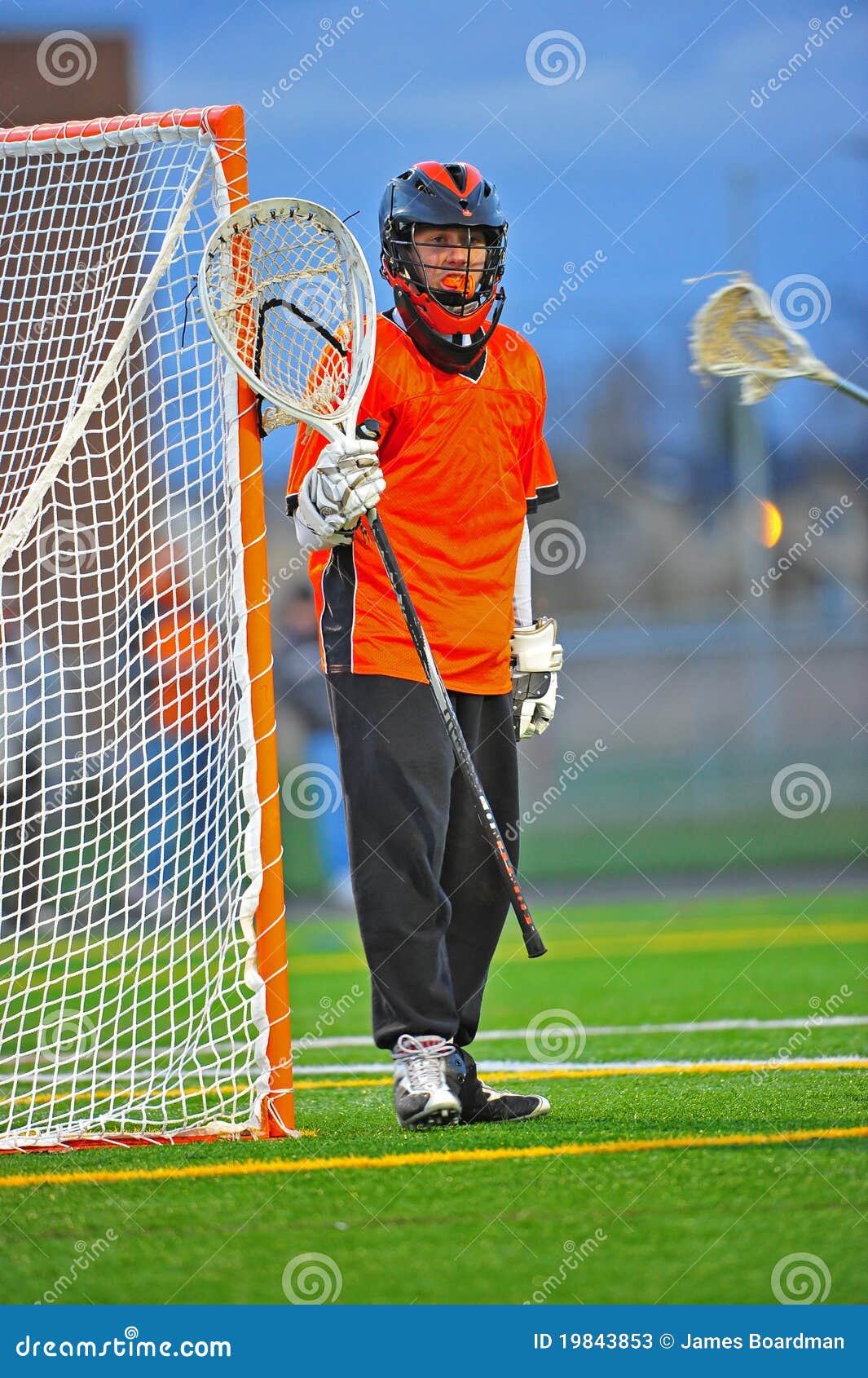 It's funny how many times I've seen attackman, middies, or first time goalies step into goal using bad equipment, like a chest protector from the 80's that doesn't even fit them.
Below is a quick breakdown of the equipment a new lax goalie will need.
For a full in depth description on gear checkout: The Lacrosse Goalie Gear Guide.
Throat Guard – Goalies use the same helmets as others just attach a throat guard.

Lacrosse Goalie Gloves – You'll need to upgrade to goalie gloves. The gloves you use to play attack won't provide the protection you'll need when facing shots. In addition to stronger padding to protect your hands the goalies gloves are going to have a reinforced thumb to prevent injury.

Athletic Supporter – I'd also recommend an upgrade to this piece of equipment as getting hit where the sun doesn't shine is extremely painful. Warrior's Nutt Hutt will give you the protection you need.

Chest Protector – Many great options when it comes to chest protectors. Newer models have reinforced heart protection that I recommend to all goalies. 

Goalie Stick – Saving the last for the most obvious. You'll need a goalie stick. You can either buy a complete stick or purchase a head, shaft, and a goalie stringing kit and string the goalie head yourself. Since you're just starting out, the first option will be easier but learning how to string a goalie head is worth the investment in time.

Shin Guards – An optional piece of equipment but one that will help you feel protected and help you avoid the horrible pain that is taking a ball to the shins.

Lacrosse Goalie Pants – Another optional piece of equipment but feeling protected will help your confidence. Goalie pants cover up your hips and thighs that are extremely vulnerable to receiving bruises.
Learn the Proper Lacrosse Goalie Stance
When lacrosse goalies ready themselves to make a save, there's a basic stance that every goalie should get into that will best prepare you to make saves.

This stance puts you in athletic position and is used by all goalies albeit with some subtle differences in style.
Here are the 7 elements of a great lacrosse goalies stance: 
Feet a little wider than shoulder width apart

Bent Knees

Arms out and away from body

Proper grip on the stick

Straight, flat back with slight bend at the hips

Hands well positioned

Body Relaxed
You can learn more about the perfect lacrosse goalie stance in that post. 
Part of getting in the right stance is also understanding the lacrosse goalie arc.
I teach 3 different types of arcs but for the beginner I recommend using a normal arc.
Understand the Basics of Making a Save
Sometimes goalie coaches (including myself) over-complicate the position of goalie.
When a 90mph shot is traveling our way we cannot have hundreds of rules floating around in our head.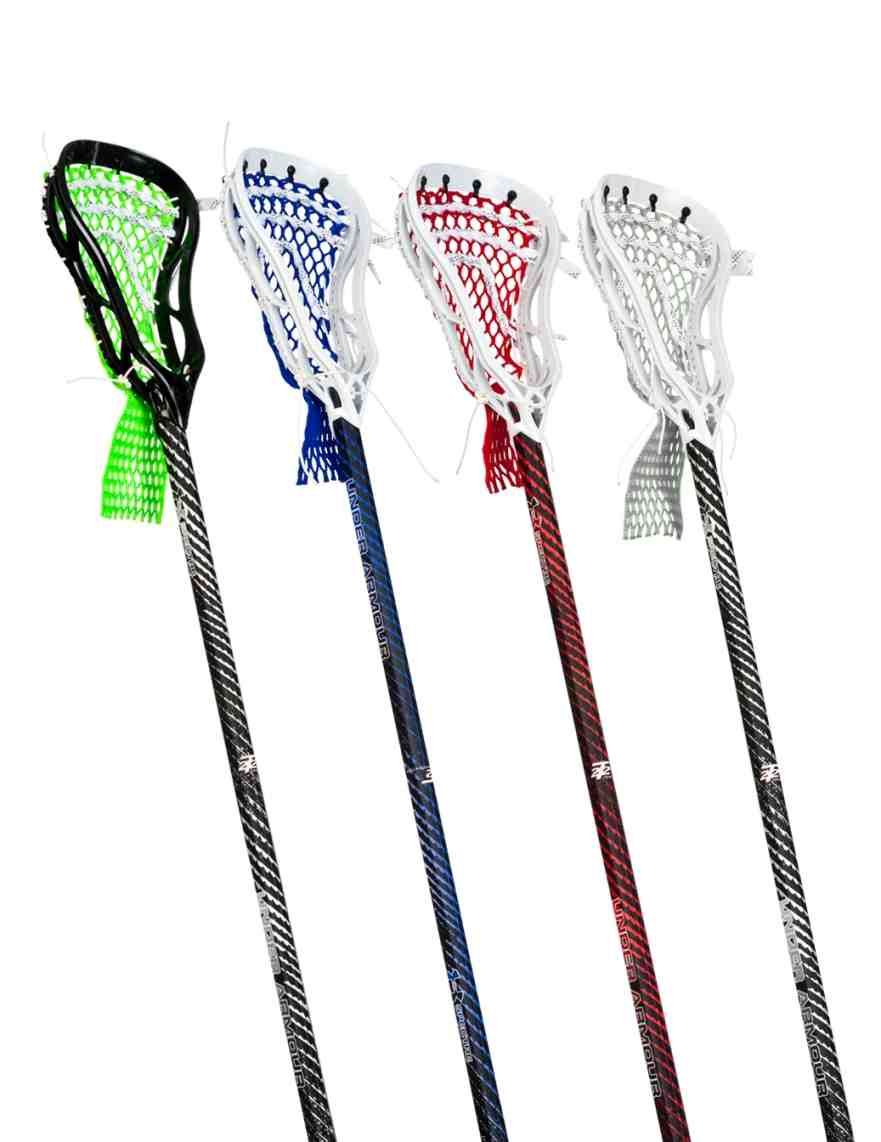 So let's simplify things – Lacrosse goalie is this: See the ball and save it.
While maybe that's a little too simple. It's what I reiterate to goalie students over and over.
Here's a little more detail on the basic technique you want to learn.
To make the save we'll take our top hand (right hand for righties) and drive it towards the ball.
We'll take our lead foot (left foot if shot is to your left, right foot if shot is to your right) and step to get our body in front of the shot.
Our trail foot and bottom hand then move.
So after you've got the right goalie gear and you have a good lacrosse goalie stance, the next step is to take some time to learn the theory behind making saves.
Read this post for an in depth description of a simple way for lacrosse goalies to make saves.
Drills, Drills, Drills
Playing goalie in lacrosse is about training your muscles to make saves.
We want to development the correct muscle memory that automatically fires once we see a shot coming in our direction.
In addition, we also want to develop our reaction time.
The combination of quick reactions and perfect body movement is the key to becoming an All-American goalie.
Here are 33 drills for lax goalies:
This is more than enough drills for a 1st time goalie, or any lacrosse goalie for that matter.
Pick 3-5 drills from the list above and work them into your practice sessions.
Shots, Shots, Shots
If you're going to learn to swim, at some point you've got to get into the pool. Same for goalies. 
Goalies must face shots. That's what we do. There's no substitute for live shots.
As you're taking shots you can put everything you've learned into practice.
For beginner goalies you can follow this warmup plan to ensure you're getting a great mix of shots.
If you don't have a goalie coach, you can setup an iPhone to record your warmup. After practice watch the video and see which areas of your game need work.
The final tip for new goalies is get as many shots as you can.
Practice makes perfect. Getting time and experience in the cage will help you perfect your save technique and help you gain the confidence needed to become a great lax goalie.
Goalies Need Stick Skills
One thing that goalies who make the switch from middie or attack have in their favor is stick skills.
I generally recommend that goalies not get in net until they can catch and throw properly.
If you look at today's top goalies in the MLL most of them have the best stick skills on the field. T
his allows them to make great saves and also clear the ball effectively after the save.
So goalies who come from the position of attack have an advantage with their stick skills.
If a first time goalie didn't know how to throw and catch, I'd recommend they checkout my post on getting stronger stick skills for goalies.
Don't Get Discouraged
Lacrosse goalie is definitely not an easy position.
At first most new goalies will flinch when someone rips a shot at them.

And while its the exact opposite of what we want, it's completely natural.
It takes time to develop the confidence not to flinch and the quick reactions and perfect save technique required to stop shots.
If you're a coach, parent, or teammate of a goalie reading this make sure you absolutely "go wild" on every save. Even if the goalie doesn't move and the shot hits them square in the helmet. 
That encouragement will help them. 
For the goalies, don't get discouraged if you're giving up a lot goals at first. That will happen.
Instead focus on having fun. Making a great save is one of the better feelings in the world so rejoice a little bit every time you make a save.
Hopefully your teammates are supporting you and going crazy each time you make a save.
Be sure to do the same when they make great plays and you'll definitely get the love back.
Remember to have fun and you'll be surprised how your goalie game will improve. 
Focus on the Basics
The position of goalie can be quite complex.
But one of the things I recommend to new goalies is to focus on the basics.
This is even great advice for experienced goalies who find themselves in a rut.
In other articles, I've written about topics like:  –
But for a new goalie, don't worry about these things.
For now your job is to focus on the basics.
In the next season, you can start to learn other concepts once you're more comfortable in the crease and understand the basics.
Be Loud and Communicate to the Defense
Part of being a great lacrosse goalie is being an excellent communicator.
With your unique position on the field, you see things that other defenders cannot, as the goalie is the only player on the field constantly facing the ball.
Most 1st time goalie are too quiet which is understandable since they are timid and don't understand.
But when in goal you should be communicating loudly to defensive teammates. Here the lacrosse goalie terms you should use.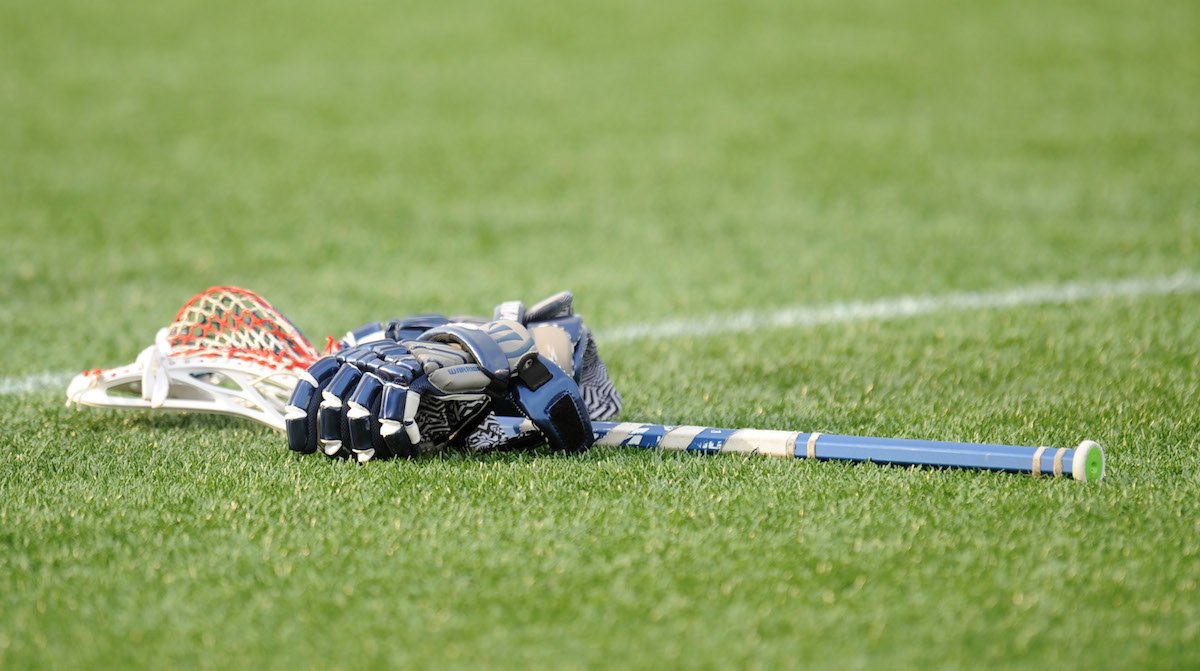 Commit those terms to memory and use them when in practice or game situations.
Being loud and knowledgable about the game will help earn your team's respect and turn you into the leader of the defense that the goalie should be.
Conclusion
Lacrosse goalies are a strange breed and I'm honored that anyone would consider joining our club.
Even years after I stopped playing lacrosse when I would mention that I was a lax goalie in conversation with another lacrosse player, there was instant respect.
My basic tips for 1st time goalies are:
Get the right gear

Get the right stance

Study the basics of save technique

Drills

Shots

Learn stick skills

Don't get discouraged

Focus on the Basics

Be Loud and Communicate
Good luck to all beginner goalies!
How to Hold a Lacrosse Stick When Right Handed | Live Healthy
Lacrosse players use their dominant hand to control stick movements, generate shot power and protect the ball as it cradles in the head netting.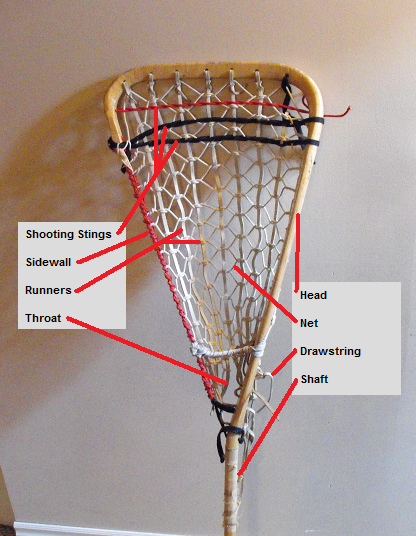 A right-handed lacrosse players holds the bottom of the stick with his left hand for stability and slides his dominant hand along the stick shaft depending on the current game situation. Learning to hold the lacrosse stick properly is your first step on the path to master the fundamentals of the game.
Ready Position
Place your left hand on the handle directly above the butt end of the stick with your thumb pointing toward the stick head.
Position your right hand one-third of the way up the stick handle, about shoulder-width distance from your left hand. Again, point your thumb toward the stick head.
Grasp the stick with both hands, curling your hand around the handle so it rests on the pads of your fingers.
Press your thumbs against the stick shaft.
Bend your right arm at the elbow.
Hold the stick at eye level with the head facing forward. This pose is known as the ready position and is the proper way to hold the stick when moving without the ball, passing or shooting.

Scoop Position
Slide your right hand up the stick shaft to the throat of the stick when you get close to a ball that is rolling along the ground. The throat of the stick is the portion located a few inches below the head.
Run to the ball, positioning yourself so the ball is next to your right foot.
Bend down, lean forward and rotate your right wrist to invert the stick head like a spoon.
Scoop the ball off of the ground and into the head of your stick.
Switch to the cradling position to protect the ball from defenders, or switch to the ready position to prepare to pass or shoot.
Cradling Positon
Slide your right hand up the shaft to the throat of the stick to protect a ball cradled in the net.
Grasp the stick throat firmly between with your right thumb and right forefinger.
Slide your left hand down the shaft until your hand is loosely grasping the butt end with your palm facing the ground.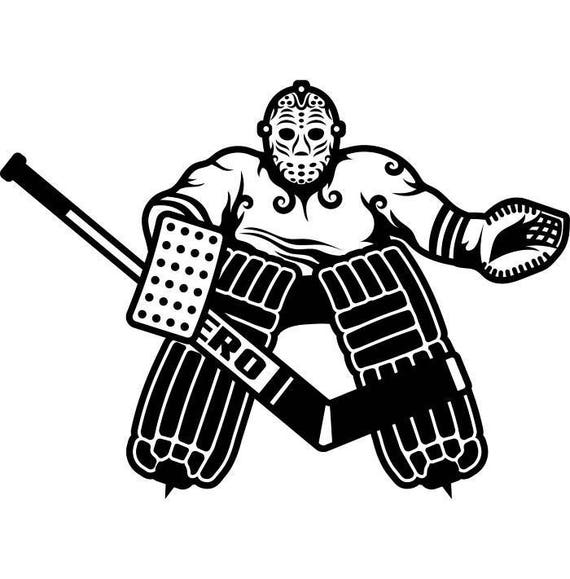 Rotate your wrist gently back and forth while keeping your left arm close to your body. The cradling motion keeps the ball in the head while protecting against prodding defenders.
Catching Position
Slide your right hand up the shaft to the throat of the stick. Leave your left hand grasping the handle near the stick butt.
Grasp the stick firmly with both hands, similar to the grip used in the ready position.
Keep your left arm close to your body as the ball approaches.
Guide the stick head into the path of the ball with your right hand.
Pull back slightly with your right wrist to cushion the impact as the ball strikes the netting.
References
Writer Bio
Dan Howard is a sports and fitness aficionado who holds a master's degree in psychology. Howard's postgraduate research on the brain and learning has appeared in several academic books and peer-reviewed psychology journals.
Goalie Stick Tips and Tricks For Clearing And Passing

While there isn't any research for lacrosse goalies specifically, there is a fantastic study that debunked one of the longest held traditions in sport…swinging a weighted bat in the on-deck circle at a baseball game.

The study that was done back in 2009 at Cal State Fullerton proved that swinging a weighted bat made a baseball player's actual swing with a normal bat slower.
What made a batter improve their swing speed was actually swinging a lighter bat and not a heavier one.
In a similar vein, years ago I read about how Communist East German athletes used weighted and unweighted discus, shot put, and javelin to improve throwing distance without ruining technique.  (They also used a healthy amount of performance-enhancing drugs but I doubt your young goalie will be doping any time soon.)
The idea of loading up a lacrosse goalie stick with BB's, or sand, or marbles, or adding string weights to the head is just incorrect thinking.
Why?
When coaches or parents (or goalies) miss a save people think, naturally, "If only they could move their stick faster they would make more saves."
This is akin to the, "I want faster hands" argument.
And while wanting faster hands is a good idea, it's not actually what we really need.
When we move a goalie stick to the ball we are applying force from the ground through our body up into our shoulders and arms which move the stick.  Making the save then isn't just about having fast hands it's about generating force through every joint in the body.  
I'm sure if I asked your goalie to clap their hands quickly they could do it.  That would be "fast hands" technically.
Words matter and that's why I absolutely cringe when a parent or coach tells me their number one concern for their goalie is developing "faster hands."
When we think about making a save we need to 1) see the ball, 2) know where it's going, and then 3) move, efficiently, in front of that ball.
For the purpose of this discussion, we're just talking about getting the head of the stick in front of the ball.  I am not talking about making a save with another part of the body.
With that in mind, how then do we make a lacrosse goalie move their stick faster?  Well, consider the following:
For a lot of young goalies, a lacrosse goalie stick is really heavy.
It's big and hard to cradle with.  If it's a team stick it may have a cheap but heavy aluminum shaft in it which makes it even more cumbersome.  Small hands in thick gloves also make managing that stick a bit of an issue.
Couple that with the fact that a lacrosse goalie is still learning how to see the ball and then know where it's going and you have the recipe for a very sluggish move in front of the ball..  (Very long sentence, sorry.)
There is a level of patience we need for young/new lacrosse goalies.  It is totally normal to want to kick Mother Nature in the butt and expedite the process but weighting the stick and then making it lighter is NOT the answer.
Getting your goalie into the gym is.
If your goalie is serious about playing the game at a high level they need to have some sort of Strength and Conditioning program they are following.  Getting to the gym two to six days a week is perfectly normal for an athlete who is serious about their sport and that can start as young as twelve years old.
This last year I turned three goalies away from my Lacrosse Goalie University program because what they needed was not more lacrosse, it was focusing on getting themselves stronger physically.
The third "key" to making any save is moving in front of the ball and that "moving" is all about a goalie's physical ability.
I like to say that your goalie is an athlete who plays the lacrosse goalie position.  You don't become athletic by playing goalie but you can become a better goalie by becoming a better athlete and that usually happens off-the-field and out of the crease. 
A common mistake that is made by many coaches and parents of lacrosse goalies is to try and do too much at the same time.  Here are a couple of examples.
Using a weighted stick while making saves:
There is some benefit to "loading" a goalie's movement so they can feel where their weaknesses are but it is NOT correct to try to add weight to something that requires technique.  For example, if you attach a bungee cord or a cable to the head of a goalie's stick and you have that cable pulling from the correct angle, a goalie may feel that they are weak in their ankle or their hip.  Or through their chest.  Or even their wrist.  This extra load can be a cue similar to overexaggerating a technique but it's not to be used as a way to strengthen.  Baseball pitchers will "load" the end range of motion when throwing but they will do that in the gym, and not with a weighted ball.
Doing Agility Drills (i.e. Ladder Drills) while in their goalie stance:
I see this a lot.  Let's take a goalie, put them in their stance, and THEN have them do a ladder drill.  Where their head is down and, overall, the whole thing looks like crap.  When you cook a steak and mashed potatoes, you don't throw the steak and the potatoes in the pot of boiling water?  Or throw everything on the grill.  All at the same time.  No.  The steak goes on the grill for the appropriate amount of time and the potatoes go in the water early.  Each in the proper place.  If you're going to work agility with your goalie…work agility.  If you are going to work on movement…work on movement. If you try to do it all you're going to have a crappy outcome for all of it.
Many parents are just happy that their goalie is hot and sweaty after a session. That is actually their benchmark.  I've asked parents in the past, "How did you like the goalie clinic your goalie went to?" and I will get an answer like, "Oh it was great! He slept the whole way home!" or, "She was sore for days after that camp it was so great."  To these answers, I say…up your standards.  But you can only up your standards if you know better.  You must know what you're looking to improve in your goalie.  If you don't, people will be happy to keep taking your money.
Now, I'm the first coach to tell you that your goalie does NOT need more/expensive/better equipment to play better.  I say that because I don't want young goalies using it as an excuse.  Many athletes will cause a subconscious "waiting" by thinking, "Well, I'd be better if I had better equipment."  That's typically not true.
That being said, IF your goalie is using a club stick that is old and heavy and has a crappy pocket in it, they will probably benefit by having a lighter stick with a better pocket.  Just saying.
There are any number of heads that can be used.  Personally, I recommend the STX Eclipse or the Nemesis.  I'm also a fan of the String King Mark 2 as of this writing.
There are a lot of great mesh options out there as well and we have a rather robust thread in our private Facebook Group that is evolving every season that keeps this updated.
Finally, I have always recommended Titanium shafts or something similar.  I used to say that they cost a lot but they will probably last your goalie for as long as they are playing.  There are always new shafts coming on the market but remember these concepts:
The shaft is probably the most mundane piece of equipment and it in NO way will improve your goalie's ability to move in front of the ball.  Anyone who makes a claim that the shaft they are selling you will improve your goalies save percentage is lying.  Buy strong.  Buy cheap.  End of story.
Avoid carbon which can break very easily.  All it takes is one slash and the shaft is compromised.  As I said before, going with a Titanium or an alloy that is similar will last you forever.  I like Savage X shafts. (Not an affiliate link)
As for titanium…Savage X makes a titanium alloy and not pure titanium.  The cost is ridiculously cheap with Savage so I would recommend you start there for $40 USD.  But if you can find a Titanium shaft, and you're not allergic to the price…buy that.
I tell my goalies, a lot, you don't need more wall ball, you need to learn how to cradle and dodge.  
The reason is that we need to improve our goalie's strength in their fingers and their hands, into the forearms, and up through the shoulder.
If your goalie is making passes with their top hand locked to their shoulder and their bottom hand pointed out like a big lever…they need strength in their shoulders.
I have seen kids work hours and hours and hours on Wall Ball only to see that they cradle like they have an egg in a teaspoon and they have no strength in their upper body.  This is NOT good.
A goalie who spends 5-10 minutes a day cradling and faking.  Dodging and picking up ground balls with authority, will be more confident on the field.  They will be comfortable out of the cage and on the clear.  They will make more stops.
Why?  Because they will be using less mental bandwidth because they aren't worried about dropping a ball or having to run around someone.
Work on this at the END of practice, or in a separate practice altogether.  No need to fatigue them before they get in the cage for practice.
Male or female, it doesn't matter.  If your goalie has small hands then they should be using a junior shaft.  Go to your local lacrosse store and order a junior shaft with a sleeve that fits into the head.
If you are working with a young goalie there is no reason you can't use a mini-stick.  Just get a decent pocket in it so it throws well.  I warn you, this can be a challenge, but the use of the small stick makes a lot of sense for a new goalie who is young and small and all that.
Your lacrosse goalie needs to get stronger from the ground up and this doesn't happen by weighting their stick.  Weighting the stick can actually slow a goalie down not to mention that the loading of the stick causes a fundamental change in the movement for the goalie.  It's just not necessary.
Encourage your goalie to be patient.  To adopt a strength and conditioning program.  If it's needed, investing in better equipment can help so keep that in mind.  Finally, encourage your goalie to spend 5-10 minutes per day just working on cradling and dodging.  Their confidence with the ball in their stick will help them in, and out of the cage.  Let me know how it goes.
90,000 Goalkeeper sticks 2020 best TOP9
1. Bauer Vapor 2X Pro goalkeeper stick
Overview
The new Bauer Vapor 2X Pro introduces a composite golf club that delivers exceptional shock absorption. The stick has an asymmetrical design with a foam hook that contains lightweight fibrous material on both sides to withstand the most challenging throws. The fold is quite strong with carbon weave reinforcement, yet lightweight with a flat blocking surface.This provides better rebound control and superior balance in your hand.
The stick has a comfortable, smooth finish that is designed to stop and control the puck. The stick is fitted with sticky grips for better grip. It is also designed so that you can easily slide your hand up and down as you play.
The
Bauer Vapor 2X Pro Goalkeeper Stick is ideal for intermediate to advanced players and is available in multiple colors and sizes. The stick is in the mid to high price range as it is one of the best goalkeeper sticks in the world.
2. CCM Extreme Flex E4.9 Goalkeeper Stick
Overview
This new CCM goalkeeper stick is manufactured with an all-polyurethane graphite hook for superior puck control and possession. It is great for channeling bounces into corners as well as passing to teammates. The blade has a polyurethane core that is reinforced with fiberglass for added strength and durability. The blade is designed to minimize vibration from heavy throws by helping control rebounds and cornering.
The handle is made of lightweight aspen wood with a core with graphite and fiberglass for durability and is manufactured with straight walls and rounded corners. This model is available in several different colors and a range of sizes with a 26 " golf club weighing 854 grams. The handle is reinforced with graphite laminate for secure and reliable play.
The CCM Extreme Flex E4.9 Goalkeeper Stick is designed for the mid-level player and ranges from low to mid-range prices, although it is a well-designed stick.
3. Sherwood Rekker M70 – goalkeeper stick
Overview
This 2019 Sherwood Goalkeeper Stick offers hockey players a unique balance and is engineered for maximum performance and durability. The stick and curl are made of carbon fiber composite for optimal responsiveness and comfort when stopping pucks or playing with defenders. The handle is made with anti-vibration technology with added foam to withstand the most severe shots and impacts.The handle is also made from a lightweight composite material that allows you to stop quickly and easily grip the
washer
The hook has a rounded heel for better puck control, and the handle has a glossy finish for quick, precise puck grip. The club comes in 26-inch sizes and weighs 845 grams. The stick is made to handle all the action during the game without slackening.
This is the ideal goalkeeper stick for beginners and outdoor enthusiasts, as it is strong and flexible enough to take powerful shots without vibration.The Sherwood Rekker M70 Senior Goalie Stick is a great durable composite model that comes in a lower price range.
4. Warrior Ritual V1 Pro goalkeeper stick
Overview
This 2019 goalkeeper model is from Warrior and is set to quickly become one of the brand's most popular sticks. This is a lightweight model with a slip and grip zone. The woven design and premium carbon material of the Minimus make it one of the strongest and most durable goalkeeper sticks on the market, while providing optimal balance and comfort.The handle is designed to take gears and absorb shock vibrations and provide superior rebound control. The blade comes with a fiber backing for extra strength and is designed for high speed and tough throws.
Stick stiff but flexible where needed, the shaft is impregnated with anti-vibration materials to prevent your hands from hurting when the hook stops the puck. The flexible part of the club is located above the blade, in the handle for easy throwing of the puck out of the zone through the glass.The handle technology is a matte finish, which, in combination with the ribbed texture on the shaft, provides maximum grip and glide in the hand
Warrior Ritual V1 Pro is aimed at elite level players and is sold at a higher price. It is available in a variety of styles and sizes and is one of the most advanced composite golf clubs you can find.
5. True A4.5 HT goalkeeper stick
Overview
This True goalkeeper stick is one of the most popular models on the market due to its light weight as the 26-inch model weighs only 770 grams.However, it is one of the strongest golf clubs despite its weight, as both the blade and the hook are designed to withstand the strongest throws. True uses its efficient BRT + technology along the full length of the club, scream and heel, resulting in a lightweight yet very durable golf club.
The stick and hook have a viscoelastic layer to absorb impacts and provide excellent control of puck rebound and acceptance. The bottom of the stick is lighter with balance towards the handle for comfort and superior control for goalkeepers who love puck possession.The hook has a foam core for even more durability and is very reliable in tough conditions.
The True A4.5 HT stick is the perfect choice for mid-level goalkeepers looking for a durable, lightweight stick at an affordable price. The club can be purchased at a low to mid price range.
6. Stick Sherwood Rekker M90 for goalkeepers
Overview
This Sherwood Rekker stick is designed for higher level goalkeepers, so this model can be found in a higher price range.It is a durable, lightweight 26-inch composite stick weighing only 694 grams. The stick is made from Blackline carbon fiber, which is made with a special weaving method that keeps it lightweight and durable. Key breakage points have a reinforced graphite material that can withstand the toughest impacts without fear of club breakage.
The stick is also designed for superior puck bounce control, as well as full puck control when passing a pass to a teammate or clearing a dime.The vibration dampening design is also very effective for control and comfort, which is achieved by injecting foam into the grip, nib and handle. The stick has straight sides, rounded corners and an attractive glossy finish.
The
Sherwood Rekker M90 is another 2019 model, one of the lightest you can find. It is made using high-tech composite materials with added foam and offers a good value for money.
7.CCM Premier 2.5 Goalkeeper Stick
Overview
This inexpensive CCM goalkeeper stick is designed for beginners and hockey enthusiasts. The stick is designed for goalkeepers who want a stick with high levels of durability, puck possession and control, and is made of tough composites and fiberglass in the shaft and hook while maintaining a light weight. The shaft is also reinforced so that there are no weak points when repelling the most difficult throws.
The stick has an effective sticky grip surface that ensures it won't fly out if you don't want it to, for example when deflecting a powerful throw.The finish is an attractive blend of gloss and matte gloss, and the hook features a polycarbonate insert that helps control bounce and throw the puck into corners. The stick is available in several sizes, a 26-inch model weighing 825 grams.
The CCM Premier 2.5 stick is popular with mid-range players for its low cost and high reliability. This is a durable model that provides fantastic control and puck feel and is a bargain.
8. Bauer Vapor X2.9 goalkeeper stick
Overview
The
Bauer Vapor X2.9 Goalie Stick is a 2019 model that delivers great balance and durability no matter how many shots you hit in the game. The hook is equipped with a foam core that provides durability and a superior puck feel when deflecting or wielding. The stick is designed to reduce vibration at high throwing forces so your hands feel comfortable and not hurt.
This model has an arched part, which means that the blocking surface of the putter is flat and the back part is rounded. This helps you have better control over your rebound and maintain the greatest possible club balance. The stick is made with a durable carbon composite outer wrap, without adding any weight to the handle. The handle above the lug provides optimal control and work with the Griptac, has a smooth surface.
The Bauer Vapor X2.9 Goalie Stick is in the mid-range for goalkeepers of all skill levels.It is available in a variety of sizes and is a 26-inch model with a weight of only 773 grams. This stick offers a ton of possibilities and should quickly become one of Bauer's bestsellers.
9. Warrior Ritual V1 Pro SE goalkeeper stick
Overview
The Warrior Ritual V1 Pro SE goalkeeper stick is one of the most durable on the market, as the stick, shaft and handle are made from lightweight Minimus carbon 1000 material. The shaft also features Warrior VibexLite technology to help dampen vibration during the toughest shots, and HiFused construction provides excellent balance.
The stick has a TwinSpar construction for a better feel for the puck when shooting, while the hook has the necessary stiffness. Because the stick is made of the same material, it provides goalkeepers with the strength they are looking for by eliminating any possible weak points.
This is the ideal goalkeeper stick for those who like to control the puck thanks to the sliding grip and matte finish on the blades. This model has a ribbed surface and is very easy to move in your hand, while the upper part of the putter has a sticky part to guarantee maximum control of the putter at all times.In addition, the impact fiber layer is designed to strongly deflect the washers at the bend of the club.
This luxury composite stick from Warrior comes in three colors with different shaft patterns and lengths. It is the ideal stick for serious and elite goalkeepers, and offers great performance and quality in a price range.
Frequently Asked Questions
Can I trim the goalkeeper's stick?
We do not recommend sawing your golf club if you think it is too long for you because it will degrade balance.
Do goalkeeper sticks need to be bent?
Curved sticks are not popular with goalkeepers. Goalkeepers generally use regular sticks, which have a straighter hook that allows them to stop high-strength throws.
What is a right-handed goalkeeper stick?
Right-handed goalkeeper sticks are used by goalkeepers who catch with their right hand and hold it with their left hand, while goalkeepers using regular hockey sticks catch with their left hand and hold it with their right hand.
How to make a goalkeeper stick knob
Today we will talk about how to make a head for a goalkeeper's stick.
There are many different ways to do this, everyone has their own preferences, so it's not better to figure it out on your own and find out which method is best for you.
So, the wrapping of the goalkeeper's stick begins with the knob.
Most goalkeepers prefer it to be quite large.
There are several good reasons for this: first, and most importantly, the stick will not get stuck in the net.Secondly, goalkeepers usually poke the puck during play. That is, they have to slide their hands up the handle, and the large knob makes it easier to grip the stick, because the goalkeeper's pancake is quite massive, it complicates everything, and the large knob helps to cope in such a situation. And thirdly, if the goalkeeper dropped the stick, then because of the size of the pancake it will not be easy to lift it – here the large knob will come in handy again, thanks to it it will be much easier to raise the stick.
The second thing about wrapping a goalkeeper's stick is to wrap around the handle to provide a firm grip.
How long the handle winding will be is up to you.
Some players prefer longer wrapping, others prefer to wrap strictly under the grip.
In general, this is really a matter of taste.
Personally, it seems to me that this is enough.
Some people say that cloth ribbons are enough, they are already satisfied with everything.
But personally, I prefer the grip to be more powerful, so I also use our professional grip tape.
Thin sticky grip tape provides increased grip on the grip.
One coat is sufficient.
Our professional grip tape belongs to the class of self-adhesive tapes, so, in fact, there is no sticky layer on it.
So, first, a little cloth tape is wound so that the grip tape does not slip, bunch up and break.
This is how the head of a goalkeeper's stick is made.
90,000 How to lose the semifinals of the World Hockey Championship for Russia :: Hockey :: RBC Sport
Bad advice on how the Russian national team should not play with the Finns in the semifinals of the home world ice hockey championship
Read us at
news news
Photo: Al Charest / Zumapress / Global Look Press
Play them as usual at home
In the history of games between Russians and Finns, a lot depends on the preferences of the researcher – what years and periods he will remember.For the new match, Suomi fans can easily collect material on a rather offensive poster "Fear Us", which will indicate the results of the semi-finals of the 2006 Olympics (4: 0, Finns), the 2007 World Cup (2: 1, OT) and the 2011 World Cup (3: 0), and decorate it with a postcard from Sochi-2014 (3: 1). Ours fend off with a banner "What else?" and will remind you of the 1996 World Cup (5: 0 in our favor), the Nagano Olympics (7: 4 and five Bure goals), the 2012 World Cup (6: 2) and the 2014 World Cup (5: 2).
By and large, there is, of course, approximately a combat draw, but here's the thing.In two tournaments held in Russia, it was the Finns who knocked out the home team (these are the 2007 World Cup and 2014 Olympic Games). They would have been knocked out with the 2000 World Cup, but there the team of Alexander Yakushev effectively withdrew. Moreover, all three times the winners were in medals.
Leave Mikael Granlund outside the gate
Mikael Granlund came to the 2011 World Cup in Slovakia in about the same status as Patrick Laine is now – only Granlund was a year older and no longer thought about the draft.But, like any rising big star, miracles were expected from him. And they waited in the semifinals with Russia. For this episode, you can scold the defenders Kalinin and Kulikov, from whom Granlund left somehow suspiciously easily, but the speed with which he performed his lacrosse move is still impressive. Usually such tricks are performed longer, after two or three seconds of reflection. Immediately you will not say that he was left right outside the gate. He burst in there – and flew behind Barulin's back like a meteor.
Make a hero out of a Finnish goalkeeper
The main feature of the most resounding defeats from the Finns is that we can have a goalkeeper team of any strength (even the best in the world), but the opponent's goalkeeper becomes the hero.In 2014 in Sochi hot Finnish guy Tuuka Rask saved 37 shots on his goal. In 2007, in Moscow, Kari Lehtonen – 29 out of 30. And a year earlier, the classic story happened.
In the semi-finals of Turin-2006, a hero whose name is easier to copy-paste than to print from his head, Antero Niittyumaki coped with only 21 throws: Ovechkin and Kovalev threw three times, Kovalchuk four times. The Finns won 4: 0 and this breadwinner Niittyumaki was enough to climb to his career peak, become the best goalkeeper of the tournament (with Lundqvist alive) and get into the symbolic team.
In general, instead of a hero, you need to make a laughing stock out of him – we can do that too.
Bring the matter to overtime
Case from the series "How to lose if you have an advantage and are firmly convinced of victory." It's quite simple – you need to bring the match to a state where everything will be decided by one mistake. In 2007, the Russian national team was more talented (Ovechkin, Malkin, and Radulov played, all 20-21), angrier and brighter than the Finns – a couple of goals scored in regulation time were not enough.The country's sports bars have survived to overtime with the confidence that now we will definitely squeeze them out. But alas. A dangerous lumbago went on a penny, Mikko Koivu wiped out the defender's body, knocked out the stick of Alexander Eremenko and rolled the puck into the empty ones.
Give free ice to Patrick Laine
Now it's hard enough to underestimate the threat posed by Laine, because people don't sing about him at the championship except from irons. The race with Matthews for the first pick in the draft, Patrick generally turns out what he needs: Auston lagged behind in the group stage, but almost single-handedly pulled the team to the semifinals, which was not expected of him.That is, the Finn still needs to improve.
Another thing is that in winter, at MFM , the coaching staff of the Russian national team also heard a lot about his troika with Aho and Pulyujarvi – they still did not really work to neutralize them. In general, this is a big task for all teams in the tournament, and the Russians are no exception. True, he is like Ovechkin: you just have to let him aim, like – boom! – and take it out.
Continue not to implement most
Now the Russians are in an interesting seventh place for the majority in the tournament (even the Germans are higher).And we scored the last time against the Danes – not a single realization in the last four games. Moreover, there are chances (there are several draws in each game) and, more importantly, hands. It is definitely impossible to complain about the number and level of the performers of the Russian national team.
The coaching staff rejects everything, they say, only throws are missing. But if you think about it, throws are the most important thing. It's just that while all our throwing masters endlessly improve for each other the position to throw on the most empty goal (as if Mozyakin cannot hit the others)."Keep up the good work guys!" – perhaps the most harmful advice for our team.
Photo: Global Look Press / Al Charest / ZUMAPRESS .com; Gettyimages.ru/Brian Bahr; Global Look Press / Alexander Kulebyakin
Author
Nikita Petukhov
.