Cool lacrosse head dyes: Dye Supplies – Lax Dip
Dying Lacrosse Heads | Universal Lacrosse Blog
Lacrosse is a game about individuality and I think a lot of that comes out in how a player represents himself in his equipment and his style.  If you look good, you play good.  So did you ever see those sick heads with all the different colors and patterns on them?  Thats a really good dye job.  Dying your head does absolutely nothing for the head in terms of performance but if done correctly, it could make your head look sick.  A head that stands out from the rest always brings attention to the player using it which is perfect for summer ball or showcases if you're trying to get a look from colleges.  Now there is basically an unlimited amount of possibilities for the colorway of a dye.  As pictured below, it can be anything you can think of as long as you know how to properly mask off the areas you don't want dyed.
So how do you dye a head?  Well first put your RIT dye in boiling water.  If you want to do a solid color dye or a one color fade just dip the head in the water and let it sit for a few minutes.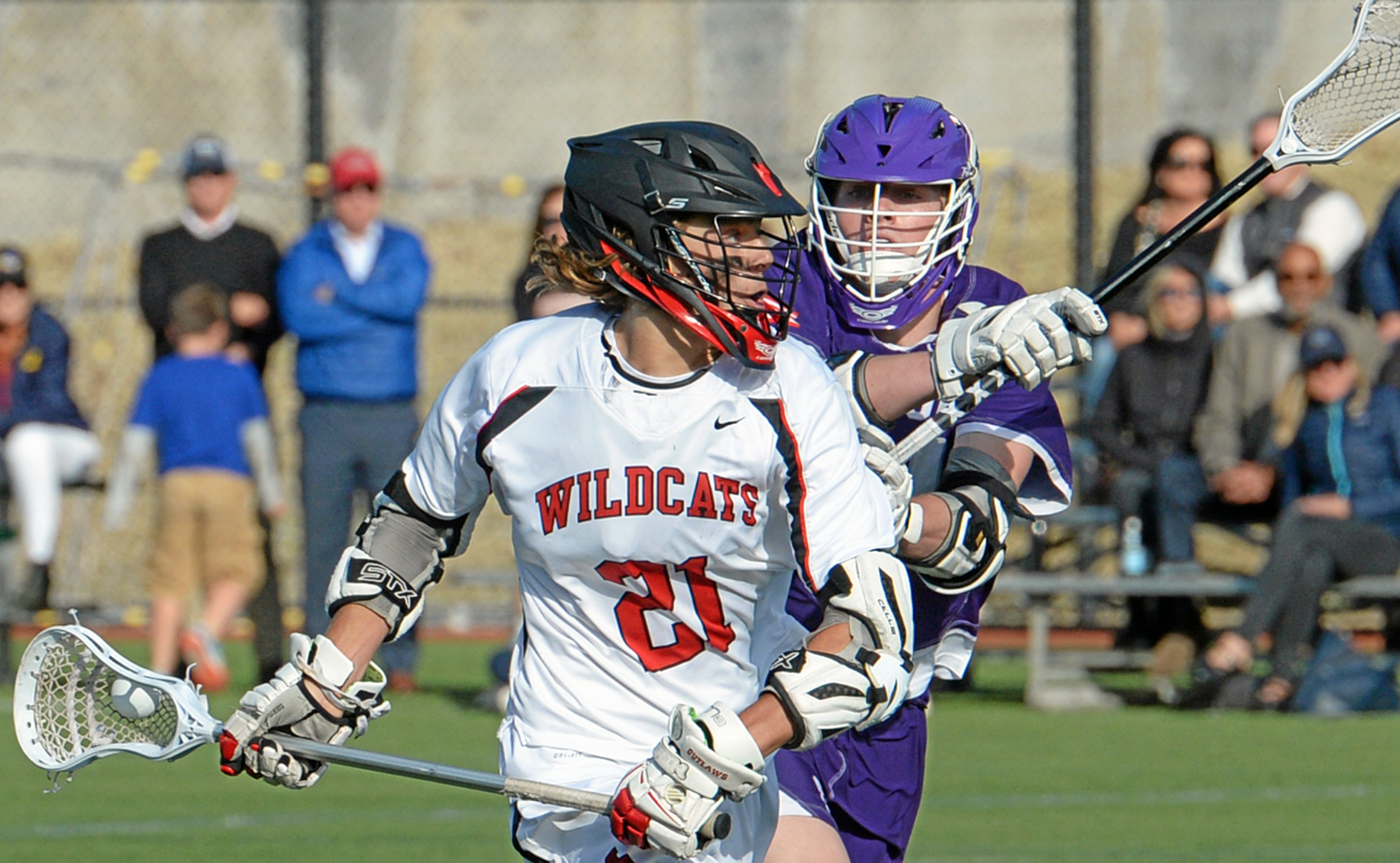 The dye will change the color of the plastic.  In the photo directly below the artist took a slightly different approach to the one color fade and put a little but of marbling and a design on top.
For funky dye jobs like you see below, you will need electrical tape, sticky vinyl, or krylon webbing spray…   or really anything thats easy to work with and can mask.  To make designs you cut out your mask to your desired shape and stick it on the head where u want it to be white. Whats uncovered will turn the color of the dye.  As you see in the picture below the dyer used a bunch of a tape strips and star shapes to make the american flagged head.  Because he was working with 2 colors in the head, he had to dye the lighter color first.
Dying a head is an extremely difficult process and if you are not confident in doing it, I would get an old head and do some practice runs.  Dying voids a heads warranty so you better make sure you really like the dye you are gunna hook up for yourself.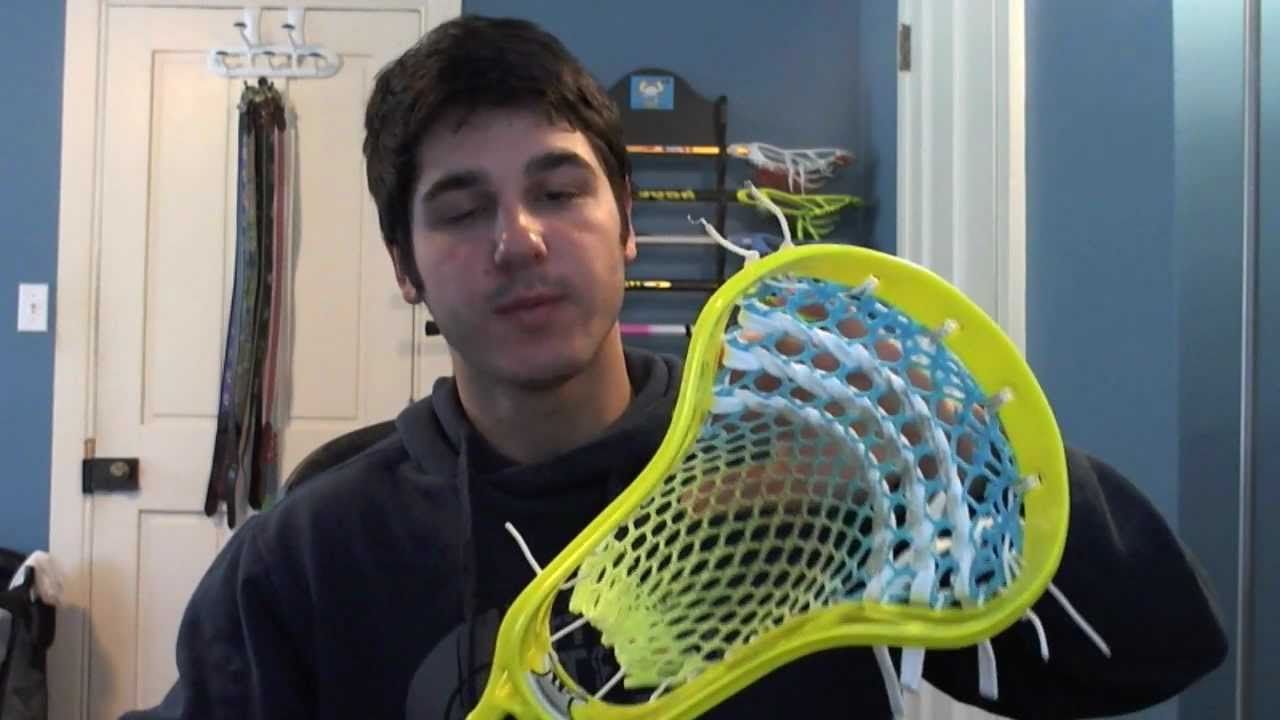 Start out with simple solid color fades with one or two colors, then maybe move on to some marbling dyes which ECD has a video of on their channel.  After that you should be ready to cut your own shapes and make pretty cool designs yourself.  If you need some creative reference there a ton of instagram accounts that have great work on them.
Instas:
@vii.dyes
@pocketpowerlax
@_lax_head_dyes_
@sclacrossedyes
East Coast Dyes: Lacrosse Head Dying Tutorials
 Everything you need to know about dying your lacrosse head!
More after the Jump!

Dying your head can be a great way to take your customization to the next level. Dyes range from very simple to very complicated. It is possible to dye fades, logos, letters, and almost anything you can think of. A head can only be dye darker. So if its red already only black and possibly navy will be able to go over it.
Important:

Dying a head voids the factory warranty.
It involves boiling water so you should ask your parents first if you are young.
Basic Materials:
A plastic container to dye in
RIT fabric dye
Boiling Water
Something to stir with (metal spoon, ect.)
TutorialSolid Color Dye
TutorialFade Dye
TutorialVolt Color Dye
Tutorial
Cutting Dye Decals
Uses Electrical Tape

Tutorial
Cutting Text Decals
Tutorial
Marble Rasta Dye
South Beach Maverik Tactik 2.0 by @lax_ties
Next, we are taking a trip down to South Beach with Jesse from @lax_ties.  This Maverik Tactik 2.0 is dye with a bright yellow throat fade and paired with turquoise top and sidewall strings, as well as a neon pink bottom string. Strung with The Mesh Dynasty 9 Diamond Hexagon for a mid-high pocket, this head is definitely giving us some Vice City vibes. Jesse also joined me for #TuesdayTieUps back on March 2, make sure to check it out at our @lacrosseplayground Instagram page under IGTV episode series. 
Minty Fresh Checkered ECD Mirage 2.0 by @clutchfanatic37
Josh, aka @clutchfanatic37, lands with us this week after putting out this minty checkered ECD Mirage 2.0 that deserves all of the flame emojis!  Josh has been putting out tie and dye work for years and has had some of his gear used at all levels of lacrosse including NCAA play, the MLL, the PLL and even on the world stage during the World Cup 2018 in Netanya, Israel.

  Whether its checkerboard, houndstooth, Yeezy or some other pattern, Josh delivers striking dyes that really catch the eye. Josh is also the founder of Iconic Lacrosse which recently put out its Icon Pro 2.0 carbon shaft which I will be putting out a review for in the coming weeks! 
The Guru Squad is coming in hot for all your stick trick needs. For those of you who were not aware of this early 2000's icon, the Brine Guru was specifically designed to be the best stick for doing stick tricks like sidewall stalls. Even at the time of its release it was not designed to be regulation size for NFHS or NCAA play.  Instead, the head was designed specifically to make catching the ball on the sidewall and throat easier to allow all sorts of interesting stick trick combinations. This collection is strung by the ever dynamic @locknots_monster. Jon is not only an incredible stringer, but also a Wall Ball Aficionado and Meme Master, putting out some of the funniest and insightful lacrosse memes on Instagram.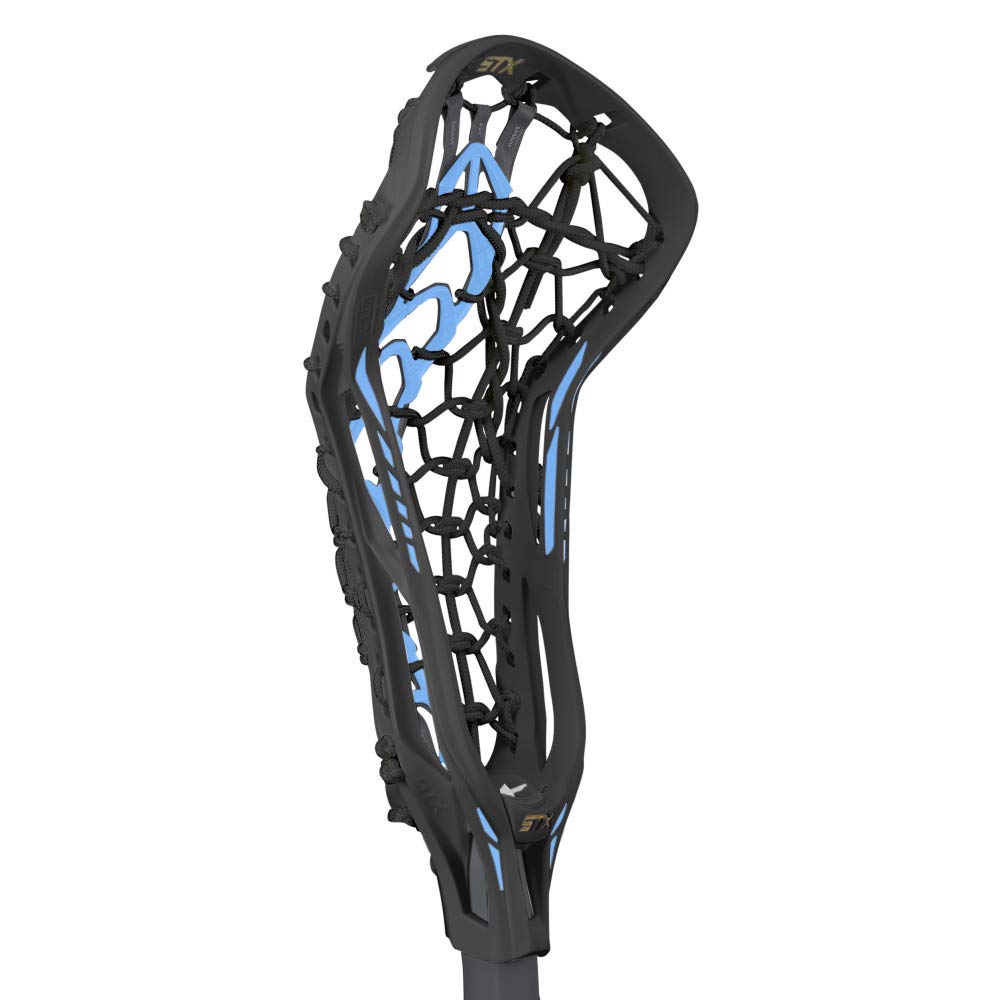 Make sure to go check out his wall ball vids and meme posts between the incredible trads he's tying up. 
Satained Glass ECD DNA Diamond by @cermak
Please take a moment to enjoy all of the angles of this incredible piece of art! This ECD DNA Diamond, dyed by John from @cermak, is quite honestly one of the coolest lacrosse heads I've ever seen. John has been experimenting with different techniques as to how he can apply dye to heads and when the DNA Diamond released it gave him the perfect opportunity to use those techniques to create a very cool stained-glass window effect. By mixing the dye with different ingredients to form a paste, John literally is able to paint designs onto plastic that have some of the most interesting results. I have had the opportunity to get to know him on Instagram and he is one of the most collaborative individuals, always willing to lend a hand and teach what he has learned through his experimentation. I'm sure this is most likely his first of many appearances on our Top 5 Ties and Dyes as he continues to innovate and push the boundaries of what is possible with the art of dyeing in lacrosse! 
Thank you for joining me this week in celebrating these awesome pieces the "lacrosse maker" community is putting out.
 Be sure to check in each week for a new edition of Top 5 Ties and Dyes to see if you or your favorite dyer or stringer has their work featured. If you would like your tie ups and dye jobs to be considered please make sure to tag @lacrosseplayground and use #tiesndyes in your post so that we will be notified and spread the word so that as many great artists can be recognized as possible! 
Dying A Lacrosse Stick – The Ultimate Guide
Dying a lacrosse stick is easy and fun. Not only can it bring new life to an old stick, it can draw lots of attention on the field and give your game a new attitude. Many players at every level play with dyed sticks. At the college level you will see a couple players on every team with dyed sticks. This article will provide you with everything that you will need to create your own custom creation stick.
Tools Required
We used RIT dye in the powder or liquid form successfully every time. Other brands of powder and liquid dye will work if used correctly, but we found that RIT consistently delivered high quality color.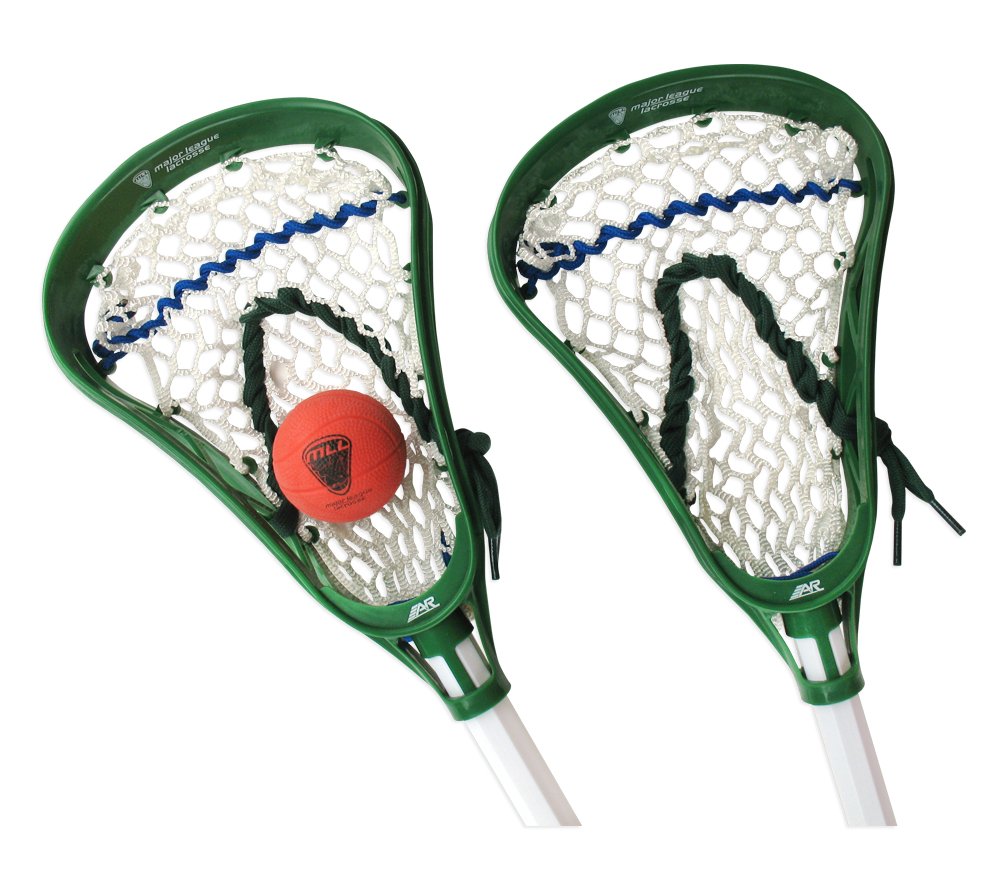 You need a container in which to dye the head. Use a container that is large enough and durable enough to withstand the heat of boiling water. An old kitchen pot that the family is no longer using or silver paint containers that are deep enough to fit a stick into are good. We recently discovered that using an aluminum turkey cooking tray from your local grocery store works the best. The turkey tray should also only cost you a couple of dollars, and it makes for an easy disposable clean-up.
If you are planning on creating some kind of design and are dyeing your head something other than one solid color you will need some of the following.
Duct tape or electrical tape
Razor blades or scissors to cut the tape
Waterproof letter and number stickers
Glue gun
Lighter
PAM cooking spray
All of these things can be found at your local hardware store and in some cases in your local supermarket or drugstore.
WARNING: Stoves, lighters, knives, and other tools called for in this Dyeing guide can be dangerous when not properly used.

If you intend on trying any of these tips at home, you must tell your parents exactly what your plans are before proceding. Improper use of some of the tools suggested can result in cutting, burning or staining yourself or your family's property. So ask FIRST, and be careful!
Lacrosse Stick Dying Instructions
The Concept:
The principle is that by placing a waterproof seal on the plastic of the stick, you cover the parts of the plastic that you want to remain the color that it already is. For example, if you were to place pieces of tape cut in the shape of triangles on the stick and dye it red, when you have finished dying and removed the tape you would have a red stick with white triangles. From this point you can dye color on top of color.
The Basics:
There are a couple of rules and guidelines that you must always keep in mind when dying a stick in order for it to be successful.
Make sure that the water that you dye the stick in is hot! Sticks are dyed in water that was just brought to a boil, then we let it cool from a boil so the water was not bubbling then we placed the stick into the dye, water mixture.

Due to the hot water, make sure that if you are dying a stick more than one color, that the tape used to make the designs is firmly attached to the plastic. We like to hold the stick over the stove to heat up the tape a bit, just as was done when we baked the stick and then the stick is placed into the dye. By heating up the tape just a little bit you ensure that all of the adhesive on the tape has melted to the stick. You can also use a lighter to do this instead of the stove. A large lighter like the kind used to light grills works very well.
When dying a stick more than one color you can only dye darker colors on top of lighter colors. Meaning that if you were to dye your stick black first, you could not change the color to yellow after it is black. You must always dye with the lighter colors first, then dye the darker colors on top. Keep in mind that some colors will mix together on the stick at first. For example when dying blue on top of yellow the stick will first turn a shade of green before it turns blue.
Don't worry though, if you leave the stick in the dye long enough it will change to blue.
The Step by Step Process
Plan out the stick design first. Before you buy the appropriate color dye, decide what the color scheme and the pattern is going to look like. Also figure out if your design is possible. This is important so you do not make a mistake and dye the stick the wrong color first. Draw a basic outline and picture first in order to be sure to remember each step and to get an idea of how the colors will look when finished.
Prepare the stick for the first dye. At this point you want to use the tape and letters or numbers to cover the plastic. Remember that what you are about to tape is going to remain white when the stick is complete. Also, remember to heat up the tape a bit to make it adhere properly to the plastic. Unless you want to dye the pocket as well, we recommend removing the string first!
The Dye
At this point you need to measure out how much water is required to completely submerge the stick.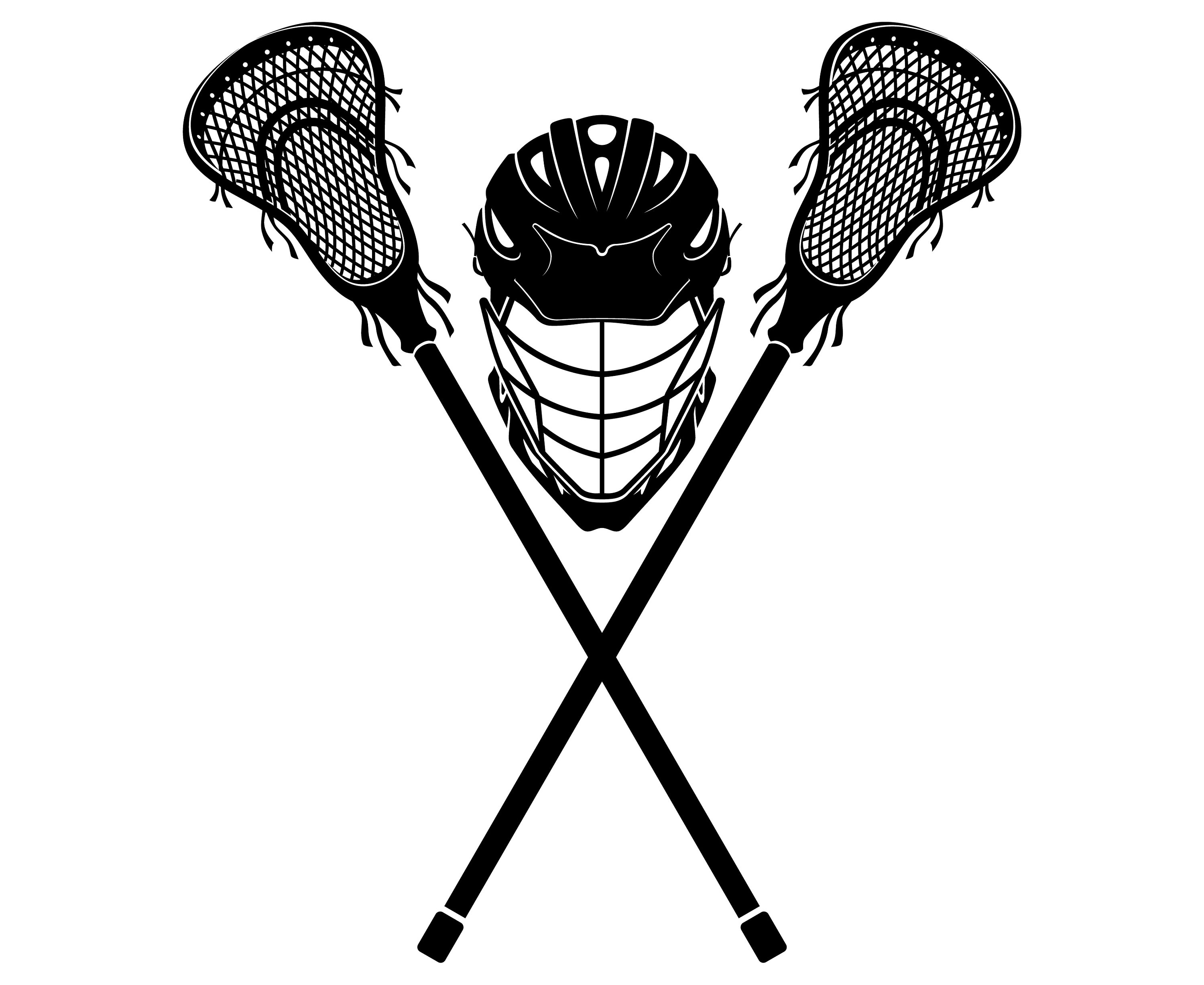 Then place the water in a container over the stove and bring it to a boil. When the water starts to boil, turn of the stove and let it cool a little bit. When it stops bubbling add the dye to the water, you may want to use an old kitchen tool to stir it a bit if it is in the powder form. While the dye is still very hot, place the stick in the dye. It should only be a matter of minutes until the stick has come to its full color, the hotter the dye, the faster it takes to the stick. Also keep in mind one of the rules of dying: If you are dying the stick more than one color, make sure that this is the lightest of the colors.
Removal
We recommend removing the stick when you are satisfied with the color and placing it immediately under the tap of the sink under ice cold water. This will wash off all the remaining dye that could drip off the stick and potentially ruin the carpet in your house or your clothes! It also cures the stick, meaning that the dye will not bleed off of it and onto your hands.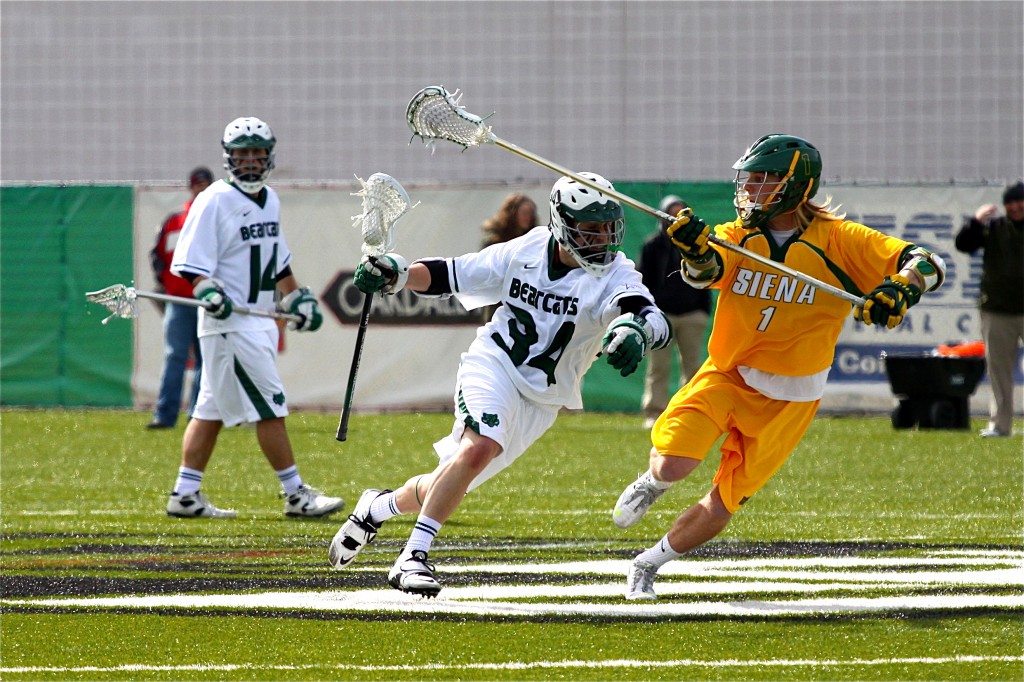 If you have taped the stick in order to create designs, by leaving the stick under the cold water it also makes it a lot easier to take off the tape!
At this point you can dry the cold water from the stick with an old dish rag of some sort. If you are only dying your stick one color than you are ready to remove the tape if you had used any to keep some of the stick white, or if you just dyed it one solid color, then you are ready to string it up and go play.
If you are dying the stick another color, then you need to leave the tape on the stick that you placed on there before to keep the white parts of the stick. Now add more tape to keep parts of the stick the color that you just dyed. Then repeat steps 1-4 again only this time use a darker color dye. Feel free to get as crazy as you can imagine to create a crazy designed stick all your own.
Custom Dye Ideas
Below are some ideas for custom dye jobs and descriptions of how to do them.
1. Confetti
This is a dye job that has become very popular in recent years because it is fairly simple to make and it looks fantastic when finished.
Cut any variety of small shapes from the tape and place them on the stick (triangles, circles, squares, etc). Then dye the stick in a lighter color such as light blue, yellow, red, orange or even Neon green! Then after you have dyed it once, cover the stick with more shapes and dye it a darker color such as Royal Blue, Forest Green, Black.
When you remove the shapes you will have a stick with white and whatever color you chose confetti. If you do not heat up the tape you can allow some color to seep into the white spots, this can sometimes turn out to look good in the end. You can also tear the tape instead of cutting it to get faded edges. If you use duct tape to do this it has a really cool effect. People have been known to make confetti using all types of shapes, this is a really easy dye job to get creative with!
2. Team Dye Job
This is a classic design where you use letters to spell out your name, team, number, or whatever you desire on the stick and dye the scoop one color, leaving a white strip at the corners of the scoop.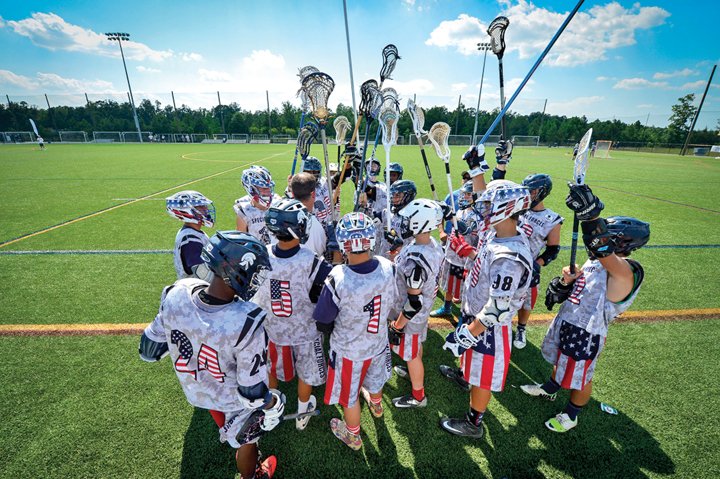 Then dye the rest of the stick another color. This is done by taping off the sides of the scoop and then only sticking the scoop of the stick into the dye. Then when you have dyed the top. Turn the stick right-side up and dye the bottom half a different color.
3. Fades
In order to fade from one color to the next you can simply hold one part of the stick out of the dye as you dye the rest of it. That way, one part will remain its current color while the rest of it will be fade to another color.
4. The Glue gun technique
Instead of using tape on the plastic, hot glue from a glue gun was used to drip and draw lines all over the stick. Then it was placed into the dye after the glue cools and hardens (when using this technique do not put the stick over the stove before dying!). Then continue to use the glue in between different and progressively darker dyes to get some crazy results!
While the stick is still white, drip the hot glue over the stick in the colors that you want to stay white.

Then dye the stick in your first, and lighter color. Then remove the stick from the dye and place it under the cold tap water to cure and cool it. At this stage do not remove the glue strips yet if you want to add additional colors. Now simply add more glue on top of the first layer in new shapes and designs. Then with two layers of glue on the stick dye it in the second color. The dye will change the color of the glue on the stick, but don't worry because the colors under the glue are still the same.
If you want to add more colors to the stick you can continue in the same manner if not then after you have cured and cooled the stick after the second color, you are ready to remove the glue. Because you have laid the sick under the cold water for a while the glue will come off easily and sometimes in just a few large pieces. Simply peel off the glue with your hands and throw it away. (You may need to use a razor blade to get under the first edge, so be very careful if you do!)
5. Pam cooking oil technique
This is a technique that we just recently stumbled upon. Spay a light coat of oil on a couple sides of the stick. Then dye it one color. The oil will not mix with the dye and the result is a very psychedelic splattered look. After you have placed the stick with the oil in the dye, place it under cold water and dry it off with an old dish rag. Drying it off will remove the oil from the stick. If you choose to do more than one color, then spray on more oil after you have rubbed off the first layer with the rag. For the second dye be sure to use more oil in order to keep white and the first color dye in the stick. Then dye the stick again and place it under the cold water. Don't forget to dry off the stick with a rag in order to get the oil off and see your new stick!
6. String dying
While you are dying your new stick. Feel free to dye some of your strings as well. When the dye is hot and you are about to place your stick in the dye throw in a piece of mesh or some sidewall string and nylons. You can also fade the mesh from one color to another. Just be sure not to leave a white dot in the middle that looks like a ball- That is banned in the NCAA rules.
You can also dye a stick with the string in the stick. But if you dye the stick more than one color the strings will turn out as the darkest color you dye. When dying string you will find that when trying to dye parts of strings it is difficult to dye a string and make it change from say red to white at one spot. The string becomes saturated with the dye and fades from one color to the next. This can create some really cool effects however. Before you string your next traditional stick, try dying your nylons a new color.
If you take the nylons right from the string kit, and leave them in the spool with the rubber band around them, you can place half of the spool in the dye and leave the other half out. Then when you go and unravel the string to put it in the stick you will have nylons that fade from one color to white and then back to the color. If you try to dye your stick with mesh in it the mesh will dye faster and the color will spread across the mesh faster than it does on the plastic stick.
7. Combinations
There are no rules to stick design, you can combine all of the techniques mentioned above to get a fabulous looking stick. Feel free to put your team and number on the stick along with some confetti and fade the head from one color to another! Or use long pieces of tape and make a racing strip down the side of the stick. The possibilities are endless, so get creative and have fun.
DIY Rit Dye a Lacrosse Stick – Sew Wonderfully Jamie
So my son made one of these before a few years back but now my youngest wanted to do it to his stick too, so we went to the store, got the dye and glue sticks and got to town.
His lacrosse head was all white so he wanted to make it our school colors (maroon and white) so we picked up Red Rit Dye to help change the color.

Thing you need:
Lacrosse head
Hot glue gun and glue sticks
Rit Dye
Large stock pot
Water

Start off by randomly putting hot glue all over the head. Make patterns or just do it randomly. Whatever color you put the hot glue on, that will be the color underneath. That color will not change.
Once you have all the glue that you want on the lacrosse head, start by filling up the pot of water and bringing it to a boil.  Carefully dump the Rit Dye in the pit. Be very careful when working either dye because it stains and will change the color of any towels you may be using. There will need to be an adult present to help with with this project.
Use the head to start gently stirring the pot to mix the dye up with the water.  Let the lacrosse head drop into the pot of water and check on it after a few minutes.  Depending on the color you want the head to turn, you might need to leave it in there a few minutes or over an hour.  We actually started it before my sons hockey game, went to his game and came back and then took it out and rinsed it off.
You will want to make sure you have towels around when you take it out so you don't drip all over the counter.  Use cold water to rinse off the lacrosse head until it runs clear and no more dye is on the head.
Once this part is done you can start peeling all the glue off the head and see the awesome creation you made.  Make sure and peel all of the glue off so it won't mess it up later.
TADA!!! It's done!! You can now restring the head and use it!! My son decided to put red mesh back into the stick instead of the black that came with it.
Brewing a hot look for Halloween? Here is how you should go for it
Spirithalloween 
Halloween is only a month away! And like other years you must have started sorting the trick to look scariest! Key of this spooky festival, which all of us are pretty aware of, is being intricated with proper costumes and make up. And in this regard if you can't wait to do something bizarre with both your halloween costumes and personification of 'a spooky character', this article is absolutely perfect to revitalize your grey cells. From a Victorian vampire costume to xenomorphic face and body gaiter, you can amus ample references along with draping styles. So, hold your breath for a while and check out the list of coolest yet hair-raising Halloween costumes to absolutely try for 2021 Halloween. Also, get SPIRIT HALLOWEEN DEAL: SAVE 25% on any single item. 
12 coolest yet spine-chilling Halloween costumes 
1.| Costume of The Nun 
Shop at Amazon 
Remember the demonic sister is always watching you! So to resemble a costume like her, you need a white gown of Nun style and a long black overlong cloak which covers tip to head! The x-factor of this costume is putting lots of black and white makeup and bright colored contact lenses! Once you drape like her and mimic her personality; the expression you will receive from your family is just petrifying ! 
2. The devil gown| From Maleficent 
Shop at Amazon 
Everyone knows her and so does her character. And this Halloween to copy her style, you've to drape everything in black; a black glossy gown, black boots and a black crown with two horns. You can also try darn brown as well. And oh, never skip to coat your lips with blood red lipstick!  
3. A person with many faces| face decal 
Shop at Dainyoon 
Spooky costumes do not mean to be scary all the time, it resembles more quirky at times. This idea is one such example. It's a face decal with many eyes and lips; damn confusing to detect where exactly real eyes and lips sit. You can glance at Dainyoon to scroll similar sets. 
4. Costumes Of Annabella| The Conjuring 
Shop at Amazon 
You must not lampoon with this doll! Afterall you know what she is! Hence, to totter your friends being weak on knees, you may drape like her. So, grab a silk old style frock, make double splitted braids and patt a doll style face makeup on your face. 
5. Vampire costume 
Shop at Spirit Halloween 
Ready to muse Count Victor Draculla to moor on the earth once again on this Halloween? Simply, drape like him. Don a classic Victorian style black suit and long length blazer with a white shirt and black bow. And ofcourse carry a metal capped blck stick in one hand while black hat on head! To enhance the scary effect you can put on some dark eye makeup!  
6. Beetlejuice costume 
Shop at Spirit Halloween 
To look the character of Beetlejuice you must be accompanied by a pair of black and white striped blazers and suits. Must overpaint your face with gaudy makeup, flashy red lipstick and dye your hair with vibrant colors namely green , blue etc. Hidden science of BeetleJuice makeup makes a knot with a bedizen appearance rather than being frightening. So, go on with this style if you're a bit faint hearted to carry real spooky costumes. 
7. Hocus Pocus witch costumes 
Shop at Spirit Halloween 
If you've an intention to drape like the witches of the Hocus Pocus film who all got resurrected after 300 years with a deep grudge to take revenge, being ready with a Victorian style costume or gown is what you mainly need. The later inclusion would be a brown wig and black knee boots. 
8. Medusa women costume 
Shop at Amazon 
Have you given a thought to be costumed like Medusa or the monstrous Gorgon of Greek mythology? If you don't then do try it for this Halloween.  It's a truly quirky idea to spritz inexorably eerie feelings among your friends. Caution!  The  costumes of the witch with venomous snakes on the head instead of hair are not for weak souls!. 
9. Costumes of She-Ra 
Shop at Amazon 
Superheroes are always admirable as coolest Halloween costumes. Perhaps, lighting up a positive spirit in the midst of dark vibes and spirits could be a reason. However, you've to drape all white to make an apparent similarity with this Disney super woman.Wearing a white frock along with golden hand and leg armour with a golden crown in head are the main costumes of this character.  
10. Costumes of Edward Scissorhands 
Shop at Amazon 
Some of you must have reckoned the morose and cute demon Edward from the respective film who had arms of scissors instead of hands. This Halloween you can try his costume as well. You've to don a special black leather made costume and with a huge whitish makeup to portray his character. This one is a little chaotic to carry but it's okay if you're penchant to startle at the party. 
11. Xenomorph costume 
Shop at Amazon 
How to look like a real zombie or scary allein? Being costumed with xenomorphic ones would be the reliable answers. Although, this one is hectic both to drape and carry forth but it's outcome is absolute thrilling and rouge once you're on with it. The entire costume comes in various parts, you can try various online shopping sites to buy the one or set you wish. 
12. Scary Clown| Joker costume 
Shop at Spirit Halloween 
To share a costume similarity with a scary clown you've to be accompanied by a proper draping set, gaiters and wigs. You may navigate inside the costume webpages of Spirit Halloween which showcases plenty of varieties and select the one you like. 
With these 12 Halloween costumes let's anticipate what you've been impressed by! However, you can customize your own style as well and feature the scary character you like! Afterall basic principle of this day is either to trick or treat! So, drape the way you want, fright others the way you love!  
BigBigPlaces – Awesome lacrosse Mom Active Lacrosse Player shirt
This is one great way to put your personal stamp on a gift for someone special (or tailor it specifically to that someone special's style). Start from scratch to make your own concert t-shirts, college t-shirts, funny t-shirts, gym t-shirts, mothers day t-shirt, fathers day shirts, valentines day shirts, birthday shirts or much more special occasions. Every order is reviewed by an expert artist, confirming that your design turns out exactly the way you envisioned it! Custom clothing is also an excellent gift idea for tradeshows, reunions or corporate gifts.
If you love this shirt, please click on the link to buy it now: Awesome lacrosse Mom Active Lacrosse Player shirt, hoodie, long sleeve tee
Social media is like that. You can be open to a stranger living 10000 miles away than confess to your family. Without social media, would we have known there are so many men wearing panties! I unhappily wore boxers and boxer briefs because that is what guys are suppose to wear, right!? I never did like either since they are boring, gave zero anatomical support, showed too much of my anatomical outline down my leg, boxers often rode up the back and the front bunching up and/or pinching my anatomy, uncomfortable thick waistband with thick fabric making my skin unbreathable making me hot down there, my anatomy moving around causing friction creating a semi or sometimes getting rubbed raw.
I think more and more men are wearing women's underwear and not ashamed to admit it. And I admire them for sharing photo's with everyone. I think women have more choices with style, cut, fabric and color and men should have the same choices. In this day and age I think that some fashion trends are changing in that clothing is becoming gender neutral. I think underwear should be practical and fun to wear and that men should wear what ever underwear they enjoy wearing. I think that it's because they feel safe talking about wearing women's nylon panties and lingerie, as well as showing other's the lovely feminine lingerie that they enjoy wearing. I haven't found any other website that's anything like this one and I probably won't find any place where so many boys and men enjoy wearing Ladies Lingerie and Women's Underwear.
A) Because we finally figured it out. And that your panties simply feel better than ours in terms of comfort. Plus have you seen what we have to choose from? It's so not sexy! Most guys are afraid to give into their feminine side. But I'd be willing to bet, that many/most of them would be having a more fulfilling sex life, if they would let their heads get out of the way, and just embrass themselves in terms of your the real you. Because it's a form of exhibition of a still somewhat taboo subject. It's prof that look at me I can do this . I wear panties and love it. A picture is worth a thousand words. When I see pictures of men wearing panties it sort of reaffirms me that yes other men do it too so can I. NYLON GRANNY PANTIES ON ENJOY So many men are finally coming out to show they enjoy wearing panties because they see others sharing,it makes them more comfortable with their wearing them. Once they have they will also generally share a pic with others and or post online. Its a form of expression and exhibition also. That said I think we just enjoy them and the way they make us feel, more in touch with our feminine side.
Product detail for this product:
Suitable for Women/Men/Girl/Boy, Fashion 3D digital print drawstring hoodies, long sleeve with big pocket front. It's a good gift for birthday/Christmas and so on, The real color of the item may be slightly different from the pictures shown on website caused by many factors such as brightness of your monitor and light brightness, The print on the item might be slightly different from pictures for different batch productions, There may be 1-2 cm deviation in different sizes, locations, and stretch of fabrics. Size chart is for reference only, there may be a little difference with what you get.
Material Type: 35% Cotton – 65% Polyester
Soft material feels great on your skin and very light
Features pronounced sleeve cuffs, prominent waistband hem and kangaroo pocket fringes
Taped neck and shoulders for comfort and style
Print: Dye-sublimation printing, colors won't fade or peel
Wash Care: Recommendation Wash it by hand in below 30-degree water, hang to dry in shade, prohibit bleaching, Low Iron if Necessary
Vist our store at: BigBigPlaces
This product belong to hieu-vu
90,000 The best professional hair colors in 2021: TOP-10 rating
Not everyone knows that in some European countries it is forbidden to dye natural hair with ordinary dyes from the supermarket. They are intended primarily for dyeing hairpieces and wigs. Professional dyes have a more gentle composition, higher in quality. Consider the TOP of the best professional hair dyes.
What is the difference between professional hair dye and ordinary hair dye?
Conventional dyes are in demand due to the availability and ease of the procedure.The set contains everything you need for painting. Also the price is very pleasing. But with a detailed study of the composition, there is an understanding that such funds are not only harmful, but also dangerous. They have a bad effect on the condition of the hair, they can penetrate through the scalp into the body.
Professional paints have a gentle composition. In addition to pigmenting components, they contain caring ingredients. During dyeing, the strands are saturated with vitamins and minerals. After the procedure, the hairstyle changes color, the curls become more shiny, silky, and acquire a healthy look.
The main difference between professional paints is that the oxidizing agent is selected depending on the state of the hair. Solutions with 1.2% to 12% oxidizing agent are used. The pigment is only peeled, gently affects the structure of the hairs.
How to choose a professional hair dye?
The main criteria for choosing a professional coloring agent:
Color Try to choose the right shade that doesn't ruin the base color.The color type of appearance should also be taken into account.
Packaging quality. It must be complete, without dents. It is better to refrain from buying paint with torn packaging.
Composition. Choose products that do not contain harmful components. The safest are products based on oils and natural substances. It is better to abandon ammonia compounds. Their effect is identical to that of ordinary paints.
Manufacturer. It is recommended to give preference to trusted brands.Products with incomprehensible, poorly readable names can harm your hair.
Place of purchase. There is hardly a professional dye in the markets and in hypermarkets. It is better to buy in specialized stores, including on the Internet.
Rating of the best brands of professional hair dyes
List of the best professional paint brands:
Schwarzkopf. German brand, products contain a minimum amount of harmful components.Paints give a rich, deep color, mask gray hair well.
Godwell. The manufacturer from Germany, the coloring agents are distinguished by a natural composition without ammonia. After dyeing, a rich, beautiful color remains on the hair for a long time.
Revlon Professional. An American brand that produces ammonia-free dyes. A rich palette allows you to choose the desired curl color.
Paul Mitchell. The paints are manufactured in the USA. After use, the hair becomes silky, shiny.
Matrix. Dyes are made in America. The line has many extravagant shades.
Loreal Professional. French brand, the paints have a creamy texture, do not contain ammonia. The palette contains over 100 shades.
Tigi. British brand is made in America. Has been selling cosmetics for several decades.
Estel. Manufactured in Russia. It can compete with foreign brands.
The best professional hair colors
Consider the best professional paints, according to customer reviews.
TOP-10 professional paints for home use
Ordinary dyes that women are accustomed to using can permanently damage hair. Also, the result is unpredictable. The use of professional paints at home will eliminate this risk. Top Representatives:
Estel Princess Essex.Inexpensive paint that does its job well. The result is a uniform color, gray hair is perfectly masked.
Tigi Color Creative and Color Gloss. There are a lot of colors in the palette. Oxidants of low percent, which allows not to spoil the hair structure, but also to take care of it carefully.
L'oreal Professionel Majirel. Products with a creamy consistency that are convenient to use on their own. Contains oils that restore hair structure.
Kapous. Several lines are produced under this brand: with ginseng extract, with hyaluronic acid, with rice proteins. Not only gives a rich shade, but also heals.
Igora Schwarzkopf. The colorant has been available for over 50 years, but manufacturers continue to refine the formula. After application, a rich and long-lasting color is obtained.
Davines Finest Pigments. The ammonia-free paint saturates with nutrients, the pigment gently penetrates and is fixed in the structure of the curls.
Londa Professional. A long-lasting dye with lipids that envelop the surface of each hair. The hair becomes more ordered, silky.
Selective Professional. After application, an intense, uniform color is obtained. The low amount of ammonia in the composition guarantees a stable result.
Matrix. The brand produces several lines for dyeing. You can pick up both ammonia and ammonia-free formulations. Great for full-fledged painting and toning at home.
Wella Professional. Hypoallergenic paint that provides intense color, the result is long-lasting.
Pay attention! All professional products intended for use at home do not contain any additives for full coloring in the packaging, in contrast to household products.
TOP-10 professional hair colors without ammonia
Ammonia-free dyes are designed to gently change the shade of curls:
L'oreal Majirel.Differs in an extensive palette of shades, looks after, has a healing effect.
Kapous. Contains organic oils and vitamins to heighten hair. However, it contains substances that cause allergies on the sensitive scalp.
Matrix Color Sync. The innovative formula of the dye makes curls smoother, more vibrant and vibrant.
Schwarzkopf Professional Igora Vibrance. Curls not only acquire a persistent and beautiful color, but also become more voluminous.
Barex Italiana Permesse Blonde Assurances. Contains shea butter in the composition, is capable of dyeing curls up to 5 tones from the base color.
GKhair Oil Hair Color. Oil-based dye that perfectly covers gray hair. After application, the full-fledged structure of the hairs is restored.
Estel Sense De Luxe. A remedy with a healing effect, it contains oils, extracts, ceramides, panthenol.
CHI Ionic Shine Shades. Laminated paint.The pigment is sealed, as a result of which the color is preserved for a long time, the curls acquire a healthy shine.
Matrix Socolor Beauty. Coloring products with a rich gamut and vitamin composition for the recovery of hair.
Redken Chromatics. Saturates curls with bright pigment. The result lasts about 2-3 weeks.
TOP professional hair colors with ammonia
Ammonia, despite the fact that it is a harmful substance, provides color stability and saturation.The shade remains for a long time, does not require frequent correction. Professional paints have a low ammonia content. Best remedies:
Wella Professionals Illumina Color. Laminated paint with long lasting results.
Lisap LK Anti-Age Creamcolor. Handles gray hair well.
Farmavita Life Color Plus Professional. Gentle ammonia color with Brazil nut extract.
TOP of the best professional premium hair colors
Premium paints – expensive cosmetics with high quality and nutrient content:
Selective.An Italian brand that restores the correct hair structure. Curls acquire a healthy shine.
L'Oreal Professionnel Majiblond Ultra. Differs in durability and gentle effect.
Redken Chromatics Ultra Rich. American products renowned for their exclusive tones with a natural glow.
MACADAMIA Natural Oil Cream Color. Not only colors, but also cares for the curls, providing a healthy shine, silkiness, smoothness.
Kydra Creme.An ammonia-free product that provides stable pigment with a plant base.
TOP of the best inexpensive professional hair dyes
The best professional tools in the budget price segment:
Kaaral Professional AAA Color Collection. Italian cosmetics with low ammonia content. The pigment penetrates the hair shaft using coconut oil.
Kapous Professional Studio Professional. The natural base of the coloring formulations provides a gentle effect on the curls.The color lasts for about 1 month.
Estel Professional Princess Essex. It has a rich palette of warm and cold shades, makes the hairstyle orderly, and gives a healthy shine.
CONCEPT Profy Touch. Well suited for painting gray hair, contains a minimum amount of ammonia.
Using professional paint at home
Painting hair with professional means is a complex process that requires strict adherence to the instructions:
Prepare the color composition correctly.If it is necessary to use an oxidizing agent, it must be mixed with the pigment.
Start staining from the back of the head.
When the entire mass of hair has been processed, gently comb it, slightly lifting the comb up.
You should not cover or insulate your head.
After 25-30 minutes, wash off the product with shampoo, use conditioner for colored hair.
Professional hair dye is a good way to change your appearance without harm.Sparing and medicinal formulations will improve the condition of the curls. The new hairstyle will look healthy.
90,000 Test of love | Penfox ?
Prologue
In our life, nobody is interested in the person himself, but only in his big wallet. But sometimes people still understand that for greater happiness he does not need money and sex, but the man himself. With all the habits, paddocks. After all, a person falls in love not with the wrapper, but with the filling.
From my very first day in high school, I was an outcast.After all, I was not like the others. I did not wear short, defiant skirts, I did not paint my eyes brightly. It was very wild for me. Plus, my relationship with my family was close to zero. With the birth of my younger brother, everyone forgot about me, as if I had never existed in their life. I did not stop studying, but every day I brought good grades, with the hope that they would notice me today. Unfortunately, this did not happen.
After I met Matt, the captain of the lacrosse team.My life began to change. I began to be noticed at school. For me it was somehow strange or something. Everything was going very well. After leaving school, Matt and I moved to Seattle, I went to university, got a dorm room, but I never showed up there. I left all my loved ones, completely put an end to that terrible life. We couldn't enjoy each other's company. But one situation knocked me down. I decided that this person is not worthy of me and we should no longer link our lives with each other.
My acquaintance with my neighbor happened brightly, but at the same time dim, but when I saw her friends … They were so different from all those I have ever known. They frightened and at the same time embarrassed with their appearance. For them, these parties with a huge amount of alcohol were already commonplace. They did not control their behavior, they went beyond the bounds of decency, as they said: "Why be ashamed? This is a university, have fun while there is time. "For me at first it seemed crazy, but then I quickly entered this whirlpool.It was then that he became for me something more than just an acquaintance who sits at this table.
From the very first meeting Max turned my life around. She has become completely different. Everything was new. Sometimes I think how lucky I was to be in the place of those heroines about whom I watched all films and TV series. And I myself can't believe that this is happening to me. Would I have acted differently if I had known how everything would turn out? Of course not. After all, he brought new colors into my life, a passion from which I lose my head, because my mind at this moment sees and feels only him.But sometimes I think about all the actions with which he hurt me. They make me curl up into a ball and bellow all night. After all, you can't erase it, he forever left traces of pain in my wounded soul.
I am convinced of only one thing: after Max trampled my heart and life, they will never be the same.
Do you like it? Share with your friends!
Dasha Botan
Word of mouth is the best way to get people talking about you! Share your creations on social media using the hashtag I write on #penfox.
90,000 read free online full version of the book by Nenia Campbell (Chapter 4) # 6
Chapter 4
Val scrutinized the students in her art class to see if Gavin was really in her class, as he claimed.
It took her longer than she expected to find him. For such a tall guy, he disguised himself with amazing ease. A black T-shirt and dark jeans made him almost invisible in school, where ninety percent of students wore this color, considering it incredibly fashionable.
Nevertheless, she found him and, taking advantage of the fact that he was distracted by drawing with charcoal, began to study carefully. Gavin was sitting in the back row, which didn't surprise her in the least. Around him was a mess, which he himself made. In "Petville" he seemed rather squeamish to her (despite the obvious indifference to blood), but now his hands were stained with the charcoal with which he painted. She watched him adjust his glasses, leaving black spots on his face.
Val felt a wild urge to laugh and stared at her work before it could break out.Stupid. If he no longer considers her an idiot, then unpleasant laughter and snorting is a sure way to nudge him in that direction.
Most likely, he considered her a real child.
Her expression turned serious as she studied the slight advance she had made in her drawing. She decided to sketch the kittens from the pet store – and then, later, work them out in detail – but she had problems with the correct expression of their faces. Their eyes looked too human.
Lost in thought, she tilted her head this way and that to examine the drawing from a new angle. We can probably say that it came out on purpose. What is this … what is it called? – anthropomorphic image.
But she will know, and this minor flaw will bother her until she gets it right.
A cold, damp sensation tickled her skin as she shifted her position, completely forgetting her wrist in her fingers. Val pressed her cheek to the paint brush for god knows how long.She got up, holding her hands carefully in front of her, and went to wash in a trough-like sink built into the far wall next to the door.
Orange paint dripped from her palms and spiraled down the drain, looking too much like blood. Just like a shot from the iconic shower scene in the movie Psycho. Val shook her hands over the sink and tore the paper towel off a nearby roll, turned and nearly slammed right into James Lewis.
– How are you? – he asked. – You have paint on your nose.
– Excellent. She wiped her face with a damp paper towel. – Erased?
– Yeah, now it's okay. By the way, I got your Facebook message.
Val punched a hole in the paper towel.
– Got it?
– Uh-huh. Sorry. I didn't have a chance to answer until this morning, and then I had to rush to class. I was busy. Football, you know.
If Gavin was dark-haired, James's hair is blonde. Reddish, about two shades darker and darker than hers, with a golden tint.He had charming green eyes and a crooked smile that could break his heart.
And now he decided to use it. "Oh, damn it," the version that helped him to successfully get out of trouble, and more than once. She might even have affected Val if it weren't for such a blatant lie. Val was torn between amusement and irritation. Usually she believed people, not thinking whether they were lying or not. She rarely managed to catch someone outright lies.
But if she points out to James his lies, it will do no good.Only make her look like a desperate stalker, following his profile to see if he was online. Like she's some kind of nutty stalker. Lisa has told her many times that boys don't like girls who are possessive, which is of course silly, given how owner boys behave.
Val remembered her pursuer and shuddered in horror.
"It's okay," she muttered.
But in reality it was not so.
James' smile widened.
– Good. I'm glad. Because I felt disgusting about it.
"I bet it was."
– But I would still go to the movies with you and Lisa.
Val said nothing and he continued:
– What movie were you going to see? There is one cool action …
This word is "cool" again. What made Lisa think this invitation would work? James wasn't even interested in her. She is sure of it. In any case, not as a girl.Guys don't look that way at girls they like.
He clearly does not care about anyone but himself …
-… excellent rating by reviews…
A knock from the back row gave Val a plausible excuse to distract himself from James's rambling monologue. Gavin disappeared from his seat, and his tablemate stared at the floor. Val's eyebrows went up in amazement. She saw the top of his head peek out from the table. What can he do?
– … not a big fan of melodramas, but I'd like to watch …
He must have dropped something, she decided.
– … a good dramatic comedy …
Oh, he's coming here!
-… and some kind of thriller, for that matter… – Even James, though immersed in himself, noticed that the audience reaction did not correspond to his ideas about what delight is. He glanced back to see what had caught everyone's attention and curled his lips. This was a sign of annoyance, as Val pointed out.
Ignoring them with the carelessness he undoubtedly practiced in front of the mirror, Gavin threw away the broken charcoal pencil, now broken into two separate pieces.He washed the blackness off his hands and face, and then reached for a paper towel, accidentally grazing her side. She glanced at him, and it seemed to her that he winked.
– Anyway, do you like any of this? Lisa says she doesn't care.
Val crumpled up the paper towel that she had been twirling in her hands all this time and threw it into the trash can.
– I'm not sure.
– Is it difficult to choose a film?
– No. Really busy. I'm on the track and field team, you know, "she added, unconsciously mocking his old tone.Seeing his blank look, she added, "You know I'm on the track and field team, don't you?"
– Uh, yes. I think I've already seen you in uniform. You wear it on game days, don't you?
Wearing a sports bra and spandex shorts to school? Days of games? For heaven's sake.
– No, I don't wear it to school. And we don't have days of games. I'm not a cheerleader. – Val is tired of hinting. – I'm in it in my profile picture. On Facebook.
"You would know if you really looked at my profile, liar."
James had the guts to blush.
– E.
Val looked at him.
– You didn't even read my message, did you?
– I read the email notification on my phone. Same.
No, it is not. She sighed.
– I don't think anything will come of it.
"Hey," he said, slightly defensively. – Do not be offended, just running is not mine.
– It's not about running, – a hot splash of irritation covered Val."How can you be so stupid." This gave her courage. Enough to say:
– I don't think you understand what I'm talking about. Lisa – our Lisa – tried to bring us together.
The sincere surprise on his face hurt more than if he had insulted her directly.
– What, arrange a date?
– Yes. Date.
– Lord.
– It doesn't matter.
James shook his head.
– I never thought …
– True.Never mind. – Suddenly feeling that she was about to cry, Val walked past him and walked to her seat, but James grabbed her arm.
– Hey, wait. Sorry.
Val pulled back – but carefully.
– It's okay.
"However, I don't care."
Actually no. This is where the problem is. She cares.
Val ran her now clean fingers through her hair, staring at the unfinished drawing of the kittens. She reached for the thinnest of the brushes to begin working on the detailed markings of their striped fur, as crumpled paper touched her wrists that lay awkwardly in front of the old tin can containing the brushes."What is it? I didn't leave anything here. "
She unrolled the paper to reveal black pencil notes made in charcoal.
"I think you are amazing."
Val's heart skipped a beat. Delightful? I AM? She looked up to see Gavin staring at her, chin resting on the back of his hand. She pointed to the note and he bowed his head with a slight smile.
( Maybe I would like to … get to know you, that's why ).
Val swallowed.
Oh, wow. I see, she thought.
* * *
Val was oddly elated as she walked through the crowded cafeteria to sit down at her usual table with her friends. Rachel and Lindsay were already sitting there. Their biology teacher is actually pretty cool and always left their class a few minutes early as long as their lab tables were clean, which meant they were always first in line for hot meals.
Even though she usually carried lunches in brown bags with her in high school, her mother insisted that Val take them now.As she unpacked her fifth peanut butter banana sandwich in a week, Val looked at her friends' greasy pizza and wondered how hot meals might be worth indigestion.
– Will this friend of yours join today? Rachel asked with her mouth full. – Princess "What's Her Name"? [3]
– Lisa?
– I prefer "Like Her Name."
"Should," Val said. "Lisa doesn't have a phone, so I don't know. I cannot write to her.
"Oh no," Rachel feigned horror.- Did the princess lose her phone?
"Lisa isn't that bad," Val said automatically, wondering if she was so sure of that herself.
– Maybe.
"No," Rachel said. "I will never forget what she told us.
– You mean … oh, about the fact that she called us "cute couple"?
– What? Val asked in surprise, looking from one to the other, not quite sure if they were serious. – When did it happen? You never told me that Lisa thinks you …
– Lesbians? Lindsay asked as Rachel said, "Dykes [4]?"
Lindsay glared at her.
– Rachel, this is insulting!
– We both know that this is what Miss Thing was really thinking.
"I'm sure Lisa didn't mean anything bad," Val said, embarrassed.
– She asked if I listened to "Indigo Girls" [5].
– And she asked if I played lacrosse.
"You played lacrosse," Rachel pointed out.
– Yes, but she didn't know it. She just assumed.
Rachel nodded.
– She also asked how we feel about Tegan and Sarah.
Oh my God, Val thought as the tray crashed into the fake wooden tabletop with a crash.
– How do you guys always get here so quickly? I'm kidding, no offense.
Lindsay's eyebrow arched so high it almost disappeared into her hair. Rachel looked like she couldn't decide whether to laugh her hard or be offended. To Val's relief, she limited herself to a scornful snort and took a large bite of pizza.
Lisa looked at her for a minute, then turned to Val.
– You know James told me you were mad at him?
– I would not say that I am angry. Rather, I feel irritated.
Val explained the situation in the drawing room, taking turns meeting the eyes of all three girls.
"I think it's all for the best," she finished. "I mean, he looked surprised.
"What a moron," Lindsay said."He's not even worth your time.
Lisa shot her an annoyed look.
– I'll talk to him, Val. I'm sure he doesn't think so.
– And it seems to me yes. "Do you wear a uniform to school on play days?" Anyway, I would prefer to put this whole game in "deaf phones". Too much is lost in retelling.
"Amen," Rachel summed up.
"Boys," Lindsay agreed, nodding. – Are they capable of not forgetting anything?
"Things with an X in front of them," Rachel suggested.- Like X-Box. And movies rated X.
– In that case, I'm sure they'll be thrilled if we wear our uniforms on a date.
– And they'll stare at us like cheerleaders? No thanks. – The anger in Lisa's gaze became even more furious. She was a cheerleader. As if she had just realized this, Rachel opened her eyes wide, looked at Lisa and said innocently:
– No offense.
– What about that guy, Val? The one you told us about earlier? The older one?
– Yes, the one who called you adorable.Rachel flapped her eyelashes.
– Who is older? – asked Lisa. "Why didn't I…" She trailed off, focusing an unkind gaze on Val. – Oh no. You are not …
"It's not like that," Val muttered, cringing under Lisa's gaze.
– Oh, you know Val's mysterious guy, Lisa? Lindsay asked with a grin.
– Who is he? Rachel asked. "I want where, when and how, but especially where."
"Don't tell them," Val pleaded.
– Why not? If you don't want to listen to me, then maybe your best friends will tell you why Gavin Mecozzi is bad company.
– Which Gavin?
"Oh shit," Rachel said. – I think the same, the author of the "List of Victims".
"No," Lindsay wondered. – He?
– Who? – Val could not understand in any way.
– Your boyfriend, Val, is known to almost everyone at school as the guy who wrote the Victim List.
– What is the list of victims?
– The so-called list that school shooters write so as not to forget who they are going to kill in the first place.
"Charming," Rachel said dryly.
Val turned pale.
– Did he really make it up?
This time Lindsay answered.
– Not really. It's a long story, but it mostly boils down to an essay he wrote for an English lesson last year. Based on The Most Dangerous Game by Richard Connell that was asked to read.
– This is a short story about a shipwrecked guy who was washed ashore by a crazy old idiot who also turned out to be a former hunter.And you know what? He decided that ordinary hunting had lost its appeal …
"Hunting to kill animals," Lindsay added to Val.
"Yeah," Rachel said. – So, he … Count Zoloft …
– Zaroff.
– Zoloft, Zaroff, what's the difference. Count Zaroff decides that from now on he will hunt people, since they are the only worthy challenge left for him.
– The Victim List guy – I mean Gavin, I'm sorry – said something interesting about this book.
– Yeah, interesting, sort of like "scare the hell out of people."
– The teacher put his essay on public display. She said that it was amazing, and exactly one for which you can safely put the highest score, and blah blah blah, but everyone knew that he was hanged because the school wanted proof, in case he really did something like that pretends they are not responsible or something.
"Something like a shootout at school," Rachel clarified.
– What was the essay about? Val asked.
– In general, it was a really creepy work about what the chances of survival for this or that group of schoolchildren, if they find themselves in a similar situation, – explained Lisa, intercepting the conversation, – nerds, cheerleaders, members of a theater group, athletes …
"So this is not a list of victims," Val said. "I mean, it's creepy, but it doesn't seem like he really seriously considered such a thing …
"The cheerleaders will probably die first," Lisa said, "because despite their natural athleticism, they never knew what it was like to really run."This is a direct quote. His essay hangs on the wall of my class. I read a part and had to stop.
"I've read something too," Lindsay nodded. – He wrote that one of the shy, quiet guys who no one suspects is most likely to survive, because his or her "obvious weakness" will cause them to underestimate, thereby increasing his or her chance of using one of their natural advantages …
– What the hell got you interested in this psychopath? – asked Lisa.- Because I thought we had already discussed everything. Did he tell you something?
"… delicious," Rachel said in an undertone. Lindsay slapped her hand.
Val wished she had anything cold with her. She blushed like a tomato.
"Oh my God, Val," Lisa moaned. – He will chew you up and spit you out.
"Maybe he won't spit it out," Rachel grinned. – Not if he likes her taste.
Lindsay hit her again, harder.
– Oops! Not with a lacrosse hand. It hurts like hell!
Lisa looked at them angrily.
– Val, believe me or not, he will hurt you. I don't want to watch this happen.
"Hey, maybe he's a really nice guy," Rachel took pity upon seeing Val's frustrated expression. "I mean, Stephen King is undoubtedly a darling and look at all this convoluted crap he writes.
But Gavin isn't that good, Val thought desperately.He said so himself.
She felt as if she had declared out loud in front of everyone: I am the girl who likes the guy who wrote the Victim List – like being trapped in a room with no doors.
* * *
When Mrs. Kimble asked:
– How's school going, Val? She looked a little alarmed when her usually chatty daughter replied with a grunt. – Did you have a bad day?
"Bee," Val said.
– Bee?
– High school sucks.Val wrinkled her face. "Everyone's so… so superficial.
– Oh, Val. You sound like you've learned something new. High school hasn't changed much since I was a girl, and I think it has stayed pretty much the same since public schools ever started.
– It still sucks.
– Many things in the world are like this, and we can do nothing with ninety-nine percent of them.
Val crossed her arms.
– Can't wait for college.
"Well, I'm afraid you'll have to wait a bit longer," the mother said dryly, "so I would advise you to have the best of your time.
( I think you are adorable ).
Val hesitated.
– Something good happened today.
– Oh? And what was that?
"There is one boy at school, and I think… I really think I might like him." Val frowned again. "Like" isn't exactly the right word.It was too easy. Too easy.
Too innocent.
Mrs. Kimble smiled sideways at her.
– Oh, that's great, baby. Is this the one you told me about? The one with whom Lisa is playing matchmaker?
– "Plays" a matchmaker? Kind of pretending? Val frowned even more. – No. James is a moron.
– I see.
Silence.
– So who is this new mystery guy? Lisa introduced you to him?
Val stamped her foot.
– Mom! I can find boys without Lisa's help!
– Don't stomp! And I didn't say that you can't. Her mother looked hurt.
– You meant it.
– God, how sensitive you are today.
Val stared ahead at the car stuck in front of them. After school, the traffic was always disgusting. There was a sticker on the bumper of the car: "My Child is a Derringer Honorary Student." The driver, however, added another part full of irony, which read, "And all I got is this stupid sticker."
She could bet the child's parents had no idea how disgusting it was.
– Come on. Do not be angry. Spread it out. I'm dying of curiosity.
Val was tempted to torture her a little more – she was still angry about her mother's assumption that she could not find the boys herself, mainly because it was starting to look like it might be true – but Val was too worried to be silent for a long time, and the mother's enthusiasm proved difficult to resist after Lisa's sharp skepticism.
She managed to hold out one more block before she blurted out:
– He is a graduate.
Mother's expectant smile disappeared.
– Oh … god. So he is eighteen. That's quite a lot.
"You too."
– Just four years older. We study at the same school!
– And next year he will be in college, and you, little miss, will still be in high school. She rolled her eyes at the look on her daughter's face.- Okay, I get it. We will discuss this later. So he is a graduate. And that's all you know about him?
– He's in my art class.
– Mm-hmm-m.
– He works at Petville.
Mrs. Kimble raised an eyebrow.
– Mom!
"I didn't say anything," said Mrs. Kimble.
– You looked at me.
– Oh, Val, for heaven's sake. Did I look at you? How old are you?
There was silence.
– Well, Miss Resentment? What is this boy's name?
Val did not reply.
– Should we call him MM like Mystic Boy?
– Oh my God, what a horror! His name is Gavin. Gavin Mecozzi.
– Sounds Italian.
– Perhaps because it is.
"When I was a child, I knew an Italian," said the mother thoughtfully. – He was a distant relative of the mafiosi. He bragged about it often. It drove the girls crazy – that, and the fact that he looked like a young Eduardo Versategui.He also drove a Harley, as I recall, and wore a Ferragamo leather jacket.
– Gavin is not from the Mafia.
– What then does Mr. Mecozzi do in his free time?
To which Val could answer, much to her relief.
– He plays chess. He is a grandmaster.
– Well! This is impressive, of course. Your uncle plays chess. Have I ever told you this? He called them "intellectual sports". – The minibus entered the driveway.Val jumped out of the car, slinging her backpack over her shoulder. "Your father played too, although Charles was never as good as Earl.
– I remember. Dad tried to teach me when I was little.
– Really? Oh yes, I completely forgot. It seems that all this was so long ago. She rummaged in her purse for the keys, and casually asked, "What does Lisa think of this Gavin?"
– Lisa is stupid. Just like James.
As soon as the mother opened the door, Val immediately went to her room.The first thing she did was change from school clothes to flannel pajama pants and a tank top. Secondly, it was worth washing off the makeup, which already began to feel tough and itchy. Third, she was going to sit at the computer and stay there until she was called to dinner or until she was tired enough to take a nap on the bed.
James finally decided to send her a message. The headline was simply titled "Sorry." How original. Val deleted the message without reading it. She knew that if she read it, she would either feel sorry for James, or she would be even more angry than she was already, and in any case, she would most likely do something stupid herself.
Also, he's probably only apologizing because Lisa made him.
Val was Lisa's best friend, even before Lisa met anyone else in school, and she resented the fact that Lisa had been so closely associated with James lately. Moreover, she was absolutely sure that the two of them hung out together much more often than with her.
Not that she wanted to hang out with such stupid people, but they could at least suggest.
She had another message besides James.Val straightened a little. Again from that weirdo in a Victorian outfit.
"What do you want? And how far are you willing to go to get it? "
The message was sent at 4:21 am.
The thought of a man lying awake in the middle of the night thinking about her and what she wants made her nauseous – nausea and a little strange excitement that could not but frighten.
"Leave me alone," she wrote. "Why are you bothering me all the time?"
The answer came instantly.
"Because you fascinate me."
"What strange things you say. Do I fascinate you? "
"Among other things."
Val hesitated. "Everything else?"
"A gentleman will never tell."
"Then why are you doing this, freak?"
He did not answer. Val breathed a sigh of relief and began responding to other messages from people she really wanted to talk to.People who weren't ugly. She posted a comment to one of her workout friends about the next meeting, and when the screen refreshed, another message notification awaited her.
"Because you're beautiful when you run – and that makes me want to chase you more." The red flag flashed again. "By the way, you never answered my question."
His question? She scrolled through the messages in confusion until she came across the first one he sent her.What does she want and how far will she go to get it?
She pressed the lock button and turned away from the laptop.
Right now, her only wish was for her big, stupid life to start making a little more sense.
.