Box lacrosse coaching tips: Box Lacrosse 101 | Halifax Thunderbirds
Box Lacrosse 101 | Halifax Thunderbirds
Chet Koneczny | April 10, 2020
To say that women are different than men is a broad and generally accepted statement that doesn't always apply when referencing things like family, values, or passions, but does it hold up when applied to sport?  
When I began my role as technical director of lacrosse Nova Scotia in 2014, I had relatively little experience coaching females, other than a few participants in our Laxlife camps from years past.  I came to realize over the years how different coaching competitive girls' lacrosse was from the competitive boys' lacrosse environment that I had been so accustomed to as a player.  
We are talking box lacrosse here, and I'm not talking about differences from a toughness or competitiveness perspective, that's for sure.  I already knew how competitive and tough girls could be with sports, my sister was not someone you wanted to play road hockey against. To this day she is the hardest working person I know.

The differences were more cultural and social ones, which I learned through my experience and further research…
The History 
"The earliest historical mention of women playing lacrosse was in 1765 with mixed games played between and within mid-western native american tribes."  
Ancient lacrosse games could go on for days and have hundreds of players on a miles-long field, including women (depending on the tribe). 
During this same time period, physical activity for females was generally "frowned upon" in the north american colonies and european societies, as was formal education and the right to vote.  
This all started to change in 1792 shortly after a pioneering political thinker by the name of Mary Wollstonecraft wrote A Vindication of the Rights of Woman, which was "a significant milestone in the arguments around women's rights and has since become a feminist classic." 
Often referred to as the first great feminist writer – Mary Wollstonecraft – believed it was a "double standard of excellence for male and female (that has) relegated women to inferior status (Wollstonecraft, 1792, p.

xxxi)
The doctrine contains several statements that remain of consequence today regarding the importance of exercise and playful sports for females."  
"Let us then, by being allowed to take the same exercise as boys, not only during infancy, but youth, arrive at a perfection of body, that we may know how far the natural superiority of man extends," Mary professed further in her Vindication.  Wollstonecraft also believed that moral character was developed through hard work.  
Tragically Mary passed away during childbirth 5 years after her book's publication.  However, her legacy has lived on.
Mary Wollstonecraft favoured co-educational day schools, lessons given by informal conversational methods, with lots of physical exercise both free and organised.  "In order for any notions of equality to actualize, (the) double standard must be repressed," she wrote.  
"In proposing the same type of education for girls as they proposed for boys, Mary Wollstonecraft also went a step further and proposed that they be educated together which was even more radical than anything proposed before.
The idea of co-educational schooling was simply regarded as nonsense by many educational thinkers of the time."
So, had Wollstonecraft not laid the foundation for structured physical activity for females, the first non-native women's lacrosse game may have never been played in 1890 at St. Leonards School, in Scotland.  The "women's game" was introduced by Louisa Lumsden and Jane Dove, who had "brought the game to Scotland after watching a men's lacrosse game between the Kahnawake Indians and the Montreal Lacrosse Club." The first recognized women's international game took place between Scotland and Wales in 1913.
"To play like gentlemen and behave like ladies" – St. Leonards Lacrosse Team Motto
Women's field lacrosse is a non-contact game played truest to the way the original sport was played: a game of ball control and passing skills.  In recent decades it has gotten very popular in North America, due largely in response to legislation in the USA referred to as Title 9, which "prohibits discrimination based on sex in any federally funded education program or entity.
"  This change to the education act happened in 1972 when women only represented 7% of participants in NCAA sports. Since the institution of this legislation, that number is currently sitting at around 44%.
As of 2014, women's lacrosse in all NCAA divisions notably outpaced all other sports, a 109% increase to 470 teams in 2014, from 225 in 2000 (five thousand players in 2000 to over eleven thousand in 2014).  
Lacrosse has been a great tool, as of late, in helping to even out the imbalance in athletic scholarships available to women.  With more traditional women's sports (track, basketball, volleyball, hockey, etc.) already being fairly saturated, women's lacrosse programs are filling the void and translating into lots of opportunities for scholarships for young women who are academically inclined and able to wield a lacrosse stick.  Box lacrosse players are especially sought after!
So, what does all of this mean for lacrosse coaches?  How can we coach females so they are able to seize the opportunities available to them in lacrosse?
The Research 
Female athletes need a training/learning environment that creates a climate of acceptance and social connections.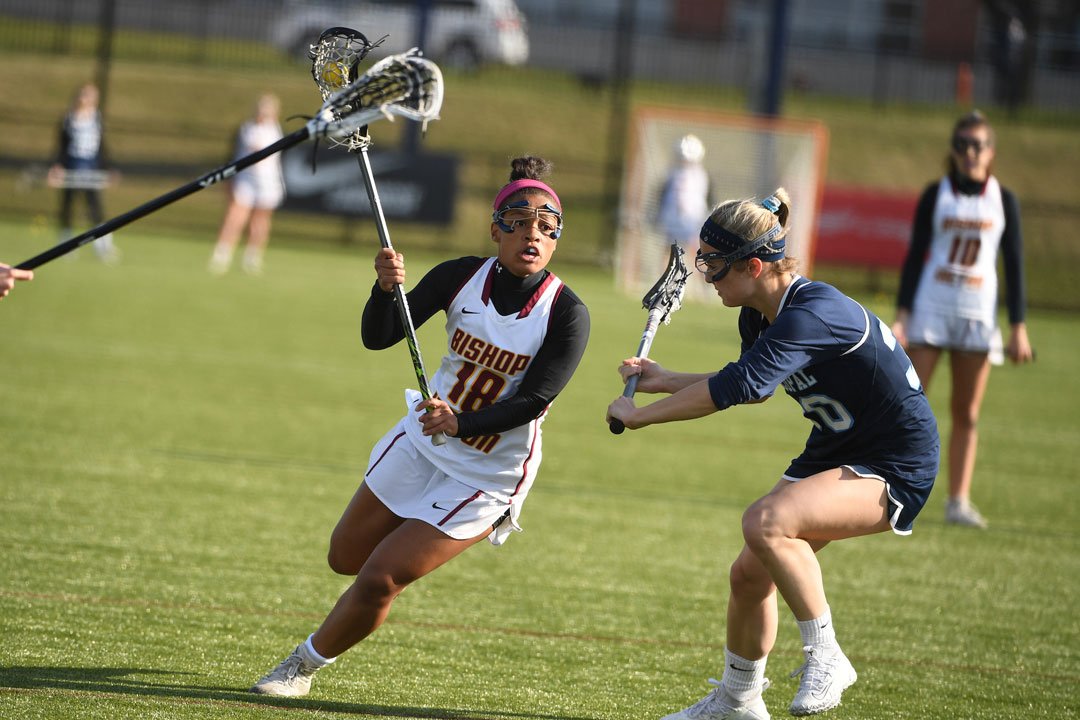 This is the cornerstone for a rewarding and lasting female sporting environment.
Theme #1:  Acceptance In Your Program (Social Connections)
Putting females in a social setting is priority number one in a team sport setting, in contrast to males who should be put in an effort based setting first.  This means that from the very first get together you should be running lots of ice breakers and fun activities, in a low pressure environment conducive to creating inclusive and positive team dynamics.  Positive team dynamics and chemistry are a must, as team "issues" can destroy performance.
The camaraderie and leadership demonstrated by the girls at our Laxlife camps is second to none.
Create external sources of fun throughout your season plans:  pre-season activities, team meals, movie nights, bowling, overnight trips, non-traditional practices.  On a day to day basis you need to build in more social time: longer water breaks, longer coffee breaks, more free time.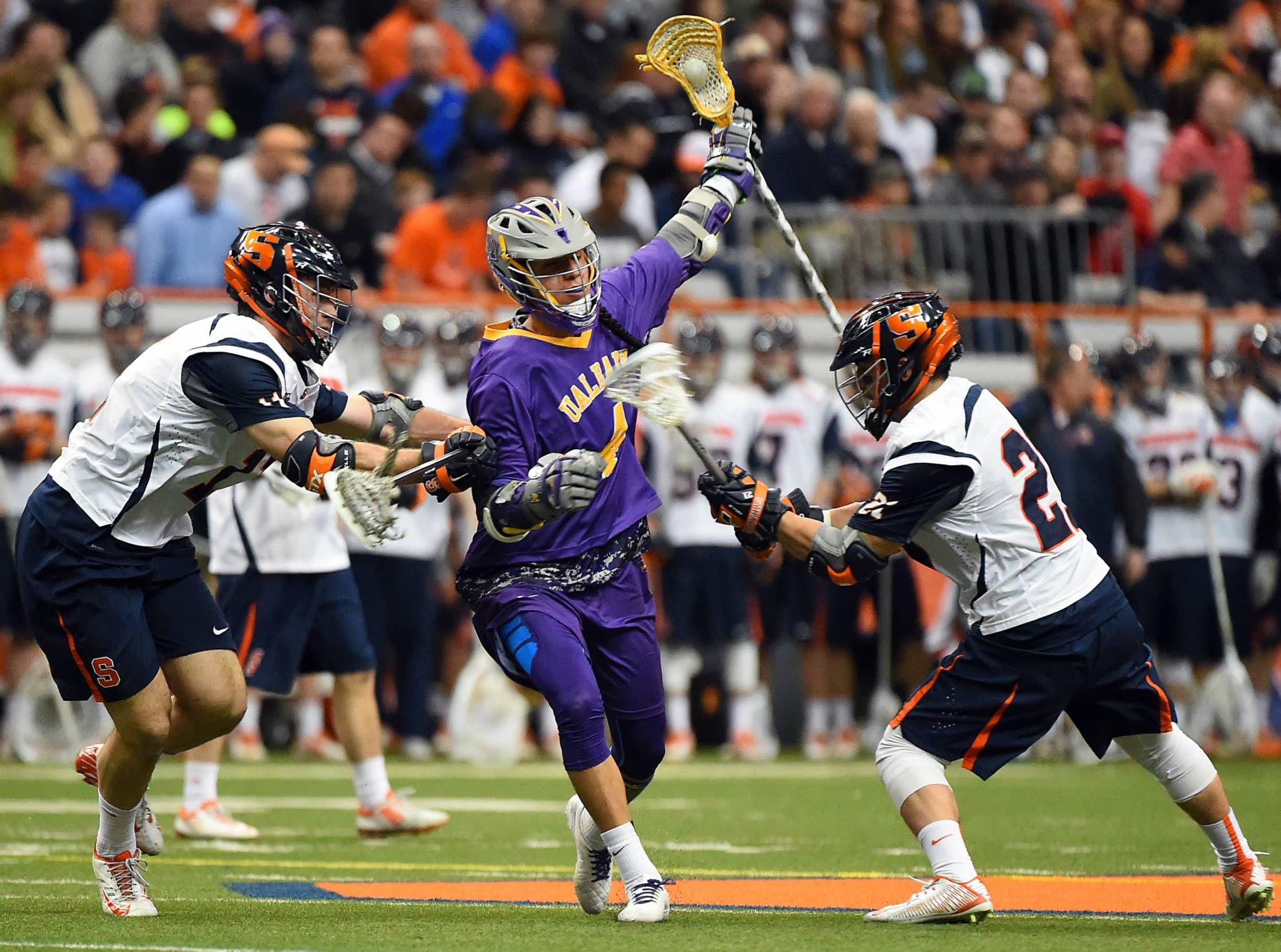 Make sure girls exchange phone numbers with each other and add each other on instagram. 
The "social side" of managing the team environment is critical.  Team "unity and identity" (eg. t-shirts, traditions, cheers, etc.) will go a long way in terms of latter effort & performance.
Acknowledging teammates, supporting teammates, being supported by teammates, warming up and cooling down as a team, all of these "little  things" translate into girls teams playing well together. Any team, for that matter…
Positive team dynamics starts with positive coaching.  Coaches must be positive role models, with strong morals and values.  They need to treat ALL players fairly, with respect and dignity, while further being mindful to use girl-friendly language, and eliminate gender stereotypes. 
A lot of young women grow up with male role models.  "You can't be what you can't see." We need to make a conscious effort to develop female coaches in our sport.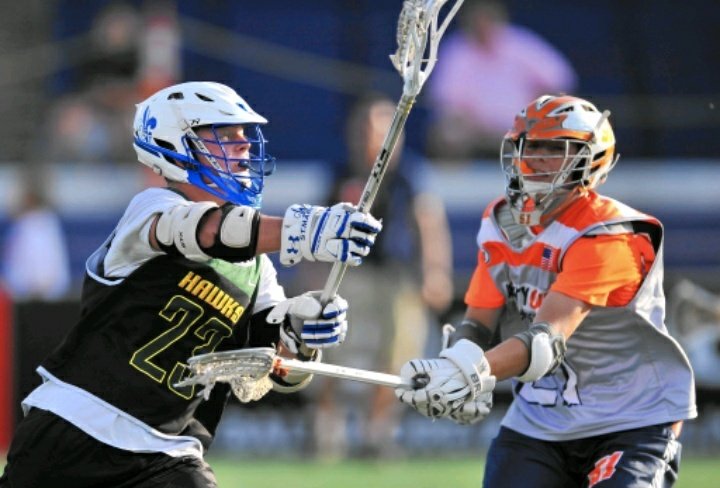 If you are a male coaching a female team, or otherwise a female coach new to the sport, bring in lots of female guest instructors.  Find female role models in the community. Start an alumni program. 
Zoey Kruger has coached at the Laxlife Lacrosse Camp in Orangeville the last 2 summers and is a fantastic female coach role model in the community, with a bright future in lacrosse.
Women's lacrosse coaches need to develop a connective leadership style.  Show personal interest in each individual athlete, make connections with them, and then have an on-going personal conversation with each of them throughout the season.  Joke around with the players. Take time to learn why the female athlete is participating. Don't assume they are there for the same reason as you, like I did. Being with her friends may be her primary reason for being there.  
"You basically have to drive men, but you can lead women.  Women relate to the interconnected web of personal connections, as opposed to a more traditional male hierarchical style" 
– Anson Dorrance, UNC Women's Soccer Coach
Profile your girls as much as possible with questionnaires about who they are, physically, mentally, and spiritually; also how happy they are from week to week and how content they are with the climate and social cohesion of the team.
  Be a coach who listens and considers players' opinions, while also being known as a nice, friendly coach that is "easy to talk to."  
The beauty of it is that as coaches we are in complete control and able to intentionally create this atmosphere and training environment, one which should be felt as "accepting" from the onset of the season.  Throughout the season you will need to pay critical attention to the social web of the team and the players' feelings of belonging. Further, being mindful not to allow cliques to form.
Theme 2:  Effort
It takes a lot of work to build the type of environment I am describing above.  Your program needs to have a lot of people working hard behind the scenes to build it; some sort of Board structure is ideal.  If your players see you putting in the effort, and feel comfortable in their athletic environment, they will start to match and exceed your effort, speaking from the top down. 
That's all you ask for as a coach, is that your players work hard at improving themselves.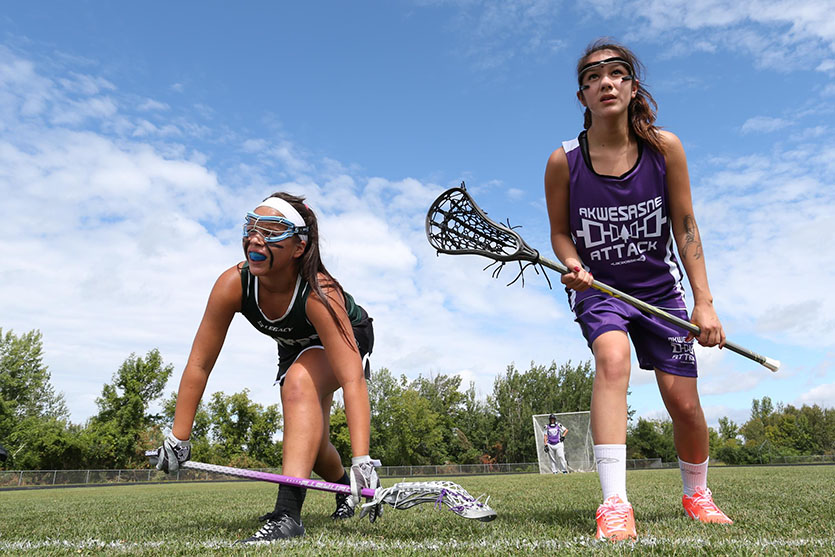 Implement goal setting (SMART – short, medium, long term season goals), within the team and as individuals, so athletes take control and ownership of targets.  
Tell the girls you expect hard work, but don't tell them this at the beginning of the season before everyone is socially acclimated, as it will likely not get the desired effect, nor the same effect as it would have for boys.  You need to normalize and foster the competitive environment gradually, creating a competitive mentality over time, while not accepting mediocrity! Celebrate hard work, girls trying their best, making a good play, and the achievement of collective & individual goals!
Your expectations should be gender neutral.  Excellence is a habit.  
Theme 3:  Performance
Part of being a positive coach is also allowing mistakes to happen – encourage safe risk taking.  Tell them that making mistakes is expected, and okay. Make it okay to fail. Create intentional opportunities to fail, and allow mistakes to happen.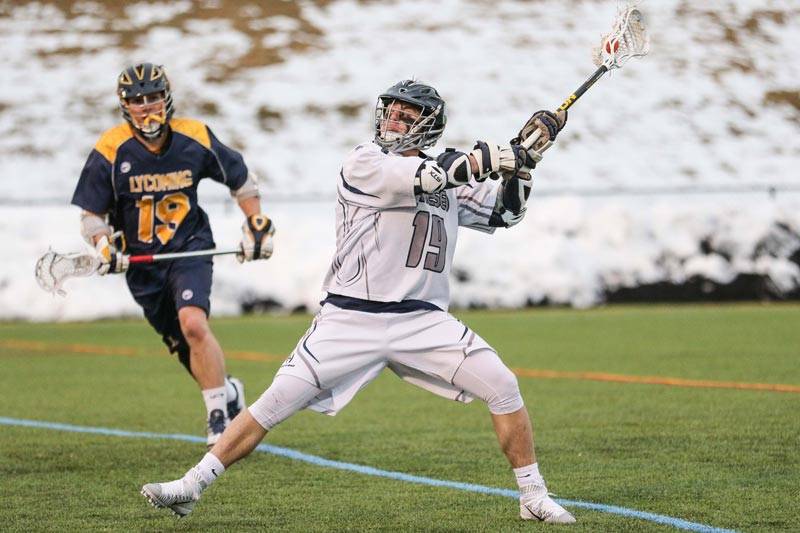 Reward sensible risk taking while emphasizing effort, persistence and improvement. Glorify failure, "if you're going to make a mistake make it big," have an award for it.
When things go wrong, encourage them to use an external attribution versus an internal one  (i.e. "this is hard" vs. "I suck at this." ). The majority of men overestimate their abilities, whereas women tend to under-estimate abilities (when performances were relatively the same).  Remind them of this if they are still in the skill acquisition phase. Beware of perfectionism (i.e. not answering or trying things unless it's perfect). The natural result of low confidence is inaction.  "When women hesitate because they aren't sure they are holding themselves back. Girls lose confidence, so they quit sports, thereby depriving themselves of one of the best ways to regain it."  
Girls generally receive feedback better than boys from our experience.  No better advice than from Steph LeBlanc, who lives in Halifax and plays for the New England Black Wolves of the NLL.
You will need to be prepared with supportive instructions and feedback appropriate to their skill level (for both new and returning athletes), as there is often a wide range of skill levels (especially in the smaller provinces/states). 
You will need to be able to create the appropriate magnitude of challenge and risk for the varying levels of skill on your team; gauging players' levels of confidence with each new skill, and having regressions/progressions ready for the outliers.  Don't be discouraged by initial performance flaws, as the weaker performers will catch on quickly once they are "accepted" and begin to put in the extra effort required.  
High performing females expect to be told when they are doing something wrong, just like anyone else.  They do prefer a positive coaching style, yes, but they also expect and appreciate constructive feedback.  Many of the girls that end up excelling in lacrosse, come to the sport as late entry participants from other sports such as hockey, ringette, basketball or soccer, so you as their coach cannot rush them through the developmental steps necessary to catch up to the majority of the team.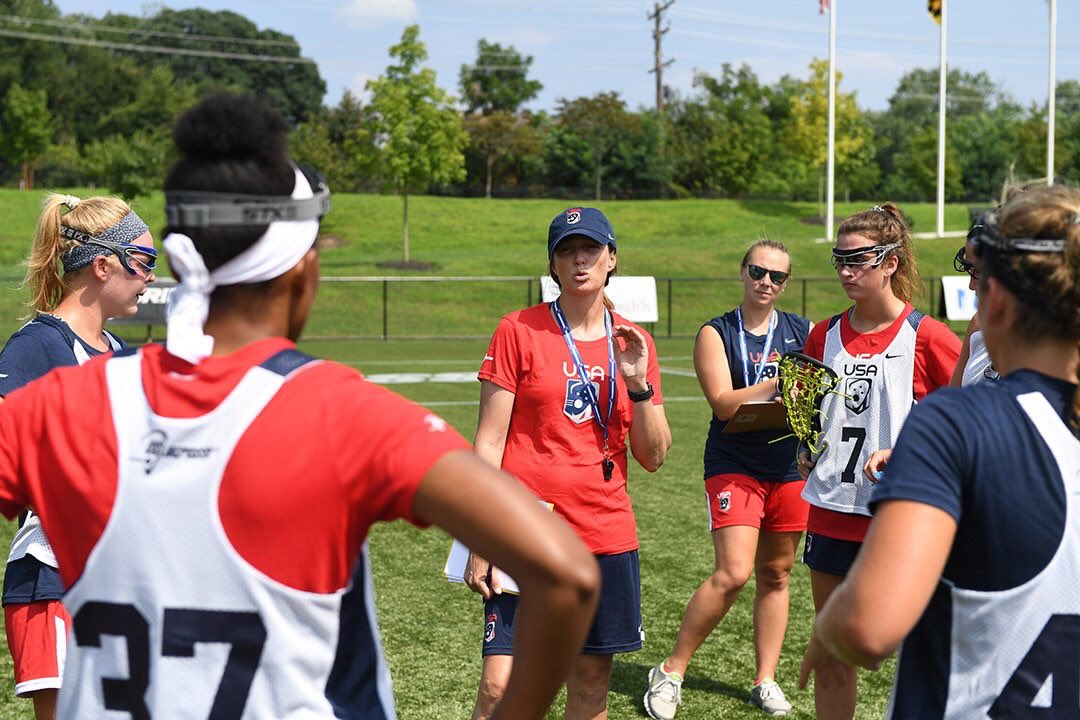 There will often need to be a small group that requires extra fundamental work on the side.  Give them information in advance of practice, containing introductory materials that will be forthcoming. Explain things as clearly and concisely as possible; answering all questions.  
Team Canada Midfielder Erica Evans at the World Championships in Wroclaw, Poland, 2017.
When building your program from the onset, explain your communication philosophy and feedback style, so players know exactly what to expect.  Communication builds trust between coaches and athletes. Create a performance based tone to your formal conversations and feedback, one which is consistent for all team members.  Be specific and direct, providing positive informational feedback. Female athletes love pictures and metaphors. Encourage them, spend time getting to know them, don't always give them the "the bottom of the barrel…"
Further Considerations
To be truly successful at coaching female athletes, not only do you need to know yourself, your athletes and your sport, you must also know sport in general.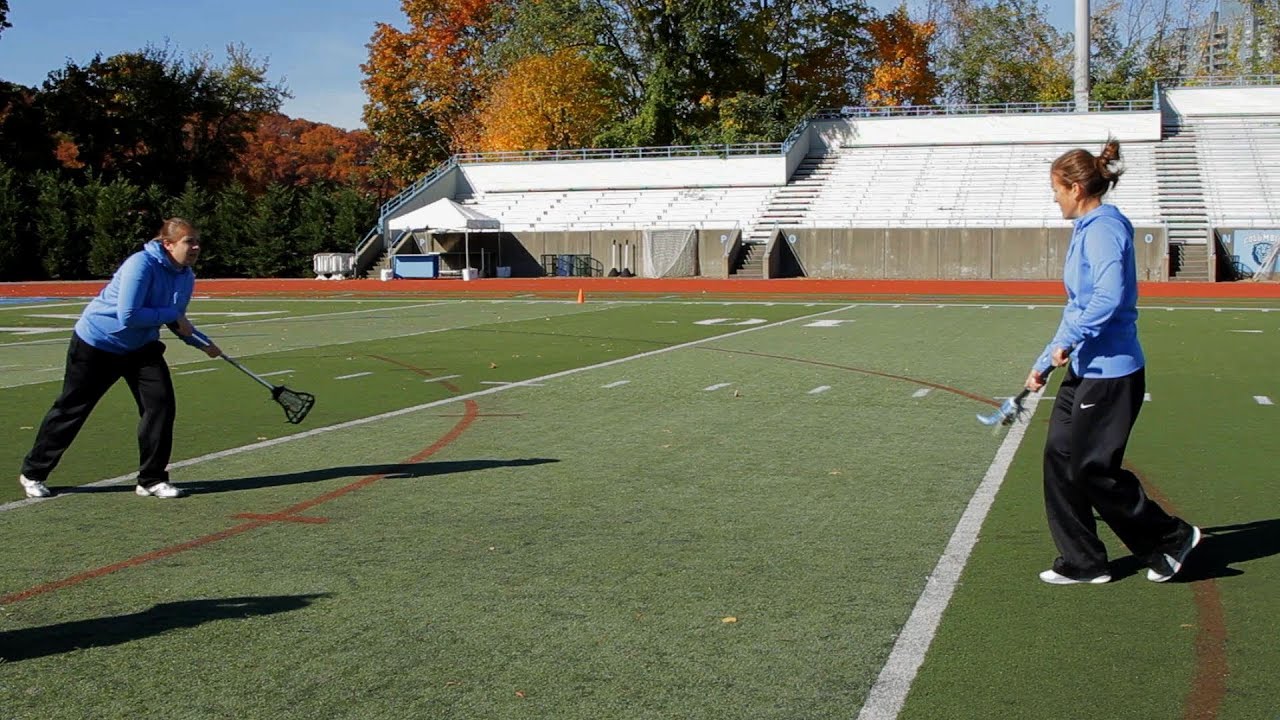 As coaches it is also of vital importance have a general understanding of the growth and development characteristics of children. This is a cornerstone of long term participant development models..  Talent development is a long term process, and we need to be aware of what stage of adolescents our athletes are in to best support them.
Long Term Athletic Development (LTAD) is a national sport development model used across north american sporting culture
It is suggested that there are windows of optimal trainability we need to start understanding and considering as coaches.  Early adolescents (8U), for instance, would be well served to work on "suppleness" (flexibility) and speed training, as is identifiable in the graphs above.  Kids who establish a broader range of motion while the joints are still developing, tend to have larger ranges later in life. As for speed, which is another window trainable during this time, I can tell you from experience that fixing the running technique of young children is one of the most beneficial series of exercises they can be led through.
  Establishing these habits early in life can save you a whole host of problems later in your athletic career, when your body starts to break down as a result of the neglect. Although there needs ongoing research in further understanding these windows of opportunity, they nonetheless offer useful guidance in program design.
I'm often asked my thoughts on girls playing against boys in rep level lacrosse.  My response is literally what is described in the graph below:
Unbeknownst to many male coaches who begin coaching females, you can expect a dip in performance during a females menstruation cycle.
Other than some basic anatomical differences, females and males are physically the same until around the time peak height velocity (puberty) starts to set in, which is generally a year or two earlier for females, so they are actually at an advantage physically over males for a period of time.  But, my answer to the question of "how long should females compete with males", is usually at the U16 age bracket.
This is about the time when all of the early developing males have caught up to the late developing females. Of course, there are always exceptions.
Two other notable items to be aware of is making sure your female athletes are meeting their caloric requirements as competitive athletes, and that they are strengthening the muscles that surround their knee joint (ACL tears are an epidemic in running and jumping activities).  There is also a lot of body image propaganda out there, so it is important to have open discussions about this type of false idealism your athletes may be having. The fact is 30-70% of high performance athletes under eat.  
Concluding Thoughts
Coaching female athletes is largely similar to coaching males; however, be mindful of unique differences.  It was certainly an eye opening experience for me during my time as technical director for Lacrosse Nova Scotia.  I never felt I got to serve them as well as I could now.
  I wish I knew back then what I know now. I wasn't as equipped to know the important differences.
The first year we started our high performance program in 2015 ("Flight"), we had 15 males  (One of whom was Alex Pace of the Philadelphia Wings) and 10 females.  Over time the female participation out paced the males almost 2 to 1.  We were getting girls from all kinds of other sports, join our program because they were getting quality programming and learning skills that were relevant not just to lacrosse, but athletics and life in general.  The feedback from parents was that their daughter was now independant in the gym, with a skill-set and knowledge base that could carry them to lead an active life; which also happens to be the end goal of the long term participant models mentioned earlier.
When Cody Jamieson told the story of the four legged animals playing the winged birds in an ancient game of lacrosse, it was the flying squirrel who scored the game winning goal after being rejected by the animals.
  The moral of the story was that there is a place for everybody in lacrosse, with no discrimination. The female lacrosse player is just another animal or bird, out there playing the game they love.
How To Train And Prepare For Box Lacrosse
At this point you probably know all about my trip to the Ales Hrebesky Memorial where I played box lacrosse against some of the best Europe has to offer.  While I have described the tournament and how amazing it is in depth, I have not yet given you my personal take on full contact box lacrosse, so let me sum it up in two words for you:  EXHAUSTED and SORE.
Box Lacrosse is one tough game!
Don't get me wrong, I had a GREAT time playing, and the event was unreal.  In retrospect though, it is clear that I did not properly prepare for box lacrosse. So even though I am NOT a personal trainer or certified in any way, with this newly earned perspective on soreness, I'm going to lay out a couple of concepts on How To Train And Prepare For Box Lacrosse.
We've talked about field lacrosse at length, and covered goalkeeping, shooting, midfielders and defenseman.  We've even shown you how to become a takeaway master.  So now box lacrosse is getting its due!
The first thing to do, if you are primarily a field player, is to throw most of the field training right out the window.  Box is a different game and it requires different skills and strengths, so prepare for what you are going to be doing, not what you have been doing.  Also, make sure to watch a box game or two before you play for the first time.  It's important to know just how physical the game is!
Let's get ready to play some box, shall we?
I am positive that I did not train hard enough, and this one is a simple fix.  Whatever amount of work you put in to prep for field, double the work rate for box.  The grind of a box game is intense and you need to be able to go 100% on almost every single run.

 There is no room for laziness and on defense your feet will always be chopping and moving.
If you usually give yourself 2 minutes of rest between sets, cut it down to 1 and cut the weight by 20-30%. Increase your reps a bit.  If you sprint 50 yards then wait 30 seconds before your next sprint, sprint 30 yards and wait 10 seconds instead.  Increase the short burst training, and the rate of sets.  You'll start to feel "box lacrosse tired" soon enough.
GET STRONG, but don't worry about becoming Hercules.  I haven't lifted a weight in years, and I don't "work out" per se.  But after playing 6 games of box lacrosse in 4 days, I wish I had.  At the very least I should have been doing push ups, pull ups and ab work for my upper body and core, and running/plyos/body weight exercises for my legs.  Instead I decided to take the stairs and not the elevator and play more wall ball.  Not a bad choice… but not a great one!
My shoulders are now killing me.  They are by far and away the most sore part of my entire body, and that is saying something.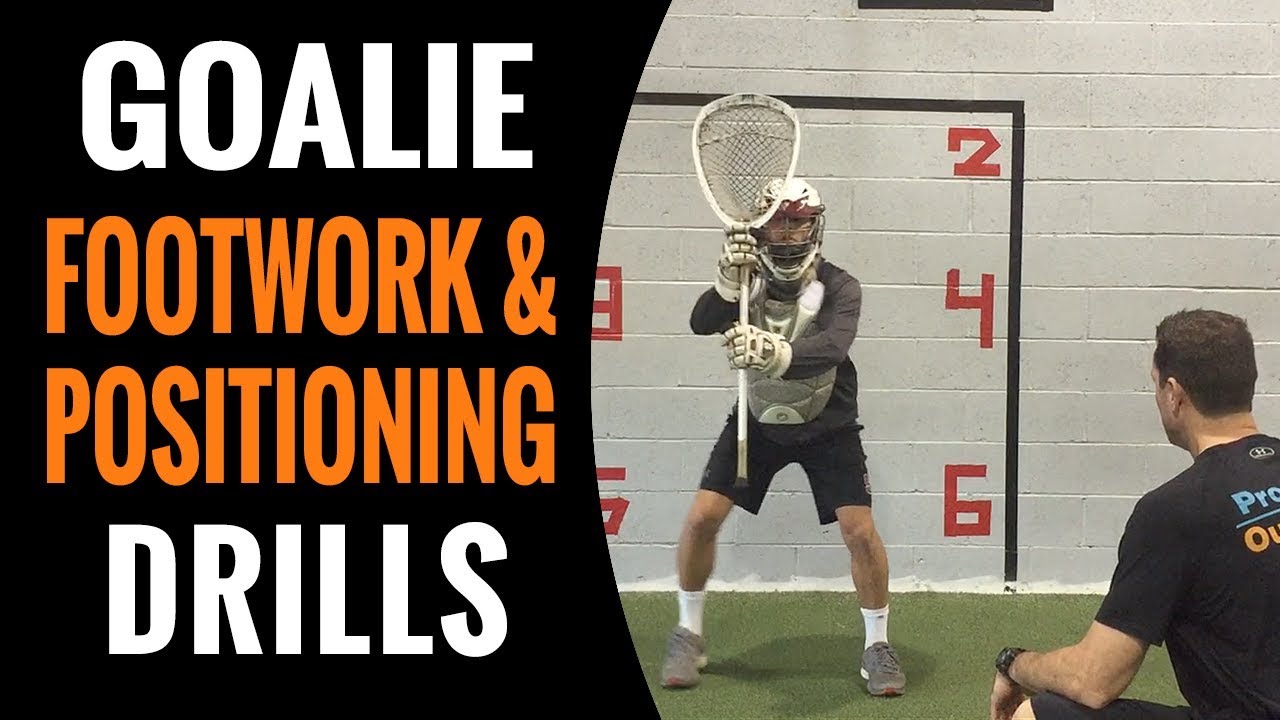 I did a lot of crosschecking, and I took a lot of crosschecking.  I bumped and hit people with my shoulder whenever I could and because of all that abuse, my arms feel like they might fall off.  If you don't get strong and prepare yourself, this will happen to you too, and I wouldn't wish it on anyone.  The fact is, I didn't need to bulk up and "get huge" but by not training my shoulders up, they suffered abuse in the games.
That's me, crosschecking with bent elbows. My shoulder hurts.
Photo Credit: Josef Stepan on Facebook.  Check him out!
Work those legs and get ready to be a diverse athlete.  While the upper body and shoulders are important, the most important thing to get going is your legs.  A lot of the power derived from a good crosscheck, hit, or shot comes from your legs, and that was where I focused my self-limited energy when prepping for the Ales Hrebesky.  Like I said earlier, I walked up 5 flights of stairs a couple of times per day, and I also did some body weight exercises, where I focused on moving slowly in a full range of motion.

 This relative improvement in leg strength kept me running hard all game, and out of all the areas in my body, my legs probably feel the best.
If you want to get your legs to the next level for box lacrosse, you will really need to train them.  Do hill sprints, lunges all the way around a track and play a lot of basketball.  Basketball is a great training tool for box and I'm definitely going to use it more next time I begin my box prep.  The key with BBall is to play good defense and always move on offense.  That will get you in GREAT shape for box, and get you in the "tireless worker" mind set.
Now when it comes to getting your stick ready for box, I'll stick with wall ball as your most effective tool, but with some changes.  When I play wall ball for field, I tend to pick out a spot on the wall and try to hit it as many times as I can.  It's about giving and getting a good pass. For box though, I think you need to switch it up a lot more.
Get that wand tuned up, Harry Potter.

Throw more sidearm passes, underhand, and give yourself only "mediocre" passes to catch.  You need quick hands in box, the ability to turn a bad pass into an excellent catch and quick stick cannot be underestimated.  Basically, get out on the wall and challenge yourself with awkward passes.  You'll see them in the game, so prep for them on the wall.  Also make sure you really fire the ball hard because the tight spaces in box mean you have to zip passes in there.
The "challenge yourself" attitude goes for shooting as well.  If you've got access to a box goal then have at it full bore, but if you only have a wall or a field goal, find ways to make it work.  Tie a water bottle into the goal 4 feet high and only try to hit the bottle.  Move a bit closer, but aim for a smaller area.  Get your shots off quicker.  Focus on keeping your shot movement tight and pick corners.  Get used to dropping your shoulder and dumping the ball in overhand.  Watch a box game and see how they shoot.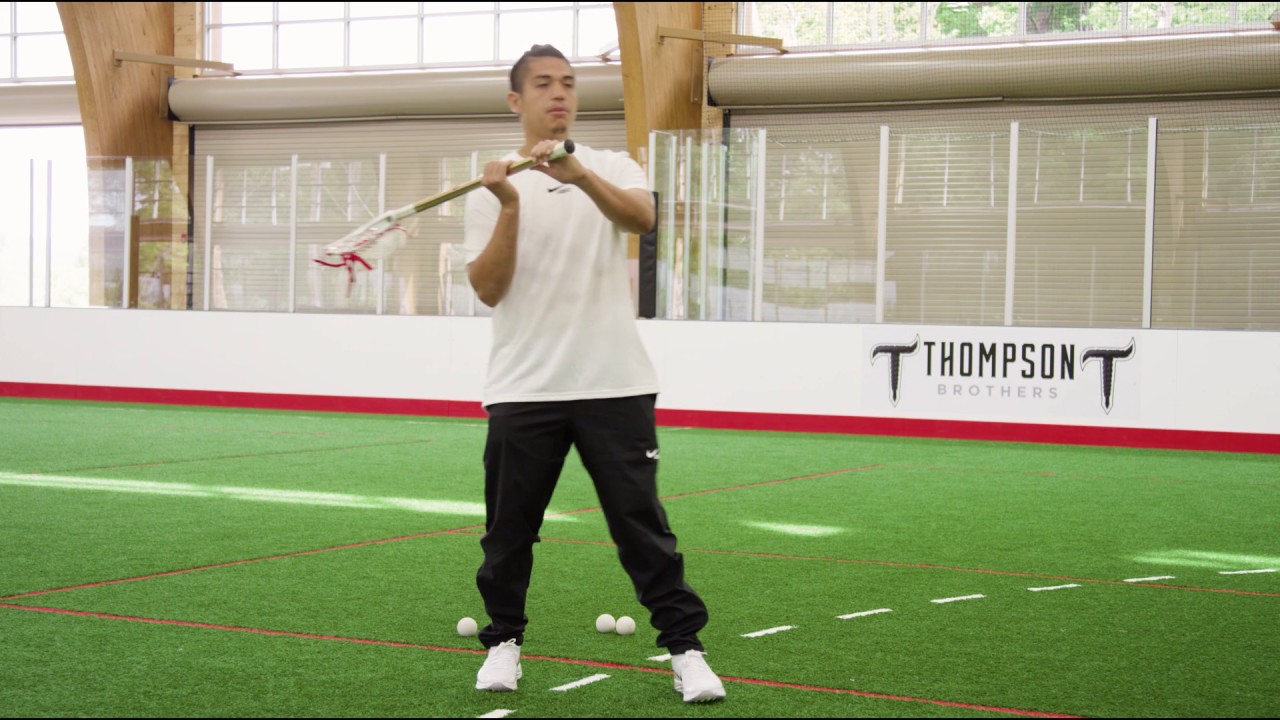 Practice those techniques!
Watch Rocky IV.  Seriously.  Box lacrosse is very much about attitude, and when Rocky went to the Soviet Union to take on Ivan Drago, he had the perfect box lacrosse mentality, not only in his training, but in his demeanor.  There was no nonsense to Rocky, but he wasn't looking for a fight where there wasn't one.  He was focused on winning the boxing match, and that's the box attitude of a winner.
He takes abuse time and time again, but keeps his eyes on the prize and gets his shots in when it's time.  At the end, his emotions are keeping him together, and by the end of a tough box game, you'll know how we felt.
My body feels like it's falling apart, much more so than after I play a lot of field lacrosse, but I had a great time.  So the next time I go out and play a lot of box I'm going to prepare the right way.  I hope that my personal pain and experience can help you prepare as well.
Follow this advice and you'll be all smiles too.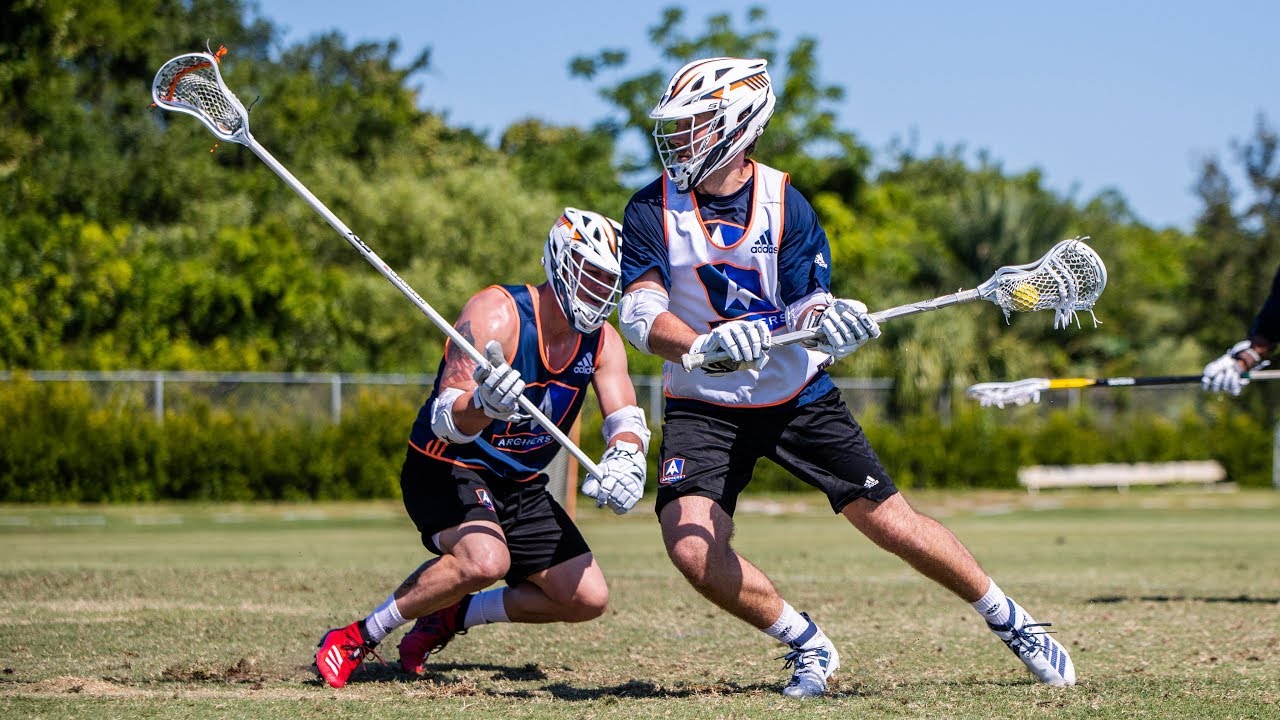 If you have any great box lacrosse training tips, drop them in the comments section and help your fellow laxer out!
Game Play –
The "top string" that runs across the top of the stick and attaches to the top of the mesh (after being folded over once or twice and tied as tight as possible) is the first order of business before any sidewall variations can be implemented. The top few sidewall diamonds should also be tied tight to the stick head with a gradual release in tightness towards the bottom. The "bottom string" attaches near the "throat" and allows for subtle adjustments in the depth of the pocket.
It is harder (takes longer) for the ball to come out of a deep pocket, and it comes quicker out of a shallower pocket. "Shooting strings" must also be added across the top of the stick, adjusted evenly from side to side (tightness), giving the stick a gradual release in tightness from the "top" down and thereby determining the amount of "hook" on a particular stick.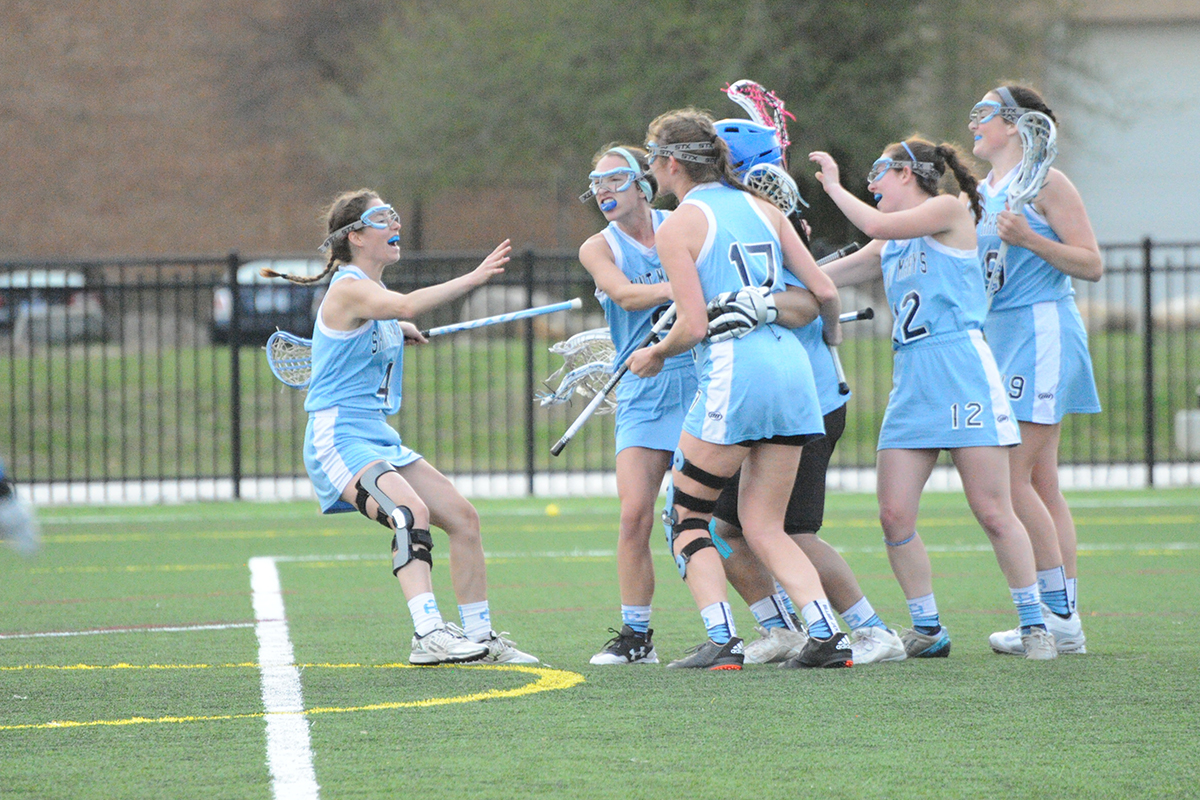 Shooting strings or "hook guards" are skate/shoe laces, or side wall string (nylon), that is woven across the top part of the stick to prevent excessive hooking and/or to allow for the smooth release of the ball. These strings run either straight across the width of the stick, or in the shape of a "V" that guides the ball to the release point; sometimes a row of diamonds is skipped in between, and sometimes not. The number and location of the strings are determined by the pocket depth, shape and location (high, middle or low), all of which are individual player preferences. To install a shooting string, thread the lace width wise (flat) through the mesh (diamonds), crisscrossing (interlacing) from sidewall to sidewall (across the pocket) in an evenly balanced pattern. Another method is to put the top half of the lace flat across the pocket and use the rest of the lace to weave under and around the top lace (across the diamonds) from one side to the other.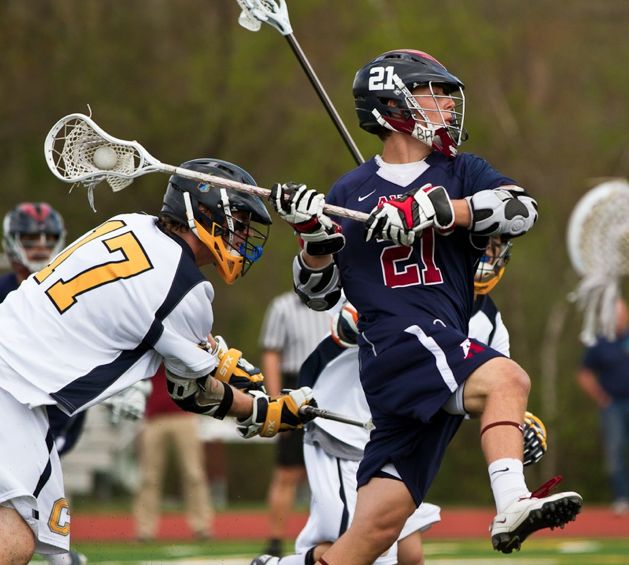 Ultimately, an adequate depth of pocket and tension on shooting strings is required so that the ball does not move all over the place in the stick while cradling, and still releases with accuracy; usually a medium depth is best (i.e. the depth of the ball below the sidewall). Players will subconsciously adjust as their pocket gets deeper with moisture and general stretch, and will be unaware that they are adjusting their throwing technique to accommodate the change. Symptoms are a loss of accuracy, power and "hooking" the ball when attempting hard passes or shots. Eventually the depth of the pocket, although excellent for "protecting the ball," begins to affect the throwing and shooting accuracy and will have to be tightened ("tweaked").
All synthetic or leather materials tend to dry out, so stick heads should be wrapped in a plastic bag and tied near the "throat" when stored. Store the sticks at game temperatures, otherwise they are liable to dry out, "pinch," break, and/or throw inconsistently the next time they are used.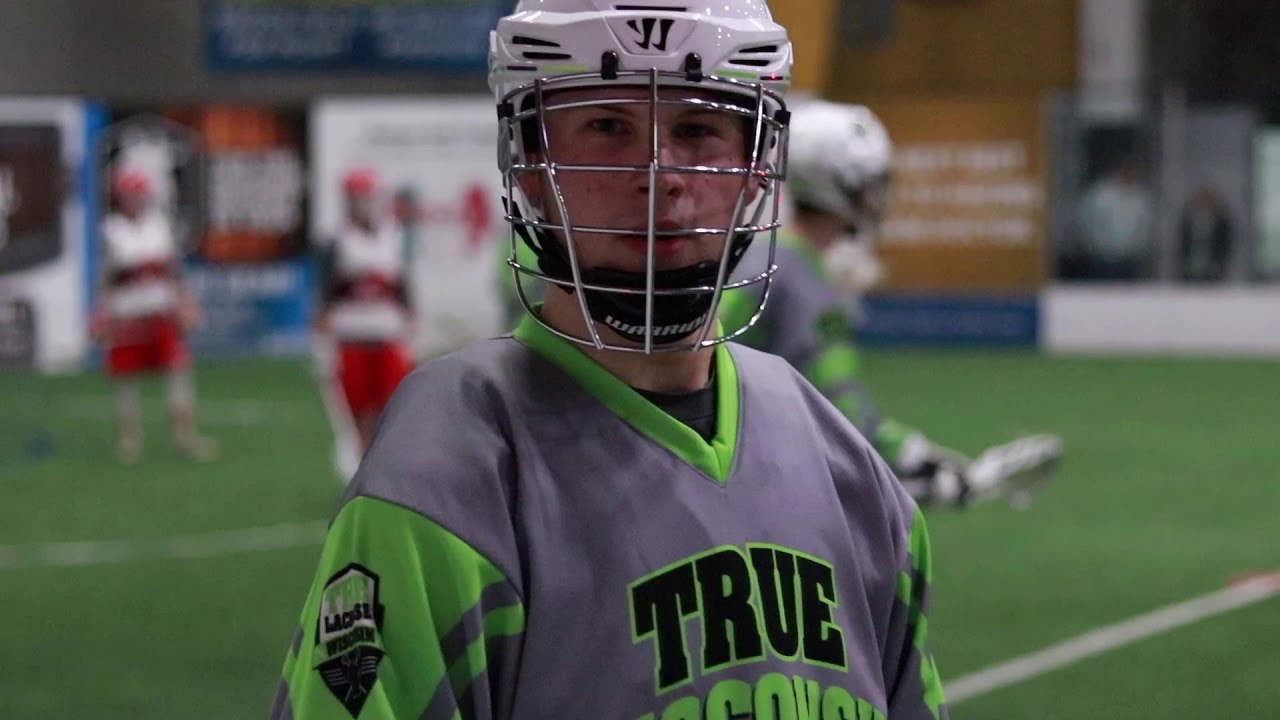 If synthetic materials (mesh/strings) are noticeably dry prior to practices or games, players will sometimes dampen them with water or they can be loosened, in order to "bag them out." Passing and catching activities then become the ultimate determining factor as to whether the stick is suitable for use in practice, and later in games.
Indoor Lacrosse Drills Intermediate Advanced Players Swax Lax Balls
Below are three of our favorite lacrosse training drills. They can all be used either indoors or out, for boys or girls. Each lacrosse practice drill, in its most basic form, should be able to be executed by an average middle school player. However, elite high school and college players will find these drills challenging and helpful as well.
Rainbow Shooting Lacrosse Drill 
Catching and finishing in close is invaluable.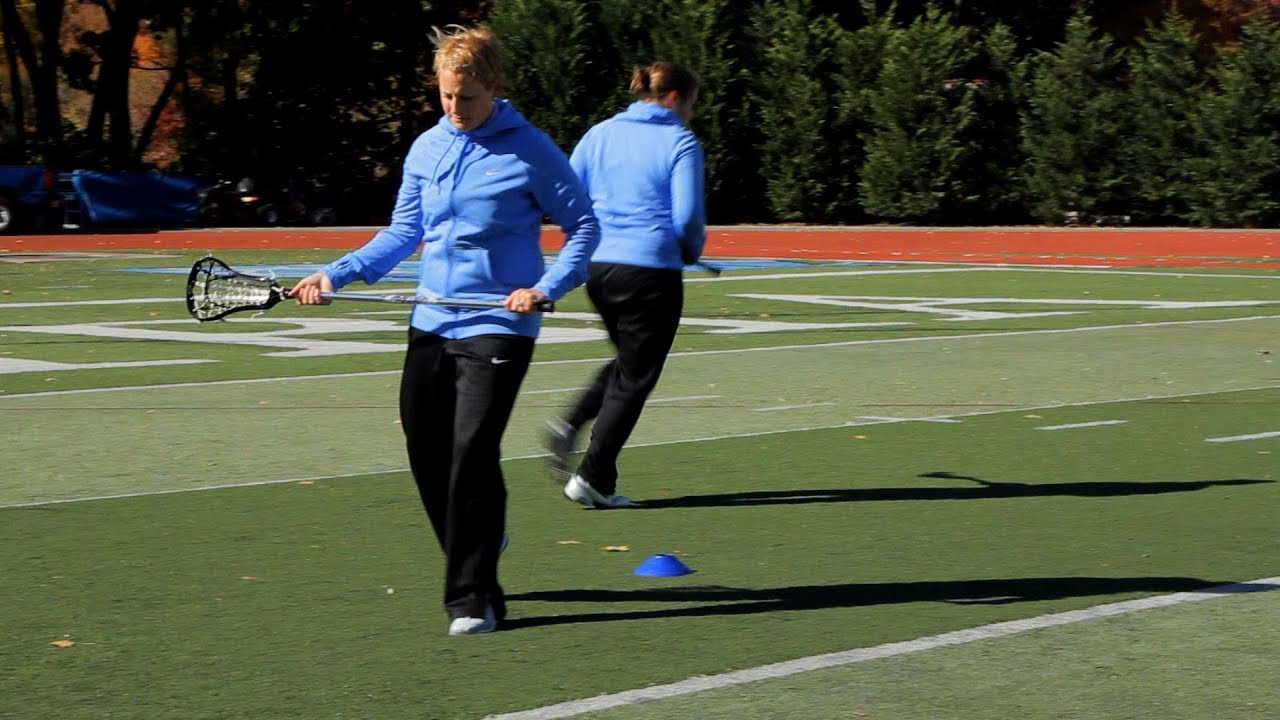 This is a great inside shooting drill, which can be done with or without a goalie. It offers a lot of reps in a relatively short time and can be made progressively more difficult with each shot fake you ask the players to use before they shoot.
It begins with a line of 5–6 players about 12 yards to each side of the goal. Each line should have plenty of balls. The first player in one of the lines should cut on an arc from the GLE about 2–3 yards off of the crease. The first player in the other line should feed the cutter the ball so they receive the pass a yard before the first goal post. I usually start my players with a high cradle and a shot to far low corner of the goals. After making the feed, the feeder makes a cut and receives a feed from the next player in the first line, executing the same fake and shot. This continues until each line is out of balls.
The best part of this drill is it allows players to practice lots of different fakes and shots while they are on the move.
Other shots and fakes besides the old reliable fake high, shoot low are:
No cradle low
No cradle high
Dip and Dunk
Near side, far side
Far side, near side
Far side, near side, far side
Behind the head
Around the world
Make up your own
I mentioned that this can be done with or without a goalie. If you put a goalie in, they better have a lot of self-confidence, because they will be giving up a lot of goals. With intermediate players, I would recommend doing it with an open goal. Advanced players should go against a goalie or a shooting aid, like Hector the Rejector.
3 Man PAPA Lacrosse Drill 
PAPA stands for "Pass Away, Pick Away." I have never been a fan of picking the ball because I feel it just brings another defender to the ball. However, I really like this drill because the pick happens away from the ball.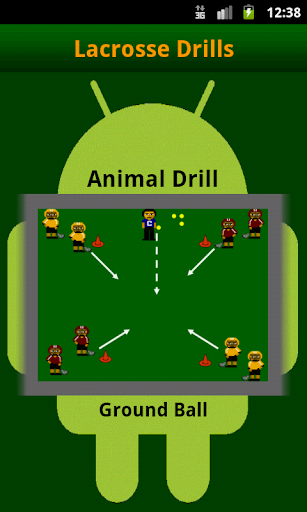 Begin the drill with three lines of players about 12–15 yards away from each other. This should form an equilateral triangle. If you don't know what an equilateral triangle is supposed to look like, ask your players. Maybe one of them is taking geometry! Next, place a goal 12–15 yards away from 2 of the lines.
Put a bunch of balls in the line diagonally across from the goal. Ask the player with the ball to throw it to the first player in one of the other lines and then go set a pick for the player in the line that did not get the pass. The player who received the pass should then split dodge away from the player he received the pass from and the roll back to feed the third man cutting off the pick. The split roll allows the picker and cutter to time out their cut, while getting the feeder's hands free. After receiving the feed, the cutter should immediately look to shoot.
As I mentioned before, I really like this drill because it practices so many offensive skills:
Feeding
Cutting
Picking
Catching
Dodging
Shooting
It can also be done to either side.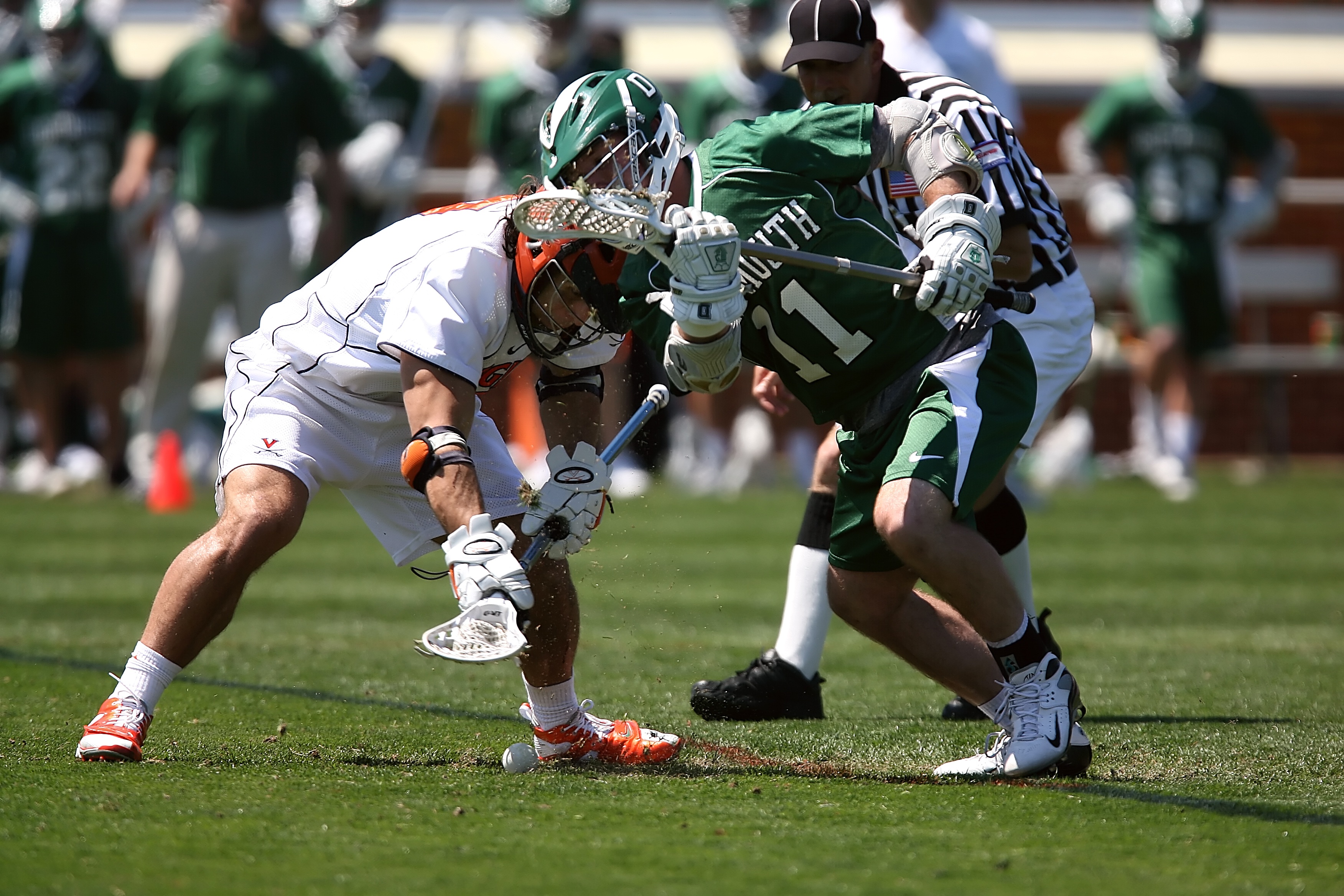 Coaches can do this everyday with emphasis placed on a different aspect of the drill each day. I find running PAPA cuts very effective against defenses (like mine) that do a lot of ball watching.  
Triangle Passing Lacrosse Drill 
This is a simple passing and catching drill that can be gussied up to practice a lot of different skills.
Start with three lines of 3–5 players at least 15 yards apart. This should form another equilateral triangle. The first player in line should pass the ball left-handed to the line on his left and then move to the end of the line he threw to. The player in this line should catch the ball with his right hand and roll away from the middle of the triangle. Changing hands, he should then pass the ball to the player in the third line and run to the end of the line he just passed to. Continue moving the ball around the triangle.
Points of emphasis should be moving to each pass, changing hands with a vertical stick, rolling away from the middle of the triangle, and accurate passing on-the-run.
Adding another ball to the drill will pick up the pace and increase reps. You can also do this drill with a split (hand change) across to the middle of the triangle, or a slice pass (no change of hands). Another option is over the shoulder catches as the receiver is running away from the passer's line. It helps to put a few balls near each line, so we are not chasing misses all over the place.
Stop the Chasing!
Speaking of chasing misses all over the place …
We recommend Swax Lax lacrosse training balls for a more productive practice. The balls don't bounce and have minimal roll, so when a ball is missed, they don't go flying all over the place. You can spend less time chasing balls and more time getting reps in. They're also the same exact size and weight as a regulation lacrosse ball, so they feel real in the stick and your players will never have to sacrifice proper form.
These drills are three of our favorites which can be used either indoors or outdoors. All of these drills can be tweaked to be more or less challenging depending on your team's skill level. Have fun and add your own twists!
About the Author
Kevin Meany was a lacrosse goalie at Providence College in the mid 1980s. He currently serves as the Boys Field Director at Swax Lax Lacrosse as well as coaching football and lacrosse at The Morristown-Beard School in Morristown, New Jersey. When he's not busy running drills and practices, he's a valued contributor to the Swax Lax team.
Why Play Box Lacrosse?
3. Repetitions Repetitions Repetitions
Box lacrosse is played in an hockey rink where the ball hardly goes out of bounds and games are 5 v 5 which makes the game extremely fast paced! Many pro box teams will have upwards of 100 shots on goal each game! Compare that  to the 40 or so a team gets playing field lacrosse!
Players get a lot of playing time – in fact many players will say it's more exhausting than outdoors! There is no standing around!
Box lacrosse also has a 30 second shot clock, so the amount of shots per game is much higher than that of outdoor lacrosse.

The game is back and forth which gives players many more chances and touches than they would have otherwise. Many high level box teams can get upwards of 100 shots on goal per game.  Compare that to just the 40-60 shots on goal per game field teams get and you can see why box players are such effective shooters.
Additionally, a penalty in box lacrosse is 2 minutes long compared to 30 seconds for outdoor! That means you are guaranteed 4 possessions on man up (30 second shot clock). 
4. Body Control and Handling Pressure
Unlike field, where a player has much more space to attack/defend. Box lacrosse is all close – quarters. For offensive players they learn how to handle to ball much better with a defenseman draped all over their hands and must learn how to use their body to shield their stick from being checked! They must also learn how to shoot around their defender. For a defenseman, there is no better way to practice your defense then to use a short stick because you can't rely on a 6 foot pole!!! You must play proper position defense! In box lacrosse, the 2 man pick game is an essential aspect and defending 10-15 picks a game with a short stick will only help your outdoor game! 
5.
OFF-BALL Movement and communication
What most people don't realize is that the movement off-ball in box lacrosse is just as important as on-ball movement. Becuase the game is so fast paced and in such a tight space, offense doesn't have time to just sit back and set up a big play – there is constant movement all the time on offense! Off-ball players must set picks, roll off picks, have their hands free, all while having defenseman on their hands!! Defensively, communicating  through the 2 man game is VITAL. Additionally, defensive players  must communicate as a whole in order to be succesful with the speed of this game!!
National Alliance for Youth Sports, Bach, Greg: 9780470226995: Amazon.com: Books
Packed with numerous offensive and defensive drills
The fun and easy way to get the score on coaching youth lacrosse
Looking to volunteer as a lacrosse coach? This friendly guide helps you grasp the basics and take charge on the field.
You get expert advice on teaching essential skills to different age groups, determining positions for each player, promoting teamwork, keeping kids healthy and injury-free, helping struggling players, and leading your team effectively during a game.
Discover how to:
Teach lacrosse fundamentals

Encourage good sportsmanship

Coach fun-filled practices

Ensure safety on the field

Communicate effectively with parents
Packed with numerous offensive and defensive drills
The fun and easy way to get the score on coaching youth lacrosse
Looking to volunteer as a lacrosse coach? This friendly guide helps you grasp the basics and take charge on the field. You get expert advice on teaching essential skills to different age groups, determining positions for each player, promoting teamwork, keeping kids healthy and injury-free, helping struggling players, and leading your team effectively during a game.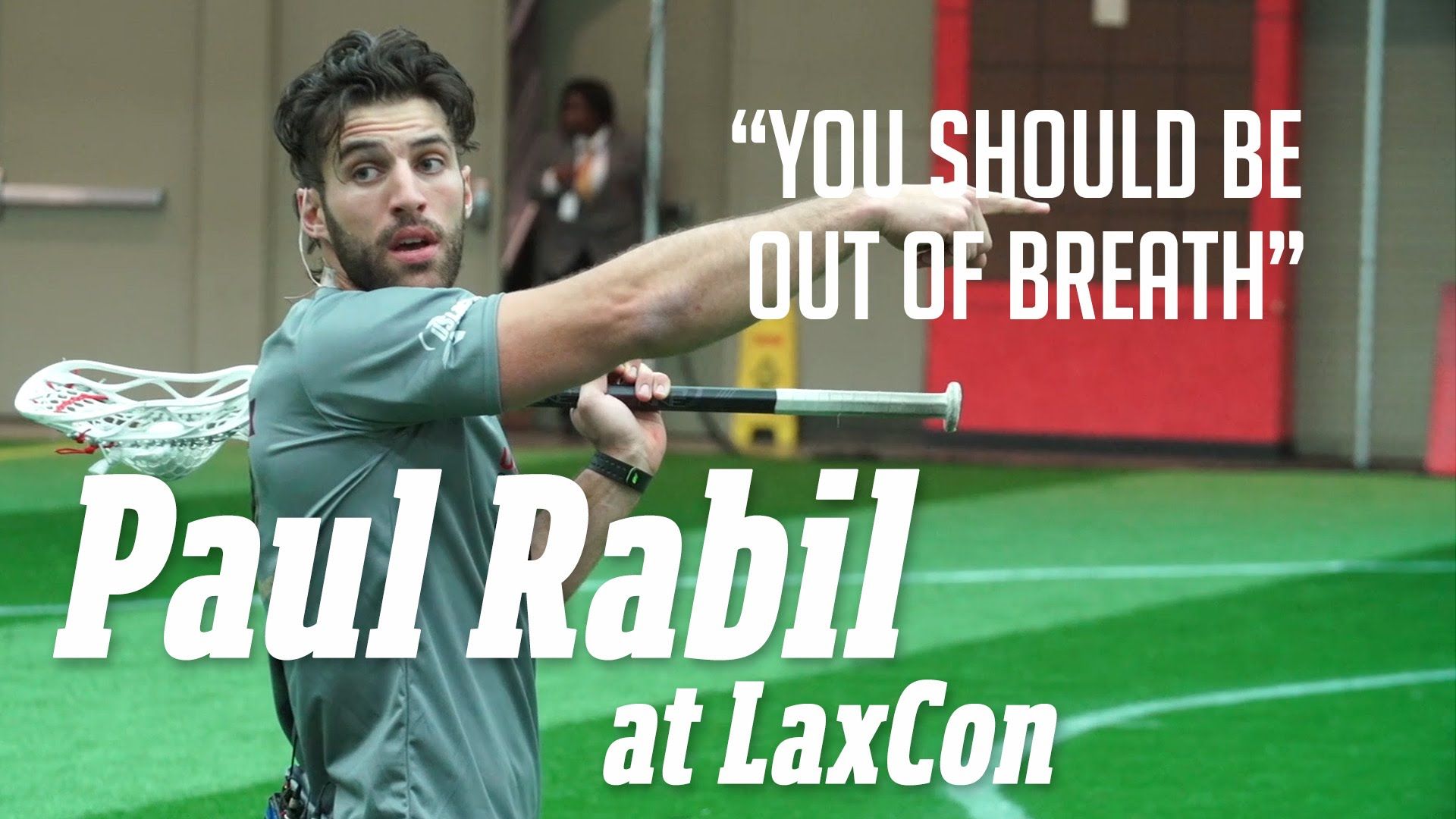 Discover how to:
Teach lacrosse fundamentals

Encourage good sportsmanship

Coach fun-filled practices

Ensure safety on the field

Communicate effectively with parents
About the Author
The National Alliance For Youth Sports has been America's leading advocate for positive and safe sports for children for more than 25 years. It serves volunteer coaches, parents with children involved in organized sports, game officials, youth sports administrators, league directors, and the youngsters who participate in organized sports. The Alliance's programs are utilized in more than 3,000 communities nationwide by parks and recreation departments, Boys & Girls Clubs, Police Athletic Leagues, YMCAs/YWCAs, and various independent youth service groups, as well as on military installations worldwide. For more information on the Alliance's programs, which are listed below, visit www.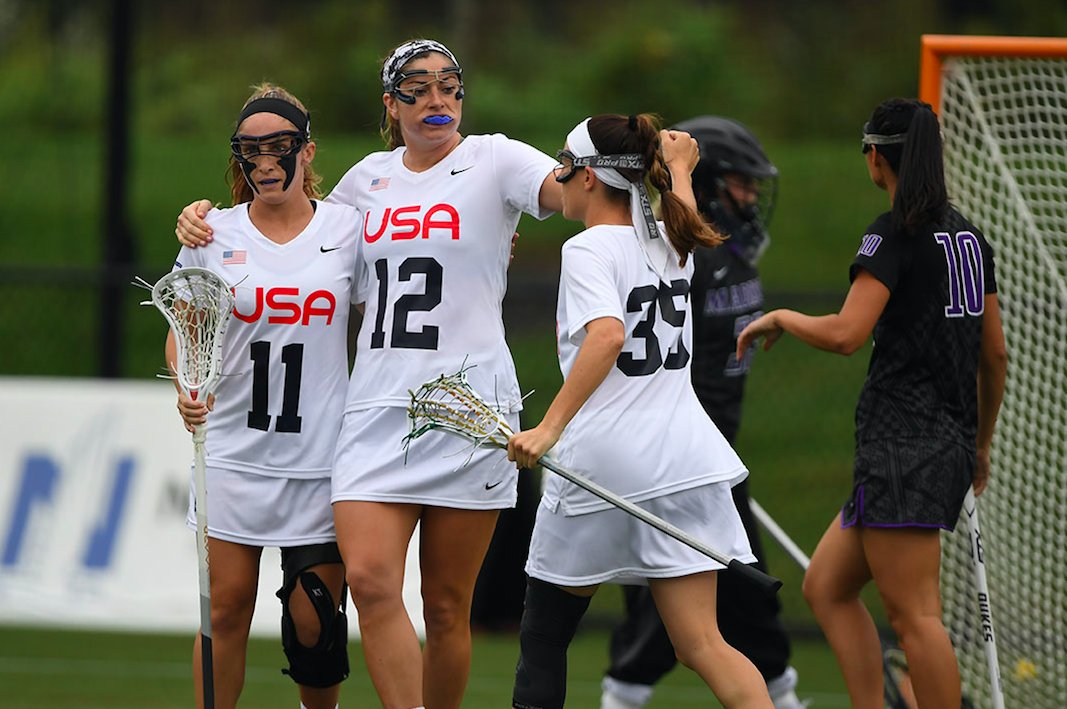 nays.org.
Greg Bach is the communications director for the National Alliance For Youth Sports (NAYS), a position he has held since 1993. Before joining NAYS, he worked as the sports editor of the Huron Daily Tribune in Bad Axe, Michigan, where he captured numerous writing awards from the Associated Press, Michigan Press Association, and the Hearst Corporation. He has a journalism degree from Michigan State University, which he earned in 1989, and is a devoted follower of his beloved Spartans in all sports. He's also the author of Coaching Soccer For Dummies, Coaching Football For Dummies, Coaching Basketball For Dummies, and Coaching Baseball For Dummies.
Lacrosse 101: Beginner Practice Plans
In preparing the Beginner Lacrosse Practice Plans we realize:
Beginners might not be of a young age.

Beginners might just be trying out the sport to see if they like it.

Beginners might not have an athletic background or experience in any other sports.

Beginners might bring a high level of athleticism and natural talent.

Beginners might not have ever seen a lacrosse game or lacrosse gear before the first day of practice.

Beginners might not know that communication is a central part of the game.

Beginners might not know the historic origins or traditions of lacrosse.

Beginners might learn very quickly.
You might work with a beginner who is older, loves lacrosse, has been playing other sports and now finally gets to tryout for lacrosse, has been avidly watching lacrosse, and has researched or has buddies who have explained lacrosse history to him, but most of your beginners will probably be kids who have some of the qualities listed in the bullet points above.
In San Francisco in October 2013 Dom Starsia (Head Coach at Virginia) and Chris Bates (Head Coach at Princeton) led a coaches clinic where they were asked about the number 1 thing youth coaches are doing that they could do differently to make youth lacrosse better.
They responded by pointing out that too many youth coaches are coaching things to get the players to win games that do not help develop the players in to good players.A classic example is the coach who has a big, physically domineering attackman, bigger than other kids his age, who can run through everyone and score goals with almost no use of skill.
Yes, utilize the players advantages, but make sure to teach that player good skills.For one thing, chances are that player will not always have such a lopsided advantage as his classmates grow, but the bigger point the coaches made was that if you coach the players to be good, they will get wins. Coach the players to be good first.Getting the players to be good players is the biggest responsibility for a coach teaching youth and beginning players.
The 2 most important things you can show a beginner on the first day are:
Athletic Stance

How To Hold A Lacrosse Stick
You will also want to tell them what the different parts of the stick are called, most importantly head, butt, shaft, and pocket, and you might want to tell them the stick is officially called a "crosse".
More than likely your group has some beginners mixed with some experienced players who might know why the stick is really called a crosse, so this would be a good segue to mention the origins and history of the game and maybe even have the players share what they know.
If you have experienced players with the group as you go through the beginner "orientation" conversation on that first day you can tell your experienced players that you are going through the spiel with everyone as if they were all brand new, but the more the players know the faster it will go.Most players will appreciate reviewing the terminology, being reminded about and maybe demonstrating athletic stance, and reinforcing holding the stick in the ready position.Having this conversation with your players establishes your lingo and expectations, gives players a platform to speak and step forward as leaders and captains, and also gives you full license to clean up bad habits your "experienced" players developed during the time when they were away from your coaching.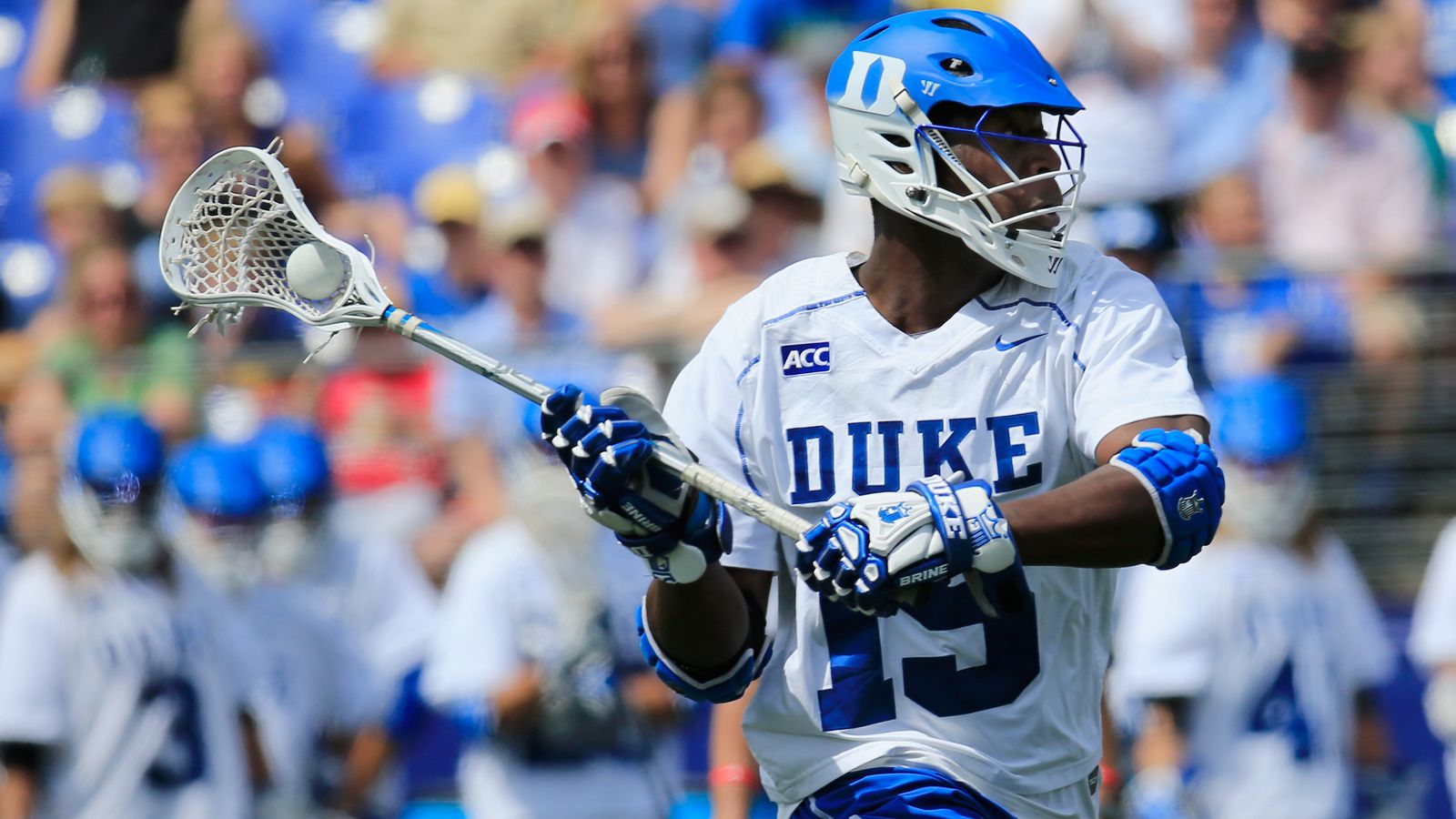 You might also consider separating your experienced players from your beginners if you have support coaches, or you might have the experienced players run a line drill while the beginners get started.Your experienced players can help demonstrate drills and a lot of players will follow along if they see what they are supposed to do.
Usually some beginners arrive to the team in the days after the first practice.You will still want to go through the basics with these stragglers.This is a perfect task for an Assistant Coach if you are lucky enough to have one, but if you are the only coach you might need to pull that beginner aside during drills until you can be sure he knows how to get started.You can also have an experienced player work with the newcomer to get them up to speed on the basics while the team is pressing on.
Line drills are something that most kids understand.If you ask a kid to step up and start a line drill, they will appreciate being given the leadership role and it will begin to get the kids organized.

Line drills are also an easy way for those kids running late to jump in.
Beginning players might not yet understand the importance of being at practice ready to go on time, and for younger players this is usually completely beyond their own control.People show up late, kids have trouble with their gear, some need to go to the bathroom, you name it, however this does not mean you have the kids who are ready to go stand around and wait.You are smart to start practice with warmups and line drills where players can merge in as they arrive or as they figure out gear issues or whatever is delaying them.
Young kids might not understand punishment for being late… maybe if their parents brought them to the field on time but the player took a long time to suit up.Anyhow, you might find you need to plan in time for tardiness as practice is getting started, though in the interest of getting practice moving you can decide to save the punishment for later in the day.See our section on Managing Lacrosse Parents for thoughts on establishing your team culture and your expectations for topics like punctuality.

The sequence of teaching basic skills that is working best for us is:
How To Pick Up A Ground Ball — The ball is going to be on the ground a lot at first and people find all sorts of ways of picking up the ball so you might as well have them do it the right way from the start.

How To Throw

How To Catch

How To Cradle
There are specific communication calls that go with the fundamentals in lacrosse.Even if players don't understand the lacrosse talk right away it is good for them to know that Lacrosse Is A Game Of Communication.The traditional beginner calls are:
Ground Balls
"Ball Down!" when the ball goes to the deck.

"I've Got Ball!" when the player is going to pick up the ball.

"Release!" immediately after the player scoops up the ball.

Catching
"Here's Your Help Joe!" when a player wants Joe to throw the ball to them.
I find it extremely helpful to instruct players to use their opposite arm on the first day.Some coaches disagree and find this approach to be controversial but I have had great success developing ambidextrous players by telling beginners to switch to the other arm as if this is just how we do things.Many of them just do it, and truthfully, it really is just how we do things.Players who find this awkward are usually finding everything awkward, as well they should since lacrosse is this new thing they are trying and have never done before, so in the beginning one arm is just about as awkward as the other.
With knowledge of but perhaps not proficiency in the basics beginners are ready to try the skills while running.Scooping a ground ball on the run and throwing while running tend to be straightforward while catching on the run seems to take more practice, so you might keep that in mind while planning drills for your practices.Thus, this is where I teach Shooting, with drills that don't have to involve catching, but which usually help players develop better accuracy, so that when they slow things down for a pass the pass is in a better spot to catch.
Once players start running with the ball it makes sense to start teaching dodges.Dodging actually increases understanding of cradling, and dodges can be introduced as part of cradling drills.The 3 basic dodges to teach are:
Face Dodge

Split Dodge

Roll Dodge
With players running and dodging it helps to establish what they are dodging to get away from, so you can use this moment to teach Defensive Footwork where defensive players keep offensive players away from the line at the center of the field between the goals or better yet behind the goal altogether.Defense, like all lacrosse, is played from the ground up, so you can have the players learn the defensive footwork and counters to dodges without their sticks.
Players dodging with the ball, however, often forget to protect their stick, so once players have some exposure to proper defensive footwork this is where I like to introduce Defensive stick checks to help the dodgers have better form:
Poke Check

Lift Check

V-Hold

Butt Hold
I do also teach the hip ride, where a defensive player with his hands together runs hip to hip with an opponent who has the ball and the defender uses his hands at the opponent's hip to guide the player away from the middle of the field, but I do not emphasize this move as it leads to a higher number of penalties.Players and especially beginners seem to interpret this check/move in a way that leads to crosschecks and very unsafe crosschecks to the back.The rules committee introduced a rule to prohibit "thrusting" to counter the danger and, frankly, the sloppy play and crummy footwork that this maneuver often brings.
The hip ride does have it's place in the game, mostly for middies, just like the kayak check and over-the-head check are good ideas when used correctly in the right situations, but with beginners I instead focus on the old-school V-Hold and Butt Hold, which are holds and even though they are called holds are not illegal (there is a penalty called a "Hold").In fact, teaching the poke check combined with the V-Hold is one of the best ways to instruct proper sliding and for showing new players the right way to hit.
You will need to make yourself aware of the rules for the age group you are coaching.We are categorizing these plans by skill level and not by age for a reason, since many young players are actually quite experienced.Younger players are, however, usually required to play with younger player rules, so hitting might not be allowed for a player at U11 for example.A High School beginner had better know very well how the collisions work so that he can avoid penalties and more importantly be able to protect himself and other players.
Letting you in on a little secret, this "beginners" sequence is the way I start my season no matter what the skill level I am coaching.If the players are all experienced and proficient this goes very quickly, maybe even in half a practice or less, but I like to review the basic individual skills from the ground up with everyone and, invariably, in those early season practices I almost always see something in the basic fundamentals that each player is doing that needs adjusting no matter how experienced the player is.I just remind them — victory often depends on being better at the basics.
There are some basic individual skills for Goalies and for Face-Off Specialists that are simple musts, though these skills are so specialized they are treated in their own section of the LaxPlaybook site.All lacrosse players including Goalies use the skills listed on this page.
In addition to individual beginner skills there are some beginner team concepts that a coach should cover as well — Man-Ball situations, Face-Offs, Fast Breaks for both Offense and Defense, a basic Clear, Rides, Basic Team Offense, and Basic Team Defense.None of these become that useful until the players develop a level of competency in the individual fundamental skills, but remarkably, a team can have success without complex offensive or defensive plays or rides or clears if their players have a basic understanding of the rules and a solid foundation of fundamental skills.
90,000 First Boxing Fight Tips for Trainers
Useful advice for new boxing trainers. I still think you should interact with (and learn from) a more experienced coach, but here are the things I've learned from my own experience.
Seconds in a fight can be very fun as you can be part of a fight AND watch the fight as well. The hardest part is figuring out how to make the adjustments that matter.And how to deliver information without overloading your fighter.
1.
Expectations
Every journey must start with the right expectations and realistic goals in mind. Set clear and honest goals with your fighter. What does your fighter want to do? Fight for the world title? Experience the excitement of performing? If your fighter is a 15-year-old rookie, it's best not to worry about being a world champion and instead focus on getting better and gaining experience in his first amateur fight.Otherwise, you drag your fighter into a whole world of pain if he loses the fight.
2. Training
Training should reflect expectations and goals. If you want to "just be a good boxer," you have to train very hard. If you want to "win," then you have to beat everyone in sparring every day. After all, battles are unpredictable, right? You enter the ring and you never know with whom you will fight, how well your opponent will fight, or how well you will fight you .So, your fighter needs to win almost every sparring match every day.
But again, since we're more realistic, let's focus on growth rather than winning. What have you been working on today? What have you learned? What things have you done now that you couldn't do before? What other things you could easily fix that would make a big difference?
I would recommend setting the date of the battle no later than 3-6 months. 3-4 months is even better.6 months can be too long and some fighters start to lose motivation. Reserving a fight just 1 or 2 months in advance can be a scary thing if your fighter is not in best fighting shape. 3-4 months is great because it's short enough to keep you excited and motivated, but long enough to get better.
Practice sparring adjustments .
Now is the best time to practice your coaching skills.When sparring, ask the fighter to do different things, and make adjustments on the fly. This is the ultimate test of coaching skills and can make a big difference on fight day. Sometimes, there is no time to learn a new concept or work on a new skill. You say what you see, and the fighter should be able to correct that immediately.
Practice being QUIET. Give your fighter a sense of security. Comfort, not excitement.
3.
BEFORE-fight
Week before the fight
Work on your fighter's strengths.No more corrections and criticism. Build confidence in your fighter. YOU ARE GORGEOUS, YOU ARE BEAUTIFUL, YOU WILL WIN! You did everything in your power. He will always have some bad habits, but he will also have some good habits. Give him confidence to feel confident in himself. Very few fighters commit ANY MISTAKE. Rather, they perform so well and feel so comfortable that their strengths compensate for their mistakes.
If you still need to adjust your fighter, make small, light adjustments.Don't make him feel like he needs to remember 10 new things or else he will be knocked out. Try to reduce everything to 2 or 3 things, or even just 1 if you can. Nobody remembers many things in the midst of a battle.
It is important to talk about " expectations from battle day ":
nerves (cause early fatigue)
difficult opponent (you get the worst guy in the tournament)
bad luck (bad refereeing)
muscle cramps (from overtraining or from weight gain)
insomnia last night
loss of mouthguard (or other equipment), and the need to wear one that is uncomfortable
you don't give the best performance (don't worry, NO ONE does)
… and a billion other things.
Anything that can go wrong WILL GO wrong .
Law of meanness, huh? Your fighter must be prepared for ANY situation. The important thing is that you WANT to be there. And that you are well prepared, and you know and expect to cope with these difficulties.
BATTLE DAY
The day of the battle has come! The first thing to take control over is your fighter's nerves. Some fighters get nervous right away when they wake up in the morning.Other fighters may appear to be 100% okay and then get popped in their pants the moment they are called into the ring. Make your fighter talk. As soon as he closes in his head, throw him out of there, forcing him to repeat the battle plan. If the fighter doesn't seem nervous, I still always force him to retell the battle plan.
You cannot help fighters with nerves ,
but you CAN give them a plan .
TRAINERS … be sure to make sure your fighter gets a fair fight.Equal size, equal skill, equal experience. Things might not always be fair, but at least be prepared to step aside if you are not given the kind of combat you want for your fighter. This is especially problematic in unofficial / unauthorized fights when you are fighting in someone else's hall.
And, once you've got an opponent, try not to focus on him. Try not to focus your battle plan only on the opponent. If you manage to see his movements, you may think of some tactics against it, but, otherwise, DO NOT LOOK AT THE OPPONENT.Plus, everyone always looks amazing when working on their feet. Your fighter probably doesn't even know how cool he looks, so he might get scared if you let him look at your opponent. Most fighters, one way or another, always start to get nervous, and perform at 25%.
HALF PLAN :
Try to do only half of the things you do in sparring .
That's all you need to do. Only half of your best in sparring and you will win.My argument is that most fighters who try to work 100% will end up trying too hard and overdoing it. By trying to work 100%, they will end up working only 25%. Trying to remember 100% of things, they end up doing only 25%. Instead, you need to trust that your body has already formed a habit out of most of these things, and you only need to remember a few things. Remember, the more you try to do, the worse you will perform. What works best is what comes naturally.
Warm up … move and stay warm. Wear clothes that keep you warm. This way you will sweat and your muscles will be in peak shape. If you strip down to a T-shirt, you will be cold and you will not feel unheated. Stay HOT so your muscles will be warm, relaxed, and ready to go.
4.
In-battle
Remind your fighter of a few things, and that's it. Fighters often resort to their habits rather than checklists.As for the nerves, enjoy the excitement. Nothing more.
During rounds
KEEP CALM … and SPEAK INSPIRED. If you need to scream loudly to get through, do it. If you need to speak calmly, or with a certain intonation, do it. Some trainers use an intonation of urgency and seriousness. Other trainers use an angry tone. And someone uses the intonation of calmness.
I think the best thing is to have peace of mind within yourself, otherwise your message will be lost in the excitement of this atmosphere.
Several popular commands :
keep your hands high
move your head
hit jab
beware of his right / left / etc.
keep moving
box with him
work on hull
My favorites :
hide your punches
look for open spaces
counter his right / left / etc
Between rounds
Again, give him a place of peace and safety.You have to tell him 1) that he is on the right track, and 2) what to do. The hardest part is when your fighter gets beaten up and doesn't do anything right. What if he's scared or falling apart? Some trainers think that shouting and a good shake is the best option. Other trainers think calming is the best option. It's up to you, but I prefer calming.
5.
Celebrate
When the fight is over, it's time to celebrate.And what are we celebrating? The same thing every time. Celebrate hard work, celebrate courage, and if he wins, celebrate victory. This attitude covers the worst case scenarios, such as when the fighter loses or worse (is knocked out). I don't believe in making a fighter feel like a loser, or punishing him for listening poorly.
Self-reflection is useful if it motivates the fighter to work harder. But it is not useful if it destroys the fighter's mood by making him feel inadequate or taking away interest from the fights.
Being a fighter is really hard and it's important to celebrate every little achievement they get. This is part of the process of developing positive growth, and very soon, victories will come.
90,000 Questions to the boxing coach | Esquire.ru Magazine
I want to practice martial arts, but I don't know what to choose. What is the difference between boxing and MMA?
MMA is a mixed martial arts, versatile sport.And therefore it is very difficult: in order to achieve success, you need to reach a high level in each type of combat, of which mixed martial arts consists, that is, everyone needs to be engaged at once. The same McGregor, in order to succeed, trained for eight hours every day. If we compare specifically with boxing, then in MMA there is a little more striking technique, legs and wrestling are added. In general, in mixed martial arts there is always an element of struggle, when opponents are in close contact with each other. But boxers almost always work at a distance, and there are no kicks here.
Do I need any preparation to come to boxing?
Not needed. The main desire. Sixty percent of our clients are office workers from Moscow City. In general, most come because they are tired of work. Among such girls, for example, almost 90% – girls very often when asked "How are you?" answer: "In general, everything is fine, but I am very tired." From such physical activity as boxing, the emotional background changes, tension disappears, stress decreases.
Someone comes to learn how to stand up for themselves. For example, a man got into a fight at a party, got hit on the head, went to the hospital – and then comes to boxing. I explain to such clients that this is a bad idea and fights for people who are proficient in fighting techniques often end very badly. I also noticed that many come to boxing to raise self-esteem, self-realization: for example, someone was offended at school, he grew up, but the sediment remained. Well, there are a lot of those who are simply bored with fitness.During boxing, new neural connections are constantly formed, because this is a very difficult sport – not only the hands, but the whole body work. The blow grows out of the legs, body and only then hand movements, plus coordination and pace are needed. A professional boxing match is 12 rounds of three minutes. Amateur – three rounds, and all this at a great pace, as you need to quickly score points. This makes the head work in a very different way.
So is boxing an effective tool to stand up for yourself?
It seems to me that this is the very first instrument.I would say that boxing and wrestling are the two most effective sports in this regard, just wrestling is softer: there you can drop a person, squeeze, and in boxing it is the striking technique. That is why boxing as self-defense is a dangerous sport.
Girls often ask if you can protect yourself if you are boxing. Can. To knock out a grown man, a weight of 40 kilograms is enough – if you hit correctly and know where to hit. Another thing is that in a stressful situation it is very difficult to get together and hit correctly.I would advise the girls to practice the usual straight punch with the right hand to the body closer to the solar plexus – and, if possible, run away.
Let's say I want to go to boxing, but I have health problems. How not to harm yourself?
As I said above, amateur boxing at the initial stage does not require any special training, and there are no restrictions as such. But of course, as with any sport, there are a few exceptions. I would not recommend boxing to those who have had serious hand injuries, because it is a strain on the joints.The same goes for serious blood pressure problems: boxing is about pace and cardio.
Otherwise, you can choose an individual training program for any health condition. For example, I have a marathon client who has a knee injury – she cannot sit down at all, only with support. We train with this feature in mind. There are clients who have serious vision problems – minus ten, for example. They wear special contact lenses. So everything is solvable.
Can you lose weight and dry out with boxing?
Boxers are like marathoners who run 42 kilometers: in such a run, as in boxing, excess weight is a big hindrance. Many argue that Muhammad Ali was quite large, but in physiology, he himself is so dense. He is the fastest heavyweight in history, this is his gift, his legs fluttered like butterflies and his arms flew. Boxing helps you find the ideal weight in which you are comfortable with the load, in which your breathing and muscles work as efficiently as possible.And in general, the body is in a very good tone.
How do you spot a bad boxing coach?
By school (theoretical part of boxing. – Esquire ). In general, the coach can be felt by the warm-up. For a person who has never exercised, the coach must first of all show the transfer of weight from one leg to the other and a turn, because this is the basis of the basics, there is no boxing without it. If the coach immediately shows punches and does not emphasize the transfer, legs, hips, then this is a bad coach.
Do I need to check if the boxing coach has a certificate of specialized education?
Good question. Most coaches do not have it, because most often those who have devoted part of their lives to boxing begin to teach – they became candidates for master of sports or masters of sports, and after the end of their sports career they began to teach themselves. And of course, such people can teach you everything they know. There is also a reverse example. My very first client was a lawyer.She really liked boxing, and so much so that she gave up jurisprudence and went to coaches. She graduated from some three courses, started teaching. But anyone who understands at least a little in boxing would see that there is no base there, that there is no school that has been developing over the years. Therefore, in my opinion, the certificate and diploma are not as important as the background.
I box with a coach, but I want to spar. How to get to the next level?
There is an open ring in boxing clubs especially for clients who want to try their hand at real fighting.For example, at Boxing Brothers, this is a special day where any customer can go out and test themselves. Whether a person is ready for sparring is determined by the coach. If a client wants to go to the ring, then I start working with him in advance, that is, we start by sparring with me. Such trainings are divided into two types: in one, the client works out the attack, and I defend, and in the second, the other way around. And it is very important to prepare for sparring in the ring – for the most part, people get lost when they enter an enclosed space. They do not understand where to go, what to do, by the last round they get tired, panic begins – plus we must not forget about the psychological pressure when the crowd is shouting around.All these points are important to take into account and work out in advance.
Just in case, I will say that sparring is not an obligatory part of boxing, you do not have to compete with an opponent, but simply practice with a coach if you want.
I'm over 30. Am I old enough to be a pro boxer?
I know guys who came to boxing at the age of 16-17, which is generally late for professional sports, and among them there are those who have become pro. But, of course, when you train professionally since childhood, you have a completely different body structure and different endurance.When I came to boxing, I had exercises in the morning with jogging and horizontal bars, then from 11 to 13 o'clock functional training, after 17 pm and all the way – sparring. Every day. This is a way of life, and few people are ready for this.
Boxing is associated with cruelty. Does this correspond to reality?
Our club shows that boxing is not a massacre, it is something completely different. Not what you heard from fathers or brothers who came after an accidental fight – and the mother had tears in her eyes.Boxing has aesthetics and was popular with aristocrats in the early 20th century. Because dirty tricks are not welcomed in it, there is a large academic part, a huge intellectual work. At the same time, there remains a story with overcoming oneself, tempering character, as in any other sport.
I box with an overly persistent trainer who gives me huge loads. Is that how it should be, because sport is pain?
If a person has an injury, if he feels bad, why force him? I have a different approach, because people come to a boxing club for themselves and for themselves, which means that you need to be disciplined, but do everything for your own pleasure.
Does body structure affect your ability to box? And what about genetics? Does boxing have what they call natural data?
Good results can be achieved in two ways: you can be born a talented boxer, tough and tough, you can grasp everything the first time – or you can just work very hard and hard. Everything is like everywhere else. It's another matter if you have any pathologies, features. But again, for example, the footballer Pele has one leg shorter than the other by 6 centimeters – and, despite this, he became an outstanding figure in the history of football.So data matters, but character is much more important.
How often should you box if it's just a hobby?
Ideally, two to three times a week. No more needed, this is too much of a load. Once, it seems to me, is not enough. And the professionals do it every day.
Is there any sense in group boxing trainings or do you need individual training?
Of course there is. It's just that in group training there is a different approach and a different task: there the coach, for obvious reasons, will not be able to pay due attention to everyone.But you immediately start working in tandem with other students. In personal training, first, the coach is always with you. Secondly, such training is aimed specifically at your development in boxing.
What do I need to buy besides gloves if I decide to go in for boxing?
Sportswear: shorts, a T-shirt, so that it is comfortable to move and nothing gets in the way. You definitely need bandages and gloves – you can take them in the gym, but your own is more convenient and more hygienic. If you already box at a serious level and in sparring, then you need a helmet and a mouthguard.And you can buy boxers (high-top boxing shoes. – Esquire ), they are more comfortable to move around.
How are gloves chosen and why are they so expensive?
For recreational sports, just about any 10 or 12 oz glove will work. For the gym, if you are not going to big sports, it is enough to take ordinary middle-class gloves. They will last a long time. Why are gloves so expensive? This is already a question for the manufacturer and marketers.But, of course, there are market leaders, these brands are known far beyond boxing and have proven themselves – Ultimatum, Everlast and so on.
What is generally considered a result in boxing? Is there a limit?
In my opinion, boxers are divided into three categories. The first one is the guys who decided to do boxing just for themselves, this is their hobby. The second is the guys who have been practicing all their lives: they are Ph.D., master of sports. Their goal is no longer just to spend time, but to win championships – from the conditional championship of the republic to the world championship, the European championship and the Olympic Games.The third is the media-heavyweights, superstars that not only the boxing community knows.
Do I need to eat in a special way when boxing, if the goal is to dry out or gain weight? How do you eat if you are boxing?
For nutritional correction, it is better to go not to a trainer, but to a nutritionist: you need to pass tests, according to the results of which the doctor will prescribe a diet for you. This approach is relevant for everyone, and every professional boxer has such a person.The nutritionist also monitors the boxer's "drying" when he loses weight before the competition (as a rule, this is a diet with a calorie deficit and a lot of cardio), and the weight gain if there is not enough mass. It is useful for everyone to go to such a specialist – if only just for the sake of understanding the characteristics of their body.
But there are general rules. Two hours before boxing training, you need to eat so that the food has time to digest. If you eat right before training, you can get unpleasant consequences – pain in the abdomen, in the side.During training, we drink a lot of water, but this is only permissible in general developmental amateur training. For professionals, coaches are divided into two types – someone allows drinking during training, and someone does not, in order to force the athlete's body to work even in conditions of dehydration and thereby prepare for serious stress in the ring.
Is there a community around boxing?
Of course. These are separate groups of children who have already finished their careers or have started amateur training.These are boxing clubs like ours. There are a lot of open rings where completely different people gather – both former athletes who want to remember their feelings from the fight, and those who have recently come to boxing. Such rings are held on pure enthusiasm in order to communicate with like-minded people and box.
Read also:
I'm embarrassed to ask: 11 burning questions for a fitness trainer
I'm embarrassed to ask: what to do with excessive sweating?
90,000 Boxing Exercise – Exercise 2021
The sweet science of boxing relies heavily on several muscle groups in your body, namely the biceps muscles in the upper arms, abdomen and abdominals, as well as the deltoid muscles of the shoulders.The right balance of cardio and strength training can keep your body fit for boxing.
Work biceps
To keep your biceps in top condition, try a barbell curl. Stand up straight with your feet shoulder-width apart and your head on your back. Hold the barbell with your arms extended down in front of you so that it is at hip level. At the same time, bend your arms as you lift the barbell toward your chest. Lower your arms back one rep.
Pronet & Planck
The Incline Board is an excellent exercise for strengthening the abdominal and body muscles, which are essential for maintaining shape as they promote balance and coordination.Start in a basic push-up position on the floor, resting on the palms of your hands and feet. Hold this position for 30 seconds to a minute, then rest and repeat, holding it longer each time.
Crunch It Up
Compression exercises work with the rectal muscles as well as the oblique and hip flexor muscles. Lie face up on the floor with your legs extended and your arms extended in the air. Engage in the core and bend your waist, squeezing your toes, then return to the starting position.
Try Arnold on Size
To keep your shoulders and back strong, the Arnold dumbbell press is one of the most essential exercises you can incorporate into your routine. With the dumbbells in hand, sit on the edge of the bench with your feet flat on the floor and your arms bent in front of you. Your palms should be facing your chest. Raise your arms together to the sides and up over your head with your palms facing forward. Return to starting position.
The importance of cardio
Regular cardio is a must for boxers.On a weekly exercise regimen, do at least four to five 30-minute sessions of moderate to vigorous cardio – brisk walking, running, cycling, rowing, jumping rope. It helps maintain a low fat-to-muscle ratio and improves cardiovascular health.
Training Planning
Proper training planning is always important. This should be done three to four times a week.