Lax world closing: Lacrosse retailer LAX World shutters stores and leaves Cockeysville headquarters
NEWS ROOM:LAX WORLD CLOSES DOWN AFTER 29 YEARS! | by Sean Rooney
Good Morning everyone! Welcome back to the News Room. I've been running around like mad man that past few days. I'll be back on schedule as best as I can this week. There's a bunch of things to cover and unfortunately the news in lacrosse hasn't been the best, but that's what the news does hahah. Leading off, the first ever Lacrosse Retailer closes it's doors after 29 years. Well if you continue reading all the way down you start to see a positive shift hahah.
Very said to see this happen. I have worked for a lacrosse retailer in the past and it is sad to see. Lax World closed their 16 store front's and shutdown their corporate headquarters in Cockeysville. Four years ago the original founder sold the company to three executives. Since the online business has been booming and larger named brands are starting to sell directly on their websites it has hurt retailers across the board. Everyone is adapting to it and it seems like having a bunch of retail stores are not the way to go anymore.

Online is great and all, but I would rather have the one on one experience from a trained salesman. Nothing beats going into a store and picking out exactly what you want in my opinion. For more information on the closing of Lax World check out this article in the Baltimore Sun.
WOW that is a some serious $$. Can't wait to see this team in about five to seven years. I can see a NCAA tournament appearance on the horizon. Oh and you can't forget this part…
"The three-story Wellness and Events Center is just one piece of NJIT's $400 million vision to transform the university into a space dedicated to learning and research, which includes a new life sciences and engineering building, a residential artist college and a new parking deck." — KAREN YI NJ.COM
Did you do the math of how much more $$ is coming? It is another $290 million. I'd say they'll be a big time sports school soon and not just a great academic one.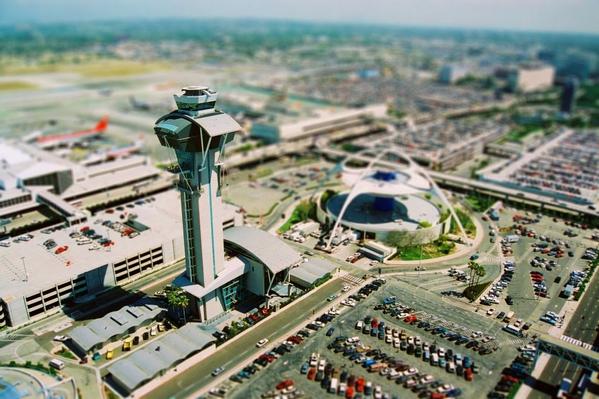 During halftime at Delaware's football game they announced that the stadium would be receiving a 60 million dollar up grade. That $60 million is only the beginning of Delaware's new fundraising campaign, Delaware First, where they want to raise a total of $750 million! See not all news is bad news and I think this is only the beginning. I think you'll start to see ever school upgrading and expanded. What a time to be alive!
A tired Le'Veon Bell said he should have signed up for lacrosse. Yea this is awesome to see, but I feel like he is saying lacrosse is an easier sport. I can be overthinking it, but I don't know. He should have signed up for Lacrosse and he can see how it is to bust your ass in both NLL, MLL, and keeping a full time job in order to make a living. I want him to do that and then see if he should have still signed up for it.
Mustache madness is up to $157,000 already this month and their goal is $200,000. They surpassed $1,000,000 dollars over seven years! This is the best fundraiser out there! They have give aways, they have brackets, they have a trophy, and they just have it all.
They do an amazing job and it is so amazing to see what the lacrosse community can do when they come together. Check out Clausen's latest giveaway update below in the YouTube video.
Four day out until the number ONE fall recruiting event! Be sure to look for me I'll be there all over the place. I'll have some lanyards, bracelets, and much more to hand out! You maybe even added to the highlight video! Be sure to look for me and say what's up!
BBJ Exclusive: Lax World Closes Stores, Faces Multiple Lawsuits
This story first appeared Nov. 8 in the Baltimore Business Journal, a sister publication of Inside Lacrosse. Check out the BBJ for more coverage of this developing story.
If you played lacrosse in Maryland, chances are you bought your gear at Lax World and maybe even worked there.
For almost 30 years Lax World, which bills itself as "the first lacrosse store," was a pillar of the lacrosse world. In Maryland, a state known for its love of lacrosse, the retailer has been revered since it was founded in 1988.
Now, four years after Lax World was bought by a group that included two former Jos. A. Bank executives, the company has closed all of its stores and faces more than a dozen lawsuits — including from Johns Hopkins University and local mall owners — alleging it owes hundreds of thousands of dollars in unpaid debts.
Until earlier this year, Cockeysville-based Lax World operated at least 16 locations in Maryland, Colorado, Georgia, New York and Washington state. On its website, Lax World now lists just two locations — both in Georgia. For one of the locations the phone number is disconnected. The other, in Roswell, goes to Lax Zone, a different retailer that opened up in Lax World's space there a couple of weeks ago.
Interviews with some in the tight-knit sport say Lax World may be feeling the effects of the larger challenges retailers across the United States are facing. Others say Lax World may have tried to expand too quickly.
Frank Barbarino, a former senior vice president and general merchandise manager for Jos.
A. Bank, is the CEO of Lax World. He and Michael Stewart, a former vice president of planning and allocation at Jos. A. Bank, bought Lax World for $1.65 million in 2013, according to a copy of the acquisition agreement obtained by the Baltimore Business Journal. Robert "Bobby" Martino, a former professional lacrosse player who was a vice president at Lax World under the previous management, was also part of the group and was listed as chief operating officer in court documents.
Barbarino and Lax World declined to comment through their attorney, Douglas Seitz of Wright, Constable & Skeen LLP.
Lax World's flagship store at the Shops at Kenilworth closed in September. Lax World owes the Kenilworth Limited Partnership $32,908 for its lease at the mall, according to filings in the District Court of Maryland for Baltimore County. The Kenilworth Limited Partnership is an entity of the mall's owner, Greenberg Gibbons, which could not be reached for comment.
Lacrosse, long a hotbed sport centered in Baltimore and Long Island, has grown in popularity across the U.
S. over the last decade. Manufacturer sales in the industry grew 38 percent between 2011 and 2016 to $91.7 million, according to the most recent report by the Sports and Fitness Industry Association.
All of the lawsuits against Lax World have been filed since new ownership bought the company in 2013. In some cases, landlords seek payment of unpaid leases. In others, manufacturers and vendors want Lax World to make payments for goods the company purchased.
Here's a brief look at some of the cases:
Johns Hopkins University sued Lax World for not paying $39,000 from a five-year, $60,000 sponsorship agreement. The sides agreed to a $20,000 settlement in May, but according to court records, Johns Hopkins says Lax World has not made any payments toward that either, so it filed another lawsuit. Hopkins declined to comment.
King Family Properties LLC claims Lax World owes it at least $60,331 for a lease at 3410 Plum Tree Drive in Ellicott City, according to a suit filed in Howard County Circuit Court.

A vendor, Inversiones Casta S.A., claims Lax World owes it $25,097.
Lax World agreed to a settlement with Debeer Lacrosse in October 2016 over a dispute about unpaid merchandise. The settlement with Debeer totaled $6,000. If Lax World did not pay the settlement on time, it would owe about $19,895.
Champion Sports Products Inc. sued Lax World in October for $31,489 for unpaid invoices.

Cascade Maverik Lacrosse LLC in a federal lawsuit claims Lax World owes $500,619 as of Oct. 12 for unpaid invoices.
At the time of the sale to Barbarino, Stewart and Martino, Lax World reported a $1.3 million profit in 2013 as of May 31 that year, according to a financial statement included in court records.
To read this story in full, visit the Baltimore Business Journal.
All clear given after abandoned limousine prompts evacuations at LAX
A limousine left in a red zone outside Terminal 5 at Los Angeles International Airport prompted an evacuation Friday morning.
The driver said someone told him it would be OK to leave the vehicle there while he helped a customer with their bags.
Instead, the abandoned vehicle triggered an emergency response and the evacuation of the terminal.
Traffic in the Central Terminal Area is being diverted due to police activity. Please allow extra time when coming to the airport and follow direction from traffic officers.

— LAX Airport (@flyLAXairport) August 6, 2021
Video from the scene showed dozens of people with luggage in hand standing out in the street just before 7 a.m. The terminal houses several airlines, including Spirit Airlines and American Airlines.
Passengers could also be seen standing outside Terminal 4 nearby.
An employee at the airport told KTLA they heard the evacuation was due to a bomb threat. The Airport later stated that a suspicious vehicle was involved.
A Los Angeles Police Department bomb squad was called to the scene to check out the vehicle, according to an LAX police statement.
A tweet announcing that the airport was clear was sent out just after 7 a.m.
UPDATE: All clear given at LAX after suspicious vehicle prompts security concern. Traffic diversions have concluded. Please be patient as LAX resumes normal operations.

— LAX Airport (@flyLAXairport) August 6, 2021
The driver was expected to be cited for the violation and have his limousine towed from the scene.
Passengers were asked to remain patient as the airport resumed normal operations.
Close Modal
Suggest a Correction
Suggest a Correction
Delta, Los Angeles International Airport accelerate terminal transformation by 18 months
Customers can now look forward to the all-new Los Angeles International Airport experience a full 18 months sooner than planned.
Los Angeles Mayor Eric Garcetti joined leaders from Delta and Los Angeles World Airports (LAWA) Thursday to announce the acceleration of the Delta Sky Way terminal modernization project  – a $1.
86 billion project to modernize, upgrade and connect Terminals 2, 3, and the Tom Bradley International Terminal that will now be ready in mid-2023. 
The announcement came during a "topping out" ceremony Thursday as the final steel beam was secured to complete the central headhouse structure, where Delta's consolidated check-in lobby, security checkpoint and bag claim facility will be located.  
"LAX is a central pillar of our economic strength — part of the connective tissue bringing our city to the rest of the world — and we remain focused on enhancing its infrastructure, strengthening our workforce, and transforming the traveler experience," said Mayor Garcetti. "Even as we confront the immediate crisis of COVID-19, we are accelerating our work to devise a premier airport where visitors are greeted by reimagined terminals, workers land in good-paying jobs, and the city of the future truly takes off." 
Lower passenger volumes at LAX and throughout the U.
S. are allowing for the temporary closure of Terminal 3 and the acceleration of the project, making it possible for the facility to open in mid-2023, instead of late 2024.   
"If there's a silver lining to fewer people flying right now, it's that we have an opportunity and a team with the know-how to pull the future forward on infrastructure projects like Sky Way at LAX, which will deliver an exceptional experience much faster than planned for our customers and employees," said Mark Pearson, Delta Vice President – Corporate Real Estate. "This is all possible thanks to the incredible support of LAWA, the City of Los Angeles and our construction partners who are aligned with our vision, and our employees who continue to be nimble in supporting customers throughout each phase of construction." 
Delta's LAX central headhouse will open in the first quarter of 2022. The facility will also provide connectivity beyond security between Terminals 2 and 3, currently only possible via shuttle bus.
 The project will provide access to the LAX Automated People Mover, opening in 2023.  
Sean Burton, President of Board of Airport Commissioners added: "By working in close partnership and cooperation with Delta Air Lines, Los Angeles World Airports is leveraging opportunities to create efficiencies and deliver this project ahead of schedule by more than a year. "We are grateful to Delta and all our partners who are helping us build world class facilities worthy of our great City."  
"As we reimagine Los Angeles International Airport, the modernization of Terminals 2 and 3 is an example of how we are realizing our goal to be one of the top international airports in the world by creating new facilities and passenger experiences that are modern, streamlined and built on a framework of advanced technology," said Justin Erbacci, Chief Executive Officer, LAWA. "The new headhouse will be a new front door for Delta Air Lines guests, creating a key linking point for the north terminals and providing easy access to the Automated People Mover train when it begins operations in 2023.

" 
When completed, the modern LAX facility will offer more security screening capacity, automated security lanes, more gate-area seating and Delta's largest Delta Sky Club. This is in addition to all the amenities that Delta customers have come to expect at LAX, including the Delta ONE at LAX check-in space and a world-class concession program in partnership with Unibail-Rodamco-Westfield Corporation. 
Other key features and benefits include: 
A 27-gate complex on Terminals 2 and 3 with a secure connection to Tom Bradley International Terminal, enabling Delta and its global partners to effectively utilize gates in all terminals, while allowing customers to seamlessly traverse between each using convenient corridors, cutting down connecting times by up to 20 minutes 

A new headhouse with centralized lobby, security screening checkpoint, baggage claim and Delta Sky Club 

Reconstructed Terminal 3 concourse with new gates and a complete renovation of the 1960s-style satellite building. Terminal 3 will be larger, have more gate and seating space and feature premium retail and dining lineups   

The largest Delta Sky Club found anywhere featuring an indoor/outdoor double bar, a year-round outdoor Sky Deck, premium showers and more  

A revamped Delta One check-in experience to speed through check-in, enjoy expedited security lines and more 

Convenient and contemporary restroom facilities 

More access to at-seat power in gate areas   

State-of-the-art finishes that provide a greater sense of space and comfort 

Modern, intuitive signage 

Connection to the Automated People Mover train, which is expected to be fully operational in 2023, connecting to the Intermodal Transportation Facility – West, Consolidated Rent-a-Car facility. and ultimately the LA Metro light rail, making it easier for customers to get from across LA to their airport terminal without getting into a car 

Airfield efficiency, thanks to dual taxi lanes that allow for more streamlined movement of aircraft and on time arrivals 
"We've built a robust domestic and international network out of Los Angeles that customers have quickly come to rely on," said Scott Santoro – Delta Vice President – Sales.
"We remain committed to offering the destinations and service customers have come to expect from Delta out of L.A. as the Sky Way project continues and our network is poised to be stronger than ever out of LAX as we recover from the pandemic."  
The Delta Sky Way project is part of the $14 billion LAX Modernization Program that will see LAX transformed in advance of the 2028 Olympic and Paralympic Games in Los Angeles, of which Delta is the inaugural founding partner. It is being completed in partnership with LAWA and the City of Los Angeles, and is part of more than $12 billion in airport infrastructure projects that Delta is investing in at several of its key hubs in Atlanta, Los Angeles, New York, Salt Lake City and Seattle. 
Delta has also accelerated construction of the $3.9 billion transformation of its New York – LaGuardia hub with an anticipated new completion by the end of 2025 – six months ahead of schedule. Meanwhile, the new Salt Lake City Airport that opened in September of this year will see projects including airfield pavement work and remaining gates at concourses A and B completed by mid-2024 – a full year ahead of schedule.
Photo captions: At top, a gigantic steel beam is hoisted and secured into place, marking the completion of Phase 1 of the LAX Sky Way project. Below, Los Angeles Mayor Eric Garcetti signs the beam. The other two images are renderings showing the completed project.
---
About Delta in L.A. 
Delta Air Lines (NYSE: DAL) made a commitment to become L.A.'s premier, premium airline over a decade ago, and has since been the fastest-growing airline at the airport. LAX will continue to be one of Delta's most important hubs as the airline continues offering service where customers need to go as it recovers from the global pandemic. Recently added service at LAX includes:  
Mexico and Central America with multiple daily trips to Cancun, Mexico City and San Jose del Cabo; and December holiday service to designations in Costa Rica, Guatemala and El Salvador  

Florida destinations including Fort Lauderdale, Orlando and Tampa 
Sydney, Australia 

New Reno/Tahoe service is launching with three peak-day departures over Thanksgiving,  

December holiday service for ski enthusiasts to Bozeman, Mont. , Jackson Hole, Wyo., and Sun Valley, Idaho.  

Hawaii destinations with multiple trips to Honolulu and Maui, and service to Kona and Lihue.  
Delta is the U.S. global airline leader in safety, innovation, reliability and customer experience. Powered by our employees around the world, Delta has for a decade led the airline industry in operational excellence while maintaining our reputation for award-winning customer service. 
Today, nothing is more important than the health and safety of our customers and employees. Since the onset of the COVID-19 pandemic, Delta has moved quickly to transform the industry standard of clean while offering customers more space across the travel journey. These and numerous other layers of protection ensure a safe and comfortable travel experience for our customers and employees. 
Downloadable photos, text and b roll video available in a media kit here
Los Angeles International Airport [LAX]
Los Angeles International Airport (LAX) is the third-busiest airport in the world, and the second-busiest in the U.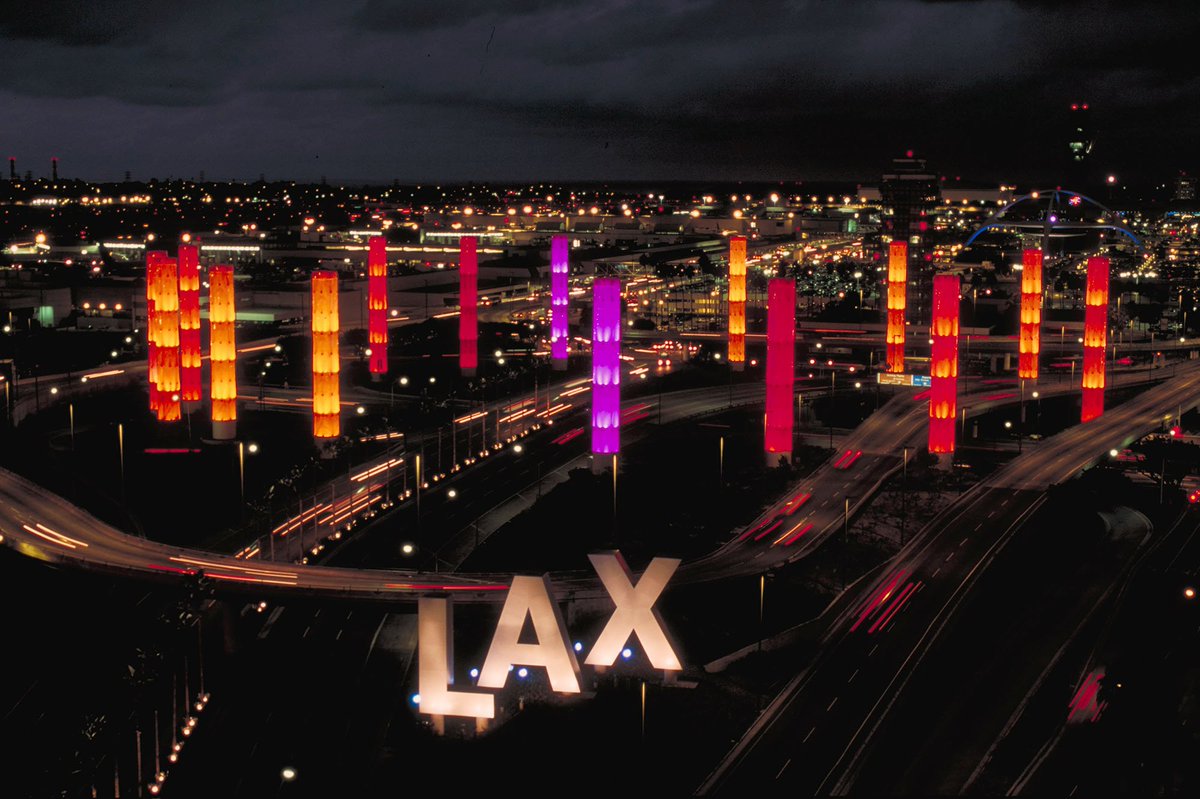 S. (after Hartsfield-Jackson Atlanta International Airport).
LAX is in the middle of a huge $15 billion modernization project that started in 2009, with an estimated completion of 2023.
These major developments will include an automated people mover to transport passengers in between terminals and to Metro Rail links, a new car rental center, and road improvements to ease congestion.
Although the airport has quite a clear layout, not all of the terminals are linked to each other. This can make flight connections long-winded, sometimes having to clear security again for onward travel.
Update: Some terminals and facilities are closed or operating under reduced hours due to COVID-19. Check directly with the airport or your airline for more information. 
Quick Information
Airport: Los Angeles International Airport (LAX)
Terminals: 9 total, including 1, 2, 3, 4, 5, 6, 7, 8, and B (Tom Bradley International Terminal)
Airport Address: 1 World Way, Los Angeles, CA 90045
Distance From Los Angeles: 15 miles (24 km)
Website: flylax.

com
Phone Number: 855-463-5252
Destinations Served: 111 domestic, 89 international
Flight Information: Departures and arrival information can be viewed here
LAX Terminal Map
Los Angeles International Airport map. Image Credit: Los Angeles International Airport
Airlines Operating from LAX
Terminal 1Terminal 2
Aer Lingus
Aeromexico
Delta Air Lines
Virgin Atlantic
WestJet
Hot Tip: Delta's renovation of Terminals 2 and 3, known as Delta Sky Way, is anticipated to be complete in 2023 and will feature the largest Delta Sky Club and a year-round outdoor sky deck.
Terminal 3
Delta Air Lines
Virgin Australia
Terminal 4Terminal 5
Allegiant
American Eagle
Delta Air Lines
Frontier Airlines
Hawaiian Airlines
JetBlue Airways
Spirit Airlines
Sun Country Airlines
Terminal 6
Air Canada
Alaska Airlines
Boutique Air
Mokulele Airlines
Thomas Cook Airlines
Viva Aerobus
XL Airways France
Terminal 7 and 8
United Airlines
United Express
Tom Bradley International Terminal
Aeroflot
Air China
Air France
Air New Zealand
All Nippon Airways (ANA)
Air Tahiti Nui
Alitalia
Asiana Airlines
Austrian Airlines
Avianca (Arrivals)
British Airways
Cathay Pacific
China Airlines
China Eastern
China Southern Airlines
Copa Airlines
EL AL Israel Airlines
Emirates
Etihad Airways
Eva Air
Fiji Airways
Finnair
Hainan Airlines
Iberia Airlines
Interjet
Japan Airlines
KLM Royal Dutch Airlines
Korean Airlines
LATAM
LOT Polish
Norwegian Air Shuttle
Lufthansa
Philippine Airlines
Qantas
Qatar Airways
Saudia Airlines
Scandinavian Airlines
Sichuan Airlines
Singapore Airlines
Swiss International Air Lines
Turkish Airlines
Volaris
Xiamen Airlines
LAX Airport Terminals
Los Angeles International Airport map of interterminal connections.

Image Credit: Los Angeles International Airport
LAX and its terminals have a U-shaped layout, with a double-level road and airport parking located inside of the U and all of the terminals on the outside. Flight departures are on the upper level and arrivals on the lower level.
There are 9 terminals in total, numbered 1 through 8 and Terminal B (Tom Bradley International Terminal).
How you travel between terminals at LAX depends on where you're going and whether you want to (and have the option to) stay airside to avoid clearing security again.
Connecting From Terminal 1
Terminal 1 isn't joined to any of the other terminals directly, so if you're connecting to another flight, then you'd need to exit the terminal and allow time to pass through security at the next terminal. You can utilize the airport shuttle service to get there or walk.
Connecting From Terminals 2 to 3
Terminals 2 and 3 aren't connected to each other via an airside walkway but are connected landside, meaning you'd need clear security again when re-entering.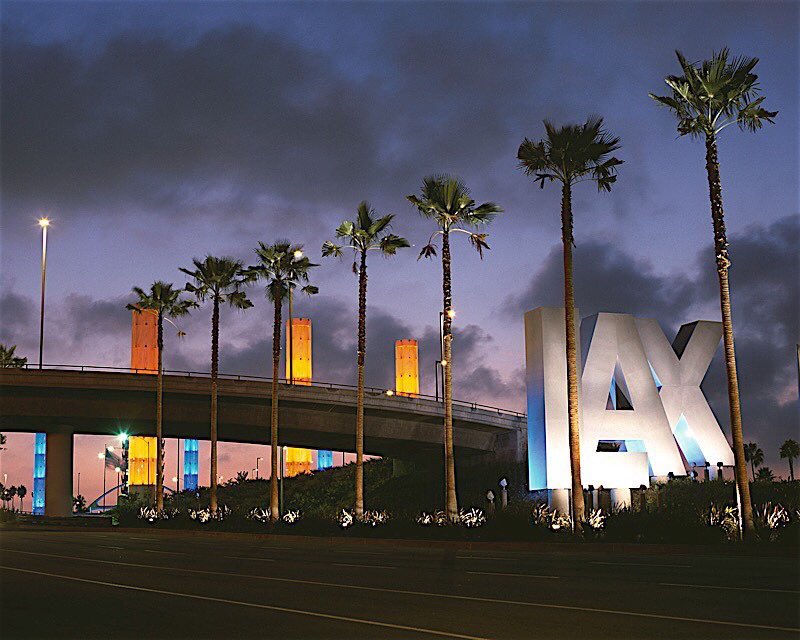 These 2 terminals are also not connected to any other terminals so you'd need to exit these terminals to gain access to any of the others.
Connecting From Terminals 4 Through 8
You can travel between Terminals 4 through 8 without passing through security again via a number of airside walkways.
There's also a remote Regional Terminal that American Eagle operates out of. This is only accessible by shuttle bus from Terminal 5.
Connecting to Terminal B (International Terminal)
From Terminal 4, you can reach Terminal B without having to pass through security again. This is via a connection bridge located near security in Terminal 4. If you're coming from Terminal B and connecting to Terminal 4 through 8, then you will need to pass through security.
Interterminal Transport
Some of the connection tunnels have moving walkways, but many don't. With that in mind, you might choose to use the free landside shuttle bus that runs every few minutes on a counter-clockwise loop, stopping at all terminals.
Sidewalks on the double level road are also available to walk from one terminal to another, or if you're heading from Terminals 1 through 3 (north) to 4 through 8 (south), then you can also cut through the centrally situated parking garages to reach the other side.
Security and Customs at LAX
LAX has security checkpoints at every terminal apart from Terminal 8 which shares a checkpoint with Terminal 7.
As part of the airport's 15-year expansion and renovation plan, Terminal 1 received an upgrade to its security checkpoint, as did Terminals 4, 7, and B, with 14 automated screening lanes introduced in Terminal B.
Passengers can check estimated security wait times.
All international flights have to clear customs on arrival, and there are separate customs checkpoints at each terminal that receives international flights.
TSA PreCheck
LAX has a dedicated TSA PreCheck lane at each terminal for expedited screening.
If you're eligible, having applied online, paid the $85 fee, and attended an appointment at an enrollment center, then you may use this lane for quicker processing.
The airport also has a TSA PreCheck Enrollment Center located in Terminal 1 in the baggage claim area on level 1. Once your application is approved, you'll receive a Known Traveler Number and you can use TSA PreCheck lanes at any U.S. airport.
Global Entry
LAX also has Global Entry kiosks for expedited international clearance of passengers who have enrolled in the program. An application can be submitted online, and an interview will need to be scheduled at an enrollment center or arranged at participating airports for Enrollment on Arrival.
LAX doesn't have a Global Entry Enrollment Center inside the airport; however, there is one located close by at 11099 S. La Cienega Blvd. The airport does allow Enrollment on Arrival for conditionally-approved applicants.
Mobile Passport
LAX supports Mobile Passport Control and has a dedicated Wi-Fi connection specifically for this.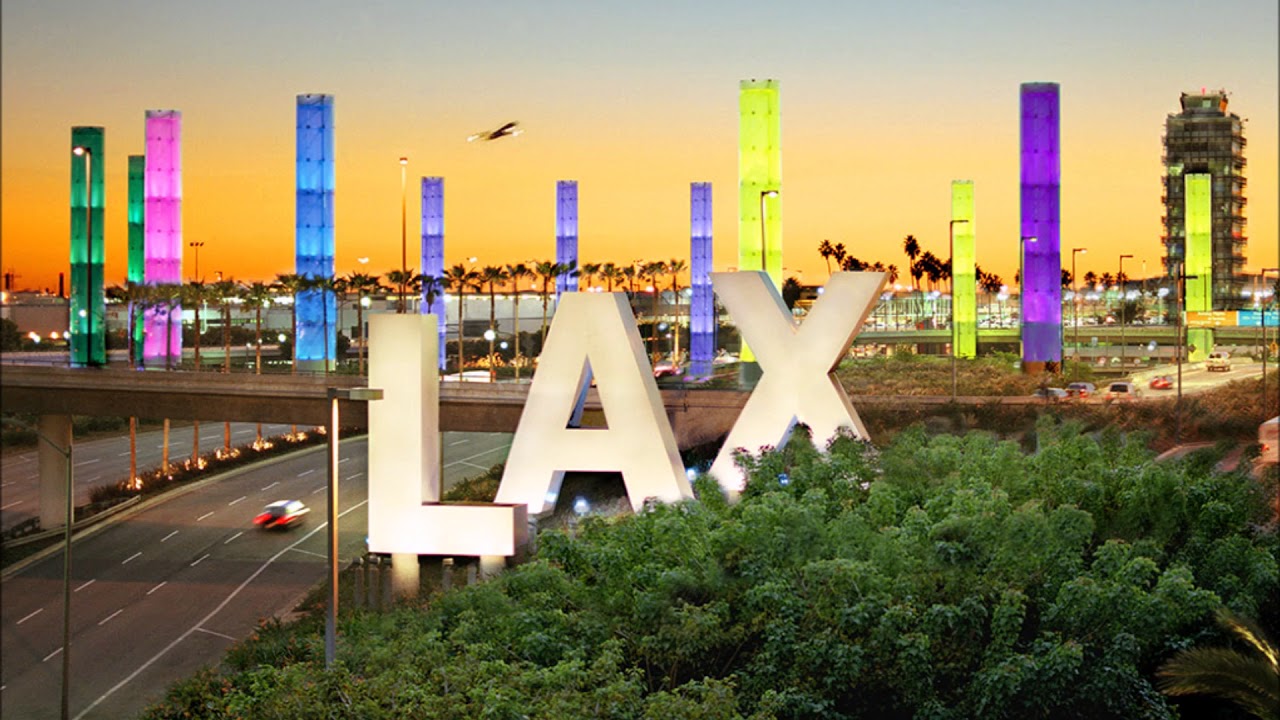 Just submit your details on arrival at LAX and present your instant receipt and passport to a CBP agent.
CLEAR
LAX has CLEAR lanes in Terminals 1 through 7 for expedited security clearance. This program requires enrollment and an interview for eye and fingertip scanning. Delta Sky Club has a CLEAR Enrollment Center in Terminal 2 for Sky Club Members.
LAX Airport Lounges
LAX has 21 lounges. Some lounges are exclusively for passengers flying in premium cabins or for elite tier frequent flyer members. Several lounges, noted below, allow passengers in all cabins to purchase a day pass (subject to capacity allowance).
Hot Tip: Though not technically a lounge, there is an exclusive private luxury terminal at LAX. See an inside look at what it's like to experience PS LAX (formerly The Private Suite) in our review.
If you aren't eligible for lounge access with your airline, or your airline doesn't have a lounge at LAX, then you can purchase a day pass at certain lounges.
Lounge
Location
Opening Hours*
Day Pass Fee per Person**
Air Canada Maple Leaf Lounge
Terminal 6, near gate 65B
Daily: 4:30 a.m. to 9:45 p.m.
N/A
Alaska Airlines Lounge
Terminal 6, near gate 64B
Sunday to Thursday: 4:30 a.m. to 8 p.m.
Friday and Saturday: 4:30 a.m. to 11 p.m.
$50
American Admirals Club
Regional Terminal, near gate 52D
Daily: 5:15 a.m. to 10:30 p.m.
$59
Terminal 4, near gate 40
Daily: 4 a.m. to 12:45 a.m.
Terminal 5, near gate 53B
Daily: 4:45 a.m. to 12 a.m.
American Flagship Lounge
Terminal 4, near gate 40
Daily: 4 a.m. to 12:45 a.m.
N/A
Centurion Lounge
Terminal B, on the left after security
Daily: 7 a. m. to 3 p.m.
N/A
Delta Sky Club
Terminal 2, near gate 23A
Daily: 4:30 a.m. to 12:30 a.m.
N/A
Terminal 3 (north), near gate 34
Daily: 4:30 a.m. to 12:30 a.m.
N/A
Terminal 3 (south), mezzanine level
Daily: 6 a.m. to 10 p.m.
N/A
Emirates Lounge
Terminal B, Level 6 lounges
Daily: 12:40 p.m. to 4:40 p.m.
N/A
Etihad Airways Lounge
Terminal B, Level 6 lounges
Daily: 1:30 p.m. to 4:55 p.m.
$60 when flying Etihad
LA International Lounge
Terminal B, Level 6 lounges
Daily: 6 a.m. to last departure
Undisclosed
Oneworld International Business Lounge
Regional Terminal, opposite gate 52D
Daily: 6:30 a.m. to 11:30 p.m.
N/A
Qantas Lounge
Terminal B, Level 5 lounges
Daily: 6:30 a.m. to 11:30 a. m.
N/A
Korean Air/SkyTeam Lounge
Terminal B, Level 5 lounges
Daily: 12 p.m. to 6 p.m.
N/A
Star Alliance Lounge
Terminal B, Level 6 lounges
Daily: first departure to 12:30 a.m.
N/A
United Club
Terminal 7, near gate 71A
Daily: 4:30 a.m. to 12:15 a.m.
$50
United Polaris Lounge
Terminal 7, near gate 73
Daily: 6:45 a.m. to 10:15 p.m.
N/A
USO Lounge (Free for Active Military)
Center Way, LAX Theme Building, ground floor
Daily: 4 a.m. to 10 p.m.
N/A
Virgin Atlantic Clubhouse
Terminal 2
Daily: 5 a.m. to last departure
N/A
*Hours are subject to change without notice. Lounge access may be restricted at times due to capacity.
**Day pass for any passenger. Lounges marked as N/A only allow entry for eligible passengers in their premium cabins, frequent flyer programs, or participating credit card programs.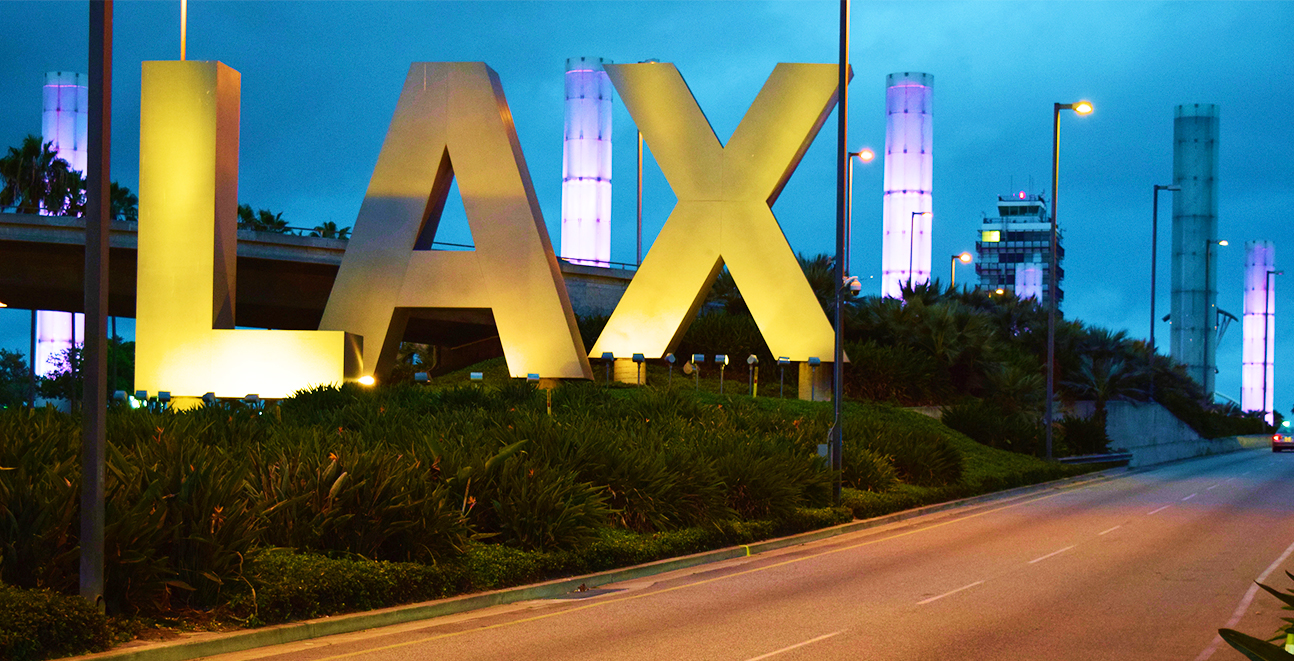 Hot Tip: Check out our article on the best personal and business credit cards for complimentary lounge access to avoid lounge entry fees.
Priority Pass Access
The following lounges accept Priority Pass entry, but are also subject to capacity allowance:
Korean Air/SkyTeam Lounge
Virgin Atlantic Clubhouse
Priority Pass holders can also use their membership to receive a discount at:
Point the Way Cafe
Rock & Brews
Hot Tip: If you're interested in becoming a Priority Pass member, check out our dedicated Priority Pass article as well as the best credit cards for complimentary Priority Pass access.
Airport Dining and Drinks at LAX
There are over 100 restaurants, bars, and cafes at LAX. The majority of restaurants are past security, making it easy to find somewhere to grab a bite to eat before your flight or after landing at LAX.
With the ongoing expansion project, the airport is experiencing some disruption to normal services with some eateries being closed.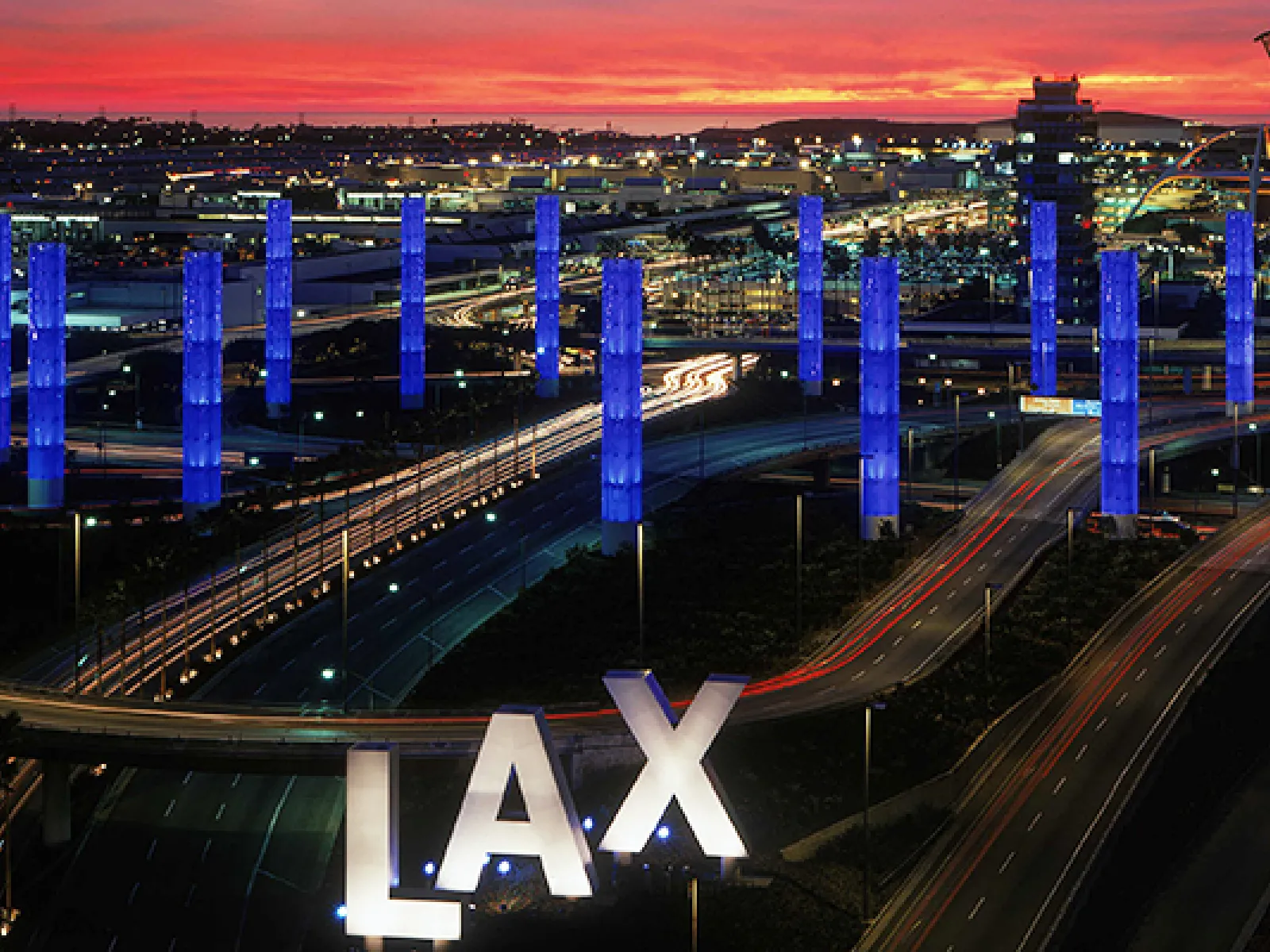 You can check the airport's website to see what restaurants are available.
LAX Airport Wi-Fi and Charging Stations
LAX provides passengers with free Wi-Fi within all public areas of each terminal. Access is granted in 45-minute sessions by selecting the network "_LAX Free WIFI," launching your browser, and watching a short 15- to 30-second advertisement.
There's an optional upgrade for high-speed Wi-Fi for $14.99 per month (Boingo monthly subscription).
Charging Stations: There are charging stations located throughout each terminal.
LAX Airport Lost and Found
LAX advises passengers to contact their airline first if they have lost a piece of luggage or property. Depending on where the item was lost, LAX also requests that passengers attempt to contact the location or service where they may have left the property, such as shops, restaurants, and public transport.
If an item was left on the economy parking lot shuttle bus contact 310-893-4676 or for the terminal shuttle bus call 424-273-7266.

If the property has not been located via these methods, you can submit a claim or wait 96 hours to see if your item has been posted to the lost and found gallery.
Additional Airport Information
Information Services: LAX has over 175 customer service representatives that speak over 25 languages collectively. They're situated on the arrivals level of each terminal and terminal B information desks, operating from 6 a.m. to 12 a.m. daily.
Travelers Aid: There is no travelers aid center at LAX. The nearest center is located at Ontario International Airport (ONT).
Children's Play Areas: LAX has a children's play area on level 4 of the international terminal, suitable for 2- to 11-year-olds.
Baby Facilities: LAX has 11 nursing rooms throughout the airport, located:
Terminal 1, near gate 10
Terminal 2, between gates 21B and 23A
Terminal 3, near Gladstone's
Terminal 4, near Sunglass Hut
Terminal 5, across from the food court
Terminal 6, near gate 54B
Terminal 7/8, between the women restroom and gate 74A
Terminal B, across from the Vanilla Bake Shop
Pet Relief Areas: There's a pet relief area in each terminal, except Terminal 3.

These are located at:
Terminal 1, curbside and near gate 13
Terminal 2, near gate 21A
Terminal 3, in the outdoor atrium
Terminal 4, connection bridge to the international terminal
Terminal 5, curbside and near gate 52B
Terminal 6, near gate 62
Terminal 7, curbside and between gates 73 and 75B
Terminal B, in the great hall
Duty Free: Duty-free shopping is available at the terminals that operate the majority of international flights: Terminals B, 2, 3, and 6.
Smoking Areas: Designated smoking areas can be found curbside at Terminals 1, 3, 5, 6, 7, and B.
Interesting Features: LAX operates a Pets Unstressing Passengers program (PUP) where dogs and their handlers roam the airport gates to calm any nervous flyers before their flight. LAX also displays regular art exhibitions in its public areas.
Prayer: There are no chapel services or places of prayer at LAX.

Money: ATMs are located in all terminals. Some of the most common places these can be found are at gate areas, baggage claims, or in the center points of the terminal. There are also currency exchange services in all terminals except 1 and 3.
Luggage: There are no luggage storage lockers inside the airport. The closest is "LAX Luggage Storage" located a little way outside of the airport at 8622 Bellanca Ave.
Important LAX Phone Numbers
General Inquiries: 855-463-5252
Parking: 310-646-2911
Construction Inquiries: 310-649-5292
LAX Police Lost and Found: 424-646-5678
Travel to and From LAX
Transport Options
Train
Metro Rail: Pick up the free airport shuttle "G" from outside the terminal waiting area signposted "LAX Shuttle Airline Connection & Metro C Line." This runs to and from the Aviation/LAX Metro station. To get to downtown Los Angeles, you'd need to take the green line and change to the blue line at Willowbrook/Rosa Parks Station.
Amtrak Train: Union Station is the nearest Amtrak service. You can take the Flyaway Bus that goes directly to Union Station.
Bus
Metrobus: Pick-up the free airport shuttle "C" from outside the terminal waiting area which runs to and from the Metro Bus Station to connect with services all over Los Angeles and beyond.
Flyaway Bus: Locate the pick-up area "Flyaway, Buses & Long Distance Vans." From here you can ride directly to Union Station, Long Beach, Hollywood, Woodley Orange Line Station, Westwood, and Van Nuys.
Other Public and Private Buses: Santa Monica Big Blue Bus, Culver City Bus Lines, Torrance Transit, and Metropolitan Express are just a few of the local operators.
Shuttle
Shared-ride and private ride shuttles are available to book. Be sure to check if your hotel offers a free shuttle pick-up and drop-off at the airport.
Taxi
You can pick-up a metered taxi from the transportation area outside each terminal. A flat fee from the airport to downtown Los Angeles is $50.50 which includes a $4 airport surcharge.
Ride Services
Approved ride service companies such as Uber or Lyft can pick-up and drop-off on the upper departures level only.
Directions by Car to LAX
Arriving From I-405 Northbound
Take exit 45A onto I-105 W towards El Segundo and then exit 1C onto Sepulveda Boulevard. Use the right 2 lanes to take the Century Boulevard exit onto World Way where you can access airport parking or curbside drop-off.
Arriving From I-405 Southbound
Exit via the Howard Hughes Parkway and take a left onto Sepulveda Boulevard, continuing south through downtown Westchester. Take a right onto Vicksburg Avenue and then right again onto World Way where you can access airport parking or curbside drop-off.

LAX Airport Parking Information
Parking map of the Los Angeles International Airport. Image Credit: Los Angeles International Airport
Official Airport Parking
There are around 10,000 parking spaces at LAX available for passengers. You can choose from short-term parking lots located along World Way or Economy Lot E, which is more affordable for long-term parking.
Short-Term Parking
The short-term parking lots are numbered P1, P2A, P2B, P3, P4, P5, P6, and P7, and contain almost 8,000 spaces. The first 15 minutes are free, it's $5 for the first hour, $4 for every 30 minutes after the first hour, and $40 for each 24-hour period.
These parking lots are located in the center of World Way and are accessible by exiting the terminal and crossing over the 2 roads that circle the parking lots.
Covered parking means that there are height restrictions for parking. Lots 1, 2A, 6, and 7 have a maximum vehicle height restriction of 8 feet, 2 inches, lots 2B and 5 have a maximum vehicle height restriction of 7 feet, and lots 3 and 4 have a maximum vehicle height restriction of 7 feet, 6 inches.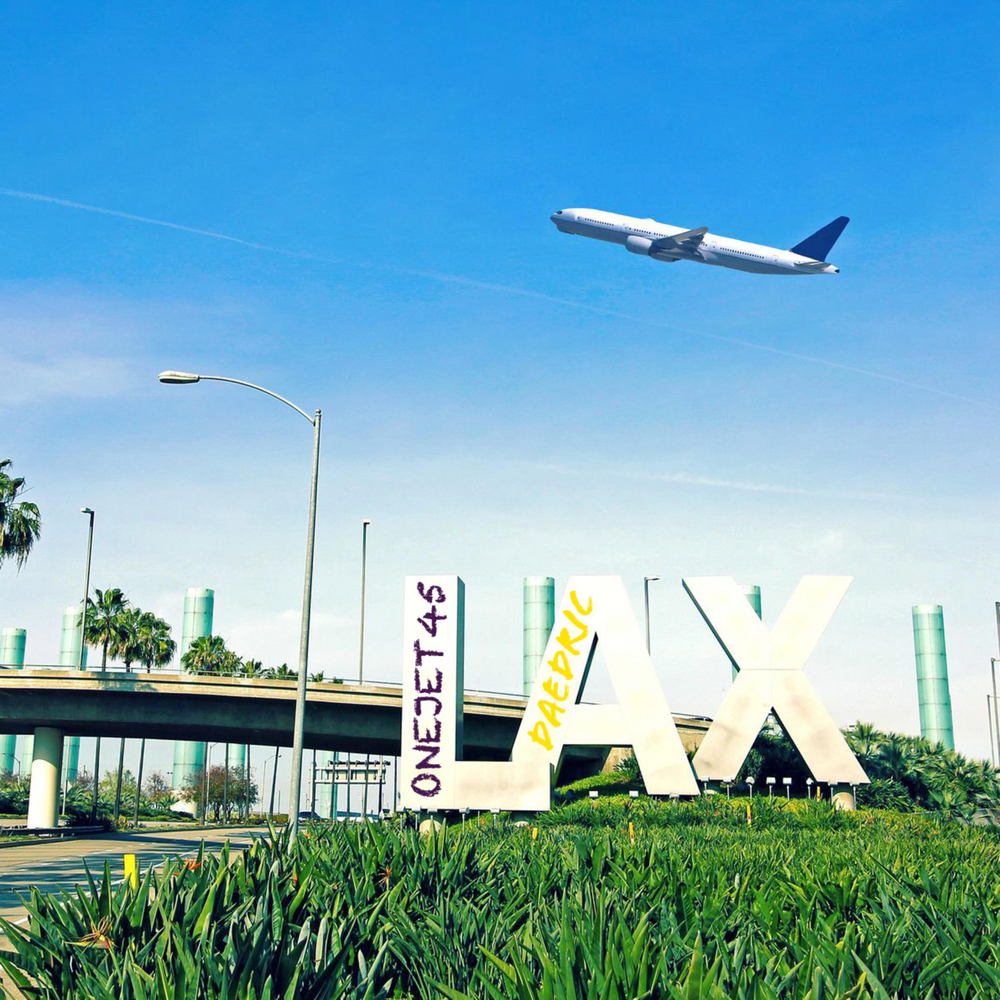 Long-Term Parking
The uncovered economy parking lot E is located a little further out from the airport at 5455 W. 111th St. and can be accessed by riding the free shuttle bus from outside each terminal.
These shuttles depart every 15 minutes, and the ride to the terminal takes approx 15 to 30 minutes, depending on traffic and where you got on the shuttle. Parking in this lot is $12 per day.
Economy parking lot C closed in 2019 with no information as to whether this would be reopening again.
Pick-Up or Drop-Off Parking
The cell phone waiting lot gives those that are picking up or dropping off passengers somewhere to wait for up to 2 hours until the passenger is available to be picked up from the terminal curbside on the lower level arrivals area.
The cell phone waiting lot is located at the northwest corner of 96th Street and Vicksburg Avenue. Drivers aren't allowed to leave their cars unattended in this lot.
Off-Site and Hotel Parking
If you're looking for the cheapest parking available, then off-site lots and hotels will offer you the best rates.
Most of the off-site lots are located 1 to 3 miles away from the airport and operate free airport shuttle buses to and from the terminals.
Daily parking starts at $7. There are many third-party websites you can use to compare prices and book, but airportparkingreservations.com has a clear layout, is easy to use, and has excellent customer reviews on Trustpilot.
Parking for Passengers With Disabilities
Parking for disabled passengers is available in all official airport parking lots, and all shuttle buses are equipped with wheelchair lifts.
Parking Contact Numbers
General parking inquiries: 424-646-7275
Request a parking extension over 30 days: 310-646-2911
Car Rental at LAX Airport
Car rental companies aren't located on airport property. You'll find them near where economy parking lot C was located. You can pick up a free shuttle bus provided by your car rental company from outside the terminal. The following rental car companies operate at LAX:
LAX Airport Hotels
Hyatt Regency at the Los Angeles International Airport.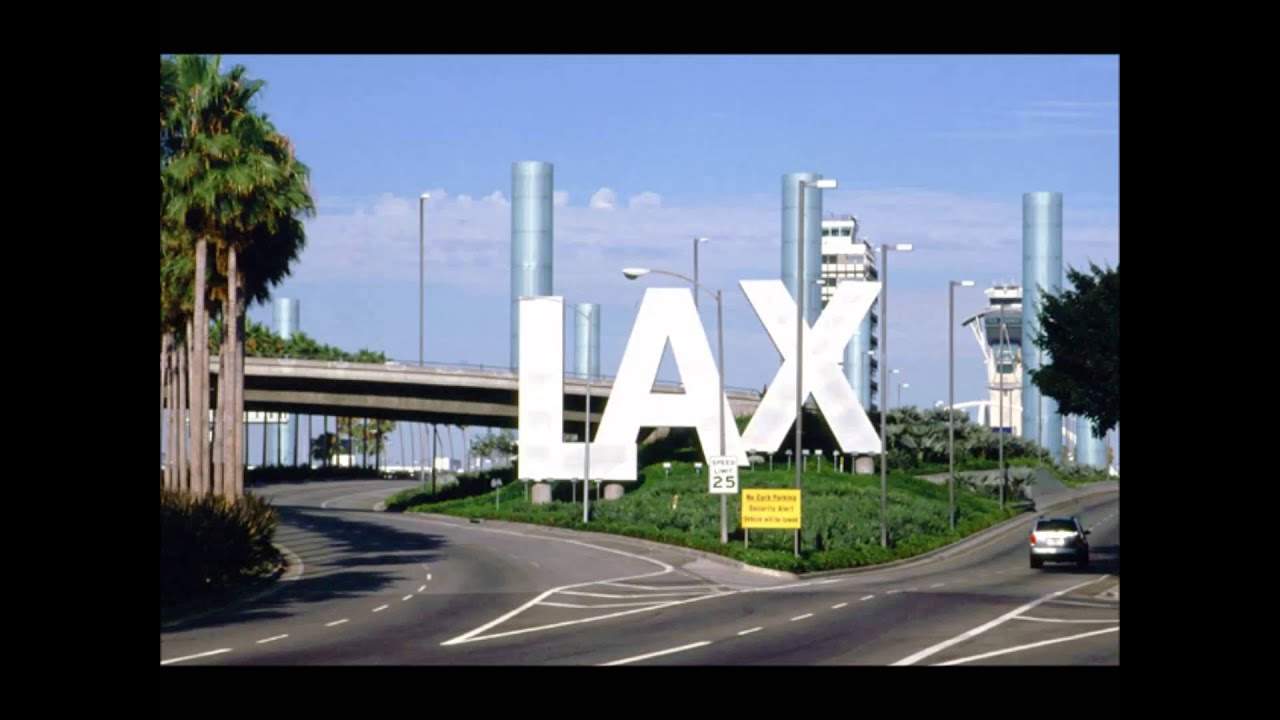 Image Credit: Hyatt
LAX airport accommodations cater to all budgets with a range of hotels from 2 to 4 stars. Most hotels are within 2 miles and include a free shuttle service to and from the airport.
You can check below to find out which hotels are closest to the airport. We've also included contact information for easy direct booking.
LAX Airport Hotels
Hotel
Address and Phone Number
Star Rating
Distance From the Airport (Miles)
Hyatt Regency Los Angeles International Airport
6225 W. Century Blvd., Los Angeles, CA 90045

424-702-1234

4
0.4
Courtyard by Marriott Los Angeles LAX / Century Boulevard
6161 W. Century Blvd., Los Angeles, CA 90045

310-649-1400

3
0.5
H Hotel Los Angeles, Curio Collection By Hilton
6151 W. Century Blvd. , Los Angeles, CA 90045

310-215-3000

4
0.6
Homewood Suites By Hilton Los Angeles International Airport
6151 W. Century Blvd., Los Angeles, CA 90045

310-215-3300

3
0.6
Sheraton Gateway Los Angeles
6101 W. Century Blvd., Los Angeles, CA 90045

310-642-1111

4
0.7
Sonesta Los Angeles International Airport
5985 W. Century Blvd., Los Angeles, CA 90045

310-642-7500

4
0.8
Embassy Suites Los Angeles – International Airport South
1440 E. Imperial Ave., El Segundo, CA 90245

310-640-3600

3
0.9
Residence Inn by Marriott Los Angeles LAX/Century Boulevard
5933 W. Century Blvd., Los Angeles, CA 90045

310-568-7700

3
0.9
Embassy Suites Los Angeles – International Airport/North
9801 Airport Blvd., Los Angeles, CA 90045

310-215-1000

3
1
Four Points by Sheraton Los Angeles International Airport
9750 Airport Blvd. , Los Angeles, CA 90045

310-645-4600

3
1
Los Angeles Airport Marriott
5855 W. Century Blvd., Los Angeles, CA 90045

310-641-5700

4
1
Renaissance Los Angeles Airport Hotel
9620 Airport Blvd., Los Angeles, CA 90045

310-337-2800

3
1
Hampton Inn & Suites LAX El Segundo
888 N. Pacific Coast Hwy., El Segundo, CA 90245

310-322-2900

3
1.2
Hilton Los Angeles Airport
5711 W. Century Blvd., Los Angeles, CA 9004

310-410-4000

4
1.2
Travelodge by Wyndham LAX South
1804 E. Sycamore Ave., El Segundo, CA 90245

310-955-4694

2
1.2
Hotel June
8639 Lincoln Blvd., Los Angeles, CA 90045

310-645-0400

4
1.4
Holiday Inn Express Los Angeles LAX Airport
8620 Airport Blvd., Los Angeles, CA 90045

310-645-7700

3
1. 4
Aloft El Segundo – Los Angeles Airport
475 N. Sepulveda Blvd., El Segundo, CA 90245

424-290-5555

3
1.5
Extended Stay America – Los Angeles – LAX Airport – El Segundo
1910 E. Mariposa Ave., El Segundo, CA 90245

310-607-4000

2
1.5
Fairfield Inn & Suites by Marriott Los Angeles LAX/El Segundo
525 N. Pacific Coast Hwy., El Segundo, CA 90245

424-290-5000

3
1.5
Hyatt Place Los Angeles / LAX / El Segundo
750 N. Nash St., El Segundo, CA 9024

310-607-4000

3
1.5
Sonesta Select Los Angeles-LAX-El Segundo
2000 E. Mariposa Ave., El Segundo, CA 90245

310-322-0700

3
1.6
Hilton Garden Inn LAX – El Segundo
2100 E. Mariposa Ave., El Segundo, CA 90245

310-726-0100

3
1.7
La Quinta by Wyndham LAX
5249 W. Century Blvd., Los Angeles, CA 90045

310-645-2200

3
1.7
DoubleTree by Hilton LAX – El Segundo
1985 E. Grand Ave., El Segundo, CA 90245

310-322-0999

3
1.8
Holiday Inn Los Angeles – LAX Airport
9901 S. La Cienega Blvd., Los Angeles, CA 90045

310-6495151

3
1.8
LAX Suites
11838 Aviation Blvd., Inglewood, CA 90304

310-643-9905

2
1.9
Wingate by Wyndham Los Angeles Airport
10300 S. La Cienega Blvd., Los Angeles, CA 90304

310-846-8324

3
1.9
Cambria Hotel LAX
199 Continental Blvd., El Segundo, 90245

310-965-0555

4
2
Motel 6 Los Angeles LAX
5101 W. Century Blvd., Inglewood, CA 90304

310-419-1234

2
2
Residence Inn by Marriott Los Angeles LAX/El Segundo
2135 E. El Segundo Blvd. , El Segundo, CA 90245

310-333-0888

3
2
Top 3 Hotel Stays Using Points
It's no secret that hotels in Los Angeles can quickly push your budget to its limit. Luckily, this is where using points can really come in handy! Here are some of the best award booking options near the Los Angeles International Airport.
At the Holiday Inn Express Los Angeles LAX Airport, guests have access to great amenities like free breakfast, free airport shuttle service, and even a pool. From 19,000 IHG Rewards points per night, this can be a fantastic option for those needing to stay near the airport. This hotel is also eligible for an IHG anniversary night certificate.
Perfectly situated less than a mile from the airport, the Residence Inn Los Angeles LAX/ Century Boulevard combines both convenience and comfort. This all-suite hotel offers the largest guest suites near LAX with a full kitchen, free breakfast, shuttle service, and an outdoor heated pool, too. An excellent value from 27,000 Marriott Bonvoy points.
The Hyatt Place Los Angeles/LAX/El Segundo offers a comfortable stay with free breakfast for World of Hyatt members, an on-site restaurant and bar, a free shuttle to and from LAX, and pet-friendly rooms. Guests will also find the hotel is very close to great local food and shopping. Award nights start at 12,000 points per night.
Final Thoughts
Plans for future development at the Los Angeles International Airport. Image Credit: Los Angeles International Airport
LAX recognizes the challenges passengers are currently facing when visiting the airport, such as congestion around the terminal loop causing travel times of up to 45 minutes, lack of direct connectivity with the Metro Rail, and dispersed locations of some airport services.
The modernization project is set to give LAX a much-needed facelift to help improve the passenger experience.
Many of the domestic terminals have already received remodeling, with improvements made to connection walkways, security checkpoints, and baggage handling systems, so not all of the improvements are visible but will aid with terminal efficiencies. Roll on 2023!
MEMORANDUM ORDER Administratively closing case until the bankruptcy proceedings against the Defendants have been resolved for Cascade Maverik Lacrosse, LLC v. Lax World, LLC et al :: Justia Dockets & Filings
Filing 21
MEMORANDUM ORDER Administratively closing case until the bankruptcy proceedings against the Defendants have been resolved. Signed by Judge Richard D. Bennett on 2/13/2018. (jnls, Deputy Clerk)
IN THE UNITED STATES DISTRICT COURT FOR THE DISTRICT OF MARYLAND CASCADE MAVERICK LACROSSE, LLC * * Plaintiff, * Civil Case No. RDB-17-3017 v. * LAX WORLD, LLC, et al. * Defendants. * * * * * * * * * * * * * MEMORANDUM ORDER On February 7, 2018, this Court approved a Consent Judgment between the Plaintiff and Defendant Lax World, LLC. (ECF No. 17-1.) The remaining individual Defendants, Frank Barbarino, Michael P. Stewart, and Robert Martino, are currently engaged in bankruptcy proceedings, and the claims against them in this Court have been stayed. (ECF Nos. 14, 15, 20.) It is therefore ORDERED that the Clerk of this Court ADMINISTRATIVELY CLOSE this case until the bankruptcy proceedings against the Defendants have been resolved. Dated: February 13, 2018 /s/ Richard D. Bennett United States District Judge
Disclaimer: Justia Dockets & Filings provides public litigation records from the federal appellate and district courts. These filings and docket sheets should not be considered findings of fact or liability, nor do they necessarily reflect the view of Justia.
---
Why Is My Information Online?
Locations – Original Tommy's

Barstow
2610 Fisher Road Barstow CA 92311
Hours: 7am – 10pm (Sunday – Thursday), 7am – 12am (Friday & Saturday), (Lobby closes at 9pm)


760.253.5500
Burbank
1310 N. San Fernando Blvd Burbank CA 91504
Hours: 9am – 12am (Sunday), 9am – 11pm (Monday – Thursday), 9am – 12am (Friday & Saturday)

818.841.9246
Canoga Park
7240 Topanga Canyon Blvd Canoga Park CA 91303
Hours: 7am – 1am (Lobby closes at 12am)

818.340.8775
Chino
12205 Mountain Ave Chino CA 91710
Hours: 9am – 12am, 9am – 1am (Friday & Saturday), (Lobby closes at 11pm)

909.391.8753
City of Industry
17573 Castleton St. City of Industry CA 91748
Hours: 9am – 11pm

626.581.1333
Corona
2280 Compton Avenue Corona CA 92881
Hours: 9am – 11pm, (Lobby closes at 9pm)

951.272.9381
Eagle Rock
1717 Colorado Blvd Los Angeles CA 90041 (Eagle Rock, CA)
Hours: 8am – 12am (Sunday – Thursday), 8am – 1am (Friday & Saturday)

323.982.1746
El Monte – Valley
11604 Valley Blvd El Monte CA 91732
Hours: 9am – 12am (Sunday – Thursday), 9am – 1am (Friday & Saturday), (Lobby closes at 10pm)

626.350.6930
Fountain Valley
9024 Recreation Circle Fountain Valley CA 92708
Hours: 10am – 11pm (Lobby closes at 10pm)

714.842.6141
Hollywood
5873 Hollywood Blvd Los Angeles CA 90028
Hours: 8am – 12am (Sunday – Thursday), 8am – 1am (Friday & Saturday), (Lobby closes at 10pm)

323.467.3792
Huntington Park
7200 Seville Ave Huntington Park CA 90255
Hours: 8am – 2am (Sunday – Thursday), 24 Hours (Friday & Saturday)


323.582.6763
La Habra
1199 S. Beach Blvd La Habra CA 90631
Hours: 8am – 12am (Lobby closes at 11pm)

562.905.0099
Lake Forest
24310 Swartz Drive Lake Forest CA 92630
Hours: 10am – 10pm


949.380.4366
Long Beach
4315 E. Anaheim St Long Beach CA 90804
Hours: 9am – 10pm (Sunday – Thursday), 9am – 12am (Friday & Saturday)

562.498.2867
Los Angeles
2575 West Beverly Blvd Los Angeles CA 90057
Hours: 24 Hours
213.389.9060
Monrovia
849 E. Huntington Drive Monrovia CA 91016
Hours: 9am – 10pm (Lobby closes at 10pm)

626.256.9437
Montclair
9309 Central Ave Montclair CA 91763
Hours: 9am – 11pm

909.971.3321
North Hills
15745 Roscoe Blvd Los Angeles CA 91343
Hours: 24 Hours daily (Lobby is open 6am – 12am daily)

818.893.1715
North Hollywood
5601 Laurel Canyon Blvd North Hollywood CA 91607
Hours: 8am – 10pm (Sunday – Thursday), 8am – 12am (Friday & Saturday), (Lobby closes at 10pm)

818.753.9442
Norwalk
15911 Pioneer Blvd Norwalk CA 90650
Hours: 10am – 11pm (Lobby closes at 10pm)

562.402.8502
Palmdale
705 W. Rancho Vista Blvd Palmdale CA 93551
Hours: 7am – 12am (Sunday – Thursday), 7am – 2am (Friday & Saturday), (Lobby closes at 12am)


661.273.9009
Pasadena
170 N. Hill Avenue Pasadena CA 91106
Hours: 9am – 10pm (Lobby closes at 9pm)

626.792.5971
Pico Rivera
9301 E. Whittier Blvd Pico Rivera CA 90660
Hours: 8am – 11pm (Sunday – Thursday), 8am – 12am (Friday & Saturday)

562.692.4719
Riverside
7504 Mission Grove Parkway Riverside CA 92508
Hours: 9am – 10pm, (Lobby closes at 8pm)


951.780.4201
San Diego
7415 Clairemont Mesa Blvd San Diego CA 92111
Hours: 9am – 10pm (Sunday – Thursday), 9am – 11pm (Friday & Saturday), (Lobby closes at 9pm)


858.715.0075
Simi Valley
1290 Madera Road Simi Valley CA 93065
Hours: 10am – 10pm

805.583.0514
Tujunga
7606 Foothill Blvd Los Angeles CA 91042 (Tujunga, CA)
Hours: 9am – 10pm (Sunday – Thursday), 9am – 11pm (Friday & Saturday)


818.951.8094
Valencia
28116 N. The Old Road Valencia CA 91355
Hours: 9am – 11pm

661.257.2381
Van Nuys
14601 Victory Blvd Van Nuys CA 91401
Hours: 6am – 1am (Lobby closes at 12am)

818.901.8260
Ventura
5663 Valentine Rd Ventura CA 93003
Hours: 10am – 11pm

805.650.6647
Westminster
7000 Westminster Blvd Westminster CA 92683
Hours: 10am – 10pm

714.895.4320
90,000 Coronavirus in the world: a quarter of the world's population is in quarantine
Photo by, EPA
With the entry into force of severe restrictions in India, at least a quarter of the world's 7.8 billion population ended up in one or another degrees under quarantine. Meanwhile, Spain has updated the coronavirus mortality record, Italy is once again tightening restrictive measures to combat the disease, in Britain, the parliament will stop working for a month.
The BBC has compiled the latest news related to the outbreak of the epidemic in the world.
Rwanda, California, New Zealand, New York – factories and cafes are shutting down all over the planet, and there are fewer people on the streets.
On Thursday at midnight, quarantine measures are planned to be introduced in South Africa. Most residents will not be able to leave their homes for 21 days. Earlier, the same measures were introduced in India. Quarantine measures are also planned to be introduced in those American states where they have not yet done so
The UN has established a fund for donations to poor countries.Members are being asked to donate $ 2 billion to help the most vulnerable regions cope with the Covid-19 outbreak.
Britain: Prince Charles becomes infected, London Underground reduces passenger traffic
In Britain coronavirus was found in the heir to the throne, Prince Charles. The infection was determined by testing. In a statement from Buckingham Palace, the 71-year-old prince has mild symptoms and is generally doing well.
In London, meanwhile, the fight against passengers using public transport without urgent need is intensifying.
Photo author, NurPhoto
Caption,
Pubs and restaurants, as well as many metro stations closed last week in Britain
After photos of subway trains filled with people appeared on the Internet on Tuesday, the mayor of Sadiq Khan called for a decrease in passenger traffic … On Wednesday, social distancing measures were introduced in the London Underground, escalators and turnstiles were partially turned off, and platforms were closed.
Khan said on Wednesday that the number of passengers decreased by a third, but this is not enough.
500 British Transport Police officers deployed to metro and commuter stations. They will remind citizens of the need to abide by the government's recommendations, according to the head of the division, Sean O'Gallahan.
The British Parliament is expected to suspend Wednesday night after passing several emergency laws related to the pandemic.
In the capital of Britain there are about three thousand infected, in the entire United Kingdom – more than eight thousand.Members of the House of Commons hope to resume their work on April 21.
The closure of the British Parliament due to the epidemic is an unprecedented measure. For all the three hundred years that parliament has been meeting regularly, it has never stopped work, except for the usual holidays, for the election period and for prophecy – a break for the preparation of the government program. The British Parliament continued to function even during both World Wars.
USA: Governor of New York asks for help
Andrew Cuomo, Governor of New York State, which accounts for more than half of US infections, gave a press conference on Wednesday.In the state over the past day, more than five thousand cases of infection have been recorded.
Cuomo said he demanded that President Trump and the White House provide additional equipment and personnel to state hospitals.
He promised that as soon as the state passes the peak of the epidemic, his authorities will immediately transfer the equipment to the state that will be most severely affected by the coronavirus at that moment.
He criticized Congress's decision to provide a giant $ 2 trillion bailout package.According to Cuomo, New York will get about $ 1.3 billion from this package, and the state has already spent $ 3.8 billion on the fight against coronavirus.
Photo author, NurPhoto
Cuomo urged young people to be careful and "not play superheroes", and also announced that in New York, as part of quarantine measures, certain streets will be closed for transport.
On Tuesday, President Donald Trump said at a press conference that he sees "a light at the end of the tunnel," and the country, in his opinion, will be able to get rid of the coronavirus by Easter, in mid-April.
A sad record in Spain and the situation in Europe
Over the past day in Spain from Covid-19 738 people died, in total 3434 people died from the disease in the country. Since the beginning of the pandemic, more than 47 thousand people have been infected with the coronavirus in the country.
Italy , the worst affected by the pandemic, has increased the punishment for violating quarantine rules. People who, after being diagnosed with coronavirus, violate the self-isolation regime, face fines of several thousand euros and imprisonment for up to five years.
Prime Minister Giuseppe Conte said that the assumptions to extend the quarantine until July are incorrect and will be terminated as soon as possible.
The number of deaths in Italy over the past day has decreased slightly compared to the previous day. On Wednesday, it was announced that another 683 people had died, bringing the total number of deaths from the coronavirus in the country to 7,503. 5,210 new cases were identified.
Photo by EPA
France became the fifth country in the world where the death toll from Covid-19 exceeded a thousand.According to the head of the country's General Directorate of Health, Jerome Salomon, there may be more, since official statistics only take into account those who died in hospitals. Scientists recommend that the government extend the quarantine to one and a half months.
America and Asia: quarantine in India and the situation on the markets
Quarantine in India is unprecedented in severity and scale and will hit the poor most of all: people working as servants, street vendors, construction workers.They constitute the bulk of the country's labor market and yet do not have health insurance or the ability to take paid sick leave.
Several states – including Uttar Pradesh, the most populous and one of the poorest states in the country – have announced direct financial aid measures.
Photo author, Getty Images
As of Wednesday, there are more than 90,009,400 thousand cases of 90,010 cases of coronavirus infection in the world, the number of deaths is approaching 20 thousand.
Meanwhile, Asian financial markets reacted positively to news that in US , President Donald Trump and the Senate approved a $ 1.8 trillion economic aid package for the population and business.
Japan's Nikkei rose 7.9% on Wednesday, the Hang Seng in Hong Kong rose 3.4% and the Australian ASX rose 5%.
Photo Credit, Getty Images
Thus, after prolonged worries in financial markets, investors are hoping that a giant bailout package approved in the US will help soften the economic blow from quarantine around the world.
Foreign ministers of the G7 countries hold a meeting via videoconference to discuss a plan to combat the coronavirus pandemic.The G20 summit will take place on Thursday in a similar format.
According to BBC correspondent Jonathan Marcus, the global economy is under unprecedented pressure due to the crisis, and therefore the response of the international community must be coordinated. However, according to him, in the past, in emergencies, the United States has shown itself as a world leader in resolving the situation, which is not happening now, and it seems that China is taking advantage of this, seeking to seize the palm.
Canadian th Parliament approved the allocation of 82 billion Canadian dollars (57 billion USD) to the government of the country to combat the consequences of the pandemic and support the country's economy. All parties supported the initiative. The decision will take effect after the approval of the Senate.
In the capital of Russia , two elderly patients with a positive test for coronavirus died, they also had pneumonia, and had concomitant pathologies. The number of people infected with coronavirus in the country per day increased by 163 people – up to 658.
The next week was declared non-working, the voting on amendments to the Constitution, scheduled for April 22, will be postponed to another date.
Gold in synchronized swimming, success on TV, but the disintegration of the family. Weak link of Maria Kiseleva
Maria Kiseleva
Thin-rimmed glasses, perfect hairstyle and pursed lips – this is how the audience remembered Maria Kiseleva. The phrase "You are the weakest link, goodbye" became the most quoted, and Maria received the title of the most stylish presenter. Although there were also haters who criticized her demeanor on the show.
The program lasted four years and was closed, but Kiseleva felt that sooner or later the Weak Link would be revived. And so it happened: last year the TV game was launched on the Mir channel after a long break. Is it easy for Maria to transform into a domineering lady who humiliates the participants in the show? And how does she manage to combine work on TV with the duties of a Moscow City Duma deputy? On September 28, the athlete turns 47, and it's time to remember how her path to fame began.
Olympic Champion
When her parents brought Maria to the section, synchronized swimming was not yet popular
Maria was born in Kuibyshev, four years later the family moved to Leningrad, and two years later – to the capital.Nevertheless, the star is still happy to come to Samara, where she has relatives. So, this summer Kiseleva rested beyond the Volga with her brother, family and friends.
But back to the childhood of the star. In Moscow, the parents sent the girl to the synchronized swimming section, and without any kind of champion titles, just for physical development. When the question arose about serious training twice a day, mom and dad faced a choice: their daughter graduated from the sixth grade with honors, and it was obvious that if she was transferred to a sports school, the emphasis would shift from study to competition."They could not make a decision for a long time, and in the end they were sent to a sports school. I think I didn't regret it. I am definitely not, "Maria emphasized.
Of course, playing sports meant certain hardships. While other girls and boys walked and went to the cinema, training and study devoured Kiseleva's days without a trace. "When I started playing for the junior national team, it was 10 hours of daily physical work. Of these, directly in the water – about seven to eight hours. Sometimes there was a feeling that a little bit more – and you would turn into a mermaid, "the synchronized swimmer noted.
Maria Kiseleva and Olga Brusnikina won the first Russian Olympic gold in synchronized swimming
However, the efforts brought results: Maria became a master of sports, became a member of the national team and won the first gold medal at the European Championships. At the competition in Atlanta, Kiseleva's group took fourth place, which upset the girl a lot. But then she was paired with her former rival Olga Brusnikina, and the strong duo won the Olympics.
Maria became a three-time Olympic champion and nine-time European champion, and after the competition in Sydney announced her retirement.According to the synchronized swimmer herself, this is the most difficult moment in the life of every athlete: for years you have been improving in one thing every day, and now the time has come to start everything from scratch.
"For me, sport has become a stepping stone with which I was able to go further. This is often the case with athletes who have reached certain heights: you can push off from sports, like from a springboard, and then everything is in your hands. And if you just hang your legs and rest on your laurels, a miracle will not happen, "concluded Kiseleva.
Television
A good commentator came out of Kiseleva and presenter
Maria studied at the Faculty of Journalism of Moscow State University, so the combination of achievements in synchronized swimming and education allowed her to get an internship at the sports editorial office of NTV. The champion worked as a correspondent for the programs "Today" and "Namedni", and then she was noticed by the employees of the First Channel.
do not miss "We were called a pension fund!" the version of the show seemed too harsh to her.The producers persuaded the athlete to put on makeup and try to play a round without a single smile.
"As it turned out later, a large number of women who had already taken part in the profession took part in the casting. I came there completely inexperienced, I started from scratch. I learned everything on the site. On The Weakest Link, my two ears turned into 322, to hear everyone – director, producer, editor, cameraman. Each one advised, suggested what and how is right, where to turn, where to look. A huge amount of information.But it always kindled me, "Kiseleva recalled.
Many believed that Maria was reprimanding the players too harshly
The show was very popular, as evidenced by the fact that parodies of the presenter were made by famous comedians: Maxim Galkin, Tatyana Lazareva, kaveenschiki. In addition, the synchro swimmer appeared in the New Year's edition of Who Wants to Be a Millionaire? and at Pole Miracles, and also worked as a sports commentator. But was it easy for the star to manage to maintain equanimity and extreme severity in the frame?
do not miss The image of Maria Kiseleva on the show "The Weakest Link" 15 years later
"Masha is a very reverent and touching person, unlike the image she presents on the screen," commented Guzel Kireeva, director of the "Weakest Link" program.- She reacted very violently to some moments of injustice and sometimes even cried on the sidelines. They say that a talented person is talented in everything. Masha Kiseleva is like that. She has charisma, she is very good in the frame, flexible and works great on the set. Whatever task she receives, she copes with it with dignity. And the most important thing is that it is very comfortable to work with her, because when love and understanding reign in a team, this has a very positive effect on the result. "
Between Movies, Sports and TV Shows
Shooting in "Idiot" was a dream of TV presenter
Thanks to "Weak Link" Vladimir Bortko noticed the presenter.The director thought that since the charming synchronized swimmer was able to transform into an uncompromising iron lady, she would be able to handle other roles as well. So Maria got the chance to play Varya Ivolgin in the TV series "The Idiot".
do not missVladimir Bortko: "I was filming Streets of Broken Lanterns because I was dying of hunger"
"The atmosphere was very warm. All the actors supported me on the set, prompted and advised me. And the most difficult task for me was to spit in the face of Sasha Lazarev, who played my brother Gan.I couldn't do it in any way. It was impossible to imitate, the director demanded naturalness. And now Bortko announces a break for 15 minutes. Dear Vladimir Mashkov and Mikhail Boyarsky come up to me and take turns saying: "Listen, Masha, spit at me! I really need it now! " They provoked me, amused me, removed all the clamps … Then there was "Paragraph 78", – shared Kiseleva.
Maria considered participation in the TV show an interesting experience
At that time, Maria could have other roles, but she had to give up part of the work: at the peak of fame, the presenter returned to the sport.In 2004, she won the Athens Olympics, after which she again appeared in The Weakest Link. But not for long – in 2005, the program was closed. According to Kiseleva, this happened due to the end of the channel's license for the show.
do not miss Ilya Averbukh told how much the stars of ice shows earn
In 2006, Maria participated in Stars on Ice together with Maxim Marinin, later viewers could see the host in the Gosloto lottery and the show Together with Dolphins. Many assumed that Kiseleva's professional activity as an announcer decreased due to worries about her family, but was this really so?
Family
Many envied the harmonious couple
In 1999, at the interuniversity swimming competitions, Maria met the master of sports of international class Vladimir Kirsanov.Two years later, the lovers got married, and in 2005 their daughter Dasha was born. According to rumors, the departure of Kiseleva on maternity leave could affect the closure of the "Weak Link". However, it is not worth assuming that the husband forced the presenter to abandon the profession: Vladimir himself valued the work, realizing how important it is to find a calling.
"We have a joint business – we have been organizing the Show of Olympic Champions in synchronized swimming for seven years now," Maria shared in 2010. – Olga Brusnikina is taking part in this project together with us.Last year, Volodya and I created the project "Reflection of the Stars" – this is something at the intersection of sports and art: there is music, poetry, and various sports. So we have a lot in common, and somehow we didn't have to adapt to each other. "
do not miss Maria Kiseleva and her secrets of happiness
They almost did not quarrel, and as an example of a conflict, Maria told only a story about organizing a wedding. In August 2001, there were no vacant windows on weekends, and the athlete did not want to get married on a weekday.The irritated groom tore up the application for painting, noting that since Kiseleva did not want, the marriage would not take place at all. As a result, the lovers reconciled when both made a compromise: Vladimir again proposed, and Masha agreed to the date he had chosen.
The daughters went to their mother, playing sports.
"In fact, we are very different," the host nevertheless admitted. – I am a rather calm person, balanced, restrained, I can accumulate emotions in myself for a long time. And Volodya, on the contrary, is very impulsive, very energetic, explosive, but very quickly moving away from such "outbursts" and insanely kind.Therefore, just, the contrast was and is. It smoothes out a little over the years of communication – they say that the husband and wife even outwardly become similar over time! But it was in everyday life that there was no special "grinding" – there was no need to invent something, somehow adjust: they say, let's do it, and I'll do it. Perhaps such a coincidence does not happen often. It's just a miracle that we met. "
do not miss TV presenter Maria Kiseleva divorces
In 2010, the couple had a second heiress, Sasha, and two years later the former family idyll collapsed.Why the lovers divorced after 11 years of marriage – one could only guess. The surrounding people put forward versions that the feelings of the spouses faded away, or that Kiseleva's parents interfered in the daughter's relationship with her son-in-law. The fans never received a direct answer from the TV star.
Well forgotten old
The new image was no worse than the previous
. For years, those around her reminded Maria about the "Weak Link", so she realized: one day the moment of the return of the program on the air will come. This happened last year when the show was resurrected by the Mir TV channel.Kiseleva immediately agreed to become the host of the program and appeared in front of the audience in a new image and with even more biting phrases in store for the players.
do not miss Maria Kiseleva: "All these years I was reminded of the" Weak Link "literally every day"
"Together we wanted to bring a fresh breath. Because time passes, and although we have certain licensing restrictions and frameworks that cannot be exceeded, we are trying to bring something of our own and make the program more relevant. Judging by the fact that the ratings are good, we succeed.And those who want to play are just an insane amount, "the star explained.
The woman's activities were not limited to television. Two years ago, Maria became a deputy of the Moscow City Duma, in addition, she is the director of a sports school and a member of the Council for Physical Culture and Sports under the President of the Russian Federation.
In the microblog, the TV star reports on her work to improve the life of the city
With a huge job, Kiseleva also manages to raise her daughters. Dasha is passionate about synchronized swimming, but Sasha found herself in figure skating.Since the children's sections are located in different parts of the city, parents help the presenter to deliver the girls.
"They had a choice, it all started with the fact that they began to try themselves in different guises, – said Maria. – Sasha painted, danced, played tennis in the kindergarten. Dasha drew on batik, danced, did rhythmic gymnastics. By the way, it was not me who brought her to synchronized swimming, but her grandmother. And about the fact that their mother is an Olympic champion, my grandmother told, not me. "
don't miss Raising a daughter alone, depression and moving to America of Professor Lebedinsky
The secret of Maria's success is simple – everything that the presenter does brings her pleasure: television, Duma, Synchronized Swimming School, Water Theater, where fairy tales have been staged for more than 10 years.It seems that Kiseleva can handle everything, so all that remains is to wait for news of her next victories.
Photo: Legion-Media, Sergei Dzhevakhashvili, personal archive, press service archive, Facebook.com

Coronavirus: for whom is it especially dangerous and why? | World Events – Estimates and Forecasts from Germany and Europe | DW
There are two pieces of news: good and bad. The bad news is that the spread of the new coronavirus SARS-CoV-2 will continue at an increasing rate in the coming weeks and months and two-thirds of the population will be infected.Christian Drosten, the leading virologist at the Charite clinic in Berlin, is convinced of this. In his opinion, with the onset of warmth and the end of the classic cold and flu season, the situation with SARS-CoV-2 is unlikely to change.
And the good news, says Drosten, is that most people who are infected will have mild symptoms. And the overwhelming majority of the population will form antibodies against SARS-CoV-2 by the fall, when the next wave of colds comes.
Elderly people at risk
The elderly are especially at risk in the context of the spread of coronavirus, with the death rate increasing exponentially from about 65 years of age. In China, for example, the mortality rate among those infected in the age group under 40 was 0.2%, but between the ages of 70 and 79, this figure increased to 8%, and from 80 to 14.8%.
Thus, during the coronavirus pandemic, elderly people should be especially protected, especially if they suffer from chronic diseases that increase the risk of death.Those in this risk group should avoid any gatherings of people, be it mass events or meetings in public places.
Elderly parents should not be asked to look after their grandchildren in case of quarantine or any similar situation. It is also necessary to exclude their shopping trips – relatives should take care to bring them food at home.
Almost all victims of coronavirus infection had any kind of chronic illness even before infection with SARS-CoV-2.According to the analysis of the World Health Organization (WHO), the risk of death from coronavirus increases, in particular, pathologies of the heart and blood vessels, diabetes mellitus, chronic lung diseases, hypertension and cancer.
Why do men get sick more often than women?
According to the WHO, men are significantly more likely to die from coronavirus infection than women: in mid-February, the death rate from SARS-CoV-2 in China was 2.8% for men and 1.7% for women.A similar situation was observed in 2003 in Hong Kong during the SARS outbreak. And even with the common flu, men tend to get infected more often than women.
Compared to the male immune system, the female immune system is more stable. This is mainly due to the fact that the female sex hormone estrogen stimulates the immune system and thus fights disease-causing organisms faster and more aggressively. The male hormone testosterone, on the other hand, suppresses the immune system.
In addition, there are genetic factors, says molecular virologist Thomas Pietschmann in an interview with DW.The fact is that "some immunorelevant genes, for example genes responsible for recognizing pathogens, are encoded on the X chromosome." Since women have two X chromosomes and men only have one, women have an advantage.
However, in addition to genetic predisposition, lifestyle is a decisive factor. Men often lead more unhealthy lifestyles than women. In China, for example, about 52% of all men smoke, while the proportion of women who smoke is less than three percent.The lungs weakened by smoking are more susceptible to respiratory infections.
Why do children almost never get coronavirus infection ?
Surprisingly, in the current pandemic of the SARS-CoV-2 coronavirus, children are not the "weak link" – there is not a single child among the dead.
Coronavirus infection in children is asymptomatic or very mild.
Of course, children also become infected with coronavirus, but their infection is asymptomatic or very mild.The reason for this is not yet fully understood. Doctors suggest that children exhibit the action of the so-called congenital "nonspecific system".
Infants receive their first specific immune defense against pathogens through breastfeeding. Mother's milk provides immune protection against pathogens of infectious pathologies due to the presence in it of specific antibodies – leukocytes that attack all pathogens that enter the body through the mucous membranes or on the skin.
This "passive immunization" usually continues until children build up their own immune defense system, which develops before age 10. And even after that, their defense system does not lose the ability to "learn" throughout life when meeting new pathogens.
See also:
How the world is fighting the coronavirus

More than 188 countries have been affected by the coronavirus pandemic 90,022

The total number of people infected with coronavirus in the world by June 12, according to Johns Hopkins University, was about 7.5 million people, the epidemic covered at least 188 countries and territories.About 3.5 million people have recovered, over 420 thousand have died from the effects of coronavirus infection.

How the world is fighting the coronavirus

Events are canceled around the world

Due to the spread of the SARS-CoV-2 coronavirus, public – especially sports – events are canceled around the world. A year later, the Olympic Games in Tokyo were postponed, the world's largest tourism fair ITB in Berlin, the Leipzig Book Fair, the Crafts Fair in Munich, as well as the annual Oktoberfest beer festival (pictured) were canceled in Germany.

How the world is fighting the coronavirus

Europe is trying to protect itself from the coronavirus

Fearing the rapid spread of the coronavirus, almost all EU countries have closed their national borders. Classes in educational institutions were at first completely canceled, and later restored to a very limited extent. In the photo: a medical worker at the Austrian-Italian border measures the temperature of a car driver. The increased temperature is the reason for the ban on entering the country.

How the world is fighting the coronavirus

Italy, Spain, UK

The first coronavirus in Europe hit Italy and Spain the most. In Italy, quarantine throughout the country has been introduced since March 9. The streets and squares of Italian cities were empty, and the army was involved in maintaining public order (see photo). By the end of May, the maximum number of deaths from SARS-CoV-2 in Europe was recorded in the UK.

How the world is fighting the coronavirus

Germany: gradual easing of quarantine measures

Until February 25, only 16 cases of coronavirus infection were registered in Germany.But then the number began to rise sharply. By June 12, the number of infected people exceeded 186 thousand. Most infections are in Bavaria, North Rhine-Westphalia and Baden-Württemberg. About 8.7 thousand people died. Since April 27, the country has begun a gradual easing of quarantine measures.

How the world is fighting the coronavirus

Rampant demand for disinfectants

Rampant demand for disinfectants and liquid soaps has arisen in Germany due to the coronavirus outbreak.In supermarkets and household chemicals stores, at first, the shelves were empty, previously filled with all kinds of bottles and tubes with antiseptics. By May, supplies were restored. Some stores only display advertisements asking them not to buy items to build inventory at home.

How the world is fighting the coronavirus

The coronavirus reached Russia

The number of people infected with coronavirus in Russia exceeded 510 thousand people by June 12. The largest number of cases was registered in Moscow, the Moscow region, St. Petersburg and the Nizhny Novgorod region.In Moscow and the Moscow region, since April 15, a universal access regime has been in effect. A platform for issuing such digital passes is also planned to be introduced in another 21 regions of Russia.

How the world is fighting the coronavirus

Israel: strict quarantine brought results

More than 18 thousand people were diagnosed with coronavirus in Israel by June 12. The country has taken tough measures to combat the spread of the coronavirus, including a complete quarantine and a ban on foreigners from entering the country.Since April 19, a gradual easing of quarantine measures has begun, individual non-food stores have opened and public transport has resumed.

How the world is fighting the coronavirus

Iran: real numbers could be much worse than the official ones

By June 12, Iran had registered more than 180 thousand cases and more than 8.5 thousand deaths. It is possible, however, that in reality the numbers could be much higher. In an attempt to prevent the spread of the virus, the Iranian authorities ordered the city streets to be abundantly flooded with disinfectants (pictured).

How the world is fighting the coronavirus

China: the coronavirus epidemic has subsided

Meanwhile, in China, where the SARS-CoV-2 outbreak began at the end of 2019, there are no new infections. Most of the hospitals built for coronavirus-infected in Wuhan are closed. The photo shows doctors at one of the temporary hospitals in Wuhan at the closing ceremony. In total, about 84 thousand people fell ill with coronavirus infection in China, about 4600 died.

How the world is fighting the coronavirus

Who is most susceptible to coronavirus infection?

The most dangerous coronavirus infection is for the elderly over 80 years old and people with chronic cardiovascular, respiratory diseases, diabetes and hypertension. It is in these groups that the risk of death is greatest. Another risk group is healthcare workers. In most patients – about 80 percent – the disease is mild or relatively mild.

How the world is fighting the coronavirus

When will the coronavirus vaccine appear?

The number of laboratories working on the development of a vaccine against the SARS-CoV-2 coronavirus around the world cannot be counted. Scientists have already created several vaccine variants and are testing them on animals. Human trials are also being conducted in the United States and the United Kingdom. But in the most favorable course of events, the vaccine may appear on the market no earlier than mid-2021.

Author: Marina Baranovskaya, Jennifer Pahlke
90,000 Inequality and Wealth.How the pandemic reveals weaknesses in society © AP Photo / Rafiq Maqbool
The 2020 pandemic cannot be compared with the Black Death, from which one third of Europeans died, or the 1918 flu, which claimed the lives of about a third of the world's population. Then one of the consequences was a shortage of labor, now, on the contrary, an increase in unemployment. At the same time, stock markets and the assets of wealthy people have surged in value against the background of the current epidemic, and this has widened the gap between the rich and the poor.
On this topic
Each wave of a pandemic irreversibly changes our civilization. According to scientists, now, rather, we should talk about syndemia – a set of epidemic and socio-economic processes during the spread of COVID-19. The effects of syndemia are long-term. They require an assessment and rethinking of priorities for health, education, socio-economic development and tackling inequalities.
Gap between economies
In January 2021, UN Secretary General António Guterres called 2020 "the year of death, disaster and despair."Then he noted that the COVID-19 pandemic has caused chaos in every country and every economy, increasing inequality and hunger.
According to him, 500 million jobs have already been lost, "extreme poverty has returned to levels not seen in a generation." According to the UN, the global economy contracted by 4.3% in 2020. The crisis caused by the virus has been named the worst in 90 years. At the same time, the consequences of the crisis are twofold. On the one hand, the pandemic hit the developed countries hardest due to the imposition of strict quarantine measures at the start of the pandemic.
On the other hand, studies by the International Monetary Fund show that the pandemic only widens the already existing gap between the economies of the richest and poorest countries in the world. The economies of the states of the North and South are moving in opposite directions. For example, in the United States, economists predict a return to the boom levels of the "turbulent 1920s." China's economy grew at a record 18.3% in the first quarter of 2021. Britain's numbers are growing faster than at any time since the end of World War II.
On this topic
At the same time, in the developing world, with a younger but vulnerable population, where most people are still not vaccinated against COVID-19, and governments cannot afford sustainable stimulus measures, economies are increasingly lagging behind as they struggle to recover from record highs. recession last year.
According to the Pew Research Center, the middle class in these countries, which is a key engine of economic, educational and political development, is rapidly shrinking, while in the United States and China it has hardly been affected.
Thus, it will take years for lower-income countries to return to 2019 levels, and the North is already firmly on this road. At the same time, the World Health Organization (WHO) warns that inequality in the supply of vaccines for coronavirus among states undermines overall efforts in the fight against the pandemic.
Impact on the vulnerable
In countries with humanitarian crises and weaker health systems, refugees and migrants, as well as indigenous peoples, the elderly, people with disabilities and children, are particularly at risk of being left behind and neglected.Despite a significant expansion of social protection programs worldwide, people with disabilities are five times more likely than average to incur extremely high health care costs.
It is also necessary to note the increase in cases of domestic violence and hate speech against vulnerable groups. COVID-19 has had a significant impact on gender equality – the limited progress that has been made in this area over the past decades is now under threat. In everything from health to economics, from security to social protection, the effects of the pandemic are more serious for women.
They are more likely than men to work in healthcare, services, including retail, food, tourism and hospitality – all those areas that require personal contact and that have been hardest hit by lockdowns, crises and layoffs. In addition, up to 30% of women still receive lower wages than men. Also, women with children are more likely than men to live on means below 50% of the average income.
On this topic
With the closure of schools and the gap in distance learning, the United Nations Development Program estimates that 86% of primary school children in low human development index countries are currently out of education, compared with 20% in high countries.Humanity may arrive at values ​​not seen since the 1980s.
Data from developing countries show that children from the poorest families are still three times less likely to survive to the age of five than children from the richest families. Against the general background of a decrease in maternal mortality in the world during a pandemic, an increase in this indicator, as well as stillbirths, the number of ectopic pregnancies and parental depression, is noted in these countries.
How income is related to mortality
Consider the concept of measuring years of life lost due to illness, calculated using age at death and life expectancy at that age.Research shows that the burden of mortality from a pandemic is positively associated with national income per capita, despite the excellent health indicators, the presence of a developed system for its protection and disease prevention in rich countries.
Although there are huge differences at each income level (for example, the death burden in Brazil (adjusted for population) is a thousand times greater than in Thailand), there is a very clear positive relationship. Richer countries suffer greater life years per capita loss than poor countries.I think the measurement error is significant, as a number of poor countries such as Burundi and Tanzania can underestimate deaths, but the relationship is so strong that it is unlikely to be false overall.
On this topic
Among other things, it reflects the aging age structure of the population in rich countries, the characteristics of the virus (mortality from which is highly dependent on concomitant diseases, and therefore on age). Greater urbanization and the spread of the pandemic along major trade routes also likely played a role.
Different price of pandemic
The severity of the consequences of the COVID-19 pandemic is clearly reflected in the following indicators: more than 4 million people died, 120 million were in poverty, the world was engulfed in a global recession. New United Nations Development Program estimates for global education, health and living standards show that they began to decline in 2020 for the first time since the concept was conceived in 1990. In addition, experts from the International Labor Organization believe that half of the working people on the planet could lose their jobs in the next few months, and the losses from the virus could amount to $ 10 trillion for the global economy.
Pandemics always reveal weaknesses in every society, and growing and persistent inequality has been a feature of almost all countries even before COVID-19 broke out. Markets and societies are emerging from chaos, but half of the world is isolated. Nevertheless, even when the pandemic passes, all of humanity will live with its consequences for many years to come, although due to inequality we will pay very different prices.
90,000 "Someone needed to scare humanity very much": is COVID-19 so scary?
Deputy Director of the N.I.Mechnikova, the former chief medical officer of Moscow on the uselessness of quarantines and border closures against coronavirus
"Maybe this virus was born in China, but it has been walking there and around the world for five years or more, and without a specialized test system it was simply not detected," the deputy director for science of the Research Institute of Vaccines and Serums. Mechnikova, Doctor of Medicine Nikolay Filatov. He told BUSINESS Online that the new coronavirus is nothing more than a common respiratory infection, and only natural immunization of the population, which takes time, will stop it.
Nikolay Filatov: "A frightened person gives money away more easily and becomes more manageable. It seems to me that this is the root of this problem. " Photo: Grigory Sysoev / ITAR-TASS
"MORE PEOPLE DIE FROM REGULAR PNEUMOCOCCAL PNEUMONIA THAN THAN THIS CORONAVIRUS"
– Nikolai Nikolaevich, why are such grandiose security measures taken all over the world, which we have not yet seen? Who initiated and is doing all this and why?
– Why is all this being done? A frightened person gives away money more easily and becomes more manageable.It seems to me that this is the root of this problem. Someone and for some reason needed to scare humanity very much. Please tell me, if this is done artificially, what is the purpose? In order to harm people's health? Then what damage should it be? High mortality, severe clinical picture, high contagiousness, and so on. And what do we see here? What is our lethality? Highly pathogenic "bird flu" H5N1 – it has a mortality rate of 52.8 percent. This means that half of the people who contracted this flu died.At the same time, mortality and morbidity were absolutely independent of age, gender, race and what a person was doing. There was a sick bird, a person was infected from it, and this was a dead end. This virus is significantly scarier than the coronavirus.
Coronavirus is one of the long-known respiratory viruses. They are present in a common respiratory infection, which we call ARI, to a certain extent, and for a long time. So what? This new one, it has a mortality rate of 3.4, well, a maximum of 4 percent! What does this mean? Yes, about nothing.This is a common respiratory infection. And suddenly such a boom! Why? Why does such a boom occur when there is no reason for it? Children and adolescents do not get sick at all. Adults and old people get sick. What's happening?
Here's what. A macrophage is a conductor cell of the immune system. Microbe, toxin – whatever affects it, part of the macrophages reacts in a physiological way, this is a normal reaction, and part becomes hyperactive. The share of this hyperactive part is greatest in people of age. When a macrophage in such people meets different pathogens, it begins to get very irritated and gives the immune system a command to mobilize and the most active defense of the body.What is active protection? This is an influx of leukocytes to the site of excitation, in this case, to the lungs. What is the flow of leukocytes into the lungs? It's inflammation. And if this hyperactivity is removed, there will be no pneumonia. And in general, nothing will happen with this coronavirus! Therefore, I would not say that this is something globally terrible, made in laboratories by some enemy of humanity. He then did the wrong pathogen. It is new, no one is immune to it yet. Natural immunization of the population will take place, and everything will be over.Now he looks like, walks, circulates on children, his virulence will finally lose, and we will get what? Some part of the immune layer, and everyone will forget about this virus. It will be the next coronavirus.
Dozens, hundreds, thousands of any pathogens. Take the h2N1 flu, half of the cities in Southeast Asia and many others have a track record of names. There is even Moscow. In my opinion, in 2002 we isolated a new variant of the h2N1 virus, which in the WHO has the name "Moscow". Just like the A (h2N1) 2009 California virus, it was isolated there during this period.And what was such a pandemic boom? What is a pandemic? This is an epidemic spread across all continents. It did, but the boom did not happen.
Let's go further. Swine Flu: 17 percent fatality, three times that of the current coronavirus. And nothing has been heard about him.
Everything that happens today says only one thing: fear has big eyes. I understand the authorities. Everyone wants, on the one hand, to excel, to make some high-profile decisions, and on the other, to play it safe, so that later, God forbid, they will not be accused of anything – negligence, inaction, shortsightedness, that they did not cope, not their place you borrow.Vaccines are hastily being created. Who are we going to vaccinate against the coronavirus? We will include in the vaccination calendar, will we start to vaccinate children in order to create an immune layer? We will vaccinate old people who will not have an immune response? Or will we vaccinate according to indications, someone got sick, we will vaccinate the whole environment? What are we going to do with this vaccine? Nobody asks this question. And is this vaccine needed? Much more is needed, for example, a vaccine against human papilloma! She is really needed, because only in our oncological center – and only a month, in my opinion – more than 150 young women go to bed for surgery for cervical cancer.They will no longer give birth. This problem exists, but we cannot include the vaccine against this disease in the vaccination calendar, because it is very expensive, imported, and will eat half the cost of the entire calendar. This means that you need to develop and make your own vaccine. Here's what to do.
– And yet, about the origin of the virus. For example, on the Zvezda TV channel, one of the experts expressed the opinion that this is a viral chain artificially constructed in laboratory conditions, consisting of the genome of a bat, a snake and human HIV.And this artificial virus was created either in the United States, or in the Soros laboratory in Wuhan (there are two laboratories: one state, the other funded by George Soros grants). Partly confirmation of this theory was announced on March 8. "The impact of COVID-19 on the human body is similar to the combination of SARS and AIDS, as it harms both the lungs and the immune system," said Peng Zhiyong, director of the intensive care unit at Zhongnan Hospital at Wuhan University. Autopsies show severe damage to the lungs and immune systems in COVID-19 victims, according to the physician.How do you feel about this theory?
– It's hard to be categorical here. This is a new virus that has not been isolated before and was not previously known about. Everyone knows the family, but he was in some of his biomes, among bats, snakes, maybe someone else. Now they are working on finding out all this, and this work is still far from complete. Now this virus has got to a person, and of course, you can fantasize about the fact that there is some kind of artificial trace in it. Where there are no concrete facts yet, a certain field opens up for all sorts of assumptions and theorizing.
"Everyone wants, on the one hand, to excel, to make some high-profile decisions, and on the other, to play it safe, so that later, God forbid, they will not be accused of anything." Photo: © Maxim Bogodvid, RIA Novosti
– You have already started talking about the vaccine, we will continue about it. In connection with the newly discovered circumstances, namely, with damage even in cured people of the immune system, it turns out that it is necessary to invent a vaccine not only against coronavirus, but also against its consequences in people who have already been cured? After all, they will die no longer from him, but from his consequences.This is true? Are they working on this?
– If these circumstances are recognized as significant, then such a task will be given to the developers, including ours. Appropriate funding will be allocated, and some of this will probably work out. But the question is something completely different. The Chinese say that the immune system is being destroyed. I told you what happens there using macrophages as an example. What exactly is this virus destroying? What does he do to prevent the immune system from working? In older people, it causes macrophage hyperactivity, but this is in order to protect! This is a manifestation of the immune system itself, only this manifestation in this case works against the organism itself.Here it is quite easy to adjust the treatment of this problem in each specific patient by extinguishing this macrophage activity. There are such drugs, and this is not some kind of discovery. And what do the Chinese say, how does the immune system turn off? What is who said here? HIV? HIV has a completely different nature. The shutdown of the immune system occurs because the body does not recognize the pathogen. He does not recognize the human immunodeficiency virus, and he does damage to himself without problems. And if it is not treated, antiretroviral therapy is not carried out, then very serious consequences can be obtained.The system is completely different for the coronavirus. His body recognizes, with the help of the active work of macrophages, the body begins to fight with him. If this hyperactivity is extinguished, then that's it – there will be no pneumonia. There will be a slight rise in temperature, a person coughs for a while – and that's it.
– A patient who has already recovered from the coronavirus died in China, was discharged from the hospital, but became infected again, and this time with a fatal outcome. Does this mean that the body does not develop immunity against COVID-19?
– This means that he, this particular person who re-infected, had something wrong with the immune system.I do not know why she gave such a failure. Maybe he had HIV, maybe there were some other problems with the immune system that no one talks about, but they attribute everything to the coronavirus.
The fact that today the situation around this virus is being artificially intensified is already clear to many. Whether the politicians need it, or some gray cardinals from the economy and finance, I don't know. But there are some games going on around all this, including pumping money out of people. Medicines are being sold out in a rush. Someone offers masks at cosmic prices, someone disinfecting wipes, someone personal protective equipment, dressing gowns, special suits and so on.From the outside, it may seem that the world is going crazy. Some kind of assessment of everything that is happening should be in people's heads? How many institutions do we have and in the world dealing with virology, immunity, vaccines, why do the authorities not force them to hold meetings of scientific councils and give recommendations to governments so that it is clear and understandable to everyone and everything? No, they are closing the borders! Will we close it for animals too? For the same bats. Why is all this being done? From the point of view of virology, this will delay the spread only for a short time.Him to be. But the fact is that more people die from common pneumococcal pneumonia than from this new coronavirus.
"You say that you have identified this virus in humans. So what? Did he harm his health if there are no symptoms? " Photo: "BUSINESS Online"
"DO YOU NEED TO PROTECT FROM HIM?"
– There are more and more doubts on the Internet about joint quarantines. According to people, the experience of cruise ships shows that they only contribute to the spread of the virus, and in the conditions of hospitals, the spread of hospital infections is added to this.How would you comment on such fears of people? Why is this done?
– Someone gives the command that all these liners with a common ventilation system, on which thousands of healthy people were in isolation with the sick, drift into the sea and people do not go ashore. They need disunity, but they are forcibly grouped. In fact, they are artificially infected. Well, let's do something similar for the flu. Streptococcal infection, a number of other dangerous pathogens, which, probably, also need to be dealt with in a similar way.In Moscow, about three million people get sick with the flu every year. And how many deaths? I can tell you, much more than from this new coronavirus. But we are not saying that this is a disaster, we are not hiding anyone. There are the usual, normal processes of self-regulation of parasitic systems. Here he got out of bats, which, by the way, have a lot of all sorts of viruses, but he is weakly virulent. Yes, his contagiousness is high, like a regular flu: he sneezed – and please, you, a bunch of infected. And all of them – both healthy and sick – are quarantined on ships, in some territories.
Quarantine is carried out so that the infection does not spread outside the quarantine area. And here it turns out that in this quarantine zone we close both the sick and the healthy. There should be an observation. There should be a separate area for the sick and a separate area for the healthy. And so a person must leave the observation either there or there. But the fact is that, well, he was diagnosed with this coronavirus – and what clinic, what manifestations? A runny nose or a man coughed twice? Or did he have pneumonia immediately? We have a huge number of microorganisms in our bodies today.Some help to digest food, others are on the skin, creating a certain immune defense for us. Some – due to competition with virulent pathogens, others help us in the life of various systems of the body's functioning, and so on. And what did this coronavirus fundamentally violate or destroy in all this, that everyone was so scared? This is where you need to figure it out. Even in my first week, as he appeared, friends wrote on the phone that, here, the US intelligence reports that some city – some corpses and more.Then it all turned out to be bullshit, stuffing.
– Some doctors claim that this is an extremely "smart" virus. It mutates very quickly, adapts to external factors and various medicinal effects. There is more and more information about transmission methods. Today, no one in the world knows all the forms and methods of the spread of infection to stop them, and quarantine measures do little. How do you defend yourself then?
– The whole question is whether it is necessary to defend against it.You say that you have identified this virus in humans. So what? Did he harm his health if there were no symptoms? Self-regulation of parasitic systems – and this system is a symbiosis of pathogens and a human host – is in any case balanced. All pathogens are heterogeneous, not the same, and if we take one virus, plant it in a cell culture and start artificially propagating, then each isolate will differ from others in virulence, resistance in the external environment, and a number of other factors.Yes, they have a common "last name, first name, patronymic", yes, this is a coronavirus, it was copied, that it was he, but tell me, please, what is he more terrible than everyone else? What is he doing to scare people like that? Moreover, the clinic for young and healthy people with a healthy immune system is insignificant or none at all. They were identified, watched and released. After two or three weeks, they do not find this virus in him, the body itself coped with it. With other infections, it is exactly the same. And the carrier with any other infection can infect people.Influenza is significantly more contagious. This "swine", which, they said, is pandemic – about 18 percent of its lethality. The new avian, H7N9, has 34% mortality. And the first bird has 52%. With the 2013 coronavirus, which came to us from camels from the Middle East, there was a 39 percent fatality rate. Why was there no such disaster then? Why, with such a high mortality rate, did no one raise such a fuss and boom? When our authorities have answers to all these questions, then there will be a clear and correct position.Of course, you can introduce total quarantine, buy everything in stores, sit at home and sit for three weeks until no one has infected us. Let's go out, get infected and we'll sit for another three weeks
"Someone may feel bad, you never know what a person is sick with – but no one knows this, but sees from the window how medical workers in special suits get out of the car and enter the house" Photo: © Vitaly Belousov, RIA Novosti
– Meanwhile, the true number of people infected with COVID-19 is much higher than the official figures from the Chinese government.This statement was made back in February by a Chinese billionaire and one of the richest people in the PRC, Guo Wengui, in a commentary to the Voice of America. According to him, more than 1.5 million people were infected and "the authorities are hiding the truth." Can this be? And if so, the danger of the virus and its spread is much stronger than they try to imagine, and not only in China. Or is it all speculation? Then who needs it and why?
– I don't know who needs it and why. This Chinese billionaire pays someone money for information, and someone wants to make money from it all.I think it doesn't matter to his information providers how much actually died or why they want to keep getting paid. I see the only meaning in this. This is a pure lie. Please tell me: if this is a bacteriological weapon, why then did the head of China go to this contagious province? He would probably have been informed that they do not know anything about this terrible virus – how the infection occurs, who are the carriers, how many are there, how serious is its effect, what it destroys even in people who have been cured, and so on – and he does not need to go there.There are so many patients who have been identified, and it is not yet known how many are undetected, and you can only walk there in a combined-arms protective suit. And he went, walked there without any OZK and did not get sick. All the media reported and showed it there.
– In Russia, such information is also traditionally hushed up, and unofficial information is considered fake and intrigues of enemies. But data on the number of deaths in Moscow during the heat wave of 2010 is still classified.I tried to get them, they turned me down. But then all the morgues in Moscow were packed. A Muscovite relative of my friend died, and he was sent to the morgue in Krasnogorsk, since there were no places in Moscow. Will there be something like this now? And in general, why does such information come in the most metered and filtered way only through a special headquarters? After all, this gives rise to all kinds of rumors, conjectures, speculations.
– This happens because we perform feats. A feat must be accomplished, and the headquarters must accomplish it.Not scientists who are dealing with this problem, but a successful manager. That's all. I see no other. Besides, much comes from misunderstanding and misunderstanding. Just imagine: you are at home, and an ambulance drives up to it, to your or a neighboring entrance. Someone may feel bad, someone, probably, they came to get an injection, someone, maybe, needs to be taken to hospital, you never know what a person got sick – but no one knows this, but sees from the window how the medical gets out of the car workers in special suits and enter the house.Here people begin to have, to put it mildly, a strong anxiety about what is happening. An acquaintance of mine experienced a similar experience, came to me and said: "Aren't you deceiving me? An ambulance drove up to my house, and people in protective suits came out. All this – on the one hand, the costumes, on the other, a minimum of information, no interviews, and so on – gives rise not to reassurance, but a backlash. This is not the kind of virus that should be causing this problem.
– Following China, the virus rushed to Europe, and there it is spreading rapidly.In pursuit of Italy, the number of cases and deaths from the disease is skyrocketing in France. The number of infected in this country has already exceeded one thousand, in Italy it is approaching 10 thousand. The disease is spreading rapidly from Greece and the Czech Republic to Norway. But at the beginning of the epidemic, they said that the virus supposedly prefers Asians. What happened, why is he so actively mowing down the Europeans?
– The virus is known to have been first identified in China. A certain number of people fell ill. Several have died.They were examined virologically and identified this new virus. A test system was made against him. When the virus is detected, the test system is done in three days. The entire procedure for its sequencing was published, and the French, Italians, and Germans immediately made similar systems, and we, at the "Vector", did it. Well, they began to identify with the help of this test system: someone coughed, or even those who had no symptoms just turned. And immediately what? What words began to sound? "Mows", "creeps away" – even you sounded.Like a plague, like smallpox! "Mows down" cities and villages! Where is all this in reality ?!
"People begin to have, to put it mildly, a strong anxiety about" what is happening " Photo: © Kirill Kallinikov, RIA Novosti
– Well, the Italians say that they get sick 200-300 people a day.
– What clinic? We now have no one absolutely and completely healthy. Take any one hundred people and test them for viruses, and you will find something for everyone.Someone has a pustular disease, someone has staphylococcus, someone has an oral disease and so on. And what, no one goes to work, no one does anything and does not communicate with anyone? No. And what about this virus? Yes, one of the ways it is transmitted is by airborne droplets. Our [human] aerosols are spread over a distance of 2.5-3 meters. Someone breathed in such an aerosol with a virus. After 2-3 weeks of the incubation period, he did not show this virus at all. The test system revealed a virus in him, and in which cohort does such a person fall – sick, seriously ill, carrier, what role will he play? Now all these attempts to isolate cities and territories – with traffic restrictions, do not walk from apartment to apartment, do not cross the other side of the street – will not give anything either in epidemiological terms, or in terms of combating this infection, because the internal settlement is all the same will happen.
– By the way, at the end of February, the American magazine Atlantic published an article in which Harvard epidemiologist Mark Lipschitz suggested that 40-70 percent of the world's population will get sick with COVID-19 in the coming year. The article was titled: "You are likely to get infected." Some analysts are already comparing the virus to the Spanish flu pandemic, which killed tens of millions of people in Europe and Russia at the beginning of the 20th century. Are such comparisons appropriate?
– From a distribution point of view, all of these forecasts are based on computer simulations."Spaniard" is a little different. This is the first emerging h2N1 virus. He also did not exist [before], respectively, and the immune defense against him was not developed. But his lethality was much higher. I don't even know how to convey to people that this is another injection. Almost all diseases are infectious. Even those that seem to be not, for example, the same schizophrenia. In fact, there are parasites that cause this. Or a stomach ulcer – it was not treated in an infectious hospital, but now they found out that there is a pathogen.There are a number of biological pathogens that affect, say, attentiveness, a person becomes less focused, and if he is driving, he often gets into accidents. Now there are drugs against all these diseases. A case of a disease is not the norm for the meeting of a pathogen and a person, a microorganism and a macroorganism. This is an exception. Under normal conditions, they find ways and modes of coexistence, live side by side and do not interfere with each other. The virus entered the body and did nothing to it. Therefore, it is incorrect to talk about how many will be infected in this case.Well, everyone will get infected, one hundred percent of the inhabitants of the Earth, but not one will get sick. So what? Here, everything is done in order to orchestrate the situation in countries and regions. People run, buy everything, stay at home, but this has a very relative relation to illness.
"People run, buy everything, stay at home, but this has a very relative relation to illness" Photo: MARCIAL GUILLEN / EPA / TASS
"MOST OF ALL, THE PICTURE WILL CHANGE IN SUMMER"
– The WHO declares that it is not worth waiting for a decline in the infectious activity of the coronavirus by the summer.What to do for those who have already taken vouchers to the sea, say, to Turkey, Spain, Italy, Greece, the Balkans, Georgia? Where to go now, to Crimea? Or is it better to stay at home?
– Will it stop or won't it stop? Let's follow the flu analogy. As soon as there is a lot of heat and ultraviolet light, the flu virus stops growing. He just sleeps in the summer, that's all. He seems to have a calendar. It is difficult to predict how this particular coronavirus will behave, but I am inclined to believe that when there is more light and heat, it will be an unfortunate seasonal period for it, as for most respiratory viruses, and this is such an obvious respiratory virus, therefore, most likely , in the summer the picture will change.But here it is a little bit different, in fear. Countries one after another are closed from visitors. The travel industry has already suffered the most. But no one closed or refused from Chinese goods, from Chinese components and even agricultural products. If a collapse begins here, it will mean that the kindled hysteria is purposefully achieving something, some goal. To scare those in power – so they will begin to take feverish measures, which will sow even greater excitement and panic, and, probably, only at the end of this process the goal pursued by the forces or people who launched the whole process will begin to emerge.This is not a medical or medical problem; it is a problem for the special services and for analysts who deal with economics.
– And by the way, isolation measures taken by states like canceling flights and closing borders have little effect. This is shown by the example of Italy, the first European country to ban flights to China at the end of January, but did not protect itself from the epidemic. Moreover, the first resident of Italy infected with the coronavirus was not in the PRC and did not come into contact with apparently sick people.That is why doctors did not test him for coronavirus for a long time, which, apparently, led to the further spread of the infection. Why, instead of openness and cooperation for the benefit of all, states are following the unproductive path of self-isolation, and not working out common approaches to combating infection, working together on a vaccine, etc.? After all, we are also following this path, but the number of cases is only growing so far.
– There were no test systems for the detection of this virus in any country three months ago.Now it was created, they began to identify this virus in people – and they immediately started talking that this virus was born in China. Where such confidence? Yes, maybe he was born in China, but he has been walking there and around the world for five years or more, and without a specialized test system simply did not detect him, but put the sick with a variety of diagnoses, from severe forms of acute respiratory viral infections to atypical pneumonia with various complications in specific people.
They do not go to openness and cooperation because, as I said, managers and politicians have taken control of the situation, and scientists and doctors are not actively involved in solving the problem at the interstate level.This is a general trend.
This situation is harmful, exacerbates the problem, but so far it is. Perhaps, in the future, something will change, but so far the tendency of isolationism is evident.
"How else can I tell people? Get sick – go to the doctor! " Photo: "BUSINESS Online"
– Why is there so much excitement around medical masks, because, according to doctors, they do not save you from coronavirus? Or do they save?
– It would be wrong to say that masks do not protect.A person without a mask is in the area of ​​spraying exhaled aerosols of other people within 2.5–3 meters and, naturally, is exposed to them. The mask will prevent such an effect, but, of course, it is not a panacea. However, the Chinese, for example, or the Japanese generally like to walk in masks – they have a great overcrowding of everything, people, machines, and industry. Therefore, there is a lot of smog, and clouds from human aerosols literally hang in half with dust and exhaust from cars and mopeds.
– How to behave at work, in public transport to protect yourself from infection? Or is it impossible in principle?
– The only thing that must be brought to the attention of people: if you get sick – seek medical help or stay at home, do not go, do not infect! But we have some kind of, I would say, pathological activity associated with work inherent somewhere in the subcortex: "I am sick, but I will go to work."He accomplishes this feat … Why do you need a patient at work? If you physically work, you will quickly get tired, you will harm your health and be out of order for a long time. If you are a person of some kind of creative or humanitarian orientation in the profession, then you infect people there. What is this all for? Stay at home, call a doctor, get a sick leave, get treatment and go out when you're healthy. Do not need anything else. Everything is spelled out in the usual sanitary rules.
– People fly from different countries: someone starts to feel bad, someone gets suspicious, but people are afraid of quarantines and hospitals, they do not go to doctors.And they are trying to be treated with remedies from a home first-aid kit, which helped them in the past from colds, for example. Is this acceptable?
– Self-medication is very, very bad. The fact is that antiviral drugs are very heavy chemical compounds for the body. They cause, first of all, the destruction of the liver, affect the bone marrow, and much, much more, so taking any antiviral drugs without good reason is fraught. Moreover, in most cases, a person uses them in vain.Most often, he has completely different problems that require a completely different effect and completely different medical complexes. How else to tell people? Get sick – go to the doctor!
Coronavirus made the world cleaner: City: Home: Lenta.ru
Coronavirus made the world cleaner – the restrictions imposed due to its spread helped to clean the air in the most polluted cities on the planet. Bloomberg informs about it with reference to the report of the Swiss manufacturer of air purification systems IQAir.
According to the organization, the reduction in international flights and other restrictive measures contributed to a decrease in the mass concentration of particulate matter in the air PM 2.5 (from the English particulate matter – approx. Lenta.ru ) in such large cities as Delhi, Seoul, Los Angeles and New York.
Related materials
00:01 – March 21, 2020
Under siege
Soldiers in the streets and people in gas masks: what coronavirus-infected cities look like
air pollution by 60 percent.Indian Prime Minister Narendra Modi decided to close borders, suspend public transport, and also introduced a general quarantine for 1.3 billion residents of the country who were prohibited from leaving their homes.
Seoul saw a 54 percent reduction in air pollution as the government responded quickly to the growing number of cases in the country. South Korea has introduced a lax social distancing regime and encouraged citizens to switch to remote work if possible.
The study also showed that air quality has improved in the Western Hemisphere. In the American metropolitan areas of Los Angeles and New York, air pollution levels fell by 31 and 25 percent, respectively. In Brazilian Sao Paulo – by 32 percent. Europe has shown more modest results. Thus, the level of air pollution in London decreased by 9 percent, in Madrid – by 11.
The epicenter of the initial outbreak of coronavirus was the Chinese city of Wuhan. As a result of a 10-week quarantine in the city, PM 2.5 is down 44 percent from 2019.
The restrictive measures have had a beneficial effect on the environment around the world. Earlier it was reported that thanks to the quarantine and stopping the tourist flow, the water in the canals of Venice was significantly cleared and the swans returned there.
What is happening in Russia and in the world? We explain on our YouTube channel. Subscribe!
***
Feedback from the department "Home":
If you have witnessed an important event, you have news or an idea for a material, write to this address: dom @ lenta-co.ru
Only Spartak can stop Zenit in the Russian Championship. The rest are weak
"Spartak" flew in last season as an underdog. It seemed that the new Gender Shamil Gazizov would quickly get rid of Domenico Tedesco and put the conditional Evseev in the club, but the German cheerfully started and spent almost the entire autumn on a par with Zenit. Yes, St. Petersburgers were staggering in parallel on the Ligochempion trips and were obviously tired, but Spartak fans really cheered up: their club, which until recently slipped to tenth place, confidently fought for the top three.
True, the resource was still not enough. At the end of 2020, Tedesco lost to Sochi and Zenit, and at the beginning of 2021 moved to four defenders. This turned into a relegation from the Cup and a defeat to Rubin – it forced Domenico to return to the previous scheme. Then "Spartak" had another crisis (zero points with "Ufa" and "Loko"), but the red-and-white ones still crawled to second place. Another thing is that Tedesco did not really participate in the championship race – he would have been helped only by the crazy decline of Zenit, but it did not happen.
Domenico Tedesco
Photo: Getty Images
UEFA Champions League
All about Zenit vs Malmö match in the Champions League: lineups and forecast
25 MINUTES BACK
But now, without Domenico Spartacus "a completely different status. Fedun's club is closer to Zenit than even the most dedicated KB fans think. Firstly, Muscovites have pulled themselves up to St. Petersburg's on Transfermarkt: 167 million euros against 147, and Zenit has not yet removed Driussi (7.5 million euros).It is clear that this is a noticeable difference, but it is definitely not cosmic. Another question is that, on average, a Zenit footballer costs almost 8 million euros, and Spartak's – 5, but this difference is made by young guys like Ignatov and Litvinov and veterans Yeschenko and Rebrov (150 thousand for two).
In fact, the team of champions surpasses Spartak in exactly two positions. Zenit has a more powerful center of the field (Barrios and Wendel are cooler than Zobnin and Krala) and have a right-back – Karavaev copes with defense clearly better than Moses.But Spartak has a much higher status first goalkeeper (the same Transfermarkt estimates Maksimenko at 13 million euros) and the most diverse attack. Moses plays and shoots, Sobolev handles and closes, Larsson and Promes can play anywhere, and Ponce has long adapted to Moscow and regularly scores important goals. Zenit responds with a totally studied Dziuba-Azmun connection, Douglas crosses and Malcolm's creativity, who has not yet spent a season in Russia without serious injuries. The center of defense of "Spartak" is also in order – sometimes Zhigo and Dzhikia yawn, but not more often than the elderly Lovren and Rakitsky.Plus Airton, one of the league's most reactive footballers, is running on the left.
If Popov brings a right-back and a defensive midfielder, and Rui Vitoria does not turn out to be a mediocrity, Spartak must fight Zenit until the last round. There will be no excuses: this roster has everything to not just chase champions to the middle of the distance, but to arrange a real meat grinder in the spring. Moreover, on May 13, "Spartak" will host Petersburgers in the penultimate round of the championship – perhaps this match will become gold.
Ayrton, Spartak – Zenit
Photo: Getty Images
The fact that other RPL giants are in a slight hibernation also plays in favor of Spartak.Lokomotiv took care of hiring top managers, but not closing problem positions. Krasnodar dropped the illiquid stock, but Galitskiy still has few transfers to the entrance – except that Cordoba will replace Berg. In CSKA, the coach will be a person who did not want to become the main one. There remains only Rubin, which has kept Khvichu, but Kazan lacks a bench. Dynamo and Rostov? Some will consider any boost from seventh place to be a triumph, while others have a 50 million euro lineup – this is not enough for serious competition.
So the perfect moment has come for Spartak.A century, a well-played roster, a calm European coach, dead rivals, a jaded champion – you just need to take what is yours. But life teaches that when the red and white have everything super, they roll with the wildest roar. It will be a shame if this happens to these players too: they deserve a full-fledged fight for the title, and not poking around the top five.
Zenit is the champion? Is Hvicha an MVP? Preview RPL-2021/22 from "Tochka xG" Subscribe to Eurosport.ru in the telegram
UEFA Champions League
Claudinho: "I dream of winning the Champions League with Zenit
HOUR BACK
Champions League, UEFA drugs
alcohol in the family.