What's lacrosse: Learn all about the sport of Lacrosse
What is Lacrosse?
Lacrosse is a team sport that is played with a lacrosse stick and lacrosse ball. As a game that was played by Native Americans all the way back to the 1600s, it is considered to be the oldest organized sport in North America.
Players in lacrosse use the head of a lacrosse stick to carry, pass, catch, and shoot the ball into the goal. It is a sport for both men and women, although there are slightly different rules for each gender. It is among the most popular youth sports in the country, and has seen a large growth in popularity over the past decade.
---
History
Lacrosse is one of the varieties of stick ball games that were played by American Indians at the time of European contact. Because of how early on the game was being played (all the way to the 1600s) we don't know the precise history of the sport. It was most popular on the eastern half of North America by tribes in the southeast and Great Lakes areas. The sport of lacrosse was given its name by early French settlers.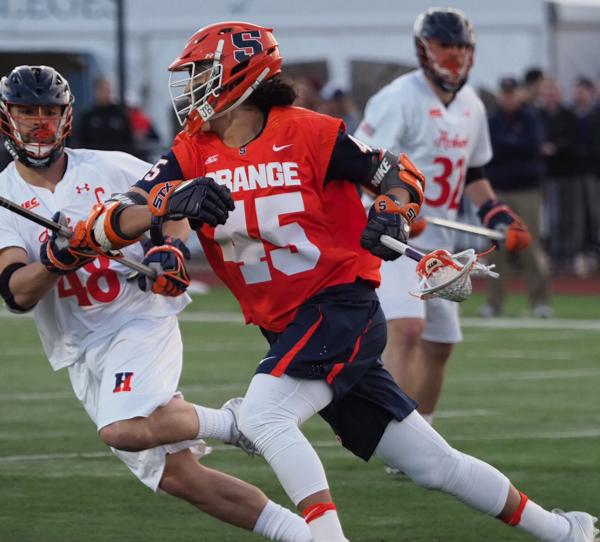 They used the generic term for any game played with a curved stick (crosse) and a ball.
Playing Surface
The surface of a lacrosse field is typically turf, but it can be played on grass as well. For lacrosse players, turf is typically the preference because the flat surface will keep the ball in control. A regulation men's and women's unified lacrosse field is typically 110 yards long with around 53 to 60 yards in between the sideline. An NCAA men's field requires a 60 yard width between the sidelines and 110 yards in length. An NCAA women's lacrosse field can be between 110 and 120 yards long with a width of 60 to 70 yards.
Equipment
Lacrosse is a sport that is very fast paced and involves a lot of physical contact. Therefore, there is a large amount of equipment you will need to protect yourself from injuries. Helmets are a requirement to wear for all men's lacrosse players, whereas women are required to wear goggles, since they do not get in as many collisions.
Cleats are another piece of equipment that athletes will need in order to perform at a high level. Players will also need gloves that will protect the fingers, hands, and wrists, while still allowing the hands to move freely and hold the stick. Most importantly, players will need a stick. The stick will vary in size and style depending on what position you are playing, as offensive players typically have smaller sticks than the defensive players.
Gameplay
A lacrosse game has a duration of four quarters, each of them being 12 minutes long. On the field there are ten players for each team. Four of them must stay on the defensive half, three must stay on the offensive half, and three of them can go anywhere on the field. The game starts with a face-off between two players on each team.
Positions and Roles
In lacrosse, there are four main player positions on a team: defenseman, midfielder, attackman, and goalkeeper.
Defender
A defender's main priority is to protect their goal.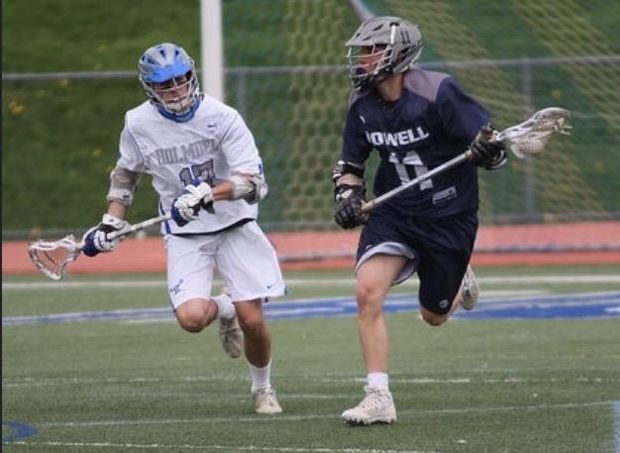 Working with the goalie, defenders make sure the opponent does not score. Defenders use longer sticks to allow them to block or deflect passes and shots.
Midfielder
Midfielders play all over the lacrosse field. Because they play both offense and defense, a good midfielder needs speed and endurance. Transition is one of the most important tasks for a midfielder, as they need to be able to move from defense to offense to create an advantage.
Attacker
The main priority of an attacker in lacrosse is to score goals. Each lacrosse team will have three attackers, and they will always stay on the offensive side of the field. These players must have superior skills in passing, faking, and other moves to get a clear shot of the goal.
Goalkeeper
The goalkeeper can be considered the most important player in the sport. They are the last line of defense and need to keep the opponent from scoring. A goalie must have superb hand-eye coordination and very quick hands.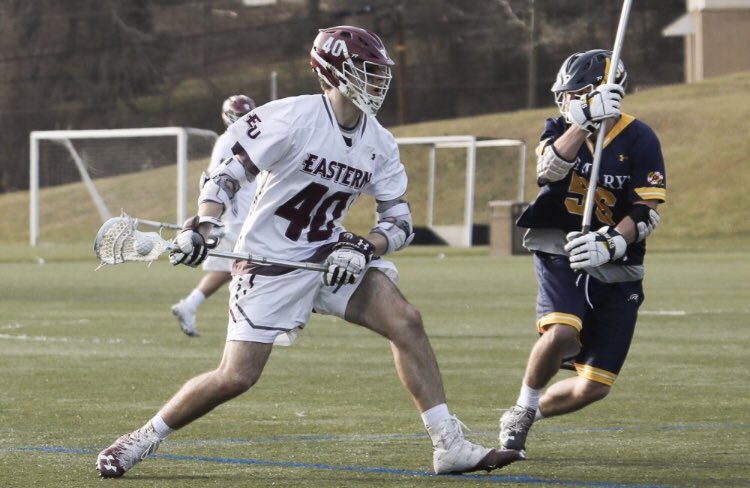 A goalie also needs to be tough, as they will be hit by the ball at really high speeds during a game.
Rules and Regulations
In lacrosse, there are plenty of rules and regulations that must be followed. The rules in lacrosse range from the equipment that is being worn all the way to penalties. While there are some rules that vary depending on the league, the majority of the core rules stay the same.
Fouls: Fouls can include tripping, cross checking, slashing, or any other kind of unnecessary roughness. When a player commits a foul, they will be put in the penalty area for 1 to 3 minutes. A player is removed from the game if five personal fouls are committed.
Offsides: Midfielders are the only players who can enter any area of the field. Attackmen and defensemen must always stay on their side of the field to prevent offside, the team must always have four players on each side of the field.
Face-Off: A face-off will start every lacrosse game, and there will also be one when there is a scoring play.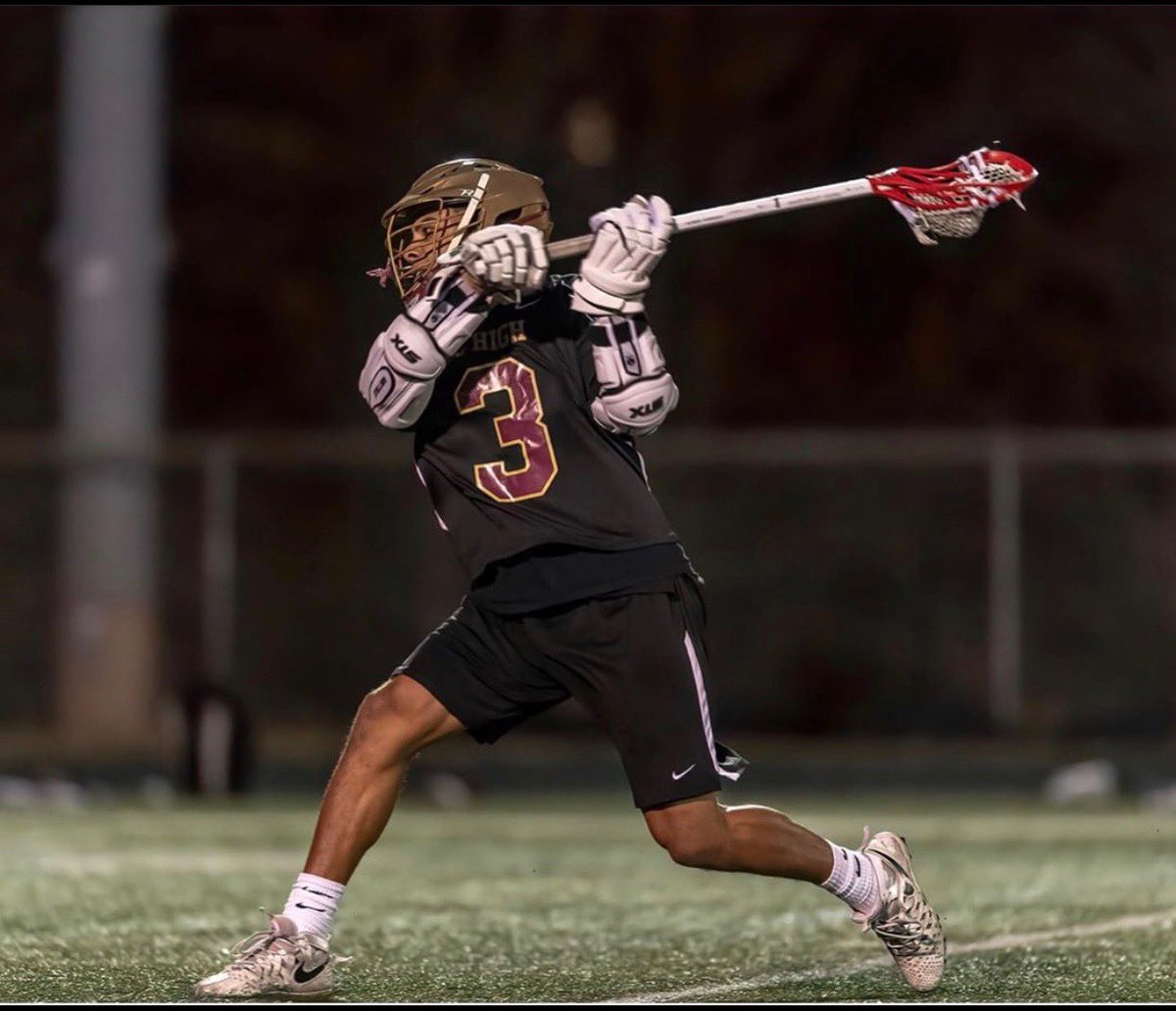 In a face-off, two players stand with their hands and feet to the ground with the sticks laying in front of them. When the whistle blows they will fight to gain position of the ball.
Crease Violation: Attackmen can not step on or within the goalie's crease until the ball goes into the net. This will not pertain to an offensive player being pushed by the defense. The team will be penalized with losing possession of the ball if this happens.
Referees and Officials
In a lacrosse game there are two or three refs working on the field. Officials need to understand the game and communicate with each other through verbal and hand signals. Officials are also responsible for checking legal equipment, tracking and approving the score, and keeping an eye out for infractions, illegal contact, and unsportsmanlike behavior.
Lingo and Terminology
Lacrosse has a large amount of slang terms that are used for the sport that may come across as confusing if you are not familiar with the sport.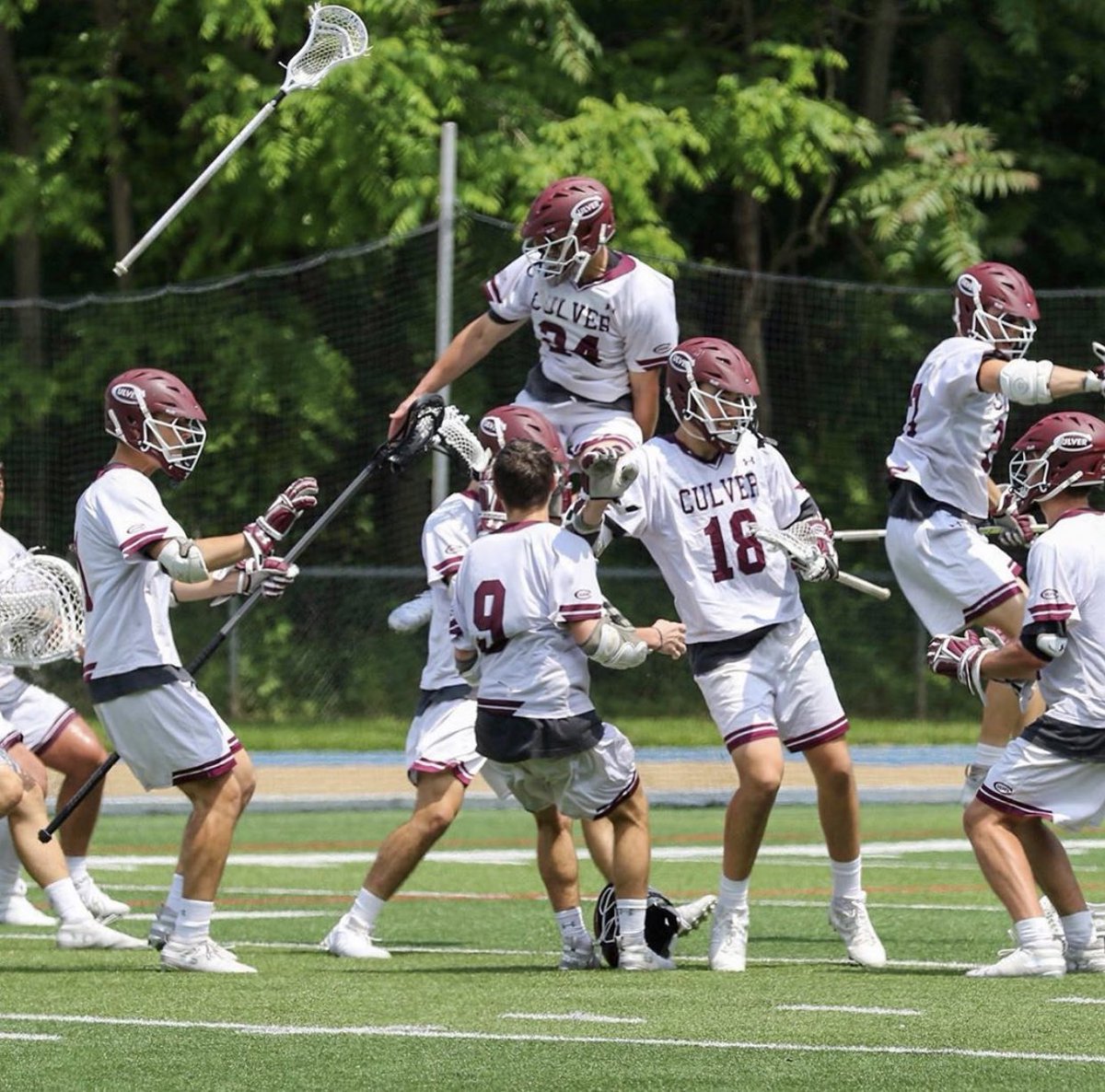 Below is a list of some terms that can give you a headstart on talking like a veteran.
Cradling: Rocking the stick back and forth to create a force that will keep the ball in the pocket.
FOGO: A term for a player who takes a face-off then runs off the field as soon as possible. Stands for face-off, get off.
Goose: When a player uses the stick to knock a ground ball to a teammate rather than picking it up.
Top Shelf: The upper area of the goal below the crossbar.
Gilman: When a defensive player throws the ball as far as possible to the offensive end of the field instead of passing the ball to a teammate.
Flow: Long hair that flows out of the helmet. Very popular hairstyle among lacrosse players.
Coaching
A lacrosse coach is a vital part of the team and is crucial in helping the players improve and find success. At a young age, the coach is responsible for teaching the players the basic fundamentals of the game and emphasizing the importance of fun.
At the higher levels, the coach is responsible for strategizing and helping the team perform at the best of their abilities.
It is very important for coaches to develop trust with their players. A coach's relationship with his or her players is a very important part of the team finding success. They do not need to be best friends with their coach, but the players must have respect for their coach if they are going to find success. Coaches also come up with drills for practice in order to develop and improve the players. During these practices, they also come up with gameplans on how they can win their upcoming games. Without a good coach, a lacrosse team is going to be lost and unsuccessful.
Skills and Techniques
A good lacrosse player has a lot of skills and experience that allows him or her to be successful. Lacrosse players are fast, strong, and have great hand-eye coordination. Basic skills of lacrosse include scooping, passing, catching, cradling, and shooting.
Along with that, lacrosse is a very physical sport that requires an understanding of checking and dodging techniques. It is extremely important for a lacrosse player to practice these skills to a point where he or she will master them. This will lead to a more rewarding playing experience and an overall more successful lacrosse career.
Strategy
In lacrosse there are offensive and defensive for different situations. Some of these situations include settled, unsettled, and powerplay. A settled situation is when all the players are prepared where being unsettled means there is a quick change in possession.
On the offensive side, a common settled offense is called a 2-3-1. This offense is formed with 2 midfielders at the top of the field, a second line in front of the net with two attackers on the wings and a midfielder in the middle, and finally a third attacker just behind the goal. These players pass the ball around or run in triangles to confuse the defense. There are some strategies that give the offense more strength, but will leave a risk if they lose the ball to a fast break.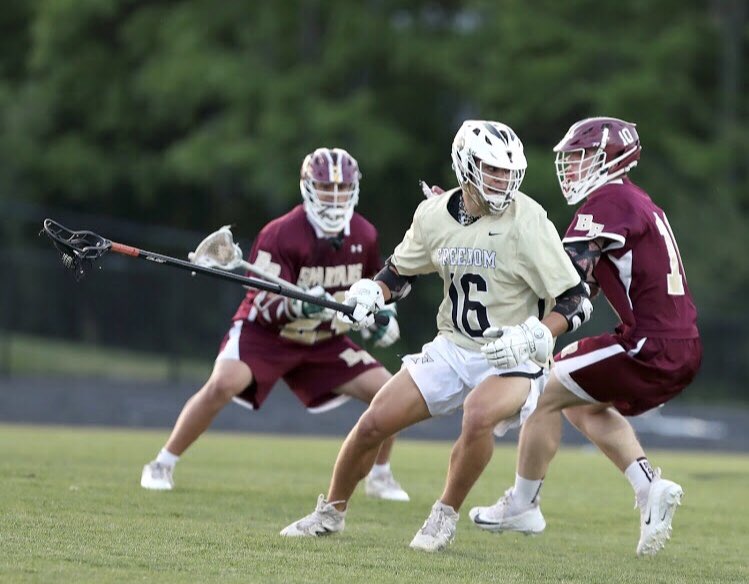 On defense, teams typically play man to man defense where each player is assigned an offensive player to cover. There is also zone defense, where each defensive player is assigned an area or zone where to cover.
Drills
In order to develop more skill and to find success as a team overall. It is important to partake in lacrosse drills to improve your game. For each skill that comes with lacrosse, there are multiple drills that will help you improve those skills. On the defensive side, you can practice wall ball drills or keep away drills such as "monkey in the middle."
A great drill for offense that will improve passing is when a player and partner run down the field parallel to one another passing back and forth to each other. The most effective shooting drill is probably the run, dodge, and shoot on the goal. This will allow the attackmen to improve his dodging skills, while he can practice lefty and righty shots. Along with these drills, all lacrosse players regardless of position they play should take part in speed and agility drills.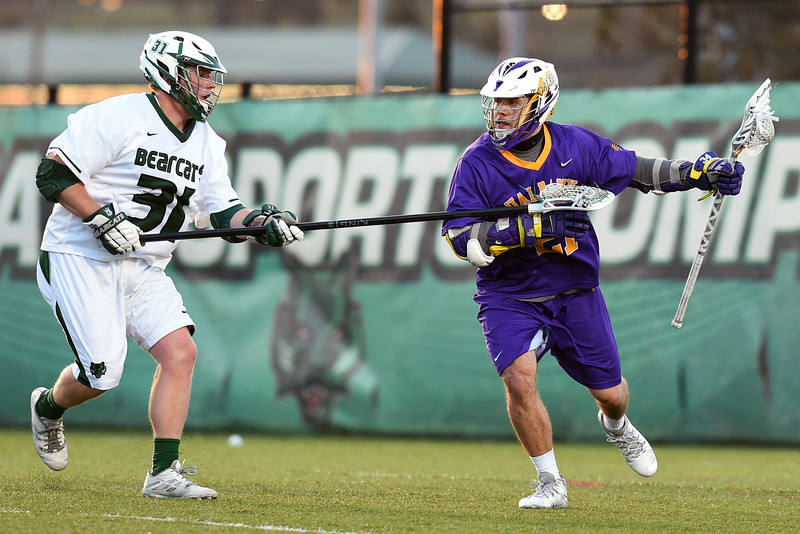 Olympic Lacrosse
Lacrosse has been an Olympic sport five times. It was an official sport in the 1904 and 1908 Olympics, but was relegated to a demonstration sport in 1928, 1932, and 1948. World lacrosse is hoping to grow its membership by 60 percent in the next five years, and hopefully return as an Olympic sport in 2028. This will face a lot of challenges, as it will be difficult to modify the squad sizes and revise rules of play. Along with that, the spread of global popularity is far from reach at the moment.
Lacrosse Brands
When it comes to sports like lacrosse, it is important to have high quality equipment. It is important to be aware of brands that make equipment that will keep you safe and perform at a high level. Below is a list of some great brands that sell lacrosse equipment.
Youth Organizations
At a young age, it is important to get yourself involved with youth organizations. A youth organization will help develop skills and character that is vital for a young player.

In just about any area, there are youth camps and programs that are available.
Metro Lacrosse: Represents 120 schools and has 92% black or hispanic participants. Does a great job in promoting diversification in the sport.
Tri-City: Premier lacrosse for upstate New York. Has age groups from kids as young as 4-8 teaches them the basics of the sport.
Atlantic Lacrosse: Devoted to showing the game of lacrosse to new players and helping experienced players enjoy the game to its fullest.
Lacrosse Coaches
As mentioned above, a lacrosse coach plays an integral role in a team's success. Here are some successful coaches in the history of the sport.
| COACH | TEAM |
| --- | --- |
| Dom Starsia | University of Virginia, Chrome Lacrosse Club |
| Dave Cottle | Chesapeake Bayhawks |
| Bill Tierney | University of Denver |
| John Desko | Syracuse University |
| Acacia Walker | Boston College |
| Ann Elliot | Colorado |
Lacrosse Players
Right now, there are a large number of talented lacrosse players who play in a variety of different leagues.
Here are some of the best current players along with the team they play for.
| NAME | LEAGUE | TEAM |
| --- | --- | --- |
| Trevor Baptiste | Premier Lacrosse League | Atlas |
| Zach Currier | Major League Lacrosse | Denver Outlaws |
| Connor Fields | Premier Lacrosse League | Chaos |
| Marcus Holman | Premier Lacrosse League | Archers |
| Rob Pannell | Major League Lacrosse | New York Lizards |
| Randy Staats | Major League Lacrosse | Atlanta Blaze |
| Matt Rambo | Premier Lacrosse League | Whipsnakes |
| Lyle Thompson | Major League Lacrosse | Chesapeake Bayhawks |
| Tom Schreiber | Premier Lacrosse League | Archers |
Lacrosse Leagues
Lacrosse is a sport that has yet to have a professional league dominate the sport like baseball, football, and basketball.
Because of this, they have more professional leagues in the country than other sports might, as there are currently five professional leagues operating in North America. College teams often play through the NCAA, and there are youth leagues that will not be difficult to find all over the country.
Premier Lacrosse League
National Lacrosse League
NCAA Lacrosse
Women's Professional Lacrosse League
Major League Lacrosse
Lacrosse Teams
All over the country there are lacrosse teams that represent different leagues. The NLL has 13 teams, the PLL has 7 teams, and the MLL has 6 teams. Below is a list of each team in these Major Leagues.
Premier Lacrosse League: Archers Lacrosse Club, Atlas Lacrosse Club, Chaos Lacrosse Club, Chrome Lacrosse Club, Redwoods Lacrosse Club, Whipsnakes Lacrosse Club, Waterdogs Lacrosse Club
National Lacrosse League: Buffalo Bandits, Halifax Thunderbirds, Rochester Knighthawks, Toronto Rock, Georgia Storm, New England Wolves, New York Riptide, Philadelphia Wings, Calgary Roughnecks, Colorado Mammoth, San Diego Seals, Saskatchewan Rush, Vancouver Warriors
Major League Lacrosse: Boston Cannons, Chesapeake Bayhawks, Connecticut Hammerheads, Denver Outlaws, New York Lizards, Philadelphia Barrage
Lacrosse Events
Whether it is a game, fan fest, or tournament, there are plenty of lacrosse events that take place year round that are great for the whole family to enjoy.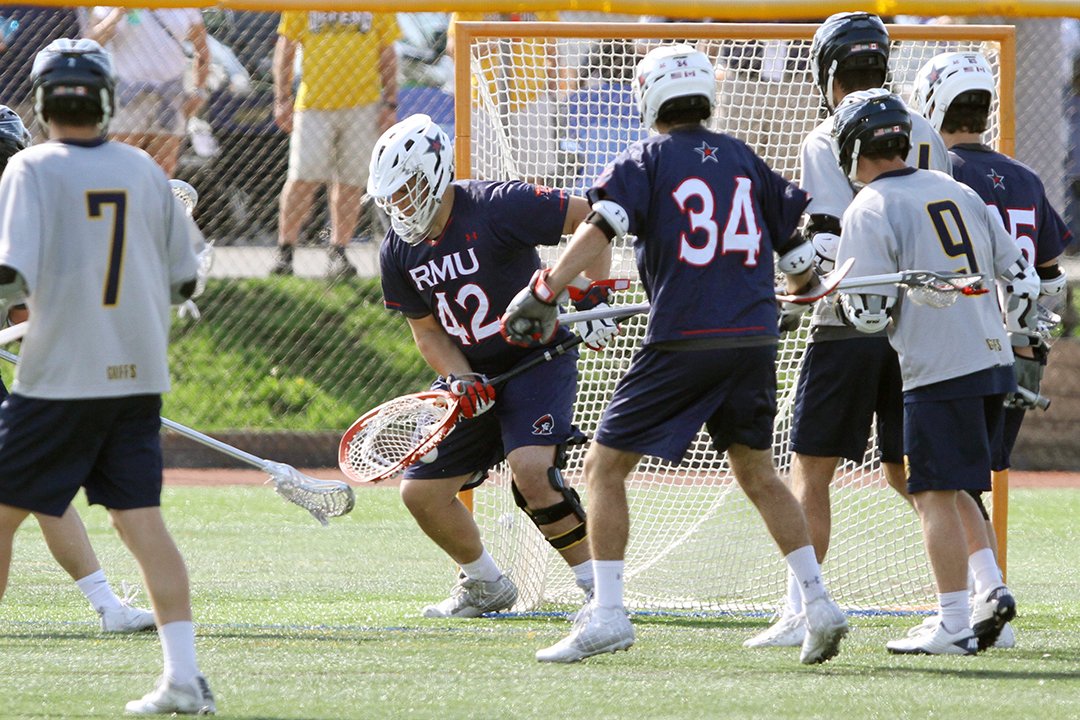 While lacrosse might not have the professional prevents that other American sports have, their NCAA programs are among the top in the country, and if there are lacrosse fans in your family, going to those games would be a great idea. Along with that, the Premier Lacrosse League is also showing lots of promise after only one year, meaning they will be holding numerous fan fest and other events that will help them grow in popularity.
Lacrosse Tournaments
There are youth organizations all around the country that organize tournaments. For a youth team, lacrosse teams are really fun and exciting opportunities to play against different teams and face new challenges. Outside of youth lacrosse, there is also the NCAA tournament, which is arguably the most popular tournament in lacrosse that gets the most media coverage. Similar to March Madness in basketball, there is a single elimination tournament and the last team standing is deemed national champions.
NCAA Tournament
Best of the Beach
Capital City Lax Festival
Lacrosse Books
Lacrosse has a variety of different books that do a great job in teaching you about the game.

There are books that can teach you technique and strategy, give you tips on how to coach, or give you an overall history of the sport. Below are some of the most popular lacrosse books that have been written.
| NAME | AUTHOR(S) |
| --- | --- |
| The Best of Road Trip Dad | Dan Witmer |
| Men's Lacrosse in Maryland | Tom Flynn |
| Lacrosse Essentials | Jack Kaley and Richard Donavan |
| Lacrosse Legends of the First Americas | Thomas Vennum |
| The Beast in the Crease | Fritz Hoffecker |
| Weekend Warriors | Jack McDermott |
| Women's Lacrosse | Janine Tucker and Maryalice Yakutchik |
Lacrosse Websites
In today's world, just about all the information you can get will be available on the internet, and lacrosse is no exception. When it comes to scores, articles, videos, rankings, and more, there is a website that can provide you with the lacrosse related information you are looking for.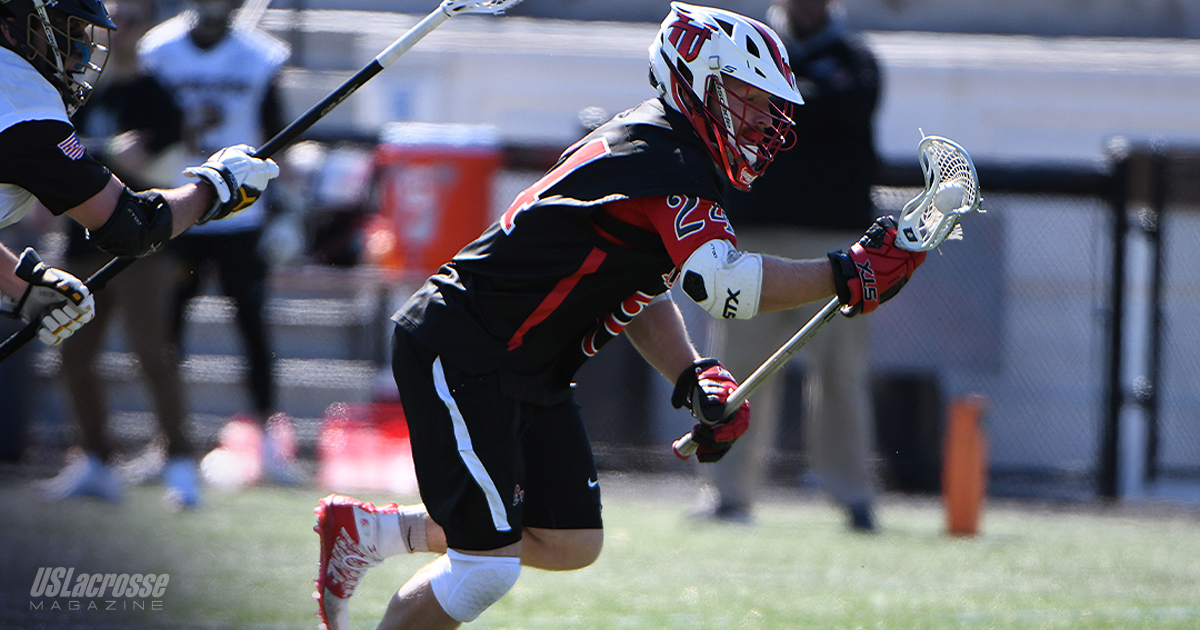 FAQ
Lacrosse is a team game originated by North American indians, where a ball is thrown, caught, and carried with a long-handled stick having a curved frame that holds the ball in place.
How dangerous is lacrosse?
Like most contact sports, lacrosse certainly comes with some moderate risks. The majority of the injuries that come are minor bruises, strains, and sprains. While significant injuries are still possible, lacrosse players typically find themselves safe when they have the proper equipment.
Is Lacrosse hard to learn?
Lacrosse is a relatively easy sport to get the hang of. The biggest thing is understanding the rules. Once the knowledge for the game is acquired, the skills will also develop over time.
Where is lacrosse most popular?
The United States is by far where Lacrosse is most popular. States such as New Jersey, North Carolina, California, and other northeast states have an extremely large popularity for lacrosse.

What are the rules of lacrosse?
A couple basic rules of lacrosse include:
Only 10 players are allowed on the field
Each goal is worth 1 point
A lacrosse ball may not be touched by a players hand except by the goalie
No opposing players may make contact with the goalie
Sport Most Like Lacrosse? Is Lacrosse Unique? ? (The Facts)
It's a pretty intense and fast-paced sport that has been taking the athletic world by storm and gaining in popularity in the last decade or so. By the data from US Lacrosse, there are over 825,000 lacrosse players in the world, making it one of the fastest-growing sports in the world.
What sport is lacrosse most like? Is lacrosse unique? Lacrosse is a hybrid sport. It is similar to basketball in relation to how plays are set up to advance the ball to get into a scoring position. In regard to football, it is similar in that there is heavy contact, and the players wear padding to protect themselves from hits.

It also bears a similarity to soccer in relation to how the field is set up.
Lacrosse is unique, in that there is no sport like it, but it bears similarities to several of the most popular sports in the world. 
In this article, we are going to discuss a little more in-depth the similarities it shares with these other sports, the popularity of the game, and what makes the exclusive sport so unique.
You can also check out videos/online courses to get a better understanding of Lacrosse as a whole.
One that I can personally recommend is called the Players Academy, sponsored by Rob Pannell, where he shares pro tips on different aspects of the sport: conditioning, mental preparation and fundamentals of the game.
Now read on as I dive into the similarities between Lacrosse and other sports.
What Sport Is Lacrosse Most Similar To?
The better question would be; "What sport is most similar to lacrosse?" Lacrosse has been around significantly longer than most of the sports that are played today, by hundreds of years.
In fact, it is a question that really bothers most die-hard lacrosse players and enthusiasts.
When people ask what sport lacrosse most is like, due to peoples' understanding of sports today, the answer really ends up being a breakdown of what elements of other sports are found in lacrosse. And, really, it's more a matter of which sports lacrosse has influenced. So, let's get a little more in-depth with its similarities to each sport.
Lacrosse in Relation to Basketball
When it comes to lacrosse and basketball, the rules are very different. 
There is not as much contact in basketball, and the team sizes are different, with basketball being played with only 5 players on a team. However, the end goal is still the same, with the intention of getting the ball in the net. 
Arguably, basketball is the most similar sport to lacrosse on this list.
Similarities Between Basketball and Lacrosse
They utilize very similar strategies to move the ball and get it into scoring position
They share an objective of getting the ball in the net
When it comes to playing defense, you're still guarding and holding your opponent
When it comes to advancing the ball to score, a lot of the plays are very similar, if not identical
The tempo, however, is a bit faster in lacrosse.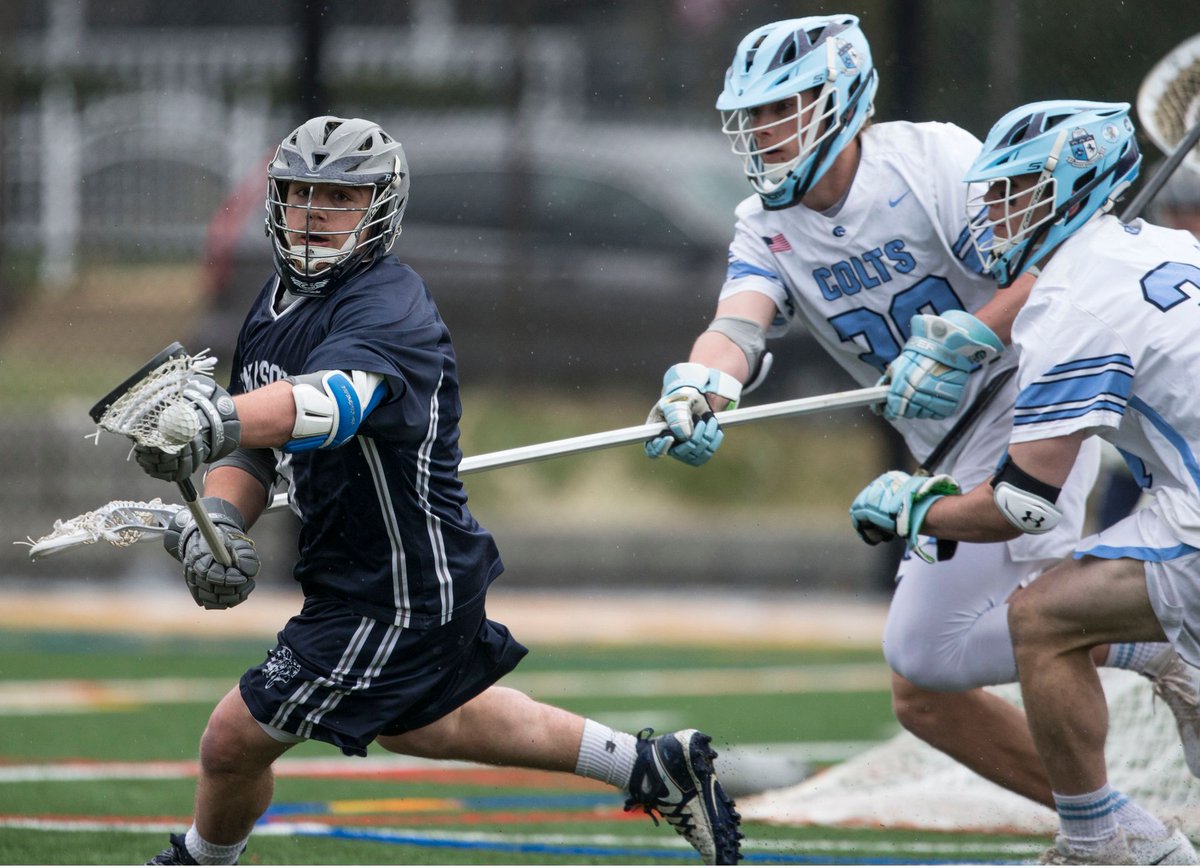 Since the playing area is larger than a basketball court, the players need to move a bit faster to get into position for a steal or to score since they have more ground to cover.
Basketball is so similar to lacrosse that there are actually basketball players in high school and college that play both sports successfully since the transition is so simple from one game to the next. To read a bit more about how basketball players transition into lacrosse, check out this article.
Lacrosse in Relation to Football
When it comes to football, the relation to lacrosse cannot be ignored or denied.
Both are intense and rough sports and lacrosse
Both have the potential to be even rougher at times of contact
Both sports require speed, skill, and stamina
Both sports are separated in quarters and halves.
The focus of the roughest parts of the game is different for each sport. 
In football, there is a clear emphasis on blocking and tackling.
In lacrosse, your focus is on the ball-handling with a stick, dodging blows, accurate passing, and shooting accurately.
The field in lacrosse is more open than football, and there is a lot more running involved. 
While both sports have demands on stamina, lacrosse's requirements are higher.
Other differences include that, in lacrosse, the tempo is faster and there aren't any long breaks. Where lacrosse is concerned, the quarters are only 15 minutes long, and there is almost no break in the quarters or halves.
Lacrosse in Relation to Soccer
Soccer is another sport that shares some obvious similarities to lacrosse. Both sports are played on a similar field. However, lacrosse's field is longer. On the other hand, soccer has a wider field. Both sports move at a fast pace and require quite a bit of stamina for the running involved.
The positions played, and the number of players needed in lacrosse and soccer is also very similar.

In lacrosse. Both sports require 10 players to a team and the positions, though some are named differently, are the same. Due to the similarities, it is not uncommon for a player to crossover between sports.
Lacrosse and soccer have more differences than similarities:
In soccer, the game is played with the legs of the player, in lacrosse, players use sticks
The ball used in the game is different and significantly smaller in lacrosse
The nets utilized are different
Lacrosse utilizes more protective gear than soccer, with helmets and shoulder pads. When playing soccer, you only use shin guards.
The only person that can catch a ball in soccer is the goalie. In lacrosse, any player can catch the ball as long as they do it with their lacrosse stick.

Advancement down the field and passing is different. In lacrosse, advancement is set up similar, if not identical, to advancement in basketball. In soccer, advancement due to how the ball is passed is a bit different.
If you want to learn more about how lacrosse is so unique and its history, check out this website.
What Is Lacrosse? How Is It Played? And How Did It Come About?
Lacrosse has a rich history. It has been around for hundreds of years, and there is both an indoor and outdoor version of the game.
Lacrosse is based on a series of games that were played by the Native Americans going back to 1100 A.D. In the Canadian Aboriginal version of the game, it lasted for 2 to 3 days as symbolic warfare or worship and had anywhere from 100 to 1,000 players on the field at a time.
By the time the 1700s arrived there was already a well-established form of lacrosse being documented by Jesuit priests in what is known now as Canada. By the 1860s, there were lacrosse clubs showing up, and finally, by 1900, the sport gained so much popularity that there were clubs all over Canada.

How Lacrosse is Played
There are two teams with 10 players on each team

The teams are broken down by positions:

3 attackmen, 3 defensemen, 3 midfielders, and 1 goalie

The objective is to throw the ball into the opposing team's net to score on a field similar to a soccer field in appearance
The lacrosse field is 110×60 yards
Check out this course by Rob Pannell and learn the basics and inside tips from a pro.
Equipment
Helmets
Shoulder pads
Lacrosse sticks: these are sticks with nets on end.

There are two types: those that are between 40-42 inches long (short sticks) and 52-72 inches long (long sticks)
Get all the facts about Lacrosse equipment in these three articles: 
The Lacrosse Sticks
When it comes to the sticks, the short sticks are carried by the attackmen and the midfielders. 
The long sticks are carried by the defensemen and goalie. The goalie's stick is a bit different. It is also a long stick or short stick from 40-72 inches. However, the net on their stick is a bit bigger with a head as wide as 12 inches.
In Conclusion
Lacrosse is a deep-rooted and well-loved sport that has been around for ages. 
It has influenced all of the other sports we know and love today and doesn't get the widespread recognition that it deserves.
Take some time and visit your local lacrosse club to get some first-hand experience of the sport as well to better understand it.

I guarantee it will help build your appreciation of the sport and how it has directly influenced the more popular sports we play today.
Read Also: Do You Need A Mouthguard For Lacrosse?
Become a USA Lacrosse Member
Individual Members: Players, Coaches and Officials who are currently registered members of USA Lacrosse, and who are in good standing, are covered by the USA Lacrosse Insurance Program for the term of their membership. Fan members and International members do not receive insurance coverage as part of their membership benefits.
Coverage by Membership Category: How you register with USA Lacrosse dictates how the coverage will apply. For example, if you register as a player, you are covered when playing lacrosse (and not for officiating or coaching). Similarly, if you are registered as a coach you are covered for your coaching duties only; the insurance will not cover you if you decide to play in a tournament.

In order for the Member Insurance Plan to cover you for more than one category of participation, you must indicate these multiple categories on your application.
Teams & Leagues: An important feature of the USA Lacrosse Insurance Program is that the Liability plan extends only to teams and leagues that are 100% registered with USA Lacrosse. In order for a team or league to be covered by the General Liability and Excess Liability policies, all players and coaches must be currently registered with USA Lacrosse. By doing so, your team or league as an entity will be protected by the Liability policies and you will be able to obtain Certificates of Insurance, which are typically needed in order to secure fields or facilities for lacrosse activities. In addition, the Liability plan will also extend to cover your board and volunteers if they are named in a lawsuit.
Don't overlook this important aspect of team or league operations! Make sure your team or league is properly insured for liability so that you are not responsible for the financial and legal burden of handling a legal claim yourself.

For further information on the program, refer to the insurance guide.
Non-Members: No insurance coverage is provided to non-members while participating in lacrosse activities. However, if you are hosting a lacrosse event, such as a camp or clinic, you can purchase USA Lacrosse Event Insurance, which will provide liability insurance to you as the organizer, cover the event itself and all participants, including volunteers — whether or not they are USA Lacrosse members. The Lacrosse Event insurance plans carry lower limits of Accident coverage, and more restricted liability coverage than that provided to USA Lacrosse members.
Lacrosse Excellence – What's That?
Lacrosse Tip
Presented by Brian Lalley, Camp Director
Pacific Lutheran University – Boys Lacrosse Overnight & Day Camp
Bring it in!
Xcelerate Nike Lacrosse National Program Director, Brian Lalley, discusses, Lacrosse Excellence:
I recently asked the high school program I coach with, "What is Excellence?" It is a term used in areas like sports, business and academics.

It is presented and discussed so often, but what it actually means and how we can maximize its impact in our personal lives and on our teams can become fuzzy. When I asked this question, it was answered with a number of different responses. Most of them were rooted in a result. "Excellence is winning the state championship," Excellence is beating a great opponent," were a couple.
Whether it's business, athletics or academics, everyone wants to achieve. Whether that's a personal and/or collective goal of achievement, no great producer sets a ceiling and his/her goal is to reach the individual/collective mountain-top.
Ultimately, the result is something we do not control. It is something we influence based upon what we give to our individual and collective improvement and performance. Come competition day, we are a product of our training. Instead of focusing on that result we're seeking, excellence in my mind is the individual and collective pursuit of getting the very most out of yourself/ourself that we possibly can on a day-to-day, moment-to-moment basis.

There are so many personal and technical elements that become a part of training and competing with excellence. Ben Bergeron, a world renowned Crossfit trainer wrote a book called, "Chasing Excellence." He presents that before you can pursue excellence on a physical and technical levels, we have to develop the character traits (character traits are skills that are built) necessary to continually chip away at the areas that you and your team aren't good enough at…yet.
What's It Like to Play NAIA Lacrosse?
Have you ever wondered what NAIA lacrosse is really like? Do you want to know if playing NAIA lacrosse is for you? Is this the first time you're hearing about the NAIA?
The good news is that I'm here to give you an insider's perspective of NAIA lacrosse from what the level of play is like all the way to what you can expect from facilities. 
What's It Like to Play NAIA Lacrosse? A Player's Perspective
My name is Tucker La Belle.

I'm a Lax All Stars writer and senior captain on the Clarke University men's lacrosse team. Clarke is a small liberal arts university in Dubuque, Iowa, that competes in the NAIA (National Association of Intercollegiate Athletics) as part of the KCAC (Kansas Collegiate Athletic Conference).
Background of the NAIA
The NAIA was founded in 1940 and is an alternate athletic governing board to the NCAA. The majority of NAIA schools are smaller liberal arts universities and colleges that would compare to NCAA DII and DIII schools in size, with the exception of a few universities in the NAIA with large enrollment numbers. This last athletic season the NAIA had 249 schools from across the U.S. and even Canada competing in many sports.
What makes the NAIA great is that most NAIA schools offer athletic scholarships that compare well to the NCAA DII level. This is what catches the attention of many athletic recruits, lacrosse players in particular. On the lacrosse side, there are 33 NAIA schools that sponsor lacrosse as a full varsity sport.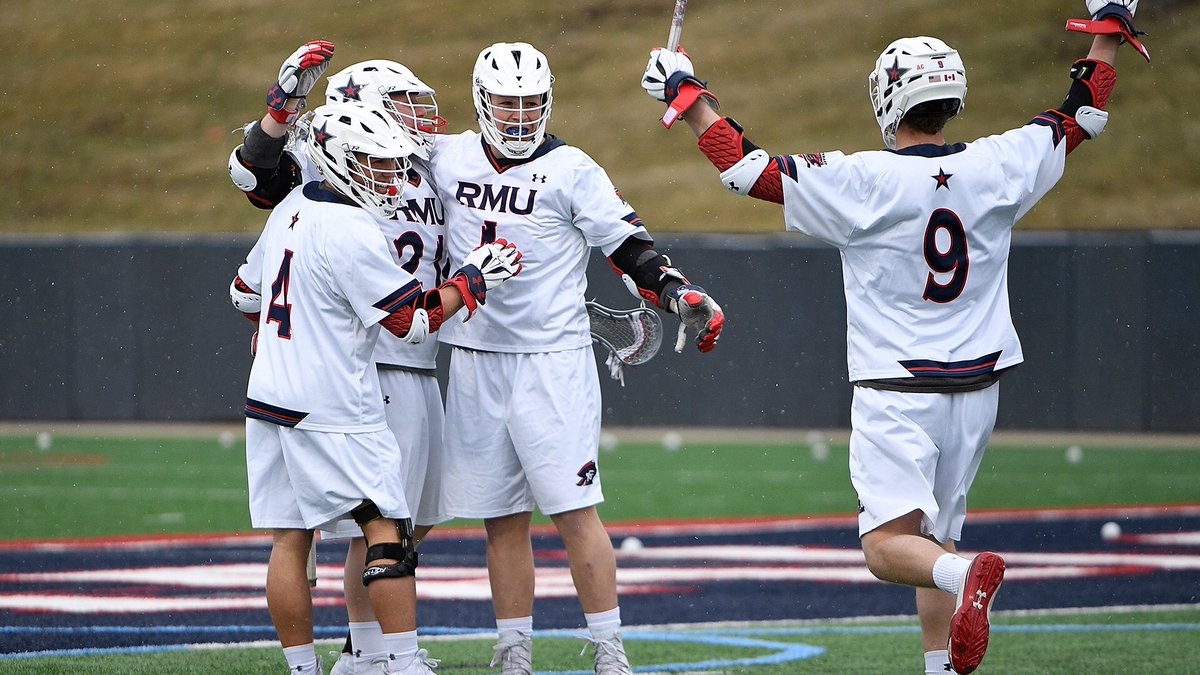 This means there are great scholarships and often quite a bit of financial support for the programs. 
Why NAIA lacrosse? 
While I was going through my recruiting journey in Ohio, most of my interest was coming from NCAA DII and DIII schools, along with several NAIA schools. At the time, I didn't know much about NAIA lacrosse and decided to verbally commit to an NCAA DII school my sophomore year of high school.
Tucker La Belle suited up for Clarke.
Fast forward to the start of my senior year, and I got a call from Clarke University. After my first visit to the school, I made the choice to decommit from the NCAA DII school and switch over to the NAIA.
I loved the small campus that had a major emphasis on athletes and college education. Most NAIA schools offer a high level of college education paired with very competitive college athletics. This is what appealed most to me at the time.
After three years of playing in the NAIA, I can tell you that I truly feel like I made the right decision.
In the NAIA, athletes are supported as people and students and not just athletes. We aren't just a number but instead a part of the greater campus community. For me, this community aspect allowed me to become our student body president on last year and this year. Other players also get involved on and off campus through a variety of opportunities. 
Level of play
The NAIA is still new to lacrosse, but I can assure you the level of play is still very much there. With players coming from all across the country and transferring from NCAA schools, the games are as competitive as one could ask for. However, newer NAIA programs can have a period of struggle and will often show scores that only represent the newness of the programs.
In my opinion, most NAIA lacrosse programs sit between the NCAA DII and DIII levels of play in comparison.
There are some top-tier NAIA teams that could compete with most teams from both those divisions. For us at Clarke, we often mix in several NCAA DIII games each year, which are often a good benchmark to understand where we sit at for level of competition.
Again, with NAIA teams being across the country levels of play can and will vary every year, but I feel the consistent programs would compete well with the levels of play listed above. This level of play has noticeably increased with every year I've played as more and more players discover the NAIA and decide to commit or transfer in.
If you want to continue competing at a high level, get a college education, and also make an impact on your campus, the NAIA might just be for you. 
The Gear
No, I didn't forget about the gear. How could I?!
I love gear, and each NAIA school has its own gear situation. But I can say that most of the schools really treat the lacrosse teams to quite a bit of lacrosse gear and apparel, many even more than NCAA DII and DIII schools.
While I can't speak too much to other programs, I can give you a rundown of what we get at Clarke as an example. In my three years here, we have had three pairs of gloves, two helmets, two sets of elbow pads/guards, and two gear bags. On the apparel side, we normally get several long-sleeve workout shirts, several short-sleeve shirts, two pairs of shorts, a polo or quarter zip, and hoodies and sweatpants each year, along with backpacks every two years on average.
Again, that's just one sample of what our program gets. I know of others that get more and others that get less. It really just depends on the program and their budget. Each team generally has a brand deal with companies such as Warrior, Nike, STX, Maverik, and many others. You can see some images of recent gear hauls above.
Again, this is just a sample from our program. In my three years, I have played at many other schools and have constantly been impressed by the facilities and fields. One in particular I really like is Columbia College in Columbia, Missouri. You can find that pictured below, along with images from Clarke.

Bottom line here is that I promise most people will be very impressed by NAIA lacrosse venues. 
Travel
Travel at the NAIA level is just like other lacrosse programs across most levels: charter buses or school-owned buses, hotels for long road games, meals covered by the school, and athletic trainers at both home and away games. You get everything you could need to focus on the games ahead. 
Practices and team lifts
This is where each program really has its own standard and way of doing things, but I can again do my best to fill you in on my experiences.
In the fall, we normally start after the first week of classes with team bonding and meetings. From there, we jump into a fall practice schedule consisting of three days of lifting and three days of contact practice. Many of these fall days will be doubled up with lifting and practice as well as conditioning exercises outside of practice.