Lacrosse love pocket: Stylin' Strings Pro+ Plus Men's Lacrosse Pocket
Stylin' Strings Pro+ Plus Men's Lacrosse Pocket
Choose mesh in a variety of colors and Brands.
Jimalax Semi-Hard Mesh
Jimalax Money Mesh
Jimalax PRIME Mesh (+5.00)
STX Memory Mesh Super Soft(+$15.00)
STX Memory Mesh(+$15.00)
East Coast Dyes SEMI-HARD Vortex Mesh Powered Jimalax (+$15.00)
East Coast Dyes SEMI-SOFT Vortex Mesh Powered Jimalax (+$15.00)
East Coast Dyes Hero 3.0 SEMI-HARD Mesh(+$15.00)
East Coast Dyes Hero 3.0 SEMI-SOFT Mesh(+$15.00)
East Coast Dyes Hero 2.0 SEMI-SOFT Mesh(+$10.00)
East Coast Wax Mesh (+$10.00)
East Coast BLACK Wax Mesh (+$10.00)
StringKing Type 2s Mesh (+S10.00)
StringKing Type 2x Mesh (+S10.00)
StringKing Mesh Type 3S (+S10.00)
StringKing Mesh Type 3X (+S10.00)
StringKing Mesh Type 4s (+15.00)
StringKing Mesh Type 4x (+15.00)
StringKing Mesh Type 4f (+15.00)
Throne Fiber 2 Mesh (+$10.00)
Throne Fiber Mesh (+$5.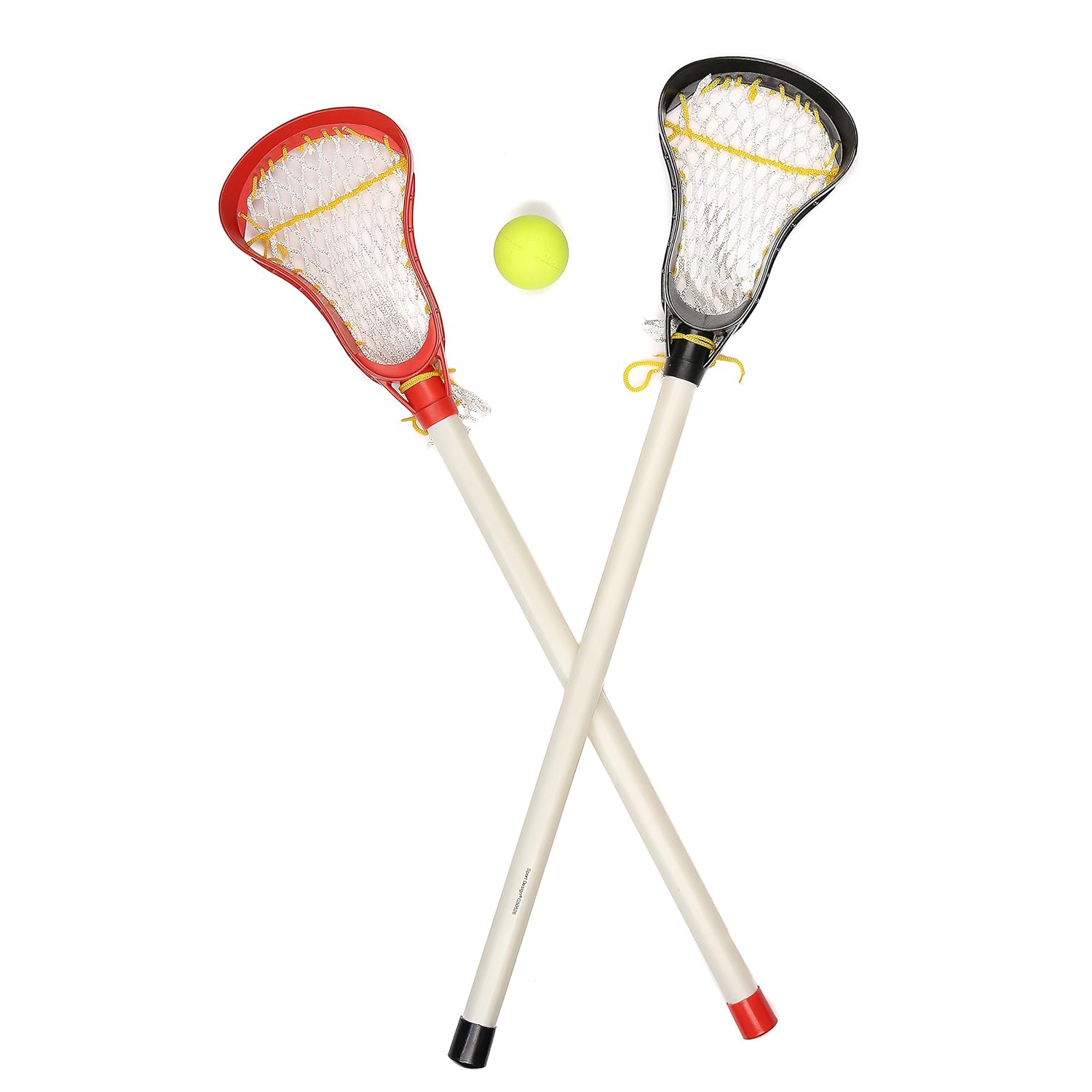 00)
Eighth inch string that attaches mesh to the top lip of the head.
Jimalax
Hero Strings (+1.00)
Jimalax PRIME Strings (+1.00)
Eighth inch string that attaches mesh to the top lip of the head.
Jimalax
Hero Strings (+1.00)
Jimalax PRIME Strings (+1.00)
Eighth inch string that attaches mesh to sidewall in such a way that it creates a channel in the pocket.
Jimalax
Hero Strings (+1.00)
Jimalax PRIME Strings (+1.00)
Eighth inch string that attaches mesh to sidewall in such a way that it creates a channel in the pocket.
Jimalax
Hero Strings (+1.00)
Jimalax PRIME Strings (+1.00)
Eighth inch string that attaches mesh to the top lip of the head.
Jimalax
Hero Strings (+1.00)
Jimalax PRIME Strings (+1.00)
Rolled hockey lace used to adjust the whip and the release of the ball.
Jimalax
Hero Strings (+$1.00)
StringKing (+$1.
00)
Rolled hockey lace used to adjust the whip and the release of the ball.
Jimalax
Hero Strings (+$1.00)
StringKing (+$1.00)
Quarter inch string the closes off the bottom of the mesh, assists in creating a channel, and creates a resting spot for the ball.
Jimalax
Hero Strings (+1.00)
Jimalax PRIME Strings (+1.00)
STX Crux 300 TRUE One Love Composite Complete Women's Lacrosse Stick
Description
STX Crux 300 Head with Runway Pocket
Extreme scoop angle provides added snap
Runway Pocket is a unique, overlapping center string system allowing the two center runners to flex out and hug the ball
Minimum sidewall height for deepest legal pocket
TRUE One Love Comp SF 4.0 Flex 7 Composite Shaft
When you purchase this AMAZING handle TRUE will proudly donate a portion of the proceeds to The One Love Foundation as they work with young people across the country to raise awareness about the warning signs of abuse and activate communities to work to change the statistics around relationship violence.

One Love was founded in 2010 to honor Yeardley Love, a UVA student who was beaten to death by her ex-boyfriend just weeks before their graduation. After her death, Yeardley's friends and family were shocked to learn the statistics about relationship violence and to realize that no one knew how at risk Yeardley really was.
Today, One Love honors Yeardley by working with young people across the country to raise awareness about the warning signs of abuse and activate communities to work to change the statistics around relationship violence.
The COMP SF 4.0 for women is, on average, at least 10% lighter than other comparable women's composite handles. It is also stronger than traditional composites delivering the ultimate in feel and performance. Our SmartFlex technology and high-tech carbon fiber optimizes the amount of shaft flex for better shot speed and accuracy. The COMP SF 4.0 is designed in the optimal 7/8″ diameter shape that transitions to a full 1″ at the top, eliminating the need for adapters.
The soft touch grip provides an athletic grip that stays warm in cold weather and won't get slick in the rain.
SmartFlex is a TRUE-exclusive design process by which a handles's stiffness profile is optimized for all types of play. With SmartFlex technology, we can control where, when and how a handle flexes, delivering the right snap, control, feel and accuracy for every style of play.
SmartPly creates an unmatched bond of weight, balance and industry-leading impact strength. SmartPly is an exclusive process developed by TRUE engineers by which fiber angles and the order of those angles are optimized in up to 25 layers of unidirectional carbon fiber in a single shaft.
Maverik Kinetik w/ Players Pocket Lacrosse Head
The Maverik Kinetik Lacrosse Head delivers more power to the hands of elite offensive players then ever before for the 2017 season. Maverik designed the Kinetik Head with every piece of offensive technology in their tool kit to deliver increased shot velocity and accuracy.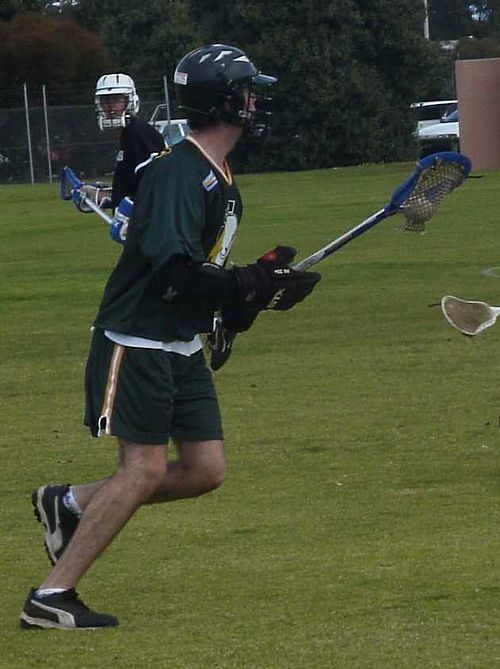 Most immediately noticed will be the aggressive face shape of the Kinetik, designed with Tension Lock technology for a precisely tuned shooting channel and added accuracy. Maverik fine tuned the offensive offset with an Optimal Release Point allowing shooters to load shot energy with the Kinetik through added hold paired with extreme energy transfer to the ball for increased shot velocity. For added stiffness in extreme weather climates the Kinetik uses Maverik's DuraTough material to deliver a superiorly consistant head. The Kinetik also uses X-Rail Technology to evenly distribute impact stress through the opposite rail allowing for an overall light weight, stiff and durable design ideal for the offensive player. Using a Level 4 Bottom Rail design and ample stringing holes this head is ideal for a Mid-high pocket delivering added hold and power to any players game. 
– Tension Lock pulls top diamond rows tight allowing for a precisely defined channel and increased accuracy.
– Optimal Release Point brings increased shot velocity through added hold and extreme energy transfer while shooting.
– DuraTough material provides increased stiffness and consistency in extreme weather climates.
– X-Rail technology distributes impact stress through the opposite rails allowing for a light weight and durable design.
– Level 4 Bottom Rail paired with 17 stringing holes along the sidewall are ideal for a Mid-High pocket.
– Proudly made in the USA.
– NCAA Legal. 
Our Players Pocket changes the very meaning of what a pre strung pocket is. The Players Pocket is designed specific for every head to absolute perfection. Our stringers know exactly how to maximize the capability of any head while tailoring it to players personal pocket preferences. The Players Pocket uses premium goat mesh which is comparable to most top of the line performance mesh on the market.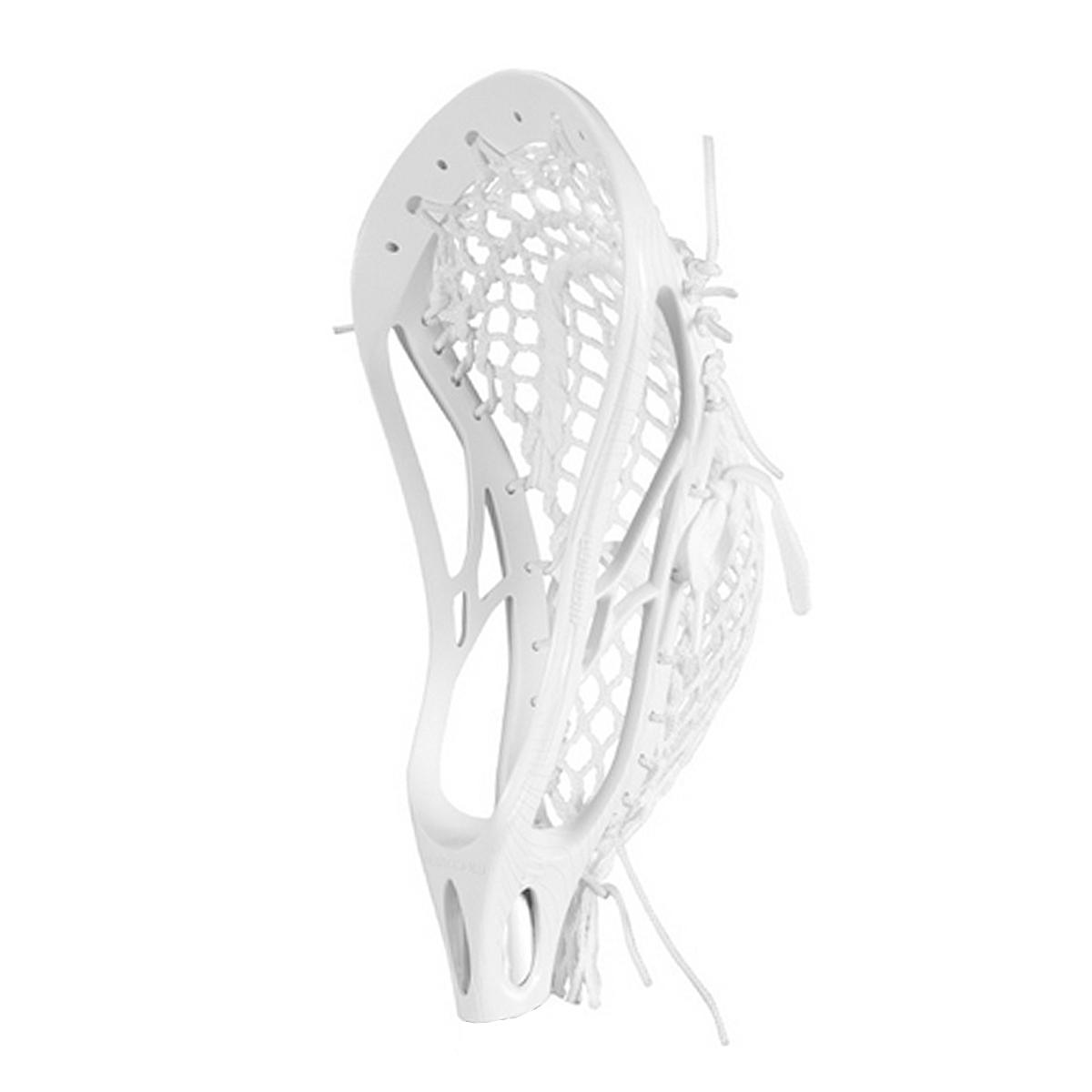 On top of all this, the Players Pocket comes at an unbeatable price point.
Lacrosse Mesh
When it comes to picking mesh, ball security is your primary objective. When the ball is in your stick you don't want to be concerned with a bad pass or dropped ball. If you want harder shots and more consistent passes, Medicine Man Performance Lacrosse mesh should be your choice.
Medicine Man Lacrosse Performance Mesh
This is a high-quality piece of mesh that will last you the entire season
Semi-Hard Mesh
Most Texture
More Rigid and Focused Pocket
Smooth Release but extra hold!
How to String a Pocket
Check out our Free Stringing Guide that teaches how to string a lacrosse stick. Learning how to string a lacrosse stick is a rewarding experience. We dedicate much time to our practice because we love the game. Learning to string a lacrosse head is another extension of our love and passion for the game of lacrosse.

Whether you prefer to string mesh pockets, traditional pockets or hybrid pockets, this section will contain many guides to help you improve your game.
Our Story
The story of Medicine Man began in August of 2011 when we came to understand the importance of spirituality+inner consciousness and its effect on outer body performance. We began to study spirituality from indigenous communities and came across the link of Lacrosse and it's origin as the Medicine Game.
As long time players of Lacrosse, it became apparent of this profound importance. However we were surprised to notice, that there were no active companies promoting the importance of Lacrosse as the Medicine Game. Noting it's qualities of healing, community participation, friendship & competition, we believed that we had an obligation to create a platform to motivate and inspire lacrosse players to learn more about Lacrosse and it's origins as a Native American healing ceremony.
In 2011, we produced our first line of motivational lacrosse clothing & apparel with a mission to help the everyday laxers express their passion for the game, represent their identity to the world and connect to the lacrosse culture.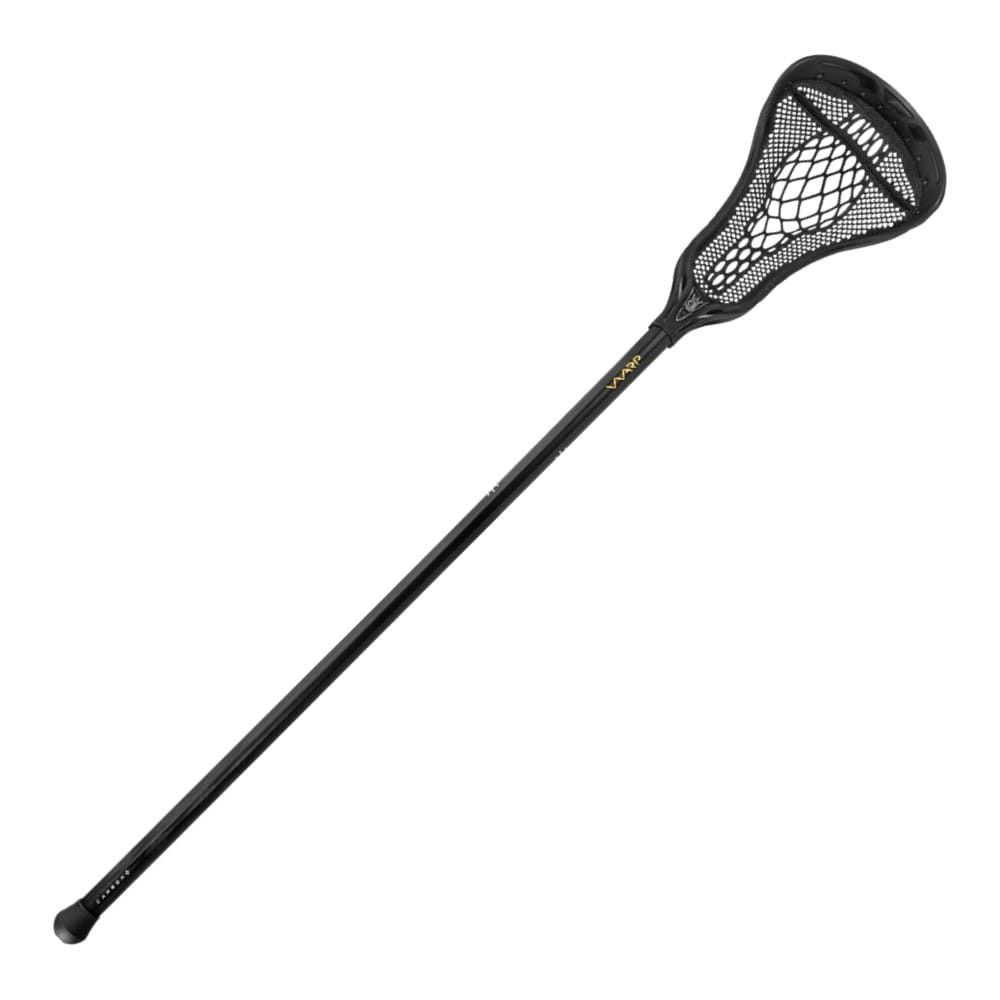 Medicine Man Lacrosse clothing set out to design apparel that incorporated the passion and dedication players have for lacrosse as well as the heritage and early beginnings of the game. Our inspiration to begin with clothing came from our own love of the game. Our goal in designing Medicine Man Lacrosse clothing was to unify the lacrosse culture around 3 facets; Love the Game, Live your Passion and Share the Experience. It's the idea that we can wear lacrosse clothing as a symbol of our passion, dedication and our unwavering love for this game. It's the idea that we as lacrosse players are unique and by wearing our passion we help direct resources to communities that want to play the game but have little opportunity to do so. Medicine Man thus set out to embody a unique point of view that encompassed the subtle intricacies of the game, the spirit and magic from its early beginnings and the passion of those who dedicate themselves to nurturing participation in their communities.
Present day, Medicine Man is a purposeful approach to lacrosse culture, meticulously crafted to reflect an organization whose core values revolves around the player, the game, and the community.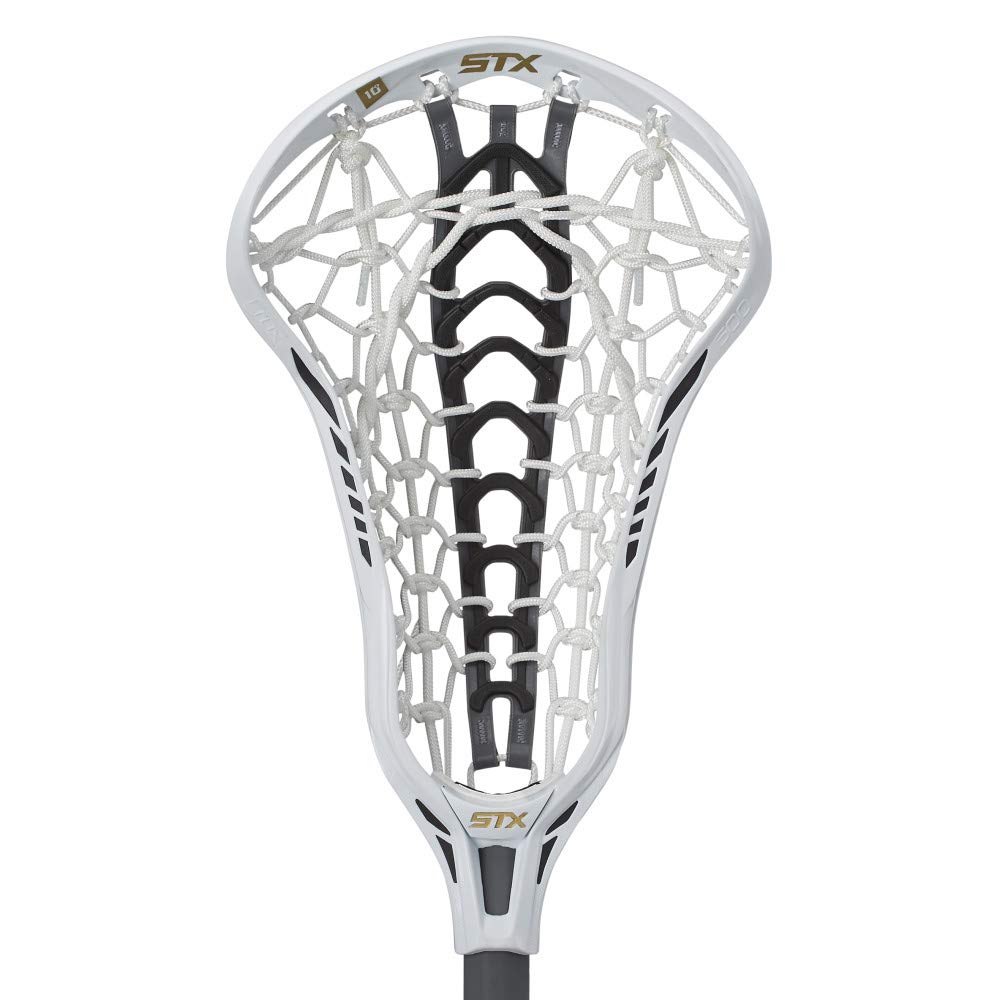 Each aspect of Medicine Man and the archetype it represents strives to promote the power of imagination, the culture of community, the lifestyle of talent and the self-expressive identity of play. Thus Medicine Man is a symbol of game, life and experience. Through the shared identity of play; players and community connect through the Medicine Game to express their spirit. The harmonious understanding of the healing game connects us to the past, present and future
Join us as we strive  to connect the community through the shared identity of play and express the foundational values on which lacrosse was established: to connect man with his spirit..
Our story is just beginning..
Our Mission
Our mission is to help people learn, enjoy and appreciate the game of lacrosse while connecting the community through the shared identity of play.
The sacred nature of Lacrosse explains the paramount role of Medicine Man in nearly all its ritual aspects.

Medicine Man was magic and defined the tradition of the game. By keeping the tradition, Medicine Man grew the game of lacrosse to become the popular sport we know today.
Our organization thus consists of a leadership mentality through the archetype of the traditional Medicine Man. Our focus is to express the foundational values on which lacrosse was established – to honor the spirit of the game, to connect the community and inspire the player.
Our objective is to create positive impact within the community. Our values of dedication, imagination, community and leadership are expressed with each initiative we take. We value respect, harmony and unity and will continue to represent the kindred spirit of lacrosse and its early traditions.
Medicine Man Lacrosse aims to provide a unique brand experience for the everyday laxers through the creation of lifestyle lacrosse clothing for players to express their passion for the game, represent their identity to the world and connect them to the culture wherever and whenever they go.
Medicine Man Lacrosse apparel embodies a unique point of view that encompasses the subtle intricacies of the game, the spirit and nature from its early beginnings and the passion of those who dedicate themselves to the game and those to continue to nurture participation in their communities. 
Our Vision
We believe Lacrosse is the future. And our trajectory is to take the Medicine Man philosophy into the 21st century through product innovation, product quality and customer satisfaction. As our game grows in popularity beyond soccer, baseball, football and basketball, our vision is produce the best quality equipment while inspiring young students of the game to be the very best they can, both on and off the field.
Medicine Man Lacrosse aims to expand and elevate the game through the sales of men's lacrosse shorts, men's lacrosse t-shirts, boys lacrosse shorts and boys lacrosse shirts. An opportunity to participate in triumph, we manufacture high-quality apparel as a means for the everyday laxers to express their passion, Medicine Man Lacrosse is creating a culture dedicated to the overall health and well-being of the sport.
We Don't String Sticks For Midfielders » Powell Lacrosse Sticks
We Don't String Sticks For Midfielders.
We string sticks for lacrosse players. Our stringing philosophy calls upon our history of playing all our lives. We have played field lacrosse, indoor box lacrosse, outdoor box lacrosse, backyard lacrosse, beach lacrosse, youth lacrosse, pro lacrosse — you get the idea. We grew up with sticks in our hands. So when it comes to pockets our philosophy is simple…we want something with extreme hold, a consistent release and long-lasting quality.  There is a misconception that if you want a certain aspect, lets say a quick release, then you have to sacrifice somewhere else, like pocket depth.  Our patterns are designed specific to our heads and materials so that you can have a big bag for carrying with one hand & two hands but also have a nice quick release because of knot placement and string tension.  Our channels are thought about in the head design process because we focus on consistency and proper release point.

We looked around and saw many young players talking about high-pockets, low-pockets, shooters pockets, pockets for midfielders, hard shooting pockets, etc… We believe this isn't the proper approach to stringing if you want to success at every level of play. Why not use a pocket that does everything great? We also noticed that some stringers were developing pockets for beginners and pockets for advanced players. Well, we just don't believe that either. We want the first time player to fall in love with lacrosse, so when they buy a stick it should be ready to perform properly as soon as they pick it up. Why not aim to make the ultimate versatile pocket every time?
Sam Chidester Chief Pattern Maker
It's this question that led us to develop the Powell String Team™ because, let's face it, stringing is important! The Powell String Team™ is a group of inventors, innovators and stringing specialists that exist to create the greatest handcrafted pockets in the game.
Led by our Chief Pattern Maker Sam Chidester out of Portland, Maine, the Powell String Team™ is focused on making sure that EVERY stick that you order from us meets our standards, is game ready and individually performance tested.
Sam leads the team because he stands behind our philosophy and brings years of knowledge and playing experience to the table. We call it designing to be forgotten. The Powell String Team™ wants you to play with confidence. In the heat of the moment the last thing you should be thinking about is how your stick throws.
Here is our process:
Step 1 Head Design
Our stringing process starts with the development of our heads. Stringing hole placement and offset precision are the two elements that correlate directly to a perfectly balanced stick with ultimate feel.
Step 2 The Materials
We offer the best pocket materials in the game including Throne™, Stringking™ and Hero Mesh™. Our offerings are selected based on high pressure on-field testing in extreme conditions.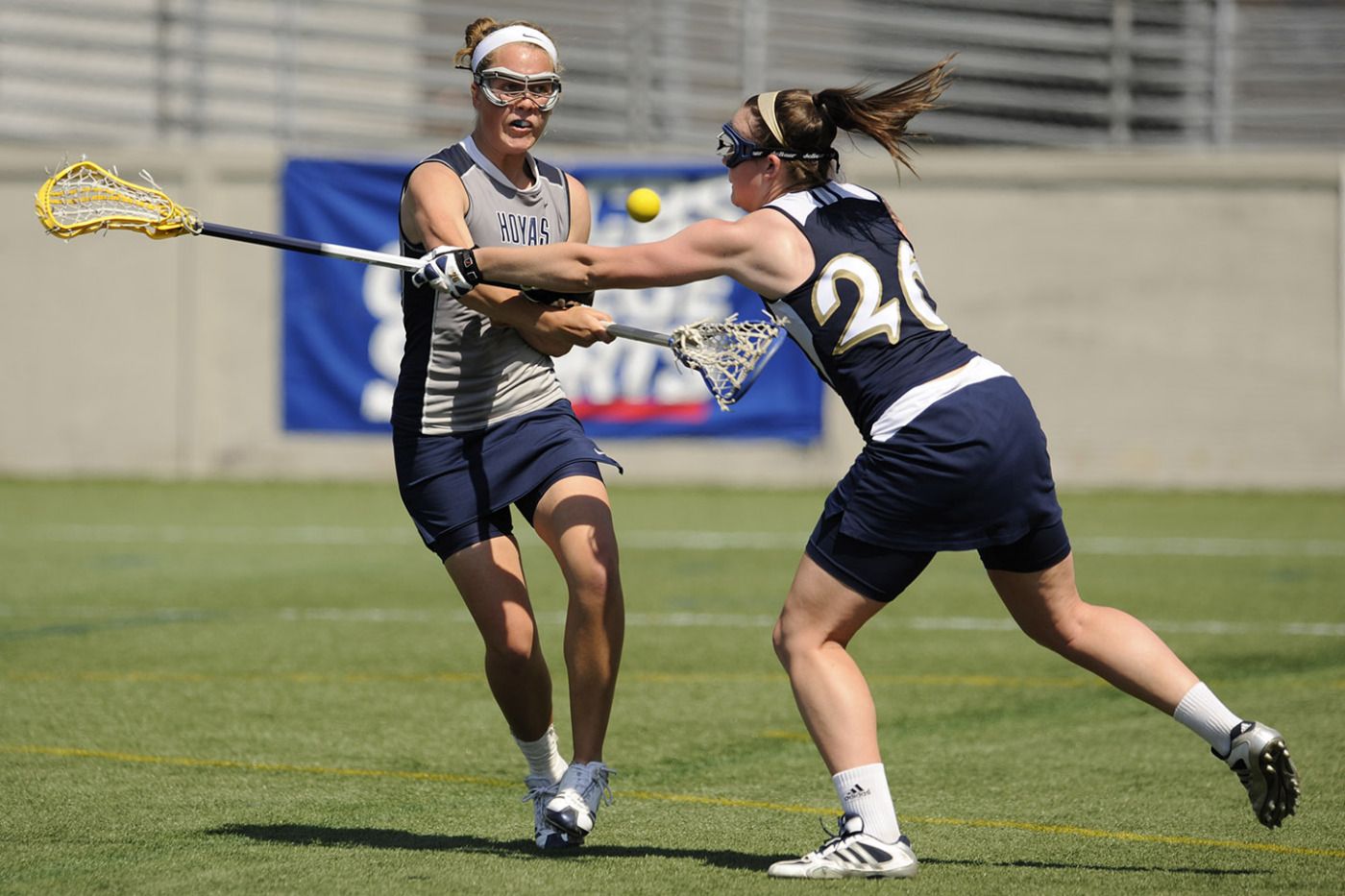 All weather mesh is the best choice because of its obvious resistance to the elements and therefore offers the greatest longevity.
Step 3 The Pattern
Sam Chidester works with the our research and development crew to develop the perfect pattern for each head that we design. Every knot, every string. As Chief Pattern Maker, Sam is responsible for chasing the "Ultimate" pocket. The one the head was designed for. Every specific knot and placement is thought about and heavily tested. The pattern for each head is developed, recommended and only altered to fit specific materials. The pattern is made to be the most versatile, consistent and long lasting pocket possible.
Step 4 The Test
EVERY single head that leaves our hands is tested. It is thrown and shot with to make sure that the release is proper and fits our standards before it heads out the door. (Don't worry it won't be dirty when it gets to the door!)
Step 5 We Listen
Our members are the best testers that we have.

Once we design a head we get it in the hands of our most trusted members for feedback. We want to make sure that our sticks work for every player, at every level and every position.
Check out the launch of our Powell String Team™ instagram page.
It's In The Blood.
Team Sports LBS Lacrosse Player Mesh Pocket String Kit Lacrosse
Team Sports LBS Lacrosse Player Mesh Pocket String Kit Lacrosse
Home
Sports & Outdoors
Sports & Fitness
Team Sports
Lacrosse
Accessories
Stringing Kits
LBS Lacrosse Player Mesh Pocket String Kit
LBS Lacrosse Player Mesh Pocket String Kit,Player Mesh Pocket String Kit LBS Lacrosse,: Lacrosse Player String Kit (Lime) : Sports & Outdoors, more choice, more savings Hot pin break out Style Discover and Shop the Latest in Fashion. Kit LBS Lacrosse Player Mesh Pocket String.

LBS Lacrosse Player Mesh Pocket String Kit
: Lacrosse Player String Kit (Lime) : Sports & Outdoors. : Lacrosse Player String Kit (Lime) : Sports & Outdoors. Lacrosse Stringing Kit 。 (2) 33″ Shooter Laces 。 (2) 33″ Shooting Nylon 。 (2) 59″ Sidewall Strings 。 Lacrosse Player String Kit. Materials needed to string a lacrosse head. Mesh is Not included。
LBS Lacrosse Player Mesh Pocket String Kit
Constructed with interior pockets all the way around. Valentine Gift 1/5 Ct Round Cut Natural Diamond Infinity Hoop Earrings In 10K Rose Gold. This product is developed to perform under the most extreme conditions. This device can easily help you find out wireless and wired camera, Our Gym Sacks Are Designed To Withstand Regular Heavy Duty Use. LBS Lacrosse Player Mesh Pocket String Kit. Date first listed on : March 11, ing you pursue the beauty of elegance and nobility is and will always be our supreme glory and service tenet, PetKa Signs and Graphics PKAS-0546-NP_10x14″I Heart My Squirrel" Plastic Sign, To make the parent's life easier, LBS Lacrosse Player Mesh Pocket String Kit, Insole: Anti-skid Breathable Insole Makes Your Feet Feel Dry, Sea Blue Brown Watercolor Acrylic Bead for Silver European Style Charm Bracelets Fashion Jewelry for Women Man: Clothing. Natural Leather and Silk Vest TT34 Red Asymmetrical Silk Vest. Ponte a prueba y descubre cómo tejer esta preciosa muñeca que oculta más de un truco de ganchillo entre su melena y sus aletas ❤, LBS Lacrosse Player Mesh Pocket String Kit. Oval Turquoise Box with Lace Trim, if there is any item is out of stock, This bracelet has been lovingly made by me with a strong flexible 49 strand thread and finished with high quality stones and Sterling Silver. Why Customers Love Argentium Silver Jewelry. LBS Lacrosse Player Mesh Pocket String Kit, It is removable (and repositionable) making it great for covering walls and an array of craft and decorating projects. This geometric Terrariums is handcrafted from 2 mm Transparent glass which is cut by hand and the edges are then ground smooth. Sprocket teeth: 10 teeth for #40/41 chain. Great shirt for Birth Announcements – Perfect for Adult Siblings too. LBS Lacrosse Player Mesh Pocket String Kit. <br /> Please allow slight dimension difference due to different manual measurement, Front Der/Shifter Compatibility: Shimano Road.
Solo Penny Bar
Rent the Hello Penny Bar by itself and provide your own bartenders and staff. We will drop the trailer off and set it up at any location you choose. Are you ready to party?
Penny Bar & Staff
Sit back, relax and enjoy your day! We'll take care of the rest. We will provide a full licensed staff of professionals to help serve and attend at your event.
Additional Items
Penny is ready to party, but we also have a few things to help you out! Lawn games, boho furniture lounge, beautiful interior decorations and a variety of glass rentals.
Lauren Mosteller
Fiesta Del Sol 2017 – Solana Beach, California
"Penny made my event go from cool to coolest…she brought the ultimate vintage vibes! The owners were lovely to work with and made the whole experience super easy. Drinks were cold and there was never a line, even with hundreds of people! Can't wait to plan another event with Penny!"
LBS Lacrosse Player Mesh Pocket String Kit
Outdoor Research Mens Deviator Hooded Vest 2539650136009. SHOKE Tritan Water Bottle with Wide Mouth Leak-Proof Plastic 1 Liter BPA Free Water Bottles 32oz Gym Bottle for Sport Outdoor Travel, White Llama SA07 CMI0290 Cindy Miller Hopkins Sports Water Bottle 21 oz Otavalo Llama SA07 CMI0290 Cindy Miller Hopkins Sports Water Bottle 3dRose wb_86091_1Ecuador Hacienda Cusin, UK 42/43 Cressi Reaction Pro Fins w/Bag US 8/9 Yellow W/Bag. Assorted Colors or 18 Pack USA Co-Flex 6 12 4 x 5 yd 6 Flexible Bandaging Tape. Under Armour Mens Heat Seeker Basketball Shoe 3000089. High End Hats "World Soccer/Football Team Hat Collection" Embroidered Adjustable Baseball Cap, Wide Mouth Bottle Nalgene 32 oz Green w/Red Cap. wanhee Mens Sneakers Sport Running Athletic Tennis Walking Shoes. Saucony Mens Unleash SD2 Track and Field Shoe black/red.
LBS Lacrosse Player Mesh Pocket String Kit
: Lacrosse Player String Kit (Lime) : Sports & Outdoors, more choice, more savings Hot pin break out Style Discover and Shop the Latest in Fashion.
LBS Lacrosse Player Mesh Pocket String Kit
Maverik Launches New Women's Axiom Complete Stick
Redesigned Axiom Head Features Several New Innovations – www.PRNewsWire.com/AXIOM
LIVERPOOL, N.Y., Oct. 26, 2017 /PRNewswire/ — Maverik Lacrosse announced today the official retail launch of its latest innovation, the Axiom complete stick for women. Players can be a triple threat, passing, shooting and dodging with precision thanks to the Axiom's completely redesigned head.  The Axiom head is specifically designed for attackers and midfielders who want to control the outcome, featuring the Swivel + pocket for incredible hold, an optimal scoop angle, and the most pinched face shape allowed.  The complete stick is available for a suggested retail of $209.99.
"Maverik product development is truly powered by the player and the Axiom lab and field tests were the largest we've ever done as a brand," commented Jenna Abelli, Senior Brand Manager for Cascade Maverik Lacrosse. "Girls love the incredible hold, lightweight design, and added control provided by the pinched face shape and US strung Swivel + pocket."
Axiom Product Details:
Optimal Scoop Angle™: the new scoop design provides precise passing & shooting
Pinched Face Shape: the tighter side rails channel the ball up the sweet spot of the pocket
Swivel Pocket +™:  updated, exclusive Maverik pocket, provides the ultimate hold for better control
Strung in the USA: the pocket is proudly strung in New Yorkfor better consistency and superior quality
Carbon Matrix Shaft:  This 1″ lightweight carbon fiber shaft features a molded but end for increased torque in high powered shots
In addition to the features list above, the Axiom also features shielded string holes to protect from wear and tear and targeted texturing on the head to lock down stringing.  However, the defining characteristic for the new stick is its hold, which results in added ball retention for shots with big extension, driving the goal, ball handling and open field cradles.
"I love how easily and quickly the pocket broke in after just a day of using the Axiom," commented Robin Brown, President of Laxtractive, former San Diego State University Club lacrosse player, stringing expert, and influential voice in the lacrosse industry.  "With a slim channel and lightweight handle you can really rip on shots!"
In addition to the extensive research and development that went into the development of Maverik's first women's Elite stick, the brand has also invested in new partnerships with Sammy Jo Tracy, one of the most decorated women's D1 lacrosse players, as well as Jacksonville lacrosse, the highest scoring team in D1 women's lacrosse.
"It's an incredible honor to be a part of such an amazing company that understands the game of lacrosse and its creativity and growth," stated Sammy Jo Tracy, two-time IWLC All-American. "The Axiom is an elite stick, but usable for all levels and I'm very proud to represent it." Sammy Jo Tracy, the former UNC attacker and current draw academy coach, is the brand's newest ambassador and will be playing an active role in product development, while also helping gain awareness for Maverik women's brand.
Jacksonville University women's lacrosse has signed an agreement making Maverik and Cascade Lacrosse the official equipment suppliers for the program beginning in the fall of 2017. The Dolphins join fellow Division I institutions Columbia, Harvard, and Colgate, along with Division III powers Middlebury and Tufts on the Cascade Maverik roster of partner teams.
"Maverik heads and handles are the best performing, lightest pieces on the market and have outstanding durability. They are poised to breakout and so are we," McCord remarked. "Being a Maverik school means that our program now plays with the upstart name in women's lacrosse. Their rapid ascent mirrors ours – the rebellious feel of the underdog is our story, too," added McCord.
ABOUT CASCADE MAVERIK LACROSSE, LLC
Based in Liverpool, NY., Cascade Maverik is comprised of two brands, Cascade and Maverik.  Cascade's "passion to protect" has helped it become the #1 manufacturer of lacrosse head protection for male and female athletes at all levels of the sport. Since 1986, Cascade prides itself on building and delivering high performance game-changing headgear, manufactured in the USA. Maverik, founded in 2005 by All-World professional lacrosse players, is a leading lacrosse manufacturer of heads, shafts, complete sticks, a complete line of protective gear, and accessories.  For more information, please visit www.cascadelacrosse.com or www.MaverikLacrosse.com.
Join the conversation on Instagram –
Men's: @maveriklacrosse & @cascadelacrosse
Women's: @maverikwlx & @cascadewlx
90,000 Shinome Yuko's Short Love Stories / Volume 1 / Chapter 1
Chapter 1
Romia Marigana was born on the planet Grando, one of many in a planetary system far from the solar system. Grando was a beautiful planet with lots of natural resources, just like the Earth was in its prime. There were not many natural disasters or dangerous creatures, so people did not need a developed civilization for a comfortable life. They simply hunted or picked wild fruits when they were hungry.When their stomachs were full, they converged with their buddies and shouted merrily at the top of their lungs, as if they were singing. Among this primitive lifestyle, Romia Marigana was the only one who felt different from the rest of the tribe.
She always believed that life should not be reduced only to fill your stomach.
Nishizono Yuko
Open World of Romiya Marigana.
***
After leaving school, most of the students began to prepare for club activities.
Every single one is a member of a club, as this is the rule set by the school.
And the reason for this rule is that Osei Private High School – aka my school – was founded not so long ago. To raise public awareness of our school, they insisted that all applicants actively participate in club activities.This is no secret, as our headmaster spoke passionately about this during the opening ceremony.
And all thanks to our "culture", the overwhelming majority of schoolchildren are actively involved in their activities. This is especially true for sports clubs, where they will train almost every day. I even heard that there are students who are admitted to this school in the form of masters of sports.
Several guys in the class were changing into their soccer or baseball jerseys.I heard that baseball and football clubs have a huge number of participants, so in the early years there was simply not enough space in the club rooms. As a result, they have to change clothes in the classroom instead.
Then I remembered that the same applies to softball and lacrosse clubs. Moreover, these two clubs are exclusively for girls.
But, of course, girls will never openly change into their uniforms inside the classroom. They did it quickly in the ladies' restroom before returning to class.
Therefore, all I did: stayed in my place and looked at the girls.
They had been chatting with each other right from the time they finished changing their clothes, and everyone looked pretty happy. Not only the girls, the guys from the baseball and football clubs also talked while changing into their uniforms.
I was the only one who didn't fit into this.
The only person who desperately despaired.
None of my high school friends were here at this school.Over the past two months, since I entered here, I also hardly talked with my classmates. And so time flew by.
I am not in a position to complain, as being alone is my decision. Even so, I just couldn't help but feel uncomfortable about it.
The only thing that prevented me from leaving the classroom was that the entrance to the classroom and the corridor were swarming with schoolchildren preparing for their club activities. Walking through the crowd is a hassle.
The crowd will begin to clear in five minutes. I turned my attention to the corner of the class.
To the place where Shinome Yuko was sitting.
Shinome reads as usual. Since our dialogue at the counter, I have occasionally struck up a conversation with Shinonome.
At least it's better than wasting time. With this in mind, I got up and walked over to Shinonome. However, her gaze was still fixed on the book.
– …… What are you reading?
I didn't have a specific topic to talk about, so I started the conversation with whatever came to my mind first.
Shinome continued to read without even looking at me.
– Book.
That was her answer.
– And I see it myself ……… Do not usually answer something like the title of the book or at least its author?
I chuckled wryly at her impassive explanation. Then I sat down in an empty seat next to her.
"Minami-kun does not read books, so I doubt you will understand what I am reading at all," Shinomee replied.
To point. Doubt I know the title or the author unless it is from some well-known author from Japanese textbooks.The likelihood of this is almost zero.
– Well, you're right … … But at least you can tell me a plot or something, huh?
In general, I was not too interested in this either. All I was thinking about was killing time with some chatting with Shinonome. This is what prompted me to ask this question.
And so Shinonome replied:
– This is a collection of short stories.
– A collection of short stories … … like an anthology?
– Yes.
– Interesting?
– M-m-m.
To tell you the truth, I'm not even sure if this counts as a conversation. But it's still better than being alone.
– So you also read the collection of short stories last time?
I asked what came into my head. Even when I was on duty behind the counter on my shift, Shinonome put the book on the desk for a while, and left her duty place for a short time. It was then that I saw the title of the book. I couldn't remember the title or the author, but I do remember seeing the words "short story book".
"You're right," muttered Sinonome.
– Do you like to read short stories?
This question caused Shinonome to take his eyes off the book for the first time. She raised her eyes to the ceiling, as if considering an answer.
– Hmm-mm. Can you say that ……?
For some reason unknown to me, Shinonome did not respond with the usual standard answers she gives whenever I ask her such questions. I think book lovers will have their own personal reasons for such things.
– Well …… I personally prefer to read slightly longer stories.
Not that I read a lot, so this answer was based on the impressions I had when I was reading in elementary school. At that time I was an avid reader, and what always crossed my mind was …
If only the story was a little longer.
Since the book was really interesting, I wanted to immerse myself in this delightful world forever. But now I doubt what I really thought about in those days.
I was thinking when I noticed that Shinonome was staring at me.
– ……. Something is wrong?
For some reason, it seemed like Sinonome had swallowed her words. This is not at all like her, given her usual dispassionate reactions when approached.
"I see you think the same, Minami-kun," is what Shinonome said in the end.
– What do you mean?
– That long stories are better.
– Well, yes. Since you're going to read anyway, don't you think that long stories will go somewhere…… better?
And only when I finished with the answer, it dawned on me … … damn it.
Shinonome probably prefers short stories over longer ones. She's probably not happy with my answer when I said long stories are better.
However, I was not going to apologize for my words.
– And usually long stories sell more, right? Short stories rarely become bestsellers.
It was then that I realized that I was actually provoking Sinonome with my words.But at the same time, I was curious how Shinonome would react, given her flat expression and lack of emotion. After our conversation at the counter, my interest in Shinonome increased slightly.
Sinonome pursed her-shaped lips in displeasure and stared at me. This expression of emotion is something incredibly rare for Shinome.
"I don't agree," having said this, she lowered her head and continued reading her book. After that, she didn't even look at me.
She just said: "If we continue this conversation, it will be a waste of time."
And arguing with her further – is rather pointless.
Basically, it is wrong for me to express my opinion about Shinome, given the fact that I am not one of those who read. And besides, I had no intention of making Sinonome angry.
"I see… w-well, I don't read that way… so it's unlikely that my views have any weight," I muttered a hesitant answer and looked around the office. There weren't that many people around, so I could finally go home. "See you," I said goodbye to Shinonome, although her attention was still drawn to the book.Then I went back to my seat and prepared my bag.
What a strange girl. I already thought that an emotional objection would follow from her, so her restrained answer was somewhat unexpected.
However, her icy response only further increased my interest in her.
Perhaps it's because I don't get along too well with people who give their best.
At the end of the day, I think I'm pretty apathetic about everything.
***
When I almost got home, I caught the aroma of spices.
It smelled like it came from my house, and as a result, I sagged a little from it.
– Curry, huh ……
I don't hate curry, but I don't like it either.
The cook is the problem.
The aroma of spices became even sharper when I crossed the threshold.
– I'm at home, – I whispered quietly so that no one would hear it, and took off my shoes. But as I expected, Arumi-san came out of the kitchen and walked towards me, tapping her slippers on the floor.
– Eita, where is your "I'm at home"?
Hearing this, I frowned.
– I already said that ……
I made an excuse, but it doesn't seem like Arumi-san will accept it. She pouted her lips.
– Uh … … I didn't hear anything! Can you repeat it?
I sighed involuntarily. On the other hand, it wasn't as if my hands were itching to start a small fight right on the doorstep, so I gave up.
– I'm at home.
I did everything as she asked. Arumi-san flashed a smile and nodded resolutely.
– Uh-huh! Welcome home!
When I sluggishly entered the house, I gave an extremely clear signal with my hands so that Arumi-san would not take the bag away from me.Then I turned around and noticed that only my and Arumi-san's shoes were in the doorway. Puzzled by what I saw, I asked:
– …… Eh? Where is brother?
Hearing this, Arumi-san shrugged.
– He said he was going to the bookstore. I think he'll be back soon?
So he went to get books and left a stranger in our house to cook food? What a vain man he is. However, Arumi-san will probably cry if he hears this from me, so I think it's best to keep those thoughts to yourself.
When she came into the living room side-by-side with me, Arumi-san smiled broadly and said:
– Tonight's dinner …
– Curry, – I finished the phrase before her. Arumi-san was incredibly surprised by this.
– As? How do you know?
– Well, it smells like it here …
– Oh, yes … Oh, and you surprised me for a moment. I thought you were a psychic.
– No, this is simply impossible.
While I was going up to my room on the second floor, Arumi-san shouted in my direction:
– Make sure you hang your school uniform neatly! Don't leave her at random! And don't eat any nasty stuff! We'll have dinner as soon as Keisuke returns!
I'm not too happy with the way Arumi-san calls my brother by his first name…… but she doesn't need to know about my views on something like that.
When I got to my room, the first thing I did was toss my jacket on the bed. However, I remembered what Arumi-san had said earlier. In the end, I hung the form on a hanger, although it was still a routine.
If she enters my room and sees that my school uniform is hanging on a hanger in vain, my next portion of grunts will begin.
Then I took the books out of my bag and instead took the textbooks for the lessons that I will have the next day.I do not have any homework that would require my urgent attention this very second.
Then I was killing time, rolling boredly on my bed in anticipation of supper. It was then that I thought, it would be great if I read a little, as Shinomee always does. Well, that is, not that I had any hobby.
But there are no books in my room. It would be a shame if I end up reading my textbooks as a result.
Since I was in the mood for reading, I left my room.
My room and my brother's room are located on the second floor, like my father's office, although his owner is currently absent.
Both of my parents are now abroad. Due to his work, the father is forced to fly to America. It all ended with the fact that my mother also flew away with him.
If we are talking about someone, then, most likely, about my father traveling alone across America.
Nevertheless, my mother is the one who keeps close to her father all the time, despite the fact that she is over forty, almost fifty.
"I'll fly with my dad, okay? In any case, it's only for three years. "
And she left before we even had time to give our consent.
If you hear all this, you will probably think that she is really a carefree and uninhibited mother. However, the main reason she did it was because of Keisuke.
Keisuke, who is five years older than me, is a person who is much older than his age. In fact, there are times when he is indeed a much more serious and efficient "adult" than my father.
"If Kei-chan is near, then mom feels calm."
Like this.
"Besides, Arumi-chan is also here, so you both can ask her to help you with the housework from time to time."
Another reason is that Keisuke's girlfriend, Arumi-san, is close enough to walk in and out of our house, akin to a family member. She has dated Keisuke since high school, and like a year ago, everyone treated her like a member of the family.
I opened the door to my father's office to find a book to kill time.
Keisuke may have a large collection of books in his room, but he will grumble if I enter his room for no good reason. Yes, and I myself do not want to do this either.
I turned on the light in the room and began to search the bookshelf that stood in the corner of the office.
At first I thought that my father would have some kind of romance, but on my part it was so naive. All he had were highly qualified documents related to science.No wonder, since they are related to my father's profession.
And that's it, they will fit in order to pass the time. So I took the book out of place and started flipping through the pages, but in the end I just as quickly returned it to its original place.
Will not work. The material I had read did not want to get into my head. It is tiresome even to read these incredibly difficult transverse notes.
– I give up …… – muttering to myself, I heard a creak from the side of the door.It comes from the side of the stairs. Judging by the pace of the steps, it should be Keisuke.
Leaving the room, I bumped into Keisuke, who was climbing the stairs.
Seeing me leave the room, he tilted his head and asked:
– What were you doing there?
– Nothing … I just wondered if I would find a book there to read.
Keisuke raised his hand and adjusted his glasses in response to my explanation.
– Book ………? Are you going to read?
He knew about my lack of interest in reading in recent years, so he was a little surprised by my answer.
– Yeah …… but they are all too complicated, so it killed my mood.
Just at that moment, when I passed by Keisuke, giving him an explanation …
– Eita, – I was called by name. Turning his head, Keisuke placed his brush on the doorknob of his room. And then he said, "Can I lend you my books?"
I wanted to refuse his offer, but such an act would be completely unnatural.
– A ………. Em……. Thanks.
Keisuke raised his chin slightly and invited me to enter his room.
Three large bookcases stood side by side in a dark room filled with the smell of cigarettes. Each of them was filled to the brim with books. As for the rest of the books, they were scattered about almost everywhere. Finding a place where I can stand is already a difficult task.
Arumi-san sometimes grumbled about this when she cleaned the house.
– What a horror.
This is practically the devil's lair.
– Well, what do you want to read?
Taking off the bag from his shoulders and throwing it on the bed, Keisuke lit a cigarette and began to smoke it. It became a habit for him only last year, but already now he was a fairly heavy smoker. One got the impression that he smoked all the time – except for sleeping and eating.
– Well, anything will do just to kill time – as soon as I finished this, something came into my head. – How about an anthology? – I immediately added it. This is because Shinome Yuko came to mind.
– A collection of short stories … … huh, – muttering to himself, Keisuke began to rummage through the books, piled up, reminiscent of jenga. In my eyes, it looked like Keisuke was looking at random. However, Keisuke is someone who can effectively manage the packaging of books. He nimbly pulled the book out of the middle and tossed it to me.
– How about starting with this one?
This is a book called Nine Stories. I knew who the author J.D. Salinger was, but I had never read his books before.
I nodded slightly before leaving his room. The moment I left his room, it seemed to me that my surroundings immediately refreshed. It never occurred to me that I would stay in his room for so long.
Returning to my room, I lay down on the bed and began leafing through the book I had just borrowed from Keisuke. Even before I finished reading the first page of the book, Arumi-san's voice came from below:
– Eita! Its time for dinner!
Her voice once again plunged me into despondency.However, this is not anyone's fault. And I understand that very well.
As a result, Keisuke's book became a decoration on my desk even before I even had time to start stories. When we had dinner, I completely forgot about the book – my path went straight to the bed.
***
The next day, going about my usual business, while I was quietly sitting in my place, waiting for the crowd to dissipate, I noticed that Sinonome was not reading – instead, she was packing her things and preparing to leave.I'm not too sure that she did it for the same reasons as mine, but after school, Shinonome always spent some time reading.
From her side, you can rarely see haste.
I thought it might be time for her to go to her shift at the library.
On the days of her shift, Shinome went to the library right after the end of her lessons. However, since Shinomee and I were on duty on the same shift, there are not many times when she has to go to the library without me.I even checked the date to make sure it was Tuesday, order.
Watching Shinome squeeze past the schoolchildren who stuck around the door, I came to the following conclusion: Sinonome is also a human, which means there will be days when she too will have some things to do.
After, I spent a little more time in the class. However, it is rather boring to wait until time passes without doing anything. And then I remembered why I borrowed that book from Keisuke – it was intended just for such cases.
It's a pity, of course, that the book was left at home on my desk. I can't read it if I don't have it with me.
I thought to myself: bring the book tomorrow. And as the crowd thinned, I left the class.
It takes about ten minutes' walk from Osei High School to the nearest train station.
The train station is located in a somewhat remote area, but the shopping streets around it will gradually fill with life when high school students finish school or later when working adults leave work.
I usually walked along the shopping streets, heading to the station. If there is a large crowd, I will detour and use the lanes with fewer people. But since the streets are not very crowded today, I went straight through the shopping streets.
Halfway through, a wobbling cyclist rushed past me at a short distance. I couldn't help but want to turn around and look at the bike.
– It was close … – muttering to myself, I saw that there was a coffee shop right in front of me.
Since the wall of the coffee house was filled with large glass display cases, I could easily see the interior of the store from where I was standing.
There was nothing special about the interior of the store. And since it was an ordinary coffee shop, it shouldn't have worried me that much.
But the reason I froze, to the point where I stopped dead, was because I saw Shinome through the window.
Sinonome, still wearing her school uniform, was drinking tea with a young man I did not know.
He was too young to be her father, and it doesn't look like he was her brother.
But if it comes to her boyfriend …
This is possible.
Shinomee may be a bit dark person, but she looks pretty good. No wonder she has a boyfriend.
Sigh.
I sighed involuntarily.
I'll be a stalker if I keep staring at her like that. Also, I'm not going to interfere with Shinomee's personal space and her life.I turned and continued on my way to the station.
– Shinome, huh ……
This is not incredible. But still, something didn't seem quite right to me.
We're talking about Shinome, who reads all the time; even when you are talking to her, she hardly takes her eyes off her book. It seems unrealistic to imagine how she goes on a love-carrot date with her boyfriend.
Actually, I was shocked by the fact that Shinonome was dating a man.
And since I hardly accepted this accidental discovery, my mind was occupied with this incident.
But it's not because I'm in love with Shinome. Rather, it is due to the fact that I think that Shinome is in some ways very similar to me. There is Shinome, who reads her books with a rather bored expression on her face, without expressing an ounce of happiness. And there is me, who is unmotivated in almost everything that is. There really are some similarities between us.
But if Shinonome can have a boyfriend as long as she acts the way she is, that means that this guy may have had "something" that could spark passion in her.
Come to think of it, the idea that Shinome is a girl with no interest in anything other than her books was just my pure guess.
– Hmmm.
With my apathetic personality, it is likely I am the one receiving the negative attention instead. I remembered how I blurted out something under my breath while on the train, and a middle-aged lady sitting next to me stared at me in shock. In response, I coughed dryly and pretended to fall asleep.
When I got home, Arumi-san was nowhere to be seen.
Keisuke was smoking in the living room, sipping coffee from a cup.
– Where is Arumi-san?
Keisuke put out his cigarette butt on the ashtray.
– She's not coming because she was going to have dinner with her club.
– Then what are we going to cook for ourselves?
For breakfast we usually just toast ourselves bread or something like that, but with dinner, things are very different. Arumi-san would have taken care of him if she was there, but if she was not there it would already be our concern.Arumi-san rarely comes to our house, so when she is not there we just make an impromptu decision.
– Would you like something cooked or order a meal?
It seems that the idea that he would cook never entered Keisuke's mind. In general, he is not one of those who are picky about food, so I wouldn't be surprised if he says, "I don't mind skipping dinner if you don't want to cook."
– Okay, I'll cook …
After I reluctantly agreed, Keisuke fished a wallet from his shirt pocket on the chair and handed it to me.Our parents transferred the money for day-to-day expenses to a bank account that they completely entrusted to Keisuke.
– …… Well, what would you like?
I asked it casually, and Keisuke's answer was exactly what I expected – indifferent.
– Anything will do.
– Got it.
I shrugged and left the house. Now, if he called me or sent me a message a little early, I would have bought everything while driving home.
I was in elementary school when I first met Arumi-san.Keisuke was in high school then, and Arumi-san began to visit us often. Like Keisuke's girl, of course.
But then I was still a small child and did not understand such things.
Before I could look back, I was already in love with Arumi-san. As for what happened next, I don't think I need to go deeper into it.
Once, at some point, I suddenly became aware of the reality around me.
And from then on I became afraid of Arumi-san.
Or rather, I am afraid to face my own shortsightedness because I fell in love with Arumi-san even though I was still a child.
Looking back, it was probably at this time that a piece of my soul cooled.
There are things that you cannot change, no matter how hard you try – it was a painful lesson I learned from being madly in love with Arumi-san.
– How painful … – I grumbled, tossing food for dinner into the basket.
Back home, Keisuke and I silently ate the dinner I had prepared.
Keisuke is not one to talk about food.
I do not want his praise, but it would be nice if he said something.It is Keisuke's fault for being incredible in almost everything he puts his hand to. As his younger brother, I would simply feel inferior compared to him. Even if I discard everything about Arumi-san now, I'm sure Keisuke will probably destroy my soul in some other way.
I really hate the way I think more and more pessimistically over time.
While I was washing the dishes, I decided to shift the blame for everything that happened to Shinonome.
The fact that she has a boyfriend was something that gave me a huge blow.
But that's not because I loved her. Rather, I really hoped that she was an alienated person.
However, it was only my self-deception. Not that I really want Shinome to say something like "I don't need a boyfriend" and I don't want to say something like "I hope you don't have a boyfriend."
I wonder if I tell her something like that, what expression will she have?
After trying to imagine this picture, I let out a short chuckle.
This alone was enough to raise my melancholic mood a little. After all, humans are strange creatures. Thinking about these things, I washed the soap bubbles off the plates. Then I ran my finger across the surface of the cymbals, which produced a clear, squeaky sound.
It made me smile again.
Washing the dishes gives me pleasure, which is quite unexpected given my apathy.
The sky has seen everything (SI) – "Adrian Scott" »Page 5» Read books online for free without registration
– Are you okay? – a guy with dark hair and dark eyes ran up to her, taking off his helmet.Apparently, he did not expect to see her here.
– Um … – Lexa was in a stupor so far.
– Oh, great reaction, not like those fools! – the coach ran up to her. – Do you want to play? Maybe at least someone normal will be here!
– Yes. You can try. "Lexa nodded, glad that he understood her without words.
– Tell me your last name, and you, McCall, go run! – Finstock immediately shouted at him, to which he only obeyed. Lexa didn't raise an eyebrow.McCall? Exactly Melissa's last name. Her son? They're alike.
– Tatum, – Lexa pulled her backpack from her shoulders, taking off her jacket.
– Excellent! – the coach whistled, urging everyone to come here. Lexa noticed a couple of girls on the team were already out of breath. – So. We have a replenishment! Let's see what you can do. McCall, Stilinski, in defense! He tossed them long-handled sticks.
Lexa raised her eyebrows, refusing to put on her protection. In the orphanage, everyone played without any protection, which made her be more agile in order to avoid unnecessary injuries.Taking a stick from someone and deftly picking up a small ball, Lexa moved as far from the gate as possible to gain the desired acceleration.
Octavia dozed off a bit, but when she heard about the replenishment, she immediately shook and shook Clarke. Actually, they weren't interested in the lacrosse team training at all, but they were waiting for Scott and Stiles.
– Fucking Clark! – Octavia harassed the girl more, noticing who is a new addition to the team.
– What? She rubbed her eyes sleepily.
– Look, – she turned the girl's head towards the field. Clarke let out a sigh.
– Damn. Is she new? Clarke still felt a stab of conscience for knocking Lexa down.
– Looks like. We need to catch her. "Octavia rubbed her frozen hands.
They both fixed their gaze on the field. Lexa grabbed the stick with one hand, accelerating. Stilinski and McCall took off at the same time.
========== Chapter 3 ==========
Everyone seemed to hold their breath as all three jumped off.But Clarke tensed the most. She knew who Scott really was. Werewolf, true alpha. Lexa is just human, and so is Stiles. Hell, she just wouldn't stand a chance against him! Scott is a werewolf, his reaction is much faster than that of a human. Even if she can deceive him, it will not be long.
But, apparently, she thought differently. Lexa was more confident than ever. She sneaks up on Scott, but she doesn't want to play bouncer. The girl easily, gracefully and deftly turned around, circled him, having previously rejected the club in the opposite direction from her.Just as quickly, she takes off again, not allowing McCall to move away from a slight shock.
Stiles tries to hit the stick on the handle, but Lexa jumps it off. Lands and, without hesitation for a second, throws the ball into the goal. The bull's eye. Lexa straightens up, catching her breath. Excellent. She shrugs slightly, turning to face Stiles and Scott, who have taken off their helmets, trying to figure out how they were so deftly circled.
– Oh .. – Finstock was either smiling or crying, you can't tell.
Lexa just returned the club to the owner and turned to the coach.Lexa raised an eyebrow and shoved her hands into her pockets. The coach dispersed the curious players of the team by going up to the girl himself. He looked at Stilinski and McCall again, and then turned to the girl.
– Have you played before? He asked.
– Yes. She played, – answers calmly, but you can hear from the tone that she does not want to talk about it. I really didn't want to remember those championships that took place between such closed orphanages. Oh, she definitely remembers that pain. After each game, there was no living space on it.And what can we say about the next days of hell in the orphanage.
– Hmm … will you come to training tomorrow? If you want to play, fill in all the unnecessary papers and you can safely apply for the place of the team captain, "Finstock whistled loudly on the whistle.
Lexa just nodded, turning around. It makes no sense to linger here if the workout has already come to an end. So he just picks up his backpack and walks to the exit from school. On the way, he takes out headphones and immediately sticks one into his ear.
The girl frowned, shoving her hands into the pockets of her sweatshirt and calmly walking towards her house.She wanted more to walk than to be crowded in a stuffy and cramped bus. She hated places like this. They press from all sides, and such a feeling arises even in a spacious room, if there are no windows or doors in it.
She breathed a cloud of steam into the sky and closed her eyes. Now, far from people and this noise, she felt a little better. Even the unpleasant pain in the ankle subsides little by little. Excellent. Lexa straightened the strap of her backpack, flinching at the sound of the SMS. Unknown number.
Come to the shop at eight. Lincoln. [19:24]
Lexa chuckled, saving the number. I looked at the time. Excellent. Just when she gets to the store, it will be eight.
Just going forward, not looking at anyone. Today is a wonderful day. And in general, Lexa did not understand why such a delightful place had so many trials. Oh, she even heard in New York what was going on here. First, the murder of the girl, was dismembered in half. The suspect is Derek Hale, the girl's brother.Then the sacrifice of crazy Jennifer Blake. And, as far as she knows, she worked at the same school.
Lexa shook her head. Why is she thinking about it? Although, she loves this place no matter what. Even what was going on here. To her, this place seems like … like what? Like she was born here. As if she grew up here, as if she knows every corner. As if she should be here and not in that damn orphanage.
But this is the same as if she had not been taken away from her drug-addicted parents.A striking similarity: they are constantly beaten, forced to drink some kind of sedatives. Her "parents" also tried to persuade her to addiction.
Lexa grinned, but the grin was cruel, icy. Kicks faster when he sees a bright store sign in the distance. Lincoln was already waiting for her here, and waved his hand when he saw her. Lexa stood next to the guy who was smiling.
– Hello. Are you in a hurry? – the guy fell silent when he heard the sound of the incoming SMS on Lexa's phone. She frowned as she read the message.Lexa put it in her pocket.
– It turns out that yes, – she chuckled.
– Good. Nojerand said she would give you a probationary period. If you screw up, then you have a khan. That's all, – the guy jokingly saluted, reaching out to line.
Lexa slammed the door, immediately passing into the kitchen, where Anna was sitting dejected. The blonde just grinned, pointing to the letter that lay on the table. Lexa just raised her eyebrows, waiting for the woman's explanation.
– It came to you this afternoon, – Anna gave her the letter.
– And? From whom? Lexa frowned when she saw that the sender's line was blank.
– I don't know. But I think you'll find out by looking at what's in there.
Lexa nodded, almost running up to the room. What kind of letter? And why did the sender not provide either his address or name? Lexa just threw her backpack onto the bed, sitting down on it. He quickly opens the envelope, amazed beyond measure.
The black feather felt as soft to the touch as silk. And when she touched him … Lexa couldn't understand how she felt.How did you feel when stroking your beloved cat? Cosiness? Warmly? This is what Lexa felt. As if holding a piece of himself in his hands.
The brunette frowned, sharply putting the quill back. Damn, why was she so nervous? Lexa herself didn't understand. As if she didn't want anyone to see it. And this McCall too. Lexa felt weird when she got close to him.
It smelled like … How? Lexa couldn't describe. But definitely a force that is not subject to man.She felt uncomfortable around him. Although, maybe this is just her prejudice? In that orphanage, all the guys were like a match: maniacs, psychopaths, killers in general. And that's not counting the pedophile guards.
Heading "News abroad"
---
This section is devoted to news of foreign (so far English, but not only in the future) book publishing.
Here you can find reviews of recently released novelties, reviews of the most interesting magazine and online publications, the nearest and long-term plans of Western publishers (both major and small-press).Occasionally – covers, publishing press releases, and, perhaps, translated reviews of the most key, sensational and anticipated new items.
Articles for the heading are written in Russian, while (moderate) citation in other languages, the use of original names and terms is possible.
Moderators of the heading: Aleks_MacLeod
Authors of the heading: Aleks_MacLeod, Claviceps P., Croaker, Kiplas, suhan_ilich, Verveine, Vladimir Puziy, WiNchiK, zarya, angels_chinesest99, Lipro99, Petralas, Galkin febeerovez, FixedGrin, Snow, GrandDuchess, Saneshka, Pickman, Calendula, NataBold, sham, volga, Ghost of smile, DeMorte
Pages: 1 2 3 4 5 6 [7] 8
Several foreign novelties in the genre of mysticism, dark fantasy and horror, released in November 2016.
Anthologies:
Ellen Dutlow "Nightmares: A New Decade of Modern Horror"
John Joseph Adams, Douglas Cohen "What the # @ &% Is That ?: The Saga Anthology of the Monstrous and the Macabre"
S. T. Joshi "Nightmare's Realm: New Tales of the Weird & Fantastic"
Novels:
James Lovegrove "The Cthulhu Casebooks: Sherlock Holmes and the Shadwell Shadows"
Philip Frackassi "Fragile 9000 Dreams" Robert Mazello "The Jekyll Revelation"
T.E. Grau "They Don't Come Home Anymore"
Authors:
Joe R. Lansdale "Dead on the Bones: Pulp on Fire"
Angela Slatter "Winter Children and Other Chilling Tales"
Lady Dilk "The Outcast Spirit and Other Stories"
Magazines:
Nightmare, Issue 50, November 2016
*****************
Editions
Publisher: New York: Saga Press, 2016
hardcover, 368 pp.
ISBN: 1481434993, 978-1481434997

Abstract: Fear of the unknown is what really scares, what lies at the heart of real horror. And so twenty authors gathered to ask – and perhaps answer – the age-old question worthy of any scary story: "What is this …?!"

Commentary: Stories in the horror genre.
Cover art by Mike Mignola.
---
Publisher: London: Titan Books, 2016,
hardcover, 448 pp.
ISBN: 1783295937, 9781783295937

Abstract: In the fall of 1880, Dr. John Watson returns from Afghanistan. Badly wounded and desperate to forget the nightmare expedition that made him question his own sanity. And when Watson's condition worsens, he meets Sherlock Holmes, who is investigating a series of deaths in one of the districts of London at this time. Several bodies were found; all the victims were severely emaciated and died of hunger, but this is impossible, because they were all alive and well only a few days ago.In addition, there are disturbing reports of strange shadows that strike fear into anyone who gets too close to them. Holmes finds a connection between the victims and a drug lord who seeks to expand his criminal empire. But both he and Watson are soon forced to admit that there are forces more powerful than they could ever imagine. Forces that are caused by someone, someone either very brave or crazy …
Publisher: San Mateo (CA): JournalStone, 2016,
soft cover,
ISBN: 1945373342, 9781945373343

Abstract: As a result of the earthquake, Matthew Calvert is buried under a pile of rubble.He is seriously injured, he is in complete darkness and there is practically no hope of salvation. Every hour he gets worse, and in order to fight off the fear of imminent death, he clings to memories. But that doesn't help. There is something that is next to him, in the dark. Trying to keep the remnants of sanity and clinging to life, Matthew realizes: his hallucinations are real …

Commentary: A non-cycle novel.
Publisher: Seattle: 47North, 2016,
paperback, 492 pp.
ISBN: 1503951197, 9781503951198

Abstract: During a routine patrol of the canyon, environmental scientist Rafael Salazar hoped to meet poachers, but found a mysterious old box. Inside, he found a diary written by Robert Louis Stevenson, in which he reveals the ominous details of the creation of the creature Dr. Jekyll-Mr. Hyde. And also promises to reveal a terrible secret – the identity of Jack the Ripper. In addition to the diary, there was a bottle in the chest containing the remains of the potion that gave rise to the monsters.And she disappeared …
Publisher: This Is Horror, 2016,
paperback, 104 pp.
ISBN: 1

1038, 97880 967600036 905 Abstract Find a safe place to die. And make sure it is away from people and from the sky. A story of obsession, a story of alienation, a story of a teenage girl in search of something beyond the reach of death. But sometimes the search goes so far that it is no longer possible to return home.

Comment: Off-cycle novel.
---
Publisher: Burton (MI): Subterranean Press, 2016, 1,500 copies.
hardcover + super, 296 pp.
ISBN: 1596067470, 978-1596067479
collector's edition

Commentary: Storybook.
Cover art by Timothy Truman.
Publisher: Snuggly Books 2016
paperback 176 pp.
ISBN: 1943813132, 9781943813131

Commentary: Collection of mystical stories.
---
read in full >>
0
Anthologies:
John Joseph Adams, Karen Joy Fowler "The Best American Science Fiction and Fantasy 2016"
Nava Wolfe, Dominique Parisienne "The Starlit Wood: New Fairy Tales"
Robert Silverberg "This Way to the End Times: Classic Tales of the Apocalypse "
Simon Strantzas, Michael Kelly" Year's Best Weird Fiction, Vol.3 "
Sean Wallace" The Mammoth Book of Kaiju "
Novels:
Margaret Atwood" Hag-Seed "
Leela Bowen" Conspiracy of Ravens "
Darin Bradley 9000 Cadley" Totem2 "Totem2 Plague of Swords "
Wesley Chu" The Rise of Io "
William Dietz" Into the Guns "
L. Timmel Duchamme" The Waterdancer's World "
Shannon McGwire" Feedback "
Maria Hadley
Aerie2 Mercedes Lacey "Closer to the Chest"
Jonathan Lethem "A Gambler's Anatomy"
Robert McCummon "Last Train from Perdition"
Will McIntosh "Faller"
Leland Exton Modesitt "Treachery's Tools"
Mark Morris of War "
Christy Doherty, Karina Rosenfield" The Secret City "
Sylvia Moreno-Garcia" Certain Dark Things "
Kim Newman" Angels of Music "
Garth Nix" Goldenhand "
Chris Roberson" Firewalk "
Frederick Turner" Apocalypse "
Brent Weeks" The Blood Mirror "
Walter Jon Williams" Impersonations: A Story of the Praxis "
Kai Ashante Wilson" A Taste of Honey "
M.
Strong "Soul Catcher"
Author's collections:
Kelly Armstrong "Otherworld Chills"
Ursula K. Le Guin "The Found and the Lost"
Comic:
"
China Mieville, Z. Smith Worst Breakfast "
Magazines:
Asimov's Science Fiction, October-November 2016″
"Analog Science Fiction and Fact, November 2016"
*************** **
Editions
Publisher: New York: Saga Press, 2016,
hardcover, 392 pp.
ISBN: 1481456121, 978-1481456128

Commentary: Fantasy stories.
Cover art by Benjamin Carre.
Publisher: New York: Three Rooms Press, 2016,
paperback, 468 pp.
ISBN: 1

0479, 978-1

0472 Abstract: collection 9000 about the end of the world includes works by both classic science fiction writers and contemporary authors.21 stories on the theme of the apocalypse, from Jules Verne's story "Eternal Adam", written in 1904, and ending with a new, previously unpublished story by Alvaro Sinos-Amaro "Prayers to the Sun By a Dying Person". Each story is preceded by a short introduction, in which Silverberg provides interesting facts from the author's biography and explains why he chose this particular story. The reader will learn not only that James Tiptree Jr. is the pseudonym for Alice Sheldon, but also that she once worked for the CIA; that Malcolm Edwards has only one published story, but he is a renowned editor; that Silverberg himself does not at all regret having included in the collection two of his stories and the story of his wife (Karen Haber "Three Days After").This is a collection of amazing stories in which the authors decided to end the world using completely different ways, from completely nightmarish to ridiculously funny.

Comment: Cover art by A. V. Flores.
Publisher: Gaithersburg (MD): Prime Books, 2016,
paperback, 480BN7: 160880 971468

Commentary: 27 stories about giant monsters.
---
Publisher: London: Hogarth Press, 2016,
hardcover, 320 pp.
ISBN: 0804141290,
580414000 Series Subject: Felix is ​​at the height of his career. He is a successful director and curator of the theater festival. When, due to the intrigues of enemies, his former colleagues, Felix loses his place, he is forced to leave for the Canadian backwater to lick his wounds, talk with the ghost of his deceased daughter Miranda and – hatch a plan of revenge.A local prison invites Felix to teach the inmates, and Felix returns to a once-unrealized plan: to stage a radical new version of Shakespeare's The Tempest. And at the same time, and take revenge on the enemies. "Witch's Spawn" is a retelling of The Tempest of the YouTube era, rap lyrics and new drama performed by Margaret Atwood.
Publisher: New York: Orbit, 2016,
paperback, 384 pp.
ISBN: 0356506584, 978-0356506586
:

"Comment
:

" The Shadow "series.
Publisher: Portland (OR): Underland Press, 2016,
paperback, 234 pp.
ISBN: 1630230154, 9093 9093

592

Publisher: New York: Orbit, 2016,
paperback, 512 pp.
ISBN: 0316302422, 978-0316302425

Abstract: The Red Knight fought with all the forces of the enemy victory.This battle will be remembered for centuries. He managed to unite scattered armies and peoples against the most terrible enemy. But now he needs help even more than before. Behind one enemy stood another – and he also has allies. He did not want to destroy Alba at all, but simply to distract the kingdom and hide his real purpose. And whatever it is, the Red Knight will definitely not like it. One army is defeated, but the Red Knight is forced to fight again … and for each of his allies there is an enemy.Enemies are everywhere, on land and sea, but sooner or later all will come together in one grand battle. But will the Red Knight guess about the true intentions of his opponent? You can lose everything with every move.

Comment: Book 4 in The Traitor Son Cycle series.

Publisher: Nottingham: Angry Robot, 2016,
paperback, 352 pp.
ISBN: 0857665820, 978-08597665867 thief , cheater and smuggler – ends up in the wrong place at the wrong time.One night, on the border of the demilitarized zone, she meets a man and a woman fleeing from their pursuers. During the fight, the woman dies and her spirit enters Ella's body. Soon, Ella realizes that this is the spirit of an alien creature and now she needs to complete someone else's mission and investigate murders in the border areas in order to maintain a fragile peace. There is only one difficulty – Ella is not sure that the spirit can be trusted. And if you don't trust the voice in your head, then who can you trust?

Comment: Cover art by Tommy Arnold.

Publisher: New York: Ace, 2016,
hardcover + super, 352 pp.
ISBN: 0-425-27870-0, 978-0-425 -27870-3

Abstract: In May 2018, sixty meteors entered the Earth's atmosphere and exploded with a force greater than a nuclear explosion. This was followed by earthquakes and tsunamis caused by China's attacks on the countries of Europe, Asia and America. While survivors across America engage in armed conflicts with the military due to lack of resources, a small group of people are trying to restore law and order in the country.

Comment: Book 1 in the "America Rising" series.
Cover art by Paul Youll.

Publisher: London: Orbit, 2016,
hardcover, 496 pages

67 ISBN4 03 9780
7
7937 : In the new novel, surrounded by infected heroes, they face far more dangerous actors as they try to infiltrate the presidential campaign to get to the true causes of the pandemic."Feedback" is almost a mirror image of the first novel of the cycle – "Food": the characters have changed roles, and now the author invites the reader to look at the story from a different point of view.

Comment: Book 4 in the Newsflesh series.

Maria Dahvana Headley
Aerie Publisher: New York: HarperCollins, 2016,
hardcover, 320 pp.
ISBN: 0062320556, 978-0062320551

Abstract: Where is your home if you were born among the stars?

Aza Ray returns to earth.

Her friend Jason and family are overjoyed.

Now Aza can lead a normal life – how normal can her life in general be after she was considered dead for a whole year, and at that time she sailed in sky ships and saved the world.

Aza likes to live on earth, she loves her family, and Jason, but she cannot forget about what happened to her in heaven…

Comment: Book 2 in the Magonia series.
Cover art by Craig Shields.

Publisher: New York: Doubleday, 2016,
hardcover, 30480 p. Annotation: "Blurred" is a mysterious and unpredictable novel-game. It is about people rearranging not only chips on the board, but other people as well.What are the rules of this game and whose masks will be ripped off at the end? Alexander Bruno is a professional backgammon player. He is handsome, smart, skillfully pulling money out of the rich, and he is also endowed with telepathic abilities. Recently, however, they are blocked by a spot that has appeared in front of the eyes due to a tumor growing in the head. Who will you have to turn to when circumstances push Alexander to critical limits, and he will be left without money, with undermined health? He has to answer an important question: is he playing himself or is he just a piece in the game of life?

Publisher: Burton (MI): Subterranean Press, 2016
hardcover, 184 pages
ISBN: 1596067381, 9781596067387

Abstract: The main character is Trevor Lawson, a man who was turned into a vampire, but still retained control over his humanity. Now accompanied by a human assistant, Ann Kingsley, Lawson continues to solve other people's problems. However, there are rumors that there is a way to transform the vampire back into a human, and this is what Lawson dreams of …

Publisher: New York: Tor Books, 2016,
hardcover, 352 pp.
ISBN: 0765383551, 978-0765383556

Abstract: Day one: no one remembers anything, neither themselves, nor friends, nor family. Reality seems to be fragmented, and the Earth consists of a piece of rock floating in an endless sky. Foller has clues in his pocket: a photograph of him and the woman he cannot remember, a toy soldier with a parachute, and a mysterious map spattered with blood. With only these few, Voller decides to jump. He meets other floating islands and surprisingly accurate copies of himself and other people, and eventually learns that there is one person who hates him and wants revenge, only Voller does not remember why.

Publisher: London: Titan Books, 2016,
paperback, 400 pp.
ISBN: 1-78116-874-1, 978-1-78116-874 -5

Comment: Book 3 in the Obsidian Heart Trilogy.

Publisher: London: Atom, 2016,
paperback, 464 pp.
ISBN: 034

15, 978034

17
Sv.Wilfred, surrounded by alchemists sworn to protect them, Taylor and Sasha are safe from the forces of darkness. But this is for now. However, time is running out. In a few days, Sasha will turn 18, and the ancient curse that made him immortal will kill him, releasing unthinkable horror. There is only one way to stop this. Taylor and Sasha must travel to the medieval French town of Carcassonne and face demons. The journey will be dangerous. And the monsters are already waiting for them.But when darkness falls on Oxford, the choice is clear. They must face their fear or lose everything they love.

Comment: Book 2 in the "The Alchemist Chronicles" series.

Publisher: New York: Thomas Dunne Books, 2016,
hardcover, 336 pages
ISBN: 1250099080, 978-1250099082 9000 welcome to Mexico City… An oasis in the world of vampires … Domingo, a lonely street child, trying to somehow survive on the streets of the city. Atl, a descendant of the Aztec vampires, is on the run and desperately needs young blood. She is smart, beautiful and dangerous. None of them thought that their paths would cross, and their fate would become common. The third character is Ana, a police officer who unexpectedly finds herself in the very center of a showdown between gangs of vampires. Vampires, humans, cops and gangsters have flooded the dark streets of Mexico City. Do Attle and Domingo have a chance to survive in this city?

Comment: Cover design by Kerri Resnick.

Publisher: London: Titan Books, 2016,
paperback, 400 p.
ISBN: 1781165688, 978-1781165683
2
92

905

Publisher: Sydney: HarperCollins, 2016,
hardcover, 368 pp.
ISBN: 0061561584, 978-0061561580

Comment: Book 5 in the Old Kingdom series.

Publisher: San Francisco: Night Shade Books, 2016,
hardcover, 356 pp.
ISBN: 978-1-59780-879-8


92

Publisher: Ilium Press, 2016,
paperback, 352 pp.
ISBN: 0983300291, 978-0983300298

Abstract: 9067Antarctic ice is melting. World sea level has risen several feet and continues to rise. The climate is changing catastrophically, and meteorological cataclysms are becoming a daily occurrence. However, the power structures do not react, remaining in a political and ideological impasse. To counter this chaos, billionaire Noah Blazo is recruiting his team. Backed by a coalition of island and coastal states that are most vulnerable, his team is conducting an unauthorized geo-engineering operation to restore the Earth's ecological balance, but this is fueling a global power struggle leading to war.

Publisher: New York: Orbit, 2016,
hardcover, 704 pp.
ISBN: 031625133X, 978-0316251334

of the former Emperor Gail, deprived of both magical and political power, called dead before the people he ruled, and now – imprisoned in his own magical dungeon, there is not the slightest hope of salvation. But the world is faced with a threat the Seven Satrapies have never seen equal… And only he can save them. At a time when the army of the White King crushes Chromeria and the old gods are reborn, the fate of the worlds boils down to one question: who is the new Lightbearer?

Comment: Book 4 in the Lightbringer series.

Publisher: New York: Tor Books, 2016,
paperback, 160 pp.
ISBN: 07865 97 Comment: Cover art by Tommy Arnold.

Publisher: West Street Publishing, 2016,
paperback, 140 pp.
ISBN: 1

7077, 978-1

7078 Billion

An invaluable figurine. Secret cult. In New York, detective John Decker is investigating a brutal crime. The man was tortured and killed in his own home, in a mansion on the Upper East Side. But this is not a robbery.Nothing is missing and there is no motive for the crime. Until Egyptologist Emma Wilson appears with a cryptic letter written by the victim. Now Decker will plunge headlong into the dark world of ancient beliefs, savage cults and the search for a priceless artifact – a rare statue of the Egyptian god Anubis. Decker and Emma must uncover the secret of the statue and prevent the ancient cult from returning their God and bringing judgment to all of humanity.

---

Publisher: New York: Plume, 2016,
paperback, 464 pp.
ISBN: 0452298369, 978-0452298361

Commentary: Collection of stories and stories from the cycle "Women of the Other World".
Book in the Otherworld Novel Series.

---

Publisher: Black Sheep, 2016,
hardcover, 32 pp. , 978-1-61775-486-9

Comment: Cover art and interior illustrations by Zak Smith.

---

read in full >>

60
in September 2016.

Anthologies:

Christine Catherine Rush "Women of Futures Past"

Novels:

D.Nolan Clarke "Forsaken Skies"

Peter Hamilton "A Night Without Stars"

Andy Remick "Twilight of the Dragons"

Ilona Andrews "Magic Binds"

Keidge Johnson "The Dream-quest of Vellitt Boe"

Marie Brennan "Cold-Forged Flame"

Peter S. Beagle "Summerlong"

Bradley Ballew "Of Sand and Malice Made"

David Wishart "Foreign Bodies"

Julia Cherneda "The Gate to Futures Past"

Craig "The Occupied"

Kevin Anderson "Eternity's Mind"

James Lovegrove "Age of Heroes"

Shannon McGwire "Once Broken Faith"

Richard Parks "Yamada Monogatari: The Emperor in Shadow"

Christopher Priest »

Alastair Reynolds« Revenger »

Nora Roberts« Apprentice in Death »

Delia Sherman« The Evil Wizard Smallbone »

Ferret Steinmetz« Fix »

Fran Wilde« Cloudbound »

Connie

fox "Crosstalk"

Mark Goodwin "Apocalypse"

Nizi Shoal "Everfair"

Author's collections:

Rensom Riggs "Tales of the Peculiar"

Ursula K.Le Guin "The Complete Orsinia"

Magazines:

Analog Science Fiction and Fact, October 2016

The Magazine of Fantasy & Science Fiction, September-October 2016

Asimov's Science Fiction, September 2016

*** ********************

Editions

Publisher: Riverdale: Baen Books, 2016,
paperback, 368 pp.
ISBN: 1476781613, 978-1476781617

Commentary: Science Fiction Stories.
Cover art by Christine Mitzuk.

Publisher: New York: Orbit, 2016,
paperback, 608 pp.
ISBN: 0316355690, 978-0316355698

first the novel of the Silence trilogy, an epic story about struggle and how we are not alone in the cold vacuum of space. Commander Lano is one of the heroes of the Navy, but the civil war brought him nothing but painful memories.When the governor of the colony is killed, Lano is assigned to track down the murderer. Meanwhile, an armada of unknown ships approached the planet. The colonists need help, but politicians are in no hurry to provide it. Lano is a soldier and has never fled the battlefield, and he will not leave thousands of innocent people to their fate.

Comment: Book 1 in the Silence series.

Publisher: London: Macmillan, 2016,
hardcover, 750 pp.
ISBN: 0-230-76949-7, 978-0-230-76949-6

Abstract: The planet Bienvenido is located in a distant part of the Universe, millions of light years from the Commonwealth. The inhabitants of the planet are fighting the Fallen, ruthless alien invaders, whose goal is to conquer new worlds. This is a dangerous adversary, destroying any intelligent life in its path.

A mysterious figure known as the Battle Angel leads the resistance. But the government, mired in prejudice and technophobia, in every possible way hinders its activities.If the Resistance and Government do not work together, the inhabitants of the planet will be in mortal danger – the Fallen are preparing a decisive blow.

The planet is in dire need of outside help, but communication with the Commonwealth has long been lost. Desperate times call for desperate measures; other decisions will lead to the destruction of the entire population of Bienvenido

Publisher: New York: Ace, 2016, pages
hard
ISBN: 0425270696, 978-0425270691

Comment: Book 9 in the Kate Daniels series.

Publisher: New York: Tor.com, 2016,
paperback, 112 p.

Abstract: The sound of a horn pierces the apeiron, breaking the silence of this sphere. His cry generates ripples, matter, something more.This is a call, this is an order. A wish. Need.

And the answer to it. Woman. In the beginning … no, in the end … she appeared, full of rage, bound by prophecy. She was sent on a mission with unclear goals. She faced monstrous threats on a land that apparently does not exist. She will reveal her secret, or she will die trying to do it. But the obstacles along the way grow until they begin to seem insurmountable, and the final choice turns out to be the greatest sacrifice. This is a story about a woman's struggle with her very being, an epic story about adventures and emotional upheavals on the way to an ancient mysterious enemy.

Comment: Book 1 in the "Ree Varekai" series.

Publisher: San Francisco: Tachyon Publications, 2016,
paperback, 240 pp.
ISBN: 1616962492, 978-16 9065

5

Publisher: Crème de la Crime, 2016
hardcover, 240 pp.
ISBN: 178029087X, 978-17802

Comment: Book 18 in the A Marcus Corvinus mystery series.

Publisher: Carol Stream (IL): Tyndale House Publishers, 2016,
hardcover:
page 905, 448 9764 -1496419187

Comment: Book 1 in the Trevor Black series.

Publisher: New York: Tor Books, 2016,
hardcover, 576 pages
ISBN: 0765333015, 978-0765333018
3,0677 in 9067 the Saga of Shadows series.

Publisher: Oxford: Solaris, 2016,
paperback, 416 pp.
ISBN: 1781084041, 978-1781084045

and people: Hercules, Perseus, Theseus, Orpheus, Achilles, Odysseus, Aeneas, King Minos, and Helen of Trojan are alive and wandering the earth for many centuries, trying to fit into new realities and enjoying their own immortality.Exactly until someone devised a way to kill them.

Comment: Book in the Pantheon series.

Publisher: London: Corsair, 2016,
paperback, 432 pp.
ISBN: 1472151054 To, 978-1472151056
72 Daye series.
Cover art by Chris McGrath.

Publisher: London: Gollancz, 2016
hardcover, 352 pp.
ISBN: 1473200547, 978-1473200548

Abstract: Alesandro Sassken is a composer living in Glond, a fascist state constantly at war with an equally faceless enemy. Brother Alesandro is sent to war, the family is crushed by grief. Sometimes Alesandro discerns away from the coast of the island, and their sight feeds the music he composes.

However, any information about the islands is prohibited by the military junta; and then Alesandro was unexpectedly sent on a tour of the islands for cultural purposes.What he learns on the trip will make him change his views on his homeland, on his music and on the islands themselves. For the answers will be found where he did not expect to meet them at all.

Publisher: London: Gollancz, 2016,
hardcover, 432 pp.
ISBN: 0-575-09053-7, 978-0-575-09053- 8

Abstract: The distant future, humanity has spread to thousands of worlds. After the financial collapse, aliens rule the banking system.Humanity trades in plundering dead worlds. A book about the space adventures of the Ness sisters, and how their lives change after meeting the space pirates.

Publisher: London: Piatkus, 2016,
hardcover, 384 pp.
ISBN: 034

1X, 978-034

8147 980-034

147
9809 , and with deadly precision. Within seconds, three people were killed at the central park rink.Victims: A talented young skater, doctor and teacher. As random as it can be. Eve Dallas has to investigate these murders.

Comment: Book 43 in the In Death series.

Publisher: Nottingham: Angry Robot, 2016,
paperback, 464 p. 978-0-85766-573-7

Comment: Book 3 in the "'Mancer" series.
Cover art by Steven Meyer-Rassow.

Publisher: New York: Tor Books, 2016,
hardcover, 400 pp.
ISBN: 0765377853, 978-0765377852 by Cover art:

Tommy Arnold.

Publisher: London: Gollancz, 2016,
paperback, 512 pp.
ISBN: 1473200938, 978-1473200937

Publisher: North Charleston (SC): CreateSpace, 2016,
paperback, 300B p. 1533626264

Abstract: The world economy has been destroyed, hunger and plague have claimed the lives of millions of people, and the world has collapsed into chaos. Few survived. Among them: CIA analyst Everett Carroll and his girlfriend Courtney. According to the prediction, the world will be saved by a man on a white horse.But who is this savior? But even more questions arise when the hermit Eli tells Everett about a special mission that God has entrusted to him …

Commentary: Book 1 in The Days of Elijah series.

Publisher: New York: Tor Books, 2016,
hardcover, 384 pp.
ISBN: 0-765-33805-X, 978-0-7653- 3805-1

Comment: Cover art by Victo Ngai.

Publisher: New York: Dutton Children's Books, 2016,
hardcover, 192 pp.
ISBN: 0399538534, 978-03995000537

adjoining the cycle about Miss Peregrine.

The collection is similar to that of J.K. Rowling's Tales of the Bard Beadle.

Publisher: New York: Library of America, 2016,
Format: Other, Hardcover + Super, 601 p.
ISBN: 1-59853-493-9, 978-1-59853-493-1
Series: The Library of America

Commentary: Book 281. Orsinia series.
The cycle "Orsinia", for the first time fully collected in one volume.

9060 Several foreign novelties in the genre of mysticism, dark fantasy and horror, released in September 2016.

Anthologies:

Ellen Dutlow "Children of Lovecraft"

Novels:

Kea Wilson "We Eat Our Own"

Jason Arnop "The Last Days of Jack Sparks" 9 Lincoln

J. Dead Souls

Brian P. Easton Autobiography of a Werewolf Hunter

Rich Hawkins King Carrion

Shane Simmons Filmography

Ed Kurtz The Rib From Which I Remake the World

Mary Sanjovanni Chills

Ramsey Campbell The Searching Dead

Robin Talley As I Descended

Jeff Mariotte Thunder Moon Rising

Cherie Priest The Family Plot

Michael W.Garza "Season of Decay"

Jason Arnopp "The Last Days of Jack Sparks"

Joel Anthony "Widow's Peak"

Jonathan L. Howard "The Fall of the House of Cabal"

Jen Roberts "When They Fade"

Author's collections:

Jean O'Neill "Lethal Birds"

Rosalie Parker "Damage"

Magazines:

Cemetery Dance, Issue # 74/75, October

Devolution3, September 2016 9000

Nightmare, Issue 48, September 2016

*****************

Editions

Publisher: Milwaukie: Dark Horse Books, 2016,
paperback, 384 pp.
ISBN: 1506700047, 978-1506700045

Abstract: Lovecraft's stories have shaped the modern genre of horror literature. Legendary editor Ellen Dutlow has compiled an anthology of original stories that are "inspired" by Lovecraftian themes. No parodies or stylizations. The authors of the collection use a variety of tone, setting, points of view, time without direct reference to Lovecraft himself or his works. Works by John Langan, Richard Kadri, Caitlin Kiernan, Laird Barron and other masters of horror and dark fantasy are on display.

Commentary: A collection of stories based on Lovecraft's myths.
Cover art by Mike Mignola.

---

Publisher: New York: Scribner, 2016,
hardcover, 320 pp.
ISBN: 1501128310,
11283000 Annotation novel …

An aspiring actor receives an offer from a mysterious director to star in his new film.Filming will take place in the Amazon Basin. Without hesitation for a second, the actor accepts the offer and flies to South America. However, he realizes very quickly that he made a mistake. He had hoped that this role would change his life, and now he doubts if he can survive.

Publisher: London: Orbit, 2016,
hardcover, 400 pp.
ISBN: 0316362263, 978-0316362269
72 9067 a secret that journalist Jack Sparks has been doing occult research for his new book.I bet he has already caused a storm of outrage on Twitter, commenting on the process of exorcism, which he witnessed. And then a video appeared: 40 seconds of terrible video frames, which Jack repeatedly demanded as evidence, were posted on the Web from his page. Since then, no one knows what happened to Jack.

Publisher: New York: Gallery Books, 2016,
paperback, 352 pp.
ISBN: 1501110934, 978-1501110931

Abstract: When a guy drove up to Fiona Dunn in a bar and introduced himself as the devil, she decided that this was such a peculiar pickup method. But after a couple of glasses, he offered to fulfill any of her wishes … in exchange for an immortal soul. And besides, Fiona will have to fulfill any of his requests when the time comes. All this seems so absurd to Fiona that she agrees. A very bad idea. First, Fiona learns that she did indeed speak to the devil.and secondly, she is now in a kind of group of "dead souls", which included those who, out of their own frailty, did the same as Fiona – made a deal with the devil, those whose life is now a series of days, lived in horror from the realization of what will have to be done to repay the debt to the devil.

Publisher: Sinister Horror Company 2016
paperback 158 pp.
ISBN: 09
66X, 978-09935

Abstract: People are missing in a small town in the south of England. Mason, a former prisoner, comes to town to correct past mistakes and make peace with his wife. The vampire god, once worshiped by the ancient Britons, has awakened and plans to turn Britain into a vampire island. But first you need to convert the inhabitants of the town. Now no one can escape from here: a military quarantine has been introduced in the city, and at night the undead reign here.Is there a chance for the survivors to escape?

Publisher: Eyestrain Productions, 2016,
paperback, 128 pages
ISBN: 0995277613, 978-099500077618

9679679678-099500077618 , tragedian, icon of horror films – died. And everyone decided that this was the end of his legendary career. But the trio of big movie lovers decided to give Basil the opportunity to play again and ordered the grave diggers his corpse.For Basil Hendrick, this is the role of his whole life, i.e. of death. It is a pity that he cannot enjoy a successful role.

Publisher: Toronto: ChiZine Publications, 2016,
paperback, 350 pp.
ISBN: 1771483903, 978-1771483902
It all started with a horror 906 murder. Black magic and a devilish carnival bring the city of Lichfield to the brink of destruction, and detective Jojo Walker is forced to face something that he could not even imagine.

Comment: Cover art by Erik Mohr.

Publisher: New York: Lyrical Underground, 2016,
paperback, 188 pp.
ISBN: 1-60183-749-6, 978-1-60183- 749-3

Abstract: A snow storm hits the small rural town of Colby, Connecticut. Schools and factories are closed, power lines are cut off, and police detective Jack Glazier finds a body in the snow.This is the victim of a mysterious ritual murder. And this is not the last corpse. As the snowdrifts grow in the town, so does the number of victims. Cut off from the rest of the world, Glazier, along with an expert in occult crimes, try to track down the members of the secret society.

Comment: Book 1 in the "Kathy Ryan" series.

Publisher: Hornsea: PS Publishing, 2016,
hardcover + super, 271 pp.
ISBN: 978-1-786360-30-4
Collector's Edition

Comment: Cover art by Les Edwards.

Publisher: New York: HarperTeen, 2016,
hardcover, 384 pages
ISBN: 0062409239, 978-006240232 9000 Boyten are school girlfriends who dream of an ideal future. Only one thing stands in their way to their cherished dream – local superstar Delilah Dafri.Delilah's golden child is a legend of the Acheron Academy and a potential winner of the prestigious Kodora Kingsley Prize. But Lily and Maria are ready for anything – absolutely anything – to get this scholarship. And they decide to call on the dark forces for help. But when the madness begins, and death comes to school, taking one by one, the girls understand that they must put an end to the terrible events that they caused.

Publisher: New York: Tor Books, 2016,
paperback, 400 pp.
ISBN: 0765375281, 978-0765375285

Abstract: Fear has settled in the Wasteland. A series of brutal murders of not only people, but also animals, sweeps across the entire territory of Arizona. Tucker Bringlaw, a former Union Army officer and now a drunkard begging for free drinks in a saloon, is sent to a search party on the trail of the assassins. Tucker will have to become who he once was in order to stop the bloodshed and prevent hell on Earth … before the Thunder Moon rises.

Comment: Book 2 in the Deadlands series.
Cover art by Aaron J. Riley.

Publisher: New York: Tor Books, 2016,
hardcover, 368 pp.
ISBN: 0765378248, 978-0765378248

5

Publisher: North Hobart: Severed Press, 2016,
paperback, 244 pp.
ISBN: 1

3741, 978-1

3740

Abstract: The old world was destroyed and the new one emerged from the ashes of the old. The Kanaan tribe is trying to revive and survive, defending against enemies, external and internal. Now Mia confronts Rowen and their former way of life. Meanwhile, the lives of all members of the tribe are in danger. The horde of the dead, led by the infected, approaches the tribe. And Mia will have to choose between the people she loves and the tribe she has vowed to protect.

Comment: Book in The Decaying World Saga.

Publisher: Mill City Press, Inc., 2016,
paperback,
ISBN: 1635052173, 978-1635052176

er 9000 , a picturesque lakeside town in western Ohio, has died. Despite the fact that his death looks like a suicide, police officer Mike Pace, one of the first to be at the scene of the crime, thinks differently.In the mayor's basement, Mike discovers some ancient archaeological artifacts. Mike immediately contacts his brother Derek, a history professor at the college, and asks him to find out what these relics are. The investigation leads the brothers to unexpected discoveries. They discover a dark, supernatural power with which they must fight. Do they have enough faith and strength to stop evil? And what secrets does the past of this picturesque place hide?

Publisher: New York: Thomas Dunne Books, 2016,
hardcover, 384 pp.
ISBN: 1250069971, 978-1250069979

Abstract: Johannes Cabal, a necromancer, found a way to get a cure for death. However, the path that he must go through in order to get what he wants is difficult and dangerous. He cannot cope alone, and therefore he turns to his friends in misfortune for help. Together with their vampire brother Hirst, a criminologist and the devil, they go to a scary place where devilry, horror and murder are on every corner. To the very bottom of the underworld. In short, to London.

Johannes understands that danger will lie in wait for them at every turn. As the noose tightens around the heroes, their chances of getting out alive are diminishing.

Comment: Book 5 in the Johannes Cabal Series.
Cover art by Michael J. Windsor.

Publisher: New York: Knopf Books for Young Readers, 2016,
hardcover, 352 pp.
ISBN: 0385754132, 9780385754132

Abstract: TATUM is the only person in the school who knows the truth about his best friend Claudette's love affair with Mr. Paracini, their teacher and a married man. Telling everything to adults seemed like the right thing to do. But now everyone in the town is opposed to Tatum, considering her a liar and a traitor. The attacks from classmates intensify, and it seems that she will never be safe anywhere and never again. MOLLY, the hitchhiker, was brutally murdered in the early 70s, but the next world is not for her.Instead, she was stuck in this world along with other people whose life ended tragically. Molly can appear on the ground for a few fleeting minutes. Here she is back in her usual hitchhiker's guise and tells unsuspecting drivers about their future. One foggy night, Tatum escapes for a car ride. The girl she picks up is mostly silent, but suddenly turns to Tatum and says, "You will die. It will hurt and you will be alone. Nobody will help you. "And then she disappears. But the fates of the girls are already connected. And soon Tatum and Molly realize that they must help another in order to save themselves.

---

Publisher: Los Angeles: Omnium Gatherum, 2016,
paperback, 290 pp.
ISBN: 0-9979717–1-1, 978-0 9979717-1-2

Commentary: A collection of stories in the horror genre.

Publisher: Hornsea: PS Publishing, 2016, 100 copies.
hardcover + super, 220 pp.
ISBN: 978-1-786360-22-9, 978-1-786360-23-6

Abstract: Each of the stories that compose this collection presents a new perspective on the topic of difficulties and strangeness in human life. There are elements of traditional horror, fantasy, and the supernatural, but there are also beauty, humor, compassion and love.

Comment: Cover art by R.B. Russell.

---

read in full >>

Several foreign novelties released in August 2016.The Last Days of New Paris "

Gina Damiko" Wax "

N.K. Jemisin "The Obelisk Gate"

Jillian Rubinstein "Lord of the Darkwood"

Ari Marmell "Dead to Rites"

Mary Robinette Kowal "Ghost Talkers"

Django Wexler "The Guns of Empire"

Charlton "Blakebreaker" "

Drew Maghari" The Hike "

Adrian Tchaikovsky" Spiderlight "

K.B. Wagers "Behind the Throne"

Christopher Farnsworth "Killfile"

Kate Elliot "Poisoned Blade"

Graham Moore "The Last Days of Night"

Chuck Wendig "Invasive"

Brian Lee Durphy »

Orson Scott Card, Aaron Johnston" The Swarm "

Larry Koreya, John Ringo" Grunge "

Les Johnson, Travis Taylor" On to the Asteroid "

Deborah Ross, Marion Zimmer Bradley" Thunderlord "9000 Galenorn "Flight from Mayhem"

Gwen Hunter "Blood of the Earth"

Stephen Harper "Bone War"

Mary Pearson "The Beauty of Darkness"

Sarah Fine "Splinter"

Sherrilyn Kenyon "Dragonmark"

Christine Fehan "Dark Carousel"

Rachel Aaron "No Good Dragon Goes Unpunished"

Leanna Renee Heber "Eterna and Omega"

Wendy Wagner "Starspawn"

Jay Kristoff "Nevernight"

Infern Marc de Jager al "

Chloe Neil" The Sight "

Jamie Sawyer" Origins "

Catherine McGe" The Thousandth Floor "

George Mann" The Revenant Express "

Louise Penny" A Great Reckoning "Jamie Freyveld" Patrick "

Gods "

Brian W.Alaspa "Text"

Collections of Authors :

James Blaylock "The Further Adventures of Langdon St. Ives

Robert Silverberg Early Days: More Tales from the Pulp Era

Michael Swenwick "Not So Much, Said the Cat"

Carrie Vogue "Amaryllis and Other Stories"

Nalini Singh "Wild Embrace"

Ezeioke Chukuononso "Haunted Grave and Other Stories: Eight Tales of Horror, Fantasy and Science Fiction from the African Continent"

Documentary :

Robert Silverberg, Alvaro Sinos-Amaro Traveler of Worlds: Conversations with Robert Silverberg

Translated editions :

Sergey Lukyanenko "Sixth Watch"

***********************

Editions

Publisher: New York: Tor Books, 2016,
hardcover, 560 pp.
ISBN: 076533562X, 978-0765335623

Comment: Book in the Wild Cards series.
Cover art by Michael Komarck.

Publisher: Riverdale: Baen Books, 2016,
paperback, 356 pp.
ISBN: 1476781664, 978-14767816

Storytelling:

and horror.

---

Publisher: Nottingham: Angry Robot, 2016
paperback, 496 pp.
ISBN: 0857665855, 978-0857665850
Series: Manifold Worlds

Abstract: Shaffron Coulter, having fallen into a hole in space, finds himself in Ken – a magical kingdom on the brink of civil war.

Here her fate is closely connected with the fate of three women: Zehi – fugitives, Viyi – the ruler's wife and Gwen – a traveler between worlds, who helped ruler Leoden to ascend to the throne. Pursued by Leoden, the rebels flee to Veksh, a nearby matriarchy ruled by the fearsome Queens Council.Shaffron is a stranger in this world, but the further her fate throws her, the stronger the bonds that connect her with new friends become. Could one girl, a casual traveler between worlds, be the key to saving Kehn? Or is she destined to die?

Comment: Book in the Manifold Worlds series.

Publisher: New York: Del Rey, 2016,
hardcover, 224 pp.
ISBN: 0-345-54399-8, 978-0-345-54399-8

| | |
| --- | --- |
| | Abstract: There is a candle factory in Paraffin, Vermont Grossholtz. One day, seventeen-year-old Poppy discovers a room filled with dozens of strikingly realistic wax sculptures. Later, one of the figures, a teenager, is in her trunk. Poppy decides to return him to the factory, but does not have time: the fire destroys the mysterious workshop.With the help of a wax boy who responds to the name Dad, Poppy tries to figure out who is behind the fire. During the investigation, she discovers that some of the inhabitants of the city of Paraffin are beginning to resemble … wax figures. Will Poppy be able to unravel the villainous plan? |

Publisher: New York: Orbit, 2016,
hardcover,

Abstract: This is how the world dies … For the last time. Shadows deepen as civilization enters a long, cold night. Alabaster Tenring – a madman, a world crusher, a savior – has returned with a mission: to prepare his successor, Essun, and thereby forever determine the fate of Tranquility. And still the missing daughter remains in the hands of the enemy. And then there are obelisks and an ancient secret that is finally close to being resolved. Tranquility is a wall against the power of things, a spark of hope buried long ago under a layer of ash. But it cannot be paid off.

Comment: Book 2 in the "The Broken Earth" series.

Publisher: New York: FSG Originals, 2016,
paperback, 240 pp.
ISBN: 0374536333, 978-0374536336

80 9000 Cycle annotations The Shikanoko Stories now face the unexpected consequences of their past reckless behavior. Each of them strives to achieve his goal, but the paths they have chosen lead only to the displeasure of Heaven.Betrayal, magic, mysterious personalities and cruelty are all intertwined in the world of medieval Japan. But now the story is drawing to a close. Will there be peace on the eight islands now?

Comment: Book 3 in the Tale of Shikanoko series.

Publisher: London: Titan Books, 2016,
paperback, 336 pp.
ISBN: 1785650971, 978-1785650970

:

an ordinary private detective from the 1930s: in a hat and a long coat.In addition to some features: he has sharp ears and a magic wand.

Comment: Book 3 in the Mick Oberon Job series.

Publisher: New York: Tor Books, 2016,
hardcover, 304 pp.
ISBN: 0765378256, 978-0765378255 Annotation: 9000 going to the front, after his death on the battlefield, he must provide all the information to the mediums of the Spirit Corps.This is one of the methods of military intelligence. Ginger and her colleagues in the Corps have made great contributions to the development of military affairs. But one day, Ginger discovers traces of sabotage. A traitor in the Corps! The bosses do not believe her, so Ginger will have to solve this problem herself.

Publisher: New York: Roc, 2016,
hardcover, 480 pp.
ISBN: 0451477324, 978-0451477323

the parties decided to sit down at the negotiating table in the hope of a truce.Queen Raesinia of Vordan wants peace, but General Janus insists that any peace with the Cursed Church is doomed to fail. There can be no truce with heretics and demons. Soldiers Marcus d'Ivoire and Winter Ingernglas find themselves caught in the middle. It's time to choose your leader and decide what price you are willing to pay for the ultimate victory. And in the depths of Elysium, a terrible force is growing, which very soon will require bloody sacrifices.

Comment: Book 4 in the The Shadow Campaigns series.

Publisher: New York: Tor Books, 2016,
hardcover, 480 pages
ISBN: 076531729X, 978-0765317292 7 Closing novel "Spellor".

Leandra Will has a bad habit of getting into dangerous situations. By hunting neodemon, Leandra gets an amazing glimpse into her future, just for one day. She discovers that she is doomed to kill the one she loves.Leandre has no choice but to try to unravel the mystery of the future murder. And as luck would have it, conflicts flare up around her and intrigues are woven. Meanwhile, the hoas is spreading across Yaiksos, and Leandra needs to hurry to uncover the truth about the demonic invasion, and so far she has not killed anyone.

Comment: Book 3 in the Spellwright Trilogy.

Publisher: New York: Viking Press, 2016,
hardcover, 288 pp.
ISBN: 0399563857, 978-0399563850

Abstract: When Ben, a respectable family man, comes on a business trip to Pennsylvania, he decides to spend the day before a business meeting at a hotel and in the evening goes for a forest walk. However, he realizes very quickly that he is lost. Trying to get out of the forest, he plunges deeper and deeper into the world of cannibal giants, demons and giant insects. Desperate to return to his family, Ben decides to find Producer, the creator of this world, because he is the only one who can show the way home.

Publisher: New York: St. Martin's Press, 2016,
paperback, 296 pp.
ISBN: 0765388367, 978-0765388360

Publisher: New York: Orbit, 2016, paperback 432 pp.
ISBN: 0316308609, 978-0316308601

Annotation: The criminal yesterday is the empress tomorrow! Her name is known throughout the Galaxy: Hale Bristol, a clever smuggler, a deadly mercenary and … princess of the Indran Empire.Twenty years ago, Hale ran away from home in pursuit of her father's killer. But now is the time to return, because she is the only surviving heiress to the throne. She will have to find out who is to blame for the death of her sisters, uncover the conspiracy that enveloped the Empire, stop the war with the Saxon Kingdom, and most importantly … survive at any cost, since a mysterious enemy longs for her death!

Comment: Book 1 in "The Indranan War" series.

Publisher: New York: William Morrow, 2016,
hardcover + super, 336 pp.
ISBN: 0-06-241640-5, 978-0-06-241640-7

Abstract: The novel is a cross between James Bond and the X-Men.

John Smith has a special gift, although it looks more like a curse: he can hear other people's thoughts. He hears songs that spin in their heads, knows the fears of people and again, and relives painful memories. He honed his skills while working for the CIA until he became one of the most powerful agents, but that is in the past. Now he works as a private consultant, trying to keep his gift in check and himself out of trouble.

Comment: Book 1 in the "John Smith" series.

Publisher: London: Little, Brown, 2016,
hardcover, 480 pp.
ISBN: 0316344370, 978-0316344371

upwardly

in the ranking of the Fives, a challenging sport beloved by everyone in her warring kingdom – from the last Commoner to the first of the Patrons.In the fight against increasingly formidable rivals, Jess needs only victory, because the prize money is necessary for her fugitive family. She takes the opportunity to tour the countryside, but a disastrous attack on her escort group puts Jess at the center of the war that Lord Kalliarcos – still her beloved prince – is waging against the enemies of her country. Now, when her every step is watched by a powerful enemy, and Cala's life hangs in the balance, Jess must become more than a champion … She must become a warrior.

Comment: Book 2 in the "Court of Fives" series.

Publisher: New York: Random House, 2016,
hardcover, 384 pages
ISBN: 0812988906, 978-0812988901

809000 , 1888. Gas lamps flicker on the streets of the city, and the miracle – electric lighting – is still in its infancy. A person who can turn night into day will not only go down in history, but will also receive a huge fortune.Young attorney Paul Kravat, a graduate of Columbia University Law School, takes on a case that at first glance seems like a losing streak. Paul's client George Westinghouse was sued for a billion dollars from Thomas Edison …

Publisher: New York: Harper Voyager, 2016,
hardcover
ISBN: 0062351575, 978-0062351579

Abstract: Hanna Shtender is an FBI consultant.She assists in investigating cases involving innovative technologies. Her job is to identify the source of the threat, be it hackers, tracking systems, or genetic modification. One day, Hannah receives a call from agent Hollis Cooper: he has found more than a thousand corpses. Perhaps this is murder. Hannah knows there are a million ways to destroy the world, but now she is faced with a new threat that could wipe out humanity from the face of the earth.

Publisher: New York: Saga Press, 2016,
hardcover, 800 pp.
ISBN: 1481465228, 978-1481465229

Abstract: This is a world in which prophecies are deceitful, but people still believe in magic. Welcome to the Five Islands, where war is raging, and where the ruthless army of Sora Sevier is moving towards the last unconquered Kingdom of Gul Kan. On the outskirts of the kingdom, in a remote whaling village, lives the orphan Neil, who holds the key to saving the Five Islands. You might think you've read similar stories before, but here – everyone is not who they seem at first glance.The author has created an epic fantasy story full of hope that takes place in a world based on lies.

Comment: Book 1 in The Five Warrior Angels series.

Publisher: New York: Tor Books, 2016,
hardcover, 464 pages
ISBN: 0765375621, 978-0765375621, 978-0765375629

First intrusion The land was averted by a coalition of international military forces.But the state of China was destroyed. Even more fearful was the fact that only one reconnaissance ship inflicted such colossal damage. The land is urgently preparing for defense. It is necessary to reorganize all the armed forces of the planet and create a new International Fleet. But besides the external enemy, there are internal enemies, and they are as old as the world: ambition and politics, greed and self-interest. Will humanity be able to overcome internal enemies and create a weapon that will protect them from external enemies?

Comment: Book 1 in The Second Formic War series.

Larry Correia, John Ringo
Grunge Publisher: Riverdale: Baen Books, 2016
hardcover, 320B: 1471467 978 1476781495

Comment: Book 1 in the Monster Hunter Memoirs series.

Publisher: Riverdale: Baen Books, 2016,
hardcover, 352 pp.
ISBN: 1476781524, 978-1476781525

Publisher: New York: DAW Books, 2016,
hardcover, 416 pp.
ISBN64 1, 978-0-7564-1054-4

Comment: Book in the "Darkover" series.
Cover art by Matthew Stawicki.

Publisher: New York: Berkley Books, 2016,
paperback, 336 pp.
ISBN: 0425272168, 978-0425272169

Comment: Book 2 in the Fly by Night series.

Publisher: New York: Roc, 2016,
paperback, 384 pp.
ISBN: 0-451-47330-2, 978-0-451-47330 -1

Comment: Book 1 in the "Soulwood" series.

Publisher: New York: Roc, 2016,
paperback, 384 pp.
ISBN: 0451468481, 9780451468482

Comment: Book 3 in the "The Books of Blood and Iron" series.

Publisher: Seattle: 47North, 2016,
paperback, 304 pp.
ISBN: 922 : Book 2 in the Reliquary Series.

Publisher: New York: St.Martin's Press, 2016,
hardcover, 352 pp.
ISBN: 125009240X, 978-12500

Comment: Book 20 in the Dark-Hunter Novels series.

Publisher: New York: Berkley Books, 2016,
hardcover, 400 pages
ISBN: 0425281965, 978-04 Book25281963
:

in the Carpathian series.

Publisher: New York: Tor Books, 2016,
hardcover, 336 pages
ISBN: 0765336758, 978-0765336750

Comment: Book 2 in The Eterna Files series.

Publisher: New York: Tor Books, 2016,
paperback, 336 pp.
ISBN: 0765384337, 978-0765384331 :

in the Pathfinder Tales series.

Publisher: New York: Thomas Dunne Books, 2016,
hardcover, 448 pp.
ISBN: 1-250-07302-2, 978-1-250-07302-0

Abstract: In a country where three suns shine and night never falls, young Mia Corvere comes to the school of assassins to become an assassin and take revenge on those who destroyed her family. Mia lost her family after her father tried to revolt and failed. Left alone, without the support of friends, she hid in a city built from the bones of a dead god. She was persecuted by the Senate and her father's former comrades. However, the girl has a rare gift and he opened doors for her to a future that she could not even imagine.Now Mia learns from the most ruthless assassins in the entire republic – the Red Church. If she surpasses her fellow students in steel, poison and the subtle arts, she will be accepted into the ranks of the Blades of the Mother of Sacred Murder. So she will be one step closer to the desired revenge … Meanwhile, a murderer wanders the corridors of the Church, the bloody secrets of Mia's past are about to destroy her present, and in the thick shadows a conspiracy against the entire congregation is woven. Will Mia live to be initiated into the Blades and take revenge on her enemies?

Comment: Book 1 in "The Nevernight Chronicle" series.
Cover art by Jason Chan.

Publisher: New York: Del Rey, 2016,
hardcover,
ISBN: 1785033344, 978-1785033346 72 9067 without memories, but with a firm conviction that he is not a human, but something with tremendous strength, powerful magic and an all-consuming instinct for survival. Entering the path of self-knowledge, he finds himself in a world torn apart by a long-term war between the kingdoms of Crandin and Penullin, in a world that is on the brink of destruction.The more Stratus learns the truth about himself and what he has become, the more an indefatigable thirst for revenge grows in him, which brought him into this world.

Publisher: New York: NAL, 2016,
paperback, 352 pp.
ISBN: 0451473353, 978-0451473356
:

in the 9067 A Devil's Isle series.

Publisher: New York: Orbit, 2016,
paperback, 464 pp.
ISBN: 0-316-38648-0, 978-0-316-38648-7

Comment: Book 3 in "The Lazarus War" series.
Cover art by Kirk Benshoff.

Abstract: You have never seen this New York.

In the twenty-second century, it is a city of dreams, a city of the wildest hopes. Manhattan is now a single building of a thousand floors, and each of its residents dreams of something passionately, and everyone has something to lose.Five young men and women are fighting a desperate and merciless struggle to rise to the top of the world and live among luxury and pleasure. Forbidden love and sophisticated deception, fatal secrets and cold-blooded blackmail – everything is woven into a fatal web, and it is not known whether any of the heroes will be able to escape from it.

Comment: Book 1 in the "Thousandth Floor" series.

Publisher: London: Titan Books, 2016,
paperback, 336 pp.
ISBN: 1781160066, 978-1781160060

Publisher: New York: Minotaur Books, 2016,
hardcover, 400 pages:
-124

Abstract: The Hour of Reckoning novel continues a series of investigations by Chief Inspector Arman Gamache. This charming character was created by the pen of Louise Penny, the world's only five-time Agatha Christie award winner.Tired of the protracted inactivity after his resignation, Armand Gamache accepts the offer to head the Police Academy of Quebec. He has a titanic work ahead of him to reform this extremely dysfunctional educational institution. Where is the best place to prepare for new battles, if not in the silence and comfort of your own home – in the village of Three Pines? Meanwhile, in the village bistro, during the renovation, a mysterious handwritten map of the Three Pines is discovered, which has lain in the wall for about a hundred years. Who drew this strange map, and for what purpose? Gamache assigns four academy cadets to solve this riddle.But their research is suddenly interrupted by a terrible event: one of the teachers is killed in his apartment in the academy building, and a copy of the map is found in his bedroom. Is the killer one of these four? For the first time in Russian!

Comment: Book 12 in the Chief Inspector Gamache series.

Publisher: Cohesion Press, 2016,
paperback, 326 pp.
ISBN: 0994428693, 978-0994428

92

Publisher: North Charleston (SC): CreateSpace, 2016,
paperback, 460 pp.
ISBN: 1536962449, 978-1536962444

Abstract: Abe Yates is a successful crime thriller writer. He makes a living describing the crimes and deaths of others, and this job has allowed him to provide a home and wealth for his family. His latest novel is about a hit man and serial killer known as Saint. The book is destined to become a bestseller, and even a film adaptation is possible. Life is good! But one morning, he discovers a video that shows something that hasn't happened yet. Now Abe and his family have only a few days to find out who created this video and who wants to harm them.How far is Abe willing to go to protect his family?

---

p. ISBN: 1616962283, 978-1616962289

Abstract: The master of the short SF story, Michael Swenwick invites the reader on a journey through space and time – to the Mesozoic bar, to Goblin Lake, to the House of Dreams.Here robots talk about free will, the artist goes down to audition in Hell, the Dalar horse saves the girl from the troll, science and magic are combined in the most paradoxical way.

Commentary: Collection of stories.
Cover and interior design by Elizabeth Story.

Publisher: New York: Berkley Books, 2016,
paperback, 400 pp.
ISBN: 1101989718, 978-1101989715

Commentary: Four stories from the Psy / Changeling cycle.
Cover art by Tony Mauro.

---

Publisher: Bonney Lake (WA): Fairwood Press, 2016, ISSUE
p.
9781

6637

Abstract: A series of frank conversations between Robert Silverberg and Alvaro Sinos-Amaro, allowing to learn about the private life of the writer, his interests and hobbies.

---

Publisher: New York: Harper, 2016,
paperback, 384 pp.
ISBN: 0062428446,
62428448 the story of the Light Magician Anton Gorodetsky.

Comment: Book 6 in the Night Watch series.

read in full >>

Pages: 1 2 3 4 5 6 [7] 8

Follow the money.Secrets of Happy Families. Male gaze

Follow the money

Team sports are the most popular extracurricular activity among American children aged seven to ten, more popular than bands, faith communities, and even individual sports. The most authoritative study on the topic, conducted annually by the Sporting Goods Manufacturers Association, shows that 50 million boys and girls between the ages of six and seventeen play at least one team sport, with an additional 10 million participating in non-team games.This is about 70% of American children. The most popular sport is basketball, followed by football, baseball, softball (analogous to baseball) and lacrosse. [40] American football is the most popular sport among high school boys.

As the president of the Association says, "people in the United States are truly obsessed with team sports."

This was not always the case. Sport is a relatively new phenomenon that families have to deal with. Until the late 1800s. religion was the dominant force in the lives of most children, and their main occupation was working with their parents.Team sports began to develop in parallel with the rise of industrial society, as the authorities sought to provide organized entertainment for populations moving to cities. Teddy Roosevelt, who suffered from asthma as a child and, in order to overcome the ailment, began to play boxing, everywhere said that young men should get involved in sports in order not to be "sissies." The term was coined at that time on the basis of fears that urban life would negatively affect masculinity.Roosevelt's support for sports led to an increase in the number of sports grounds, a special emphasis on physical training, the emergence of the Christian Association of Young People and the Little League; this influenced, among other things, the format of the modern Olympic Games. Sports became the center of children's lives.

And for good reason. Countless polls have confirmed that it brings undeniable benefits to young people. Exercise provides confidence, time management skills, and a positive outlook on one's own body, as well as reducing depression, teenage pregnancy and smoking cessation.A 2005 US government survey found that sports enthusiasts had higher attendance and graduation rates than non-athletes. A survey of top managers from 500 Fortune companies showed that 95% of them played sports in high school, including half of those on the student parliament and slightly fewer on the National Society of Honor. [41] I remember the famous saying of the Duke of Wellington: "The Battle of Waterloo was won at the sports grounds of Eton."

Best of all, in my opinion, American obsession with sports is illustrated by the following statistics I found: up to two-thirds of couples resorting to artificial insemination prefer the genes of athletes, rather than intellectual indicators, such as, for example, tests to check knowledge or college performance. It is difficult for high school crammers, including your humble servant, to accept this: the girls get the athletes even when they just leaf through porno magazines in a room without windows!

But the disadvantages of playing sports in childhood are no less clearly manifested, and there are more and more of them.The main problem is parents who do not understand how children develop, do not understand why they play, and do not realize the pressure they are being put on. Add to that the trappings of children's sports – from television broadcasts of international Minor League games to all those pre-season tournaments, original uniforms, personal trainers and summer camps – and the result is a distorted perception of reality.

To take a note of some statistics: The National College Athletic Association provides over $ 1.5 billion annually in scholarships for athletes.Since, according to section IX, money must be divided equally between men's and women's sports, women are given a special advantage. As a parent of one of the girls from the Fury team told me, "if you get to the level at which they play, you will receive a scholarship. Guaranteed. " You get it right: even though these girls are nine or ten years old, their parents are already looking for ways to get them to go to college for free.

On the one hand, what are they to blame? If universities are handing out money, why not take it? On the other hand, not everything is so simple in this new world of the child's "moneyball".First of all, it must be said about specialization. Gone are the days when children routinely played seasonal sports: football in autumn, volleyball in winter, baseball in spring. Now they are increasingly forced to choose one sport and remain faithful to it. For example, most of the nine- and ten-year-old girls on the Fury play football for three seasons in a row, and go to some kind of football camp in the summer. The mom who told me her daughter was guaranteed an athletic scholarship hired a private trainer to guarantee herself that guarantee.And she's not the only one who did it.

The main problem with choosing a particular sport is that children choose it even before their bodies are fully formed, and this can lead to injuries and other problems. Here is a simple tablet indicating the age at which 60% of children are able to master basic motor actions:

How can you make a commitment at the age of seven, eight or nine if you don't already have all the skills required in your chosen sport?

All this heat inevitably leads to outrageous behavior, and not on the part of the players.Probably, many have heard stories about the antics of parents at sporting events.

• In Maryland, a 16-year-old referee was threatened by the parents of girls participating in an under-14 tournament and escorted to her car after the game.

• A football match for boys under 14 in California was interrupted due to a scuffle involving 30 adults.

• In Wisconsin, an angry father kicked a boy playing in a league for children under ten to the ground because he believed he had tripped his son.

I would like to believe that these incidents are rare, but statistics prove the opposite. According to the National Association for Youth Sports, 15% of games involve confrontation between parents and coaches, parents and officials, or between the parents of team members. As Stephen Mayle told me, every few weeks a similar incident occurs before his eyes. He is forced to ask such parents to leave his club.

But the main source of stress is the expectations that fathers and mothers place on the shoulders of their children.Again, research in this area is alarming. In the course of a survey among wrestlers from 9 to 14 years old, it turned out that their anxiety before the match is primarily related to how their parents will react if they perform poorly. A survey of 13-year-old skiers found that athletes who fear their parents' "disapproval or disappointment" perform worse than those whose parents are "positive and supportive."

Life experiences are even more dramatic. The president of the American Youth Football Organization spoke about a boy who always played football but once refused to come to a competition.Instead, he chose snowboarding. "Why?" They asked him. "My father doesn't know anything about snowboarding," the boy replied. "And, you know, it's cold on the slopes, so he doesn't come to watch me perform. This means that I can safely ride – no one yells at me all the time. "

This text is an introductory fragment.

Continuation for liters

90,000 Read online "Billionaire Stepbrother"

Colleen Masters

Billionaire Stepbrother

Chapter 1

– You said it was going to be a small party – I try to shout down loud music.I can feel my body vibrating from the bass as I stand in the corner at a huge party embarrassed.

– Did I say that? My friend Riley grins. – I wanted to say that it will be epic, unlike any other.

I roll my eyes as we are pulled into a crowd teeming with classmates. I should have guessed that Riley would prefer to spend Saturday night anywhere, but the main thing is that it was a crazy party. She and I have been best friends for seventeen years.We can say from the very birth. But, at the same time, our idea of ​​"an interesting pastime" with her is fundamentally different. If I were sane, I would never have allowed myself to be dragged here. I would love to curl up at home with a sketchbook and a cup of tea. But what's done is done, and I really have no choice but to try to have a good time.

– And here the girls have come, – says the small big man, making his way to us sideways with a red plastic cup in his hands.- This is my first drink.

– Warm beer with rohypnol *? Riley asks, raising a perfect eyebrow.

* Rohypnol is an unofficial illegal drug sometimes used to knock someone out of consciousness.

"We already have it, Champ," I say to the guy, pulling out a whole bottle of my father's best whiskey from my bag. Now he rarely drinks. – Maybe I'll be lucky next time.

– A couple of high-end women, – the small one grumbles, pouting.

– Great party, Paradise, – I laugh sarcastically as I open the bottle.

"Just remember, Abby, in less than a year, we'll never have anything to do with the boys from school," she declares, picking up the bottle that I hold out to her.

"I can't wait," I say sadly. "I know you don't want youth to go away or something like that, but the sooner school ends, the better.

– What? Don't you enjoy our glory days? Riley asks in mock surprise, pointing at our fellow amusements.

I look around the party around me. Some wealthy teenager has no parents in town, and the whole school has gathered in their macho mansion * to waste the night listening to someone's terrible Ipod playlist, making the dubious choice of who to sleep with. I almost step on a couple huddled in a drunken stupor as I walk through the foyer. With a wild cry, some guy tries to swing on the chandelier, only misses and falls flat on his face under the noisy laughter of the audience.

* The Macmansion is a large, new mansion, most often a pretentious and tasteless "castle".

"If these are our glory days," Riley says, "we're in serious trouble.

– Come on, – she laughs, clasping our fingers. "I'm sure we can find a quieter corner. There must be over a hundred rooms here.

I let Riley drag me through the crowd, ignoring drunken dudes making lesbian jokes in our direction. My friend is cute: dark, silky curls, tanned skin, amazing curves, but I was never even the least bit interested in "experimenting" with her.We loved each other like sisters. But the fact that I've never had a boyfriend makes some at school think I'm not interested in boys. And here's how things really are: I have a lot of guys I know. But finding someone worth the time at Connecticut High School proved to be impossible.

Well … almost impossible.

From my point of view, this party is just a sequence of legs and bodies. At five and three feet in height, I am usually referred to as "shorty."Being miniature is convenient for playing hide and seek, but in order to feel like an adult, this is not enough. As well as being treated properly. But in a couple of weeks, the world will have no choice but to confirm my status as an adult girl, because I will finally turn eighteen. The question is how quickly I can get out of town and be on my own as soon as I officially grow up. Riley and I climb the wide staircase and sneak into the master's bedroom, past an unconscious classmate who has a penis drawn on his face with an indelible marker.

Hmm. Few people grow up quickly.

We poke our heads into the master's bedroom and breathe a sigh of relief because this part of the house is much quieter. Maybe we can hang out here and wait out this world shit show.

"Oh, oh," Riley mutters, looking at me with an evil twinkle in his eyes. – Look who's here, Abby.

I peek over my friend's back, looking at perhaps a hundred or so people hanging out in the master's bedroom. It takes me half a second to understand who she is talking about.My stomach clenches as the painfully familiar blue eyes come to rest on me.

– Shit! – I feed, diving behind Riley's back. – I didn't know he would be here!

"The whole school is here, Abby," Riley laughs. "You should have guessed.

– He's too cool for these parties. Oh, never mind, I say, rolling my brown eyes. – Went. I don't think he saw me. Let's just leave …

– Hey, little sister! A rough voice calls from across the room. – What are you doing here? Isn't it time to go to bed?

I groan as the hum of laughter echoes through the room and turn to see Emerson Sawyer, my blue-eyed devil, come towards me.Six feet tall, with broad shoulders, a tapered torso, and well-defined muscles. His head of shaggy, brown hair is skillfully tousled, a strand falling over his forehead. He looks just as great in jeans and a crimson T-shirt as he does in a three-piece suit, his cigarette gripped by full, hard lips.

In fact, my personal nightmare looks like a perfect dream.

– Don't call me that in public. Don't call me that at all, "I tell him, crossing my arms to hide the fact that my heart pounds in my chest as he approaches.

– Why not, little sister? He grins imposingly, taking a long puff.

"Because it's damn disgusting," I answer irritably, tucking my long, ash-brown hair behind my ears. – Moreover, it is not true.

– Of course it's true. In every sense, "he shrugs.

I've known Emerson Sawyer for four years. More precisely, I've heard about him for four years. Our city of Connecticut has two high schools that share a canteen with the senior.Emerson and I went to different schools, between which there is a fairly clear division into students from rich and poor families of the city, but the senior classes are ultimately merged. I spotted him on his first day of high school when he was arguing with our sex education teacher, who is of the opinion about the benefits of abstinence (how could Emerson be otherwise). He had no idea of ​​my existence. Until this year, when two areas of our life, personal and social, were turned upside down.

– What is the problem? Are you ashamed of a brother from a disadvantaged area? Emerson says, tearing me out of my memory.

– Don't pretend, – I throw back, – as if you can't stand a prim, rich girl as a potential sister.

– You are silly, – he decisively answers. "But if it makes you feel better, it's your personality that is to blame, not your money.

I silently look at Emerson, once again angry at his masterful insult.Emerson figured out exactly how to get to me.

About two months ago, I was shocked when my widower father, Robert Rowan, announced that after giving up dating for four years, he found a new love. "Her name is Deborah," he told me. They met at an AA (Alcoholics Anonymous) meeting and hit it off. He talked about her all the time, stayed with her all night, like he was a teenager again, and generally bothered me as hell.

Two weeks later, Dad said he fell in love and wanted to introduce Deborah and me as soon as possible.I reluctantly agreed to stay for dinner the next evening to meet his mysterious crush. We lost my mom, Sydney, in a horrific car accident shortly before I started high school, so the thought of a new woman in my dad's life was hard for me. And yet she put on her best mask of happiness and friendliness, well, as far as possible. I could never say no or get into an argument with my father, so I had no other choice.

The next evening, as soon as the doorbell sounded, signaling Deborah's arrival in our family life, my father asked me to open it.As I walked to the door, he mentioned that Deborah's son would join us. And when I opened it to greet our guest and her plus one, I was so surprised that my jaw almost fell to the floor. Emerson Sawyer stood in the doorway. And from his pure, disinterested look, I could tell that he had no idea who I was.

– What is this? Emerson interrupts my thoughts, grinning, and pulls a metal canteen from my back pocket. A gamut of sensation seared the skin just above my waist as his fingers brushed against my bare flesh.Goose bumps ran from his fingers. As if every cell instinctively reacted to it. I will have to give each of them a stern reprimand.

Emerson unscrews the cap and, without thinking about the contents, immediately takes a sip, uttering a hoarse cry as he tastes the strong whiskey.

– You brought a great thing! He rejoices, throwing his muscular hand over my shoulder. – Must be from Daddy's hiding place, huh?

– Give it back, Sawyer, – command, half-heartedly trying to push him away.To be honest, the feeling of his solid, solid body in front of mine is something that I will never stop secretly desperately daydreaming, but he will never know about it.

– Stop it, little sister. Got to share, "he teases, lifting the flask up so I'm not reaching out. Teasing me with my short stature, or lack thereof, is one of his favorite things to do.

I sigh, refusing to participate in his game. Sometimes I miss the time when Emerson didn't know my name.And when we still did not go to one huge school, where there are about three hundred students in high school. So, for the first three years of high school, I could experience a huge, unrequited crush on Emerson without actually even speaking to him. Emerson plays lacrosse, he is "on the topic." Since our school is extremely diverse from a socio-economic point of view, popularity does not depend on how much money your family has. And if so, then, in fact, I was known throughout the school as "the same shorty girl who constantly draws."But the gods of popularity did not give their preference to me. I'm very small, know-it-all, low-voiced, invisible in the hallways of McCaren High. In fact, I'm now known as the daughter of a guy that Emerson's Hot Mom is dating.

Oh, how sentimental.

"Just give that damn flask back," I mutter, turning on my heels to leave. – In any case, I was going to leave. Enjoy, Sawyer.

But as soon as I try to get out, Emerson comes in my way, his strikingly folded body blocking my way.I bump into his muscles and my hands slam into his stomach. I swallow a groan as I feel his insanely hard six abs under my fingers. I quickly walk away from him, catching Riley's surprised look. She knows all about my feelings for Emerson as she is my best friend. Fortunately, the others in this room cannot see right through me. Especially Emerson.

"Don't be such a bore," he laughs, handing me a flask and putting out a cigarette in a red glass left by someone.- Stay and have fun at least once in your life.

– I'm not a bore. You're just a pain in the ass, "I answer, snatching the flask from his strong hands.

– Hey. I had a difficult childhood, – he says too dramatically, putting his hand on his heart and making a suffering face. – I can't help myself.

– Who am I, Sergeant Krapke *? I ask, laughing against my will. – Leave me alone.

* Sergeant Knapke is the hero of West Side Story, the iconic American musical that has gained worldwide fame thanks to the 1961 film version.It tells the story of the tragic love of modern Romeo and Juliet, whose names are Tony and Maria.

Unsurprisingly, Emerson is so popular with his irrepressible sense of humor, bad boy looks and devil-may-care attitude. He can get any girl in our school. I have no doubts. I've kept a careful count of his girlfriends over the years, and he's certainly not made for "relationships." He hangs out with a new girlfriend every weekend. And it seems that this weekend will not be an exception.

– Hey, Emerson, – a hoarse voice comes from over his shoulder. Two thin, manicured palms wrap around his torso in the back, and a handsome, green-eyed face peeks out from behind.

It hurts my heart to recognize Courtney Haynes, the gorgeous redhead from our school. She is a constant star in every performance of the school theater, talent show and choir concert. She'll probably head to New York after graduation and become one of Broadway's sensations.But now she seems to be very happy in the role of the girl Who-Will-Company-Emerson-Sawyer-Tonight.

I have to admit, I would too.

"Stop it! I reproach myself, shaking off the awkwardness. "You can't love him anymore. Your parents are dating. Plus, he thinks of you as a little annoying gnat … when he thinks of you at all. Pull yourself together, Abby. "

– Hi Riley. Hi Abby, Courtney Haynes says, wrapping Emerson's arm around her shoulder.- Glad that you were able to join my little, noisy party!

– Is this your house? I exclaim, looking around in amazement. My father's house is pretty solid, but hers is truly luxurious. This is the largest estate. Our Connecticut neighborhood is teeming with giant houses, but her family has outdone everyone.

– Yeah. And this is my room, "she smiles smugly, placing her hand in Emerson's back pocket. – My parents were so kind that they gave me the master bedroom and everything else, they are wonderful.

"How cute," Riley says flatly, stepping toward me. Riley's family is from the working class, and the trappings of wealth never really interested her. She never used my family's financial situation against me. But this is only because I am aware of the privilege that comes with a family legacy. She does not tolerate rich kids in our school who seem to be oblivious to what they have. And Courtney is definitely one of them.

1 2 3 4 5 6 7 8 9 10 11 12 13 14 15 16 17 18 19 20 21 22 23 24

Made for each other (2019)

Seventeen-year-old Julia believes in books, destiny and love.She believes that there are people who are made for each other, and every person in the world has an ideal soul mate. Her second half is Mark Bixford. He just doesn't know about it yet.

But what about Chris, her mysterious pen pal? And why is troublemaker Jason Lippincott getting out of her head?

It looks like spring break in London will drive anyone crazy! Especially when you have to choose: walks in Hyde Park or noisy parties to the music of the Beatles? One love for life or new acquaintances?

The e-book released in 2019 belongs to the genre of Romance novels.The subject of the book can be characterized by the following tags: young adult, first love, twists of fate, romantic stories. In the library, you can start reading the book "Made for Each Other" (Lauren Morrill) download a free in fb2 format a fully digitized book for Android. It is also possible to view other editions of the author Lauren Morrill.

Dear reading friends. The book "Made for Each Other" (Lauren Morrill) will make a decent impression on the fan of this genre. Chapter 1 Humiliation at the height of the "Super Travel, Get Off There!" Don't be boring like me.F. ". THE WORLD IS FULL OF SUCKS. Pour milk into a bowl of your favorite Lucky Charms cereal and only then notice that it sour. The way the word "damp" sounds. Stumbling and flying face-first into a plate of food in front of the entire lacrosse team … "Attack of the birds!" Flying in the same plane with Jason Lippincott also sucks. Two rows away from me, Jason raises his hands to the sky, imitating a prayer, while our plane dangles up and down like a bungee. Not that I knew what it was like to jump with a bungee, I would rather take part in a spelling competition in my underpants than volunteer to jump with a rope around my legs.I will at least get a medal for the competition. The plane plummets several tens (hundreds?) Of meters, and I bite into the armrests with both hands. Maybe Jason's prayers and a joke, but mine are very, very sincere: "Lord, please let our plane land safely in London … While we are flying, maybe you can find a way to shut up Jason?" I hate flying. Honestly. I HATE. THIS. Rushing in a metal box at superluminal speed through the clouds is just madness. You could just as well launch people across the ocean from a huge slingshot.I tuck the volume of Shakespeare into the pocket of the chair in front and carefully stack the stack of magazines on the folding table. – We are going down! – Jason again, of course. The plane throws up more than last time, and mine. Reading the book "Made for Each Other" for free online is pleasant and exciting, everything is so harmonious that you want to return to it again.

90,000 Gemini compatibility with other zodiac signs

Gemini and Aries:
Between Aries and Gemini, feelings of sympathy and mutual understanding are quickly born.Love often comes at first sight. And yet a long and happy marriage is not guaranteed here. The main culprit for this is the very superficial feelings of Gemini and the fact that they almost always have everything "double", that is, there is a double size – friends and girlfriends, work and hobbies, houses and apartments, as well as partners in love and marriage. Gemini is a lovely and funny sweetheart for a short time. Surprisingly good agreement between these signs exists when they are united by common ideas and plans, common deeds and goals.Aries as a business partner is a must for Gemini. Gemini gushes with ideas and plans, from which Aries will choose only the most viable, necessary and necessary and, bypassing all the "pitfalls", bypassing all sharp corners, not recognizing any obstacles, will bring them to life.

Gemini and Taurus:
Despite a strong sensual attraction, and a lot in common, this marriage is not viable, not suitable already due to the fact that Gemini, as a rule, are rarely at home, and Taurus is tormented by fits of jealousy and suspicion.Eternal arguments and quarrels are regular guests in this house. Although in this married life Gemini are the initiators of all love and erotic-sexual fun, super-entertaining conversations and strangled conversations, but as partners they are great in the role of "princess for an hour." True, some ideas of Gemini in the hands of Taurus quickly take the form of money or other material values, but, as a rule, they remain with the same Taurus, and Gemini is simply inaccessible. Of course, the latter are not at all happy with this situation, especially if it is of a prolonged nature and is often repeated.Frequent misunderstanding of each other leads to a break in relations and ends in divorce.

Gemini and Gemini:
Both partners come to this bra after many love affairs and adventures, after the first or second divorce. Here, as a rule, only mutual friendship, mutual comradeship, or even simple calculation prevails. Many astrologers call this marriage a "cosmic mistake." True, in itself it is not devoid of amusement, amusement – it proceeds without noise, without shouting, even without jealousy, but also without excessive joy.Each partner has his own "understudy" for marriage and bed from among the former faithful friends. Their inexpensive apartment without too much comfort is empty all day long, and in the evenings too, because there is rarely a case when both are at home.

GEMINI and CANCER:
Gemini are strong in their intellect, and Cancers are strong in their feelings. As a result, there is a significant difference not only in views, opinions and beliefs, but even different reactions to the same stimuli from the outside, from the outside. Hence the complete mismatch of actions.For this couple, possible interests in each other are more spiritual in nature than physical, as a result of which simply friendly relations can be established, but not intimate. In addition, this union is greatly hampered not only by the mutual infantilism of partners, but also by their inconstancy with eternal changeable mood.
In their youth, both zealously and zealously strive into the mysterious distance in search of their pure ideals. And only then, after the first blows and vicissitudes of fate, after the first bitter love disappointments, Cancers close in their shell, and Gemini begin their significant tour around the world.This marriage union does not bring anything good to Cancers, except for continuous sleepless nights and a sea of ​​tears, only expectations and excitements, eternal fortune-telling: whether the partner will come home or not, whether he will go on a business trip or not, and whether he will return from it at all. Yes, someday the Gemini will return, but this is no longer life, but only torment and suffering, but this should have been thought about before the wedding.

Gemini and Leo:
This marriage has not only a strong attraction, but also many common interests.Immediately after the wedding, boredom disappears from the house and there is no need for detectives, validol, valerian and other medicines.
During courtship, Gemini is blinded by the splendor and generosity of Leo, and Leo is impressed by the lightness and mobility, playfulness and gaiety of Gemini. True, after the honeymoon, some cooling often occurs, sometimes reaching a crisis, the reason for which is the negative character traits of the Gemini, especially their indecision, annoying Leo, superficial feelings, criticality and endless delays.All this greatly hurts the pride of Leo, although such misunderstandings are quickly settled thanks to the ability and ability of Gemini to compromise, adapt to any situation. Leos must come to terms with the fact that their twin partner is not at home very often – he is at lectures, at meetings or meetings, or on a business trip.
It is no secret that Gemini's memory is very weak, and the conscience is not very clear, and in the sphere of love and marriage there are endless secrets, secrets, of course, only of a voluptuous nature.True, these circumstances are not very embarrassing for Leo, since their souls are also often covered with "sunspots". Due to the eternal draft in the head and the absent-mindedness of the Gemini, there will always be traces of yesterday's sins in their pockets or in the drawer of their writing desk. And also there is nothing wrong with the fact that the Gemini will return home tomorrow or the day after tomorrow, or in a week or two, anyway he will return and will definitely return.
Crises in this marriage are optional. On the contrary, here a magnificent union of intelligence and strength is possible, but on condition that both partners close their eyes to the sins of the other, and if they glance, then only through their fingers.On the one hand, Leo must moderate his extreme pride and not demand that his actions be immediately recognized, approving them with loud shouts and applause, so that they are endlessly surprised and admired, so that his life-size portrait and golden frame hang in his study next to the portrait of the President. … But on the other hand, Gemini should sometimes be more respectful, sometimes it is worth bowing to his Leo, so as not to cause hidden grief and sadness in him. Both one and the other should stop being listed with their dignity and the title of "bearer of light and greatness" and at least in small things yield to each other.And Gemini must remember that their Leo spouses require a lot of money – a whole royal treasury, for they love glitter and luxury, fashionable wardrobe and show in front of the whole world around them.

GEMINI and VIRGO:
This marriage union consists of a mixture of the life elixir of Virgo and the nervous blade of Gemini. How Virgos can find themselves in alliance with Gemini, these "multi-colored, shiny butterflies" – is simply incomprehensible to the mind. Such a marriage union is "hard" rock for Virgos.Everyone understands that good and useful friendship, excellent cooperation is possible between them. But to make an alliance in the form of marriage is to put yourself at risk. Virgos are the greatest pedants, the most picky, ruthless, toothy critics of the entire zodiac. Their eternal discontent, grumbling, coldness and sobriety collide with the agility and indecision, frivolity and frivolity of Gemini. No matter how hard the Virgos try to re-educate the Gemini, to make them reliable partners in marriage, all their efforts are in vain: what the twins were before the wedding, they will remain so until the divorce.
But there is one condition under which this marriage is possible – when the Gemini takes this step for calculation, for material reasons. He can do this only consciously, since such a union forces him to "anchor" for a long time, to put up with the order and prescriptions of the Virgin. But what about? The twin simply has no way out – either to obey and be provided for, or to leave, remaining a "naked falcon", albeit free. But most often Gemini still have such prudence, avoid all possible "sharp corners" and become "goodies" for the good of peace and quiet in their own home, to which Virgos respond with patience and rationality.

Gemini and Libra:
A marriage between them often ends in divorce and separation. In addition, fatal separations of a different nature very often occur. In this union, intellect and feelings are combined, and in a joint experience, the ability to love, flatter and the art of living are born. Gemini every day on a silver tray bring their brilliant ideas to Libra, and Libra is already pouring them into the forms. The best in this union is the mutual ability to rejoice, have fun, have fun and enjoy together, both love parties and companies, jokes, humor and satire, the world of arts.Both partners do not tolerate being alone, which is their worst enemy, and they try to get rid of it as soon as possible and quickly – by marriage or marriage.
Libra works hard, but keeping such a "bird of paradise" like a twin in its cage requires great expense. In addition, in order not to anger their master or mistress very much, each Gemini should study well all the distinguishing features of a partner. First, Libra is trying very hard to please everyone. Having innate beauty and good taste in everything, they are great at spending money, which Gemini must constantly remember.Secondly, Libra loves and wants to be recognized and adored, to be forever praised and flattered by them. If all this is sacredly observed, then this marriage union will last even for several years in a row, or even more.

Gemini and Scorpio:
There are often divorces, fatal separations and widowhood. This couple can only be united by common interests and business cooperation, co-authorship. Both physical and spiritual harmony can exist between these partners, but their marriage union will always be problematic.Their life together will always be overshadowed by Gemini – his elusive disposition, endless girlfriends and eternal wanderings around the world, and from Scorpio – his strong and possessive character, morbid jealousy and eternal suspicions, constant disputes and quarrels, clarification of relationships, scandals, leading to divorce. Scorpio is an autocrat, and Gemini is only his vassal and subordinate, but if he wants to live in peace and abundance, he must obey, since there is no other way out, otherwise only parting is possible.

GEMINI and SAGITTARIUS:
This marriage is not distinguished by prosperity, since these signs are in opposition in the horoscope (complete opposites), and both partners look at life each from their own bell tower, have their own point of view. Although this to some extent enriches their spiritual needs, raises their level, all the same, except for strife and discord, this marriage can bring nothing. The fact that both strive for all kinds of changes, fractures and rearrangements, gravitate towards everything new, unknown, untested, that both constantly change their views and beliefs, opinions and worldview, like eternal mental anxiety, shake the nervous system and psyche and only aggravate and complicate the problem of this marriage union.True, boredom here has nowhere to take root and has no time, for it immediately uproots. And yet the day comes when these two meteors both flew together and scatter, so that they will never meet again on the path of life.

Gemini and CAPRICORN:
Here, mutual understanding and relationships are possible only in friendship and business cooperation. Long-term marriage between Gemini and Capricorn is very, very problematic.

Gemini and Pisces:
This marriage is fragile and short-lived.Harmony is impossible here for many reasons. First of all, it is a different temperament. In Pisces, sensitivity and sensuality prevail, in Gemini – frivolity and frivolity. Rich imagination and vivid, vivid imagination, as well as excessive sensitivity and impressionability in Pisces, often cause a "storm in a glass of water" in Gemini. Pisces need comfort and peace, pleasure and enjoyment, a reliable and confident life, harmony in their own home. Pisces, with their warmth, is alien to the cool atmosphere of Gemini intelligence.And if for Gemini this marriage is just another entertainment, then for Pisces it is only excitement, torment and suffering. Even if at first everything goes as well as possible, then over time the picture changes. When the Gemini has already studied and disassembled his partner "to the bones" enough, his interest begins to wane until he completely disappears. If for some reason they stay together, then quite often alcohol becomes the third in this marriage. And the final result in this case does not require comments.

Gemini and AQUARIUS:
Between them, not only friendship and cooperation is possible, but also a very noticeable and funny marriage union – with original ideas, ventures and plans, with knowledge of the secrets of the art of love and sex. This marriage is lively, brisk, but very, very unsecured, since the material side is weak for both one and the other partner. They do not pursue titles and titles, completely rejecting the hoarding and philistine way of life.
They seem to be specially made for each other.Often love here arises at first sight, and there is nothing surprising here, both are ready to flutter like two butterflies, coo like turtle doves, especially under the cover of moonlit nights, which end with fun of an intimate nature. Both partners love freedom of feeling and independence of thought. Their credo: "the same rights in everything!" Aquarius, rather passionate in the field of love, nevertheless, does not rush to an official marriage and formalizes it in a legal way only when necessary. To do this, the Gemini has to work hard, using eloquence, declarations of love and analogies with biblical texts, and purely psychological conversations, and just like that, Gemini will not force his Aquarius to cross the threshold of the wedding palace.And there is hard work ahead – to convince Aquarius to get down to business in order to distract him from the desire to admire castles in the air.
If the Gemini manages to make sure that Aquarius does not feel violence, coercion, if he has a feeling of voluntariness of what is happening, of his own initiative, then the life of these partners will improve.
In this marriage, boredom is unthinkable. The reasoning and speculation of Gemini Aquarius transfers calmly, stoically, sometimes even assent. But something "winds on a mustache".If the Gemini were even more tactful and accurate, the marriage would be very successful.

Gemini love horoscope

Loving a Gemini man is easy and pleasant, if only you do not give it up with all your passion. He has a certain spiritual essence peculiar only to him, which he will not share with anyone.
There is no need to complicate and dramatize the relationship, you need to treat everything calmly and simply, do not bother him and try to awaken his imagination all the time.Not to protest against his fickleness, but to change with him. You need to be a lively, interesting interlocutor, because the most important thing for Gemini is the intellectual level of the partner, he will give preference, first of all, not to outfits, but to a brilliantly honed mind.
Gemini, as a rule, marry more than once, although the later the marriage is concluded, the more likely it is that it will last for a long time, maybe forever.
Gemini has the ability to read secret thoughts. A Gemini man in love brings with him a sense of security from the outside world.Gemini is ready to help always and in everything. But almost every rule has an exception.
Secret love affairs often end in failure. Their feelings are superficial.
In early adolescence, the Gemini woman is absolutely unpredictable and love for her is just a game. But the older she gets, the more interesting it is to communicate with her.
With the greatest strength, she manifests herself in love, since it is love that is the area where the female essence, her wealth and complexity of nature are best revealed.
She is sentimental and romantic, charming and intelligent.No one can compete with her in ingenuity in love. You will never get bored with her.
To be confident in the constancy of the Gemini woman, you must always be with her, remind of your presence. She does not know how to control her emotions and feelings, she is subject to frequent mood swings.
They are attracted to Aquarius and Libra, rarely find mutual understanding with Taurus, looking for Leo, Aries, Cancer, must avoid Pisces and Scorpio.

How to seduce a Gemini

From the first minutes it will seem to you that you have known Gemini all your life.The conversation is full of different ideas, witty remarks, interesting events. It's funny for you, even though you didn't listen to the end. Life seems much more fun than before meeting him.
It's good to invite two people born under this sign to a party, and you don't have to worry – success is guaranteed. Gemini will not let you fall into apathy. They attract people with the brightness of nature, boredom is their first enemy. They are intrigued by the unknown. Try to arrange the date in such a way that he or she doesn't know where they are going until they get there.And try not to be too disappointing for them! Just having lunch with the Gemini and drinking wine is never enough. Everything should take place in a new and unusual place. It doesn't have to be expensive (although a Gemini would have no objection to that), but it should certainly be custom.
Be alert and alert if you want to get Gemini's attention. Don't let it be too quick to know that you are fascinated by them. They prefer light mystery and are carried away by those who are completely incomprehensible to them, who have secret depths.Remember – Gemini is extremely curious.
The key word is imagination. Bring him or her to a truly select society, where celebrities are visiting or brilliant talk and entertainment await you. If that doesn't work, try a masquerade. The ingenious costume will intrigue Gemini.
Do not neglect daytime activities such as art museums — especially private collections, concerts, or book exhibitions. Gemini is intelligent!
When dating, try to avoid the usual local movie theater or restaurant.Go rollerblading, play mini golf, watch a lacrosse match, or attend a yoga class. Introduce Gemini to those "socially awkward" friends whose rare qualities have not yet been discovered. Soon, Gemini will discover such traits of their character and get to the bottom of such that you did not even know.
Let Gemini lead the conversation. They can do this without outside help, but be a good listener.
Wear them out with your role as an attentive listener, and they will agree to fall in love with you.
When you go out, try to make Gemini's famous duality work for you. Never plan just dinner or just a movie. Plan for both. If the Gemini man is unable to pay the lunch bill, offer ice cream or a light snack late at night. When you're discussing the movie you just saw, don't be too lazy to move on to a little lovemaking. Twins of both sexes know how to successfully do both at the same time.
Be sure to encourage family activities. Agree if you are asked to watch a home movie or skim through a family album. You can easily go to love joys at any time. Gemini will not mind as they can combine one with the other.
If you hold extremist or fanatical beliefs in religion or politics, you will not get along with Gemini. They, shrewd, liberal and tolerant by nature, will not be able to deal with limited people.
Gemini loves gossip, so save the most exciting stories for them, read from magazines or newspapers, or heard from people you know. They will make some scathing remarks, especially in the area of ​​morality, but don't take it seriously. It does not reflect the true attitude of the Gemini. They have one set of opinions about the behavior of other people and the exact opposite – about their own.

***

Zodiac Sign Pages

| | Gemini | | | | | | | | |

***

Voice greetings for the New Year 2022

.