How old is lacrosse: 5 cool facts about the Indigenous origins of lacrosse | Explore | Awesome Activities & Fun Facts
5 cool facts about the Indigenous origins of lacrosse | Explore | Awesome Activities & Fun Facts
Mekwan Tulpin, a Cree from Fort Albany First Nation, is helping coach Team Ontario lacrosse. (CBC)
So you think you know all there is to know about lacrosse, Canada's official summer sport? Maybe you even play the sport yourself. But I bet we've got some facts about the Indigenous history of the sport that you've never heard before!
1. What is lacrosse?
Indigenous lacrosse teams have been playing competitively for a very long time. These players were from the Kahnawà:ke lacrosse team from Montreal, Quebec, 1876. (public domain)
Lacrosse is an action-packed, fast-paced sport played with ten players per men's team or twelve on a women's team.

The players use sticks with nets on the end to throw a ball to each other, moving up the field to score on a goal at the end of the field.
They call it the fastest sport on two feet!
---
2. Where did lacrosse come from?
There are no photos from 500 years ago, but there are paintings. In this one by Charles Deas, young Sioux warriors play lacrosse in 1843. (public domain)
No one really knows who invented lacrosse. But we do know that First Nations people first played it all across Canada over 500 years ago.
Each nation had their own version of the sport but they all played it to thank the Great Spirit — called Gichi-manidoo
in Anishinaabe — for the life and gifts they had been given.
Lacrosse was played for fun, as part of festivals, to settle tribal differences or to prepare warriors for hunting and battle.
---
3. Why is it called lacrosse?
Drawing of an original lacrosse stick from "Lacrosse: The National Game of Canada.

" (public domain)
Before it was called lacrosse, the Algonquin called the sport baggataway and the Iroquois called it tewaarathon.
Legend has it that it was named lacrosse by French settlers who thought that the stick looked like the staff carried by their Bishops at church, called a

crozier. In French, the crozier is called a crosse. The settlers watched the Indigenous people playing their game and called it "la crosse."
---
4. How did the First Nations people play lacrosse?
In a lithograph by artist George Catlin, he shows Indigenous lacrosse players holding sticks made of wood with sinew nets at the top. (Public Domain)
Lacrosse was originally played with a wooden ball, which was upgraded to a ball made of deerskin and stuffed with fur. The wooden sticks were topped with a net made of deer sinew.

In a painting by George Catlin, he shows how a Choctaw lacrosse game in 1834 had hundreds of players on the field at the same time.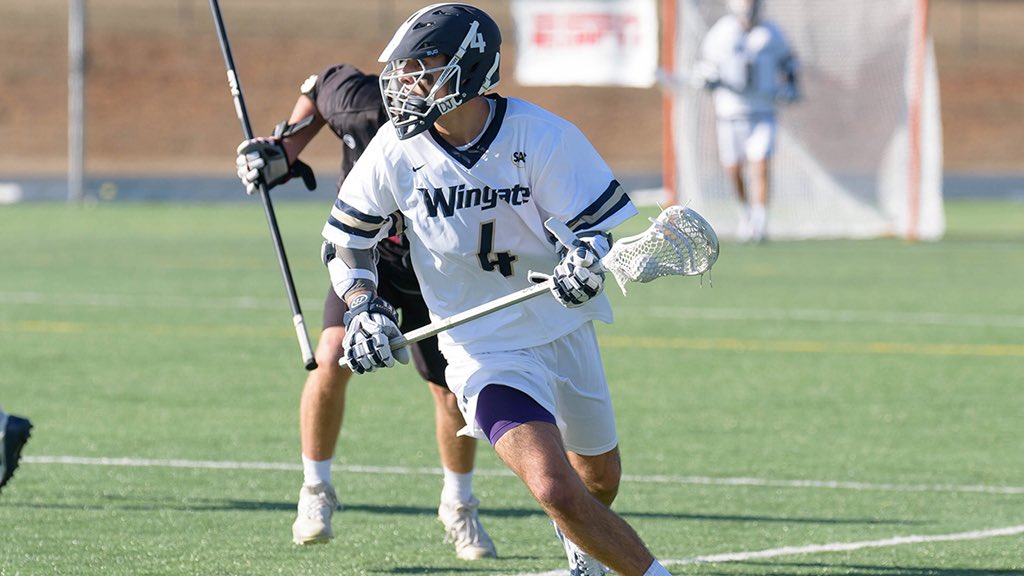 (Public Domain)
Instead of a ten-player team playing a one-hour game, originally there was no set number of players. Rumour has it there were games where up to 1,000 players from many villages would participate over a period of many days.
The field length changed to suit whatever area was available. Instead of the current length of 100 metres, the field could be 460 metres or many kilometres long.
Lacrosse games were huge events! Although women didn't participate in these games, they did have their own version called

amtahcha, which had shorter sticks.
---
5. The tale of Mong the loon and Kaikak the hawk
Lacrosse isn't just a cool sport, it's also a very important part of Indigenous culture. According to an Ojibwa legend — Why Birds go South in Winter — lacrosse also plays a special role in nature. The legend goes like this:
 
Long ago, there was only summer. The days were always warm and sunny.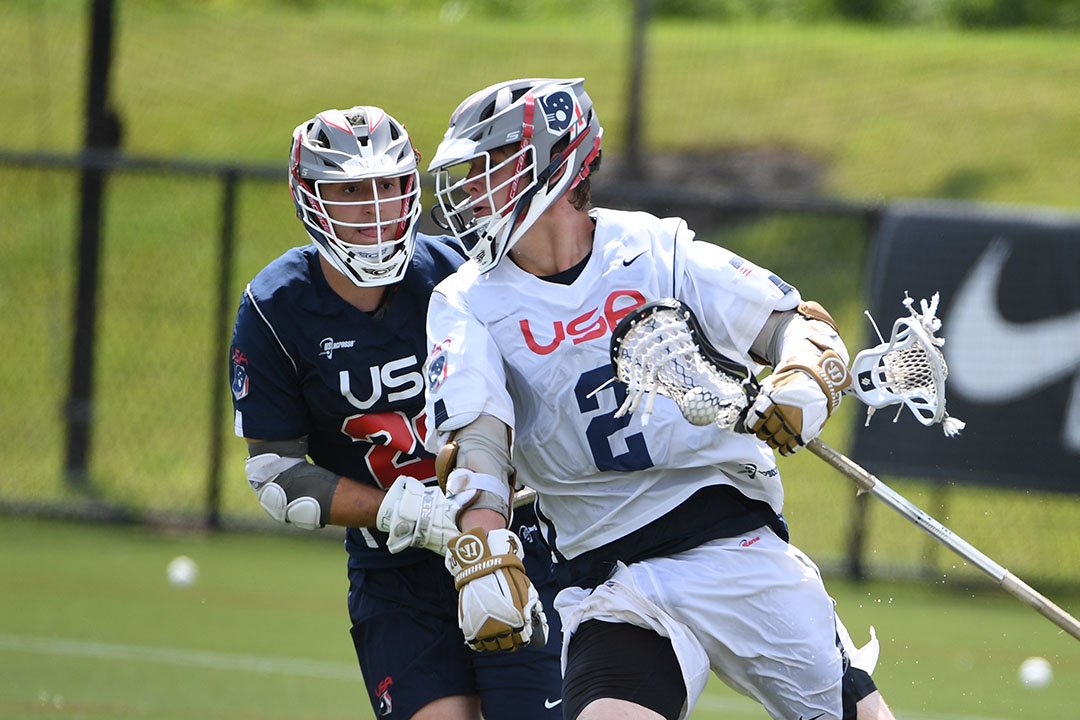 Winter and snow were unknown. Mong the loon was no different than the other young birds. He played all their games. But most of all, he loved to play lacrosse. The trouble was that his friends didn't always want to play lacrosse.
Mong decided to challenge the other birds to a match. No birds wanted to play except Kaikak the hawk. But Mong's team lost all the matches and bets he made with Kaikak. His penalty for losing?
Every year after that, the north wind brought the cold winter and Mong and his friends had to fly to the south. If Mong had not been so eager to play lacrosse, winter would never had come. (From CBC Archives)
 
You can read the whole story and more stories like it in the book Tales the Elders Told: Ojibway Legends (Basil H. Johnston), which you can probably find at your local library.
Accounts Of The Original Lacrosse Game
Author's Note: Connor had an interesting request for an article on the "Why's Of Lacrosse".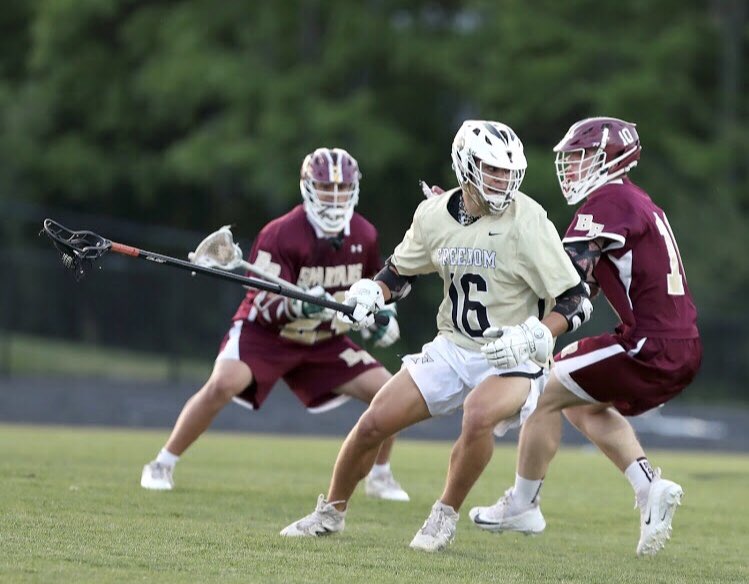 Specifically, he wanted to know why certain rules are the way they are. For example, why is the goal 6'x6′? Why can't you grab the ball with your hand? He wanted to know the historical context that gave rise to the rules of lacrosse as we know them now. I started looking at old rulebooks to give me an idea on where to start, but they only went back so far. I wanted primary accounts on the original rules of lacrosse, so I dug deeper and found "Lacrosse: The National Game of Canada" by William George Beers.
William Beers is considered by many to be the "father of modern lacrosse", because he established the first set of standardized modern rules. His motivation for developing rules, as you will discover in this continuing series of posts, was to make the game more "scientific", and to thus allow less well-conditioned white Canadians the opportunity to play the sport without collapsing on half-mile long fields, which were customary for Native American tribes to play on at the time.
Published in 1869, "Lacrosse: The National Game of Canada" is an excellent primary source account of the beginnings of the standardized men's game, and an excellent secondary source account of how the game was originally played by Native Americans.
To fully appreciate these posts you must also try to understand the mindset of William Beers and those that he quotes. Many of the quotes I will present describe Native Americans as: Indians, the red man, barbarians, wild people, and savages. White Canadians are described as: pale-faced, civilized, scientific, and rational. As with any primary account of history, readers need to know the context of the times, and keep it mind when reading. This is not the way a current account would be written.
At the time, William Beers was attempting to codify rules that would appeal to white Canadians, who generally viewed lacrosse played by Native Americans as violent and barbaric. In order to sell the sport to his fellow countrymen, Beers developed rules that reinforced the prevailing belief of the times (mid 1800s) that the white Canadian man, while not even close to being athletically on par with a Native American, was certainly more intelligent, and would benefit from a game played scientifically instead of barbarically.
There is a consistently held view in Beers' book that the Native American player was similar to an ancient Greek Olympian in athletic ability and stature, and their athletic prowess is constantly praised through a variety of quoted sources. Since the white man could not compete the way Native Americans competed, new rules were needed in the mind of Beers and others, and that is the mindset you should keep in mind to get the most out of these posts.
Since the copyright expired on Beers' book many years ago, I am not bound by proper in-text citation rules. Still, I want readers to be able to locate what I quote if they choose to download his book on Google Books. To that end I will end each quote with a short citation that will list the quote location in the original text followed by the page in Google Books. For example, (5, 28) designates page five in the original text, and page twenty-eight in Google Books.
Now that the stage has been set, let's examine this week's post on how the game was originally played by the Native Americans, according to William Beers and his contemporaries.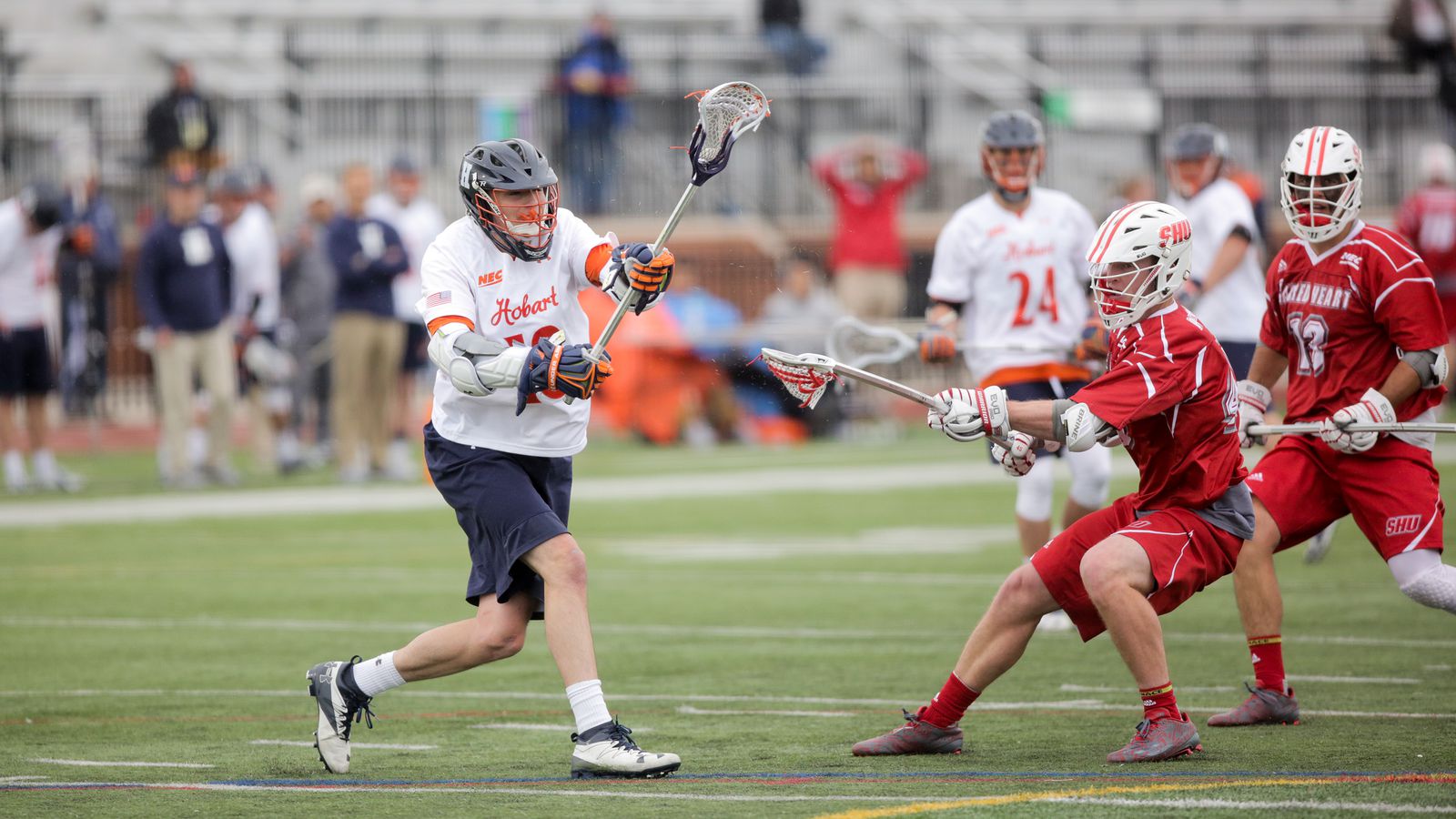 Origin
With any historical account it is best to start from the beginning: "An Algonquin who was asked the origin of his race pointed to the rising sun. So may we as indefinitely answer the query, 'When and how did the game of Lacrosse originate'" (5, 28)?
The actual origin of lacrosse is a mystery and to point at the rising sun is as good an answer as any. Plus it lends a great degree of mystique and intrigue to the game, after all we know when, where, and who invented basketball, but lacrosse has a history so long that it's origins remain mythical.
One of the first accounts of the game was in huge praise of it: "It was emphatically a sport, and brought out the very finest physical attributes of the finest made men in the world, – the impetuosity and vigor of a wild nature let loose; and compelled its votaries, in its intense exercise, to stretch every power to the greatest extreme" (9, 32).
One of Beers' contemporaries, a man named Catlin, describes the game as such: "'I pronounce such a scene, with its hundreds of nature's most beautiful models denuded, and painted various colors, running and leaping in the air in all of the most enlivening and varied forms, in desperate struggles for the ball, a school for painter or sculptor equal to any of those which ever inspired the hand of an artist in the Olympian games or Roman Forum'" (28, 51).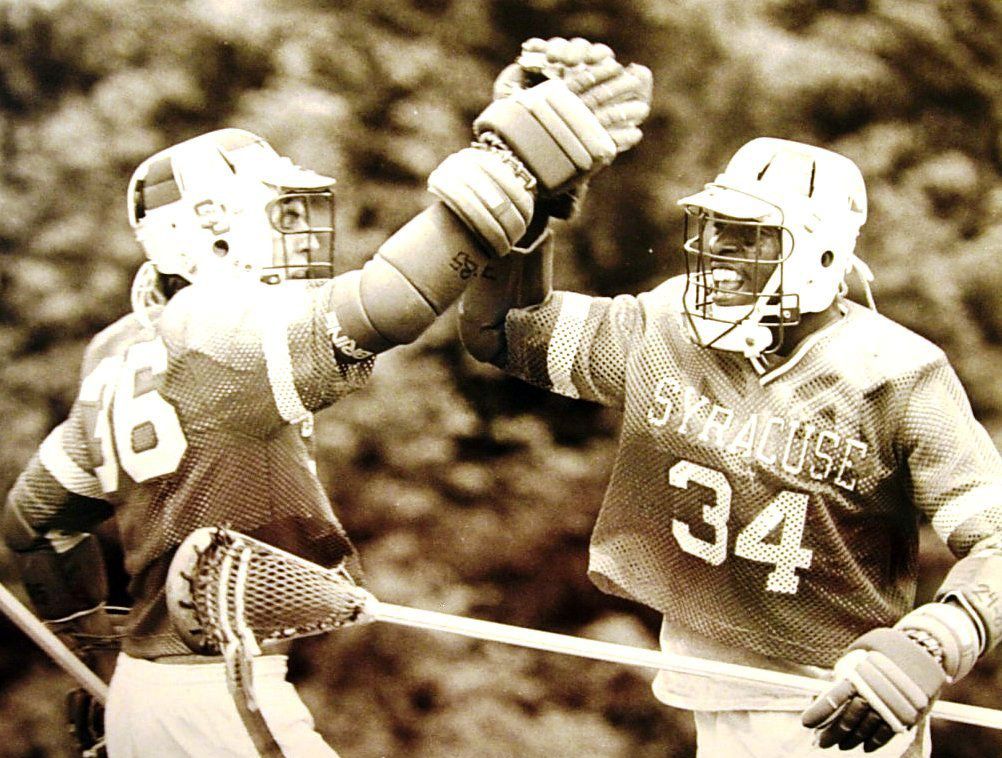 The Crosse
The game of lacrosse is nothing without the crosse, and before going into the game itself we need to gain a keen insight into each aspect that made up the game.
Crosses were made of wood, and across multiple tribes there were no crosses longer than four feet. What we would today call the head of the crosse was generally just large enough to hold the ball and "the network of strings were originally of wattup, the small roots of the spruce tree as used for sewing bark canoes; – afterwards they were made of deerskin" (11, 34). During grand matches or special events the crosses would be decorated with feathers or dyed different colors. Proving that stick customization is not a recent development.
According to the text, the Choctaws, Cherokees, and Creeks typically used two sticks during play. The player carried the ball by sandwiching it between the heads of both crosses. While we may consider that a harder way to carry a ball, among the Native Americans one stick play was seen as far more difficult when trying to control the ball.
The Ball
"The original ball was about the size of a tennis ball and was first made of deer-skin or raw-hide, stuffed with hair and sewed with sinews" (13, 16). Some tribes used a wooden ball, while others made do with tree bark fashioned into a ball shape.
The Goal
Generally, the agreed upon goals for a game were a convenient rock or tree. "At grand matches, however, the Indians were more particular, and used for each goal a single pole or stake, eight feet high and two inches in diameter, or the two pole goal at present. The distance from the goal to the other varied in proportion to the number of players, from five hundred yards to half a mile and more. The Poutawatamies, Sioux, Dacotahs, Cherokees, Sacs, Objiways, Iroquois, Algonquins, and nearly all tribes used the one pole. The four former merely required the ball to be thrown past the line of this stake; the Objiways, Iroquois, Algonquins […], required the pole to be struck with the ball" (14, 37).
Think about the difficulty of scoring a goal according to that quote. You are carrying a ball with two sticks and you have to hit a two-inch diameter pole in order to score. Players today are angry when they hit pipe, but that was the name of the game if you were playing with the Iroquois tribe!
Goal size varied tremendously from region to region. "The Choctaws, seen by Catlin, used two stakes for each goal, twenty-five feet high, and six feet apart, with a pole or goal-line across the top. The Creeks in Alabama used two stakes, six feet high and six feet apart" (14, 37). Unsurprisingly, you see these measurements in legal 6'x6′ goals today. Legal goals nowadays are six feet high by six feet wide, have pipes nearly 2 inches in diameter, and have a goal line. The only major differences between the goals the Creeks used in Alabama in 1828 and those used now are the addition of a net and the orange paint.
The Game Director
He was in charge of where the goals went and gave speeches to the players prior to the game.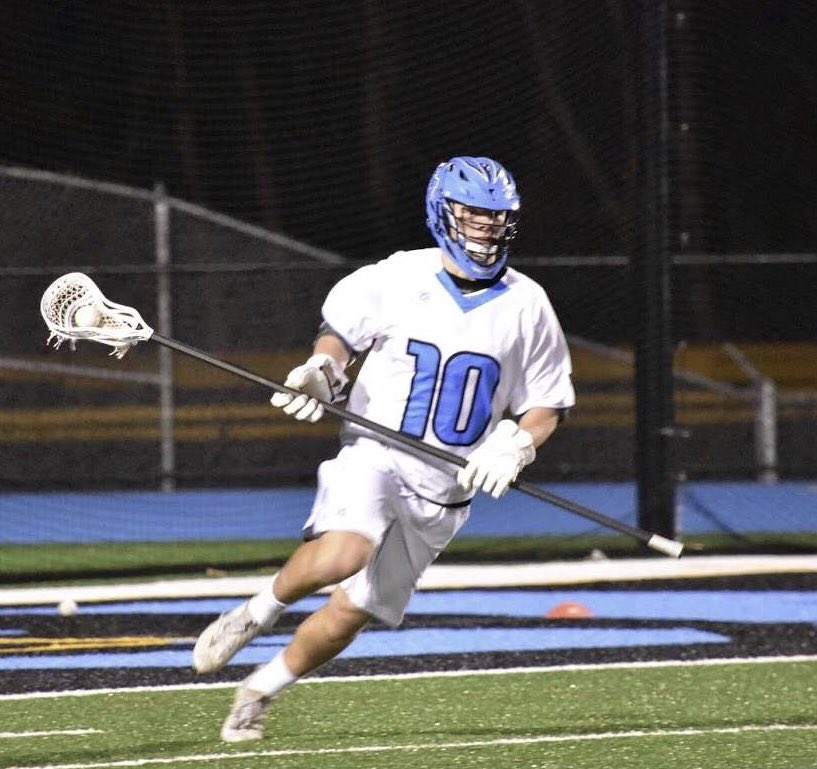 It is noted that he was sometimes the best player and typically the most agile runner.
"The old chiefs seated themselves on the ground with ten small sticks, with which they kept the score of games; pulling all out when they got to 'eleven,' and replacing one to count ten. Matches consisted sometimes of ten, twenty, and one hundred games, and often lasted two or three days" (23, 46). I found no mention of typical game length. I suppose that, reminiscent of Fight Club rules, games went on as long as they had to.
The Umpires
Designated umpires were the older medicine men of the tribe. Their decisions were always final. "Four of the most antediluvian medicine men who were to act as umpires on the following day, were seated at the point where the game was to be started, solemnly smoking and praying of the Great Spirit for impartiality in judgment" (18, 41). Three observations here: First, let an official try to smoke or drink before a game starts in any sport in the 21st century and they will quickly be out of a job.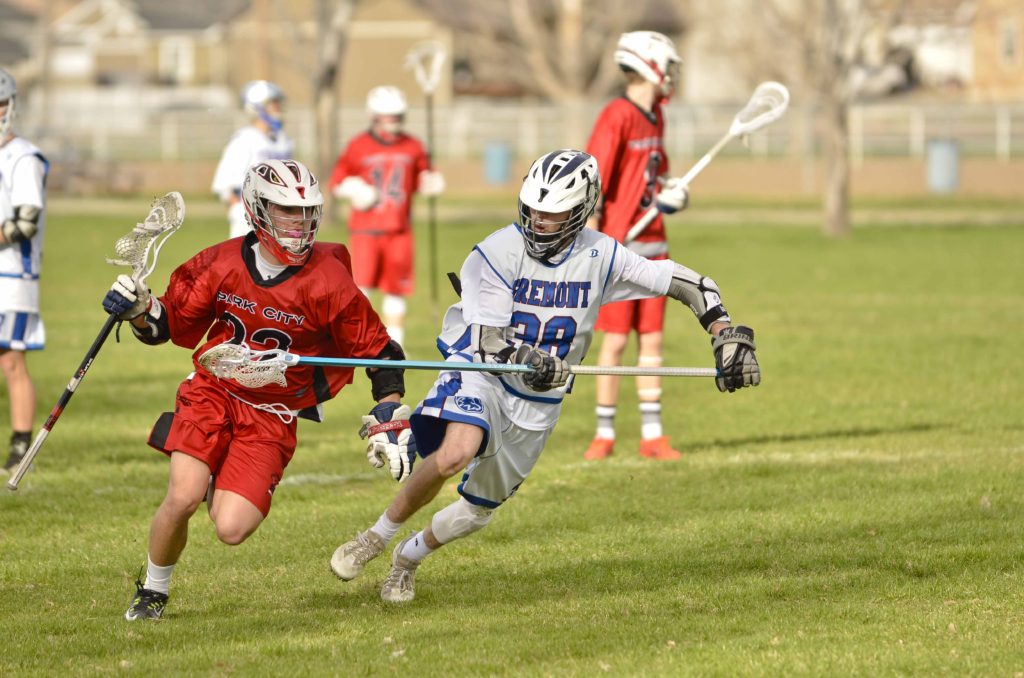 Second, in the context of this writing, antediluvian likely means the author believes the medicine men to be "primitive or outmoded." Third, I often say a quick prayer before a game that generally goes, "Please God, let me not screw up!"
Player Uniforms
Early observers saw Native Americans playing lacrosse nearly as nude as Olympic wrestlers during antiquity. Lacrosse players typically wore a small cloth around their waist.
When playing in big games players adorned their bodies with beads, feathers and paint. It was also observed that many players wore a tail made out of horse hair or dyed porcupine quills. Exactly why players wore this tail is never specified. Beers notes that the "Poutawatamies always wore moccassins" (16, 39). Since this distinction is made it is reasonable to assume that many other tribes played barefoot.
Game Preparation
By far one of the longest sections in Beers description of early lacrosse is how the tribes typically prepared for a game.

There is way too much to mention, but I will go over the major points. This section can be found on page 16 of the text and page 39 of the Google Books.
Individual preparation varied, but approximately two weeks before a game players would follow a similar routine:
"Competitors were to fast from all excesses, eat little food and harden themselves by every possible means for the exertion in anticipation [of the game]" (15, 38). When the field could be as long as half a mile it paid to be mentally as well as physically strong.
Before a game the players would gather around a large bonfire near a river or lake near midnight. While holding their sticks they would dance around the bonfire, contorting their bodies and screaming into the night air. When they got too hot they would plunge into the cold water and then resume their dancing after they cooled off. This continued through the night with many players staying awake until sunrise.
Game Day Pre-Game Buildup
When everyone gathered at the game location it was time for betting to begin.

It was observed that every warrior placed bets on the game outcome, but more interestingly, women were seen to carry betting to outrageous excesses and even children "wagered their childish toys" (21, 44). Once the betting was finalized the players retreated to opposite sides of the forest where they would try to intimidate the other team through shouts and yelling.
With the players in the forest the Game Director would set the goals and put a stake in the middle of the field. The size of the field of play was extremely variable and usually based on the number of players involved. "The wildness of the old game is graphically [sketched] by Catlin (who saw it played by 600, 800 and 1000 Choctaws and others, at a time)" (24, 47). It is reasonable to assume that more players equaled a bigger playing area, but this is not specified.
Once the field was set the player came out of the forest and continued their shouting. While advancing towards the center of the field the wives and lovers of the men playing came out and bestowed beads and other tokens to their favorite players.

Beers notes that, "these savage lovers wore [the tokens] during the game as faithfully as the most chivalrous knight of the 12th century ever carried a lady's glove in combat" (21, 44).
The players next advanced to opposite sides of the center stake roughly a yard apart and set their sticks at their feet on the Umpire's signal. At which point the opposing sides were counted. How long the counting took with players numbering above five hundred is not mentioned.
Finally, the players picked up their sticks and took their positions for the start of the game.
Game Play
Games generally started at 9:00am, likely because the sun was up and would stay up for many hours to come. Games started in one of two ways. Either the Game Director put the ball on the ground and everyone rushed towards it on his signal, or the ball was flung high into the air and everyone rushed forward to catch it. The latter was the more common way of starting a game.
One rule that has stood the test of time is that, "it was never allowable to pick [the ball] up from the ground with the hand, but it was customary to use the hand in tapping or blocking it away from the body" (24, 47).
That rule evolved to what we have today as the goalkeeper, while in his crease, is the only player permitted to block or tap the ball away with his hand. However, even he is prohibited from picking up the ball.
There were no boundary lines; players went where the ball went. Which meant into crop field, forests and even into spectators! "When the ball fell among the spectators, the players leapt into them like a whirlwind, with as little regard for their safety as their own, and there was a well known art among the spectators of saving oneself from much tumbling and contusion by embracing the nearest tree and holding on like grim death until the rush of players had passed" (25, 48).
A man named Basil Hall made this description of a player maneuvering through the woods: "He was obliged in most cases to make a circuit of many hundred yards amongst the trees, with thirty or forty swift-footed fellows stretching after or athwart him, with their fantastic tiger tails streaming behind them, and he, in like manner, at full speed, and holding his stick as high over his head as possible, sometimes ducking to avoid a blow, or leaping to escape a trip, sometimes doubling like a hare, and sometimes tumbling at full length or breaking his shins on a fallen tree, but seldom losing hold of his treasure without severe struggle" (26, 49).

One aspect of the game I found most interesting was Carver's description of the lack of disputes between players during games: "Carver saw it played by Indians, whom he says played with such vehemence that broken bones were no rarity, 'but not withstanding, there never appears to be any spite, or wanton exertions of strength to affect them; nor do disputes ever happen between the parties'" (28, 51). Let that stand as a lesson to all current players when you complain about getting pushed from behind off the ball. Seemingly, a Native American in the 1800s could break his forearm and still not go after another player in revenge.
Wrap Up
I could try to approach the eloquence that the next writer expresses in his description of the original game, but I would fail miserably. I leave you with an account by a man named Lanman:
"The Olympic beauty of this game is beyond all praise. It calls into active exercise every muscle of the human frame, and brings into bold relief the supple and athletic forms of the best built people of the world.

At one time a figure will rivet your attention, similar to the Apollo Belvidere, and another, you will actually be startled by the surpassing eloquence of a Mercury" (29, 52).
Now that you have knowledge of how the original game looked, you'll be prepared for next week's post on what the men's game looked like with the standardized rules developed by William Beers.
Editor's Note: If you're interested in reffing or learning more about the rules of lacrosse, check out Gordon's book, "Advancement Rules: Improving Your Lacrosse Officiating", on Amazon!
Games – Mississippi Valley Archaeology Center
Thousands of games were played by Native Americans across the United States and some continue to be played today Most games can be divided into two categories: 1) games of dexterity, and 2) games of chance.
Games of dexterity usually involved some type of physical skill while games of chance sometimes included "dice-like" objects or are games with a component centered around guessing.
The games highlighted in this section of the web site were played by Native Americans in this region and also by tribes from the plains.
Games of Dexterity
Games in this category involve the physical skill of the player(s). Skilled hand-eye coordination is reflected in games, such as archery, chunkey, and snow snake, which require shooting/throwing at a moving or stationary target. Good hand-eye coordination is also required for games such as ring and pin toss. Other games, such as the complicated ball games of lacrosse and double ball, require dexterity and stamina.
Archery
Unknown boys playing with bows and arrows
(Ho-Chunk, Cheyenne, Crows, Oglala & Teton Dakotas, Iowa, Omaha and Pawnee)
Archery involves shooting a target with a bow and arrow. As young boys played games with bows and arrows they developed technical skills that they would use as adult hunters.
Chunkey
Chunkey stone
(Ho-Chunk, Hidatsa, and Mandan)
In this game a chunkey stone was rolled over the ground or ice while several players threw spears in an attempt to indicate where the stone would stop rolling.
The closest to the final location of the stone, without actually hitting the stone, was the winner. The chunkey stone is the only specifically recognized game piece that has been recovered from archaeological sites in the La Crosse area.
Double Ball
Replica double ball game pieces
(Ojibwa, Menominee, Cheyenne, Cree, Sauk & Foxes, Omaha, Santee Dakota, and Pawnee)
Double ball was a woman's game resembling Lacrosse, that involved tossing, catching and swift running. The players used curved sticks and a double ball, which consisted of two small oblong deerskin bags joined together by a deerskin thong. The object of the game was to get the ball over the opponent's goal.
Lacrosse
Lacrosse stick
Green Cloud holding a lacrosse stick, unknown woman and child
(Ho-Chunk, Ojibwa, Sauk & Foxes, and Shawnee)
The stick and ball games of the woodland people known as Lacrosse is a very old game.  The ancient cities of Mesoamerica where already playing ball games symbolizing the movements of celestial bodies.
  This  traditional sport moved north along trade routes, along with its religious philosophies of the universe and creation and were acculturalated into existing woodland culture.  The original unlimited number of players and lack of boundaries represented the infinite number of stars in the night sky.  The game of Lacrosse for Native woodland people is as ancient as creation itself.
Even today one can recognize the prehistoric religious symbolism of Lacrosse and its twin, the "little brother of war" (war club) at Wisconsin effigy mound sites.  The panther and linear mounds and their associated conical mound reflects this religious symbolism of events in the celestial sky above.  Thus Lacrosse is known by native people as the "game of creation".
Lacrosse served woodland people both religiously and as a practical cultural teaching.  It trained men for war, provided a neutral field for cultural exchange and trade, created political alliances and settled disputes.    Lacrosse also helped to reinforce religious beliefs and tribal cohesion.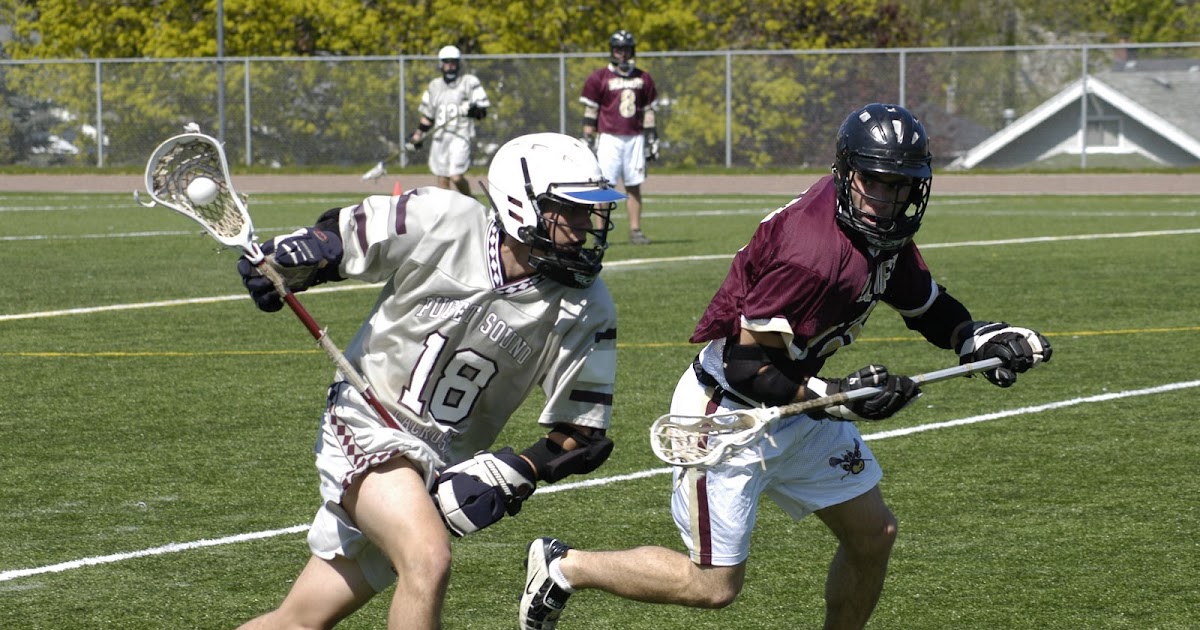 This native ball game was the cultural fabric that provided woodland people a stable society in which to live.
Today lacrosse is played locally, at colleges and internationally.  In today's military, the U.S. special forces have found that Lacrosse players have the highest graduation success into this American elite warrior society.  Under the guidance of Oren Lyons of the Onondaga Nation, the Iroquois National Lacrosse team is the only Native American sports team that competes on the international level.
Lacrosse description written by Jay Toth.
Ring and Pin
Replica of ring and pin
(Ho-Chunk, Sauk & Foxes, Ojibwa, Cree, Cheyenne, Oglala & Teton Dakotas)
This game required good hand-eye coordination. A ring was attached to a thong or cord which was then attached to a pin. The ring was swung in the air with an attempt to catch it on the pin. Woman and girls typically played this game. A similar European game is the cup and ball toss.
Snow Snake
Illustration of snow-snakes
(Ojibwa, Crows, Dakotas [Oglala, Tenton & Yankton], Hidatsa, Sauk & Foxes, Pawnee, Cheyenne, and Cree)
The Winter Game of Snow Snake
The "snow-snake" is a long slender, polished wooded stick that ranges from 3-9 feet in length.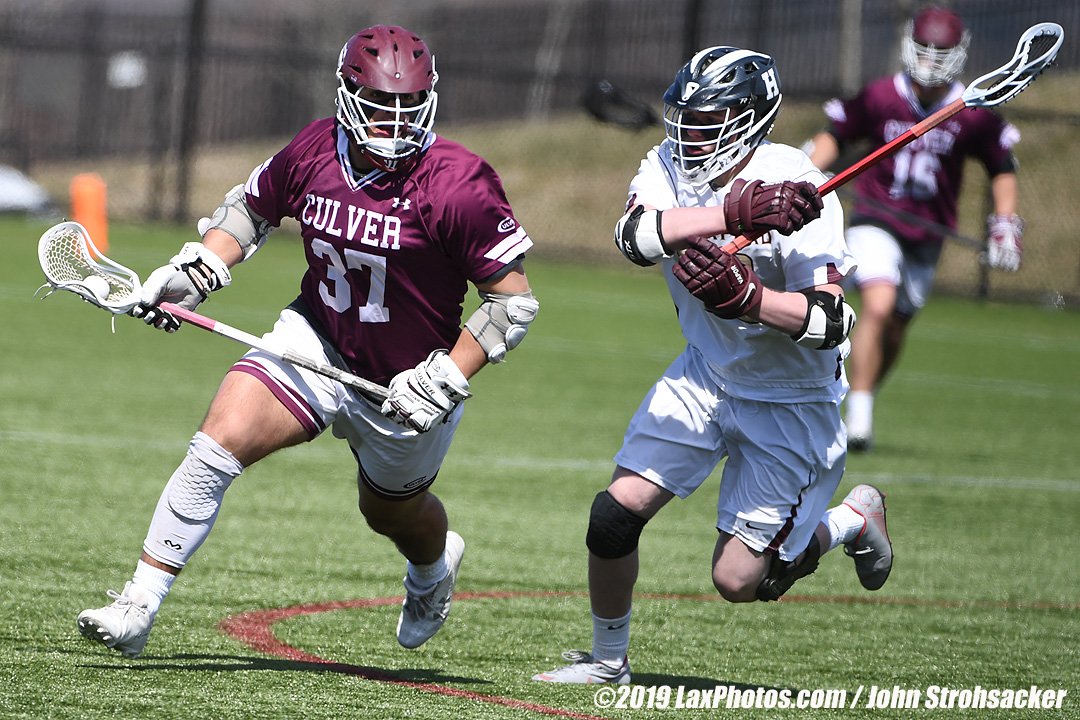 It is an ancient game modified from the atlatl.  The head of the snow-snake is tipped with lead and shaped like a bird or snake head.  The goal is to out distance your competitors with your throw of the stick.  There is a notch at the tip which the forefinger is placed and the throw is made under-hand. Great pride is taken on using various and interesting wood making them individually unique.  The snow-snakes are religiously anointed and given names which are inscribed just below the head.  There are many secret ointments such as tallow, wax, oils and gums which help in adding distance in different snow conditions.  The track is laid out by dragging a log creating a small ditch over a quarter mile.  When the snow-snake is thrown and glides down the snow trough, it shimmies and gives the appearance of a snake movement.  There are several umpires that monitor the game.  The male players and spectators make wagers on the players and their snow-snake.  The national snow-snake competition is held every winter at Six Nations in Canada.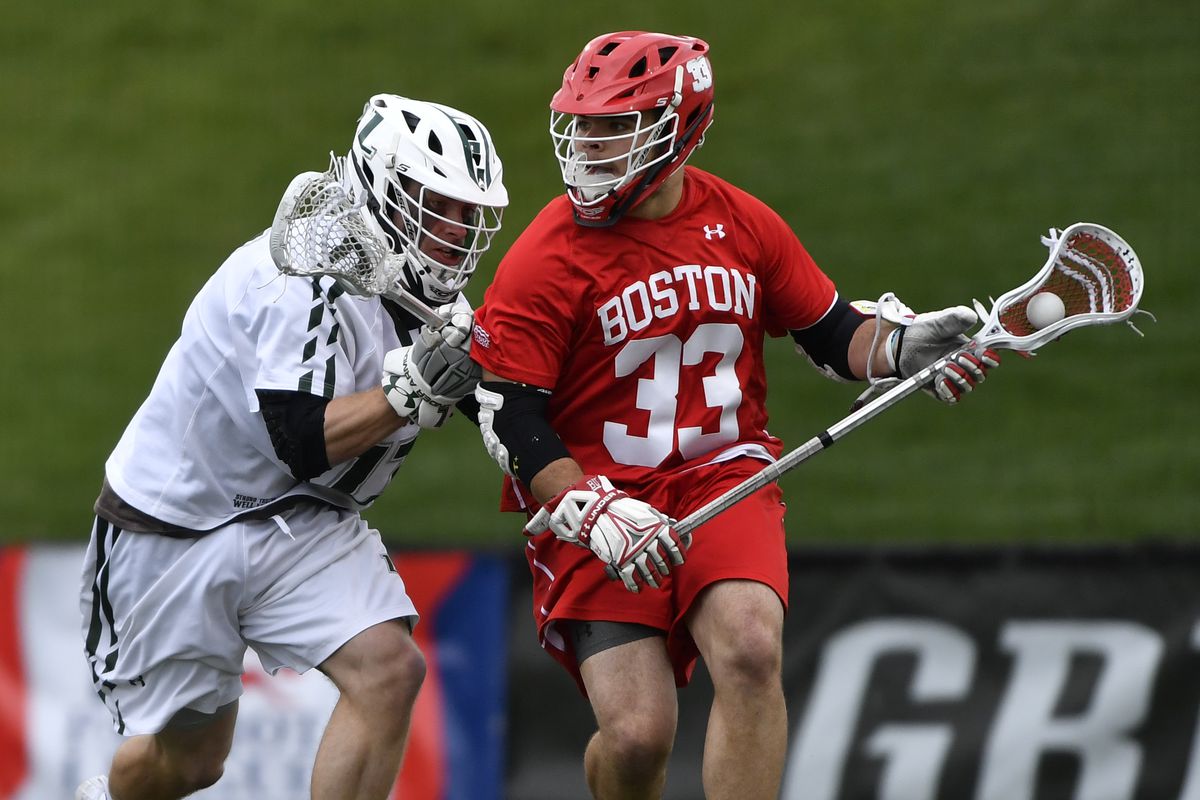 Snow Snake description written by Jay Toth.
Games of Chance
Games of chance can be divided into two types, those involving guessing and those using a type of dice that are thrown to obtain a random score. Guessing games consisted of either hiding an object or guessing numbers. Games of chance use dice displaying a variety of decorations and made from materials such as bone, walnut shells, peach and plum stones, grains of corn, shell, and pottery disks. Score was usually kept with sticks or twigs. Over 130 tribes were ethnographically recorded during the 1800's as having played dice games. Both men and women participated in guessing games and games of chance, however not together.
Moccasin Game
Moccasin game with Jim Eagle, David Hill, Jim DohoHok, Frank Ro and Frank Eagle Smith
Unknown men playing the moccasin game
(Ojibwa, Iowa, Shawnee, Cree, Sauk & Foxes, Menominee, Ho-Chunk, Omaha, Oglala & Yankton Dakotas)
This game, sometimes called the hidden ball game, was played by two groups of men.
The players sat opposite each other on a blanket. Four moccasins were placed in a row between the two groups. One of the groups watched as a token or ball was hidden under one of the moccasins by the other group. The players made pretenses of hiding and removing the token in an effort to make it more difficult to discover the actual location of the token. The group watching then guessed under which moccasin the token had been hidden. The Ojibwa, Ho-Chunk, and Menominee used a "striking stick" to turn over the moccasin where they thought the token was hidden. If the player guessed the correct shoe, four points were scored while four points were subtracted if the wrong shoe was picked. Sticks were used to keep track of the score.
Plum Stone Game
Replicas of plum stone game pieces
Replica of dice
(Omaha and the Hidatsa, BrulÁ, Santee, Oglala, Teton, Wahpeton, Sisseton, Yankton, and Mandan of the Dakotas)
(Dice games were played by Ojibwa, Blackfeet, Pawnee, Sauk & Foxes, Cheyenne, Cree, Crows, Menominee, Illinois, and Iowa)
This type of dice game was played by a variety of tribes.
The game was usually played by women in pairs. The game materials consisted of five plum stones with markings to indicate point value, a bowl or basket and 100 sticks or twigs for counting. The object of the game was to win the most points out of the 100.
The game started when players lightly tossed the stones upward using the bowl. The toss was light enough to move all the stones but not violent enough to make them fall out of the bowl. Any stones that did fall outside the bowl did not count. The player continued to toss the stones until no points were earned, then the next person took her turn.
Stick Games
Illustration stick game pieces
(Ojibwa, Cree, Sauk & Foxes, Teton Dakota, and Omaha)
One type of guessing game used small wooden sticks that were carved or painted with bands of color. The number of sticks varied from ten to more than a hundred and were divided into two bundles. The object was to guess the location of an oddly carved or painted stick.
Another version would have involved guessing which bundle of sticks had more than the other.
References
Culin, Stewart
1992 Games of the North American Indians.  University of Nebraska Press, Lincoln.
Fletcher, Alice C.
1994 Indian games and dances with native songs: arranged from American Indian ceremonials and sports. University of Nebraska Press, Lincoln.
Gabriel, Kathryn
1996 Gambler way: Indian gaming in mythology, history, and archaeology in North America. Johnson Books, Boulder, CO.
The Native American Games web page would not be possible without the assistance of the Ho Chunk Department of Heritage Preservation and funding from the University of Wisconsin – La Crosse Diversity 2008 grant.  Archival images are used with permission from the Ho Chunk Department of Heritage Preservation.
What Is Lacrosse? The Origins and History of the Sport
What is lacrosse? While it might just seem like any other sport to somebody who isn't really into sports or the history behind them, it's not.
Lacrosse is a sport rooted in tradition, which we seem to have forgotten over the years.
Lacrosse is a game where the players divide into teams. Though it is popular worldwide, lacrosse is most common in the United States. Over the past few decades, lacrosse has made gains in popularity.
Today, people play lacrosse in most schools around the U.S, whether as an extracurricular activity or a gym class requirement. Even if you're not positive what lacrosse is, you probably have some rough idea.
How lacrosse is played
Though original lacrosse and lacrosse in the modern-day do have their fair share of differences, the basics are the same. Lacrosse involves teaming up, a ball, some kind of carrying stick, and a goal.
The objective of the game is to get the ball, which is smaller than a soccer ball, into the other team's goal. You can't use your hands, though: That's what the lacrosse sticks are for. You stick the ball in the netted end and throw it to your teammates and, eventually, into the goal.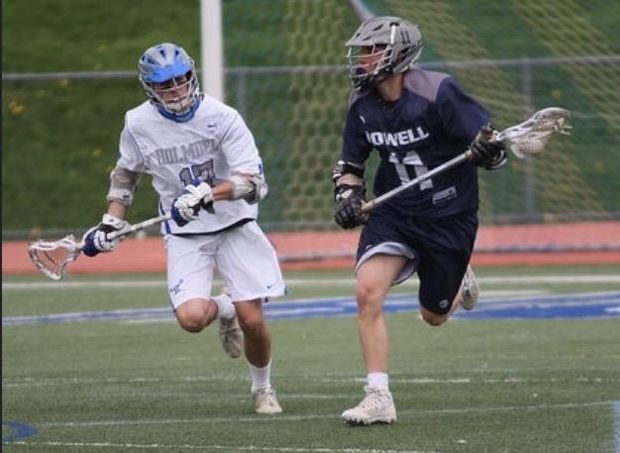 One of the earliest accounts of lacrosse comes from a document written in 1612. You can describe the game as similar to field hockey, a popular game in Europe at the time. Interestingly enough, adults originally played the game, but today kids represent the largest demographic among players.
As life evolves, we tend to forget the origins of common things in our lives. For example, do you know where ketchup originated? Do you know why?
The answer is most likely no. It's not your fault; as things become more widely used and accepted, we naturally stop putting emphasis on their roots.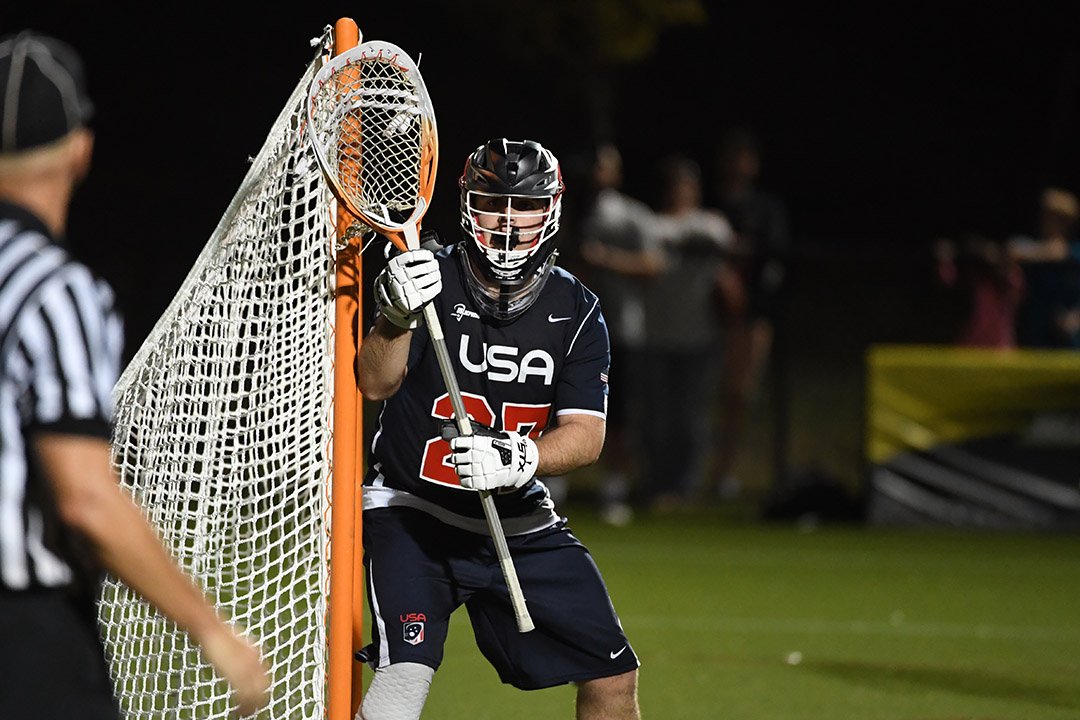 That habit we have is nothing to be proud of, and it's definitely something to work on, but that's for another day.
The Native American origins of lacrosse
If you know the bare bones of the sport, you probably know that it has a Native American origin story. More specifically, lacrosse was first played by the Algonquians and the Powhatans. The two founding tribes were prevalent in and around eastern Virginia, where European settlers first arrived in their efforts for colonization.
Given that fact, it makes sense that they were the first seen playing lacrosse. It's also why we associate them with the game even though there could definitely have been other tribes who played first. However, original lacrosse and the lacrosse we know today are not as similar as they might seem.
What was the original lacrosse like?
Lacrosse brought people together. People used it as an act of communion, allowing them to play and have fun while exercising. In fact, the crowded games allowed a wide range of players to participate.
Though the game is recreational, it is also great to tone its participants, making them more apt for the hardships of hunting and gathering. Gaining the ability to chuck a ball was training for things like throwing spears or knives.
Players painted their faces and bodies with charcoal.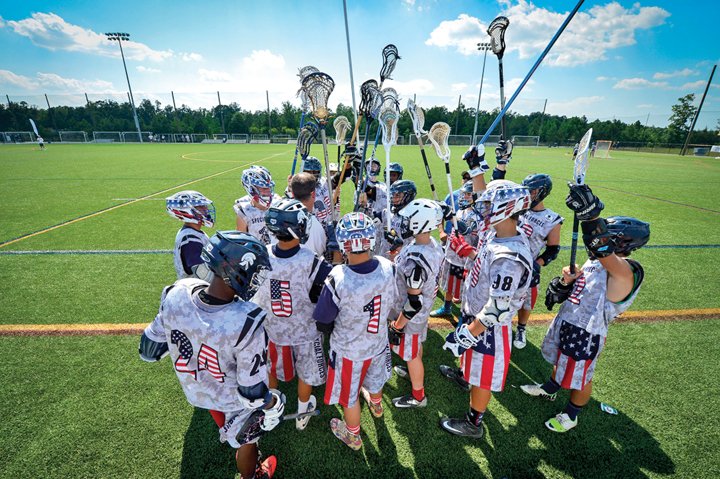 That would help to differentiate between the teams, which would otherwise be too large and confusing to keep track of. Overall, lacrosse was a symbol of union, a symbol of joy, and it has remained that way.
Lacrosse in the Modern World
Lacrosse in the modern world differs from lacrosse in the old world. The sticks are more advanced, the balls are made of a different material. In today's lacrosse, especially for women, referees won't let you play without proper gear, and they are enforcing safety rules with an iron fist.
Lacrosse underwent name changes, rule changes, and societal changes. However, something that still hasn't changed is the fact that lacrosse still brings people together. People connect over their love for the sport and form lifetime bonds while they play together.
The modern benefits of lacrosse
Besides being an extremely physical sport that will help to keep you healthy, lacrosse has several different benefits.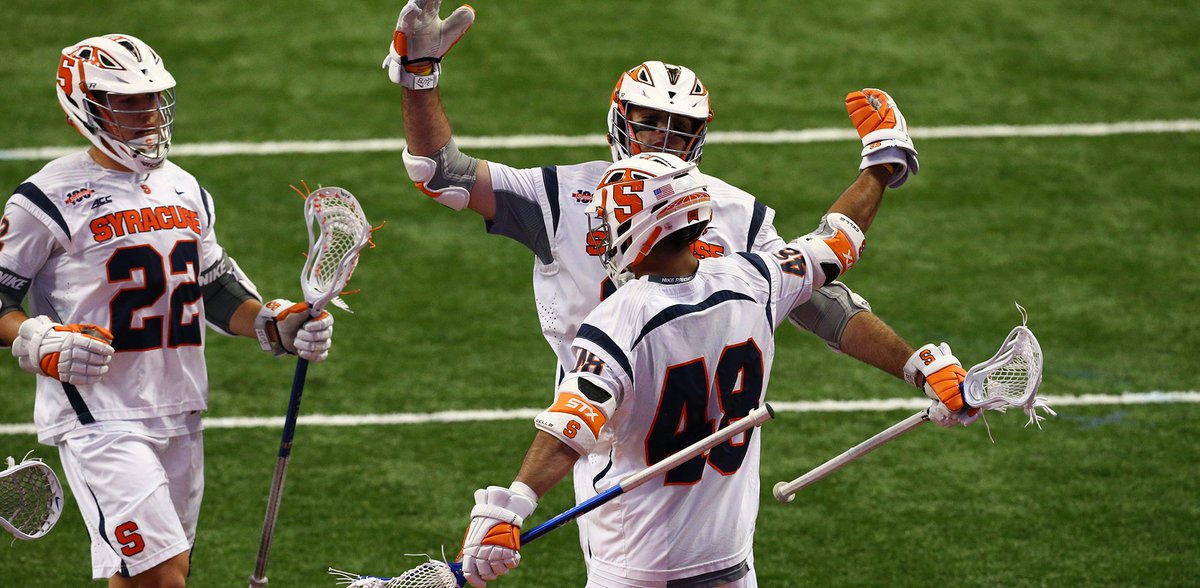 When you're trying to choose a sport to play, lacrosse should not be overlooked.
Colleges give out tons of sports scholarships. When you think of them, you may not necessarily think "lacrosse." You probably think about football, because everybody thinks about football.
In reality, it's sports like lacrosse or rowing that are in demand with colleges. The sports that students overlook because they're not as common are the sports with fewer team members. Fewer team members mean more open spots, which could translate to lower tuition.
Another benefit is the extreme amount of self-control lacrosse takes to play. What is lacrosse? A sport that looks like it should be extremely violent, but it just…isn't.
What gameplay is like today
Lacrosse still uses a stick and a ball. However, now, there are specific guidelines the players have to follow, such as safety and boundaries as far as gameplay. Lacrosse today is done in teams of no more than nine, while there was no limit in the game's original version.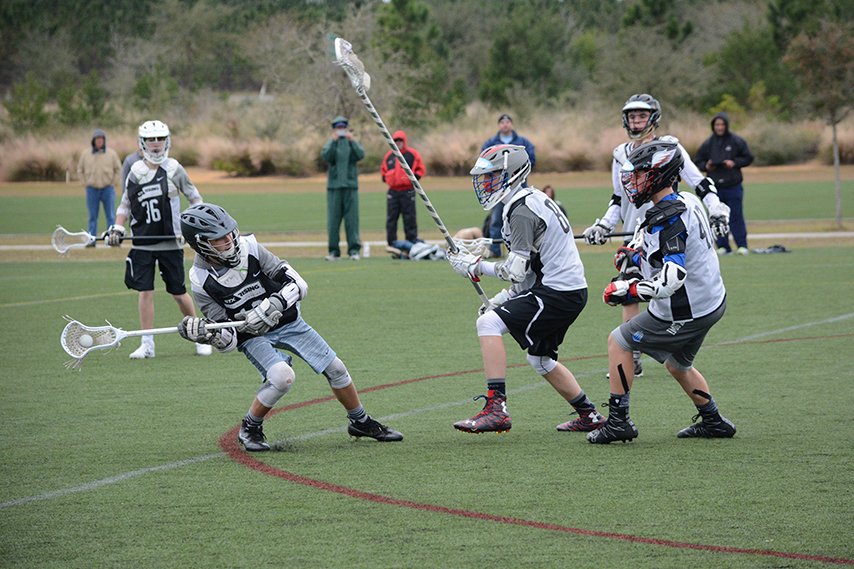 Today's version of the sport is also able to be played indoors. Often times, you'll see lacrosse players joining teams year-round, even though the game is technically a spring sport. That helps them stay in shape and capable of performing well in the spring season.
Lacrosse in pop culture
Lacrosse has had its fair share of influences on pop culture. Everyone knows "Mean Girls." At the end of the movie, when Regina George decides to start disposing of her anger in a healthy way, what does she play? Lacrosse.
Granted, the game Regina plays is absolutely not what real lacrosse is like; that level of violence in a girls' lacrosse league is unheard of. If she tried that in real life, she'd be dismissed from the team.
Lacrosse is also compared to Quidditch — the fictional game played by Harry Potter. The resemblance is definitely there; there are sticks, and some type of ball, and goals. However, if you call a Quidditch player a lacrosse player, do not be surprised when you get throat-punched by a superfan.
Lacrosse is a timeless game. It's an amazing way to release aggression and form friendships, and it has some practical benefits, too. Colleges don't take sports lightly.
Remembering the game's origins is important, and yet, it is so often forgotten. The times of old-school stickball seem so far gone, and they definitely are, but what is lacrosse without stickball? It's nonexistent.
What is lacrosse? It's yet another sport that has become so widely loved by the American public, especially. It is a sport that has ended up slowly losing touch with its heritage.
It's time to remember.
What is lacrosse to you? Have you ever played? Let us know in the comments!
Lacrosse FAQs
Join the fastest growing youth sport in America… Lacrosse! Carroll Manor Lacrosse started with a single U9 Boys Lacrosse team in the Spring of 2009. This season CMLAX will have BOYS teams at U9, U11, U13 and U15; GIRLS teams at U9, U11, U13 and U15; and a U7 Coed and All Girls teams for younger kids.
What are the age groups? 
To play U9 lacrosse the player must have been under 9 years old as of this past August 31st – typically 2nd and 3rd graders.
To play U11 lacrosse the player must have been under 11 years old as of this past August 31st – typically 4th and 5th graders.
To play U13 lacrosse the player must have been under 13 years old as of this past August 31st – typically 6th and 7th graders.
To play U15 lacrosse the player must have been under 15 years old as of this past August 31st – 8th graders only.
Our U7 Coed Program is for kindergarten and 1st graders – boys and girls – and is low-key, fun-oriented introduction to the sport.
How many players on a team? 
It depends based on the gender and age of the team…
U9 girls lacrosse plays 8v8 (1 goalie, 2 defense, 3 midfielders, 2 attack) so the will consist of 14-15 players.
U11 (and up) girls lacrosse plays 12v12 (1 goalie, 3 defense, 5 midfielders and 3 attackers) so the team will consist of 18-23 players.
U9 boys lacrosse plays 8v8 (1 goalie, 2 defense, 3 midfielders and 2 attackers) so the team will consist of 12-13 players.
U11 (and up) boys lacrosse plays 10v10 (1 goalie, 3 defense, 3 midfielders and 3 attackers) so the team will consist of 15-19 players.
Please sign up ASAP as players will be placed on the team in order of registration. We will limit team sizes to ensure that everyone gets a lot of playing time.
What are the details on the U7 program?
Our U7 Coed Program is for kindergarten and 1st graders – boys and girls – and is low-key, fun-oriented introduction to the sport. The focus will be on the basic skills on throwing, catching, scooping, cradling and shooting. The program will meet once a week for an hour starting in late March / early April – depending on the weather.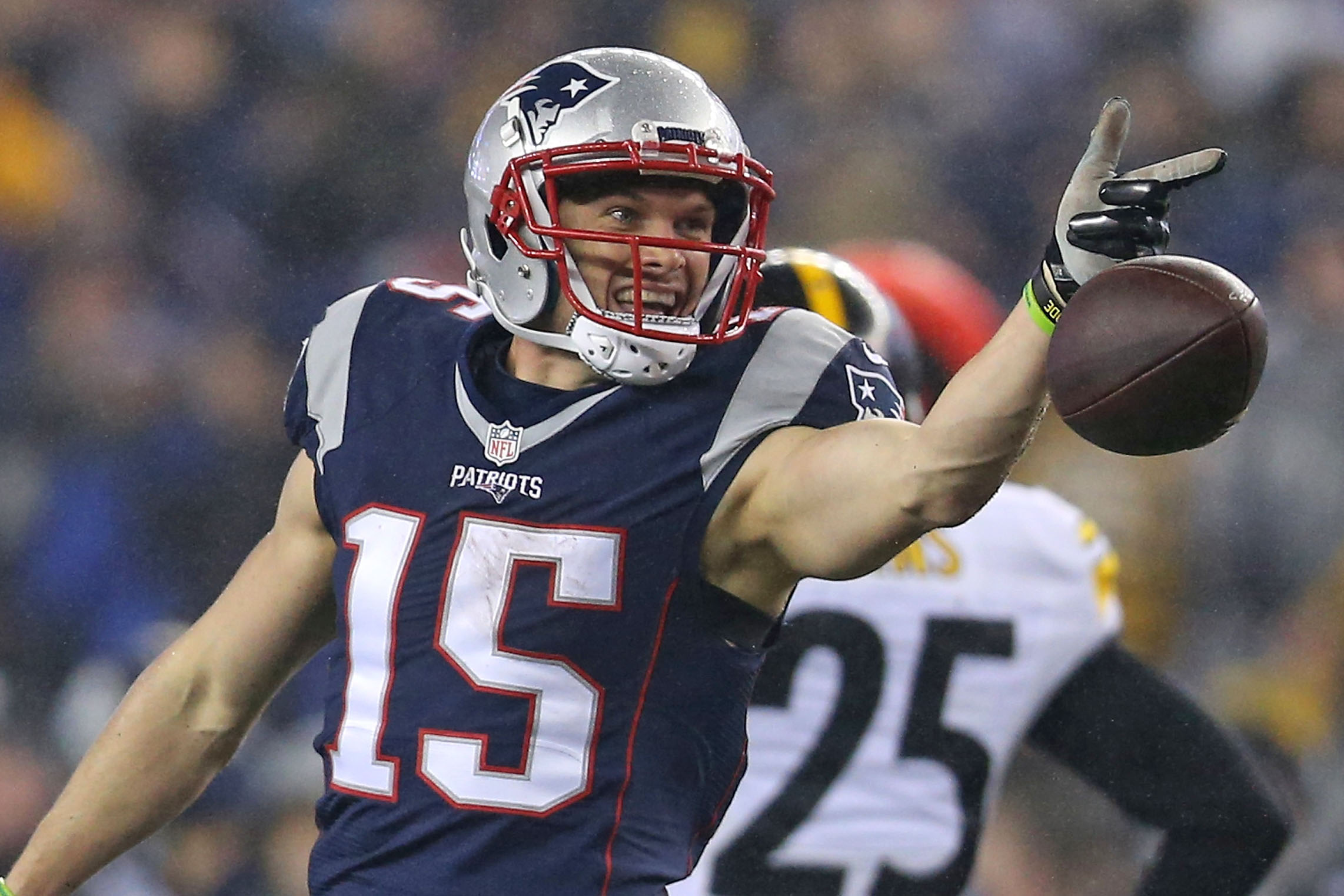 The clinic will run for 8-10 weeks with a few weekend games later in the season. The only equipment required is a stick, mouthguard and goggles.
Later in the season, our U7 teams will play coach directed, no score kept games against U7 teams from other clubs.  These games will be held on 3-4 consecutive Saturdays.  They are intended to be a low-key, fun introduction to game situations for our youngest players.
U7 Girls teams play other "All Girls U7 Teams" in the WMYLC League. They also play a short season since they need a few more weeks of practice to be prepared for their first game.  They play U9 Girls Rules with Coaches from both teams on the field.
U7 teams are also invited to participate in the end of season WMYLC tournaments.
Where do Carroll Manor Lacrosse players come from?
We welcome kids from any school – public, private and homeschooled. As the feeder program for Tuscarora High School, we draw players from Ballenger Creek Middle, Crestwood Middle, Ballenger Creek Elementary, Carroll Manor Elementary, Orchard Grove Elementary, Tuscarora Elementary, and Lincoln Elementary.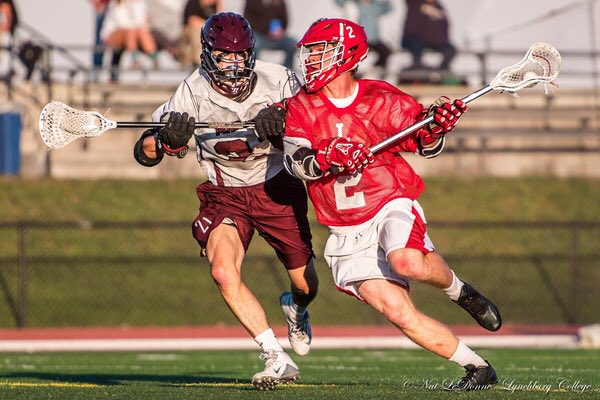 We accept players from outside the Tuscarora feeder system area if the Rec program in their area does not have a team in their age group.
What league will the teams play in?
Carroll Manor Lax is a member of the Western Maryland Youth Lacrosse Conference (WMYLC) and we play our Spring Games in this league. You can read about the conference at www.wmylc.com.
If the Fall, CMLAX Teams participate in the WMDUSLAX Fall Ball league.  www.wmduslax.org
When does the season start? 
Practices will start late February / early March depending on the weather.  The team will play 8 games starting mid-to-late March playing every weekend except Easter and the occasional weeknight game.  The WMYLC tournament is planned for the weekend before or after Memorial Day.  We often send teams to an extra regional tournament in early June.
When and where are practices and games? 
Practice times are locations are available on this website under Schedule in the Lacrosse area.

In general, the U7 team practices will be held once a week and the older teams will practice twice a week. It is highly likely that practices will be held at Tuscarora Elementary School, Ballenger Creek Elementary School, Ballenger Creek Park and Tuscarora High School. Boys games are usually Saturdays and girls games are usually on Sunday afternoon.
What equipment do the players need?
Each player will need to provide their own equipment although Carroll Manor Lax can recommend a vendor who provides rental equipment.
For boys expect to spend between $150 and $200 on equipment, including a lacrosse helmet, a mouthpiece (must be colored not clear or white), shoulder pads, arm pads, gloves, a Boys LAX stick, an athletic supporter/cup, rib pads and cleats.
For girls expect to spend between $45 and $60 on a lacrosse stick, protective goggles and a mouth guard.
CMLAX has partnered with Quikstix Lacrosse to supply rental equipment which can reduce your cost significantly.
Clinic players only need to obtain a lacrosse stick and mouthguard.
How much are the registration fees? 
Total fees for U9, U11, U13 and U15 are $140 for registration and $70 uniform cost (if necessary). The CMLAX fee covers WMYLC fees, referee fees, insurance, etc. These fees are in line with what other local lacrosse organizations charge. The total fee for the K-1 clinic is $65 with a CMLAX t-shirt provided.
Does CMLAX require US Lacrosse membership? 
No, but we strongly encourage parents to register with US Lacrosse. The kids get the USL magazine and great playing tips via email plus you will be supporting the growth of a great sport! More information is available at www.uslacrosse.org.
Why did we start a new program in 2009? 
Carroll Manor had been approached several times about starting a lax program, but the catalyst was a handful of boys that really wanted to play and few volunteers willing to launch the program.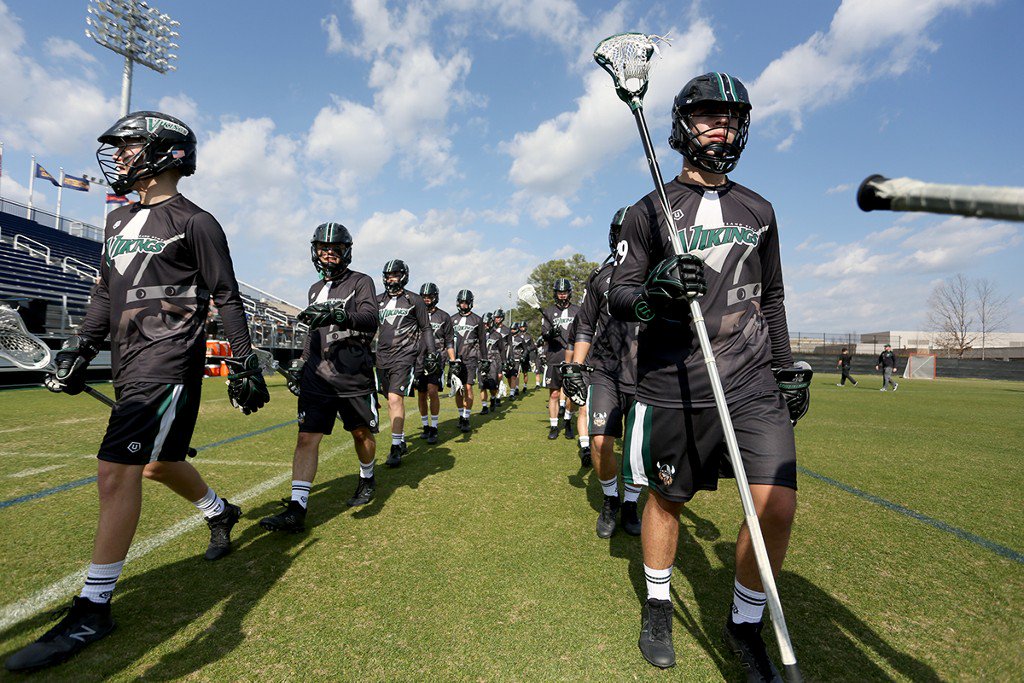 U7 Coed Scoopers were added in 2010, and we fielded our first Girls teams in 2011.    Tuscarora HS didn't really have a feeder program for lacrosse so we've expanded to fill that need with the goal (no pun intended) of having programs at all levels within 2 more years. A goal that was achieved for both the boys and girls programs in 2013.
One last question… Is lacrosse really the fastest growing youth sport in America? 
Yup. Over the last 10 years, lacrosse has grown faster than any other sport played at the high school and college levels.  In 2008, more people attended the NCAA Div I Men's Lacrosse Championship than the NCAA Div I Men's Basketball Championship!
If you're interested and would like more information, please email our lacrosse commissioners at [email protected]@gmail.com or call us at 240.397.9542.
Cookie Krongard Still Playing Lacrosse at Age 80
Howard Krongard, more commonly known by his nickname "Cookie," started playing lacrosse when he was 5 years old.
He was a two-time All-American goalie at Princeton and named the outstanding player in the country twice. He's been inducted into four halls of fame, including the National Lacrosse Hall of Fame in 1985 and the New York Sports Hall of Fame (he's the only lacrosse player) in 1994.
But perhaps his most notable accomplishment is that Krongard still plays today at age 80. He's a regular in the Florida Lacrosse League, where he faces blistering shots coming off the sticks of twenty-somethings, and competes annually in the Princeton alumni game.
According to one of his current teammates, attackman Reed Smith, Krongard is a humble man and a beast on the field.
"The way he stands in goal and faces competitive players week after week is a legendary accomplishment," Smith said. "He is leading the way for adult lacrosse, whether he realizes it or not. We owe him a debt of gratitude."
"The goal is still 6-by-6. The ball is still as round as it always was."
Growing up in Baltimore, Cookie was the little kid on the block.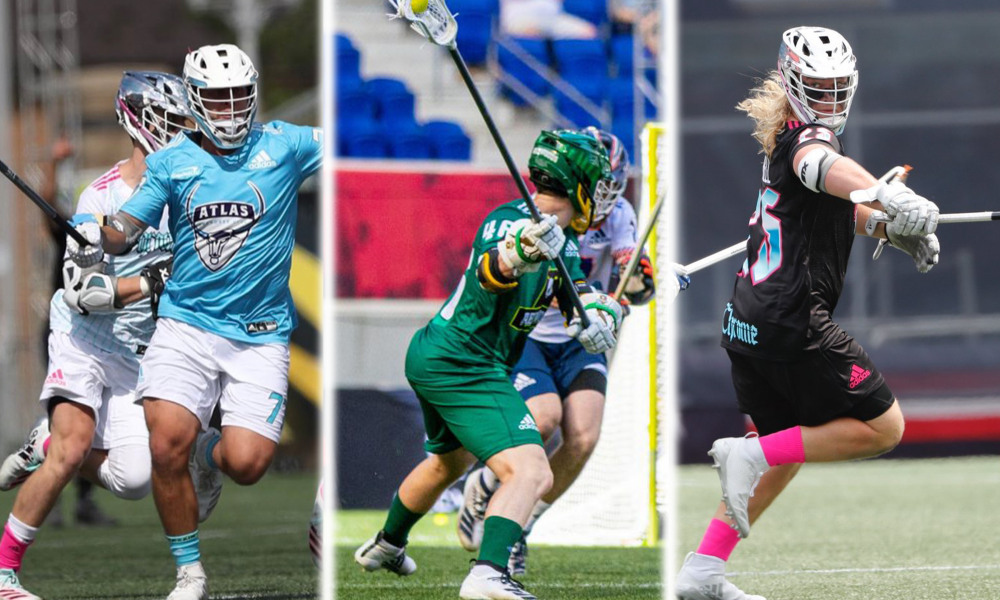 He literally followed in his brother Buzzy's footsteps when the boys were young. One day, Buzzy removed little red knobs from beneath the legs of their mother's breakfast table and put one on the end of his lacrosse stick.
"Naturally, I did the same," Cookie Krongard said. "That was 75 years ago, and I've never played with a stick that didn't have that same red knob on it. There's nothing superstitious about it, but if I change sticks, I put the knob on it. I just like it."
Krongard, an attorney who worked in the state department during President George W. Bush's administration from 2005-08, found his lacrosse niche as a goalie and has played the position for more than 60 years. The Parkland, Fla., resident always looks for pickup games, scrimmages and tournaments.
"I challenge anyone to find a guy who has seen more rubber than Cookie," said Todd Adler, an attackman from Cornell who plays with Krongard today. "His longevity is unparalleled in lacrosse, or any other sport.
"
Another current teammate, attackman Bob Leland, agrees.
"When I first met Cookie, I was in shock and awe," Leland said. "Not just because of his age, but because of his knowledge of the sport and how in tune he is with the lacrosse community. Everyone knows him."
To say Krongard is one of the best goalies in history is an understatement. But you won't hear him talk much about his accolades. In fact, Michael Sowers, the former Princeton attackman who now plays at Duke, had to hear from other people the legend of Cookie Krongard.
"It speaks to the type of person he is," Sowers said. "He's extremely humble. I cannot stress enough how much he has impacted me and the Princeton lacrosse program."
GETTING STARTED
Krongard was not always a goalie. He played attack and then faced off as a midfielder. In those days, there was no such thing as a FOGO.
"My brother was one of the best faceoffs of all time," Krongard said. "He was a faceoff guy, so I became a faceoff guy.

"
Krongard's high school team's star goalie graduated at the end of his sophomore year. The coaches were looking for a new goalie and liked that Krongard was athletic and quick. He has been a goalie ever since then.
After high school, Krongard followed in his brother's footsteps once again, this time to Princeton. He was a three-year starting goalie (1959-61) and led the Tigers to the Ivy League championship all three years. Playing against Cornell in 1960, Krongard made 20 saves and ran 70 yards to score a goal — rare for a goalie — to help Princeton clinch the Ivy League title. In fact, the Tigers never lost an Ivy League game with Krongard in goal. He was first-team All-Ivy League in 1960 and 1961, an honorable mention All-American in 1960 and a first-team All-American in 1961. His senior year, he was named outstanding goalie in the country.
"Lacrosse is a terrific game. It's really who I am in a sense, in terms of commitment and dedication," Krongard said. "It's a lot like life.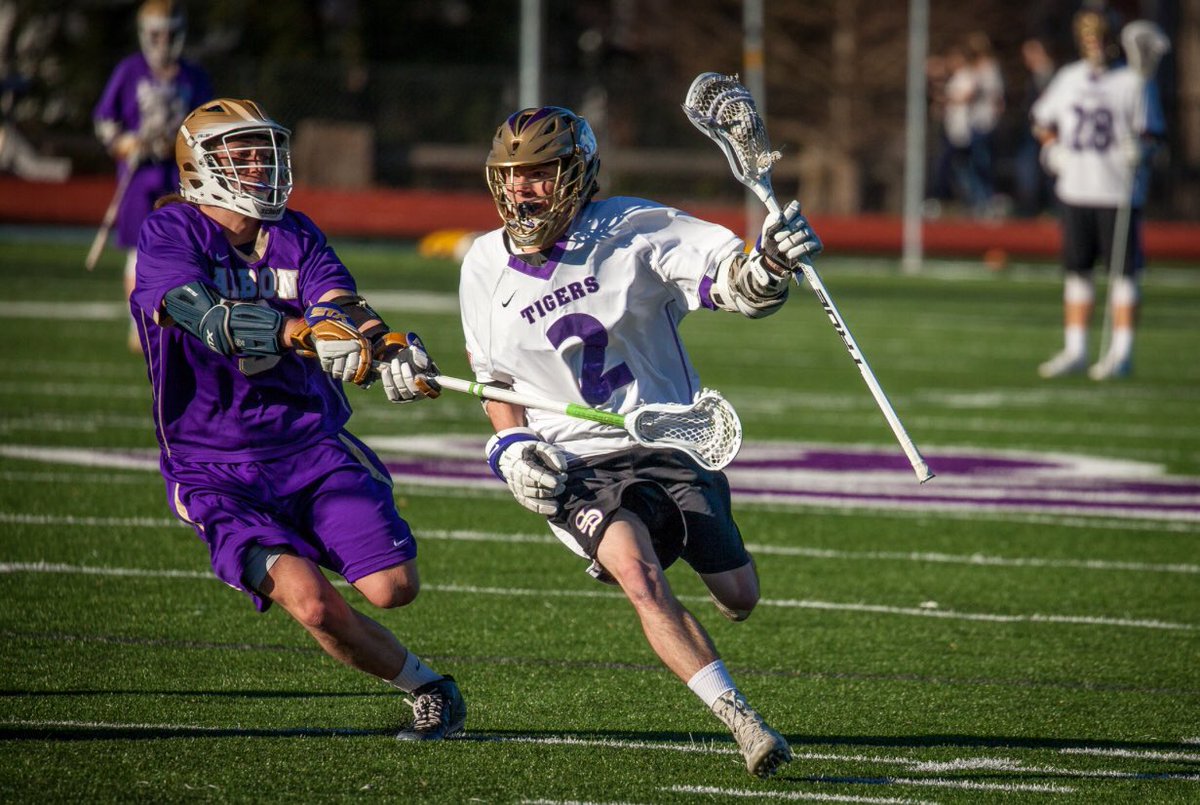 It's teamwork, but it's also individual drive, integrity — to the game and to your teammates — and loyalty."
Krongard was a freshman at Princeton when his brother was a senior, but the two didn't play together because at that time, freshmen weren't eligible to play varsity. They finally got the chance in 1966 while playing with Mount Washington Club in Baltimore.
Buzzy Krongard, best known as the former executive director of the CIA and CEO of investment bank Alex. Brown & Sons, also is a member of the National Lacrosse Hall of Fame. They were the first brothers so honored. He was the captain of the first world champion U.S. national team in 1967.
Back then, before the NCAA, there was a national open championship where the best club teams played the best college teams. With the Krongards leading the way, Mount Washington beat Navy for the championship.
"It was the only game the great Jimmy Lewis lost," Cookie Krongard said. "We beat him at Navy-Marine Corps Stadium in Annapolis.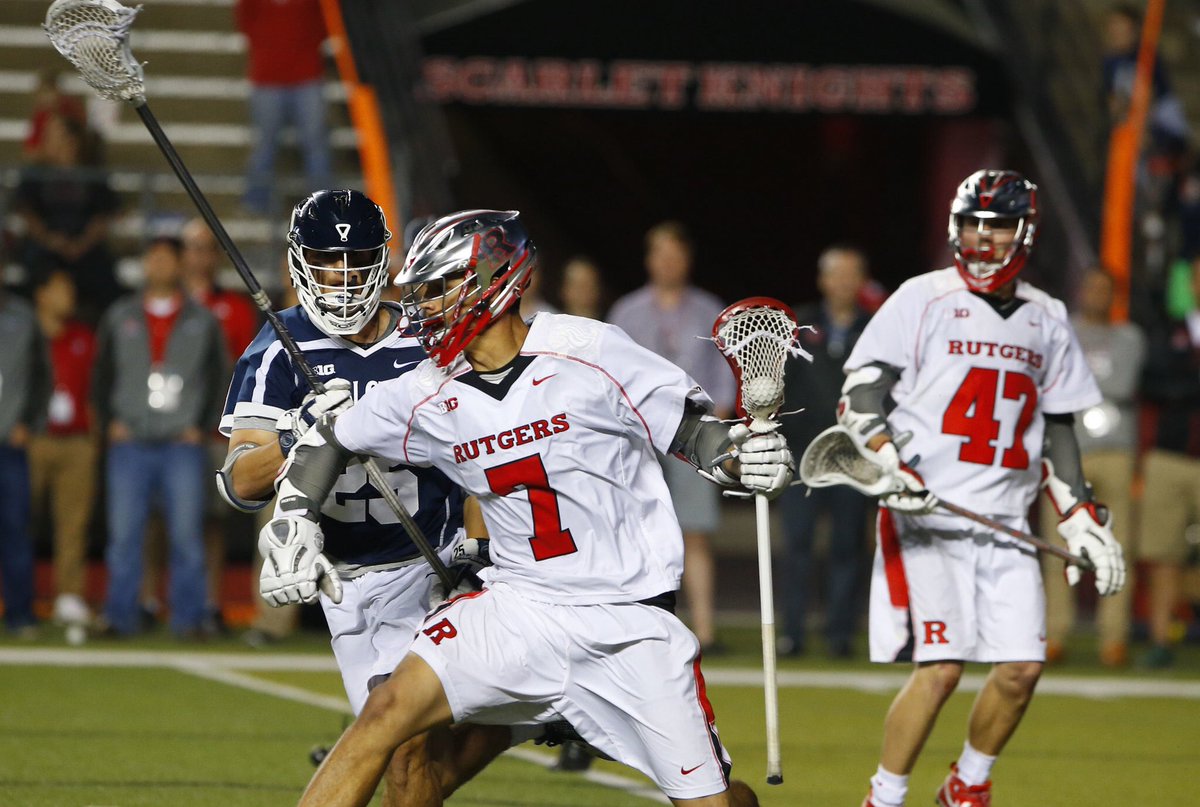 "
PHOTO COURTESY OF PRINCETON ATHLETICS
Krongard was a two-time All-American goalie at Princeton, notably making 20 saves and running the length of the field to score in a 1960 win over Cornell that clinched the Ivy League title.
Krongard's favorite game, however, was that Princeton-Cornell tilt in 1960. There has always been a great lacrosse rivalry between the two schools and both teams were undefeated in the Ivy League that season. It was the last game of the year.
"I made a save in the opening quarter, dodged a bunch of guys and ran down the field and scored," Krongard said. "It was the goal that stood up for a 6-5 win. I was the first goalie known to have run the length of the field and scored a goal, and it was the goal that won the Ivy League championship."
Krongard's 20th save of the game came with six seconds left. He denied Cornell's All-American midfielder Dave Dresser to preserve the victory.
"That game has marked my career because I started it with a goal and finished it with a save," Krongard said.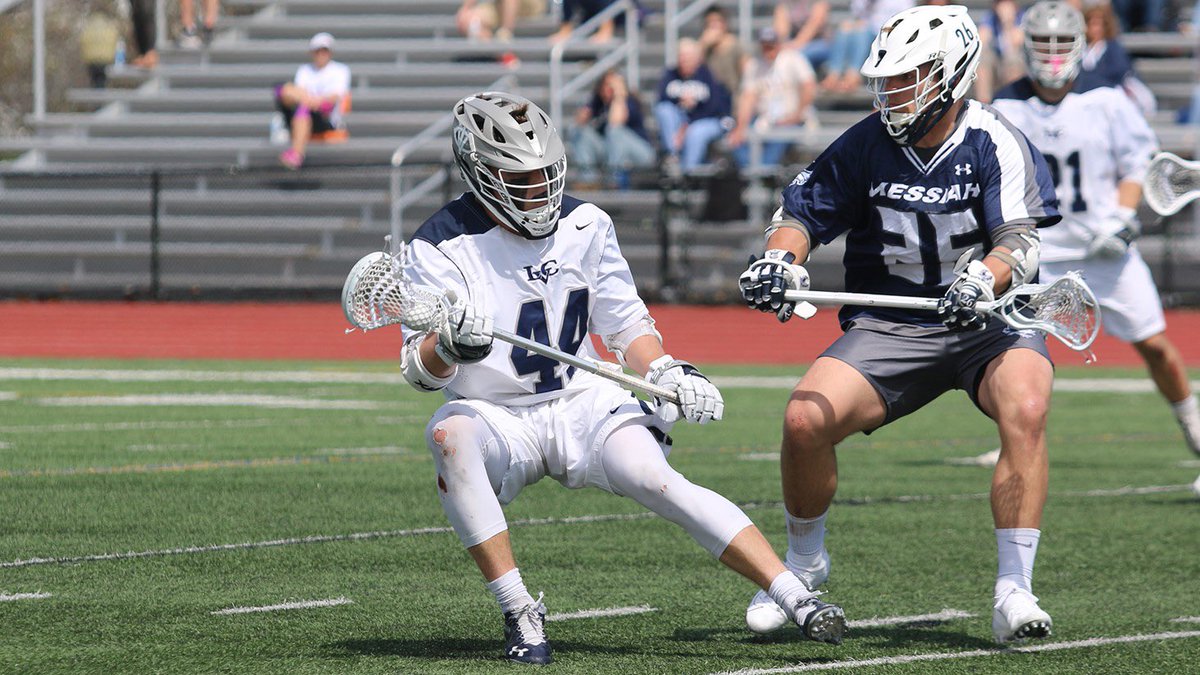 "It was pretty good."
Krongard went on to become an eight-time USCLA All-Star and two-time USCLA Player of the Year (1968 and 1974).
"He set a high bar for his performance and standard of excellence and he lived up to it," said John Walters, who played against Krongard as an All-American and the country's top scorer at Dartmouth and with him on the New York Lacrosse Club. "He always knew where the shot would be coming from and where it would end up. He has played at a high level for an extraordinary period of time."
Bill Morton, a halfback in football and All-American in lacrosse at Dartmouth who also played for the New York Lacrosse Club, characterized Krongard as a natural athlete who also worked extremely hard.
"Cookie had an incredible knowledge and experience in the sport and he shared that with all of his teammates," Morton said. "I benefitted from that and I will never forget it."
GIVING BACK
Krongard went on to become vice president of the USCLA and director of the Lacrosse Foundation, a predecessor of US Lacrosse.
He was named the USILA Man of the Year in 1983. But he never lost the desire to play. In 2008, he tried out for Major League Lacrosse — the outdoor pro league that recently merged with the Premier Lacrosse League — and was claimed by the New Jersey Pride.
"My friend, Princeton star and now Hall of Famer Jesse Hubbard, was playing for the Pride at the time and encouraged me to try out," Krongard said. "As I told him, if I got hit by a shot like his, at least I would be the only player in the league with Medicare."
It was no publicity stunt.
"I was very surprised in how he stepped in there and took the shots. He was getting knocks all over the place and stayed in," said Rob Scherr, the Pride's starting goalie at the time. "A lot of people don't have the guys to even get in there at the level we do. But a 67-year-old guy coming in, that's pretty interesting and pretty spectacular."
Today, in addition to playing in club games in South Florida, Krongard also still plays in Princeton alumni varsity games.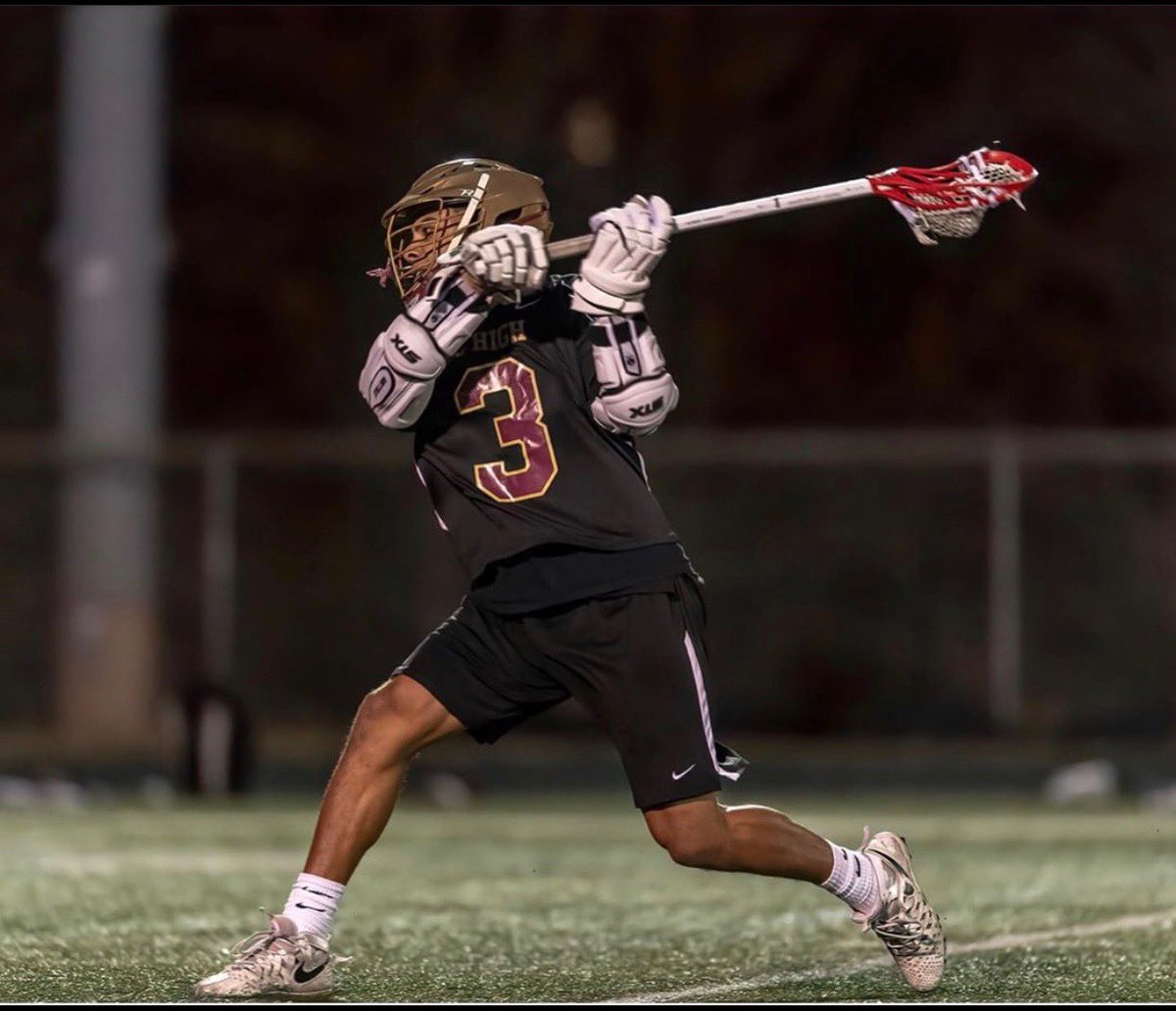 "Cookie is a foundational member of our alumni games," Tigers coach Matt Madalon said. "He brings an incredible perspective to the Princeton lacrosse world."
Krongard works out with the Princeton team each fall the week prior to the alumni game. Madalon said he is a valuable resource and is impressed with his stewardship of the game.
"He has an incredible perspective and gives generously of his time, energy and resources," Madalon said. "He is involved, thoughtful and engaged — including getting in the game and taking balls off the shin and body shots. He plays a big part in supporting the Long Orange Line."
Beyond supporting the Princeton program and playing each week in Florida, Krongard also mentors young players. He talks to them about the importance of mental fortitue and the need to bounce back if you get scored on.
"Everyone in the stands sees it and it goes up on the scoreboard. There's nothing you can do about that," Krongard said. "You can't still be thinking about that when the next one comes or it's going to hit you in the throat.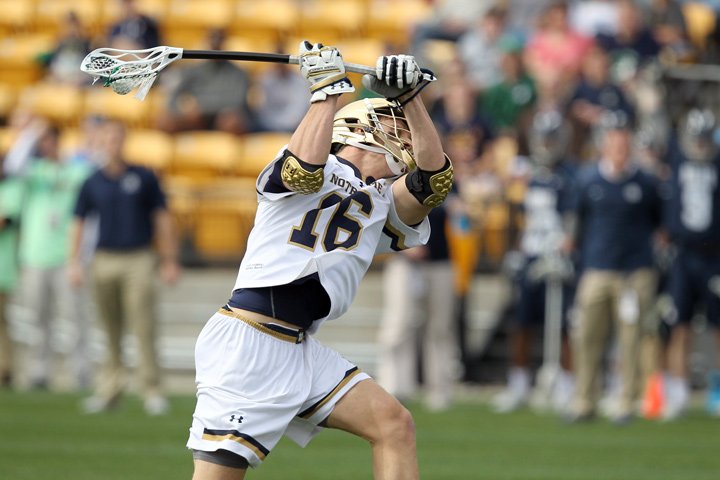 So you have to put that out of your mind, and that's life."
Playing with the mindset that he has to come back quickly every time a goal is scored on him has helped Krongard throughout his life.
"I've had a great life, but nothing is perfect. There are always downs to life that you have to come back from," he said. "To me, lacrosse has really been a microcosm of life."
Sowers called Krongard the godfather of Princeton lacrosse.
"It's important for people to know how generous he is with his time," Sowers said. "He told me I could turn to him for anything, and I have — as a student, a captain and for advice on my career."
SOME THINGS DON'T CHANGE
Asked what makes a great lacrosse player, Krongard did not pretend to have an answer. But he acknowledged there are criteria on which most greats would agree.
"You've got to be committed. You've got to be willing to dig deep. You've got to be willing to run or play with pain," he said.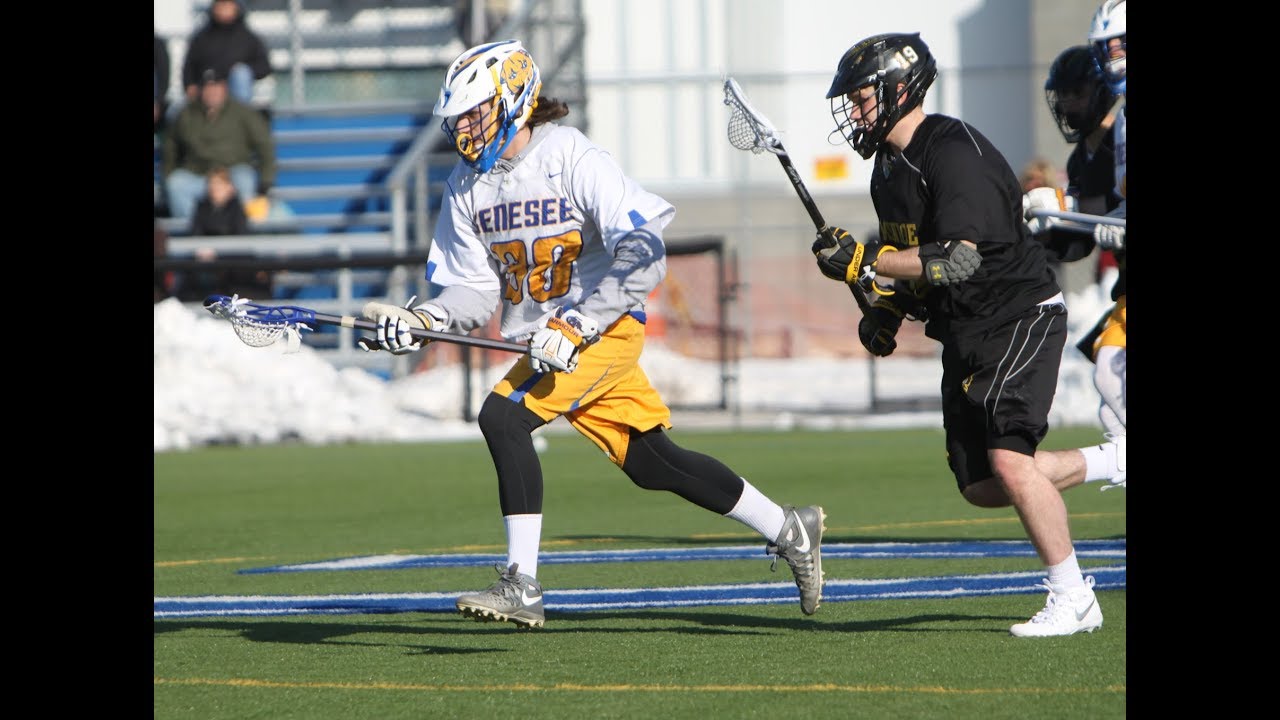 "I took one on the kneecap the other day and I would have liked to have sat down for a minute. But the ball was still in play, so I didn't."
Krongard has seen more shots as a goalie than anyone because no goalie has played as long as he has. He plays several times a week and loves the challenge of getting shot at.
"A lot of goalies love playing the game, but they're not so keen on jumping in a goal," he said. "I love getting in goal."
Leland remembers playing in a game against Krongard and not shooting as hard as he normally would because of his age. During a break in the action, Krongard pulled Leland aside.
"He said to me, 'What are you doing out there? Never let up on a shot. Give me your all, all the time,'" Leland said. "Cookie doesn't want anyone to take it easy on him. A lot of younger kids are firing shots on him. He's taking shots off his foot, his shins, his arms — he loves it. He stays on pipe and knows his line. He's an exceptional goalie, regardless of his age.
"
When Krongard started playing lacrosse in 1946, he used a heavy wooden stick, then plastic and today titanium. Equipment and protective pads have gotten better and lighter. Players' conditioning is better — guys are in the weight room, running and working out all year long.
"All those things have changed, but the goal is still 6-by-6," Krongard said. "The ball is still as round as it always was, the same size, more or less the same ball."
The more things change, Krongard said, the more they stay the same. You still have to keep the ball out of the goal, run faster than your opponent and be willing to hit a little harder and scoop a little better.
Krongard said the equipment technology and training have changed the most, and the coaching is better. When he was younger, there would be one coach per team.
"Today you might have as many as seven coaches on a team — offense, defense and clearing, faceoff, an extra man, a man down," Krongard said. "Obviously the game has exploded.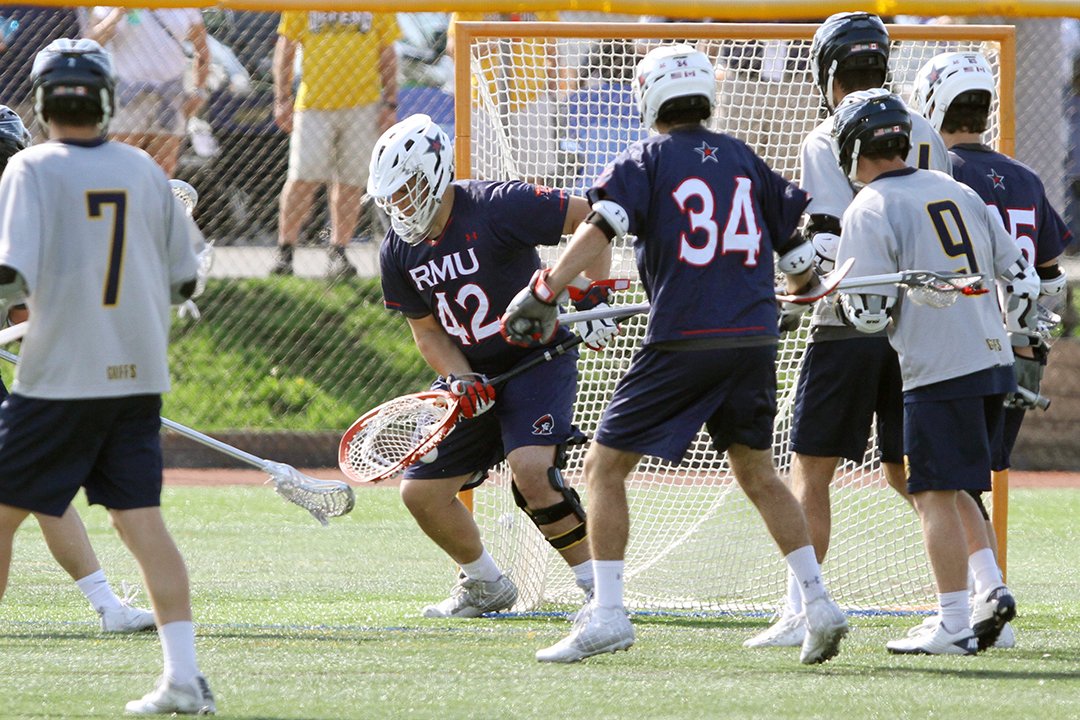 "
Gary Gait is here to resuscitate a lacrosse powerhouse with a lesson he learned at 12 years old
Syracuse, N.Y. — There was a time Gary Gait was just an average lacrosse player, that another set of twins just three weeks younger and living three houses down the street in western Canada seemed like the ones destined for greatness.
Greg and Grant Pepper convinced Gary and his twin, Paul, to pick up a wooden stick by age 4 to burn off energy. Their fathers coached them throughout their youth, and for seven or eight years the Gait brothers sort of just went through the motions, biding time until the next sport was in season.
That all changed when their peewee team finished second in the provincial championship, and Gait's father asked a hall of fame player to coach the team to get over the hump.
Even if Gait didn't know it at the time, it left an indelible mark on his life long before he became the sport's consummate champion and icon: Never settle.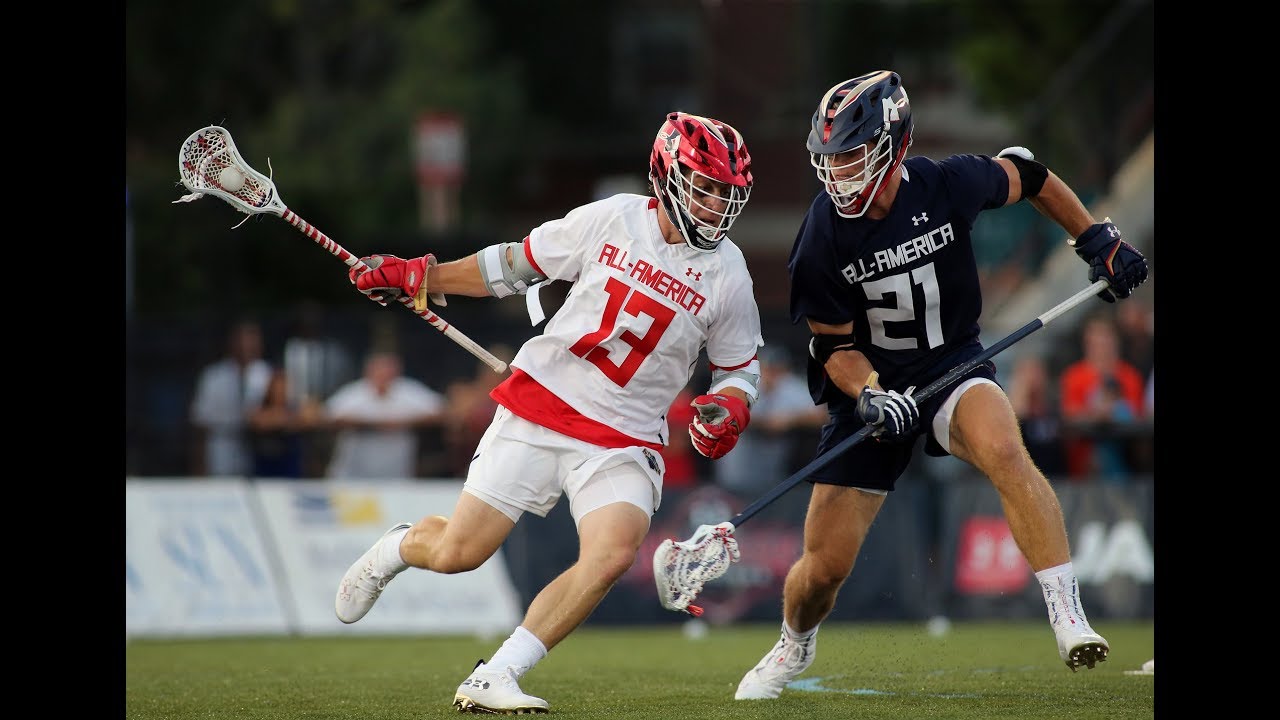 He invoked these early days of his lacrosse life as he was introduced Thursday as the new men's coach at Syracuse University, the place where he won three NCAA titles as a four-time All-American while rewriting the record book.
The school picked its most iconic player to rescue the most successful program in NCAA men's lacrosse amid a decade-long title drought.
His job is to revive a program that measures success on the final weekend in May, the time of year when champions are crowned. Stacked recruiting classes, conference titles and postseason appearances weren't good enough for a place that once made 22-consecutive trips to the Final Four and has won more national titles than any other men's program in the sport.
In Gait, the school found someone who embraced a likemindedness that sustaining a powerhouse program is possible, even as the sport has taken root in more places.
"It certainly can be done," Gait said in a quiet moment after his news conference.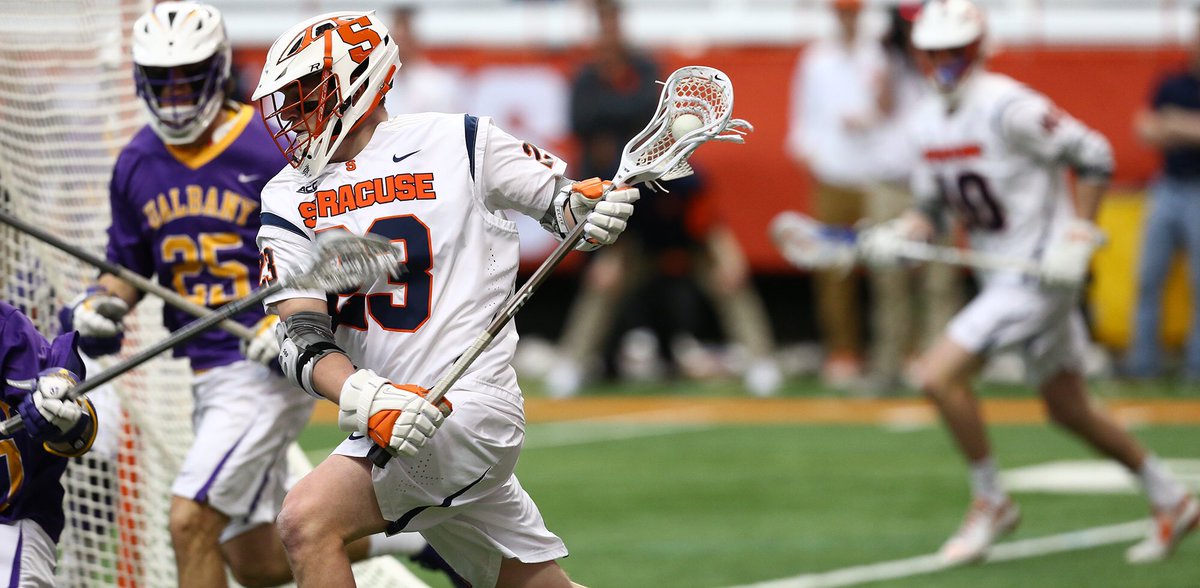 "It's just having the right mix of recruits, the right players and getting 100 percent buy-in. And I think it's a lot to do with coaching."
Gait's plan is shamelessly forward.
He's going to target the top recruits at each position.
He's hinted how great it would be to hire the game's greatest defensive player for his staff.
"There's never anything second class or second shelf about the way he does things," said Matt Palumb, a former teammate of Gait at SU.
Gait, 54, spent the past 14 years at the helm of the SU women's team, turning a young program into an instant contender that has been knocking on the door of a title for years only to come up agonizingly short.
He is a familiar face here, yet he began his opening remarks with a brief account of his background because there is still a semblance of the unknown into who he is as a coach.
Most associate Gait as a game-changer in a niche sport who carries the cache of a Michael Jordan or Tiger Woods.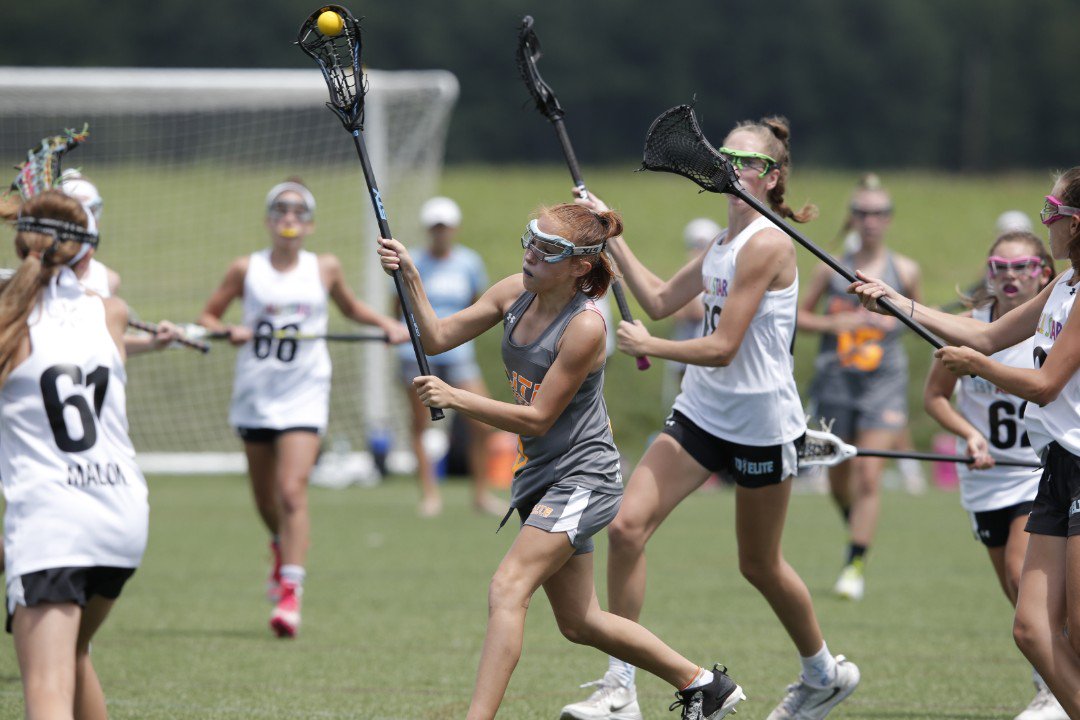 As a player, Gait soared through the air like Superman, bringing unprecedented flair and artistry to a regimented sport. He vowed to bring that back to the Carrier Dome.
As a coach, he embraced receptivity and relentless mental preparation, unafraid to bring in a renowned sports psychologist or pass off the killer instinct from his playing days with a singular goal in mind: winning.
"Gary is a once-in-a-generational player and coach," said Cindy Timchal, who hired Gait for his first coaching job ahead of the 1995 season.
Those who know Gait best call him a transformative, athlete-centered coach who is the ultimate winner. He has claimed collegiate, Canadian and international titles as a player, was part of a dynastic run of seven-straight rings at Maryland as an assistant and won a title his first year coaching a men's pro team in Colorado in 2006.
He's sliding over to his new role at a time the men's program is looking for a jolt back to its perch atop the sport and cleanse itself of embarrassing defeats and a season defined by a domestic violence case involving a star player.
Gait has shown himself to be a problem-solver.
If he didn't have the answer, he found one, even if it meant designing and manufacturing better equipment with his brother.
Gait coached the Maryland women to ditch a sluggish, two-handed cradle that looked like a windshield wiper in order to run faster with the ball.
He took a women's stick that was like a tennis racket and showed his players they could rip a shot from the outside or flip a pass from behind the back, like he used to do with his brother growing up in Canada.
"We would start every practice with stickwork and pushing the boundaries of creativity," said Jen Adams, a former All-American at Maryland who now coaches at Loyola (Maryland).
"We were never stagnant. Nothing was out of bounds."
"People wanted to make it two different sports and two different games," Paul Gait said, "and to Gary and I, it's just lacrosse. It's one game."
Syracuse University lacrosse players Gary Gait, left, and brother Paul, right, before game with the University of Pennsylvania in the Carrier Dome, Syracuse, N.Y., during the NCAA lacrosse tournament. Photo by Dick Blume/The Post StandardDick Blume/The Post Standard
They started playing when they were 4, coached by their dad and neighbor. When they fell just short of that peewee title, they brought in a pro named Ron MacNeil to take their game to the next level.
The next season they won the national title. On the drive across Canada, they'd stop and camp, mix in interval runs, body-weight workouts and meditation, giving a 12-year-old Gait his first taste of winning and a roadmap to get there.
It taught him how to learn the game, how to think about drills, how to teach himself to get better. He'd take a couple deep breaths when out for a run, calm himself and play out in his mind thousands of game-like situations.
"It's all done in my mind long before I ever get a chance to coach it or do it," Gait said.
At Maryland, the players sat silent in a circle for three minutes before practice, then roared when each season ended with a national title.
The night before a game at North Carolina in 2015, Kayla Treanor, SU's star player, led the group in a 20-minute meditation session. Then she went out and scored the winning goal in overtime for SU's first ACC championship.
"There's no reason you can't believe that you can win at everything you do," Gait said.
TOWSON, MARYLAND – MAY 30: Head coach Gary Gait of the Syracuse Orange walks off of the field after losing to the Boston College Eagles in the 2021 NCAA Division I Women's Lacrosse Championship at Johnny Unitas Stadium on May 30, 2021 in Towson, Maryland. (Photo by Patrick Smith/Getty Images)Getty Images
He and his brother arrived at Syracuse in 1987 with a mysterious aura coming from Victoria, British Columbia. There wasn't social media or YouTube highlights to give a sneak peek at the skill soon to be unleashed on the field.
At first, Palumb said, they weren't all that impressive. They played almost exclusively left-handed and weren't fully acclimated to long-stick defenders in the field game.
By the time the season rolled around, Gait could put a goalie in a pretzel knot with a succession of stick fakes.
By his second year, he could leap from behind the goal and dunk the ball, creating a poster image Adams hung on her wall growing up in Australia.
Syracuse was, at that time, a place of innovation and excellence, a program that granted its players exceptional freedom to play a style of lacrosse that attracted huge crowds and the type of players that put it in the national title hunt on an annual basis.
Nobody can leverage that history better than Gait.
He helped create it.
"It's really easy when that's what your life's about," he said, "and that's what I'm focused on, is building teams to be successful. I don't really put much pressure on it.
"One thing that I always do is I truly start to believe it, and then I start convincing the team that it's certainly capable and I get them to believe that they can do it every single year."
Contact Nate Mink anytime: Email | Twitter | 315-430-8253
MORE ORANGE LACROSSE
New Syracuse lacrosse coach Gary Gait wants to 'create a real buzz,' put 20K in Dome again
Simmons coaches embrace Gary Gait's return to Syracuse men's lacrosse: 'He is part of the family'
Syracuse AD John Wildhack says ex-lacrosse coach John Desko left on own terms
Axe: Gait brings back buzz, where to find next SU coach and Coach Q completes puzzle (quick takes)
90,000 lacrosse: learn all about lacrosse
Lacrosse
Lacrosse Player Positions Lacrosse Rules Lacrosse Strategy Lacrosse Glossary
Lacrosse is a team sport in which players try to hit the net or goal with a rubber ball. Players use a long club with a net at the end called a lacrosse club. They can run, carry, catch, shoot and pass the ball with the net of the club. The lacrosse team with the most points or goals at the end of the time period wins the game.
Lacrosse is a very sporty and active game. This ensures good physical activity and competitiveness. There is a lot of running in lacrosse, and speed and stamina are great benefits for the lacrosse player. The nickname for this sport is "The Fastest Game on Two Legs." Lacrosse has become popular in high schools, colleges and has achieved some success as a professional sport.
Lacrosse Equipment
First of all, lacrosse players must wear protective gear.This includes a helmet, mouthguard, lacrosse gloves and pads. Pads can include rib, shoulder and elbow pads. Lacrosse goalkeepers must wear additional and special protective equipment.
Another basic piece of equipment for a lacrosse player is the stick or cross. Attackers usually use a short cross (40 to 42 inches long). Defenders use a long cross (up to 72 inches in length). The head of the lacrosse club has a net for holding the ball with a flange at the end that allows you to throw or shoot the ball by swinging the club.Goalkeepers may use a lacrosse stick with a wider head.
The lacrosse field today is 110 yards long and 60 yards wide. A gate 6 feet high and 6 feet wide is 15 yards from the edge of the field. The field is divided into a defense zone (where your target is), an attack zone (where your opponent's goal is) and a wing zone (in the middle).

Click the image for full size image
History of lacrosse
The origins of lacrosse come from a game played by Native Americans.It is one of the oldest team sports in the world.
In the original game, lacrosse was often played with hundreds of players on the field. The games were played between different villages or tribes. The rules changed, as did the playing field. Sometimes the targets were far apart. Sometimes the game was used to resolve disputes and could last for several days.
The name "Lacrosse" comes from a French missionary to America named Jean de Breeuf. He talked about a stick game played by Native Americans.Lacrosse soon became popular with many European settlers, who learned the game from the locals. Later, a Canadian named William George Bierce founded the lacrosse club and began to draw up some of the rules that are used today.
Lacrosse became popular in high schools and universities in the early 1900s. It is still a popular sport in college and high school today, especially in the New England area of ​​the United States. In 2001, the Major League Lacrosse, or MLL, played its first full season of play.MLL currently has 10 teams.
There is a closed version of lacrosse called Box Lacrosse. Boxed lacrosse is very popular in Canada. The pitch is smaller as it is indoors and there are only six players on each team. The game can be fast and fun because of the smaller field and shot timer.
Positions of lacrosse players Lacrosse rules Lacrosse strategy Lacrosse glossary
90,000 Andrey Svechnikov scored 3 points and tried to score a lacrosse goal – May 5, 2021
"I had a chance to do it, but I felt that the ice was pretty bad and may not work.It seemed that he put the puck normally, but the opponent's defender was at the goal, so it was not easy to score, " – Carolina striker Andrey Svechnikov said with a smile after the match with Chicago. Svechnikov again tried to score a lacrosse goal, and in general he delighted the fans with a bright game.
At first, Chicago outplayed the Hurricanes, who acted quite carelessly – they made mistakes in simple situations, often lost the puck, but with the goal of Nino Niederreiter, scored at the beginning of the second period, the situation changed.It was Svechnikov who helped in many ways to change it, who "lit" on the ice and was simply unstoppable.
By the way, Carolina's first goal was also scored after a lacrosse attempt, which was unsuccessful – Morgan Geeky was unable to put the puck on the stick, but this resulted in a wonderful pass to Niederreiter.
"Yes, I saw it, it was great. Sometimes these things work. He tried to pry on the puck, but it turned out to be an excellent pass, for Morgan it was very cool ", – Svechnikov developed his idea.
He himself scored his first goal a little later. Towards the end of the second period, Andrei made a powerful shot from the blue line, and with the help of Sebastian Aho, who successfully played the "pillar" on the patch, he was able to level the score.
In the third period Svechnikov scored a double, and his second goal was more interesting than the first. A sharp counterattack, an elegantly beaten Chicago defender Ian Mitchell, a one-on-one approach – and the puck is in goal.
The win helped Carolina secure their ice advantage in the first round of the playoffs.Svechnikov himself, who scored 3 (2 + 1) points, caught up with Alexander Ovechkin in the list of Russian top scorers of the season – now they have 42 points each. Kirill Kaprizov and Pavel Buchnevich have 3 points more, whom Svechnikov has every chance to overtake, but the leader Artemy Panarin (58 points) cannot be reached.
"We started the match badly, I don't even know why. What did coach Rod Brindamore say? No, I can't say that, it will stay in the dressing room. But he told us a few words, sometimes it helps.We got the advantage of our ice, this is very important. It's always fun to play in front of your fans. Familiar ground, good environment. It's great, " – said Svechnikov.
Subscribe to the hockey telegram channel Sport24
Teenage bike La Crosse
A teenage bike is similar to an adult, but there are certain differences in size, drivetrain and fit. When choosing a suitable model in La Crosse, it is important to make sure that it matches the height of the teenager and is comfortable when riding.
Smith's Bike Shop
6087841175 125 North 7th Street, Wisconsin, La Crosse, 54601, La Crosse, USA
Smith's Bike Shop, in La Crosse, is an official Trek dealer and has hundreds of bicycles in stock including kids bikes, mountain bikes, road bikes, cruisers, recumbents and more. Call (608) 784-1175 or stop in our store where we'll work with you to find the right bike for your needs and lifestyle.
Give feedback
Teenage bicycles: types and secrets of choice
The teenage bike is more like an adult than a child, but here there are also rules of choice and subtleties. An important parameter of choice here is height, because it depends on it what diameter of wheels the bike should have, what is the height of the steering wheel, and how comfortable it will be in the saddle.
The next parameter that is important when choosing a suitable model is the purpose of the purchase. Usually, teenagers do not participate in extreme competitions, but simply drive around the city with their friends.And they need a bike that is appropriate, with sufficient equipment and without unnecessary bells and whistles. However, there are also extreme sportsmen who already demonstrate tricks or are just learning. For them, traditional city bikes are boring, they need something that matches their rebellious spirit.
What are teenage bicycles
Bicycles for teenagers are preferable to two categories: city and mountain.
On city bikes, they ride on smooth asphalt or well-trodden paths in the park.Some models do not have gear shifting, but they have a brake (front or rear) and shock absorption. This transport is not for stunts, but for a quiet ride in the city. A subspecies of a city bike – a cruiser, a cruise bike. His saddle is high enough to keep his back as relaxed as possible and not hurt. Other distinctive features of this look are the curved steering wheel and the large size of the wheels. Such models usually last 1-2 years, but if it is possible to adjust the height of the steering wheel and seat, the service life can be extended to 5 years.
Mountain bikes (mountnibikes) provide more active riding in cities and beyond. They can be used to jump onto a curb or higher obstacle, drive in a stadium or through a forest, walk in a park, or do quite difficult cycling trips on a par with adults. Many models are equipped with gear shifting and are designed not for a straight, but for a sporty seating position when the back is tilted. Models equipped with 12-18 speeds are suitable for teenagers under 15 years old, and in models for older riders there can be up to 27 speeds.
There is another type of bike that is popular among teenagers and is designed not for riding, but for performing tricks. This is BMX. They do amazing things on it: they jump up the stairs, fly from one platform to another.
How to choose a teenage bike
It is better to choose and purchase a bicycle with a teenager, because it is he who will use the new iron friend. When choosing, you need to pay special attention to the following parameters:
Height.Teenagers of the same age can vary significantly in height, so you need to rely on the number of sentiments, and not years. Recommended wheel diameter 26 "and suitable frame size 16" for 150 to 165 cm, 17 "for 156 to 170 cm, 18" for 167 to 180 cm.
Paul. Both in the adult and teenage world of bikes, there is a division into male and female models. Girls usually prefer bright and light models, whose frames are made of aluminum.Guys are unlikely to sit on a hot pink bike.
Budget. Teen bikes are often sold at the same price as adults. It is advisable to at least roughly imagine how much money they are willing to pay for a new vehicle. The cost is influenced by the equipment with which the bike is equipped, the brand and manufacturer (you have to pay extra for popular names, but they provide their products with a good guarantee), the material from which the frame is made (aluminum or steel).You should not chase too expensive options, because in a year or two you will have to buy a new one. However, too cheap is also not a solution: it will quickly break down and will not withstand high loads, but a teenager is very active and ready to ride a bike even all day.
Bicycle fitting
A bicycle in this context is the same clothes: you need to try it on carefully before buying so as not to be disappointed. Teenage bike shops do not mind fittings: they are also interested in the buyer being confident in his decision and not demanding money back.
When a teenager reconciles a bicycle, the following is to be observed:
He can easily swing his leg over the frame. Over time, this action will be brought to automaticity.
When standing on the floor next to the bike with his back resting on the tip of the saddle, the gap between his legs and the frame should not be less than 7 cm. This space will prevent injury from hitting the frame, which is quite painful.
When a teenager is in the saddle, his feet should reach the pedals with the entire surface of the foot, not just the toes.On some models, the saddle height can be adjusted, and this feature should be used when trying on.
When resting on the handlebars, the back should be straight, and the arms should be slightly bent at the elbows. If a teenager bends his back, then the bike is too small for him, and if he barely reaches the steering wheel with straight arms, then the model is large. Long-term cycling that does not fit your height will lead to back problems.
There should be no discomfort while riding the bike.If, when choosing a place, , where to buy a teenage bike , preference is given to physical stores, it is recommended to try it in action, ride for a few minutes. In this case, you need to ask the teenager to listen to his feelings: does his back hurt, is it convenient to pedal and hold the steering wheel.
Conclusion
The adolescent continues to grow, albeit at a much slower pace than before. Therefore, before they reach 20 years old, they will have to change more than one bicycle model, and you need to be ready for this.You should not buy a model "for growth": riding a bike that does not fit your height will not bring pleasure.
Teens bikes in La Crosse are represented in a wide range. There are both mountain and urban options. Among such a variety, it is difficult not to get confused, but the recommendations given above will become a guide when buying.
It is desirable that the teenager has a basic knowledge of the correct operation of a bicycle, although most of the responsibility for its serviceability still rests on the shoulders of parents.
90,000 About who is being chased and beaten | Publications
Here is another Indian competition – the carrera – remains the lot of the Tarahumara Indians only. It has not taken root in anyone else. And it could not be grafted. And not because it is very difficult. No, just no difficulties. Judge for yourself – in the carrera, you just need to run, throwing a wooden ball with your big toe. No gates, no strict rules. Just run to yourself. Only now you have to run for at least two days.The Tarahumara people, who live in the Mexican Sierra Madre mountains, are renowned for their tireless running. In translation, their name means "flying legs". And their achievements here are truly phenomenal. For example, here is the data given in the "Sportbulletin" published in Stuttgart: a Tarahumara Indian named Juan Maceira ran a distance of 265 kilometers without stopping. Agree that with such agility it is difficult to find opponents who want to compete in throwing a wooden ball on the run …
In the same place, in Mexico, they play another ball game inherited from the Aztecs.It is about hulam. Those who play hulama are placed in difficult conditions – he must not hit the ball with his hand, foot, or head, he has no stick, no club, no racket. He has the right to hit with only one place – the thigh. And that makes sense.
The Aztecs were led by rubber, but they did not know how to make inflatable balls out of it. Therefore, they were thrown over with large cast balls. Substituting an arm, a leg, or, God forbid, a head under such a flying monolith meant taking oneself out of the game for a long time.
So, wrapping a thick leather belt around their hips, the participants enter the field.The Aztecs built for this game, which they considered "the game of the gods", magnificent stadiums, partially preserved to this day. The ball had to be hammered into a ring set in a stone wall. The modern version of hulama is lightweight: the player has to put the ball behind the opponent's line of defense. But one should not think that it is easy for the first comer: the correspondent of the National Geographic magazine, who took the ball on his thigh, had to spend the next two days in a hotel room, applying lead lotions to his playing leg.
It is very likely that if an untrained reporter took part in a polo match in Pakistan, he would not have gotten off so easily. What is polo? In short, the game can be summed up as "horse hockey". Armed with a stick, the rider drives the ball towards the opponent's goal. But he does not sleep and seeks to take the ball away. And on occasion, and pull the player off the horse on the move. Without a horse, he will not go far, so the enemy reasons …
Buick LaCrosse 2017, the new American sedan
Buick has unveiled a new generation of its famous LaCrosse sedan.Not to say that the new sedan has changed dramatically, but still there are new forms. Let's compare the previous generation and the new product, as well as consider the characteristics and parameters. Buick has presented a new generation of its famous LaCrosse sedan. Not to say that the new sedan has changed dramatically, but still there are new forms. Let's compare the previous generation and the new one, as well as consider the characteristics and parameters.
Contents of the review:


Buick LaCrosse sedan has been known for years, luxurious and solid, immediately stands out from other cars on the road.Not so long ago, a new generation of 2017 was presented, there are no cardinal differences from the previous one, but still some parts have changed a lot. The novelty has become more like Mercedes-Benz, especially the front optics and radiator grill.
Exterior of the new Buick LaCrosse 2017
The sleek curves of the previous Buick LaCrosse have been smoothed out in the new 2017 generation. To say that the new sedan has completely changed would be very loud, but still they are. At the front, the first thing that catches your eye is the new LaCrosse grille.She has become narrower and more elongated.
In the center of the grill was placed the updated emblem of the Biuck company, now monotonous colorless shields, painted in blue, white and red. Almost from the center of the rim of the emblem, two chrome horizontal stripes extend, dividing the grille in half.
The same chrome strip remains along the contour of the radiator grille. The new front optics of the Buick LaCrosse 2017 have become quite noticeable. Large headlights from the previous generation of LaCrosse have become smaller and extended on the sides.Despite the changes, the functions and structure of the optics are the same. In the upper part there are daytime running lights, and the optics themselves are based on halogens.
The LaCrosse front bumper has also been changed. In the 2016 model, it ended in the middle of the radiator grille, not reaching the hood; in the updated generation of 2017, it occupies the entire front of the sedan. The grille of the Buick LaCrosse 2017 is now, as it were, built into it, the hood lies end-to-end with the front bumper. Previously, the hood lay on top of the front optics and grille.
The lower part of the bumper is occupied by a recess for an additional grille for blowing the engine in the middle and LED foglights on the sides. This entire notch is divided in width by a chrome strip, thereby emphasizing the solidity and rigor of the 2017 Buick LaCrosse.
The hood of the Buick LaCrosse sedan has also become a characteristic change. The previously famous side-mounted ventilation vents migrated to the top of the front fenders in the 2017 model. On the hood itself, instead of two curved lines, there are now four.
The side section of the 2017 Buick LaCrosse is not much, but still changed its lines. Stripes changed along the entire length. From a strict strip, from the front fender, in the new generation, it goes smoothly on the front fender and doors. On the tailgate and fender, the strip originates from the front door handle. The side mirrors have changed their location. Previously, they were in the corner of the front door glass, but now in the new Buick LaCrosse they have migrated to the door itself.
The shapes and lines of the rear doors have changed quite noticeably, instead of strict and even they have become smooth and rounded.The window behind the tailgate has changed its strict features to smooth ones, while it has become smaller. Chrome molding can be seen on the side along the bottom of the doors, but in the 2017 model it will be raised higher and wider.
The rear of the 2017 Buick LaCrosse sedan is practically unrecognizable, here the body changes are maximum. The raised trunk lid, with a built-in spoiler, distinguish the sedan from other cars. The rear optics, based on LEDs, have completely changed their shape. One part of it is located on the trunk lid (and a narrow and elongated part), while the second part is on the body.Above, both parts are summed up with a chrome line. In the center of the LaCrosse boot lid, there is a company emblem similar to the front one.
The result of such changes has led to changes in the bumper and rear window. The bumper has become more streamlined, with a small step line near the lid. The rear window has become smaller, as the rear of the Buick LaCrosse 2017 has eaten most of it. Probably one thing that the designers decided not to change is the shark fin-shaped radio antenna above the rear window.The lower part of the bumper is adorned with two chrome tailpipes and a chrome splitter insert between them.
As for the 2017 Buick LaCrosse roof, depending on the selected sedan configuration, it can be solid (for the basic configuration), with a sunroof (medium configurations) and fully panoramic (for the maximum sedan configuration).

The 2017 Buick LaCrosse will be fitted with 18 ″ alloy wheels as standard. For an additional fee, the manufacturer can install 20 ″ branded discs, with a choice of shape and pattern.
Along with the changes, the dimensions of the body also changed:

length – 5016 mm.;
width – 1867 mm.;
height – 1460 mm.;
wheelbase – 2906 mm.

Regarding the 2017 Buick LaCrosse body color, the manufacturer will not offer bright colors. Available to the buyer:

white;
Pearl White;
light gray metallic;
coffee;
red;
dark blue;
dark green;
graphite gray;
dark brown;
black.

For metallic color, the buyer will need to pay $ 395. For changing the color of the grille, you will need to pay about $ 200. In general, the updated generation turned out to be modern, the designers tried to combine modern features with the existing body shapes of the previous generation Buick LaCrosse 2016.
Salon of the new sedan Buick LaCrosse
Following the exterior of the Buick LaCrosse 2017, the interior has also changed slightly. Most of the changes have been made to the front panel.The upper part of the panel is made in the form of layers, with the driver's part more, with the passenger part smaller. In the center is a touchscreen 8 ″ display of the multimedia system. On the sides of the display, there are openings for air supply, the principle is the same as in the previous generation Buick LaCrosse, but the shape has changed, strict on top and rounded below.
The multimedia system supports both iOS and Android gadgets. There is also built-in Bluetooth and 4G Wi-Fi, for those who cannot imagine traveling without access to the Internet.The audio control panel is located under the display, you can turn on or off, switch and rewind the audio. Here, the designers have separated the emergency parking button. Separated by a chrome strip, there is a dual-zone climate control panel below, there are also buttons for controlling seat heating and fan speed. Below is a small panel for enabling additional systems Buick LaCrosse 2017, this is a sport suspension mode, a blind spot monitoring system and automatic parking. Dropping lower, there is a gear lever and storage compartment for small items, plus two cup holders.
No less interesting is the change in the LaCrosse instrument panel. In the central part there is a color 8 ″ display. The engineers came up with a trick, the central part is occupied by the speedometer, and the side parts were separated for various indicators such as fuel level, engine temperature. As for the tachometer and some other sensors, they were made analog.
The 2017 Buick LaCrosse steering wheel has four spokes, instead of the three previously known. A chrome Buick emblem is placed in the center, it also serves as a horn button.On the left and right are multimedia control buttons, with a different choice of functions, on-board computer control and more. The steering wheel itself is covered in leather, to match the color of the front panel. Behind the steering wheel there are levers for switching turns, wipers and other sedan systems.
On the right, behind the wheel, the engine Start / Stop button is located, which indicates keyless access to Buick LaCrosse 2017. To the left of the steering wheel, there is an electromechanical parking button, a similar button is located on the gearshift lever. Near the steering wheel, the adjustment and control of the front optics, buttons for the trunk and hood were also located.
Regarding the colors of the interior of the new Buick LaCrosse 2017, the designers limited themselves to a few color shades, but at the same time only leather with perforated inserts is used as a material, no fabric.
So the interior shades of the 2017 Buick LaCrosse will be:

light gray with dark brown inserts;
black with black inserts on the front panel;
brown with black accents.

It is worth noting that there will be natural wood inserts around the entire perimeter and on the front panel, which significantly emphasizes the interior of the Buick LaCrosse 2017 and emphasizes its luxury.For an additional fee, the owner can install floor mats for $ 130 and $ 50 for a trunk mat. If you like to smoke in the car, then the manufacturer has provided a special package worth $ 55. It includes an improved cabin filter and stronger seat upholstery.
The interior of the new Buick LaCrosse 2017 itself is comfortable and roomy, the front and rear seats are essentially the same. The front ones are comfortable to fit, with wrapping around the sides. Both the LaCrosse driver and passenger seat can be easily adjusted electrically in different directions.The back row is designed for three passengers, for a comfortable trip over long distances. For passengers behind, the designers have placed two USB ports for charging gadgets and a 12V outlet between the front seats.
Technical data of the new LaCrosse
Although the 2017 Buick LaCrosse has been updated, the variety of engines has not been added. Engineers hid a 3.6-liter VVT gasoline engine under the hood of the novelty. The advantage of such an engine is the ability to turn off the cylinders when driving in traffic jams or when extra horses are not needed.This innovation is now common in American cars. The power of such a LaCrosse unit is 309 hp. Maximum torque 364 Nm.
The engine will be paired with an eight-speed automatic transmission with front-wheel drive or all-wheel drive for the Buick LaCrosse Premium package. Fuel consumption for front-wheel drive is 11.2 liters. per hundred in the city and 7.6 liters. outside the city. If LaCrosse has four-wheel drive, then the consumption in the city is 11.76 liters, and outside the city – 8.1 liters.Similarly to the drive, the difference is in the fuel tanks, for the front-wheel drive – 60 liters, and for the all-wheel drive Buick LaCrosse – 62 liters. Otherwise, there are no differences between the LaCrosse trim levels, the luggage compartment volume is 425 liters.
A relative diesel engine, there is no prospect of this yet, so the buyer will not have much to choose from. In general, the LaCrosse is economical for its engine size, and this is thanks to modern technology.
2017 Buick LaCrosse Safety and Comfort
The safety of any modern car starts with airbags.In total, 10 airbags will be installed around the perimeter of the new Buick LaCrosse 2017. In front there are two for the driver and passenger at the level of the dashboard, as well as in the knee area for protection. For rear passengers, there will be built-in curtains, side impact protection, as well as the front. Not without built-in airbags in the front seats, thus protecting the front and rear passengers.
With regard to the active safety systems LaCrosse, a very small list is available. The navigation map will be shown on the center monitor.Surveillance cameras are installed around the perimeter, so you can easily view the situation around the Buick LaCrosse on the monitor. It is also a great help when parking or reversing, the on-board computer will calculate the best trajectory as accurately as possible so as not to harm the car.
When driving, a blind spot monitoring system and a vehicle stabilization system will be very useful. In continuous mode, the monitor will display the tire pressure, thereby showing which tire is damaged.The maximum configuration of the Buick LaCrosse will be equipped with adaptive cruise control.
LaCrosse will benefit from a child restraint system in a car. The purpose of the system is to maximize the protection of passengers, especially children in the rear seats, and to maximize ride comfort. In this case, the LaCrosse on-board computer will calculate the braking distance in order to get rid of jerks and sudden braking. The driver will not be allowed to accelerate more than allowed on this section of the road, which means that the system will most accurately combine the work with the navigation system.
The manufacturer does not limit the customer to a set of systems in the car; even the most diverse systems can be installed for an additional fee. After the release of the new Buick LaCrosse on the market, the manufacturer promises to expand the list and add innovations as soon as they appear.
Cost and configuration of the sedan
The updated 2017 Buick LaCrosse sedan is available on the market in four different trim levels. The dealerships have already announced the prices and take orders as quickly as possible.The main difference between Buick LaCrosse trim levels is the drive. As already mentioned, everyone will have an FWD, and both FWD and AWD will be available for the Premium trim level. There will be only one engine, without the right to choose. Otherwise, the differences are only in the filling of various systems.
The price of a new product is as follows:

LaCrosse – $ 32990;
LaCrosse Preferred – $ 36,990;
LaCrosse Essence – $ 39590;
LaCrosse Premium FWD – $ 41,990;
LaCrosse Premium AWD – $ 44190.

The cost of the new Buick sedan is not small enough, some experts say that it is easier to buy a Mercedes-Benz, which this novelty is very similar to.
We can talk for a long time about the new generation of Buick LaCrosse 2017, the manufacturer offers a full list of functions in the cabin upon purchase. In general, the design was updated for the better, although some still did not like the rear of the car, they say it was possible to make it strict or at least replace the rear optics.The interior of LaCrosse turned out to be comfortable and attractive, as for a family sedan, so long-distance travel will be comfortable and without fatigue.
Video review of the new Buick LaCrosse 2017:
Other pictures Buick LaCrosse 2017:
Buick
90,000 Which to choose: La Crosse or MAHA?
Which to choose: La Crosse or MAHA?
Today in the world there are more than a dozen companies that produce chargers designed to service NiMH (nickel metal hydride batteries) AA or AAA size.But of all the variety produced, only three chargers in the world are capable of reliably and clearly in numbers on the screen displaying information about the state of a particular battery. These are chargers manufactured by La Crosse Technology and MAHA Energy Corporation.
I propose to compare chargers MAHA MH-C9000, La Crosse BC-900 (Technoline BC-900) and La Crosse BC-700 (Technoline BC-700)
Overall view in comparison:
Power supplies:
Specifications:
MAHA MH-C9000

La Crosse BC-900

La Crosse BC-700

Type of maintained batteries

NiMH or NiCd

NiMH or NiCd

NiMH or NiCd

Standard size of serviced batteries

AA or AAA

AA or AAA

AA or AAA

Number of simultaneously serviced batteries

1 to 4

1 to 4

1 to 4

Individual work with each battery (independent channels / slots)

4 independent channels

4 independent
channels

4 independent
channels

Maximum charging current for 2 batteries

2000 mA
per slot

1800 mA,
only on 1 and 4 slots

700 mA
per slot

Maximum charging current for 4 batteries

2000 mA
per slot

1000 mA
per slot

700 mA
per slot

Manual selection of charging current

Yes,
200 to 2000 mA
in 100 mA steps

Yes
200/500/700/1000 mA

Yes,
200/500/700 mAh

Maximum discharge current

1000 mA,
per slot

500 mA,
per slot

350 mA,
per slot

Manual selection of the discharge current

Yes,
100 to 1000 mA
in 100 mA steps

Yes,
100/250/350/500 mAh

Yes,
100/250/350 mAh

Battery test mode

Yes

Yes

Yes

Battery recovery mode

Yes

Yes

Yes

Cycling mode

Yes

Yes

Yes

Ability to view the results of each cycle

Yes
12 cycle memory

No
view only final result

No
view only final result

Availability of temperature sensors

Yes
4 sensors

Yes
2 sensors

Yes
2 sensors

Interruption of the cycle when the battery overheats.

Yes
complete cycle stop

Yes
Temporary cycle interrupt

Yes
temporary interruption of the cycle

Liquid crystal display

Yes

Yes

Yes

Screen backlight

Yes
(white backlight)

No

No

Power supply unit

Input 100-240V, 50 / 60Hz.Output 12V, 2A

Input 100-240V, 50 / 60Hz. Output 3V, 4A

Input 100-240V, 50 / 60Hz. Output 3V, 2.7A

Dimensions of charger

165 x 110 x 43 mm

129 x 75 x 37.2 mm

129 x 75 x 37.2 mm
From myself: -I made my choice a long time ago. I do not save on batteries and do not shake over them, as if this is the last acquisition in my life.I am engaged in radio-controlled models and it is more important for me to get the maximum current output from the battery, and this can be achieved only in one way – maximum charge currents. I really like MAHA with its maximum current of 2 Amperes, but the routine of its programming and the pause between cycles kills me. I am delighted with the La Crosse BC-900 (Technoline BC-900) charger, which I have been using for many years, but its maximum current of 1A is sometimes not enough. The only thing these chargers lack is a fan for cooling the batteries, and in terms of reliability they have survived a dozen chargers that pass through my hands every year and go to the trash heap with the same regularity as low-quality batteries, for colorful advertising which I, as an ordinary man in the street, sometimes lead.
Now about the differences in the operation of chargers:
– The main significant difference in chargers is the maximum charge current for the batteries in each slot. MAHA has 2000 mA, La Crosse (Technoline) BC-900 has 1000 mA, La Crosse (Technoline) BC-700 has 700 mA. But it is worth noting that not all batteries can be charged with such currents. Only high-quality batteries can withstand high charging currents. If you use ordinary household batteries that are sold now on every corner, then this difference in chargers is not important for you.Household batteries cannot be charged with high currents. Those who use high-quality batteries will be able to appreciate the correct operation of the MAHA charger at high currents.
-The next difference is a pause when the device switches automatically from the battery discharge mode to the charge mode. The MAHA charger pauses for 1 hour when changing from one mode to another … in other words, it gives the battery a rest. La Crosse (Technoline), in this case, does not pause, it immediately, without delay, switches from discharge to charge mode.
– Selection of charge and discharge current. On the MAHA charger, you can choose absolutely any charge current (from 200 to 2000 mA) and discharge current (from 200 to 1000 mA) in 100 mA steps. In the situation with La Crosse, everything is different – the discharge current / charge current pairs are hardwired into the charger program. If you set the discharge current to 100 mA, then when you switch to the charge mode, the device will automatically set the current to 200 mA. If the discharge current is 250 mA, then the charge current will be 500 mA… if the discharge is 350 mA, then the charge is 700 mA… the discharge is 500 mA / the charge is 1000 mA.
– A very useful function of MAHA is the determination of the internal resistance of the battery. Unfortunately, the value is not displayed on the screen. If there is a high internal resistance, MAHA will not work with the battery. La Crosse (Technoline) does not determine internal resistance and works with such batteries, considering that everything is in order with them
– The La Crosse (Technoline) charger has a charge / discharge current limitation for all channels, it consists in the fact that the charge / discharge current in the 2, 3 and 4 channels of the charger cannot be selected more than the current in 1 channel ( slot).MAHA has no such limitation
– Another important difference between La Crosse and MAHA is the display on the charger screen of the current to maintain the battery charge. Upon completion of the program, La Crosse displays the inscription FULL on the display of each slot, which corresponds to the end of work with the battery, but in fact the charger goes into the mode of maintaining the battery charge with low currents. In this mode on LaCrosse, you can always see to what capacity the batteries are charged, how much time was spent on charging, what is the current voltage on each bank and see the value of the charge support current.As a rule, its value is extremely insignificant. MAHA does not display this value, and upon completion of the program, it simply displays the inscription DONE on the screen, shows the voltage, time and accumulated capacity.
– Overheating of batteries. La Crosse has 2 battery temperature sensors located between slots 1-2 and 3-4. MAHA has 4 sensors under each of the slots. In the event of excessive overheating of the batteries, MAHA completely stops its operation and cannot be further controlled. La Crosse in this case displays the word OOO and pauses its work.As soon as the batteries have cooled down, La Crosse resumes the started cycle.
– MAHA has a separate CYCLE mode, as a result of which the charger performs 15 consecutive charge-discharge cycles for the batteries. La Crosse (Technoline) can only complete one full discharge-charge cycle.
– La Crosse has a battery recovery mode called REFRESH. In this mode, the charger sequentially discharges and then charges the batteries, and this is repeated until the batteries reach their maximum capacity, or 20 consecutive discharge / charge cycles are performed.In the REFRESH ANALYZE mode, the MAHA charger performs only one complete charge-discharge-charge test cycle.
– MAHA also has a battery recovery mode, which is called BREAK-IN, but in this mode the currents are fixed, as well as the stage times. Charging is not directly monitored, it runs in time. First, a charge is made for 16 hours with a current of 0.1C, then a discharge with a current of 0.2C and a final charge with a current of 0.1C. In this mode, MAHA prompts the user to select only the capacity of the battery, and not the strength of the charge and discharge current.
– Charger control. After you have inserted the batteries into MAHA, you need to program separately each channel of the charger … select the mode, select the value of the discharge current, charge current, and then repeat the same operations for the next channel, etc. These operations usually take from 1 to 3 minutes. La Crosse is easier to program … mode and discharge / charge current are selected simultaneously for all channels. This is done in 10-15 seconds. If you need to select your personal mode for a battery, you can do it separately.
– If you have chosen to set only the battery discharge mode on MAHA, then at the end of the discharge, the charger completely stops its work. La Crosse (Technoline) always automatically switches to charge mode after the battery is discharged.
– At the end of any of the modes MAHA completely stops its work and further control is impossible. To switch the charger to a new mode, you need to remove the batteries from the charger, insert them again and completely "from scratch" program the new operating mode.Switching modes in La Crosse can be done without any difficulty on the go, at any stage, and, both for all 4 channels, and for a separately selected one, for this, under each slot there is a separate channel (slot) selection button.
– For me personally, La Crosse (Technoline) does not have enough backlighting … no backlighting. And someone complains that the existing backlighting of the screen with white light MAHA is too bright and it is impossible to adjust it.
– Both La Crosse and MAHA will not work with batteries that are less than 0 discharged.85V when the battery is faulty or missing. If you have such batteries, I recommend using a simple and cheap charger that does not detect the state of the battery and can slightly recharge the battery to the required voltage. Once the battery has reached the required voltage, it can be rearranged in La Crosse or MAHA for further recovery.
90,000 [WAP] North Carolina companies. Free Business Catalog
JavaScript warning
JavaScript is turned off in your browser.With no JavaScript support most of the website will not work.
Some facts about NCfirms.com:
Find copies of original documents and details of company directors, shareholders and more. Use our free search for companies in North Carolina:
Here is the catalog of companies and all the information provided here absolutely free !
There are more than 1,981,777 North Carolina companies in our database.
---
---
Ukraine Connection Ministries, Inc.

Status: NOT SPECIFIED
Registration code: 1117949
Date (registration): 0000-00-00

Browning Finance, Inc.

Status: NOT SPECIFIED
Registration code: –
Date (registration): 0000-00-00

Beyond Healthcare, Inc.

Status: NOT SPECIFIED
Registration code: 1099993
Date (registration): 0000-00-00

GLOBAL COMMUNITY FOUNDATION

Status: NOT SPECIFIED
Registration code: 1109015
Date (registration): 0000-00-00

Alta Harbor On The Lake, Inc

Status: NOT SPECIFIED
Registration code: –
Date (registration): 0000-00-00

AGAPE AND MOORE COUNSELING SERVICES

Status: NOT SPECIFIED
Registration code: 1069386
Date (registration): 0000-00-00

Hot Deals Enterprises, LLC

Status: NOT SPECIFIED
Registration code: 1113332
Date (registration): 0000-00-00

THE WARREN CORPORATION

Status: NOT SPECIFIED
Registration code: 0157773
Date (registration): 0000-00-00

Mccluggage, Van Sickle & Perry Corporation

Status: NOT SPECIFIED
Registration code: –
Date (registration): 0000-00-00
.