Good lacrosse stick brands: Top 10 Lacrosse Brands
Top 10 Lacrosse Brands
Lacrosse is a fun and competitive sport that requires specific equipment and safety gear to be played. The list below compiles trusted brands among players. Whether you are an amateur or a professional, these tried and true brands are great options when choosing your equipment.
---
What are the most popular lacrosse brands?
The current top 10 lacrosse brands are:
STX
Maverik
Cascade
Warrior
Nike
Brine
Under Armor
East Coast Dyes (ECD)
Epoch
Gait
1. STX
STX is the industry's leader in lacrosse products. Whether it be gloves, pads, heads, shafts, apparel, or anything else involving lacrosse, STX has it. The name STX is a play on the word "sticks", in reference to lacrosse sticks. STX is one of the largest manufacturers of men's, women's, and youth lacrosse equipment, and also produces ice and field hockey equipment. The company has been around since 1970 and is headquartered in Baltimore, Maryland.
STX has many sponsors throughout the lacrosse industry, nearly doubling the number of sponsorships of other brands on this list. It sponsors numerous professional athletes, university teams, and the Premier Lacrosse League. These include some of the biggest names in college lacrosse, such as Cornell, Syracuse, Duke, and more. Their presence in the PLL is heavily felt as they sponsor many high-caliber players such as Kyle Harrison. Being so involved in nearly every aspect of lacrosse, from youth to collegiate to professional, gives STX the largest influence in the lacrosse industry.
2. Maverik
Maverik Lacrosse is another big player in the lacrosse industry. They provide equipment, accessories, apparel, and anything else related to lacrosse. Maverik offers a variety of options for men, women, and children lacrosse players. Currently, the company's focus is solely on the lacrosse market, so they do not manufacture gear for any other sports. Maverik Lacrosse was founded in 2005 and their headquarters are located in New York City.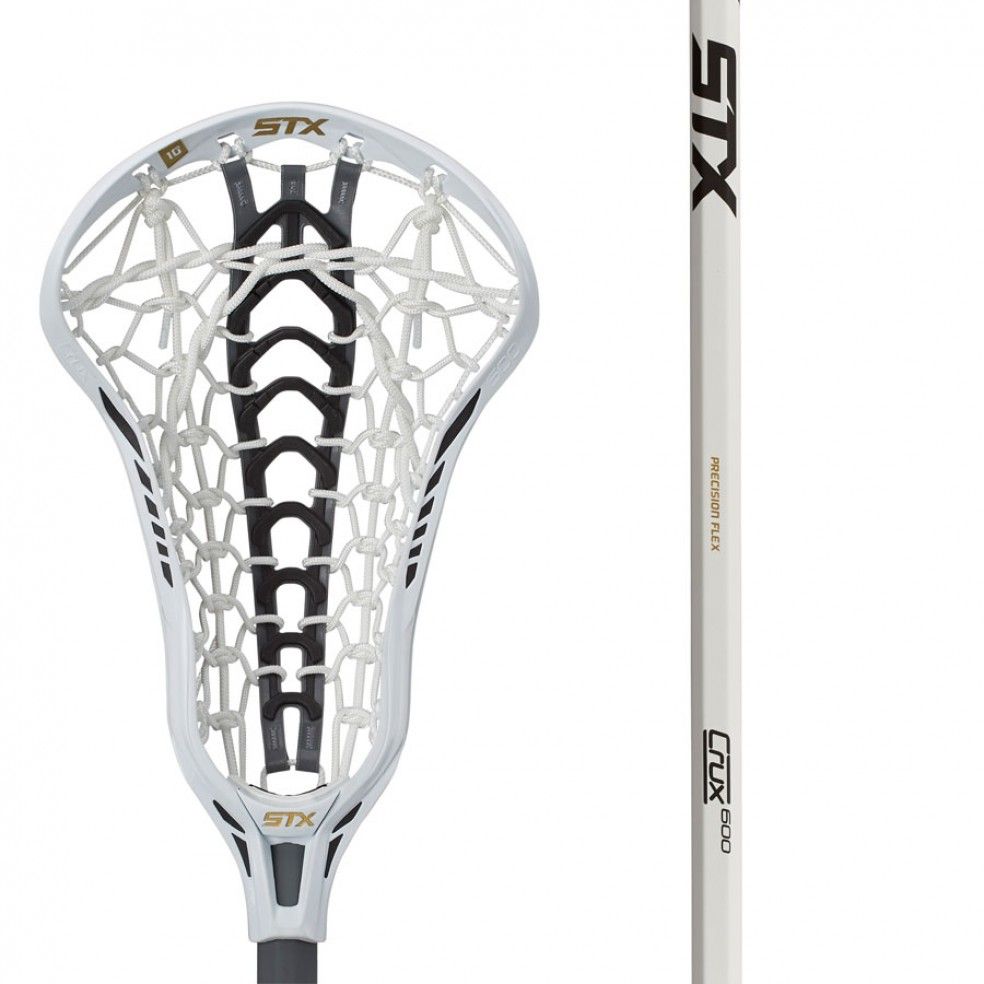 While Maverik does not sponsor any college or professional teams, their presence is clearly shown through the players they sponsor. Maverik sponsors both male and female professional lacrosse players, including Joe Walters, Riley Donahue, and Nick Mariano.
3. Cascade
Cascade Lacrosse is a notable brand in the lacrosse world. Founded in 1986, Cascade has been a consistent provider of quality lacrosse helmets for years. The company is based out of Liverpool, New York, and manufactures equipment for men's, women's, and youth lacrosse. Cascade focuses mainly on headwear, and has become the largest producer of lacrosse headwear in the world. They are most well known for their men's lacrosse helmets, which revolutionized the game upon their release. Cascade helmets such as the CPX-R and S models are stylish, lightweight, comfortable, and allow for various adjustments to fit any athlete. They also provide high quality goggles and headgear options for women's lacrosse players. Cascade does not sponsor any individual athletes; however, they recently partnered with the PLL to become the league's official helmet sponsor.

4. Warrior
Warrior Sports was founded in 1992 and is currently based in Warren, Michigan. Warrior notably manufactures equipment for ice hockey along with lacrosse, holding a high reputation in both sports. The company attempted to enter the soccer industry in 2012, but discontinued its soccer equipment line shortly after. Warrior is owned by New Balance, a leader in producing equipment for sports. Warrior has offered a wide range of lacrosse products over the years, including heads, shafts, pads, helmets, cleats, and apparel. Warrior currently sponsors Major League Lacrosse and had previously sponsored Paul Rabil, one of the sport's most well-known athletes, prior to his entry in the Premier Lacrosse League.
5. Nike
Nike is well known worldwide and produces equipment for nearly every sport imaginable, lacrosse included. They are a multi-billion dollar company with an international reach, headquartered in Beaverton, Oregon. With such a large presence and reputation in the sports industry, it's no surprise that their lacrosse gear is top-notch.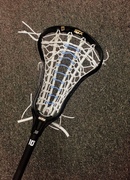 Nike provides high quality cleats, accessories, shafts, heads, and pads for men's, women's, and youth lacrosse. As a familiar brand, many beginners to lacrosse will start with Nike products. While Nike does not directly sponsor any lacrosse programs or players, the company sponsors several influential universities such as Ohio State, Syracuse, LSU, Duke, and more. While lacrosse may not be Nike's main focus, they certainly do a great job of manufacturing high quality lacrosse equipment.
6. Brine
Brine holds a notable name in the world of lacrosse and has a deep history in the sport. Brine was founded in 1922, with its headquarters located in Milford, Massachusetts. As one of the oldest companies to manufacture lacrosse equipment, they have a good reputation within the sport. Their logo resembling a king has become iconic within the Lacrosse community. Many would be surprised to know that Brine is actually owned by Warrior (New Balance), which is a competing lacrosse brand.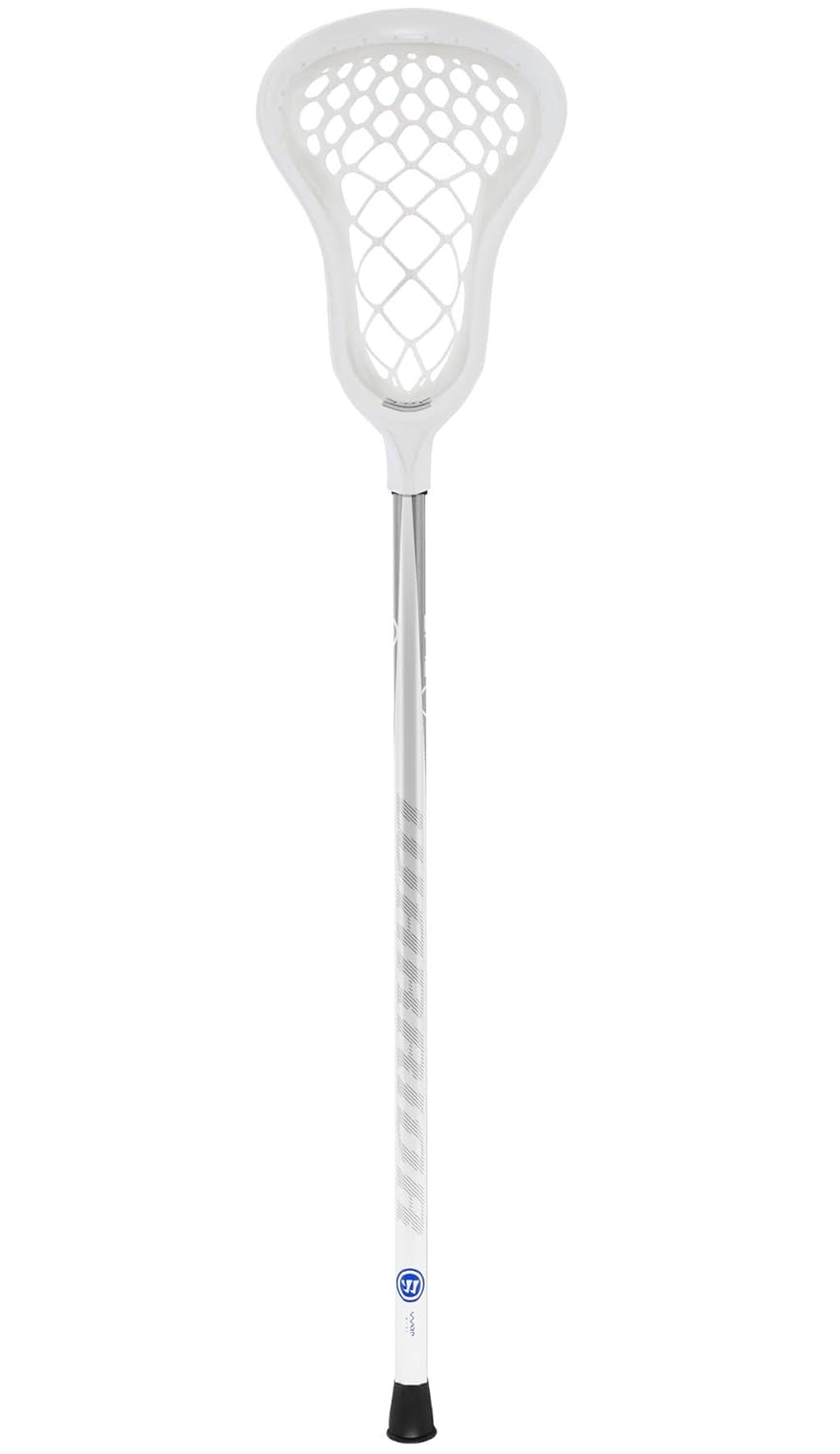 Additionally, former Brine employee Bill Brine left the company in 1986 to form Cascade, another lacrosse equipment powerhouse. Brine currently provides heads, shafts, and pads, along with other lacrosse accessories. Brine also has a reputation of producing some of the best goalie equipment in the sport.
7. Under Armour
Another well known sports brand worldwide, Under Armour produces excellent lacrosse equipment. Under Armour calls Baltimore, Maryland its home and has been in business since 1996. The brand produces equipment for various sports including soccer, baseball, basketball, running, and many more. Under Armour holds a reputation for being one of the sports industry's best equipment providers. Therefore, their selection of lacrosse equipment is top-notch. Under Armour lacrosse sells heads, shafts, cleats, and protective equipment. While Under Armour sponsors many athletes and teams from other sports, they have no current sponsorships in lacrosse. As a popular multi-billion dollar company, they have many satisfied customers worldwide and their lacrosse equipment certainly lives up to these high expectations.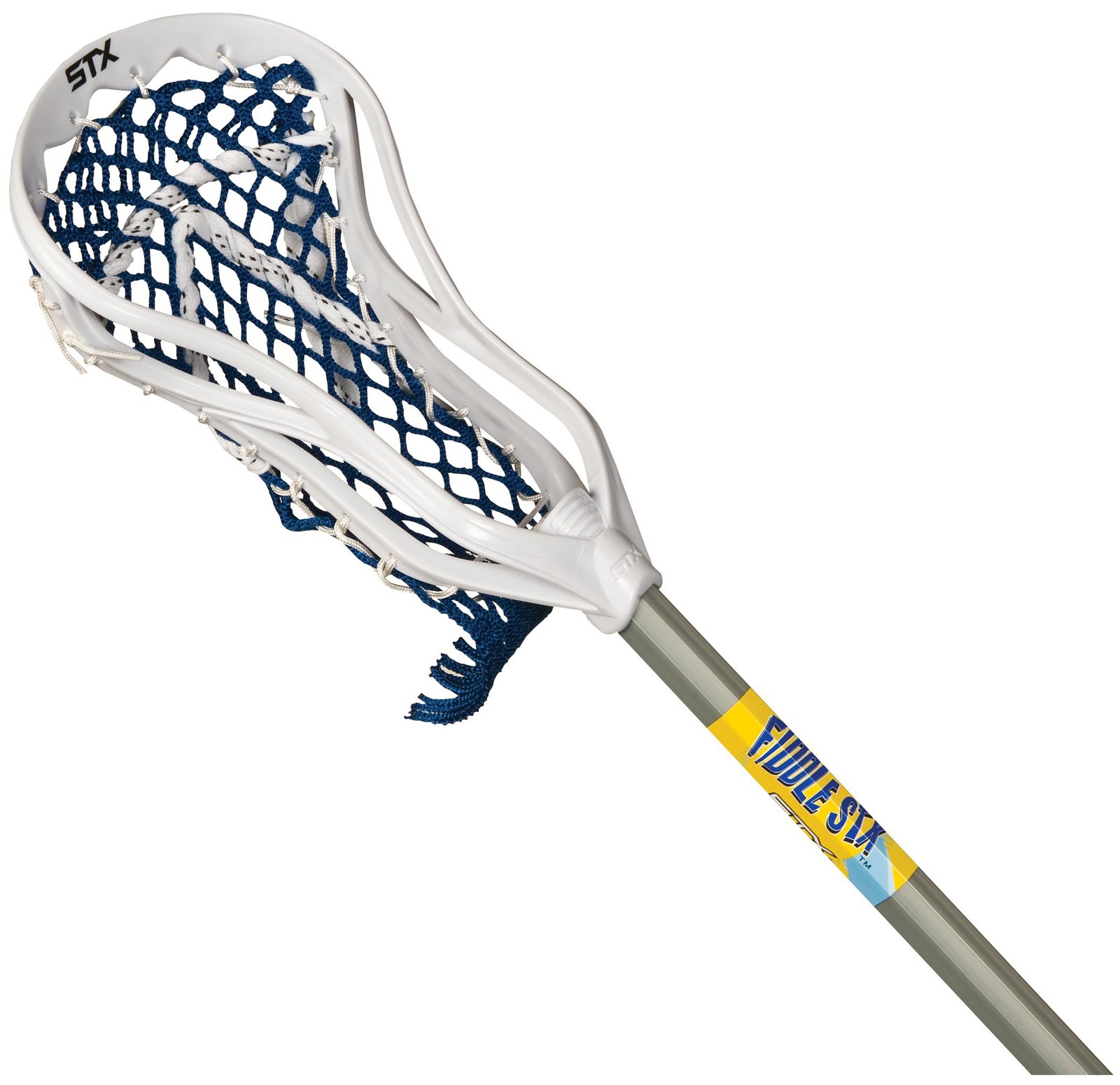 8. ECD (East Coast Dyes)
East Coast Dyes, commonly referred to as ECD, is another top lacrosse brand in the United States. ECD is relatively new to the lacrosse industry, founded in 2011 in Towson, Maryland. The company quickly gained popularity from its primary product, Hero mesh. Their unique mesh design and wide range of color options took the lacrosse industry by storm and they soon became one of the most popular meshes in the sport. Since their rise in popularity, ECD has increased their product offerings to include much more than mesh. Currently, they sell heads, shafts, mesh, and other accessories for men's and women's lacrosse. East Coast Dyes sponsors both male and female athletes in professional lacrosse. Their sponsored athletes include Lauren Lea, Myles Jones, and Mike Simon. As of now, ECD does not sponsor any universities or professional teams. However, their mesh is still widely used by many athletes in high school, collegiate, and professional lacrosse leagues.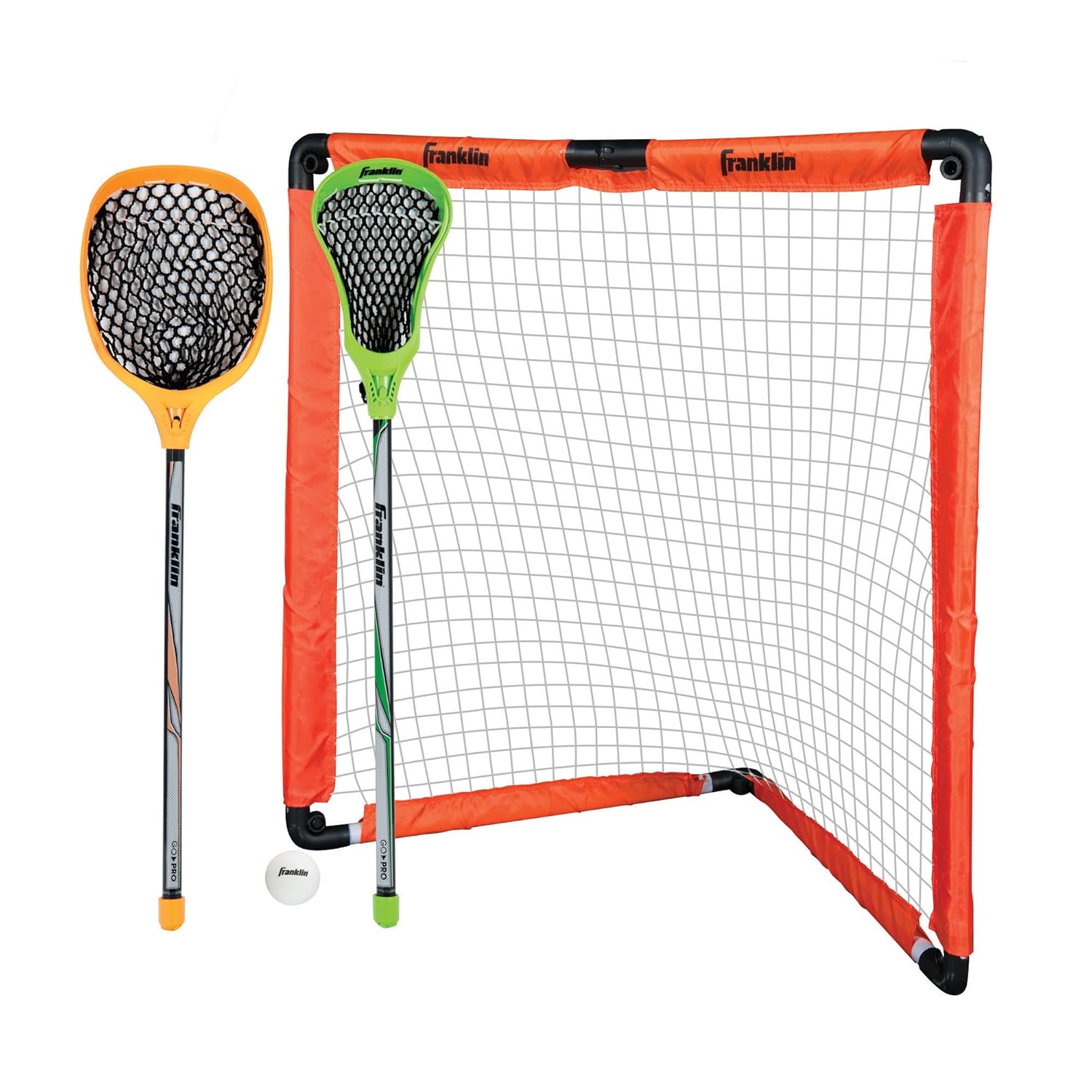 9. Epoch
Epoch Lacrosse is a top lacrosse brand that has gained a reputation as being an innovator in the lacrosse industry. Epoch prides itself on using high quality materials to produce unique designs. Additionally, they offer many options for customizing equipment. Epoch is another relatively new brand, founded in Minnesota in 2011. Epoch offers a variety of different heads, shafts, mesh, and protective equipment for men's and women's lacrosse. Their main focus lies in youth lacrosse, and both owners coach youth teams in Minnesota. Epoch's current sponsorships include a partnership with the Premier Lacrosse League, along with being the official equipment sponsor of the National Lacrosse League. With their reputation for creativity and innovation in the lacrosse industry, it is certain you will see more of Epoch in the future.
10. Gait
Gait Lacrosse gets its name from lacrosse legends Gary and Paul Gait. Its name holds a large significance to many lacrosse fans and has a very large following.
In 2015, Gait's parent company Jarden discontinued the brand. However, Gait recently relaunched its products and returned to the lacrosse market under Paul Gait's guidance. Currently, Gait focuses on supplying lacrosse heads, shafts, and gloves. In the past, the company offered more lacrosse equipment including pads, and cleats. Gait does not currently sponsor any teams, schools, or athletes; however, this could change in the near future. Even though Gait had been missing from the lacrosse industry for nearly four years, it remains one of the most recognizable and popular brands in the game, earning it the final spot on this list.
Best 16 Women Lacrosse Sticks for Defense & Attack(2021)
To earn accolades from your fellow lacrosse players and audience, you need to loosen your purse string a little bit and get the best girls' lacrosse stick in the market. No matter how skillful you are, you need to get the right women's lacrosse stick otherwise the accuracy and consistency of your thrown in the game is going to get severely impacted.
Of course, you will also have to purchase items like throat guards, chest guards, cleats, goggles etc but the most important of them all is – Lacrosse Stick.
Therefore, it is needless to mention, lacrosse sticks for women must be chosen with careful consideration for advance stages in the gameplay. And why not! You must equip yourself and the team with the best equipage available.
Field strategy, coordination, and agility of the players determine the winning team in the game of lacrosse. If you are gearing up for a jaw-clenching game of lacrosse, you must have the best quality equipment; end of story!
This article is a comprehensive buying guide to the best women lacrosse sticks. If you are a lacrosse enthusiast, you shall find a plethora of information to help you buy the best women's Lacrosse sticks.
Best Women Lacrosse Sticks
If you are hooked on to the stem-winding game of lacrosse, the hunt for the perfect women's lacrosse stick never ends. Described below are some of the most popular choices in women's lacrosse sticks:
Affiliate Disclaimer: This site is reader-supported and we earn commissions (at no additional cost to you) if you purchase products from retailers after clicking on a link from our site.

1. STX Lacrosse Crux 100 Girls Complete Stick
STX Lacrosse Crux 100 Girls Complete Stick is designed for attackers who do not want to stop at anything. Add more lethal power to your shots with this STX Lacrosse Crux 100 Girls Complete Stick. This attacking lacrosse stick is extremely lightweight and has got a unique sidewall design. If you have been struggling a lot to pick up groundball, you need to put your trust in this STX Lacrosse Crux 100 Girls Complete Stick. It can easily take a lot of beatings without getting bent or disfigured. You can toss it over the fence and it will survive the fall. STX Lacrosse Crux 100 Girls Complete Stick comes standard with a 6000-alloy handle.
2. STX Crux 400 Women's Complete Lacrosse Stick
STX Crux 400 Women's Complete Lacrosse Stick is designed for beginners. Women attacking lacrosse players are going to appreciate this complete lacrosse stick for its flexibility and it has got a durable frame. STX Crux 400 Women's Complete Lacrosse Stick has got a wide catching area to make it easier for people to get hold of the lacrosse ball midair.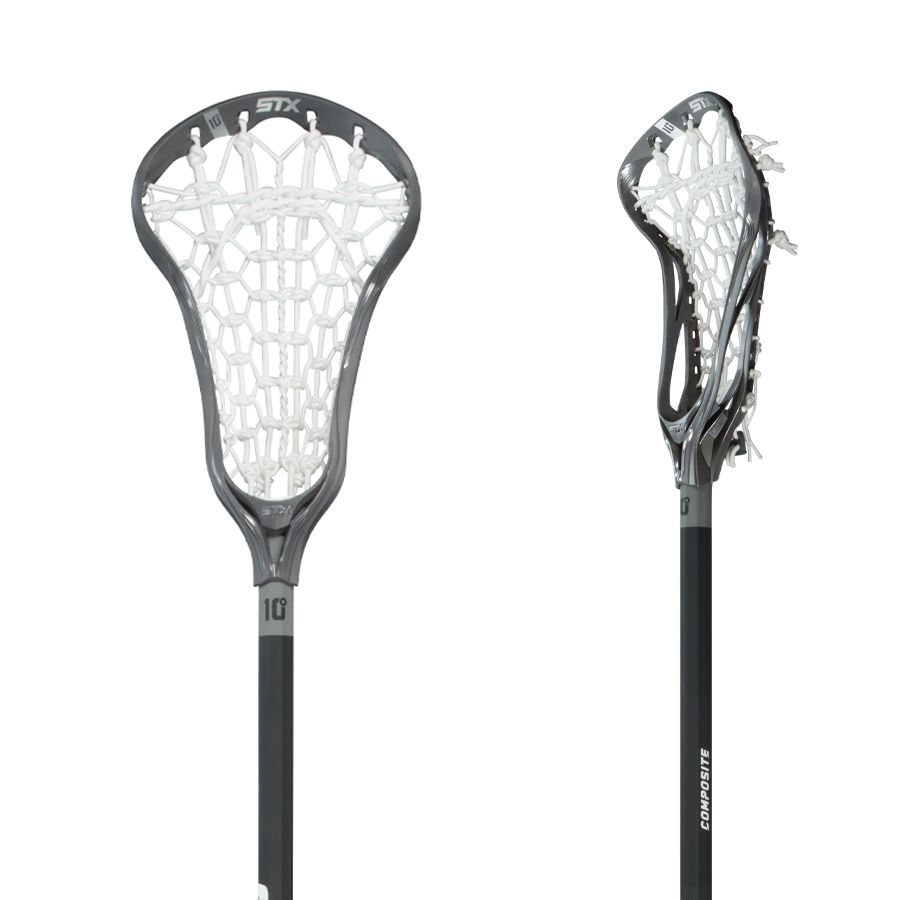 Experience better ball retention and more accurate shooting with STX Crux 400 Women's Complete Lacrosse Stick. To help improve the passing accuracy of this attacking lacrosse stick, STX Crux 400 Women's Complete Lacrosse Stick has got a pointed scoop.
3. Maverik Lacrosse Female's Erupt Complete Stick
Maverik Lacrosse Female's Erupt Complete Stick is designed for advanced level lacrosse players who want to add more firepower to their shots. To help improve the shooting and passing accuracy, Maverik Lacrosse Female's Erupt Complete Stick has got an optimal scoop angle. Maverik Lacrosse Female's Erupt Complete Stick comes fitted with a thin aluminum shaft that makes it easier for people to shoot and pass the ball with greater accuracy. The wide catching surface of this attacking lacrosse shaft makes it easier to pick up a ground ball. Holding the ball in the sweet spot are the strategic points. Ensuring greater control is its Erupt composite shaft. The shaft has got a matte finish.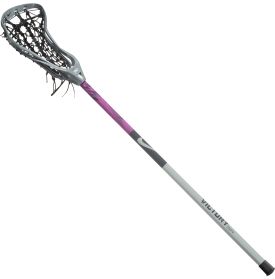 4. East Coast Dyes Women's Infinity Elite Lacrosse Stick
East Coast Dyes Women's Infinity Elite Lacrosse Stick is designed for those who want to dominate in the field. East Coast Dyes Women's Infinity Elite Lacrosse Stick comes fitted with a carbon fiber shaft and infinity head that have endowed it with incredible stability. East Coast Dyes Women's Infinity Elite Lacrosse Stick is the perfect combination of balance and brute power. Its new and improved design makes it ideal for aspiring attacking lacrosse players. Greater control is ensured by its venom mesh runner.
5. Dynasty Warp Next Stick with Composite Handle
Dynasty Warp Next Stick with Composite Handle is designed for players who are looking for a lacrosse shaft that can let them experience better shooting accuracy and ball control. Reinforced sidewalls make it ideal for intermediate attacking players. This Game-Ready Women Attacking Lacrosse Shaft comes fitted with a warp mid pocket. The pocket is water-resistant and does not need any maintenance or adjustments.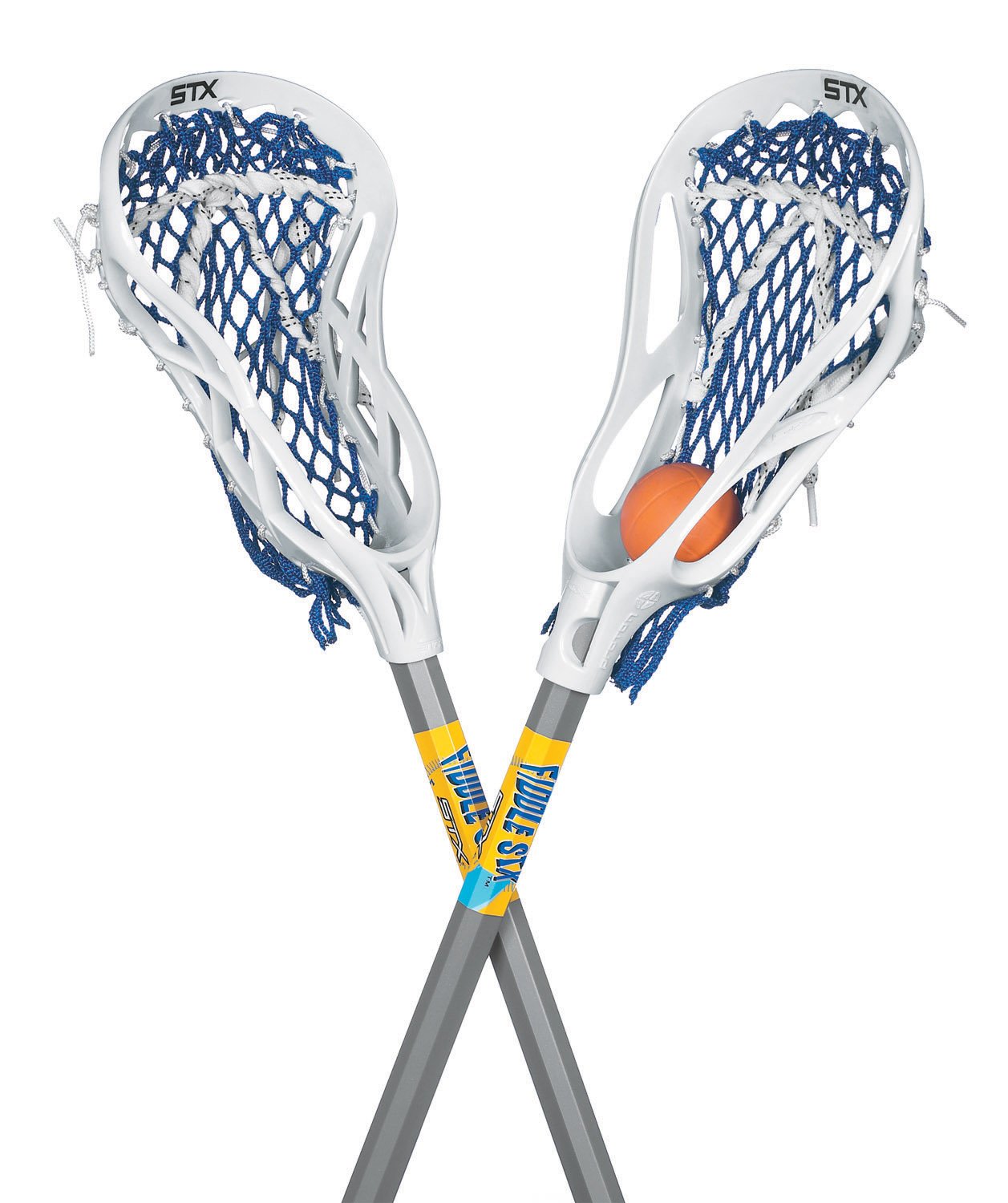 1. StringKing Women's Complete 2 Pro Defense Lacrosse Stick
StringKing Women's Complete 2 Pro Defense Lacrosse Stick is a high-performance lacrosse stick designed for women lacrosse players. With this lacrosse stick, you will be able to have better control over the balls. Its wide face will let you have better control over the loose balls. Experience unmatchable consistency with its Type Mesh construction which is known for its thin and soft properties. The shaft of this StringKing Women's Complete 2 Pro Defense Lacrosse Stick is made from premium quality carbon fiber that ensures superior performance against all odds. StringKing Women's Complete 2 Pro Defense Lacrosse Stick is in full compliance with Federation of International Lacrosse (FIL).
2. STX Lacrosse Fortress 300 Girls Complete Stick
STX Lacrosse Fortress 300 Girls Complete Stick has got a stable and stiff design which is ideal for most defensive lacrosse players out there. Its unique runway pocket will allow you to hug the ball while on the move.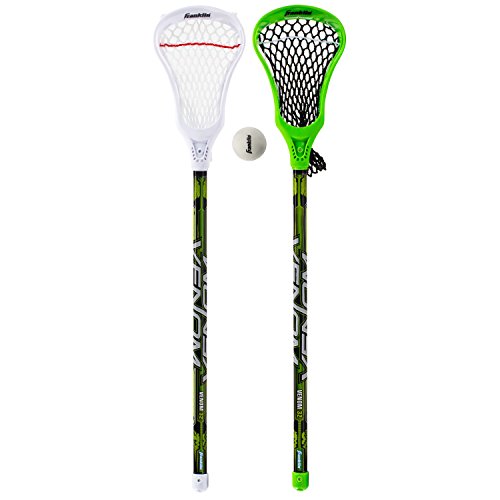 To eliminate any possibility of bagging, this STX Lacrosse Fortress 300 Girls Complete Stick has embraced a new string lock technology. STX Lacrosse Fortress 300 Girls Complete Stick comes equipped with a powerful 7075 alloy handle.
3. STX Lacrosse Fortress 100 Complete Stick
STX Lacrosse Fortress 100 Complete Stick is designed for those girls who are planning to start their lacrosse career as a defender. Easy catching of the ball is made possible thanks to its wide face. Groundball pickup will not be a trouble any more thanks to its flattened scoop. STX Lacrosse Fortress 100 Complete Stick comes fitted with a 6000-alloy handle and a Crux Mesh™ head. Its unique of its kind pocket makes it easy to maintain.
4. STX Lacrosse Fortress 700 Complete Stick
STX Lacrosse Fortress 700 Complete Stick comes equipped with a range of innovative features like a wide scoop area and narrow pinch. A wide scoop makes it easier for players to catch ground balls whereas a narrow pinch makes it easier to retain the ball for a longer period of time.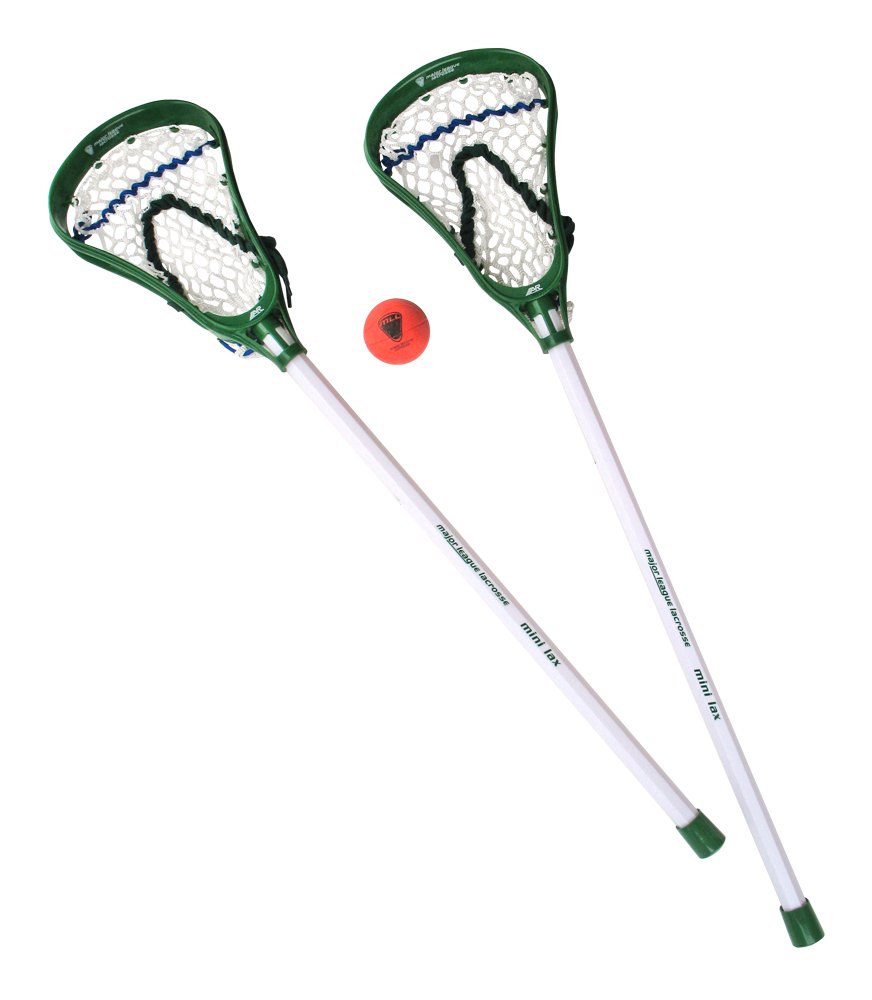 A small sidewall and a deeper pocket have made this STX Lacrosse Fortress 700 Complete Stick an ideal choice for all the defenders out there.
Women's Lacrosse Sticks
Buying Guide
Women's Lacrosse Sticks are designed and manufactured to leverage the best out of the game. Intermediate and advanced level players must also consider the quality, design, and the brand along with the price of the gaming stick.
STX, Brine, Warrior, and DeBeer are some of the elite names among women's lacrosse stick developers in the market.  Before you go hunting for the quality lacrosse sticks to bring out the best in your game-play, you must ensure that the sticks ace the basis of scooping, catching and throwing.
Lacrosse is one of the fastest-growing sports in the United State. The popularly of the game among the North Americans, French and Canadians bear testimony to the fact that it is quintessential pastime for men and women alike. There are numerous girls who play lacrosse at high school and college levels.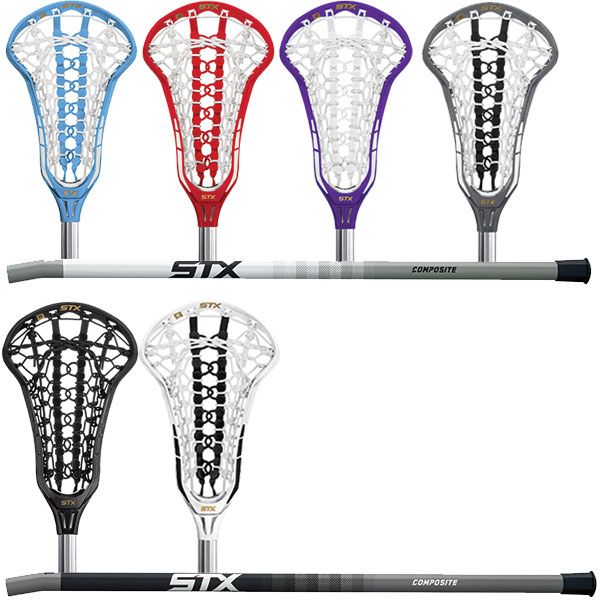 Moreover, tons of newbies are introduced to lacrosse each year by professional lacrosse players.
1. Beginner or Professional?
Beginners may as well go bonkers when choosing women lacrosse sticks while professional laxers evaluate tons of lacrosse sticks only to pick the best one. But how do you know which lacrosse stick is your Elder Wand?
As a professional, it's certain that you shall not make a choice on the basis of sheer guesswork or shallow evaluation. Ergo, before you start your quest for the best Women's Lacrosse Sticks, you must keep the below-mentioned points in mind:
2. Ability of the Lacrosse Player
Before proceeding to pick one among myriad lacrosse sticks, you must assess your skills and abilities in the field. Lacrosse stick differs in sizes, designs, and prices to suit your level of expertise with the sport. For instance, beginners may settle for sticks that enable maximum cradling ability. As you move on to more advanced levels in the game, you can choose from various options exclusively available for intermediate and expert players.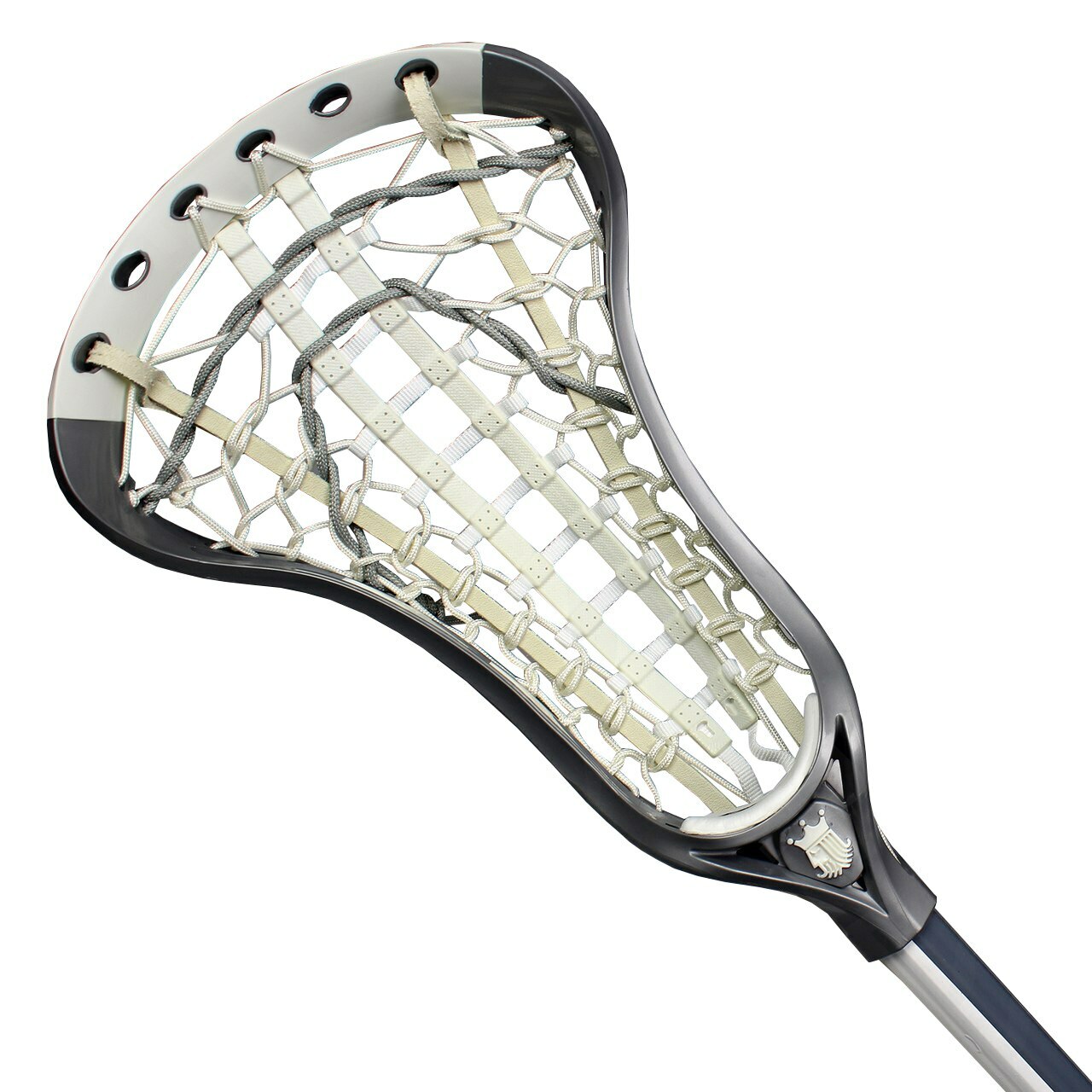 As the players attain expertise in the game-play, they use sticks with narrower channels and lower sidewalls for easy scoops and throws. Beginners are not suggested to purchase lacrosse sticks designed for intermediate and expert players lest they should miss out on the development of ground ball scooping and cradling ability due to the use of narrow-headed sticks. Ergo, they must settle for simpler, more cost-effective lacrosse sticks without a doubt.
3. Cost
When it comes to buying lacrosse sticks, the price is certainly an indicator of the quality. Women's Lacrosse Sticks that are sturdier and durable come with hefty price tags. Elite and authentic lacrosse stick manufacturers offer the finest products in terms of pocket depth, sidewall design and channeling. This explains why pro players spend a fortune homing in on the best lacrosse sticks. Nevertheless, beginners can and should zero in on cheaper and simpler alternatives. 
4. Position of the Players
When choosing the best lacrosse stick for women, you must take note of the fact that the position of the player determines the type of stick used.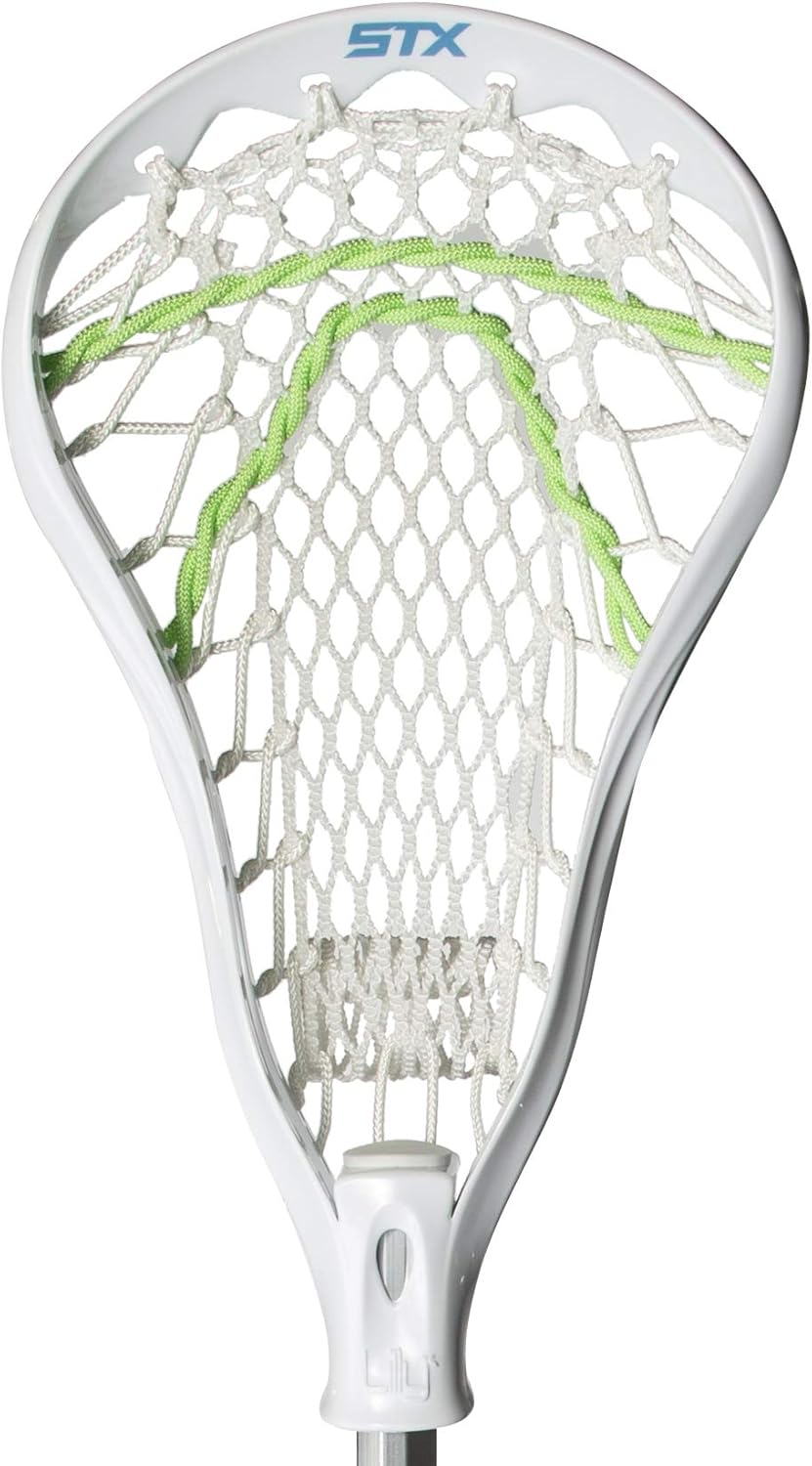 Let us consider the points listed below that elaborate on the same:
Midfielders
Sticks with slight flex are well-suited for mid-fielders as it features quick releases, speedy shots, and controlled passes. V-shaped head scoops are fitting for midfielders as they have wider throat to pass the ball from the middle to the top pocket smoothly.
Midfielders can also look for heads with low sidewalls and channeled strings. Offensive midfielders can also choose to settle for a pinched head lacrosse stick as it comes with better 'whip' and more ball control.
Attackers
Attackers often display aggressive game-play and thus, their sticks are designed to aggrandize scoring. The attackers can pick sticks with pitched heads to allow more control through the dodges while nestling the ball after a quick-catch and facilitating better release.
Another basic feature that the best women lacrosse stick must have is maximum offset from the shaft to scoop which also aids better control of the ball.
However, attackers can always customize the sticks.
Defenders
Defenders must have a stick that enables easy ground ball pickups and unmatched control when carrying the ball. For this purpose, a lacrosse stick, stiff at the head is useful. Usually, the flex-points of women's lacrosse sticks for defenders are low. Such sticks also have deeper sidewalls for increased pocket depths and better control.
For defenders, lacrosse sticks have more surface area and gripper pockets. Wider surface area helps defenders to know shots and passes better while gripper pockets make handling the ball easier.
Women's Lacrosse Sticks 
FAQs
Listed below are some of the commonly asked questions about women's lacrosse sticks.
Q: What are some of the best brands for women's lacrosse sticks?

Ans: You can find an abundance of brands that manufacture women's lacrosse sticks online. Some of the best brands for women's lacrosse sticks are STX, Brine, Debeer, Maverik, and Nike.


Q: How do rules in Women's Lacrosse affect the stick choice?

Ans: Unlike the game of men's lacrosse, women playing lacrosse are not allowed physical contact. Women wear lesser padding and their gear is different from what men wear. Also, women do not wear helmets in the game of lacrosse. In more advanced levels of the game, women are allowed stick-to-stick contact for defense.

Therefore, professionals need to make use of durable gears and rookies or recreational players can make do with less durable lacrosse sticks.


Q: Can I buy a lacrosse stick without the head attached to the shaft?

Ans: The choice is largely personal. Many players prefer buying the complete stick i.e., with the head attached to the shaft. For players in the advanced stages of lacrosse, it is best for the players to buy the stick and attach the head later. It enables customization of the head which is not available if you buy the complete stick.  


Q: How do I know what stick length is best suited for me?

Ans: It is best to go with your instinct. If you are only a beginner, shorter sticks are your pick. It is easier for beginners to carry around shorter sticks and also perform with more power and precision. Intermediate and expert players have more control over longer sticks than inexperienced players.

The height of the player too is a determining factor in the choice of lacrosse sticks. Taller women can handle a large stick better. It is best for women of short stature to make do with a smaller stick.


Q:  What kind of stick is best for the goalie in a game of lacrosse?

Ans: The goaltender uses a medium-size stick to defend the goal. The goalies must choose a stick having a 12-inch head at the widest point. Such sticks feature deeper mesh pockets for enhanced control over the ball.
What is the Difference in Lacrosse Sticks? (Illustrated Guide) – Lacrosse Pack
To break into the game of lacrosse, it is necessary to get to know the equipment.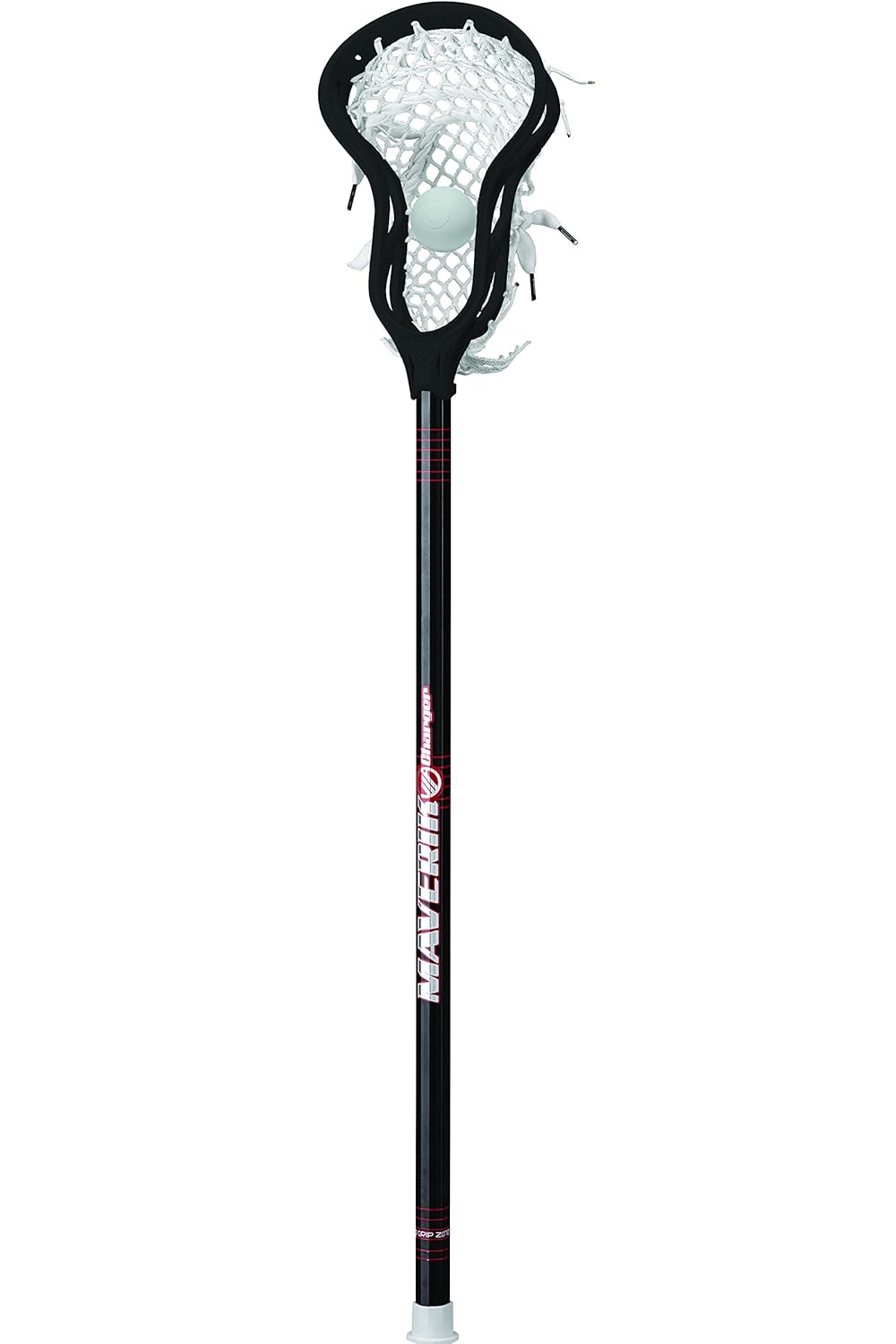 One of the first things that newcomers notice is the broad spectrum of sticks that players use out on the field.
There are three different types of lacrosse sticks that are each specified toward a set lacrosse position: the attack/midfield short stick, the defensive long stick, and the goalie stick. The makeup of these sticks vary in shaft length, pocket depth, and head width to cater to an exact position.
These differences are no coincidence. Each lacrosse position has their own distinct set of needs that have to be addressed on the lacrosse field. These differences in lacrosse sticks help better accommodate these needs, making for a higher quality playing experience.
The explicit discrepancies and the reasons for these discrepancies will be investigated throughout this article. If you also have questions regarding what the differences between lacrosse stick brands are, read until the end to get your specific questions answered.
A Summary of the Differences in Lacrosse Sticks
The table below summarizes the major differences between the three types of sticks in lacrosse.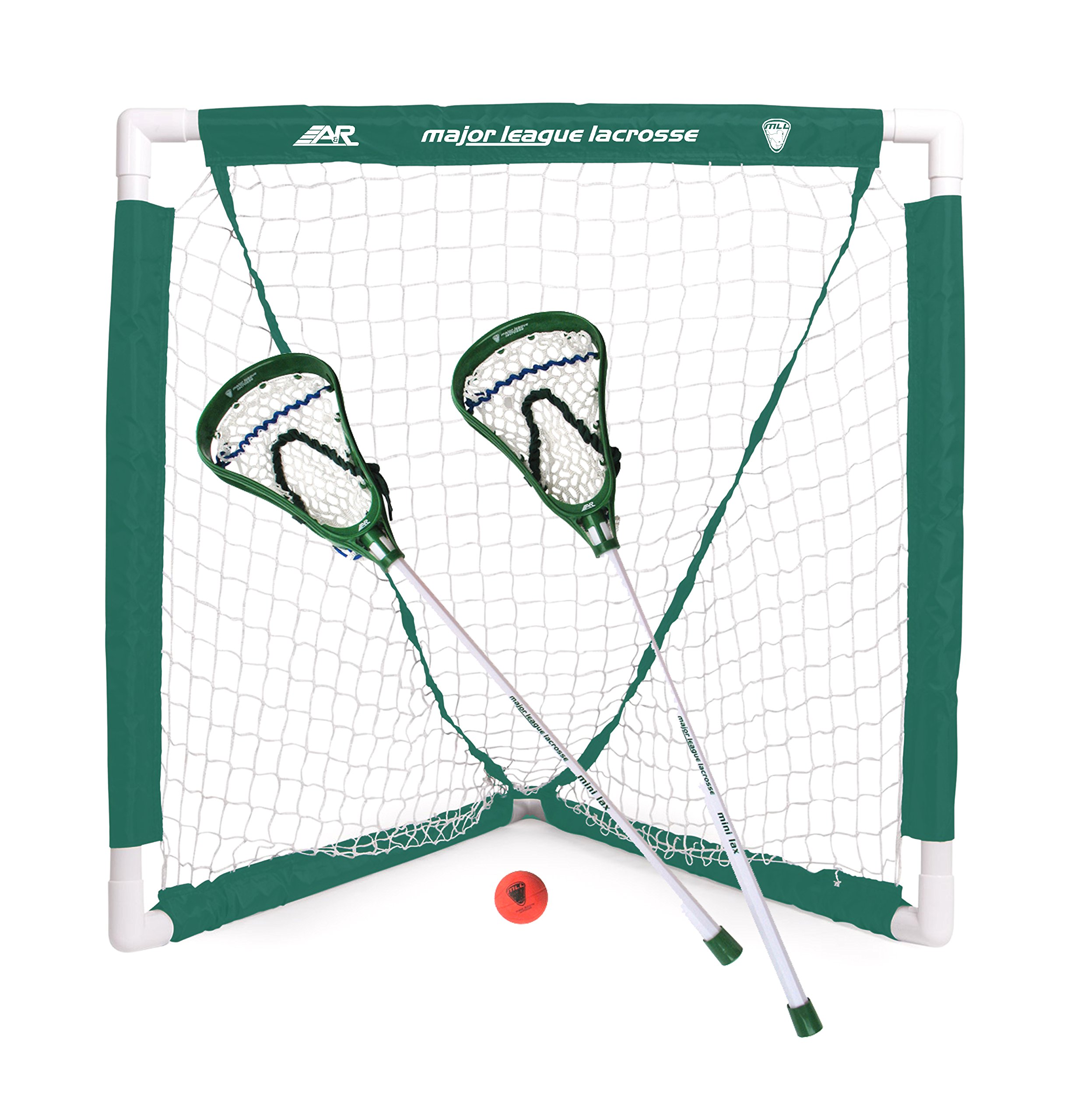 These differences primarily have to do with the various parts of the lacrosse stick. If you need a refresher on the exact parts of a lacrosse stick, check out my article Parts of a Lacrosse Stick: An Illustrated Guide. The reasons for why each lacrosse stick is constructed the way it is will be discussed in the latter portions of the article.
| | | | |
| --- | --- | --- | --- |
| | Attack/Midfield Stick | Defensive Stick | Goalie Stick |
| Stick Length | 40 to 42 in | 52 to 72 in | 40 to 72 in |
| Pocket Depth | One Lacrosse Ball Deep | One Lacrosse Ball Deep | Two to Three Lacrosse Balls Deep |
| Head Width | 6 to 10 in | 6 to 10 in | 10 to 12 in |
The Atack/Midfield Short Stick
The short stick is what most people think of when they picture a lacrosse stick.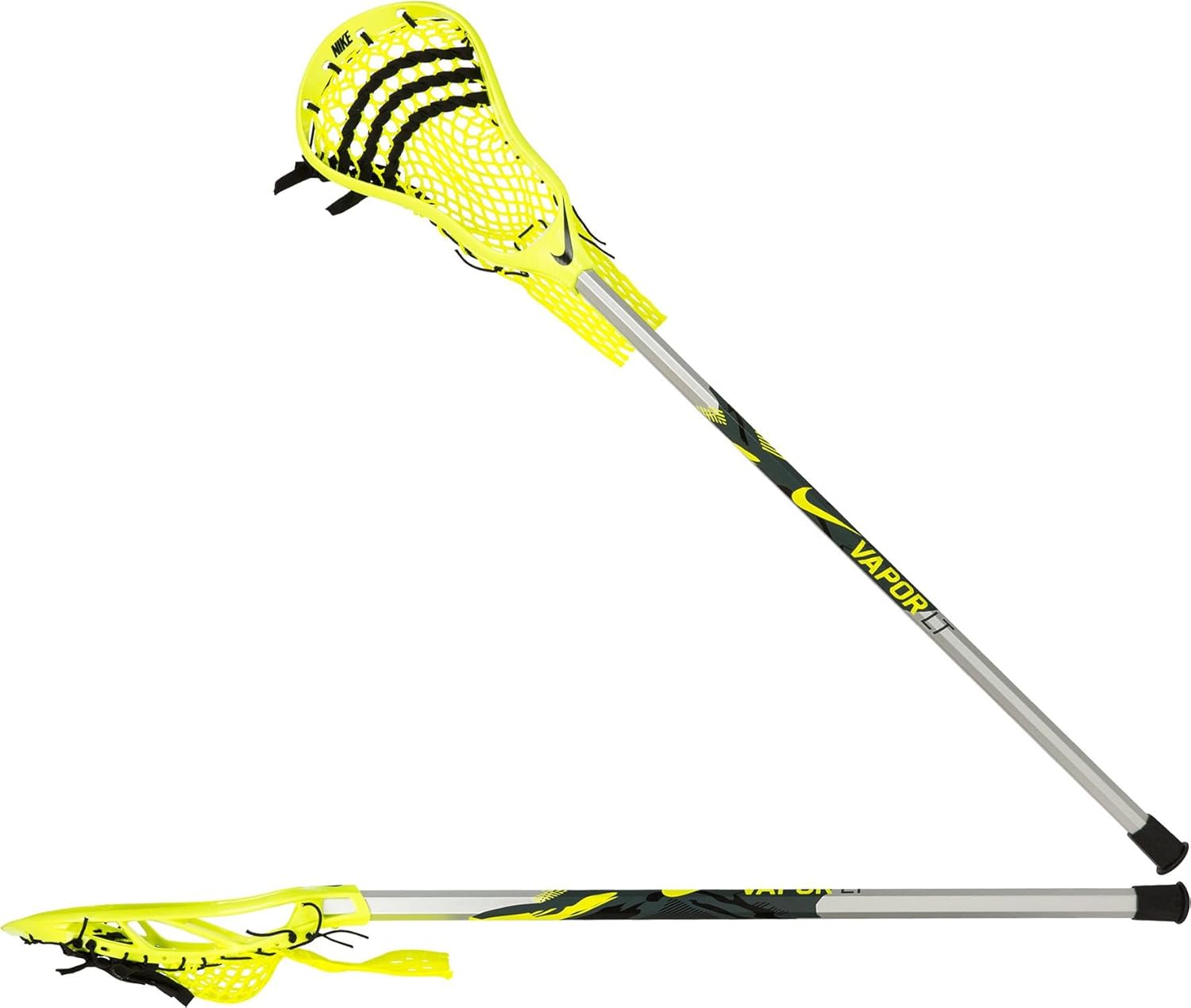 This is because the majority of field lacrosse players are equipped with the short stick. Offensive midfielders, defensive midfielders, attackers, and designated face-off men predominantly use this type of stick.
Stick Length (40 to 42 in)
The length of the attack/midfield stick is the shortest among the three types of lacrosse sticks. This is done deliberately because the short stick is predominantly geared toward offensive players.
It is much more convenient for ball carriers to protect a short lacrosse stick from defensive pressure. With lengthier lacrosse sticks, more of the stick is left exposed to potential checks. By using a shorter stick, defensive players have a hard time landing forceful stick checks on the opposing ball carrier.
Aside from the benefits of stick protection, it is much easier to throw and catch with a short lacrosse stick. Long sticks are somewhat harder to control given that the lacrosse pocket is much farther away from where the hands are positioned.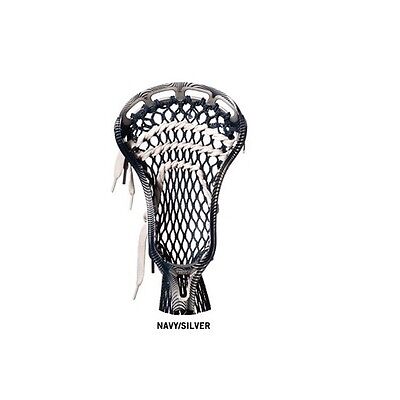 In addition, long sticks carry additional weight due to the excess material, which makes it a bit more challenging to throw and catch in a fluent fashion.
Pocket Depth (One Ball Deep)
Generally, the pocket on an attack/midfield lacrosse stick is approximately one ball deep. The pocket can be shallower than this, but it cannot sink lower than one ball deep.
According to the NFHS and NCAA lacrosse rules, the top edge of the lacrosse ball cannot be positioned below the lowermost surface of the of the head sidewall. Thus, if the ball rests too deeply within the lacrosse pocket, the stick will be deemed illegal.
The reason for these stringent guidelines regarding pocket depth is to ensure that no player has an unfair advantage over other players when it comes to ball possession. When the ball is able to rest well below the legal limit, it becomes extremely challenging for an on ball defender to strip the ball carrier of possession.
This rule regarding pocket depth levels the playing field between the offense and defense.

It also promotes an up tempo style of play since there is a greater likelihood for forced turnovers and transitional opportunities.
Head Width (6 to 10 in)
Legal attack/midfield lacrosse heads lie within the range of 6 to 10 inches, which offers players some selection when it comes to how they want to customize their lacrosse stick.
By and large, most attackers and midfielders opt for a narrower lacrosse head that lies closer to 6 inches rather than 10 inches. This is because narrower lacrosse heads offer superior ball retainment as well as increased throwing accuracy.
Narrow lacrosse heads tend to form pockets that hold the ball better than wider lacrosse heads. This is because there is limited room for the ball to rattle around within the pocket. The restriction of movement keeps the ball in one place so that there is less opportunity for the ball to fly out of the stick.
In addition, narrow lacrosse heads force the ball down the center of lacrosse pocket on a more consistent basis.
Since the ball releases down the center track with each and every release, ball carriers have much more control over the flight path of the ball. This helps tremendously with throwing precision.
The major drawback with narrow lacrosse heads is catching. Since players have less surface area to work with, it is much more likely for a player to occasionally drop a pass.
Most offensive players are willing to take on this additional cost since they possess superior stick skills. For these players, it is more favorable to reap the benefits of shooting and throwing accuracy as opposed to catching reliability.
The Defensive Long Stick
The defensive long stick, sometimes referred to as the long pole, is characterized by its lengthy shaft. The length of this lacrosse stick is nearly double that of the attack/midfield stick.
Close defenders and long stick midfielders (LSMs) carry around these hefty lacrosse sticks during games.
Stick Length (52 to 72 in)
As aforementioned, defensive sticks are noticeably longer than attack/midfield sticks.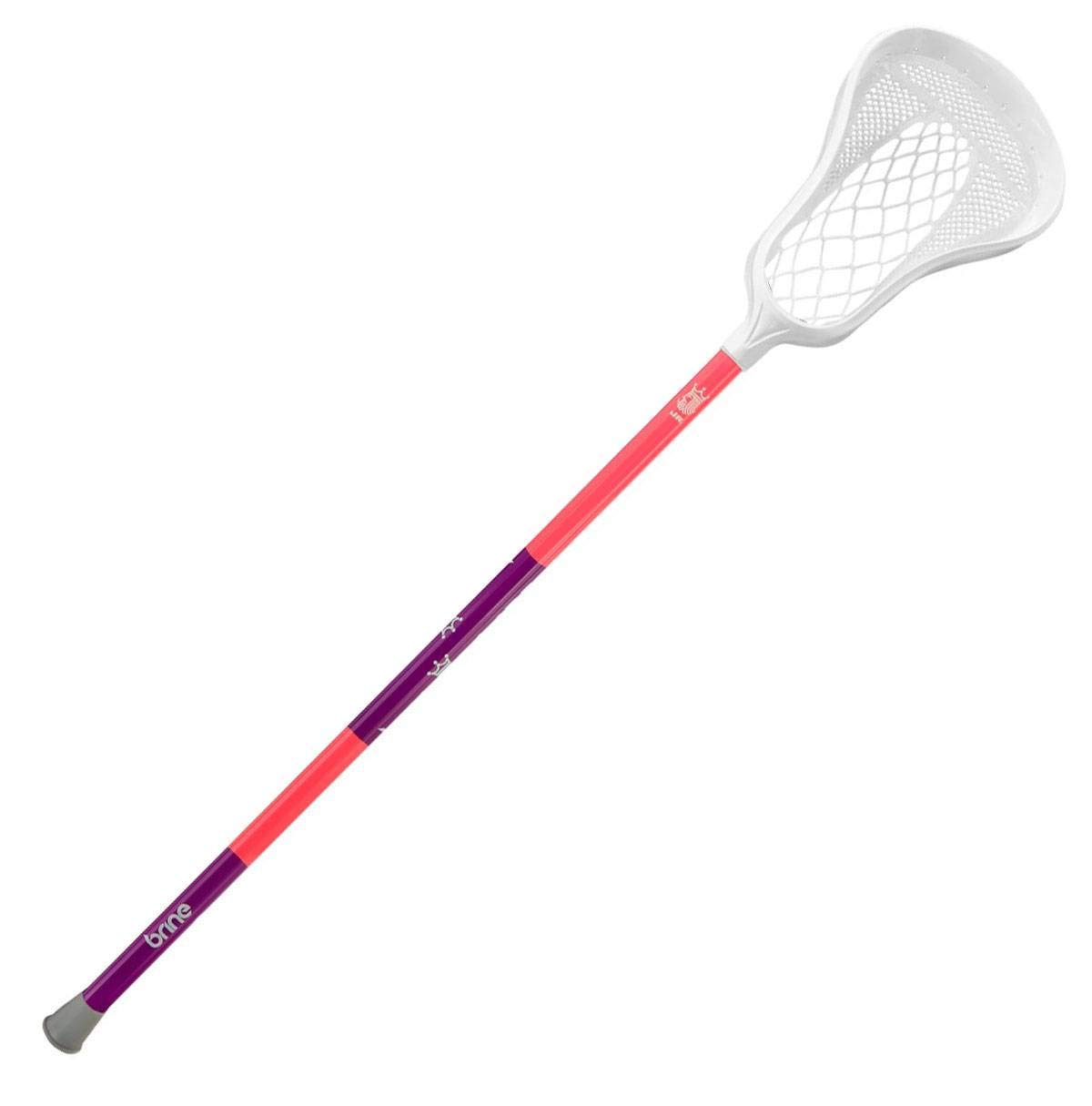 Just like the attack/midfield sticks, there is a method to the madness.
The extensive reach of the long pole allows defensive players to land precise stick checks on ball carriers from a healthy distance away. This not only increases the likelihood of turnovers, it dissuades ball carriers from dodging and creating scoring opportunities.
Virtually all offensive players prefer to dodge short stick defenders as opposed to long stick defenders. This is why offenses predominantly target short stick defenders for dodges whenever possible.
Guarding shifty offensive ball carriers is a tough task considering how quickly players are able to move with possession. With a lengthier stick, defensive players can keep constant pressure on ball carriers while preserving solid body position.
In essence, the long pole maintains a healthy balance between the offense and defense so no one side has the upper hand.
Pocket Depth (One Ball Deep)
The rules concerning pocket depth for attack/midfield short sticks are the exact same for defensive long sticks.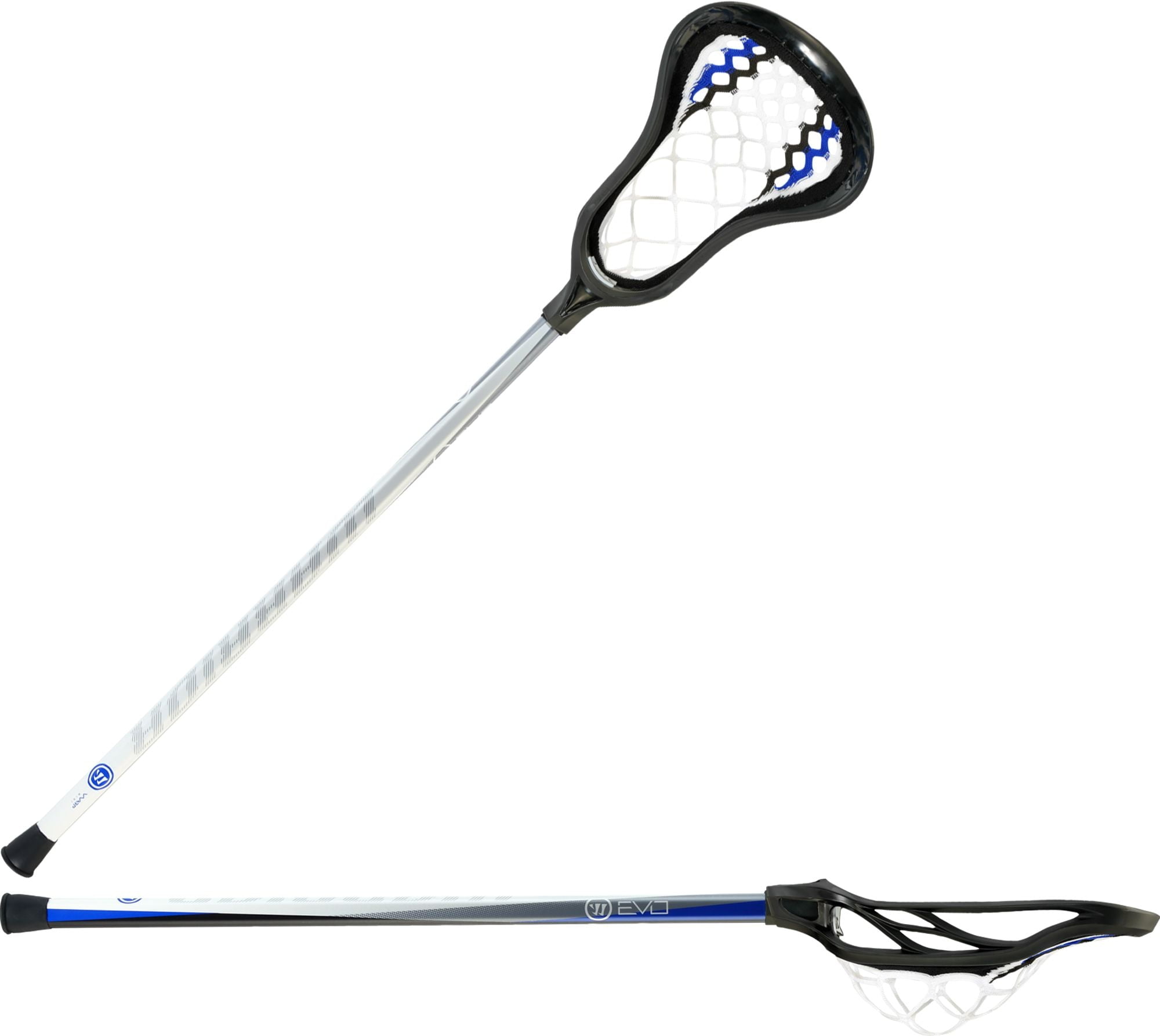 It is illegal for the ball to lie completely below the lowermost surface of the sidewall rail.
There are certain times during the game where defenders must possess the ball in order to clear the ball over to the offensive zone. In order to offer the opposition a fair chance to get the ball back, it is necessary for defenders to adhere to the same pocket depth rules as attackers and midfielders. Otherwise, it will be exceedingly difficult for the other team to strip the ball, even if they do land several hard stick checks.
Head Width (6 to 10 in)
Similar to attack/midfield lacrosse sticks, the head width of defensive lacrosse sticks must be between 6 to 10 inches at its broadest point.
However, it is standard for defensive heads to be much wider than the average attack/midfield head. Defensive heads are designed to hover closer to the 10 inch mark when it comes to width.
This difference in head width stems from the contrasting skills and responsibilities between the offense and defense.
Offensive players have to maximize their throwing and shooting precision to create scoring opportunities. Defensive players are not concerned nearly as much with throwing and shooting accuracy relative to offensive players. Their main priority is disrupting the playmaking ability of the opposition.
For this reason, defensive players opt for wider lacrosse heads because they are better equipped to intercept passes and absorb the forceful blows of stick checks.
As previously discussed, wider heads have a greater catching surface area. When defensive players position their long sticks in the passing lanes, this additional surface area offers them a slightly better chance at getting their stick on an opposing pass.
In addition, wider lacrosse heads have a broader base. This provides more stability to the lacrosse head as a whole, which gives the plastic of the head a superior ability to withstand the repetitive abuse of defensive checks.
The Goalie Stick
The goalie stick is definitely the most unique out of the three types of lacrosse sticks.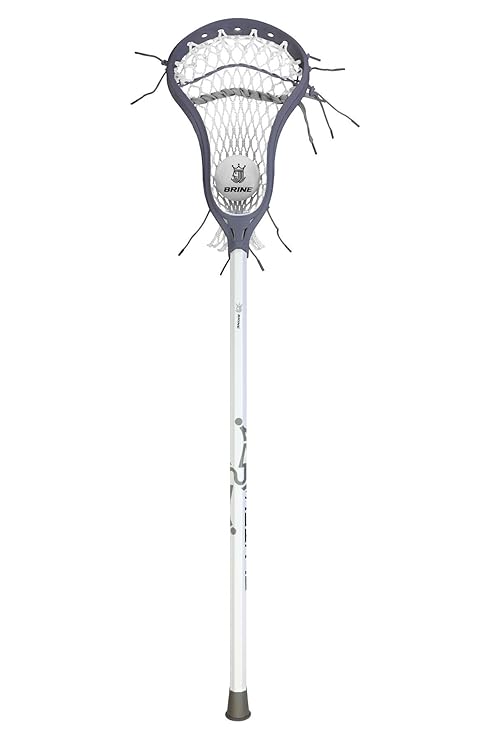 This type of stick is characterized by an unorthodox head design. The structural arrangement of the head and the pocket are vastly different than that of the attack/midfield stick and the defensive stick.
Stick Length (40 to 72 in)
Goalies have a substantial amount of flexibility in determining the length of their lacrosse stick. Their stick can either be as short as the length of a typical attack/midfield stick (40 to 42 in) or as long as the length of a typical defensive stick (52 to 72 in).
Although it is legal for goalkeepers to use a 72 inch long shaft, they rarely ever actually play with a shaft that long in game. Throughout my entire playing career, I never saw a goalkeeper use a 72 inch long shaft. It is too difficult to react quickly to the ball with that such an excess amount of material.
It is far more common for goalkeepers to use a stick that is slightly above the standard length of an attack/midfield stick. The majority of goalkeeper lacrosse sticks lie within the range of 46 to 53 inches total.

Of course, this is just the trend, not the rule.
The reason for this difference in stick length is that goalkeepers want to have the best combination of stick maneuverability and balance to cover the most amount of goal possible.
The benefit of having a shorter goalie stick is that it is much more lightweight. This reduction in weight allows goalkeepers to move their stick to to the ball a fraction of a second sooner. In the world of goalkeeping, a fraction of a second can mean the difference between a save and a goal.
On the other hand, lengthier goalie sticks are not nearly as top heavy as shorter goalie sticks. Since the stick is far better balanced, goalkeepers feel more at ease with the stick in their hands. This natural comfortability translates into more saves.
Ultimately, both shorter goalie sticks and longer goalie sticks have their pros and cons. It is up to the goalie to make the decision on what stick length suits their play style best.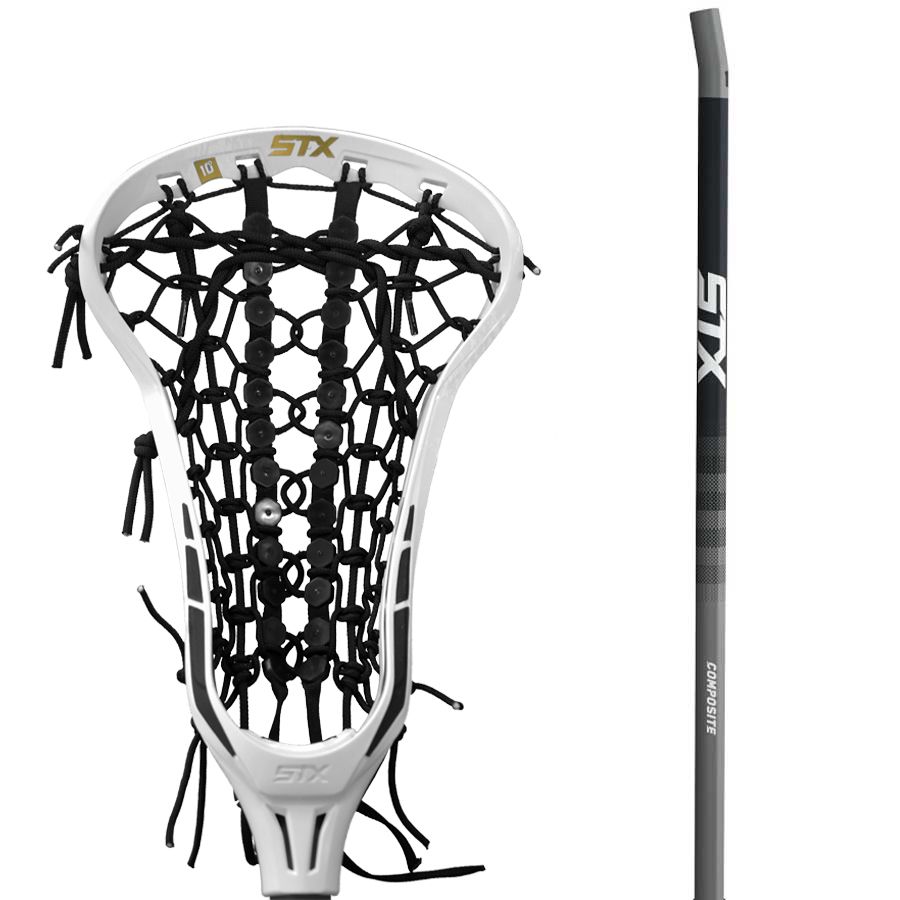 Pocket Depth (Two to Three Balls Deep)
Another major point of difference that makes the goalie stick stand out is the pocket depth.
The pockets on goalie sticks are a lot deeper than the pockets on the other types of lacrosse sticks. It is essentially as deep as a grocery bag.
The extreme pocket depth of goalie sticks prevents the ball from bouncing out of the pocket following a shot. Shallow pockets have a tendency to create rebound opportunities for the opposition. This is obviously something that goalkeepers want to avoid at all costs.
There is nothing more demoralizing to a goalkeeper than making the initial save, only to give up a goal to a second chance opportunity.
A pocket that is two to three balls deep is able to give with the ball more and better absorb the power of an oncoming shot. This way, the ball remains in the goalie pocket and does not bounce back out to the crease.
Goalkeepers rarely ever possess the ball for an extended period of time during games, so the unfair advantage of ball possession is of little concern.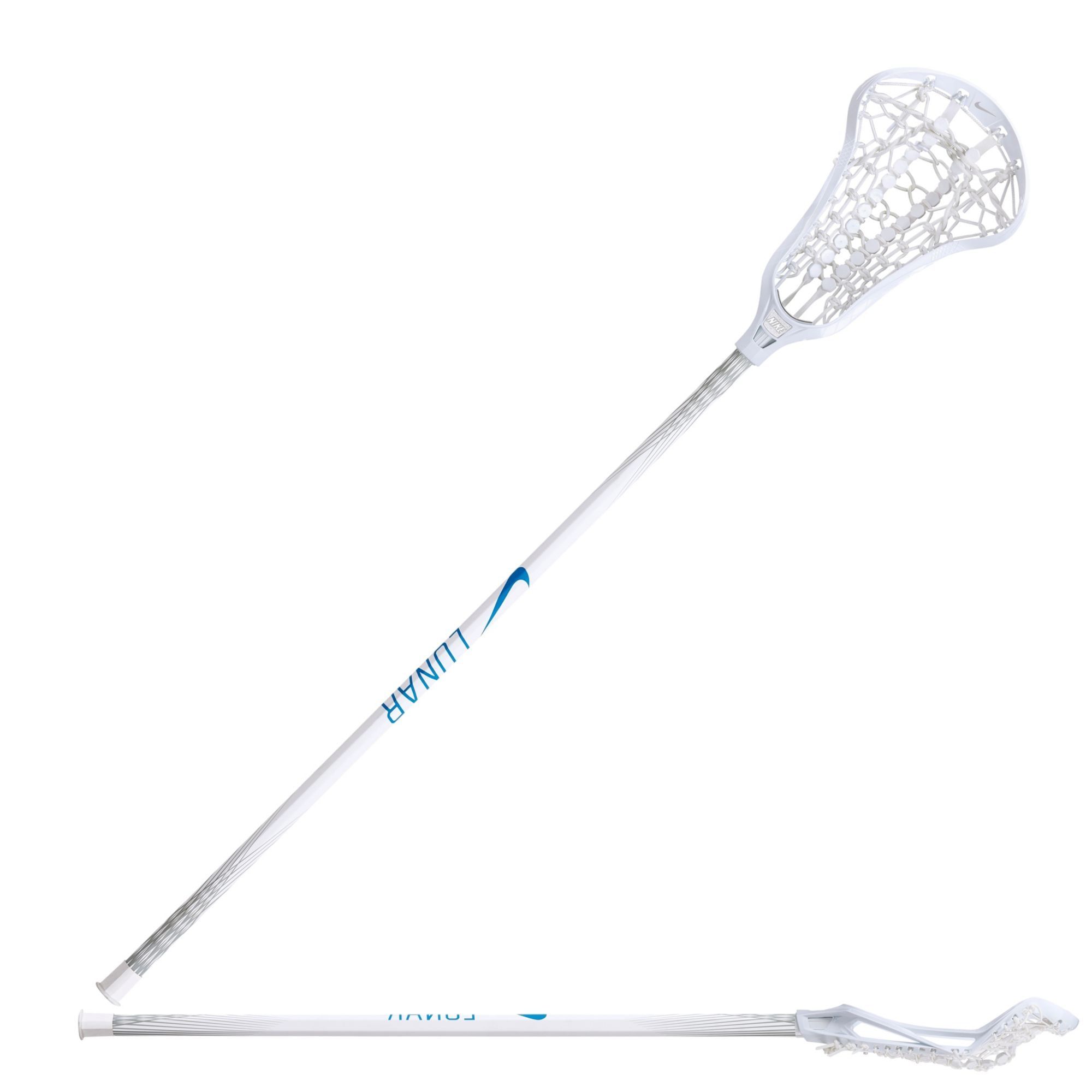 Head Width (10 to 12 in)
Furthermore, the width of a goalie lacrosse head is much broader relative to other lacrosse heads. This is because goalkeepers absolutely need this extra surface area to even have a chance at making a save.
If goalkeepers were only ever able to use heads that were 6 to 10 inches at their widest point, it would take a miracle for goalkeepers to make a save in game.
The average shot speed of a recreational lacrosse player is around 70 to 80 mph (check out my article What is the Average Speed of a Lacrosse Shot? for more information on this topic). With such high velocity shots and so little surface area to work with, goalkeepers would have a better chance at making a save with their body rather than their stick.
It is not the intention of the lacrosse community to continually pelt the body of goalkeepers with hard shots every single outing. This is why the width of the goalie head is so much larger relative to the other positional heads available.

Do These Differences in Positional Lacrosse Sticks Matter?
Now that you have a thorough understanding of the primary differences between the types of sticks in lacrosse, it is likely that you are wondering whether or not these differences actually matter.
These differences in lacrosse sticks do in fact matter. This is because depending on what type of lacrosse position you choose, you will need to invest in the proper stick in order to get out on the field. If you invest in the wrong type of stick, you may not be able to legally play at your desired position.
For example, you cannot play goalkeeper if you only have an attack/midfield stick at your disposal. Referees will simply not allow this to happen because of the astronomical injury risk involved.
Similarly, it is rare for a coach to allow a player with a short stick to play close defense. Lacrosse coaches want to have as many long stick defenders out on the field as possible to bolster the strength of the defense.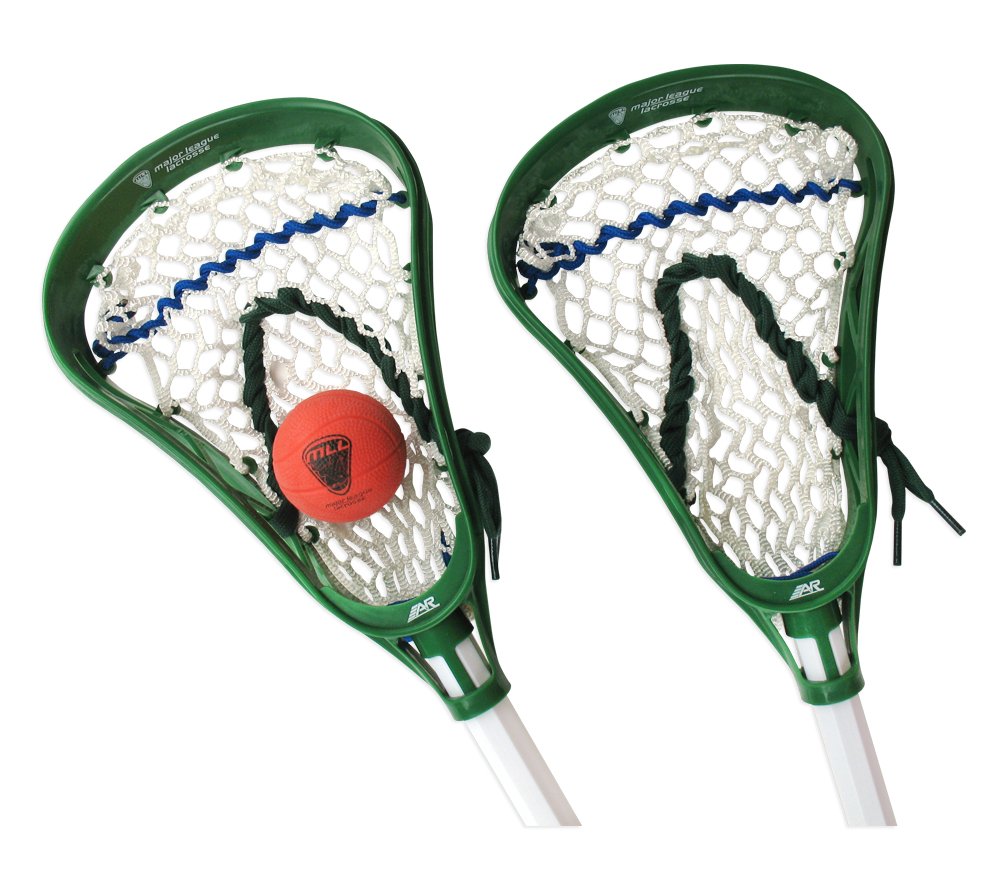 Putting another short stick defender at close defense just gives the opposition another favorable matchup to exploit.
What's the Difference Between Lacrosse Stick Brands?
There is also an overwhelming selection of lacrosse stick brands out there. In addition to the various types of lacrosse sticks, it is challenging for newcomers to differentiate between all of the lacrosse stick brands.
Having a base knowledge of the ways that lacrosse stick brands are different from one another will help you make an informed decision on what lacrosse stick suits you best.
A Complete List of Reputable Lacrosse Stick Brands
To understand the difference between lacrosse stick brands, it is necessary to first identify what the premier lacrosse stick brands are. The most renowned lacrosse stick manufacturers are listed below:
Brine
East Coast Dyes
Epoch
Gait
Maverik
Nike
StringKing
STX
Under Armor
Warrior
It is evident that there are many renowned stick brands to choose from.
So what are the major differences between these lacrosse stick brands? We will discuss this next.
Contrasting Materials of Production
A major point of contrast among lacrosse stick brands are the materials used to construct the individual parts of the lacrosse stick. Certain lacrosse companies prefer to use specific materials for production as opposed to others.
The Shaft: There are a diverse amount of materials that can be used in the production of lacrosse shafts. Examples of common lacrosse shaft materials include titanium, aluminum, scandium, alloy, and composite.
Depending on the lacrosse manufacturer, the shaft can be constructed from a single material or a blend of these materials. The differences in production material directly translates into a broad spectrum of structural resilience and overall feel.
For example, STX is known for its production line of scandium titanium (sc-ti) shafts. These shafts have a sleeker, smoother finish and are extremely durable.
Another lacrosse company, called Warrior, manufactures an illustrious line of lacrosse shafts that are constructed from alloy. These shafts have a bit more of a tackier finish and are much lighter than the STX sc-ti shafts. But this comes at the expense of durability.
To put it simply, lacrosse shaft brands differ in terms of feel, durability, structure, and even flexibility.
The Head: Generally, all lacrosse manufacturers use a plastic mold to construct their lacrosse heads. Certain companies may infuse other materials to add structural integrity the hard plastic, but this is an uncommon practice.
The Pocket: The stringing materials used to construct pockets also differ between lacrosse stick brands.
All lacrosse stick brands utilize nylon thread. However, leading stringing material manufacturers, like East Coast Dyes and StringKing, also infuse materials such as wax so that the pocket is better able to withstand the effects of the weather.
At first glance, such a small difference in production material would seem negligible. But many lacrosse players attest to this infusion of wax making a considerable difference in the longevity of their pocket.
Custom Structural Dimensions
Another prominent source of contrast among lacrosse stick brands are the structural dimensions of the stick, notably in the design of the lacrosse head.
Manufacturers are able to play around with the arrangement of the side rail, face shape, head diameter, head weight, and number of sidewall holes to construct an original lacrosse head that is customized toward a specific play style.
Each facet of the lacrosse head that these manufacturers modify has significant implications on how a player will perform on the field. I will even go as far as to say that the structure of a lacrosse head can make or break the player experience.
For instance, if a beginner invests in a lacrosse head that is extremely narrow.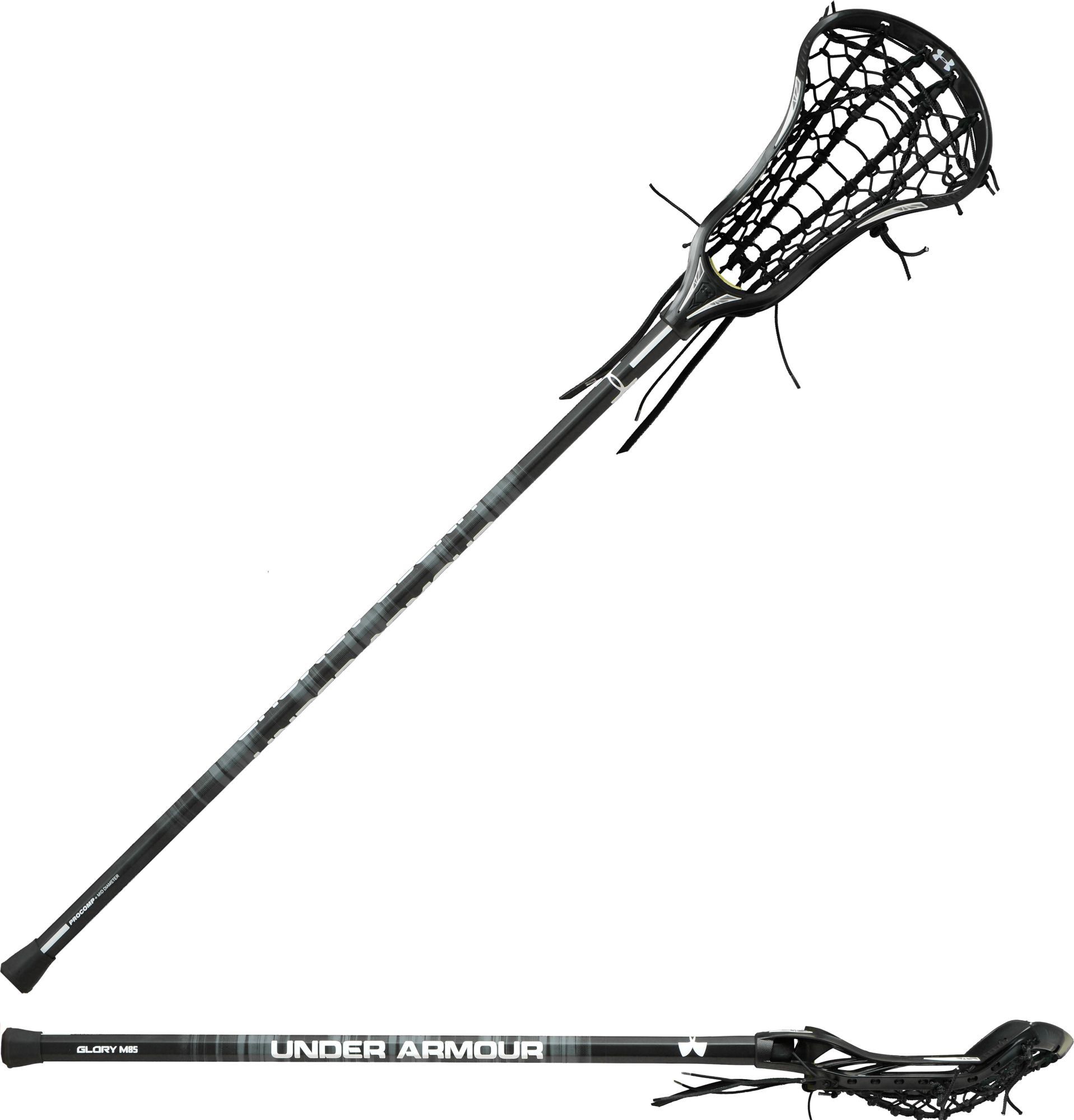 They will have a laborious time catching the ball on a consistent basis. This will ultimately lead to frustration, which may even cause them to quit lacrosse outright.
This is why it is important to take into account the differences in lacrosse stick brands, especially when it comes to the lacrosse head.
Broad Spectrum of Prices
Lastly, lacrosse stick brands can vary in their price significantly. The lacrosse shaft, lacrosse head, and lacrosse pocket have a diversity of price tags. Some products fall well below $100, while other products are priced above $200.
Ultimately, you get what you pay for. Higher ticket items generally use more expensive production materials and are battle tested by the most elite lacrosse players in the world. More inexpensive items are geared more toward the beginner that is just trying to learn the fundamentals of the game.
Check out my article Average Lacrosse Stick Cost (With 31 Real Price Examples) to learn more about the different prices of lacrosse sticks.
Do These Differences in Lacrosse Stick Brands Matter?
In the early days of lacrosse, stick brands held much more significance. Nowadays, with so many up and coming lacrosse companies manufacturing an exorbitant volume of high caliber lacrosse products, it does not really matter what specific brand you go with.
I personally have tried out a number of lacrosse stick brands myself. I have purchased lacrosse stick products made by Brine, East Coast Dyes, Nike, StringKing, STX, and Warrior.
I do not really stay loyal to one stick brand when it comes to lacrosse shafts and lacrosse heads because the differences are rather negligible to me. I have only ever broken one lacrosse head in my life and it lasted quite a few years before breaking.
The way that shafts and heads are made now, I am never really concerned with the prospect of defective lacrosse stick products. In my experience, virtually all of my sticks have lasted me multiple seasons.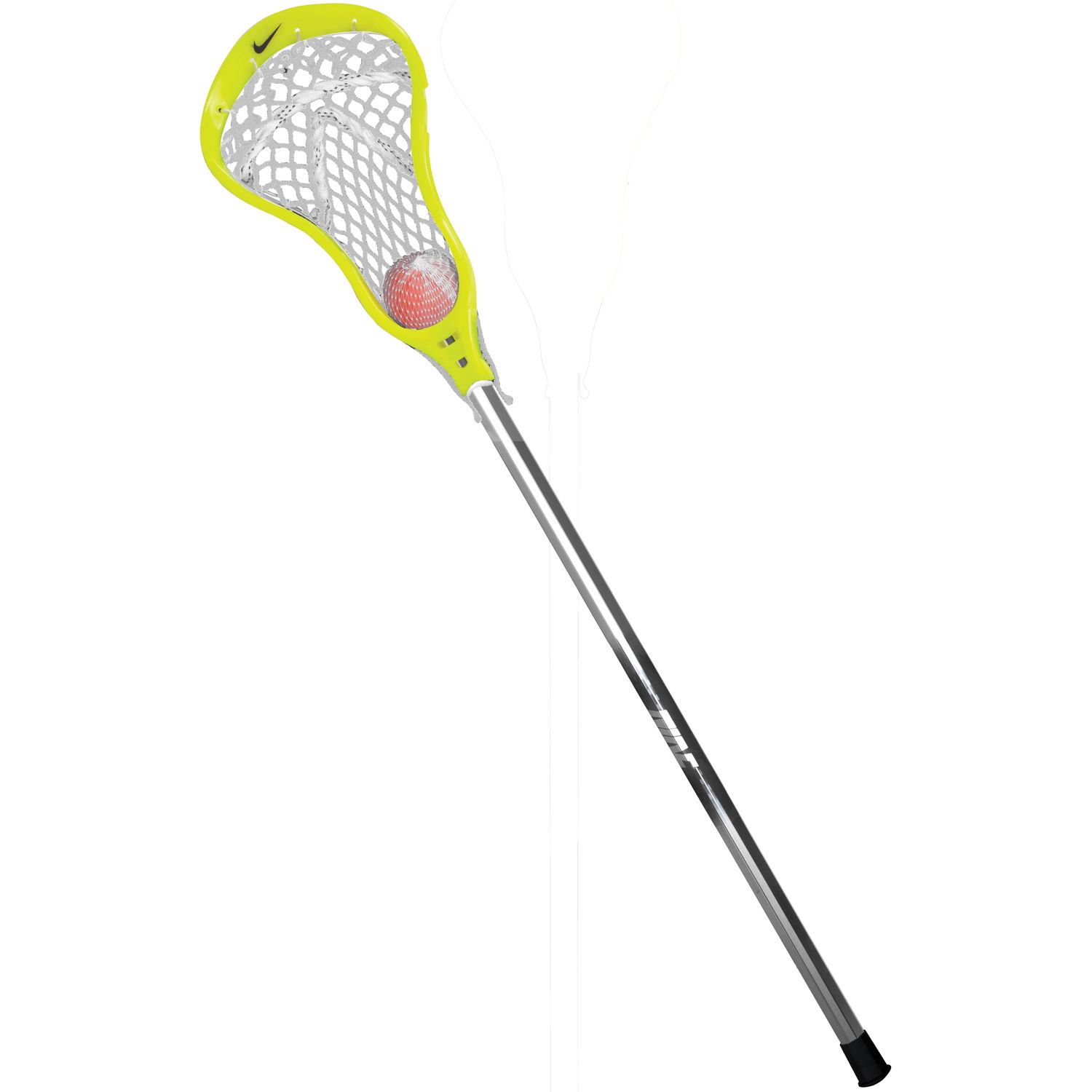 The only time where I actually take lacrosse stick brands into account is when I purchase stringing materials for my pocket. This is because the lacrosse pocket is where I have had the most problems in the past.
During my first couple years playing lacrosse, I constantly had issues with strings fraying and breaking. Furthermore, the mesh on my pocket would always be completely worn down by weather effects when the end of the season rolled around.
I saw a noticeable difference when I started using performance stringing materials from East Coast Dyes. Prior to using these stringing materials, I would always have to restring my pocket midway through the season. With the performance stringing materials from East Coast Dyes, my pocket was able to last for a full season and beyond.
The moral of the story is that if you are going to splurge on a specific lacrosse stick brand, invest your money into reliable stringing materials. After all, the pocket is what predominantly controls your throwing and catching consistency.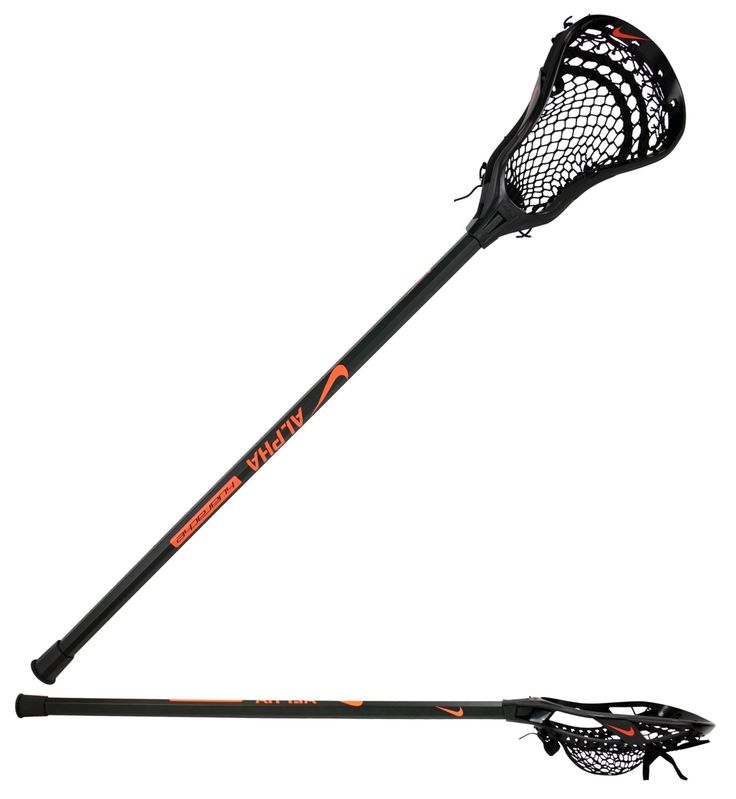 You want to make sure that this area of your stick is top notch come game time!
Girls Lacrosse Equipment for Beginners – CreaseRoll
This summary of girls lacrosse equipment is for parents of new players that don't know what they need, where to get it, and how to choose.
Each player will need a lacrosse stick, goggles, colored mouth guard, and cleats (optional / recommended). One should plan on spending at least around $110 total, not including cleats. STX sells a Starter Kit shown here that is popular and appropriate for grades 1-4, but not for older.
Sticks
"Stick" means handle and pocket complete. Boys and girls sticks are different. More than once I have had to break that news to a parent with a brand new boy's stick on the first day of practice. Sticks range from $39 on up to $300 or more. Plan to spend at least $60 to $80 on a beginner stick so you get the quality and durability to survive the season and enable the player to play effectively.
Going too cheap on a stick will just lead to frustration and – especially if the new player is older – the stick will break before the season is over.
Sticks are available at local sporting goods shops and lacrosse specialty stores and online for a broader selection. Look for deals and closeouts like the example at right. Also sticks considered "high end" two or three years ago may still be hanging around a store's shelf marked down. Read How to Get a Good Lacrosse Stick Cheap for some specific model examples.
Also, if the player is under 12 years old, cut the stick down 3 or 4 inches. Yes, this makes parents and kids cringe to hacksaw a brand new stick, but a young girl wouldn't start playing golf with a full size club.
Goggles
The goggles are important to evaluate in person and try on. The player will be wearing the goggles for an entire practice twice a week and an hour long game, so in addition to safety, the goggles need to be comfortable for the player.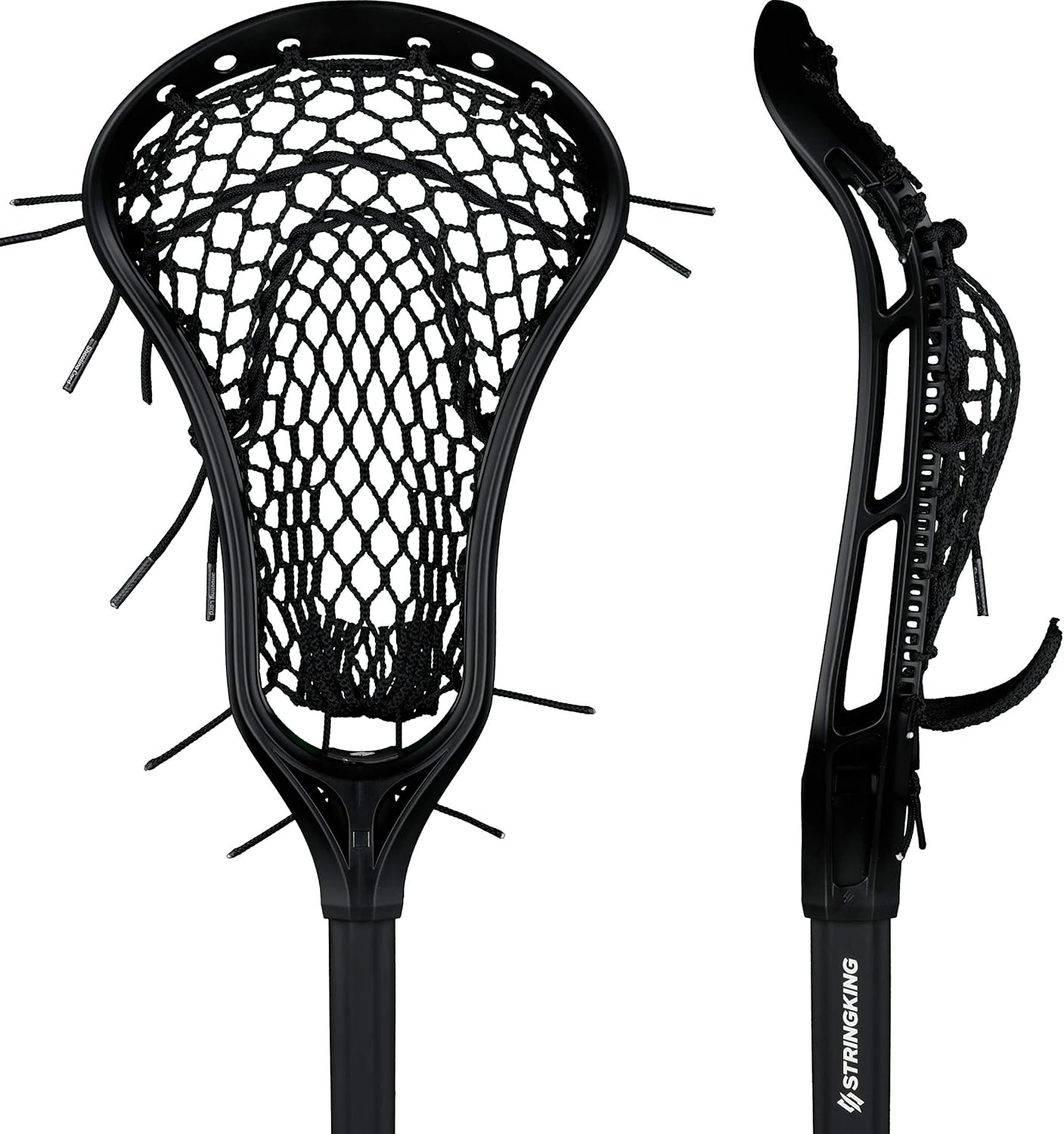 Each brand (STX, Brine, Cascade, Under Armour, and deBeer) varies slightly in how the bars are positioned and how the shape fits so it is best to try on a few different brands to see which one is most compatible with the players face. If the store doesn't have the color you want then you could buy online once you know what will fit best. Prices range from $29 to $60 for kids' models. The STX 4Sight+ Youth Goggle is probably the most popular and they are included in the STX Lacrosse Girl's Starter Pack.
Mouth Guards
Lacrosse players use the same mouth guards as football and basketball players so there is usually a wide selection at local sporting goods stores. However, by rule mouth guards must be colored and cannot be clear. This is so coaches and officials can see them. There are specific mouth guards for braces. You could also consult your dentist or orthodontist first since many give them out to their patients upon request.
Footwear
There is such a shoe as a "lacrosse cleat", but it is not required by rule, unlike soccer and softball that do have specifications for cleats.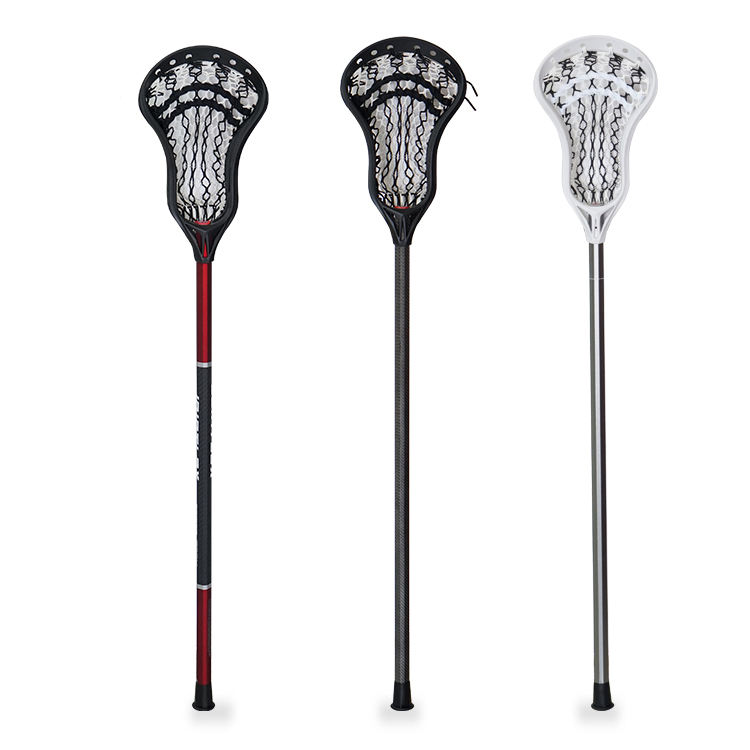 Any kind of cleat designed for grass or turf will work. Almost all girls wear soccer cleats.
Gloves
Some girls like to wear lacrosse gloves (similar to golf gloves or batting gloves).  Gloves are not required equipment and simply a matter of personal preference. And they look cool.
Like this:
Like Loading…
Related
Complete Stick or DIY Buy? Why purchasing a Full Stick Setup is not just for Beginners anymore.
A fairly common dilemma for young players and parents is whether or not to purchase a Complete Stick or a individual Head and Handle when making a first purchase. In the last few years the dynamics of this decision have changed due to the fact that stock complete or "full" sticks have become more specialized and upgraded directly out of the box. In the past the rule of thumb was for a beginner/first year player to purchase a complete stick and become acclimated with ball handling, passing and shooting and then once they had become comfortable with playing a particular position or developed a personal playing style it would be time to shop for Heads and Shafts separately.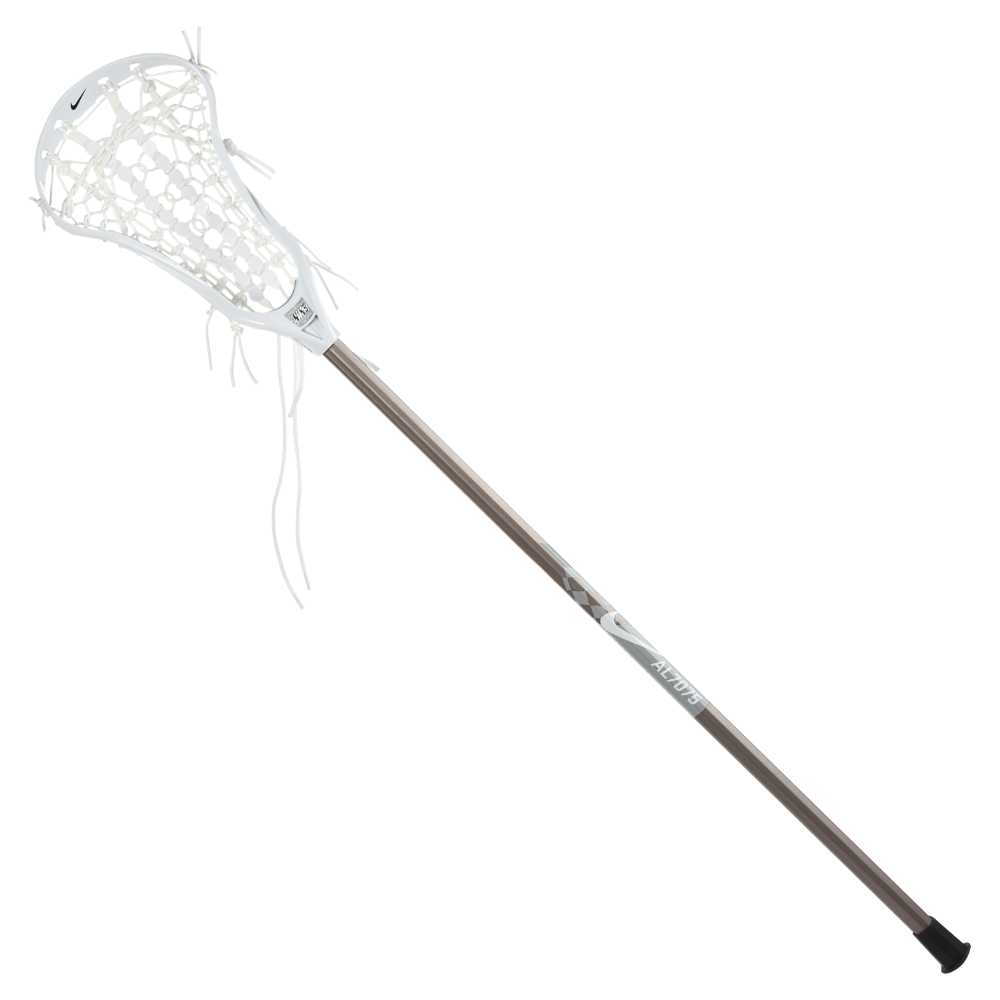 Old modes of thinking tend to die off pretty quickly in Lacrosse and while it used to be that Female players gravitated towards buying a complete stick much more than their male counterparts the modern game finds this to have changed significantly. This is not necessarily the case these days as many advanced players both Male and Female have made the switch to a Complete Stick from the get go. Among the reasons for this:
Technology – Constant advancements in materials and design have inevitably introduced higher end complete sticks. In the past companies focused on low cost introductory model complete sticks where as these days they cover the entire spectrum of price points. One need not look any further than the Women's Brine Dynasty Warp Pro. The introduction of a pocket that requires zero stringing has really caught on with variables like loose sidewall a thing of the past.
Consistency –There's a fairly significant difference between a factory strung head, a head strung by your local guy, and a head rigged by your cousin who is learning to string.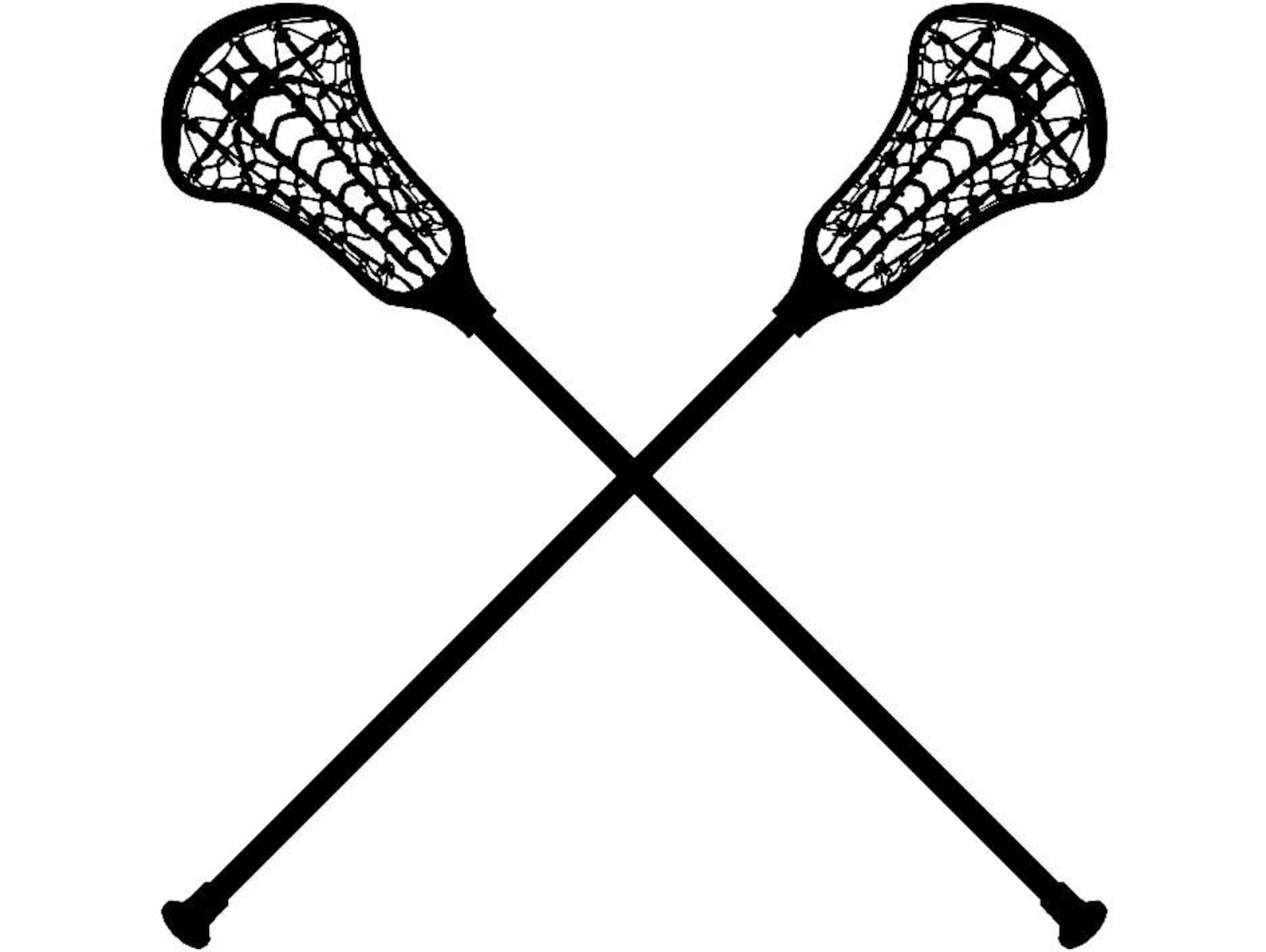 Complete Sticks usually offer the same feel, the same release, the same consistency day in and day out. Something you won't get if you just found out your favorite stringer moved to Albuquerque last weekend. If you have two sticks with the same head and two different shafts naturally, however slight your release, handling or some other aspect of the sticks performance will differ.
Value – Generally, comparing apples to apples Complete Sticks are more economical then purchasing the same components separately. However, that being said there are many spectacular deals on heads both strung and unstrung as well as shafts and one can piece together a great deal for themselves. But again, if you are looking at the same components generally there is a lower price as a complete unit.
With all the Complete Stick Love above lets take a look at the Pluses to purchasing separate components your first go round:
Specialized Customization – Components allow individual players to dissect their strengths and weaknesses and are able to make adjustments at an equipment level. If your shot "takes off" for example, you can always have a Pro readjust your string setup, but what if you don't know a place to go? Sometimes having your best friend readjust your setup leads you into a spiral of experimentation and inconsistency. Something young players should avoid.
Variety – Lacrosse is about action, color and innovation. Being able to match colors of heads and shafts to your team, or putting together a good-looking combo is always cool, but also lets say you are in love with a particular Head but your fav handle doesn't perform well in wet weather and today it's pouring. The ability to swap out in different conditions adds another element to your game.
Fun Factor – Speaking to the above points some players thrive on anarchy. The variety of heads, stringing styles, mesh , handle textures and metals can be an exciting trip into the wild. Some fancy themselves as mad scientists constantly thriving to create the perfect monster (Speaking of, have you tried our new Crankenstein Mesh?) These folks look at a Factory Strung Complete Stick as the most boring thing on the planet, but by no means should those Complete Sticks be looked down on these days. However it is really interesting to see Stringing Specific Companies like Stringking offering up Complete Lacrosse Sticks themselves like the Complete 2 Attack Stick
Our overall suggestion is this. Generally just like complete sticks, some Heads are better for Beginner Players than others. As you can see by the variety of prices Complete Sticks in both Men's and Women's Categories are no longer just for the "Beginner" Player. Can you borrow a friends stick to try? What do you like and not like about it? What is your goal? High School, Club? One thing about Lax is that it does supply a wealth of info all over the internet like the video featuring Paul Rabil or the Complete Stick overview (that aims to back us up on this Complete Stick thing below:
Do you want to bother messing with string? If not maybe a warp is a great option. Are you buying for a team and want variety or are you buying for a youth organization or children new to the game and want a consistent level playing field for all the participants? Again, complete stick, great option. If you're really doubting which direction to go with the Complete Stick is the safest bet and we have tons of them from all the brands like Warrior, Brine, STX, Maverik,and many more. While the pure volume of Heads and Shaft components can be daunting and over 95% of Lacrosse Heads will fit on any shaft it is always good to double check and of course we here at everysportforless.com are glad to help.
We have done our best to describe the differences, but if there are ever any questions please do not hesitant to contact us and we will be glad to do a walk through with you. Remember experimentation is a part of Lacrosse there really is no perfect answer but having the facts is as always the key to making the best decision.
Feb 12th 2020 Crankenstein Jr.
Top 10 Best Lacrosse Sticks Reviews of 2021: Suitable for All Positions
Think about how much your game would improve if you had the perfect lacrosse stick for your needs and playing style. The best lacrosse sticks can dramatically enhance your performance on the field. While you might think that your skills are good enough to master any stick, think again.
As the old saying goes: it's all mind over matter. Poorly designed equipment made out of cheap materials can be a big source of distraction. Even if you don't realize it, those fine comfort details and the overall "feel" of your lacrosse stick is what you're going to be thinking about. This ultimately causes you to adopt poor playing techniques.
Wouldn't it be nice if you could focus on the game rather than the quality of your gear?
With the right lax stick, you can. In this guide, we're going to help you find a stick that can help you reach your full potential.
Any seasoned lacrosse player will tell you that spending some time choosing the right stick is paramount. This gear is a big investment that can make or break your game, so it's best to consider every aspect when looking for the right one.
Top Rated Lacrosse Sticks Comparison Chart 2021
What you should keep in mind before selecting the best lacrosse stick?
Length

Lax sticks come in a range of lengths. The right one for you will largely depend on personal preference. However, there are some strict regulations to follow as well.

You must choose an appropriate length for your position on the field. We'll get into the specifics of that soon. For now, it's important to know that the sticks for attackers and middies are much shorter than those used by defensive players.

Another thing to consider is the league you're playing for. For example, women's sticks are typically a few inches shorter than men's lacrosse sticks. The same goes for youth lacrosse.

Just the Stick

When you're shopping for lacrosse sticks, you can choose to get the stick alone or as an assembled piece with the head attached. A standalone stick, also referred to as a shaft, gives you the opportunity to customize your gear even further.

Regardless of the option you choose, it's always a good idea to think about what type of material you prefer. Lacrosse shafts come in a range of materials. Though, the most common are composite, aluminium, scandium, and titanium.

Composite shafts are great for attackers. They're lightweight and can be manufactured to provide different levels of flexibility. Aluminum is lightweight, too. It's typically used by youth players who need something light and cost-effective.

Next up, there's scandium. This is a unique material that's typically used by the aerospace industry. In the world of lacrosse, it's a good all-around material that can serve many different positions. It's strong and has a great weight ratio.

Finally, there's titanium. These are a popular option for defense players because of the strength and weight they provide. They are being phased out by many manufacturers though. This is due, in large part, to the high production costs compared to alternatives that are just as effective.

Handle & Feel

It's impossible to tell you how a lacrosse stick should feel. For the most part, this is just something you learn the longer you play the sport! Everyone's preferences are different.

With that said, there are some key aspects affect the overall feel of the stick in your hands.

The first is the shape of the shaft and handle. No, we're not talking about the length. Take a look at any modern lax stick and you'll see that most take on an octagonal shape.

The shape helps to improve grip. The angles of each flat side make it easy to do controlled rotations on the field. Cylindrical options are available. Usually, they're accompanied by grips.

Grips provide the same benefits of taping, which is something many lax players do to improve traction on their hands. The main difference is that grips are custom designed and molded onto the shaft.

Consider both of those factors when you're trying to determine how a lax stick will fell on the field.

Heads and Pockets

Like stick length, lacrosse governing boards have some strict rules regarding head and pocket configuration. For high school players, you'll have to make sure that your sticks meet guidelines set by the NFHS. Meanwhile, college lacrosse sticks are regulated by the NCAA.

The head refers to the plastic frame that holds the net. It's what the ball will be interacting with most. While they all look the same, any experienced player will tell you that even the finest detail can affect your game!

You need to consider throat sizes, scoop angle, and more.

When you hear the term "pocket," it's referring to the shape of the strings. Strings are fully customizable, allowing you to create the pocket shape that you want. However, most players will choose between a low, mid, or high pocket.

As always, make sure that you're creating a pocket that follows regulations. Also, you need to ensure that your new stick's lacrosse head is capable of creating the pocket that you want.
Best Lacrosse Stick 2021 Reviews – Recommended Picks
Quick Features:
Beginner-level stick
Alloy metal shaft
Classic scoop
Soft mesh
The Stallion 200 lacrosse stick is a great option for beginners. It's made out of a lightweight alloy metal and features a novice-friendly head. The stick is specifically designed to help new players hone their skills.
Despite being made for beginners, the stick looks anything but. It's covered in a sleek black finish and even has some cool graphics that stand out.
Pros
Meets NFHS and NCAA regulation
Low pocket
Octagonal shaft
Lightweight
Conclusion
All in all, this stick doesn't disappoint. Whether you're just getting started or you're watching your young player take their first steps on the field, this lacrosse stick is an excellent choice.
Quick Features:
Alloy metal shaft
42 inches long
Narrow head
Soft mesh
Nike is no stranger to making some great sports gear. This lacrosse stick is no different. It's a beautifully designed and solidly built stick that has a lot to offer players.
The stick is made with versatility in mind. Thus, it has slick handling and the power to accommodate players of any position.
Pros
Good for beginners and intermediate players
Lightweight
Brightly colored
Cons
Not good for seasoned players
Conclusion
Novice and intermediate players have a lot to gain from this stick. It offers great performance and plenty of flexibility.
Quick Features:
Youth lacrosse stick
42 inches long
Kyrptolyte shaft
Tight face
From Warrior is Evo Warp stick. The most notable feature of this stick is the Kryptolyte shaft. This is a unique composite material that's very lightweight. It's not as tough as some other materials. But if that's not a deal-breaker for you, the lightness of the shaft can help improve speed and overall agility on the field.
Pros
Weather-resistant build
Lightweight
Can improve handling
Cons
Tight net prone to breaking
Conclusion
This is a great stick worth checking out. Made for players under 14 years old, it'll help young lacrosse fans learn the ropes and master the game.
Quick Features:
Narrow throat
Wide scoop
Aluminum shaft
42 inches long
Maverick has knocked it out of the park with the Charger lacrosse stick. The shaft is made out of lightweight aluminum. While you could use some tape to improve grip, Maverick has included multiple grip zones. Printed lines offer a tactile response to give you more control on the field.
Pros
Complies with NFSA and NCAA rules
Multiple grip zones
Good for beginners
Conclusion
There's a lot to like about this stick. Beyond the grip zones, the head is designed to maximize power and accuracy. It's a win-win all around.
Quick Features:
Attack stick
40 inches long
Metal shaft
Prestrung
The String King lacrosse stick is a versatile piece of gear that can serve beginners and intermediate players well. The unit is already prestrung, saving you time. As if that weren't enough, the stick is very easy to break in. You can start playing the moment you get it with no problems.
Pros
Good for beginners
Semi-hard mesh
Easy to break in
Cons
Mid pocket may not be for everyone
Conclusion
Don't let the simple looks of this stick fool you. It's well made and is versatile enough for any position.
Quick Features:
Comes in a set of 2
30 inches long
Plastic heads
This is a unique product that can help start kids off with lacrosse early. It's not made for regulation play. However, it can provide hours of fun in the backyard. The sticks both take on a traditional lacrosse stick design. Plus, they have the performance capabilities to match.
Pros
Great for young players
Prestrung
Head and pocket are beginner-friendly
Cons
Not regulation size for adults
Conclusion
While they can't be used for regulation games, these sticks offer tons of fun for young kids. It's a great way to introduce the game early while teaching youngsters some fun skills.
Quick Features:
Goalie stick
Strung with hard mesh
30-inch handle
Another great option from STX is this goalie stick. It has all the bells and whistles you need to start playing right out of the box. The shaft has an octagonal shape for better grip. Furthermore, the head is prestrung with hard mesh.
Pros
Ready to use
Large head
Grippy handle
Cons
Net is on the looser side
Conclusion
All in all, the STX goalie stick does a decent job. It's not going to offer the best experience for elite players, but it gets the task done.
Quick Features:
Youth stick
Soft mesh
Flexible head
Approximately 38 inches long
This stick is purpose-built for youngsters that are new to the sport. It's not going to meet any league regulations. If you can overlook that, the stick is perfectly capable of helping your kid learn the ropes. The shaft is thinner and easier to handle, making it great for little hands.
Pros
Shaft is thin
Wide head for handling
Octagonal shaft
Cons
Doesn't meet regulation length
Conclusion
If you're looking for a lacrosse stick that your kids can use in the backyard, this is a great choice. It's built like a regulation stick and can be used to teach children the basics.
Quick Features:
Youth stick
Middle pocket
Classic scoop shape
Approximately 39 inches long
Here's another youth stick worth your attention. Like the previous one, this model is designed for small hands. The shaft is thinner and very lightweight. Beyond that, the stick has some great features to improve handling. This includes a versatile middle pocket and a moderate pinch on the head.
Pros
Head is molded out of flexible material
Offers good control
Prestrung with soft mesh
Thinner shaft
Cons
Not the most durable option
Conclusion
Your kids will fall in love with lacrosse with this stick. It makes the game more manageable, which could keep your kids motivated.
Quick Features:
Set of 2 sticks
Made of plastic
Prestrung
30 inches long
Check out this fun lacrosse stick set. It comes with two sticks and a ball. This isn't a product that your child would use out on the field. Rather, it's made for backyard fun! Despite this, the stick set is surprisingly true to life. It offers a realistic playing experience at a much more affordable price.
Pros
Lightweight
Modeled after real lax sticks
EZ scoop design
Cons
Not made for regulation games
Conclusion
With this stick set, you can have some fun with your kids while getting them started with the sport. Thanks to the realistic design, your kids can get a head start before they start playing for real.
The Complete Lacrosse Stick Buying Guide
Whether you're new to the game or you've been playing for years, finding the best lacrosse stick is never easy. There are many things to consider and tons of options on the market.
Luckily for you, we've created this guide with all the information you need to make a sound decision.
What are other important buying considerations?
In addition to the considerations we covered earlier in this guide, you need to think about the following factors when buying a new lax stick.
Key Playing Positions
As we mentioned earlier, stick guidelines vary based on the position you play. When you're trying to find the best lax sticks, start by narrowing down your options based on your position.
Attackers

Attackers are the offensive players. They're responsible for scoring goals. Typically, they stay on the offensive side of the field. So, a lightweight lacrosse stick for running is not a top priority.

What you should focus on is having a flexible stick that provides you with enough shooting power. For this reason, composite sticks are usually the go-to.

When it comes to length, attackers need a stick that measures 40 to 42 inches long. The shaft itself should be about 30 inches long. This applies to men's lacrosse sticks.

Women's lacrosse sticks are a bit different because there aren't any strict guidelines regarding size differences among positions. Aside from the goalie, all women players can choose a stick between 35.5 and 43.25 inches long.

Midfield Players

Also referred to as middies, these players arguably have one of the toughest jobs on the team. They support both the defense and offense. As a result, middies are often running up and down the field and following the ball.

To increase your endurance as a midfielder, lighter sticks are usually recommended. They won't weigh you down as you run, which is a huge plus.

Lengthwise, midfielders have a big range to choose from! They can stick with the same length as an attacker or they can go with something that's closer to what defensive players use. Generally, the basic rule is to choose a stick that matches your playing style. The best lacrosse sticks for middies are between 40 and 72 inches long with the head attached.

Defense

Defensive players are the backbone of the team. Their job is to prevent other players from scoring a goal. These players will stay between their goal and the attackers.

Being part of the defense line is tough! It involves a lot of checking (if it's allowed), passing, and communication.

As a defensive player, you need a much longer stick than the attackers. More length makes it easy to check opposing attackers. Plus, it provides more reach when you want to block passes.

For most leagues, the defense line needs sticks that are between 52 and 72 inches. That's with the head attached. Standalone shafts usually measure around 60 inches long.
Skill Level
Lacrosse, as a whole, has gotten very popular in the last decade. Over 800,000 people considered themselves players in 2018. That's a big jump from the 684,000 or so that did in 2011!
Like any other sport, the equipment that will work best for you will depend entirely on your skill level. Beginners don't need elite-level gear! As you progress with the sport and get better, you can upgrade your stick to match your new playing style and techniques.
Beginner

As a novice player, you're still learning the ropes and getting comfortable with the sport. Chances are, you haven't committed to a specific position to hone your skills just yet either.

A good rule of thumb for beginners is to get a versatile lax stick that can be used in multiple positions. Most new players will try many different techniques and playing styles before they settle on just one. A versatile stick will help you do that without hurting your wallet!

Youth players can choose a product that's based on their team position. However, it's always good to get something that's specifically designed for them.

The best lacrosse sticks for kids are often lighter and have smaller shafts. Not only that, but the lengths are different due to sizing regulations. Most leagues allow the sticks to be several inches shorter. You shouldn't have any trouble finding youth lacrosse sticks as short as 26 inches for any position.

Intermediate

Once you've been playing for a few years and have a pretty good idea of the position you want to play, it's time to make an upgrade. The intermediate level is where you can start making those important decisions about length and feel.

Generally, intermediate players can see success from using a narrower head. It provides greater control than wide heads for beginners. You can also get harder mesh to get more throwing power.

Expect to spend a bit more to get a solidly built stick, too. Choose something that matches your playing style and feels good in the hand. Moving forward, you will be fine-tuning your skills even further. So, getting a lax stick that's comfortable and easy to handle is paramount.

Elite

As an elite player, your needs are going to be vastly different than a novice or intermediate player. Every little detail can affect your game, so you need to consider all of your options.

Professional and college lacrosse sticks are built to higher standards. Thus, expect to pay a pretty penny for a well-built stick!

With that said, these sticks are going to last for quite some time. They're built to handle the toughest checks and give you the best performance possible. If you're serious about the game, it's a worthy investment.
Style of Playing
The next thing you should think about is how you play. This goes beyond standard field positions and skill level. It's about your personal preferences and playing quirks that make you unique.
Say, for example, that you're a middie that leans more on defensive playing than offensive playing. In that case, you may fair better with a long and durable shaft that's built for checking.
Another example would be your preferred way to shoot as an attacker. If you have spent years learning how to make accurate long shots, choose a lacrosse stick that complements those techniques. Instead of choosing a short stick that's firm, you might want to go with a bit more length and tons of flexibility. A stick like that would give you the power you need to make those distant shots.
Think about how you play and choose a stick with the features you need most. While there are some guidelines based on position, you don't have to stick with the standards. As long as you're following the rules, you can choose features that work best for your playing style.
Value
Finally, let's talk about value. Ultimately, value is all subjective. How important is lacrosse to you and how much money are you comfortable spending? Lacrosse stick prices vary quite a bit. So, does quality.
Don't let the sticker price sway your decision too much. Remember, a well-built stick is going to outlast a cheaper one. Consider your purchase as an investment into the sport and set a budget accordingly.
Frequently Asked Questions
What is the best brand of lacrosse stick?

There are tons of great brands out there! They all produce some high-quality gear that can cater to all types of players. We recommend checking out brands like STX, Nike, Maverick, and Warrior.

What's the best lacrosse stick for beginners?

Those just getting started with lacrosse may have difficulties managing and controlling the stick. To help them improve their techniques, we recommend going with features that improve handling and shooting. This means a wider head, a wider scoop, and a lightweight shaft.

How long is a youth lacrosse stick?




Youth lacrosse sticks can be between 36 and 42 inches for attackers and middies. For defensive players, regulation sticks are between 37 and 72 inches long.

Where do you tape a lacrosse stick?

You can tape the entire length of the shaft if you want to! Start from the bottom and work your way all the way up to the head. Just make sure that no tape is touching the head at all! This would violate both NCAA and NFHS rules.
Conclusion
Finding the best lacrosse stick can make all the difference. Instead of fussing with a piece of gear that's uncomfortable to use, you can reach your full potential. The right stick will complement your abilities, not hinder them. Check out one of our recommended picks and see what a difference a good lax stick makes!
Paul is a compulsive tinkerer and inventor who loves writing about latest machines technology. He is especially inclined towards home improvement, exercise and outdoor equipment that every sports enthusiast and house dweller would love to get their hands on.
Latest posts by Paul Hickman (see all)
Lacrosse stick maker STX invests in new ideas
Inside a converted warehouse in Pigtown, off limits to most company emplyees, designers and engineers dream up and test equipment for one of the nation's fastest growing sports.
They follow in the foot steps of company founder Richard B.C. Tucker, a 1951 Johns Hopkins University graduate and lacrosse player, who revolutionized the lacrosse stick 42 years ago and forever changed the sport.
Today, Baltimore-based STX LLC claims the biggest share of the U.S. lacrosse equipment market, even though it never has made products such as helmets and footwear. Though STX won't disclose revenue numbers, the privately held company said its sales have tripled over the past five years. The company employs about 100 workers at its corporate and research headquarters on Bush Street and makes its gear in about 20 factories around the world.
The division of Wm T. Burnett & Co., a polyurethane foam and sythetic fiber manufacturer also based in Pigtown, is riding the sport's swelling popularity.
"The sport is on the cusp of breaking out of being a niche sport and more into a mainstream sport," said Bill Schoonmaker, chief operating officer of US Lacrosse, based in Baltimore. "People are exposed to the game who haven't been exposed to it before."
The sport saw a 10 percent increase in organized team participants at all levels last year from youth leagues through high school and college, according to US Lacrosse, the sport's governing body. This year, one of two professional lacrosse leagues added two expansion franchises. And media coverage of games at the collegiate level has increased, with ESPN airing dozens of games each season, including the NCAA final four, which concluded Monday in Foxborough, Mass.
To remain on top as competition intensifies with brands such as Brine and Warrior, STX must keep coming up with new ideas to make the game more accessible and help athletes perform better. Through a cooperative agreement with Nike, STX also has been designing and producing lacrosse equipment under the Nike brand.
"This is an innovation machine," said Jason M. Goger, STX general manager. "We have enough innovations and ideas to fuel two brands."
The work is so secretive given the intense competition among rival manufacturers that most employees are not granted access to its year-old research and development space, where STX is investing $1 million.
The company's success is pushing it to work harder to stay on the cutting edge, officials say.
"The game is changing so rapidly," Goger said. "You have athletes who are bigger and stronger, then you have athletes playing longer throughout the year," in a range of climates. "We have to keep on the leading edge of that growth and change."
Employees create new designs, build prototypes and put products through rigorous tests that simulate repetitive use on the playing field under a variety of weather conditions. Researchers can work for years to develop a new product or design, but can also turn ideas around quickly, from concept to on the shelf in a matter of months.
At work stations adorned with lacrosse sticks and protective gear, designers create three-dimensional models on computer screens.
In a back room, an engineer demonstrates some of the equipment that puts sticks, heads and goggles to the test. In one glass chamber, a men's lacrosse head, the part of the stick that forms a frame for the pocket, is pounded by a machine, sometimes for hours, in an attempt to arrive at just the right balance of stiffness and flexibility.
"We can determine if it's going to break in the field or not," said Mike Schmittdiel, a senior mechanical engineer.
At another station, Schmittdiel shot a ball with compressed air through a tunnel into the head of a mannequin wearing women's goggles. STX said it has a 70 percent market share in women's lacrosse goggles.
Another machine, resembling a copier, produced a computer designed prototype of a lacrosse stick head, made of glue and cornstarch. In another test, a metal rod pushed down on aluminum sticks, simulating conditions on the field, where sticks have been known to snap in two.
"Our heritage is borne of playing on the field," Goger said. "We try to combine field testing with lab testing."
Further testing of new equipment is done by student athletes, many at Johns Hopkins, who are asked to use the equipment and offer feedback. The company has sponsored Hopkins for the past 12 seasons, providing the team with STX sticks.
"They've listened very, very well," Dave Pietramala, Johns Hopkins lacrosse coach, said of the company's product developers. "They keep their ear to the ground. They are anxious and interested to find out what the players like, what they don't like and how to come up with something protective. They are a substance, not flash, company, and they pride themselves on doing things the right way."
At LAX World, a specialty lacrosse chain with 12 locations in Maryland and four other states, STX is one of the sport's big three brands, said Jerry Scott, LAX World general manager.
"All three are pretty popular, but locally STX has a better market share than any other brands in our stores," he said. "It's the most popular lacrosse head in the market."
The latest STX sticks bear little resemblance to the company's earliest products. Designs and materials have evolved since Tucker revolutionized a stick that had been made entirely of wood for centuries.
After he graduated from Hopkins and joined Wm T. Burnett, his family's business, Tucker began experimenting with synthetic lacrosse heads during the 1960s
In 1970, he got a patent for the synthetic lacrosse stick and founded STX. The plastic stick caught on with athletes so fast that by the 1971 NCAA Lacrosse Championship, every goal scored was done so with an STX head. STX introduced the first aluminum handle in 1973 and the first mesh pocket in 1974.
The company now holds more than 100 patents and has branched into other sports. STX debuted its first putter in 1980 and its first field hockey stick in 1993. Patents include one for an interchangeable golf putter face insert and one for a "vibration dampening" field hockey stick.
Tucker, now chairman of Wm T. Burnett, still works in the STX office and encourages employees to stick to his founding vision.
"It was his vision," Gogan said, "that every kid in America should be playing lacrosse."
Text BUSINESS to 70701 to get Baltimore Sun Business text alerts
90,000 rating of the best + recommendations on how to choose a hockey stick
How to choose a hockey stick? This question is sometimes asked not only by beginners, but also by real pros who want to change their sports equipment for something more comfortable, durable, reliable. They often order golf clubs from the masters and give a lot of money for it. Those who are just starting to play hockey, of course, are unlikely to place an order from an eminent master. Rather, they will go to the store. The rating of the best manufacturers of hockey sticks, as well as general recommendations for choosing this type of sports equipment, they can find in this material.Then you will definitely be able to make the right choice.
The best hockey stick manufacturers
It makes no sense to talk about each model of a hockey stick – there are too many variations, differing in size, strength, and other parameters. The easiest way is to identify only manufacturers that you can trust, and make a choice simply among the models released by them. For you, TOP-6 of the best brands that produce hockey sticks.
No. 6 – Larsen
Larsen X-Force right
This is a Russian brand that has managed to recommend itself from the very best side.Its history began in 1994 in the city of Ufa. The company produces all kinds of sports equipment – balls, rollers, skates, skis, including hockey sticks. There are now over 3,000 models on the list.
Note! The company is part of the Al Sar group. In addition to her, it also includes Iron Body, Proteus and a number of fitness stores.
Manufactured in China. But the company cooperates with a number of firms in Germany, Taiwan, Slovenia, Spain, and this allows to achieve a certain quality of goods.By the way, the company sells its products not only in the Russian Federation, but also abroad. Sales markets include the countries of Europe and Asia. There are about 20 of them in total. And production in China keeps the cost relatively low.
Products are made from reliable materials on high-quality and modern equipment. All products have a long service life, are durable and reliable.
The company provides a guarantee for its goods, which is valid for 12 months. But you can use it only if you do not violate the operating conditions.However, users note, but not for all sports equipment, the company sets reasonable prices: in some cases, the functionality is noticeably lower than one would expect at a certain cost.
In general, Larsen products are suitable for both beginners and experienced athletes who are fond of various sports, including hockey. Among the entire assortment, you can find goods for those who, in general, lead an active lifestyle: for example, they are engaged in tourism and just keep fit.The company is constantly actively developing, updating its product lines and is ready to take into account the needs of users.
Pluses
famous brand
reliable quality
large assortment
manufactures all kinds of sports goods, including golf clubs
inexpensive price
Russian brand
Cons
sometimes the price does not correspond to the functionality of
Prices for the Larsen golf club range
Larsen Stick
No. 5 – Fisher
FISCHER W250 16/17 SR
The German company was founded in the mid-30s of the twentieth century by Mr. Fischer.True, then she produced sledges and carts. And only a year later she began to produce skis.
By the way, ski production is still the main activity of the company. She produces mountain and running models. However, the company also produces goods for hockey players – these are protection, accessories and, of course, golf clubs. Production is located in Austria and Ukraine.
The company is constantly improving its technologies and uses only advanced ones, and therefore it is not surprising that all sports equipment released by it deserves a positive assessment.
Note! Even during the Second World War, production continued to work, it did not stop for a single day.
The brand entered the world level in the second half of the twentieth century. And almost immediately, on skis from this company, athletes began to win gold medals, develop tremendous speeds. Gradually, Fisher products began to conquer the world.
Pluses
famous brand
products used in the Olympic Games
reliability and quality
German production
Specialization in winter sports goods
Cons
Prices for the Fisher
Golf Range
Fisher Hockey Sticks
No. 4 – Warrior
WARRIOR COVERT QRE GRIP INT
A company that openly informs everyone that it only thinks about how to improve and improve its products.She writes about this herself and all the suppliers of her goods on their websites.
The company gained fame in the hockey world and became popular not so long ago. This led to the fact that in 2005 she bought a manufacturer of golf clubs from California called Innovative Hockey, which at one time collaborated with the Russian firm EFSI. The new clubs, now under the Warrior brand, quickly became popular and used by NHL athletes. The face of the company is forward Alexey Kovalev (Russia).
Note! Now at least 150 NHL players use this brand of clubs.
Moreover, the company also produces protection and uniforms. Everyone can pick them up: a child or an adult, a professional or an athlete just beginning to master hockey.
The company uses only the latest technologies in production: for example, this is Trilam technology, which allows you to achieve the proper level of protection and comfort.
Pluses
hockey sticks used in the NHL
hockey stick specialization
the latest technology
reliability and quality
company face – Russian forward
Cons
Prices for the Warrior range of golf clubs
Warrior Hockey Sticks
No. 3 – Easton
EASTON SYNERGY 650 SR
This is an American company that became famous in the first half of the 80s, but appeared at the beginning of the twentieth century.She is the embodiment of the perfect combination of technology, innovation and design, for which her products are so loved and appreciated by users.
Fundamentally new types of products, some of the best on the world market, have won the hearts of athletes. Moreover, the company uses only its own developments, which, through the use of high-quality materials, make it possible to create real masterpieces.
In terms of technical characteristics, Easton products are one of the best. Moreover, at first she did not specialize in hockey goods, initially she did at all produce arrows and bows, then – ski poles made of aluminum.Then there were bats, as well as tourism goods, tennis rackets. It was only in the 70s that the company began to develop an aluminum hockey stick. The model received NHL approval and went into production.
Note! An aluminum hockey stick from this company was once used by Brett Hull and Wayne Gretzky.
Easton has long been out of competition in the ice hockey club market. NHL players used the products extensively in games. Some models were developed in conjunction with eminent NHL players.
Gradually, the brand expanded its production and began to produce skates, equipment for hockey players, making it easy to maneuver on ice and increase speed. Until now, this company is one of the recognized leaders in the market. You can trust her products.
Pluses
Specialization in hockey products
famous brand
some models were developed with NHL players
the firm invented an aluminum stick
reliability and product quality
Cons
Prices for the Easton
golf range
Easton Hockey Sticks
No. 2 – SMM
CCM SUPER TACKS AS1 SR
This is a Canadian company that was engaged in the production of bicycles at the very beginning of the twentieth century.When the parent brand, The American Bicycle Company, decided to expand, it headed north. It was there that SMM appeared, first producing bicycles, but due to high competition and low demand, it converted to the production of hockey goods – at that time this game became very popular, and equipment with equipment was in great demand.
SMM skates first appeared on the market. And since that moment, SMM has become one of the main manufacturers of hockey products on the market (about 90% of the players wore just such skates).
Note! The SMM was represented in the 1930s by the legendary ice hockey player King Clancy.
Then Choquette Wood Specialties entered the market. She began to specialize in the production of hockey sticks. And SMM buys a stake in this company. It goes on to become one of the leading manufacturers of products in the hockey segment by developing the world's first laminated hockey stick. This made it possible to improve the quality of products and reduce the cost of creating them.
By the middle of the twentieth century, the company was producing 240,000 clubs a year and selling 125 models designed specifically for NHL players. Now in the line of SMM – eleven varieties. 9 is U + with a lower deflection point and 2 – with a variable point (this is RBZ).
Pluses
invented a laminated stick
the brand is trusted by famous athletes
reliability and product quality
large selection
quality production
Cons
Prices for the range of SMM golf clubs
Hockey Sticks CMM
No. 1 – Bauer
BAUER SUPREME 1S S17 GRIP SR
One of the most renowned brands in the world of ice hockey, creating excellent equipment and the best quality accessories.The company is known even among newcomers, let alone professionals: many well-known players use products from this particular company and win.
The founder of the company was the Bauer family from Ontario in the 1920s. They immediately became specialized in the manufacture of skates.
The specialization is rather narrow (on hockey goods), a large selection of goods, an excellent ratio of quality and price – these are the main characteristics of the company. The main production is based in Canada, but there are factories in Russia, China and Thailand.Moreover, strict quality control is observed everywhere.
Note! Some people think that Bauer only makes skates, but this is not the case. In fact, the range of products for hockey players is very wide. This includes protection, skates, sportswear, and, of course, golf clubs.
Now the brand's products are used by many famous players from the NHL. Moreover, the demand for the product is in the USA, Russia, Latvia, Belarus and so on. The company produces goods for both professionals and beginners.The production uses only the latest technologies and high quality materials.
By the way, in 1995 the sports giant Nike bought Bauer. Then the firm was resold again. And only in the 2000s, it again entered the market as an independent brand and now it itself occupies a leading position in the market.
Pluses
specialized in hockey products
reliable quality
large selection of products
famous Canadian brand
the choice of professional athletes
relatively low cost
Cons
Prices for the Bauer
golf range
Bauer Hockey Sticks
Basic parameters of a hockey stick
Having decided what brand products you would like to have in your own sports equipment, you can start choosing a club according to its technical characteristics.Yes, it's not that simple! When choosing this seemingly ordinary and even "boring" sports equipment, you will have to take into account a lot of nuances – from the length of the club to its stiffness and hook bend. Let's figure out what the main parameters need to be considered when choosing this product.
Hockey stick: rules for choosing length and stiffness
The most important parameters to consider when choosing a stick are length and stiffness. Let's figure out how to navigate the whole variety of goods on the market, if we evaluate them precisely by these parameters.
So, the length of the club must clearly correspond to the height of the player. Moreover, each coach and each country has its own opinion on this matter. We will consider the averaged version.
In the average version, it is generally accepted that the length of the hockey stick should be equal to the distance from the tip of the player's nose to the ground. If the athlete is on skates, then in this case the length is measured to the chin or to the neck in the area of ​​the collarbones.
Stick length parameters
Note! It is generally accepted that attacking players prefer shorter models, while defenders prefer longer sticks.However, the length of the club will also depend on how close the player is holding the puck. But this can be taken into account only if you already have some experience of the game behind you.
Table. Labeling of clubs by age, depending on the length (rather arbitrary).
| Marking | Legend |
| --- | --- |
| Sr | Senior or adult stick. It has a length of 142 to 165 cm.Suitable for those who are over 165 cm tall. |
| Int | These are models for boys, in another way – Intermediate. They are suitable for those who are already 14-17 years old, and their height is 137-165 cm.The length of the club itself is 137-145 cm. |
| Jr | Sticks for juniors, that is, for children and adolescents from 7 to 14 years old. The length of the product itself is from 119 to 132 cm.The height of the child should be within 114-145 cm. |
| Yth | Children's hockey stick for children from 4 to 7 years old.Decryption – youth. The stick is designed for children no more than 122 cm tall. |
Note! Defenders usually play with 160-163 cm sticks with a 32 cm wedge. This is a fairly long product. Short pieces are preferred by goalkeepers (71 cm, the stick has a hook up to 40 cm). It is better to attack with clubs with a short bar.
In a word, with the length of the club, everything turned out to be more complicated than it seems. It is not enough to look at the marking – you need to take into account the characteristics of the player, his personal preferences.But you can take this into account only if you have some experience in the game. Beginners should rely on personal preference, manufacturer labeling, advice from a trainer or shop assistant. It is best, if possible, to start playing with different clubs and try to understand which one you can feel most comfortable with.
Bauer Stick Length Recommendations
Table. Club size and height: match.
| Player's height, cm | Size |
| --- | --- |
| 120-129 | 52 |
| 130-137 | 54 |
| 138-144 | 58 |
| 145-154 | 61 |
| 155-164 | 65 |
| 165-174 | 67 |
| 175-184 | 69 |
| 185-195 | 71 |
Important! Everywhere there are exceptions, and you cannot blindly trust the tables.They can only be guided by when choosing.
By the way, you can always saw down a long club. But the short one cannot be lengthened in any way. So advice for beginners – you can always take a little longer club and know that in which case it can be shortened.
Hardness
Now let's talk about stiffness. This is also one of the most important parameters. It is called flex in another way. So, when performing certain actions, you have to perform the deflection of the club, that is, use it to give the puck acceleration.And the more rigidly the stick is matched, the more effective the throws will be, and the more chances to lead the team to victory.
A hard stick requires much more effort to throw than a softer one. But again, when choosing a product for rigidity, one must take into account its weight, and length, and the strength of the athlete.
Stick stiffness values ​​according to height and weight
When choosing stiffness, the table from the Easton brand is usually used. Here the value ranges from 40 to 120.
Children's clubs and products for boys weighing up to 40-50 kg are marked as Yth 15 and Jr 20. This designation Flex /
For teenagers weighing no more than 55-65 kg, Int Flex sticks are suitable. They can be referred to as Lights 30.
Soft sticks for athletes weighing 65-75 kg are Mid or Whip.
The hobbyist and most commonly purchased is the Reg, which is suitable for people weighing 75-85 kg.
Rigid products Stiff, ProMid, Pro – for players weighing 95-100 kg.
The
Pro Stiff or X-Stiff are the toughest variations designed for massive athletes weighing around 110kg. If "X" is larger, then these are products for hockey players weighing 115-120 kg and these are the toughest options.
In a word, the stiffness of the stick directly depends on the weight of the person. If a soft product is used by a powerful and heavy athlete, it will quickly break. But with great rigidity, a light hockey player simply cannot bend the stick in order to make a high-quality throw of the puck.
Other parameters hockey stick
In addition to the above, you need to take into account a number of other parameters. length and stiffness are basic only. In addition to them, there is a grip, and weight, and the degree of bend, as well as the material from which the stick is made.
Grip is a parameter indicating which hand – left or right – will be below or above the club's neck. You can also navigate along it in the direction of the hook bend. Thus, the grip can be left or right.In the first case, the hook is turned to the right, and with your left hand you need to keep closer to the bottom of the product. For a right-handed product, everything is exactly the opposite.
Advice! The easiest way to decide on a grip is to use a regular mop at home. You just need to improvise a small hockey game where this particular home equipment will be used as a stick.
Product weight is also an important parameter. So, the clubs of the initial models in any line weigh a little more than half a kilogram.For more expensive and more advanced models, the weight tends to 400 grams. The difference, it would seem, is not large, but during the game it is noticeably felt. It is recommended to buy lightweight golf clubs.
If we talk about age, then you need to focus not just on the age marking on the product. It is necessary to take into account the weight and strength, as mentioned above. In general, all clubs can be divided into youth, children, and adults.
The same hook bend, which has already been mentioned in passing, also belongs to the important parameters.However, in reality, this part of the club has many more precise and subtle parameters.
Types of hook bends
So, for a start, it is worth saying that there are three types of bends:
Heel or heel bend. This option is favored by players who prefer high throws.
Toe or End Curl is best for most. With this bend, you can easily control shots and pucks, but it will be difficult to launch it upwards.
Mid or fold in the middle – something in between the two options mentioned above.Accordingly, it has average characteristics.
Tip! For beginner children, it is better to buy a model with a bend in the middle or without it at all and an average length. Best is a straight hook that is versatile and will work for everyone.
By the way, with a slight bend it is easier to control sports equipment and play, and throws with it will be more accurate and faster. And with a strong bend, you still need to learn how to play – it will be more difficult to cope with the puck.Before buying a club like this, you need to make sure that the curve fits the player.
With the angle of inclination, as with the rest of the parameters, everything is complicated: it is selected individually for each hockey player. It is called lie and shows the angle of the hook in relation to the bar of the inventory.
Important! If the angle is chosen correctly, then during the match the club will be excellent lying on the ice along its entire edge. The tape will wear evenly.
Lie can be equal to any digit in the range 4.5-7.The larger it is, the more vertical the handle is. And the smaller, the sharper the angle between the handle and the ice will be. Here you have to focus on your own preferences. If the puck is controlled close to the player, then it is worth choosing a product with a large angle; if a player likes to drive the puck away from him, then you should stop at a lower value.
Angles of inclination
The nose itself or the end of the hook of the product can be square, round or rounded-square. In the first case, the stick will most likely be chosen by the defenders.The second option is ideal for attackers. And the third is an average option that will suit both. In another way, the shape of the hook is called or denoted toe.
In the presence of a round nose, there is good contact of the product with the ice surface, so it will be much easier to control the puck. But a square nose will provide excellent edge play, even though it won't be easy to dribble the puck. For those who do not understand, it is easier to take the averaged version, that is, square with rounding.
As for the wedge of the product, it can be narrowed or standard, if we are talking about a composite model. In both cases, you need to try to find a handle that is suitable for the width. The narrow shape has a stronger shot, but poorer puck control.
Demonstration of deflection points
There is also a so-called deflection point. It demonstrates the area where the product deflects when the puck is thrown. Simply put, this is the softest part. If it is low, then it allows you to make quick bounces, and if it is high, it will allow you to accumulate maximum energy for a throw.Thus, another classification appears.
Easier to click products
golf clubs for comfortable throws from the wrist;
universal models.
Types of hockey sticks
So, we figured out the main parameters of the products. But that's not all. So, before you go to the store, you need to find out that the clubs are solid and prefabricated.
One-piece hockey sticks are the most popular choice and often chosen by professional hockey players.These items usually have excellent balance, but can be quite heavy. But with their help, it is much easier to drive the puck, since it is easier to control it. Also, the acceleration on impact is greater. Usually, one-piece clubs are made from aluminum, wood, carbon fiber and some other types of materials. But if such a model breaks down, then it will have to be replaced with a new one completely, and the old one should be thrown away.
Sticks are prefabricated and one-piece.
Prefabricated models are the best option for the hobbyist or beginner.The product can be divided into two parts – a hook and a handle. They are connected with a special glue. So, if you wish, you can experiment with such a model and collect an option that is ideal for yourself. By the way, the handle and the hook in this case can be made of different materials. The advantages include the possibility of repairing the product if it is damaged. But such prefabricated structures are not suitable for fierce play, strong blows, and it will not be easy to control the puck due to the increased rigidity of the sports equipment.The stiffness increases due to the presence of adhesives in the structure.
Materials for production
Of course, the cost and reliability of any club will depend on the materials from which it is made. And for the manufacture of these products, they are used quite a lot.
The very first and most famous material is wood. Heavy, but far from the most durable models are obtained from it. Their main advantage is their low price. But the wooden stick also provides excellent puck control and helps a beginner to master the technique in training.But even in the cold, such a product behaves perfectly: it does not become fragile and has the same properties both on the face and on an indoor court.
Note! In inexpensive models or children's options, it is often a wooden handle that is often found. However, clubs made entirely of wood, that is, solid, will be more reliable.
Carbon or carbon fiber sticks are very popular these days. Like wooden ones, they have a certain resilience, but at the same time they are very light, like aluminum golf clubs.Both separate parts of products and monolithic options are made of this material. Such models are quite suitable for both pros and beginners, as they are lightweight and accurate. But their reliability is far from being up to par, and in the cold such products change their properties and can even become fragile.
Wooden sticks
Aluminum is a material that is rarely used now in the manufacture of sticks. Typically only used in composite models when creating a cut. It is durable, lightweight and inexpensive.But it lacks elasticity, which is why it is not easy to play with such a stick.
Titanium is an expensive professional material that not everyone can buy. By the way, the metal is used as an additive that increases the strength of the product and reduces its weight. But with a pure titanium nib, options can also be.
Kevlar sticks are flexible and durable. They are durable, lightweight, do not break. Typically, Kevlar is used to create a hook or to produce a one-piece model.
ABS plastic is an inexpensive and common type of material. Its strength and reliability are good, and the elasticity is what is needed. But the most important advantage of the material is its low price. But on the street in the cold you can't play with such a stick – it freezes, loses its properties and breaks.
Advice! Whenever possible, it is worth buying composite products. As a rule, they have the highest indicators of strength and reliability, but at the same time, they are noted for low weight and excellent accuracy.For those who have just started training, it is recommended to buy a simple wooden model.
With the right covering, the stick is comfortable to hold
Sticks can be coated with one of three types of materials:
Grip will help to firmly fix the hand on the handle, does not slip. Provides the ability to make strong and powerful strikes. But moving your hands around the bar in some cases will be difficult.
Clear is a coating that makes the golf club smooth and shiny.Hands on it will slide quickly and easily. But in the case of sudden and strong movements, the hands can slide along the handle or rotate around it and spoil maneuvers and throws.
Matte is a cross between the two options above. And the hands slide over it, and the grip is good.
The cheapest wooden club with a Matte coating is to buy. But if there is a willingness to spend a large amount of funds, then it is worth paying attention to composites.
How to choose a hockey stick: some tips and advice on care
And finally, a few general recommendations for choosing this sports equipment.And also – general advice on club care.
So, when choosing a product for a child, it is worth stopping at a club marked yth and made of composite. For those who are older and have a stronger physical development, you can buy models of the jr series. But in both cases, the choice should be made in favor of soft clubs, matched by weight. As for the hook, then a straight line without bends will do – children decide for a long time which hand will become their leading.
Inexperienced players and beginners can also opt for wood or composite products.The selection is also carried out taking into account the height and body weight. Better to buy a model that suits the attackers first: it is a short club with a rounded hook. It will allow you to learn how to control and guide the puck correctly. In extreme cases, a medium bend is allowed. Defenders can buy a long model with a wide square hook.
As far as club care is concerned, everything is simple, but it is important that the product feels cared for and respected. Otherwise, it will not last long. You can extend the lifespan by wrapping the hook with regular duct tape from toe to heel.To avoid rapid wear, the tape is also glued to the edge that is constantly in contact with the ice, and then the hook is completely wrapped. The handle should be wrapped with a special grip tape, which will prevent your hands from slipping.
Video – Which stick to buy in 2019
Choosing a club, as it became clear from the material read, is not an easy task. But taking into account all the recommendations above, you will definitely be able to choose an excellent option. The main thing is to try to determine the basic parameters of the product and choose a manufacturer before going to the store.
Voting
Which hockey stick manufacturer did you choose?
Save your voting results so you won't forget!
To see the results you need to vote
Did the article help? Rate it Loading …
Origin of the Warrior brand
Known to all fans and athletes, the Warrior Sports hockey brand is actually owned by the New Balance Athletic Shoe based in the USA.This brand produces ultra-modern, high-tech neo-equipment, sports equipment, tracksuits and footwear for people who are fond of such sports as: lacrosse, football, ice hockey, with a ball and others …
Brand history: Warrior.
The history of the Warrior brand
Equipment and equipment under this delusion are designed for absolutely any age category and is designed for use by both professional athletes and amateurs of various levels of training.
The idea of ​​creating Warrior Sports was brought to life by repeated American and World Lacrosse Champion David Morrow in 1992. After 12 years of existence, the promising enterprise is acquired by New Balance Athletic Shoe. Following this agreement, Warrior has made a significant push in its development and has managed to prove itself as a manufacturer of high-quality sports equipment, clothing and footwear, not only for sports such as lacrosse, but also for hockey and football.
When translating this word from English into Russian, "warrior" means "warrior".Following the opinion of the Warrior director, the famous Russian forward Alexei Kovalev, it is this bright name that best demonstrates the essence of the vast majority of products and, directly, the purchasers themselves – characteristic, stubborn, self-willed, free, independent, adhering to a daring life outlook, strong, purposeful and courageous …
Concept Development of the Hockey Company
Warrior has continuously contributed to the improvement and development of the game of hockey since the beginning of production of trial titanium sticks in 1992.The company relies on professionals in the field of sports design, construction and creation of high-quality ammunition for athletes. By taking a bold and fresh approach to the game, inviting energetic, promising and young professionals, Warrior is ready to develop and change the game in a progressive direction – after all, only the best professionals in the world make the best passes and score the most beautiful and important goals.
During this short period of existence, the company has confirmed its skills in applying advanced approaches to work, and therefore achieved recognition and good positions in the market.With massive investments in 2007 in marketing as well as in design redesign, Warrior has risen to the top of the hockey industry. The well-known Warrior sticks quickly became widespread in the KHL and NHL. About 22% of KHL hockey players choose Warrior leggings, and about 13% choose Warrior golf clubs. It is interesting that the highest performance among the studied players was demonstrated by hockey players using the clubs of this particular company.They also rise up in the list of snipers and in the list of assistants. Up to 150 NHL players are turning to Warrior golf clubs these days. Now in the NHL with Warrior in their hands are famous professionals: Artyom Anisimov, Thomas Holmstrom, Jimmy Howard, Ilya Kovalchuk, Anzhi Kopitar and others.
Future
We hope Warrior continues to delight its customers with bold and unique solutions. But the competitors of this brand are not going to relax either and will have to move forward in a dynamically developing market.Who will be at the top? Anyone who offers something new, creative and at an affordable price! In this regard, Warrior pleases us.
About True |
In this post, I wanted to tell you a little about the True brand, to which close attention is riveted today. At the same time, for many, it remains a mystery: one day a new manufacturer appears on the hockey market, the cost of whose products bypasses even the flagship models from Bauer. In the North American market, True is gaining momentum, with the brand claiming to be the fastest growing manufacturer in the hockey market since 2014.Now True comes to the Russian market and I wanted to share the information that I was able to find out about this brand. If you have additional information, I will be glad to read them in the comments.
General information. True Temper Sports is an American company headquartered in Memphis, Tennessee. The date of foundation is 1902. It is engaged in the production of sports products from metal and composite materials such as golf clubs (for over 100 years it has been a developer and manufacturer), hockey, lacrosse, as well as bicycle forks and baseball bats.True Temper Sports is a contract manufacturer of products for many of the leading brands in a variety of sports. The list even includes TaylorMade (Adidas' market leader in golf equipment), which we know from the RBZ line of golf clubs created in partnership with CCM. True Temper Sports has two factories located on different continents. In the city of Amory (Mississippi, USA), the production of metal products is located. For composite materials, product development is carried out in the United States (San Diego, California), and a manufacturing plant is located in China (Guangzhou).
True Temper Sports and Ice Hockey. True Temper Sports entered hockey in 2000. For 14 years, she acted as a contract partner who was involved in the design, construction and production of hockey sticks that came out under different brands and ended up in the hands of the best players on the planet. The manufacturer himself says about 2 million clubs produced. However, the names of the brands for which they were designed and manufactured are not disclosed.I recently came across a picture of a young Sidney Crosby playing with the Canadian brand Sher-Wood early in his professional career. The stick in the photo was made and possibly designed by True Temper Sports.
Sidney Crosby with a Canadian brand Sher-Wood made by True Temper Sports.
Sydney Crosby with a Canadian brand Sher-Wood.
Having vast knowledge and accumulated experience in working with composite materials, as well as more than 50 patents, in 2014 the company decides to enter the hockey equipment market under the True brand.At the moment, its range includes two lines of clubs for field players and goalkeepers, two families of gloves, two models of underpants from two parallel lines, bags and accessories. But most importantly, after the VH takeover / merger, the brand also offers skates that are in demand in the professional market. All this already gives reason to believe that True plans to seriously compete with the top brands in the hockey equipment market. The creation of a complete line of protection will allow the True to bypass the Warrior, who, with a full range of products, still lack the most important element – skates.
Do you want to keep abreast of all the events of the icehockey360 project and promptly receive notifications about new content? Then I highly recommend joining the icehockey360 channel in the Telegram messenger (why it's convenient – read here). Follow the project on your favorite social networks: Vkontakte, Instagram, Facebook and YouTube.
.