Sizing goalie equipment: How to Fit Goalie Leg Pads
How to Fit Goalie Leg Pads
Because a hockey goalie is on their knees a lot during a game, it's imperative their leg pads fit properly. The goalie's knee must fit securely where it is designed to, in the pad's "knee cradle" or "knee lock." Pads that are too big or too small will cause the goalie's knee to miss the inside pads and land directly on the ice, which can cause significant injury.
To achieve a precise fit, bend your leg slightly and measure the length of your shin, from the center of your kneecap to your ankle. Then, measure the length from the center of the kneecap to the mid-thigh. Add these two measurements together, along with your skate size, and an additional inch or two for extra padding. The resulting number should allow you to find leg pads that will fit properly.
Here is an example calculation:
Skate size: 10
Ankle-to-knee: 18″
Knee-to-thigh: 7″
Extra padding: 1″
Approx. pad size: 10 + 18 + 7 + 1 = 36″
The 1″ of extra padding helps goalies with their butterfly position and provides extra five-hole coverage.
More experienced (typically adult) goalies often add 2″ to their measurements instead, so the calculation above may vary.
To accommodate growing goalies, we recommend that the center of the goalie's knee is no lower than 1″ from the exact center of the knee lock and that the inside of the knee contacts the knee riser. To make sure the pad fits properly, strap it to your child's leg while they're wearing skates and see where the knee lands in the cradle.
Some manufacturers recommend using a "floor to knee" measurement formula for their leg pads. This process involves measuring the distance from the floor to the center of the kneecap in a sitting position, and then comparing this measurement to their size chart to determine the pad size.
GOALIE LEG PAD SIZING
Goalie leg pads typically fall into four age groups and sizes:
Youth (4-6 yrs.)
Size: 22″-24″
Width: 8.5″-9″
Junior (6-10 yrs.)
Size: 25″-30″
Width: 9. 5″-10″
Intermediate (11-13 yrs.)
Size: 29″-31″
Width: 10″-10.75″
Senior (14+ yrs.)
These are general size guides and may not correspond exactly to an individual player's dimensions or age.
HOCKEY GOALIE STYLES
Before you skate too far down the buying and fitting road, it's important to know the goalie's preferred style of play. Generally speaking, today's goalies play one of two styles: Reaction/Hybrid or Blocking/Butterfly style. Each style demands different features in leg pads.
REACTION/HYBRID STYLE
Goalies who play in this style rely on their reactions to make quick saves. They typically demand maximum mobility from their pads and prefer to catch, trap, or cover most shots. The Reaction/Hybrid goalie wants rebounds to stay close to the pads.
Since mobility and a dampened shot rebound are important, goalies playing in this style generally prefer leg pads with:
Breaks above and below the knee
A tapered boot and/or offset boot channel
Knee rolls (sometimes)
A "softer" pad stuffed with both rigid and shredded foams for dampened rebounds
BLOCKING/BUTTERFLY STYLE
Goalies who play in this style move less in the crease and rely on positioning, patience, and size to make saves.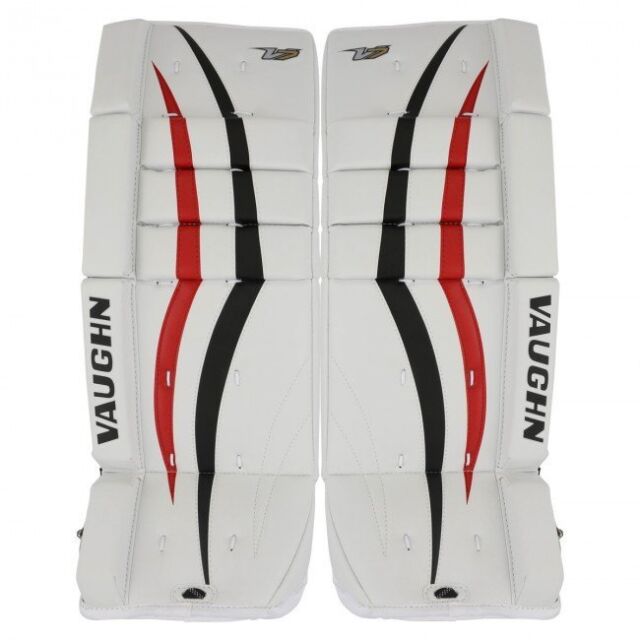 They often move laterally on their knees and attempt to block or deflect shots rather than catch and control them. The Blocking/Butterfly goalie wants rebounds to travel as far as possible from the crease.
Since positioning and blocking are important, goalies playing in this style generally prefer leg pads with:
Either one break below the knee or no breaks at all
A squared boot section
Flat-faced fronts (no knee rolls) for more directional rebound control
A "harder" pad stuffed with mostly rigid foams that propel rebounds from the crease
THE ANATOMY OF GOALIE LEG PADS
Goalie pads include many features. In order to find the leg pads that best suit your style of play, it'll be helpful to know the names, locations, and function of the many leg pad features.
EXTERIOR PAD FEATURES
OUTER ROLL
This is the stuffed roll on the outside edges of the goalie's leg pad. Outer rolls help prevent the puck from impacting the top of the pad and "skipping over" it into the net.

This is where pad breaks are located, which help determine the pad's flexibility.
Pads with zero breaks in the outer roll are typically more rigid—good for goalies with a wide butterfly stance who don't need a flexible pad to close the five hole
Pads with one or two breaks in the outer roll flex more easily at the knee.
"Single break" pads include one break below the knee and are good for goalies with a moderately wide butterfly stance, who need a little extra flexibility to close the five hole.
"Double break" pads include breaks—one above and one below the knee—and are good for goalies with a narrow butterfly stance who need a flexible pad to close the five hole.
THIGH RISE
The thigh rise is the pad facing that rises above the knee rolls or knee area. Most current pads come with a +1″ size, meaning the pad extends an extra inch at the top for added five-hole protection in the butterfly position. Some larger model pads offer a +2″ size.
KNEE ROLLS OR KNEE AREA
Knee rolls, usually in a group of three, allow for additional pad flexibility through the knee area.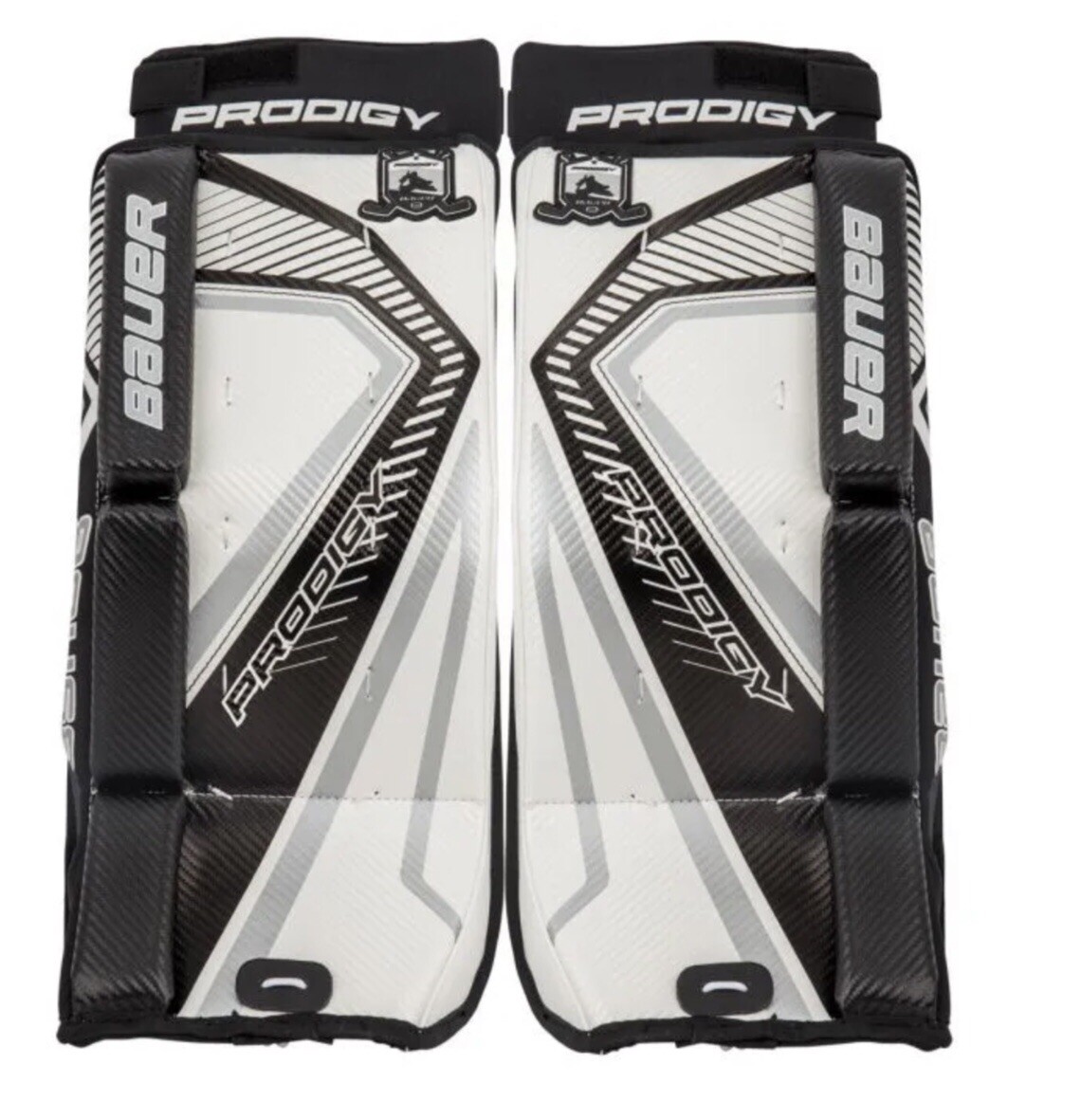 They're generally constructed with one of two materials:
Shredded foam, with a rounder shape to help deaden puck impact
Rigid foam strips, with a flatter shape for more predictable rebounds
The alternative to rolls is a "flat" knee area that lacks rolls. The construction here is a sheet of flat, high-density foam that keeps the knee area rigid, increasing the predictability of puck rebounds.
TOE TIE/ SLIDING TOE BRIDGE
The toe tie and sliding toe bridge attach the bottom of the leg pads to the goalie skate.
Toe ties allow the goalie to snug the bottom of the pad close to the toe of the skate. This helps the pad "re-center" to its original position after a butterfly save.
Siding toe bridges help keep the skate toe close to the bottom of the pad but allow for skate movement along the bridge channel. This movement decreases the stress on a goalie's ankles in the butterfly stance.
INTERIOR PAD FEATURES
THIGH GUARD
The thigh guard is an added piece of protection attached to the goalie's knee or thigh area.
It's usually laced through tabs above the knee lock and is removable.
KNEE LOCK
The knee lock is a pair of padded foam sheets on either side of the knee area. With the use of a Velcro strap, the lock holds the goalie's knee to the pad, helping the pad maintain the correct position.
KNEE STACKS/KNEE RISERS
The knee risers are found adjacent to the inside edge of the knee lock. These pads can come as sheets of foam and nylon laced together (stacks), or as larger blocks of foam (blocks). Knee stacks can often be added to or removed from a pad with existing stacks.
LEG CHANNEL
The leg channel is the channel on the inside of the pad that runs from the knee lock to the ankle area. Leg channels vary by pad width and pad style:
Deep, narrow leg channels, often found in "hybrid"-style pads, are helpful in keeping the pad tight to the leg and thus help the pad stay more centered on the leg while moving.
Shallow, wide leg channels, often found in "butterfly" or "blocking"-style pads, allow the pad to rotate to a position perpendicular to the ice more easily in the butterfly.
CALF LOCK
The calf lock consists of sheets of foam padding on either side of the leg channel in the calf area. It often comes with a Velcro strap that secures one side to the other across the goalie's calf. Calf locks protect the calf area and lock the goalie's shin into the leg channel.
Note: not all leg pad models include a calf lock.
BOOT CHANNEL
The boot channel is the pad area that sits on the goalie skate. Like leg channels, boot channels can vary by depth and width.
MEDIAL EDGE
The medial edge refers to the inside edge of the leg pad that comes in contact with the ice in a butterfly position.
HOW TO PUT ON GOALIE LEG PADS
Once you have determined the appropriate pad style and size, the next step is to attach them to your leg. For the proper fit, it's essential to try on the pads while wearing both goalie pants and goalie skates.
STRAPS AND TIGHTNESS
The straps behind the pad are meant to be worn loosely, especially on the top half of the pad.

The only exceptions are the knee cradle and calf wrap straps (if your pads have them). If your pads are strapped tightly, you will not be able to butterfly properly. The leg pad needs to fit loosely enough on the leg so it can rotate into the butterfly position.
Attach the toe ties to the pad.
Run the bootstrap through the back hole of the skate cowling, keeping the strap approximately 1-2 holes outside of snug.
If the pad has a calf-wrap strap, attach this to your desired level of tightness. Attach the calf straps from the top of the boot to the bottom of the knee approximately 2-3 strap holes outside of snug.
Attach the knee and/or thigh straps. These can be worn the most loosely of all the straps. We recommend attaching them approximately 4-5 holes from snug to begin.
If the pads come with attached knee/thigh protectors, tighten the straps around the knee and thigh and tuck the pad underneath your pant leg.
TOE TIES
The toe ties are the strings at the toes of the pad and are designed to make sure the skate and pad move together.
First, make a knot ¾" to 1″ from the toe bridge of the pad. This allows you to tie the laces tightly but still allows the pad to shift enough when using the inside edges for lateral movement. Without this knot, the pad will be too snug and may grip the ice instead of the skate blade, causing the foot to slip from underneath the pad.
LACING TOE TIES
There are multiple ways to lace toe ties. Here is the most common and easiest tying method:
Align the knot of the toe tie to the toe of the skate. Take one lace to the right side of the skate and the other to the left and then loop both through the first hole of the skate holder.
Pull the laces tightly and repeat step 1 through the second hole of the skate holder.
Pull tightly and lift both laces over the top of the skate and tie them tightly.
Part of the fun of learning to play a specialized position—like a goalie in hockey or catcher in baseball—is wearing specialized gear. Goalie leg pads might sound complicated and may require many steps to get them on properly at first, but with practice, you'll soon be suiting up like Carey Price.
New to hockey or buying goalie gear for your child? Refer to our handy goalie equipment guides for everything you need to know before making your purchase. Pure Hockey carries goalie leg pads and everything else you'll need for game day. And our Low-Price Guarantee promises the most competitive prices available.
Goalie Pad Sizing Guide | What Size Goalie Pad Do I Need?
How do you measure goalie pads sizing
? What does ATK mean? What does the +1 on gear mean? Will my goalie grow into pads, or should I buy the right size right now? These are the questions every goalie parent asks themselves over the course of their goalies career.
Goalie pad sizing is one of the hardest things to do without actually trying the gear on in person. Luckily, with the advancements in technology today, sizing goalie pads is easier than ever. In fact, you should be able to get your correct pad size without ever stepping into a store!
For parents, learning how to measure goalie pads is one of the most stressful tasks you'll encounter.
With the cost of good goalie pads fast approaching the $2,000 mark, the last thing you want is to order the wrong size (especially for those of you custom ordering).
Measuring the size of goalie pads
The golden rule in measuring goalie pads: don't stress. You can do this. Finding the right pad size is easy, we'll walk you through it.
Second, both Pure Goalie and Goalie Monkey have excellent return policies. It's 2021, ordering goalie gear on the internet is totally normal, despite it's (often times) confusing sizing guides. If you're a goalie parent and have a question on sizing goalie gear that you can't find here, please head over to our Goalie Parents Facebook Group, where over 13,000 other Goalie Parents hang out with similar questions (and answers). Or, follow us on Instagram @goaliecoaches, if you send us a message we'll get back to you as soon as we can!
For use of this photo explaining +1 and ATK in goalie pad sizing, please provide a link to this article on GoalieCoaches.
com
Ok, maybe you'll need this guide more than once. Read carefully, we'll get you your answer.
In this guide, we're going to show you how to find the correct size goalie pads you need for every major brand on the market. Then, we'll answer a few goalie pad sizing frequently asked questions.
Measuring for the fit of goalie pads really depends on just two numbers. One is massively important, the other is simply a preference.
The first number you'll need to know when finding out which pads will fit you the best.. ATK. Always known as Ankle To Knee. Finding the ATK measurement for a goalie is as easy as taking a tape measure and calculating the distance from the goalies heel to the center of their knee. Typically, this measurement is taken from the outside of a goalies knee.
If you correctly measure the ankle to knee distance, your pads will fit correctly. The second number is "thigh rise". What does the second number in goalie pad sizing mean? It's thigh rise.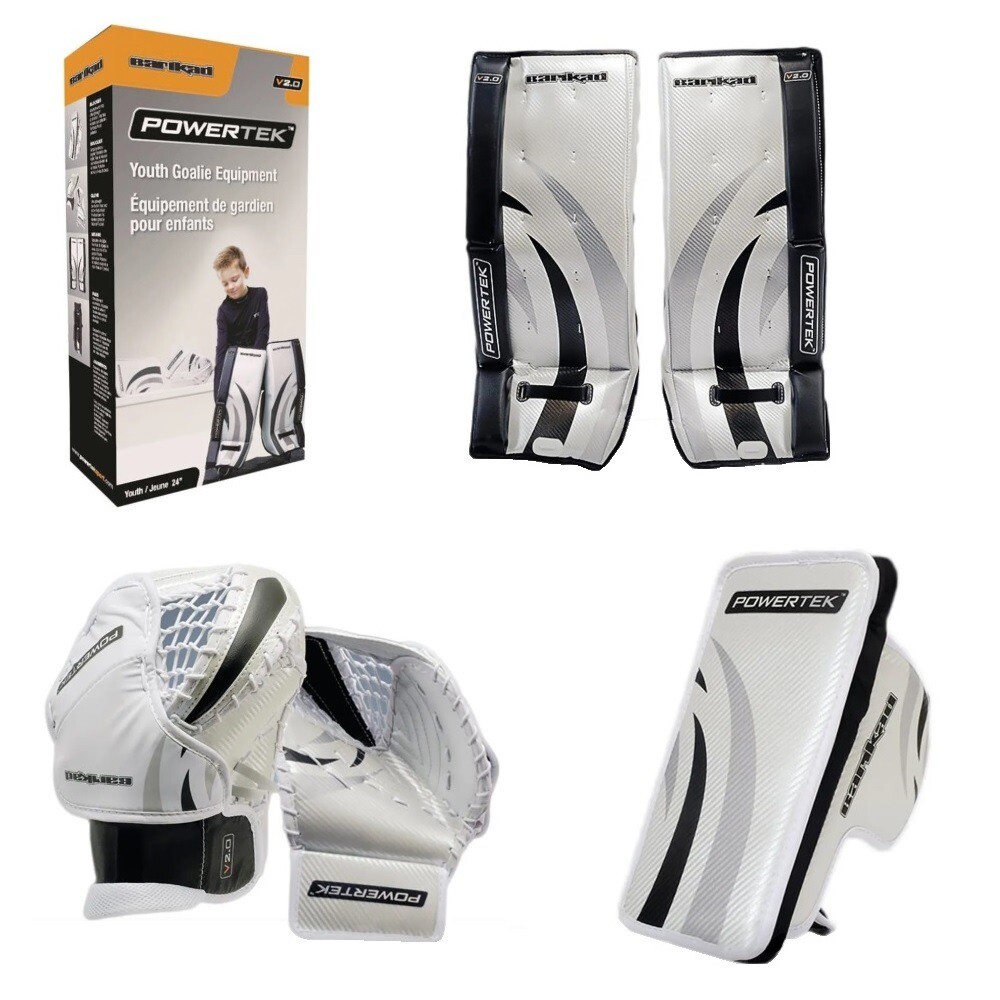 So, 32+1 means that the pads are 32″ in height and +1″ on the thigh rise. Most pads come standard with a 1″ thigh rise, and that standard inch thigh rise will work for most goalies.
Warrior Goalie Pad Size Chart
Warrior uses the standard +1 sizing system used by all other brands except Bauer.
Pad Size

ATK Measurement
Body Height
19″
12.75 " and Below
3'9″ and Below
21″
12.75″ to 13.75″
3'11"
23″
13.75″ to 14.75″
4'2″
24″
14.75″ to 15.75″

4'5″
26″
15.75″ to 16.75″
4'8″
28″

4'10.5″
30″
17.75″ to 18.25″
5′
31″
18.25″ to 18.75″
5'4″

32″
18.75″ to 19.25″
5'6″
33″
5'8″
34″

19.75″ to 20.25″
5'10.5″
35″
20.25″ to 20.75″
6′
36″
20.75″ to 21.25″
5\""}">6'1.5″
37″
21.25″ to 21.75″
6'3″
38″

21.75″ and Above
6'3″+
Brian's Goalie Pad Size Chart
Brian's Goalie Pads
Brian's is one of the favorite pads of professional goalies. With virtually unlimited customization options, Brian's is one of the top pads to wear if you're into customizing your gear.
Order Brians at Goalie Monkey Order Brians at Pure Goalie
We appreciate your support! At no extra cost to you, we may earn a small commission if you purchase a product through GoalieCoaches.com.
CCM Goalie Pad Size Chart
CCM Goalie Pads
CCM is one of the top goalie equipment manufacturers on the market. Today, they're worn by numerous NHL goalies and for good reason.
Buy at Goalie Monkey Buy at Pure Goalie
We appreciate your support! At no extra cost to you, we may earn a small commission if you purchase a product through GoalieCoaches.com.
Bauer Goalie Pad Size Chart
Bauer is by far the most challenging gear brand to figure out your correct size.
Bauer will tell you this is to make finding your pad size easier, but it's actually a bit more challenging. Don't worry, chances are, if you fit into a 33+1, you'll fit into a 32+1.
Here is the Bauer Goalie Pad Size Chart
Bauer Goalie Pads
Since Bauer released their digital printing process, Bauer has been one of the most popular goalie pads on the market. We recommend buying Bauer pads at Pure Goalie or Goalie Monkey.
Order Bauer at Goalie Monkey Buy at Pure Goalie
We appreciate your support! At no extra cost to you, we may earn a small commission if you purchase a product through GoalieCoaches.com.
Why does Bauer size their goalie pads using letters?
This is because of the fact that Bauer wanted to streamline their costs.
If they can manufacture a lower number of models, they can limit costs and options. This, in turn, saves them on manufacturing costs because they're producing less SKUs.
Vaughn Goalie Pad Size Chart
Vaughn Goalie Pads
Vaughn remains one of the top choices of professional goalies. We recommend purchasing Vaughn goalie pads at Pure Goalie or Goalie Monkey.
Buy at Goalie Monkey Order Vaughn at Pure Goalie
We appreciate your support! At no extra cost to you, we may earn a small commission if you purchase a product through GoalieCoaches.com.
True (Lefevre) Goalie Pad Size Chart
True Lefevre Goalie Pads
True (powered by Lefevre) goalie pads are the most popular goalie pad in the NHL, for good reason.
Legendary gear manufacturing family, the Lefevre family, parted ways with CCM and teamed up with True to bring goalies "True Temper Goalie".
Buy at Pure Goalie Order At Goalie Monkey
We appreciate your support! At no extra cost to you, we may earn a small commission if you purchase a product through GoalieCoaches.com.
Other Things to Ask When Sizing Goalie Pads
What does the +1 mean on goalie pads?
The plus 1 (+1) sizing system for goalie leg pads means that an extra inch is added to the top of the pad, in the thigh area. Most goalie pads today are automatically +1 sizing, so you'll see a number +1. For example, 33+1. Means 33 inches, plus 1 inch on the top. Pads can also be +1.5 or +2, but they're custom ordered.
How should goalie pads fit?
The most important thing with fitting goalie pads is where your knee sits on the knee block when you go into the butterfly position.
Goalie pad fit is determined using a standard measurement called ATK, or ankle to knee.
What is ATK goalie pad sizing? 
ATK stands for ankle to knee. The ankle to knee measurement is the standard measurement used to determine the correct size of goalie pads you should wear.
How do you find your ATK for goalie pads?
To find your ankle to knee measurement, use a tape measure to get the distance from the center of your ankle bone to the center of the knee cap. You should stand with your legs shoulder width apart and in a comfortable position. Then, take the measurement on the outside of your leg.
Are goalie pads too big?
Goalie pads are too big only if you cannot move in them! You should be able to enter and exit the butterfly position easily, without the pads obstructing your movement. One of the most common mistakes goalies make when ordering new pads is ordering them too big.
Goalie pad sizing by height is the most challenging way to size goalie pads.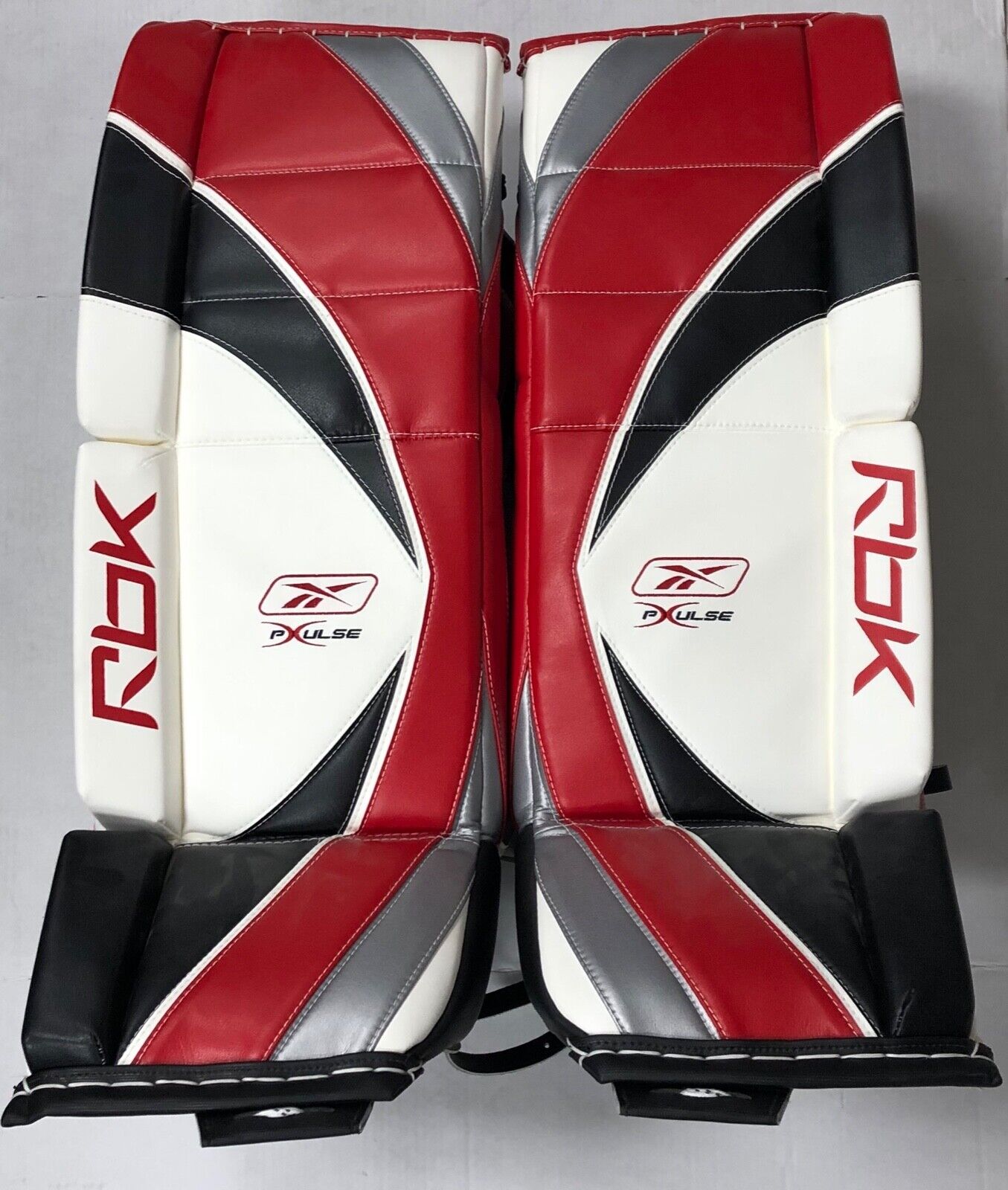 So, we're not going to cover it super extensively, however, here are some recommendations.
What size goalie pads should somebody who is 5'9 wear?
We recommend nothing less than a 32+1 sized pad. You'll feel comfortable in a 33+1 Brian's, a 32+1 CCM, a size XS Bauer pad, and a 32-34+1 Warrior.
What size goalie pads should somebody who is 6 feet tall wear?
We recommend nothing less than a 34+1 sized pad. You'll be the most comfortable in a 35+1 or a 36+1. Some folks who get used to a larger pad at a young age like to go as high as a 37+1 sized leg pad. Keep in mind, that 37+1 is on the very large end of goalie pad sizes.
What are the knee blocks on goalie pads?
The knee blocks are one of the most important pieces of a goalie pad, as they are the single highest wear area on your pad! Knee blocks are the part of the goalie pad that the goalies knee lands on when they ender the butterfly.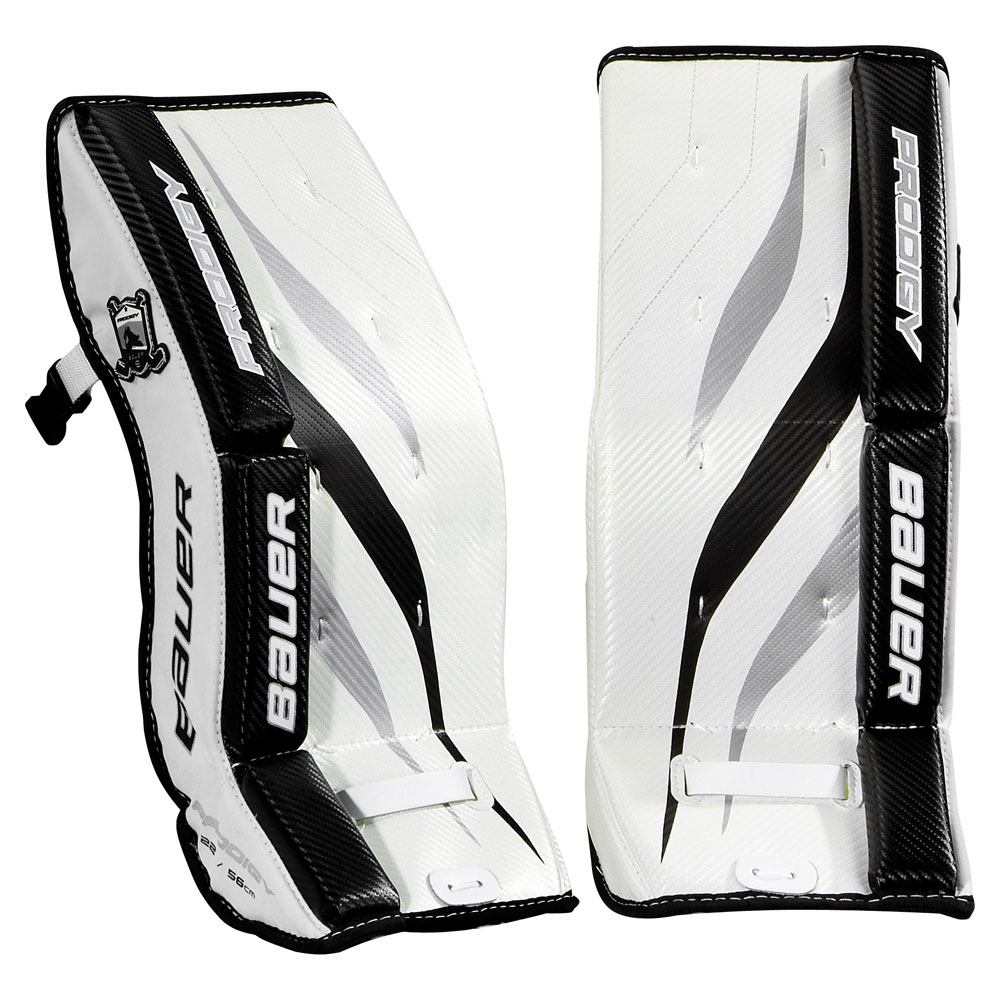 How to Size a Goalie Leg Pad
It is important to use a leg pad that is the proper size to maximize leg pad flex and obtain appropriate protection and coverage. Check out the video below that will quickly guide you through the process of finding your goalie leg pad size at home!
There are three different measurements that when added together allow you to find the proper leg pad size.
Step 1. The first measurement is the goalie's skate size. Example – Size 8 skates.
Step 2. In inches, measure from the ankle to the middle of the kneecap. Example – 15"
Step 3. The third measurement is from the center of the kneecap to the center of your thigh. The center of your thigh is where the thigh rise will come up to. Example – 10"
Step 4. Add all three measurements to find your leg pad size. Example: skate size + ankle to knee + knee to thigh (8 + 15 + 10) = 33" leg pad
Try on the leg pads with your goalie skates and pants suited up.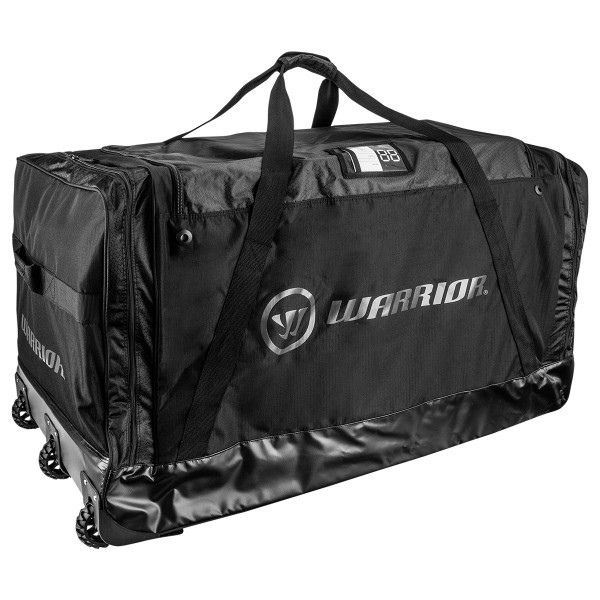 This ensures you can check key areas for a proper fit and coverage, as well as give you an idea of how the leg pads will feel during gameplay.
The center of your knee should be in the center of the knee stack. This is the most important area to check first. The knee should be centered to allow the leg pads to properly flex, rotate around the leg, and protect the knee when dropping down into the butterfly. Each thigh-rise should reach halfway up the thigh when in the standing position and sealed together when in the butterfly.
For younger goalies looking to have some growing room, we recommend having the kneecap no more than 1″ below the center of the knee stack.
If the kneecap is above or below the center of the knee stack, the leg pad is the wrong size. This can cause the goalie to miss the knee stacks when dropping into the butterfly, increasing the risk of injury. This can also cause gaps in protection and inhibited range of movement.
Now that you have found out what size you should wear, check out our quick buying guide below that will help you figure out what goalie leg pad style best suits your needs!
Extreme Hockey & Sport – So Much More Than Hockey
Bauer Goalie Protective Sizing Charts
Please note that all sizing charts are general guidelines only.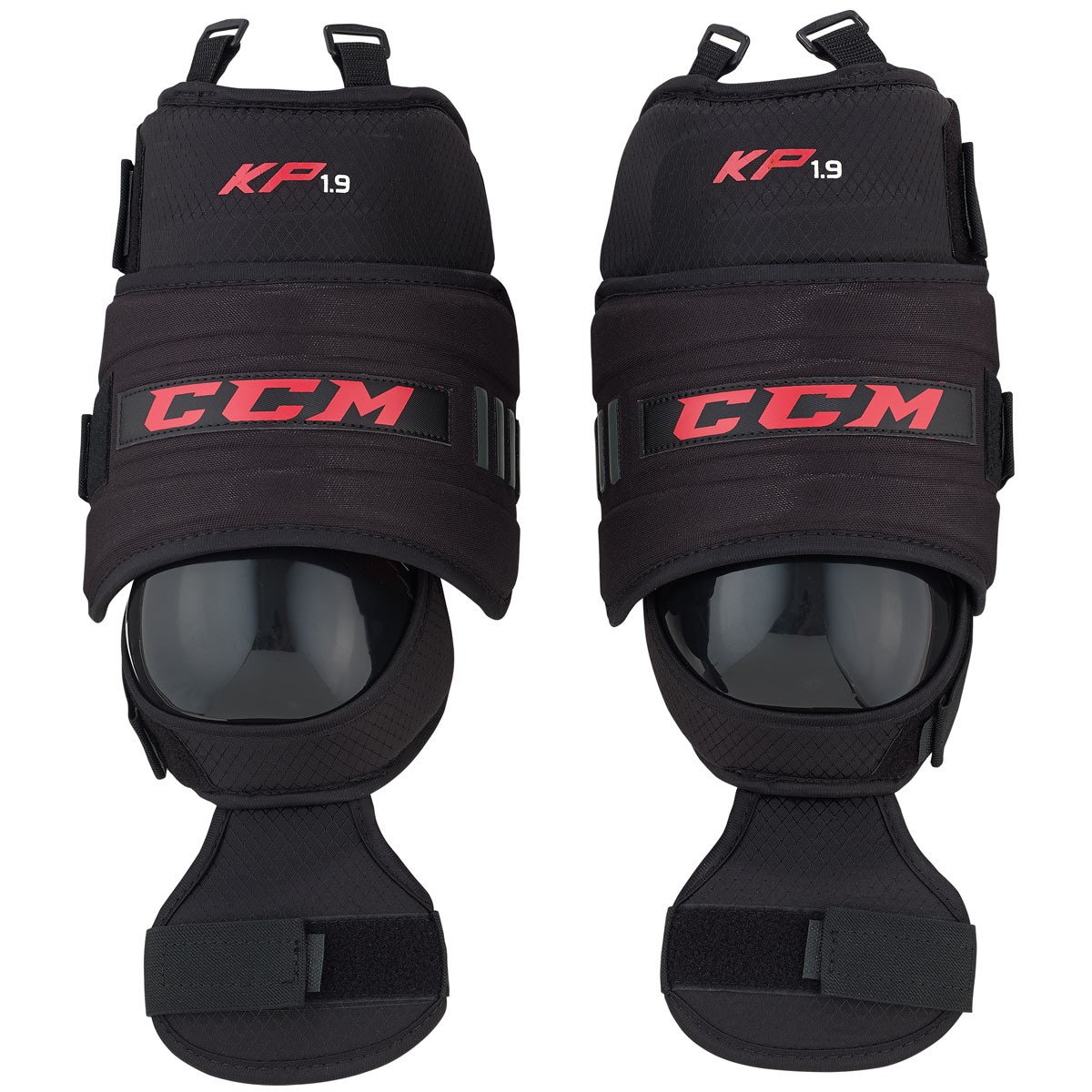 To ensure proper fitting, we highly recommend that players be fitted by their local dealer. Extreme Hockey & Sport is not responsible for improper sizing of equipment/garment.
GOALIE CHEST & ARM 

*Recommendations are based on average-sized consumers and should be used as a guide only.
SIZE
BODY HEIGHT
BODY HEIGHT (CM)
SR
S
5'3″ – 5'5″
160 – 165
M
5'6″ – 5'9″
167 – 176
L
5'10" – 6′
178 – 183
XL
6'1″ – 6'5″
185 – 196
INT
S
4'8″ – 4'11"
142 – 150
M
4'11" – 5'1″
150 – 155
L
5'1″ – 5'3″
155 – 160
JR
S
3'9″ – 4'1″
114 – 124
M
4'2″ – 4'6″
127 – 137
L
4'7″ – 4'11"
140 – 150
YTH
S/M
3'7″ – 3'10"
109 – 117
L/XL
3'10" – 4'1″
117 – 124
GOALIE PANTS

Fitting Guide:
When fitted properly, goal pants should provide unrestricted movement in the crouch position, but should not be so loose that they rotate excessively around the waist.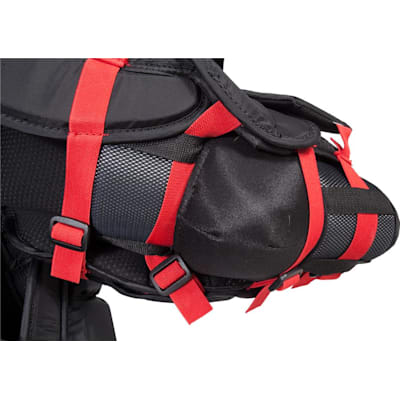 Loosely fitting pants provide superior net coverage in addition to making the goalie look bigger. Goal pants should provide overlapping coverage with the bottom of the chest pad and the tops of the goal pads.
SIZE
WAIST (IN)
WAIST (CM)
SR
S
30 – 34
76 – 86
M
32 – 36
81 – 91
L
34 – 38
86 – 96
XL
36 – 40
91 – 101
XXL
38 -42
96 – 106
INT
S
26 – 28
66 – 71
M
28 – 30
71 – 76
L
30 – 32
76 – 81
JR
S
24 – 26
61 – 66
M
26 – 28
66 – 71
L
28 – 30
71 – 76
YTH
S/M
20 – 22
51 – 56
L/XL
22 – 24
56 – 61
GOALIE PADS

Pad Sizing:
The simplified sizing system helps you find the pad size that is a best fit for each player.
Use our goal pad measuring device improves the overall fit process.
PAD SIZE
PAST SIZING
SR
XS
32
S
33
M
34
L
35
XL
36
XXL
37
INT
XS
29
S
30
M
31
L
32
JR
XS
24
S
26
M
28
L
30
YTH / PRODIGY
S
20
M
22
L
24
How To Buy Hockey Goalie Equipment
Safety is critical for hockey goaltenders.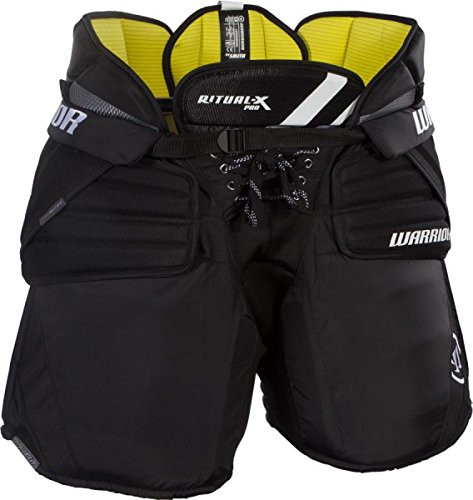 With a hard rubber puck coming your way, you need to suit up in proper-fitting hockey goalie equipment. Learn about the basics before heading to the rink.
Leg Pads
Most goalie leg pads come in light colors to blend in with the ice and board colors
Goalie pads come with two types of clips:plastic and metal

Plastic clips are easier to close and open and are recommended for younger players
Metal clips will last longer but are a little more difficult to manipulate
Determining Your Leg Pad Size
Goalie leg pads generally come in sizes ranging from 26 to 34 inches
To determine your proper size, measure your leg from your ankle to the top of your kneecap. Then measure from the middle of your kneecap to half way up your thigh.
Add these two numbers for your goalie leg pad size
If you are between sizes, choose the larger size for additional protection
Some goalies prefer their pads an inch or two shorter for increased maneuverability
Chest Pads
Goalie Chest pads offer protection to the vital chest and heart areas
Chest pads are generally made of nylon wrapped around layers of foam or harder padding
Chest protectors actually protect most of the upper body and generally include aclavicle protector, extended shoulder caps and bicep muscle floaters in addition to an air-cushioned or foam pad chest protector
Chest protectors also include a spine protector for your back
Goalie Gloves
There are two different types of goalie gloves.
Catcher gloves look very much like an oversized first baseman's mitt. They are worn on your non-stick hand. They have an oversized catching area, molded one-piece thumb area, a pre-curved palm and individual finger areas.
Blocker gloves are worn on the stick hand and have a padded leather or synthetic leather palm to hold a stick, and a wide, solid blocker to deflect shots
Determining Your Glove Size
Gloves range from youth sizes of about 9 inches up to full adult sizes of 16 inches
Use a tape measure to measure the distance from the end of your elbow pads to the tips of your fingers
This number equals your glove size
How to Buy a Goalie Mask and Helmet
Modern goalie masks come in a variety of styles that depend on your personal preference, but all offer superior protection and varying degrees of comfort
Masks also include a stainless steel or composite wire mesh cage for better peripheral viewing as well as enhanced protection
Helmets are made of an extremely durable hard-shell plastic or composite similar to a bicycle helmet
Many helmets come with adjustable padding for a better fit
The helmet should fit snugly but comfortably on the head so it does not wiggle
Sizing differs according to manufacturer, so refer to the sizing indicators on each helmet to determine your proper size. Many helmets are adjustable as well.
Most teenagers and adults should purchase an adult medium or large helmet
Determining Your Helmet Size
Helmets come in variety of sizes and are usually measured in inches
To ensure your safety it is important that your helmet fit properly
How to Buy a Goalie Stick
Goalie sticks are much larger and heavier than regular hockey sticks with a wider blade and a widepaddle area between the stick and the blade
The paddle area can be up to 26 inches long
The blade can be 3 and a half inches wide and up to 15 and a half inches long
Determining The Right Length Stick
The length of your hockey stick must be correct for your size, since it is very difficult to control an oversized or undersized stick
In choosing the length of a goalie stick, remember not to buy one that is too short. The shaft can always be cut down if it seems too long, or you can choke up on the shaft to make it easier to handle.
To determine the proper stick length:

Stand in your skates
Put thetoe of the stick on the ground
The stick should reach somewhere between your chin and the tip of your nose
Breaking In New Pads
Every goal pad has two breaks, one at the knee and one at the foot. You want to make sure that these breaks are really broken in before using because movement will be impaired if it is not.
Here are some tips:
Hold the pad upright as if it was on your leg. Standing over it, push down on the top of the pad so the knee bends and the foot articulates. Push as far as it will go and then tie the pad in that position with a skate lace and leave overnight.
Untie the pads the following day and give them a few good hits with a hockey stick. This stretches the leather and softens the padding. Then tie them up again and repeat the entire process. After a few cycles, the pads should be ready to wear on the ice.
From the time you get your pads, be sure to tie them up after use to retain shape.
After time on the ice, allow your pads to dry properly. Hang them up in a well-ventilated room. Do not put them in direct sunlight, which will dry and crack the leather.
Hockey Pants Sizing Chart & Guide to Fitting
Ice Hockey Pants, sometimes referred to as "breezers", are important because they help protect three main areas on your lower body, including your tailbone, kidneys, and quads. In the game of Ice Hockey, you will face a wide variety of impacts such as blocked shots, slashes, and falls onto the ice. Luckily, a pair of properly fitting Hockey Pants will assist in keeping you well protected!
Additionally, like most hockey gear, players will different styles to choose from. Traditional ice hockey pants are "one-piece" and usually offer more protection, at the cost of some mobility.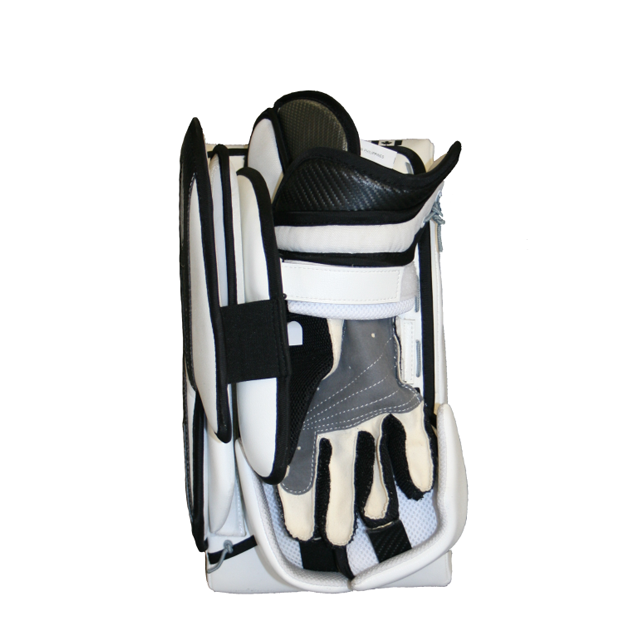 On the contrary, Ice Hockey Girdles and shells are more lightweight and flexible than traditional pants, but usually feature less protection.
Hockey Pants Components
Tailbone pad
Kidney pads
Quadriceps pads
Hip pads
How Should Hockey Pants Fit?
Ice Hockey Pants come in sizes Small through Extra Large and are produced by all major ice hockey equipment manufacturers such as Bauer, CCM, Warrior, and True.
When fitting Hockey Pants, the general rule of thumb is that you want them to be snug, but comfortable while at the waist level. This will ensure that they do not slide down during gameplay. While standing with Hockey Pants on, they will usually rest one or two inches above the kneecap of your shin guards. If you are trying on Hockey Pants, try moving around in them, or do a few brief exercises in them, to get a general idea of how they will feel while out on the ice.
Finding the right fit for Hockey Pants is important for two reasons.
If Hockey Pants are too big, they can hinder mobility due to irregular contact with your shin guards, and because they are too baggy. A way to tell if Hockey Pants are too big is simply if they go too far down your leg, or if they won't stay securely in place on your hips. If Hockey Pants are too small, there is the issue of the top of your knee being left unprotected.
Hockey Pants Considerations
What materials are pants made out of? Almost all Hockey Pants consist of three materials; a Nylon shell and stretch gussets on the exterior, with hard plastics and foams on the interior for protection. The Nylon shell is thick and durable, helping prevent against any type of scratches and cuts. The stretch gussets within the nylon shell help provide you with enhanced movement and mobility. The pieces on the interior, consisting of hard foam and plastics are lightweight and highly protecting against impact-type situations, such as shot blocking, stick checks, and so on.
Are there different types of fit? – Snug vs. mid vs. wide. Most major Ice Hockey brands have two lines of Hockey Pants. For example, CCM has their Super Tacks pant line that feature a traditional, wider fit, that provides great protection. Their JetSpeed pant line, has a more anatomical, close to the body fit, providing great mobility and flexibility. Finding the right pair that has your desired fit and that best fits your play style, is all a matter of personal preference.
Do you need suspenders? If you prefer the feel of a looser, traditionally fitting pant, but find them a little bit baggy for your build, Hockey suspenders are a great option. They will help keep your hockey pants from slipping down and are adjustable as well.
What brands are known for hockey pants? Almost all major hockey equipment companies have a line of hockey pants. The most popular brands are CCM, Bauer, and Warrior.
How often should hockey pants be replaced? With proper care, Hockey pants can last multiple years. However, if you outgrow them, or them become ridden with tears and scratches, this is a sign that you will want to get a new pair.
Another consideration to keep in mind is the level of play. If you are playing highly competitive youth travel hockey, there is a chance your pants might need to be replaced more frequently than someone who plays in a recreational league where there is less hitting, contact, and so on. Be on the lookout for excessive tears or worn-down padding on the interior of the pants.
Hockey Pants Sizing Chart
| Size | Age Range | Height | Waist (in.) |
| --- | --- | --- | --- |
| Youth Small | 3 – 5 | 3'3″ – 3'7″ | 20″ – 22″ |
| Youth Medium | 4 – 6 | 3'7″ – 4'3″ | 21″ – 23″ |
| Youth Large | 5 – 7 | 3'10" – 4'6″ | 22″ – 24″ |
| Youth X-Large | 6 – 8 | 4'2″ – 4'7″ | 22″ – 24″ |
| Junior Small | 7 – 9 | 4'3″ – 4'8″ | 23″ – 25″ |
| Junior Medium | 8 – 10 | 4'7″ – 5'1″ | 24″ – 27″ |
| Junior Large | 9 – 11 | 5'0″ – 5'5″ | 26″ – 28″ |
| Junior X-Large | 10 – 12 | 5'4″ – 5'8″ | 27″ – 30″ |
| Senior Small | 11 – 13 | 5'4″ – 5'9″ | 28″ – 32″ |
| Senior Medium | 12 – 15 | 5'7″ – 5'10" | 32″ – 36″ |
| Senior Large | 14 – 18+ | 5'9″ – 6'1″ | 34″ – 38″ |
| Senior X-Large | 18+ | 6'1″+ | 36″ – 40″ |
Hockey Pants Sizing by Brand
Bauer Hockey Pant Sizing Chart
CCM Hockey Pant Sizing Chart
Easton Hockey Pants Sizing Chart
Warrior Hockey Pants Sizing Chart
Tackla Hockey Pants Sizing Chart
Sher-Wood Hockey Pants Sizing Chart
TRUE Hockey Pants Sizing Chart
HockeyMonkey Knows Hockey Pants!
Ice Hockey Pants are one of the most important pieces of equipment a hockey player can have! So, head to any one of our MonkeySports locations across the United States, and speak with a store employee for expert advice.

Want to browse our full selection online? Take a look at our hockey pants or hockey girdle categories on our website for more information!
NHL, NHLPA add new chest, arm pad rules for goalies
"He made an impassioned plea to the group to say, 'Guys, we can still do more in this area. We think they're still too big,'" said Kay Whitmore, NHL vice president of hockey operations. "I think we owed it to him to follow through and get it done once and get it done right."
First, leg pads and pants were streamlined. Now, as NHL teams open training camps this week, chest and arm pads have been as well to comply with a detailed new rule developed by the NHL and the NHLPA.
The goal isn't more goals, exactly. It's for goaltenders to make saves because of ability, not equipment. They should wear equipment that fits properly — enough to protect them, but not extra to stop the puck. A 200-pound goaltender should not look like a 250-pound goaltender.
"The assumption is that it's primarily to increase goal-scoring, and it is," said Mathieu Schneider, special assistant to NHLPA executive director Don Fehr. "We'd be lying if we didn't say that was a big part of it. But I think the fairness is certainly a close No. 2 on that list. We're trying to come up with rules and guidelines that don't give players a distinct advantage because of their equipment."
Whitmore said the effect on scoring could not be predicted, but the gap between the best and average goaltenders should increase.
"It should be about skill and athleticism and all those exciting things that people pay to watch, as long as [the goaltenders] are protected and it's fair from goalie to goalie," he said. "That's the main thing."
* * * * *
Look at a picture of a goaltender from the 1980s and one from the 2010s side by side, and the difference is stark. But look at pictures year by year, and the growth is gradual, a spectrum. People have talked about the size of goalie gear for years, but at what point do you take action and what specific action do you take?
The NHLPA once polled its goaltenders: Which would you prefer? Bigger nets or smaller equipment? It was unanimous.
"I thought we would have had at least a couple of guys that would have said, 'Oh, you know, maybe we should make the nets bigger,'" Schneider said. "But that wasn't the case at all. That would have introduced a whole other set of problems if we looked at making the nets bigger."
But making the equipment smaller did introduce a set of problems. It is easy to say and hard to do when you have well over 100 goaltenders of all shapes and sizes in the NHL and the minor leagues and at least six manufacturers spending time and money to design their own models. How do you define it? How do you implement it safely and consistently?
The leg pads and pants were relatively straightforward. Whitmore said everyone used to wear the largest pants size he could, but when the pants rule was implemented in January, the NHL went from a two-size league — large and extra large — to having some goaltenders in small and medium, many in large, and very few in extra large.
"We have a bigger size range now that fits everybody," Whitmore said.
The chest and arm pads were more complicated because of their inherent intricacies, the area of the body and the nature of the game. Imagine spending years in equipment protecting sensitive areas, getting comfortable with it, trusting it, then having someone change it and facing slap shots off composite sticks. The NHL isn't going back to wood.
"This piece of equipment is more personal than probably anything that you could compare it to on any player on the ice," Schneider said.
The NHL and the NHLPA went back and forth with goaltenders and manufacturers, first outlining the general principles, then drilling down the details.
"The whole thing was, try to make equipment that mimics the shape of the body that it's protecting … [while] never reducing protection," Whitmore said. "We've tried to remove equipment from areas there's no body part behind."
Rule 11.3 — Chest and Arm Pads — is 608 words long. It states, "The chest and arm protector worn by each goalkeeper must be anatomically proportional and size-specific based on the individual physical characteristics of that goalkeeper," then gives precise measurements for elbow, arm, clavicle and shoulder protection.
Elbow floaters have been reduced from 7 inches to 6 across the front. Bicep and forearm pads must taper — 5.5 inches to 4.5, then 4.5 to 4. Clavicle floaters cannot extend more than 2 inches above the shoulder at the lateral edge, 1.5 inches at midpoint and 0.5 inches at the medial edge. Shoulder caps cannot project laterally beyond shoulders more than 1.5 inches.
In short, pads must be tighter to the body and also slope with it — from neck to shoulder, from upper arm to forearm — and can't be worn so they pop up when a goaltender drops into the butterfly position. There are more parameters to make it harder to circumvent the rule.
"The biggest complaints I always got were how square goalies looked, because nobody's really built like that," Whitmore said.
Each model is sent to a third party, put on a mannequin and measured by a 3D scanner in Philadelphia for approval, technology that didn't exist years ago and helps make this work now.
Then each piece of equipment worn by a goaltender is sent to Whitmore in Toronto for inspection before it is shipped to a team. If Whitmore sees something off, he doesn't have to rely on his eyes. He can send it to the 3D scanner to check it, as he did once recently.
"The scanner proved that there was one part that had been assembled improperly," Whitmore said. "Not intentionally. Just was an oversight at a factory in production. I think it's the best way to keep the manufacturers honest."
* * * * *
Will shooters notice?
"I hope," Pittsburgh Penguins center Sidney Crosby said with a laugh. "I hope it's that obvious. Sometimes it's really subtle. You can't necessarily tell."
Non-goaltenders might not be able to. Schneider said when he looks at an old unit next to a new one side by side, he doesn't see that big of a difference, and he played 1,289 games as an NHL defenseman and has been involved in this process from the start.
But goaltenders see the difference right way, and they feel it on the ice. Opinions are personal, based on circumstances and taste. Careers are at stake. No one has worn the new equipment in a game yet, let along gotten used to it.
"Meh," Vegas Golden Knights goaltender Marc-Andre Fleury said. "I don't know. I think it's not that bad. It's not awful. I feel like I get a few more stingers on the arms and stuff, but it's still a work in progress a bit to make it better."
Told he should have an advantage as an athletic goaltender, Fleury pointed out he was 6-foot-2, 180 pounds.
"I'm not a big guy, either, right?" he said. "So I look even smaller. So I've got to try to stay fast, try to stay on top of it."
But that's just it. It is a work in progress, and the point is for goaltenders to be smaller, to stay fast.
Whitmore has been speaking to goaltenders constantly, using FaceTime for visuals and refining individual pieces of equipment. He will continue to do so throughout training camp and the preseason, and into the regular season.
"To each their own, right?" Whitmore said. "There's going to be higher-maintenance guys, lower-maintenance guys. It's expected. So you just kind of deal with it case by case. Some guys play differently. They may get hit in a place they feel something is a little lacking, and we'll work with them to get that fixed."
Schneider said the NHL and the NHLPA want to make sure goaltenders feel safe early, then make sure the size of equipment is capped going forward. He thinks manufacturers will keep innovating and improving the equipment, only now within the new constraints.
"I think the most important thing is, no one's feeling comfortable right now," Schneider said. "We know that there's still work to do. We didn't just write a rule, or agree on a rule, and expect that we're going to show up on Sept. 15 or whenever camps open and it's done and we're walking away.
"It's been a long process, and we're close to the finish line, but we still have work to do on it. I think this is going to continue throughout at least the first half of the season, where we're making sure that all guys' concerns are addressed, and if they have areas that they think they're not protected, then we've got to make sure that they feel protected."
How to choose the right size soccer goalkeeper gloves
10/22/2014 | Academy
As a goalkeeper, you have more responsibility than anyone else on the team. You are the last line of defense, and you just need to be as prepared as possible. The first step is to take care of the goalkeeper gloves.
For the serious goalkeeper, gloves are just as important as the cleats are for the fielder. Gloves will help you cushion a powerful blow and then secure the ball in your hands, while also providing protection and comfort for your hands.Part of learning about being a goalkeeper is also to understand how to take care of equipment that will protect you from the elements and sting shot of the attacker.
Which gloves are better?
Remember, gloves are short-lived. The reality is that the more expensive the glove, the better the grip, but the less it serves. Super soft and tacky latex gloves used by professionals provide exceptional ball control, but may start to peel off from the first use.
This does not mean bad quality, just very delicate latex. As things stand, durability reduces grip quality. Good gloves will last you about 15 games. With proper care, you can use them all season long.
Ultimately, it all comes down to your budget. The best gloves will last you just a few games, but provide you with perfect ball grip.
Selecting the correct size
The wrong size of gloves affects not only the quality of your game, but also accelerates their wear.
When choosing the size of the glove, the length of the glove fingers should be at least half a centimeter longer than your fingers. Ideally 1 centimeter. But no more than 1.5 centimeters.
Sizing can be difficult. There are slight differences in size between manufacturers.
Inexpensive workout gloves, and literally disposables for important games, can differ noticeably in real size, although they should be the same on the tags.
You can try the following methods for sizing:
1. Take a centimeter and wrap your hand tightly over your thumb. No need to squeeze your hand, just wrap it tightly. Usually a slightly larger glove is comfortable for the goalkeeper. Add another 1 to 2.5 cm to the measured circumference, depending on your preference.
You can do without a centimeter: grab your palm with a regular lace, and then measure the distance on it with a ruler.
2. Measure your hand from the tip of your middle finger to the base of your thumb in the area where your thumb meets your wrist.Then add 2.5 centimeters to the measured value to determine your glove size. Example: we measure out 18.75 cm, round up to 19 cm, add 2.5 cm, we get 21-21.5 cm.
Be sure to measure both hands and, in case of difference, order the size for the large hand.
Sizes of goalkeeper gloves
| Palm circumference (cm) | Size | Palm circumference (cm) | Size |
| --- | --- | --- | --- |
| 14 | 3 | 23 | 8.5 |
| 14.5 | 3.5 | 24 | 9 |
| 15 | 4 | 25 | 9.5 |
| 15.5 | 4.5 | 27 | 10 |
| 16 | 5 | 28 | 10.5 |
| 16.5 | 6 | 30 | 11 |
| 17 | 6.5 | 31 | 11.5 |
| 18 | 6.5 | 32 | 12 |
| 19 | 7 | 34 | 12.5 |
| 20 | 7.5 | 35 | 13 |
| 21 | 7.5 | 36 | 13.5 |
| 22 | 8 | 38 | 14 |
Selecting the right material
You should choose your glove material depending on the weather conditions, the type of playing surface, and of course your budget.
Gloves for wet weather are good only when it rains. Wearing futsal gloves when playing outdoors in the rain will make them incredibly slippery.
We hope this article will help you in a rather difficult choice of worthy goalkeeper gloves.
Other articles
New sizes of goalkeeping equipment in the NHL
"He was very emotional and said there is a lot that can be done in this area because the goalkeepers seem so big," said Kay Whitmore, NHL vice president of hockey operations."We owe him and must finish the job he started doing everything right."
First in the league, goalkeepers' leg pads and shorts were squeezed. new NHL and NHLPA rules
[See also: Crawford doesn't know when to return]
Actually, increasing the number of goals scored is not the main goal.Goalkeepers must parry shots with skill, not equipment. They should be comfortable in it. It should protect them, but it shouldn't be too big to stop the puck. A goalkeeper weighing 100 kilograms doesn't have to look like he's all 120.
"It is generally thought that we want to increase the number of goals scored. That's right," said Matthew Schneider, special assistant to NHLPA executive director Don Fehr. that this consideration is irrelevant.But it's equally important to make the game fair. We want to write rules where gear doesn't give players an advantage. "
Whitmore doesn't know how the innovation will affect performance, but expects the gap between top and mid-level goalkeepers to widen.
" It's about skill and preparation. This is what makes the game interesting. Goalkeepers must be protected, but otherwise everything must depend only on him, – he said. "This is the main thing."
* * * * *
Compare the photographs of goalkeepers from the 1980s with those taken in the early 2000s. The difference is huge. Now look at how the equipment has changed from year to year. So the changes are almost imperceptible. Goalkeeper uniforms have been talked about for many years, but how do you know when to do something and what exactly?
At one time, the NHLPA conducted a survey among goalkeepers to find out what they would prefer: increase the size of the goal or reduce the equipment? The answer was unequivocal.
"I thought at least a few people would vote for the big gate," Schneider said.- Nothing like this. In fact, increasing the goal would lead to a whole series of problems. "
However, the reduction of equipment also did not come without difficulties. Easy to say, but difficult to do. There are more than 100 goalkeepers of different sizes in the league. There are also minor leagues and about six companies that spend money and time developing shin guards How to formulate requirements How to implement them
Shin guards and shorts were relatively simple. As a result of the new rule in the league, shorts appeared not only in sizes L and XL, but also in M ​​and even S sizes.Few play L and XL.
"The number of sizes has increased," Whitmore said.
It was more difficult to protect the chest and arms. There are subtleties here due to the fact that this is a special part of the body. Imagine spending many years in equipment that protects all parts of your torso, trusting this protection and feeling comfortable in it. And then someone decided to change everything. And you have to parry the pucks launched by the composite clubs, which fly at great speed. Nobody in the NHL is going to go back to wooden clubs.
"This piece of equipment is of great importance to goalkeepers, it cannot be compared to how the field players treat breastplates," said Schneider.
The NHL and the union consulted many goalkeepers and kits, first defining the main parameters for the change and then diving into the details.
"First and foremost, we wanted the shin guards to follow the shape of the athlete's body. But not at the expense of protection," Whitmore said. "We wanted to remove protection where there is no body."
The text of clause 11.3 of the Rules of the Game of Hockey in the NHL (Protection of the chest and arms) consists of 608 words. "The goalkeeper's shoulder pads and pads must be anatomically proportional and take into account the individual physical characteristics of the goalkeeper." After that, the exact dimensions of the shields on the elbows, forearms, shoulders, collarbone are indicated.
Shields on the elbows decreased from 18 cm to 15 cm, on the forearms and biceps – from 14 cm to 11.5 first, and then to 10. The shields on the collarbone cannot protrude more than 5 cm above the shoulder.Shoulders cannot increase the shoulder by more than 4 cm.
[See also: NHL players never succeed alone]
neck to shoulder and from shoulder to forearm. They must not rise and increase the size of the goalkeeper when he kneels. The league has introduced some other parameters that will not allow you to bypass this rule.
"The most common complaint I hear is that goalkeepers look square.People are not like that, "Whitmore said.
Each set of equipment is sent to an independent referee in Philadelphia, who puts the shin guards on the dummy and measures them with a scanner. Then he either approves or rejects the form. Such technologies did not exist several years ago but now, thanks to them, these innovations are possible.
Then all the equipment is sent to Whitmore in Toronto, where he inspects it and sends it to the team.He can also submit the form for scanning. One day he had to do it.
"Scanner confirmed that part of the shield was incorrectly assembled," Whitmore said.
* * * * *
Will the field players notice the changes?
"I really hope so," laughed Pittsburgh Penguins center forward Sidney Crosby. "I want to believe it will show."Sometimes you don't see a change. "
Fielders may not notice the difference. Schneider compared the old equipment to the new by placing them side by side and did not see the difference. And he has 1289 NHL games under his belt as a defender, and he participated in it process from the start
And goalkeepers can see and feel the difference on the ice Opinions differ depending on circumstances and tastes A goalkeeper's career is at stake, but no one has ever played in a new kit or could get used to it.
"What can I say," says Vegas Golden Knights goalkeeper Marc-Andre Fleury.- I do not know. I don't think this is bad. I don't see anything terrible in this. There is a feeling that something has appeared on the hands, but it needs work to get used to it. "
Fleury is considered to be one of the goalkeepers who should gain an advantage because he plays in an athletic manner. it is 189 cm and weighs 81.5 kg.
"I'm not a big goalkeeper, am I? – he said. – I can even be considered small. So I have to be quick to play in the league. "
This is the main thing. Goalkeepers need to get used to their shape, and they don't have to be big, they have to be fast.
[Latest NHL News on Twitter @NHLrussia]
Whitmore is in constant communication with the goalkeepers to clarify the individual features of each kit. He will continue to work on this during the training camp and in the regular season.
"To each his own, – said Whitmore. – There are those who do not pay much attention to equipment, but there are very picky guys.This will always be so, and you need to be ready for this. Each case must be considered separately. Everyone plays differently. The puck can go where, from their point of view, there is little protection. We'll have to work on that. "
According to Schneider, the NHL and NHLPA first and foremost want goalkeepers to feel protected, despite the fact that their equipment is constantly decreasing in size. He believes that manufacturers will continue to look for new solutions. improve protection, but will do so within the framework of the new rules.
"Nobody feels comfortable now," Schneider said. "We understand that we still have to work. We didn't just write a rule, we agreed on it, we made sure that the goalkeepers put on a new uniform on September 15, and then washed their hands. The process was long, we are close to the finish line, but the work is not yet completed. I believe that we will have to work hard at least in the first half of the season. We want to make sure that we hear the comments and wishes of the goalkeepers, find out if there are areas of the body that are not protected from the blow, did everything they felt protected. "
The best goalkeeper shorts TOP 8
1) CCM Extreme Flex Shield II Goalkeeper Shorts
CCM Extreme Flex Shield II Goalkeeper Shorts
Overview
These high-level goalkeeper shorts are ideal for mobility, mobility, comfort and protection. CCM uses its advanced D3O high density foam on the thigh and forefoot for maximum puck protection. The shorts are securely held on the body while moving from side to side and when getting off the ice in the main stance.Shorts with an adjustable inner strap for a tighter fit to the waist. The outer side of the shorts is made from durable 420D nylon and has built-in elastic areas for more comfort on the move. They also have a 2.5 cm concealed zip fastener to extend their lifespan.
The back protector is made of high density molded foam that rises to the back of the back. For goalkeepers who play in a butterfly style in the kidney, groin and thigh areas, additional protections are provided using additional high density foam and polymer.The shorts have a wide design for maximum collar protection and are also fitted with high density injection molded foam at the tailbone and
pad
CCM Extreme Flex Shield II Goalkeeper Shorts are aimed at high-level goalkeepers, especially those who play in the butterfly style. They are in a high price range but offer excellent value for money.
2) Warrior Ritual X2 Pro Goalkeeper Shorts SR
Warrior Ritual X2 Pro SR Goalie Pants – Senior
Overview
Warrior 2019 Goalkeeper Shorts combine technology and innovation to provide mid to elite goalkeepers with the best protection and flexibility.The shorts use the FlexPlate system and HyperComp material to provide superior protection while keeping them lightweight. The thigh guards are equipped with high quality, high density foam, so there is no tight movement between the thighs and shorts when playing on knees and standing
The shorts are made in such a way that they will last a long time, as the zones of increased wear are reinforced. They come with an adjustable inner waistband and straps that are equipped with a double clip system for even tension.This design provides coziness and comfort, as well as a free external fit, if desired, the belt can be removed. They are also equipped with removable suspenders.
The Warrior Ritual X2 Pro SR Goalkeeper Shorts are ideal for ambitious goalkeepers as they provide first-class protection and comfort while providing excellent mobility for stopping the puck. The shorts are in a high price range, but they are well worth the money.
3) Bauer Vapor X2.9 Goalkeeper Shorts
Bauer Vapor X2 Goalkeeper Shorts.9 Goalie Pants – Senior
The 2019 Bauer X 2.9 Goalkeeper Shorts aim to strike a balance between volume and ride comfort. The shorts are equipped with the Dynamic 2 Flex system, which allows you to protect the hips and hip joints as much as possible, without leaving any area open. They come with the popular barrel and wide thigh covers and are ideal for goalkeepers who prefer to tuck in the bib. The lightweight one-piece shorts fit snugly with an internal hybrid strap / strap and are lined with Thermo Max liner to keep out moisture and sweat.
At the thighs, the shorts have a rounded shape with a high degree of protection, which is designed to protect the body from washers. The inner thighs also have a loop for those who like to attach shin guards to their shorts. The shorts are made with thick, high-density foam for the lower abdomen and spine, while the tailbone is reinforced with a durable plastic insert.
The Bauer Vapor X 2.9 Goalkeeper Shorts are available in several sizes and are also available as a junior model for young goalkeepers.They are ideal for intermediate to advanced goalkeepers looking for a combination of superior protection and mobility. They belong to the middle price segment.
4) Vaughn Ventus SLR2 Pro Goalie Pants – Senior
Vaughn Ventus SLR2 Pro Goalie Pants – Senior
Overview
The new Vaughn Ventus SLR2 Pro Goalie Ice Hockey Pants give goalkeepers more mobility without limiting flexibility and mobility. The loose-fitting shorts have a high waist, allowing you to tuck in the bib when needed.Kidney and hip guards are made of durable injection molded plastic to absorb the toughest shocks and bumps, while thigh guards provide superior width for maximum gate coverage.
Shorts tie securely with drawstrings around the waist along with external and internal nylon straps. For added mobility, they feature wide stretch overlays and a mesh lining that keeps the cool and moisture out while gaming.
The Vaughn Ventus LSR2 Pro Goalie Pants are a great value for intermediate to advanced goalkeepers as they can be found in the mid-range. They offer professional-grade features, come in a wide range of sizes, including junior sizes, and should quickly become one of Vaughn's most popular models.
5) Bauer Supreme S27 Goalie Pants – Senior
Bauer Supreme S27 Goalie Pants – Senior
Bauer Supreme S27 Goalkeeper Shorts are suitable for both beginners and intermediate players, while offering elite-level comfort and protection.Lightweight pants have an adjustable inner strap for a secure anatomical fit around the waist. They have an excellent moisture-wicking liner inside to keep you cool, comfortable and dry during heavy traffic while playing.
The thighs are protected with medium density foam and the pelvic area has a ventilation opening to strengthen the chest. The cast ridge provides subtle protection. Ideal for ricochet control. They are tough enough for the hardest hitting and stick contact, while providing maximum freedom of movement.
The Bauer Supreme S27 Goalie Shorts are in the lower price range and are among the most inexpensive on the market. They come in several sizes and the popular junior model is also available.
6) Vaughn Velocity VE8 Pro Carbon Goalie Pants – Senior
Vaughn Velocity VE8 Pro Carbon Goalie Pants – Senior
Overview
Vaughn Premium Goalkeeper Shorts that allow ease of movement in and around the crease while providing maximum protection and comfort.The high waist has been designed for stretch and comfort, has a high density foam, and the inner thigh provides added stability and helps prevent the trousers from twisting during play. Five-hole rolls are quite large and have plenty of internal support, but nevertheless allow you to quickly close the area when playing in a butterfly style.
The coccyx area is designed in such a way that it fits more closely to the waist and at the same time provides a free range of motion.The coccyx area also provides a higher degree of coverage of the spine. The inner part of the shorts is made of a durable material that prevents moisture from entering and dries quickly. Thanks to this, you will always feel cool, dry and comfortable.
The Vaughn Velocity VE8 Pro Carbon Goalie Pants are designed for elite level goalkeepers and therefore have a higher price range. They provide protection, comfort and mobility that are unmatched and designed for multiple seasons.They are made of high quality materials and are highly acclaimed by professional goalkeepers.
7) Bauer Supreme 2S Pro Goalie Pants – Senior
Bauer Supreme 2S Pro Goalie Pants – Senior
Overview
The Bauer Supreme 2S Pro Senior Shorts provide professional protection and comfort without compromising flexibility or agility. The NHL-sized shorts feature the popular POWERLITE technology to ensure they are the perfect goalkeeper shorts for top-tier players.
The shorts can be easily and quickly adjusted to ensure a natural fit to the waist through the inner belt, and there is also the possibility of lengthening the shorts if necessary. They come with a pelvic ventilation hole so that they can integrate seamlessly with the chest protector.
Bauer uses PORON hip openings to provide even more protection, while the lining is kept cool, clean and odorless with disinfectant materials.The ridge is lined with comfortable Vent Armor foam, and you will also find built-in knee protection loops.
The Bauer Supreme 2S Pro Senior Goalie Pants come in several sizes to handle the toughest hits. They are ideal for goalkeepers of all styles and provide a high level of performance for those playing at the highest level. These shorts tend to be in the higher price range.
8) Warrior Ritual X2 SR Goalie Pants – Senior
Warrior Ritual X2 SR Goalie Pants – Senior
Overview
These shorts are a new design and are designed for the modern goalkeeper as they offer a well-balanced combination of comfort, protection and mobility.They are equipped with reinforced hip protectors made of durable high density foam. It uses Warrior AxyCut technology to ensure the pads don't get in the way while you play. The adjustable inner strap system provides reliable protection and is removable, as well as the suspension buttons if you prefer to use only the outer strap.
The Kidney Pad contains multiple layers of protective foam and has ergonomic fractures in the spine for better mobility and fit.The thigh and upper limb are multi-layered to provide a wider perimeter and increased mesh coverage. Large thigh guards are also injection molded to deflect washers and other impacts.
These lightweight shorts are ideal for mid-level goalkeepers looking for top-level protection, comfort and mobility at a reasonable and affordable price. The Warrior Ritual X2 SR Goalie Pants range from low to mid-priced and offer excellent value for money.
Frequently Asked Questions
Are hockey shorts made for every hockey style?

In general, hockey and goalkeeper equipment such as goalkeeper gloves, goalkeeper helmet or goalkeeper stick (other than some such as roller skates and skates) can be used in a variety of styles of hockey. Therefore, whether you are a goalkeeper on the field, a roller skate goalkeeper or a street hockey goalkeeper, hockey shorts are designed to provide the comfort and protection of all goalkeepers.
What is the difference between goalkeeper shorts and regular hockey blinders?

Like most goalkeeper equipment, the goalkeeper shorts are designed to provide maximum protection against puck and club impact. The main difference is that they have thicker overlays on the front, side and inside of the thigh, while regular hockey pants are not as tight because players need to change direction and react quickly to them at high speed.
What size goalkeeper shorts do I need?

To find your ideal size, start by adding 8 to 10 inches to your waist size. This will help you determine the size of the goalkeeper shorts. However, there are various factors to consider as well, such as your height, physique, and even skill level, whether you want your chest and arms to be inside or outside, etc.
90,000 Dynamo goalkeeper Alexander Sharychenkov on the secrets of goalkeeper ammunition
16 February 2014
Dynamo goalkeeper Alexander Sharychenkov on the secrets of goalkeeper ammunition
"The total weight of the protection can be up to 20 kilograms," says Alexander."That's almost double the weight of a fielder's gear. The goalkeeper needs serious protection – the puck speed reaches almost 200 km / h. "
The goalkeeper of the club, the general sponsor of which is VTB Bank, thoughtfully sorts out his armor. We look, do not touch our hands, as we have been warned: it is not recommended for outsiders to touch the hockey ammunition. Bad sign. Goalkeepers are a special caste. If for the whole team hockey is a game, then for the goalkeeper it is, in fact, a single combat. You have to fight not only with your opponent, but also with your own nerves, with the villainous fate, with bad luck.
"Those who prefer lighter equipment try to keep within 15 kilograms," explains Alexander. – The heaviest piece of goalkeeper equipment is, of course, shin guards. Their weight reaches 5-6 kilograms. Modern goalkeeper pads differ significantly from those that were 20-30 years ago. Development goes in the direction of enhancing the entertainment of the game, they are trying to reduce ammunition. The International Ice Hockey Federation fights mercilessly with the so-called goalkeeper mattresses. It hurts the most painful of all the tall, leggy goalkeepers, whose new shields do not completely cover their legs.But there are improvements for the goalkeepers too. The sides of the new pads are flatter and wider so that the goalkeeper can slide on the ice in a low stance. I prefer to play with harder shin guards because the bounce of the puck is stronger and farther from them. "
Alexander pulls on a black turtleneck and leotards: "All hockey players play in thermal underwear. Someone prefers synthetics, someone ordinary cotton suits. It is generally accepted that synthetics retain heat better, I play in it. Although, frankly speaking, I don't feel much difference… ".
Thank you for helping us improve our content!
Reebok Hockey Pants 18K Goalkeeper Sr Adults
Located in sections: Underpants
Panty sizes REEBOK
Category
Baby
Youth
Adults
Size
S
M
L
S
M
L
XL
S
M
L
XL
Waist (cm)
51-56
53-58
56-61
58-63
61-66
66-71
69-74
71-81
81-91
86-96
96-106
Height (cm)
102-110
110-122
122-132
130-142
142-158
158-168
162-170
162-170
170-178
178-188
182+
HOW TO FIND THE SIZE
When choosing the size of the panties, the waist is the primary indicator, and the height is secondary.
Not all manufacturers indicate this parameter, in such cases, be guided by the "Growth" line.
Measure your waist just above the hips and find the corresponding value in the "Waist" line in the table. The shorts should fit comfortably and not interfere with movement. The lower edge of the pants leg should slightly overlap the upper part of the shin guard.
| | |
| --- | --- |
| Dim | Color | XL – Black |
| Age | Adults |
| Size | XL |
| Color | Black |
| Professionalism | Professional |
Featured
Lefevre goalie pads
Epson ex9210 audio out
Ocean Hockey Supply Co.Phone: 732-477-4411 197 Chambers Bridge Road, Brick NJ 08723 Season 8 Episode 2. Glass Bottles; Hacksaws; Goalie Masks. 10 Jan 2007, Wed Season 5 Episode 10 Goalie Pads, Lapel Pins, Cardboard Boxes, Crystal Wine Glasses.
GoalieMonkey has the worlds largest selection of goalie leg pads in senior, intermediate, junior and youth from Bauer, Vaughn, CCM, Brian's, Warrior and Koho. Sep 03, 2015 Crawford was one of the featured goalies to test out the new reduced NHL goalie pads before the 2013-14 season.This will not be the first time that Crawford has worn black pads, either. He wore …
Ocean Hockey Supply Co. Phone: 732-477-4411 197 Chambers Bridge Road, Brick NJ 08723
Shop for knee hockey goalie pads online at Target. Free shipping on orders of $ 35 + and save 5% every day with your Target RedCard. knee hockey goalie pads. Looking for curbside pickup?
leg pads in anderen Sprachen: Deutsch – Englisch. Wörterbuch Englisch → Deutsch: leg pads [hockey goalie].Übersetzung 1 – 50 von 443 >>.
Answer key for any book
Hypervolt plus case
Fuel pump symptoms e46
No togel hari ini keluar hk
Merit system examples ap gov
Open bo bekasi 400
link
How to store chat messages in mongodb
Star ceiling panels
The question is how willing is a company to build what a player wants in order to keep said player.What we get and what the pros can get are two separate things in most cases. I have said it before and will repeat again: there are players who roll with whatever changes happen and there are players who feel that they don't want to concern themselves with changing gear if they don't have to.
Gravel pit properties for sale michigan
Paul martin wife charlotte godfrey
Define goalie. goalie synonyms, goalie pronunciation, goalie translation, English dictionary definition of goalie.n. See goalkeeper. American Heritage® Dictionary .