Lacrosse shooting on the run: Max Seibald's 3 Keys To Shooting On The Run
Max Seibald's 3 Keys To Shooting On The Run
Max Seibald is easily one of the best shooters in lacrosse right now. Watching him shoot on the run is a sheer thing of beauty. I've been coaching with Max at his Maximum Lacrosse Camps in New York City this week, and the campers aren't the only ones learning new things! Max has dropped knowledge left and right, now it's time to pass some of his invaluable lessons on to YOU.
1) Shoot Overhand
Max is an honest coach, so he readily admits there are times when a sidearm or underhand shot can be appropriate. However, when shooting on the run, Max says overhand is ideal. It gives a player the best chance of getting their shot on cage, and allows the shooter to be much more deceptive. When shooting overhand, the head of the stick can be hidden behind the body, and a number of very similar release points can put the ball in many different locations.
A beginning to intermediate level lacrosse player might be able to put more juice on a sidearm shot, but an overhand shot is still much harder for a goalie to save. When observing our more experienced players at camp, it appears that they are at least twice as likely to hit the cage with their shots and probably three or four times more likely to score if they shoot overhand. I've even noticed this trend when I play "old man ball". When I shoot overhand, I score. When I shoot sidearm, I go 1 for 9 and Rudy Martinez yells "popcorn" at me… a lot.
2) Shoot Accurate
It doesn't matter how hard you shoot the ball if it goes into the goalie's stick, or misses the cage. Power is great and all, but as we discussed in key number one, it is NOT the key to success.
Sacrificing your power for better form will inevitably lead you to becoming a more effective shooter.
Shooting on the run in NYC with Max Seibald!
Max rifles the ball at the cage when he shoots on the run, but remember, he is a professional lacrosse player and Tewaraaton Award Winner. Practice made perfect, and this is what he recommends.
Listen, I want to shoot through a goalie's mesh and light it on fire as badly as you do, but it is not going to happen. We're mortal. If I can't do that, I'd at least like to notch some more G's. Shooting accurate is really my only option here, and thankfully, it's a great option to have. Taking 10-25% off of your on-the-run-shot, depending on distance from the cage, might be the best thing you ever did. Focus your energy on proper form, and putting the ball where you want it. THEN you can work on putting it there with power.
As Max has attested to at camp, progression of skill comes first, power second. Otherwise, you build up the power, and can't use it effectively. Then you have to start all over with the skill, and try to re-apply the power. Breaking bad habits can be tough, so forming them correctly from the beginning is extremely important.
3) GO FAST!
Max is very well known for his speed on the field. When he was at Cornell, there wasn't a quicker person on campus, and that included members of the track team. This key is a bit more flexible than the other two… Although it'd be great if everyone out there ran a 4.3 40, that's just not realistic. So whether it's GO FAST, or GO HARD, or attack the cage, the idea is the same: put the defense and the goalie on their heels. Be the aggressor. Dictate pace and impose your own will.
Going fast, hard and attacking the cage allows you to create separation, get your hands free, shoot overhand, and shoot accurate.
Shooting On The Run Recap
The first two keys are all about the act of shooting and how you can increase your chances of scoring.
In order to do that, you need to create an opportunity. Key #3 addresses that requirement head on. Go fast, attack that cage hard and create your opportunity. Take your best shot using good form and focusing on accuracy. You'll be well on your way to shooting on the run like Max!
Be like Max.
Tips for Shooting on the Run
Shooting on the Run
tips from Mark Millon, Jay Jalbert and others
Mechanics
"I remember when I first started to force myself to do it lefty, it was just a really awkward thing. You're running, and you have to keep your whole upper body still, and still have torque," Jalbert says. "And I remember just fighting through that. It was a really difficult thing."
Remember the two Ts: torso and torque.
Paul Rabil – one of the best ever shooting on the run
As opposed to a stationary shot, in which you can plant your feet and release it head-on, shooting on the run requires less of your legs to generate shot power. Most of it will come from your arms and midsection. Your legs, however, do generate the momentum, which is then converted by your upper body into shot power.
Approaching the cage as a righty, you should line up your shot four steps in advance. Jalbert calls it, simply, a run dodge. Draw your defender on your left hip while sweeping right. Take your first three steps down the alley — left, right, left — to get him there.
Then, on your fourth step, your right foot steps over your release point.
Allow your feet about a millisecond delay for your upper body to initiate shooting motion. Then whip your torso in a right-to-left motion toward the cage, and follow through with your arms and wrists as you would naturally.
(Approaching as a lefty, use the reverse footwork.)
Hand Position and Arm Angle
Before that fourth step, your hands should already be in a position to shoot.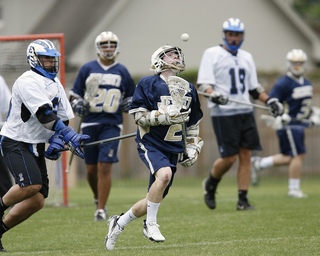 As with any shot, your top hand should not be too close to the throat of the stick, because you will wind up pushing the ball.
But more so with shooting on the run, your top hand should not be too low, either. A lot of the whip is already generated by the torso-torque mechanic. Positioning your hands too low on the stick not only leaves you susceptible to a trail check, but it also decreases accuracy. A shot on the run is already less accurate than a stationary shot.
When you step over the release point with that fourth step, your hands should extend away from your body, elbows up, and ready to follow through on the torque created by your upper body.
Also, keep the stick "light in your hands," Jalbert advises. "A lot of real young players, they have that kung-fu grip," he says. "It should be tender."
As for arm angles, shooting on the run lends itself best to sidearm and overhand approaches. Choose the angle according to your position on the field.  Overhand shooting is more accurate on the run and many top players recommend an overhand shot when shooting on the run to improve accuracy.
However, if you're dodging across the goal, go ahead and shoot sidearm. This gives you a better angle and widens your options of where to shoot on the cage.
If you're coming down either alley, an overhand shot works best.
'Get Small'
Think of a spring-loaded gun. "My body gets small before I shoot," Jalbert says.
The more tightly wound your torso is upon your release, the more power you'll get on your shot. It means tightening up your abdomen by contorting your upper body and hips, and releasing that energy through your arms and wrists.
Lean into the goal when shooting to generate this effect.
Step over your release point with your outside foot, delay, and whip your torso around for the greatest strength on your running shot.  You can think of it like a golfers swing or leading with your hips in a baseball swing.
Drills and Workouts
Your body wants to stop. It wants to stop and shoot. So practice everything in motion, without a ball, even.
Jalbert had an apple orchard in his backyard growing up. There were six trees in a row. To get used to shooting on the run, when he was younger, he would dodge each tree in succession, and practice getting his hands out into shooting position after each tree.
The same effect could be achieved with any row of obstacles. The important thing is that you never stop moving your feet
.
As for developing muscles used while shooting on the run, use workouts for strengthening your rotational core.
More tips for shooting on the run:
Shooting on the run may be the hardest skill to learn in lacrosse and will require tons of practice. You are going to be shooting on the run a lot. When you are practicing, spend as much time as you can focusing on shooting on the run. Any time your on a goal practicing your shot (hopefully all the time) spend 85%-90% of the time running full speed and shooting.  Don't worry if you miss the goal badly the first few hundred times. 
There are a few keys to scoring from outside.
Try to be deceptive
. Try to hide your stick behind your body until the last second.  You are going to have the defensive players from the opposing team all over you when you have the ball, so you need to learn to be deceptive.
Paul Rabil shooting on the run


Shoot with the proper technique
. Hands and elbows high and away from your body, hands 12 inches apart close to the bottom of your handle, turn your shoulders and hips and uncork like a golfer.  Your power will come from a big hip and shoulder turn while cradling your stick behind your body.  Just as your ready to release your shot uncork your body in the direction of the target.
Don't be afraid to take bounce shots.

  They can provide an additional aspect of deception with unpredictable bounces and often find the back of the cage.
Learn to do it with both hands.
This description is for a right handed shot, a left handed shot will be reversed.
KEEP YOUR EYES ON THE GOAL. Start by moving across the face of the goal from the right side to the left and have your shoulders parallel with the sidelines but as you begin to plant your left foot "show your numbers" to the goal. Begin the shooting motion by planting your left foot so it will face at about the 10 o'clock position, bring your right foot around slightly after so it will end up pointing at the goal. Be sure to have your right foot come around slightly before the stick, this will force you to "coil" your body so you will have more torque in your body which translates to more velocity in your shot. YOU MUST TAKE A WIDE STEP WITH YOUR RIGHT FOOT SO YOU CAN GET ALL OF THE VELOCITY FROM THE TORQUE IN YOU BODY INTO THE SHOT.  Remember, you are moving through the entire process, do not stop to shoot.  If you bring your right foot around properly with all of your body power behind the shot, the follow through should almost spin you completely around. Keep the stick behind your body so the goalie cannot see it, be careful not to "hang the stick". YOU SHOULD HAVE A SORE LOWER BACK AFTER WORKING ON THIS OR YOU ARE NOT DOING IT RIGHT. You can practice shooting on the run from any angle on the field. It does not have to be across the face of the goal only.
Again, this is a tough skill even for top players.  It is going to take a considerable amount of practice to master.  Watch some high level lacrosse to see it in action!!
Women's Lacrosse Training Tip – Shooting on the Run With Taylor Cummings Lacrosse Video
Women's lacrosse training drill video with Taylor Cummings.

As one of the best female lacrosse players ever to hit the field, shooting on the run is one of the best components of the game for Under Armour athlete and Team USA member Taylor Cummings. In Taylor's latest video with Lax.com, the all-star midfielder goes over her tips to become a lethal shooter by explaining her "BEEF" concept. Check it out and be sure to subscribe to Lax.com to see more videos with Taylor and all the best highlights by signing up below!
How To Improve Your Shot For Lacrosse (B.E.E.F. Concept)
B: Balance

Balance your feet and make sure your hips are square toward the cage. If you are not balanced and square to the goal, chances are you are shooting a fadeaway or a crazy last chance goal and it's most likely not going in.

E: Elbows

To help generate more power Taylor suggest keeping your elbows out and wide.

E: Eyes

Keep your eyes focused on the goal. Taylor's mom used to tell her, "Shot at the big net, not the little net." Learn to focus on the cage behind the goalie and not to aim at the goalie.

F: Follow Thru

Where ever you follow thru is where the ball is going to go. If you follow thru high, the ball will go high. If you snap your wrists and follow through low the ball will go low. Also, when on the run, keep running thru your shoot to generate the most power.
OTHER BLOGS YOU MIGHT ENJOY:
VIDEO: Taylor Cummings Women's Lacrosse Gear Bag
VIDEO: How To Dodge With Taylor Cummings
BLOG: Top 3 Women's Lacrosse Complete Sticks For 2020
---
Shooting Diagrams For Beginner Coaches
There are 2 styles of shot in lacrosse:  shooting-on-the-run (which is the most frequent) & set-shooting (which is the focus of this article).  Using a basketball analogy, for a set-shot think Steph Curry with his feet set, perfect balance, dropping a bomb from long range with perfect form.
  For a shot-on-the-run, picture Michael Jordan or Kobe Bryant slashing to the net and pulling up for an off-balance jump shot.

Set-Shooting sees the shooter start perpendicular to the net, taking a "crow hop" for extra power if "time & space is available
In lacrosse, when offenders get "time & space" in the prime scoring area, usually their first option is to take a "set-shot." A good set-shot starts with a player standing perpendicular to the net, taking a baseball-like "crow-hop" if they have time, and then transferring their weight from their back foot forward onto their front foot; rotating their hips/shoulders (torso) and following through (shooting around the pipes).  When set-shooting, remember the BEEF principles: Balanced (stance), Eyes (on target), Elbows (reaching back, tight to the body), and Follow Through (towards the target).

The following is a list of drill progressions we use at Laxlife.ca to teach set-shooting, all of which could also be used to teach shooting-on-the-run…

Drill #1:  SEMI-CIRCLE (HORSESHOE) DRILL

For extra reps, or if no goalie is present, having everyone shoot at the same time can be fun and coaches can keep track of how many balls hit the net (or posts).  Having players "react" to their rebound is another good habit to be promoted.
The horseshoe drill is a great starting point for teaching set-shooting to a large group. Although, if boards or a wall are available, doing a demo and then having players practice (warm-up) there for a couple of minutes before shooting on the net is generally preferred.
Using the net as a reference point helps teach players where they should be shooting from.  In box lacrosse, players should always practice shots from inside of the "prime scoring area," on their "proper floor side.
"  

The prime scoring area is defined as two imaginary diagonal lines going from each goal post outward on a 45° angle towards the side-boards.  Just outside of the shooter position, another imaginary semicircle (10 metres out from the top of the crease) connects to just outside the other shooter position on the opposite side of the floor, forming an arc that ultimately connects to the diagonals (45°).  Shots from this area are considered to be "high percentage," as a higher percentage of goals are proven to go in from this area than anywhere else.

Players should also be sure to take shots from their proper floor side, defined as a lengthwise "imaginary division" of the floor, stretching from the middle of one net to the other; players' sticks should be facing this imaginary midline for the large majority of the time while on the floor.  Likewise, players' bodies should rarely, if ever, cross this imaginary midline while shooting. Any shot on the "wrong floor-side" of this imaginary line is considered a bad shot, and one that the goalie should save.

Prime Scoring Area
If there's no goalie in the "horseshoe drill," coaches can ask that players shoot "all at once," which gives beginners a chance to get lots of repetitions.  Some common errors we tend to see in beginning players are:  not reaching their arms back in their preliminary movements, not releasing the ball properly (too far in front or behind their body), taking their eyes off of the target, not shooting overhand, and/or not following through to the target (stopping short; abrupt follow through).

If there is a goalie, players can take turns shooting, working their way from one side to the other (left to right or right to left), with one second in-between shots.  Another advanced variation is to incorporate side-to-side shooting, switching from a left-handed to a right-handed shooter on each shot, which forces the goalies to have to reset on each shot and ultimately opens up more holes for shooters to try and expose.
Once players have developed sound shot mechanics, coaches can ask that players "react back" after shooting, sprinting the length of the floor (collecting a loose ball along the way if possible), and then lining up in the same formation in the opposite end of the floor; or just sprinting to the rag-line (lining up again in the same end).

Drill #2:  STEP & SHOOT

As players begin to stabilize their shot, footwork patterns should then be added before the set-shot takes place.  The first footwork pattern, and generally the most common is the "L-Shot."  The player takes a jab-step ("juke") toward the board-side, planting off of their outside leg and cutting toward the middle (2-3 steps max), "setting" their feet ("perpendicular" to the net) for an outside shot.  For beginners, it helps to put pylons on the floor to give a visual representation of the pattern.  See the top half of the diagram below…
The "L-Shot" and the "Drag Shot" are two of the most common footwork patterns used before shooting
If per se, the L-shot didn't open up a lane for a shot, the next option in a game would to either pass to someone, or drag (back-pedal) back towards their proper floor side.  In the "drag shot" variation (see the bottom half of the diagram above), the player takes a jab-step toward the top-side (opposite of L-shot), planting off of their inside leg and pivoting into a back-pedal ("drag") toward the "board-side."  At this point the player should re-establish their momentum towards the net (north-south) and take a shot while still in the prime scoring area.  
Drill #3:  CAROUSEL & SHOOT

To simply pass the ball across the top of the defense is generally an ineffective strategy for creating a quality shot in a set-offense.
  Most offensive systems in box lacrosse see the ball get passed low first, and then carried high.  During this process the ball carrier should "be a threat" to shoot.  To replicate this, the next drill variation sees the first player on one side of the floor carry the ball from low to high, from the crease position up to the shooter position, and then step into a set-shot.  

For beginners, pylons may be used for players to curl around, being sure that they have their "head up" looking at the middle while "carrying high" (as opposed to looking at the pylon they are running towards).  This forces players to have to work on changing their body momentum from one direction to the other, in a north-south orientation.  In a game, players would be reading the defense and taking whatever ground they could towards the middle of the prime scoring area.  Thus, the pylon is just a visual cue for beginners.

Pylons may also be used as landmarks (not shown in diagrams) for beginners. 
Drill #4:  CATCH & SHOOT (STATIONARY)

The next progression after learning how to shoot with the ball already in your stick is effectively catching and shooting the ball as seamlessly as possible.  The ideal catch and shoot scenario sees the ball in the air with the player about to receive it already "crow-hopping" towards the net, receiving the ball with arms fully extended behind their body, catching and shooting all in one motion (otherwise known as a "quick stick").

For beginners, coaches can underhand flip the ball to the player (with their hands), with the player attempting to catch and shoot the ball without cradling (or twirling) their stick.  If players are competent enough, they can pass lefties to righties & vice versa (see diagrams below), working on the same mechanics as described above.
This drill is the first time players are asked to catch the ball before shooting, which can be a problem for beginners. Any time 2 tasks are combined into 1, it is inherently more difficult 
Drill #5:  CATCH & SHOOT (DYNAMIC)

The most advanced variation of shooting is for players to catch a lead pass in stride (gradually building up their running speed), shifting their momentum downhill (north-south) and taking a set-shot as quickly as possible upon receiving the pass (ideally all in one motion if it's a good pass).  This is the most game-specific shot and the model for what players should try to be able to execute consistently.  See the diagram below…

Passing to where a player is going, not where they are, is what is referred to as "lead passing." It is a skill that must be perfected in order to create shots in advanced lacrosse.
CONCLUDING THOUGHTS

The final piece of the puzzle is knowing when to, and when not to shoot; otherwise known as shot selection:  Shot selection is a mental process of either taking a shot or passing a shot up (not taking a shot).  Being ready to shoot and in the "triple threat position," is half of the equation.  The other half depends on game-specific context variables, most notably:  whether there is an open "shooting lane" toward the net and whether the shooter has "time & space."  Too often, beginning lacrosse players will take the first shot available, and not necessarily the best available shot (shot clock dependent). 
Players must use good judgment before taking low percentage shots outside, or on the cusp of, the prime scoring area.  It is usually better to "curl" out and look for a teammate who is in a better position, rather than take a low-percentage shot.
Shot accuracy and knowing where to shoot on a goalie is the final x-factor, and is usually the responsibility of coaches and "scouts," although input from players and goaltenders are equally as important.

---
About the author
Chedda B:
Lacrosse Shooting Drills to Improve your Form
Lacrosse shooting drills are the best way to improve and maintain your shooting form. Regular drilling with various lacrosse shooting techniques will ensure that you are able to shoot accurately, powerfully, and consistently, even under pressure from defensive players.
Training with your teammates is an ideal way to learn how to shoot in lacrosse, but if you want to maximize your skills, you should also do regular training on your own. The best way to do this is to use a lacrosse rebounder like this, a piece of equipment that can allow you to practice shooting even if you don't have a partner available.
A lacrosse rebounder is basically a high tension net, adjustable to different angles, which you can shoot at and the ball will bounce back towards you, simulating blocks or passes from multiple angles.
Shooting drills
Some of the most popular lacrosse shooting drills include:
1. Picking the corners
This is an ideal warm-up drill and works well if you want to improve your accuracy and beat the goalie.
Beginning from your starting position, take shots at the goal or rebounder, aiming specifically at the corner opposite where you began.
You should alternate between shooting with your dominant hand for several shots, then switch to your non-dominant hand.
Then switch position and repeat the same exercise towards the opposing corner.
2. Basic sweep
The basic sweep works well for attacking and midfield players.
You should start by putting down a cone 12 yards from the cage, aligned with the left pipe.
Add another cone level with this but 10 yards in the direction of the sideline.
From your starting position, sprint to the first cone, split dodge, sprint to the other cone, and shoot as you pass.
Repeat the exercise 10 times and then switch the setup to the other side of the field and go again.
3. Alley dodge
Use the same setup as in the basic sweep.
But this time, your starting position should be in the middle of the lacrosse field.
Sprint toward the center cone, split dodge, but this time as you perform the split dodge cut between the center cone and the outside cone as if dodging between two defensive players.
When you're ready, shoot at the goal.
After you've repeated the drill 10 times switch to the other side of the field and repeat.
4. Quick hitch
Set out one cone about 10 yards from the cage and off to one side.
Sprint towards it, and at the last moment, stutter step.
Maintain your balance and keep your lacrosse stick in the same hand, continue towards the goal and shoot. For more of a challenge, pick out a corner while you're running, or have a teammate call one out to you, this helps your reaction speed under pressure.
Once again, 10 reps, then switch sides and repeat.
5. Turning the corner
This is an agility drill, which is designed to help you beat the defensive players and get yourself into a shooting position.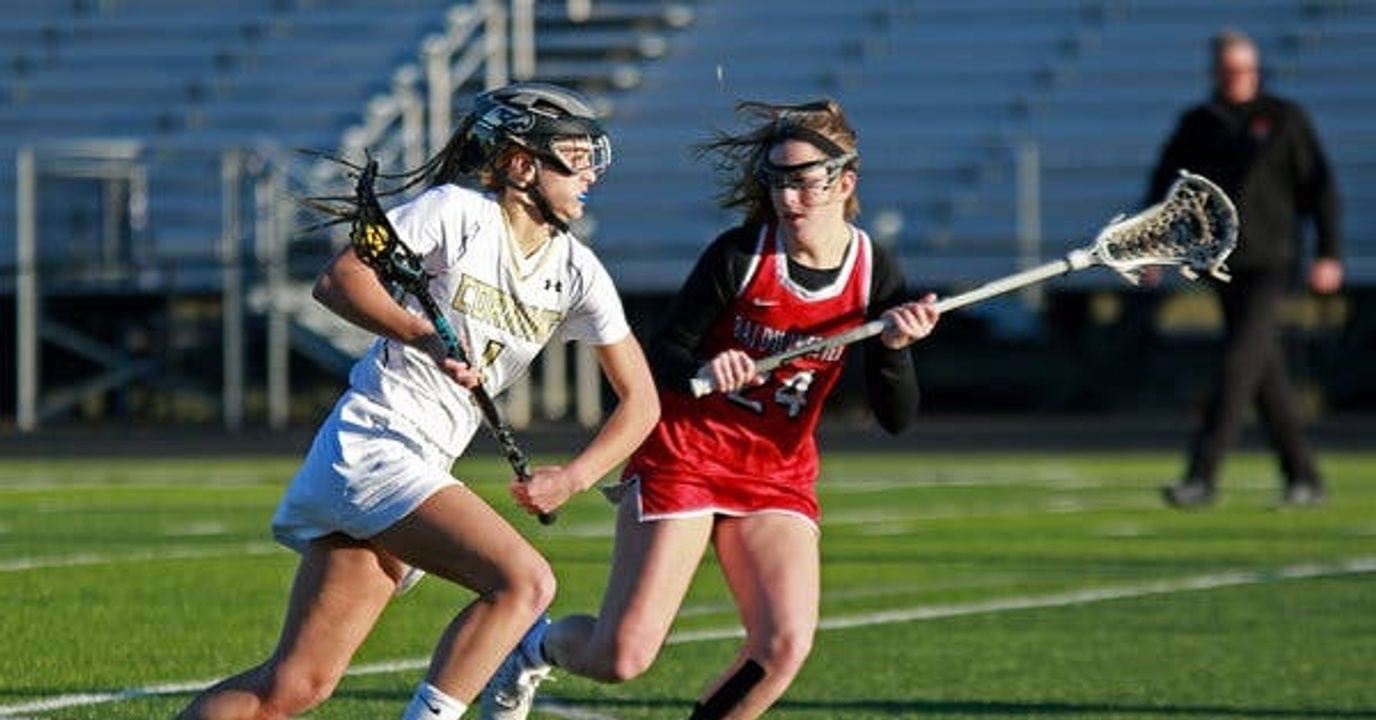 To set up the drill, place a cone just outside the crease, and to one side of the cage.
Then, starting from behind the cage, run around the goal, and shoot as soon as you pass the cone. With time you should be able to increase your running speed and still make the sharp turn with time to get a shot off on target.
Repeat the drill with the cone at the other side to practice shots from both directions.
6. Shadow shooting
A shadow shooting drill will help you practice stick movements without a ball. The idea is to concentrate on how you move the stick through the air.
Position yourself centrally in front of the goal, with your left shoulder towards it, and start to make a right-handed shot.
As you begin the motion, drop your right foot behind your left foot and plant it. This is known as a crow step and helps whip the ball forward in an overhand motion.
As you practice, try taking more than one crow step to get more whip on the ball.
What skills do you need for lacrosse?
To succeed on the lacrosse field, you need a number of skills: stamina, timing, quick reactions, and strength. But above all, you need excellent ball skills. The basic types of skill you'll need include:
Scooping: retrieving the ball from the ground
Passing: transferring the ball to another player
Catching: receiving the ball in mid-air
Cradling: keeping the ball in the pocket of your lacrosse stick
Shooting: aiming the ball correctly to score a goal
How do you get good shooting form?
Good shooting form is vital – your form affects every aspect of your shot from power, to accuracy, to speed.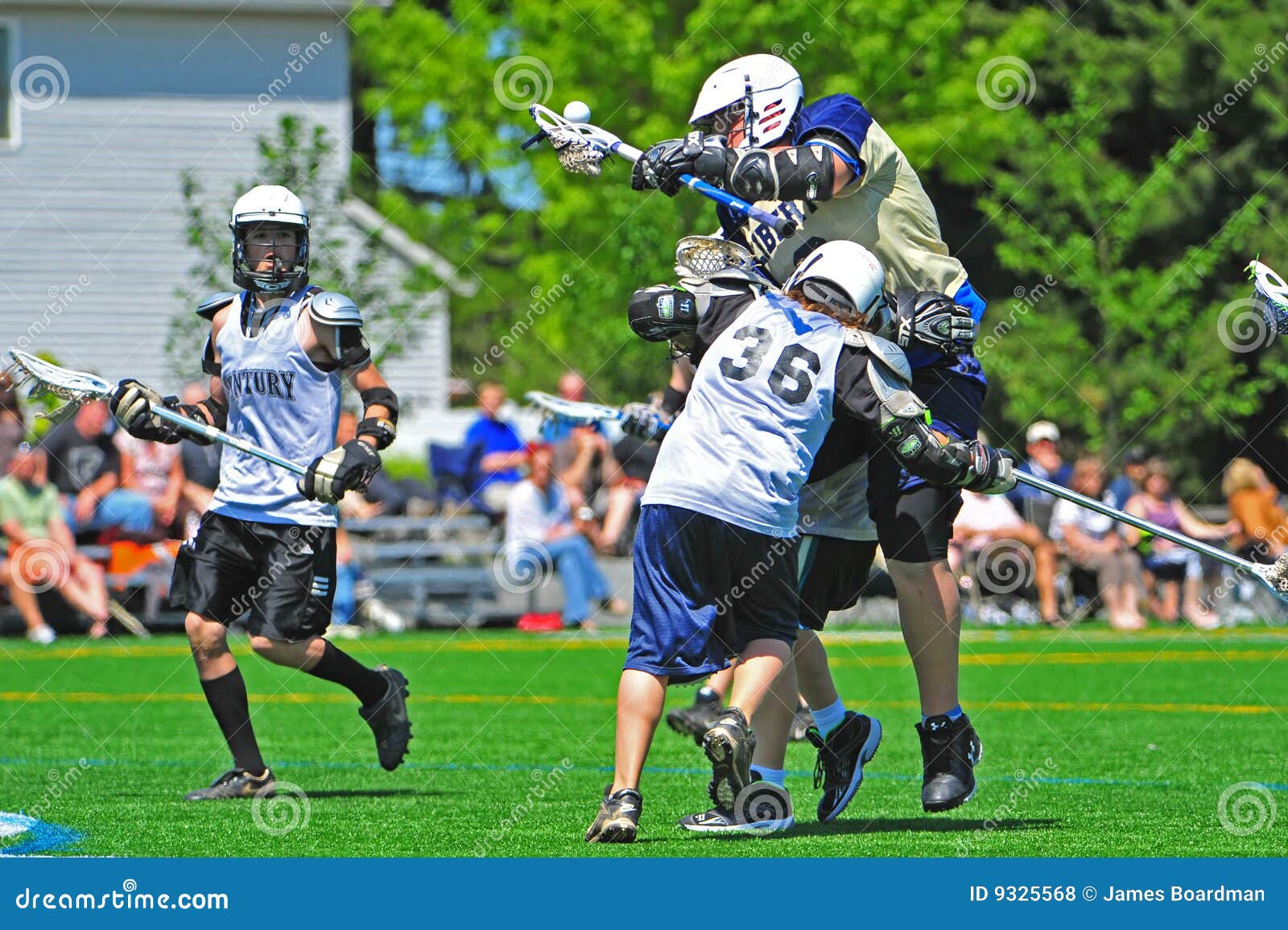 In a game of lacrosse, shooting on the run is important, but without mastering your form first, you'll find it hard to beat the goalie from a standing shot, let alone while moving. Here are some basics that you should master before getting started with drills.
Make sure your elbow and wrist extend in a straight line to the basket.
Similarly, your dominant hand should extend in a straight line to the rim.
And most importantly, keep your guide hand to the side on delivery, out of the way of the ball.
How can I increase my shot power?
One of the most important factors in shot power is how well your upper and lower body are coordinated. Being able to maintain a smooth continuous movement without jerking at the waist will add speed and power to your shot.
A good training exercise to help build and maintain this coordination is as follows:
Position a bar across your shoulders, behind your head.
Now drop down into a quarter squat, and pause.
Reverse the motion, returning to a standing position.
Press the bar over your head and in front of your face.
Extend your arms, and lock your elbows.
Repeat for 3 to 5 reps per set.
Shooting drill takeaway
If you follow the lacrosse shooting drills and tips above as part of your regular training schedule, you're sure to make improvements in all areas of your lacrosse game, but particularly in your shooting.
Goalie Tips for Saving Shots on the Run
As a lacrosse goalie we need to be adequately prepared to save all types of shots including shots on the run, aka alley dodges.
These are pretty common shots and I'm actually surprised it's taken this long for someone to ask me a question regarding saving shooter's shots off of the dodge and on the run.
Thank you for the email and the tips. I love reading your posts and tips. I'm a rising senior at Faith Lutheran High school in Las Vegas, Nevada and the biggest challenge for me is on the run shots, I just can't really tell where the shots are going.
So when the ball carrier starts top center and dodges down the alley firing a shot on the run, what should be our approach as a goalie to make that save with the highest probability possible?
In this post, I'll share my tips for saving shots on the run.
Be Set for the Shot
By far the biggest problem I see for goalies – when it comes to defending shots on the run – is that they are not set in their stance when the shot is fired.
This is a challenge, not just for shots on the run, but for all shot types. We have to ensure we are set in our ready stance in order to give us a higher probability of making the save.
The complexity with shots on the run is that since the shooter is moving we need to move on our goalie arc as well. Often times when the shooter releases the shot, the goalie is still in the process of moving and not set in that perfect lacrosse goalie stance.
A tactic we can use to put ourselves in better position to make the save is simply turn our hips a little to face the shooter. This allows us to be in a better position on the arc without actually moving.
Of course, when the alley dodger moves sufficiently we would need to move to the next point on our arc but the hip moving method allows you to be in better position without taking those little steps along the arc that completely prohibit "being set".
One important point in particular for shots on the run is making sure you stay square to the shooter. Make sure your toes are pointing at the shooter and that the shooter is between your toes.
As I said,  it's harder to get set in your stance for a shot on the run because it requires moving on the arc.
So you really need to practice short quick bursts when you move on the arc. And always land in the next spot in your perfect stance, ready to make a save.
Remember that for the shooter, shooting on the run is harder. They won't be able to get as much velocity and accuracy on the shots.
So if we keep your movements on the arc short and precise and get set before the shot is released, we'll have a great chance to save it.
Trail the Shooter By A Step
As a shooter dodges from top center down the alley, a common goalie problem is to move on the arc too soon and too far. Thus the goalie ends up out of position giving the shooter too much open goal to aim for.
As a shooter alley dodges from top center, our position needs to be like the example on the right, however many goalies find themselves moving too far on the arc like the left position.
A perfect spot on the arc splits the goal from the shooter's perspective. Give him two spots to shoot at. Otherwise, you're baiting the shooter (perhaps unknowingly).
Thus I teach goalies to trail the shooter by a step. As the shooter passes into the next quadrant which necessitates a move on the arc, wait just one extra step before moving.
As a ballcarrier dodges from sector 3 down the alley into sector 4. Wait just an extra step before moving on your arc.
If I'm moving on the arc to keep up with a dodger running down the left-handed alley (3 to 4), I don't step toward the pipe until he crosses my right foot (which is closest to the pipe).
This will help ensure we end up in the right place on the arc and don't give the shooter an unknowingly large area of the goal to aim for.
Consider a Flat Arc
If you're consistently having trouble saving shots on the run, you may consider adopting a flat arc.
A flat arc is one where the goalie sets up deeper in the goal. Sometimes almost with their heels on the goal line.
The flat arc comes with its set of disadvantages but it also comes with some advantages – primarily less movement.
Moving from spot 3 to spot 4 (referencing the diagram above) is way easier in the flat arc as there is less movement required. Really you just move your feet a tiny bit and square up the shooter.
The result is that goalies playing a flat arc will often be in better position during alley dodges than the goalies who a higher 5-point arc.
So it's something to consider if you're consistently getting beat by alley dodges.
Practice Shots on the Run
For goalies wondering how to get better at saving shots on the run, in addition to following the tips above, my final answer is to practice saving shots on the run.
As a goalie coach, when warming up a goalie or training a goalie in practice, be sure to shoot shots on the run.
It's a different save type. You still need to understand the basics of making a save but saving a shot on an alley dodge is more about being in the right place on the arc and being set in a great lacrosse goalie stance.
There are tons of drills that involve shooters letting it fly while on the run. So be sure to incorporate your goalies into the action so they see their fair share of shots on the run.
Read the Shooter's Body Language
Regarding the last part of the issue the goalie referenced in the intro: "I can't really tell where the shot is going".
If the shooter is outside of 8 yards, there is no need to anticipate or guess.
Just focus on picking up the ball in the shooter's stick and seeing the shot as soon as possible. Then make the right save movement to execute the save.
If the shooter is inside of 8 yards it gets a little trickier. Since this gives us goalies way less time to react, we really need to read the shooter in order to increase the probability of making the save.
The shooter's shoulders will give away a lot of information. Especially on shots on the run.
If they're angled downwards at the time of the shot release, we can be reasonably sure the shot is going low.
And vice versa, if the shoulders are angled slightly upwards or even parallel to the ground, we can look for that shot to be waist and up.
Sure, there are shooters who can fake body language signals to fool the goalie but for shots under 8 yards we must read the signals we're given. If a shooter fakes the body language of a low shot then sticks it top shelf from inside 8 yards – you know what, they deserve that goal. Move onto the next one.
Reading the shooter's body language for shots inside of 8 yards will help the goalie get an edge and tell with more certainty where the shot is going.
Videos to Improve Shots on the Run Save
MLL goalie Brian Phipps put together a great video with tips on saving shots on the run:
Scott Rodgers also has a great instructional video about picking up a shot on the run:
Here is Tim Troutner from the PLL Redwoods breaking down his approach for saving alley dodge shots:
Finally it also helps lacrosse goalies when they know what their offensive opponent is trying to do. Check out this video from Paul Rabil where he gives tips for shooting on the run:
Conclusion
Saving shots on the run is something that all lacrosse goalies need in their repertoire.
It's a common shot type. Luckily for us goalies, it's harder to get velocity and accuracy on a shot on the run. So we really need to ensure we're set up in great stance on the right place on the arc to limit what a shooter sees.
A benefit of the flat arc is less movement so if you're consistently getting beat on alley dodges shots consider trying that.
Finally, if you're struggling making saves on shots the run, practice, practice, practice until they're no longer a problem.
Until next time! Coach Damon
Anyone have any other tips for saving shots on the run? Would love to hear about them in the comments down below. 
Shooting & Dodging Academy – Millon Lacrosse
In 2017, Millon lacrosse will offer a shooting and dodging academy session at our Atlanta, Ohio, Long Island 1 and Pennsylvania sessions.
The Millon shooting and dodging academy is a player development camp designed for more skilled and advanced players ONLY. This camp will consist of no game play, feature these disciplines only, and while it will be very beneficial to the skilled player, it does not cater to players seeking to become well rounded lacrosse players as much as our regular camps.  If you are interested in more of an all-around camp experience with many variations of drills, games and more, you may be better suited to attend our regular camp.
Shooting and dodging are at the heart of an offensive player's game and happen to be some of the hardest to teach, hardest to learn skills in sports. After 25 years, Millon lacrosse methodology is sound, proven, and unique and no one in the nation does it better.
Our shooting and dodging academy is run in conjunction with our standard lacrosse camps. Shooting and dodging academy is a two day very high intense opportunity. The athletes will share meals with our standard Millon campers but will be on a separate field and will not take part in drills or game play.
Sample Agenda
Shooting: Morning One
Instruction/Skill
Details
Time and room shooting
Demo/teach all technique (vertical)
Drill: technique with strong hand (Step down pass)
Demo: Off hand shooting and mirror concept
Drill: T&R with off hand (step down pass)
Demo getting open, footwork and quick release
Drill: (move around cone, set shoot)
Demo/teach placement, different release points
Drill: bouncer/sidearm
Inside/in close shooting
Demo/teach all technique (hand placement, hand action)
Drill: in close (2 line drill)
Demo fakes, importance of hands, throwing from different angles, importance of feet (Drill hands, drill fakes, drill reaches)
Shooting on the run
>Demo/teach (hip, shoulder, snap, through the shot)
Drill: dodge, run, shoot side to side.(wing to wing, top to x)
Dodging: Morning Two
Instruction/Skill
Details
Split dodging
Demo/teach all technique
Drill: splits straight on, no shots (tons of reps)
Drill: Split for shot (all focus is on dodge and shooting tech)
Drill: Split for pass (all focus on dodge, then throw motion)
Split and roll/run dodge
COD, Inside roll (both versions)
Coach demo then Drill
COD w hestator/rocker
Drill: Line of kids, one at a time change of Direction
Drill: IR
Question mark
Demo/Teach then drill
Off pass dodging (underneath, top step/hitch)
Coach demo then drill
Advanced Teaching Methods
Check-In InformationFirst/Last Day ScheduleWhat To BringFAQ About This Camp
Check-in for the Shooting and Dodging Academy is from 8am – 8:45 am
Orientation will begin at 9 am
Once parents check their child into camp, they are free to go.
Download Waiver
Sample First Day Schedule:
| Time | Activity |
| --- | --- |
| 8am to 8:45am | Check-in |
| 9am | Orientation |
| 9:30am to 11:30am | Session 1 |
| 12pm to 1pm | Lunch |
| 2pm to 4pm | Session 2 |
| 5pm to 5:45pm | Dinner |
| 6:00pm to 8:00pm | Session 3 |
| 8:30pm to 10:30pm | Nightly Activities (camp store, string class, pizza and more) |
| 10:30pm | Everyone in their rooms |
| 11pm | Lights out |
Sample Last Day Schedule:
| Time | Activity |
| --- | --- |
| 7:30am | Wakeup |
| 8am to 8:45am | Breakfast |
| 9am to 11am | Session 1 |
| 12pm to 1pm | Lunch |
| 2pm to 4pm | Session 2 |
| 5pm to 5:45pm | Dinner |
| 6pm to 7pm | Session 3 |
| 7pm | Checkout |
What We Suggest To Bring
Tees
Shorts
Socks/Underwear
Compression Shorts
Bedding/Pillows/Blanket
Towels
All Toiletries
Alarm
Cell Phone and/or Calling Card
Combination Lock (Day Campers)
Sun Block
Fan (Stony Brook, Massachusetts, and Pennsylvania locations)
All Lacrosse Equipment and Stick
What We Suggest NOT To Bring
The camp cannot and will not be responsible for the following items if they are lost or stolen:
iPods
Laptops
Tablets
Gaming Systems (Xbox, PSP, Play Station)
What Campers CAN NOT Bring
All of the following items will be confiscated, not to be returned:
Lighters
Matches
Candles
Hot Plates
Please visit our FAQ page for a complete listing of questions. If you need to get in touch with us, please visit our contact page or call us at 516-747-7260. 90,000 strategy and system tips – how to win more often 9,0001
Modern pentathlon has several names: pentathlon, sports pentathlon, pentathlon. But all this is one and the same sport, or rather, a symbiosis of several sports disciplines at once. In this article, we will tell you about the most important thing you need to know about pentathlon if you are going to bet on it at a bookmaker's office.
The modern type of pentathlon includes:
fencing
swimming
show jumping
running and pistol shooting
In fact, we have four sports in front of us (one of them is unique), in each of which an athlete should be equally good.Pentathletes are considered ideal athletes.
A few words about the history of this sport. The first pentathlon competitions were held at the ancient Greek Olympics. Competitors at that time were mostly soldiers.
The pentathlon got its modern look at the beginning of the twentieth century, when Pierre de Coubertin asked to include a mix of various competitions in the program of the Olympic Games. Until the middle of the century, only officers were allowed to compete.
Pentathlon Rules
Pentathlon consists of five sports disciplines, two of which (pistol shooting and running) are combined into one.Usually competitions are held according to the standard scheme: first fencing, then swimming, then show jumping and, as a result, mixed (shooting and running). Each individual sport has its own standard, after completing which the participant receives 250 points (300 points in show jumping). For the fact that the standard is exceeded, the athlete receives additional points. If the participant does not reach the standard, the points are removed from him.
Fencing is the first and longest stage. All participants must fight each other in a circular system.The duel goes on until the first injection. To meet the standard, you need to deliver 70% of accurate shots (that is, win 70% of fights).
Swimming – swim 200 meters freestyle. The standard is set at 2 minutes 30 seconds. For every second the excess starts to deduct points.
Show jumping. The only kind of pentathlon where 300 points are given for the fulfillment of the standard. The standard is difficult – it is necessary not only to quickly overcome the track, but also to make as few technical mistakes as possible.
Running and shooting a laser pistol is the final stage.Here, the participants are distributed at the start, depending on the points they scored in the previous stages. The athlete who has achieved the best results starts first, followed by the others in order: every 4 points of separation from the opponent allows the participant to start one second earlier. Running distance – 3000 meters, fire cutoffs – every 800 meters. In total, there are 4 firing lines at a distance, each with 5 targets. Each athlete is limited to a time frame of 50 seconds (per shooting line). The one who comes to the finish line first becomes the winner.
Types of bets on pentathlon
Bets on winning . Before the start of the competition, the bookmakers estimate the chances of winning each participant and offer their own odds. The player can bet any athlete to win.
Bets on the distribution of final places. Often there are few bets on winning (the difference in class between athletes is too obvious), so bookmakers offer bets on who will be in the top three, in the top 6 or top 10 based on the results of all competitions.
Bets on results comparison . A very interesting type of bets. The player is invited to compare which of the athletes will be higher at the end of the tournament. The intrigue is that you can compare middle-level rivals or even the weakest ones.
Bets on winning in a separate competition type . One of the most difficult bets. It is much easier to predict the winner based on the results of the entire pentathlon than to predict who will win in a particular sport. Many athletes focus on one stage in order to keep the gained advantage later.
How to bet on pentathlon
Pentathlon has a huge number of small and medium nuances that only an analyst deeply devoted to this sport can know. It is almost impossible to find a high-quality forecast for the pentathlon. Most of the experts appear during major events like the Olympic Games.
This sport depends entirely on one athlete. What form is the participant in, is he ready for a specific start, does he have health problems – all this information must be available.The importance of the competition should also be taken into account: in small competitions, sensations often happen, since the strongest athletes do not give their best on them.
When betting on individual pentathlon sports, it is worth examining the preliminary seat allocation. Often, already before the third stage (show jumping), many athletes lose their chances of being among the prize-winners, and they have an incentive to simply reach the finish line.
It is worth studying the biographies of athletes: what kind of sport he came from, how long he did and what heights he achieved.This information will help you better determine which of the participants to bet on at a particular stage of the pentathlon.
When betting on show jumping, special attention should be paid to horses. Athletes recognize their four-legged companions only 20 minutes before the start. Watch carefully the trial runs: how the horse obeys the rider, are there any hiccups when passing the most difficult elements, etc. Betting separately on show jumping is the most difficult, but also the most interesting type of bets in pentathlon.
The last type of pentathlon program (running + pistol shooting) is given to each athlete differently. Pre-investigate whether the participant had a track and field background, whether he was involved in running. Pentathletes-runners very often at the final stage snatch the lead from those who performed better in the first three stages. There are even so-called finishers, who averagely go through all the stages, and then "shoot" in the fourth and fifth types of the program.
Which bookmakers accept bets on pentathlon
Pentathlon is deprived of the attention of bookmakers.This sport only appears on bookmaker lines during the Olympic Games. It is rare to see World Pentathlon Championship bets on the bookmaker's lines.
90,000 Sports in English. Kinds of sports.
The most common sports in English with sound examples, transcriptions and translations.
Print version
| | | |
| --- | --- | --- |
| aerobics | [Əˈrəʊbɪks] | aerobics |
| archery | [ˈⱭːʧərɪ] | archery |
| athletics | [Æθˈletɪks] | Athletics |
| badminton | [ˈBædmɪntən] | badminton |
| baseball | [ˈBeɪsbɔːl] | baseball |
| basketball | [ˈBɑːskɪtbɔːl] | basketball |
| bowling | [ˈBəʊlɪŋ] | bowling |
| boxing | [ˈBɔksɪŋ] | boxing |
| canoeing | [Kəˈnuːɪŋ] | rowing and canoeing |
| climbing | [ˈKlaɪmɪŋ] | mountaineering |
| cricket | [ˈKrɪkɪt] | cricket |
| curling | [ˈKɜːlɪŋ] | curling |
| cycling | [ˈSaɪklɪŋ] | cycling |
| darts | [Dɑːts] | darts |
| diving | [ˈDaɪvɪŋ] | diving |
| fencing | [ˈFensɪŋ] | fencing |
| fishing | [ˈFɪʃɪŋ] | fishing |
| fitness | [ˈFɪtnɪs] | fitness |
| golf | [Gɔlf] | golf |
| gymnastics | [ʤɪmˈnæstɪks] | gymnastics |
| handball | [ˈHændbɔːl] | handball |
| hiking | [ˈHaɪkɪŋ] | hiking |
| hockey | [ˈHɔkɪ] | hockey |
| hunting | [ˈHʌntɪŋ] | hunting |
| jogging | [ˈʤɒgɪŋ] | jogging, jogging |
| judo | [ˈʤuːdəʊ] | judo |
| karate | [Kəˈrɑːtɪ] | karate |
| lacrosse | [Ləˈkrɔs] | lacrosse |
| netball | [ˈNɛtbɔːl] | netball |
| pool | [Puːl] | pool (billiards) |
| rowing | [ˈRəʊɪŋ] | rowing |
| rugby | [ˈRʌgbɪ] | rugby |
| running | [ˈRʌnɪŋ] | run |
| sailing | [ˈSeɪlɪŋ] | sailing |
| shooting | [ˈƩuːtɪŋ] | shooting |
| skateboarding | [ˈSkeɪtbɔːdɪŋ] | skateboarding |
| skiing | [ˈSkiːɪŋ] | skiing |
| snooker | [ˈSnuːkə] | snooker |
| snowboarding | [ˈSnəʊˌbɔːdɪŋ] | snowboard |
| soccer | [ˈSɔkə] | football |
| squash | [Skwɔʃ] | squash, ball game |
| surfing | [ˈSɜːfɪŋ] | surfing |
| swimming | [ˈSwɪmɪŋ] | swimming |
| tennis | [ˈTenɪs] | tennis |
| volleyball | [ˈVɒlɪbɔːl] | volleyball |
| walking | [ˈWɔːkɪŋ] | walking |
| weightlifting | [ˈWeɪtlɪftɪŋ] | Weightlifting |
| windsurfing | [ˈWɪndˌsɜːfɪŋ] | windsurfing |
| wrestling | [ˈReslɪŋ] | fight |
| yoga | [ˈJəʊgə] | yoga |
You can learn and practice words from this list using the interactive set " Sport " in the Dictionary section.
Image with the names of sports in English
Set of sports icons, archery, lacrosse, cricket, football, fencing, boxing, weightlifting, running, arm wrestling vector pictograms.
Standard license Small size jpeg
– $ 3.99 or 4 Credits

500 x 500 pixels, 0.5 Mp, 72 dpi

Standard License Medium jpeg
– $ 3.99 or 4 Credits

1000 x 1000 pixels, 2 Mp, 300 dpi

Standard license Large size jpeg
– $ 3.99 or 4 Credits

2000 x 2000 pixels, 8 Mp, 300 dpi

EXTRA Standard License Large jpeg
– $ 3.99 or 4 Credits

5000 x 5000 pixels, 15 Mp, 300 dpi

Standard License Vector Graphics zip
– $ 8.00 or 8 Credits

5000 x 5000 pixels, 15 Mp, 300 dpi

Extended License Vector Graphics eps
– $ 30.00 or 30 Credits

Set to any size without loss of resolution.
To download files, you need to log in.entrance
License: Royalty Free
Format: EPS
Lacrosse in Kiev. Catalogs, information and tools • SportGuide
Lacrosse is the national Canadian sport. This is a team game: 22 people on each side (although there are several varieties of lacrosse, differing in field size, number of players and rules) run at the ready with "nets" that look like a cross between a club and a racket.The goal is to throw a rubber ball into the opponent's goal. The game was invented by Indian tribes, who, with its help, trained warriors and resolved conflicts, sometimes even military ones.
The first French settlers liked the game so much that they immediately named it "la crosse". lacrosse, because the shape of the clubs reminded them of a bishop's staff. Until 1930, the rules were the same for both the female and male versions. Now only men can beat each other with clubs. Women are not allowed to fight, they play without a helmet or protection.Lacrosse was included in the Olympic Games three times. In general, it is considered an "elite" sport. It is played by pupils of private schools in England and students of prestigious US universities.
Lacrosse is in great demand today and is growing in popularity around the world. A unique combination of speed, skill, agility, grace, endurance, agility, makes Lacrosse the best of all possible field games. If you are interested in
lacrosse trainings in Kiev
– select the "Trainings" tab at the top of the page.It provides full information about classes in schools, clubs and lacrosse clubs in Kiev.
In the same place, on other tabs, you will find:
shops
equipment, repair shops
,
rental points
, etc .; premises,
sites and halls
,
rented for lacrosse practice; 90,039 competitions and announcements of 90,040 thematic events in Kiev; organizational
instruments
; thematic
information
and
references
.
Lacrosse in Kiev. Schools and sections
Looking for lacrosse training in Kiev? At your service is a complete list of the capital's coaches, sections and clubs where this team sport is taught. In it you will find classes for both children and adults; both in groups and individually; both on the Right Bank and on the Left. For convenience, use the catalog search or the appropriate filters.
Lacrosse in Kiev.Goods and services
Looking for where to buy equipment or equipment for lacrosse in Kiev? Where to repair or rent equipment for this sport? Perhaps you need organizers or producers? At your service is a list of metropolitan companies that provide goods and services in the field of lacrosse. For convenience, use the catalog search or the appropriate filters.
Errea is sports equipment that combines stylish, comfortable and technological materials that are ideal for supporting athletes of all sports and all levels.
Our products are sports equipment for various sports such as: football, futsal, volleyball, beach volleyball, handball, basketball, rugby, hockey, running and others.
Errea is the first and only teamwear company in Europe to be certified by Oeko-TexStandard, a leading international research and testing institute for sustainable fabrics.
Errea also achieved another significant success: the production of technical products that are absolutely unique and innovative based on nanotechnology.


Address in Kiev: s. Svyatopetrovskoe
GPS: 50.373527 30.320638
Phone number: (067) 230-23-98, (063) 829-91-98
Service type: Goods

District:
Svyatoshinsky Solomensky

"Errea Ukraine"

Sports pharmacy MedSport – bathe sports and functional food with a vigode!
Medsport is an exclusive distributor of products of the following companies: EthicSport, Sigma-Tau, VidaPharm, Cramer, Fit & Shape.
We offer you a wide assortment of sports food products, dietary supplements, pharmacological preparations, as well as a wide range of sports accessories from provincial food brands.
At our place, you may know the comrades of the most popular categories: protein, weight gain, amino acid complexes, vitamin-mineral complexes, creatine supplements, protein bars, sports drinks, complex sports drugs for orthopedic compounds, ready to drink for an instant replenishment of energy and richness.


Nearest metro: University, Leo Tolstoy Square
Address in Kiev: st. Tarasovskaya 6
Phone number: (044) 223-79-97, (093) 491-79-97, (098) 791-79-97, (099) 495-79-97
Type of services: Goods

District:
Shevchenkovsky

"MedSport"

The Swedish company HAGS produces mobile sports playgrounds, playgrounds, play surfaces, children's sports complexes, equipment for sports and fitness aydor.Our products are distinguished by their reliability and high quality. Park equipment and playgrounds specially developed by specialists and designers will easily fit into the surroundings and will delight visitors.


Nearest metro: Chernigovskaya
Address in Kiev: per. Magnitogorsk 3
Phone number: 507-27-27, 507-27-28
Type of service: Goods

District:
Dniprovsky

HAGS
Lacrosse in Kiev.Rent of fields and grounds
Looking for a lacrosse course in Kiev? Or do you want to find a competition site? At your service is a list of properties that can be rented for various lacrosse events. For convenience, use the catalog search or the appropriate filters.
The Avangard Sports Complex provides an hourly rental gym (equipped with the most popular gymnastic apparatus – rings, parallel bars, horizontal bars, etc.).including a trampoline), gyms for playing basketball, volleyball, mini football, tennis or use for other types of sports training. 2 parking lots, changing rooms with shower and sanitary facilities. knot.


Nearest metro: Dorogozhychi
Address in Kiev: st. Melnikova 48
Phone number: 483-24-97, 483-34-88, (067) 231-57-26


District:
Shevchenkovsky

SC "Avangard"

The complex has a stadium with two football fields, three tennis courts, a swimming pool, sports grounds, gyms, game rooms, an aerobics hall, a boxing hall, and a martial arts hall.Under the guidance of leading coaches, there are sections for such sports as swimming, boxing, football, badminton, athletics, athletic gymnastics, basketball, volleyball, sports aerobics, rugby, aikido, pilates, table tennis, rollerball sports.


Nearest metro: Beresteyskaya, Shulyavskaya
Address in Kiev: st. Eugene Potier 18, 62b Victory Ave.
Phone number: 456-71-96, 371-62-44


District:
Shevchenkovsky

FGC "Economist"


Lacrosse announcements in Kiev
Interested in spending your free time attending a lacrosse competition? Or find out about useful promotions in Kiev shops and clubs? Here are the announcements of events and events taking place in Kiev in the field of lacrosse: competitions, tournaments, promotions, presentations, master classes, etc.
16/02 Recruitment to the "Kiev Lacrosse Club"
Kiev Lacrosse Club is looking for players of any level
Cooperation with the Turkish team
If there are Ukrainian teams wishing to develop the direction of lacrosse at the level of international competitions – please contact
Lacrosse competition in Kiev
Do you want to try yourself at a new level and take part in lacrosse competitions in Kiev? This section contains information about regular championships, championships, tournaments and leagues of the capital, both professional and amateur level.For children and adults. Also here you will find the calendars of the All-Ukrainian and Kiev Lacrosse Federations.
Articles about lacrosse
Lacrosse – the younger brother of war
The title of Canada's official national sport is not only hockey, as one might expect, but also lacrosse – an exciting ancient game of North American Indians
Lacrosse and Baggataway
The modern American game lacrosse, or, as they called its Cherokee Indians, who lived in the Midwest of the United States, baggataway
7 interesting facts about Lacrosse
Like football, originally Lacrosse had no special rules and teams were played by several hundred residents of the settlements.The field could have dimensions of one hundred meters and a kilometer or even 2 kilometers. The game could last for two or three days
section search
About the site
Cooperation
Contacts
Add info
Reviews
Statistics
Other
90,000 Corporate feedback outside the city of Yaroslavl in the summer – Podolino
Holding corporate events has become an integral part of the business sphere of the life of a modern person.They help the development of the company, strengthen the corporate spirit, create an atmosphere of mutual understanding in the team.
Corporate rest in Podolino.
Incendiary corporate party outdoors in summer in the vicinity of Yaroslavl is our place!
Summer is the most favorite time of the year for corporate outings of companies and strengthening of team spirit.
A corporate trip to nature is a good mood, friendly rest and complete mutual understanding in the team.This is a very responsible business and the approach to organizing such events for each company is individual. What is more interesting for your team: running through the forest or some difficult terrain on a specially designed team-building program or a quest, sitting by the fire, having a barbecue party, chatting or combining business with pleasure?
Podolino is a place where you can have a pleasant and interesting time and experience the vivid sensations of outdoor recreation together with the team!
The summer corporate vacation program usually includes:
1.Arrival, meeting with the curator, briefing on the program of stay.
2. Welcome tea with our delicious homemade pastries (optional).
3. An active sports and entertainment program on a previously agreed topic.
4. Cheesecake riding (summer tubing), shooting range, table tennis, badminton, football, volleyball, etc.
5. Organization of the drinking part. Musical accompaniment and work of the presenter during the drinking part.
The cost of the event depends on the selected positions, the venue of the holiday, the number of participants. All programs are discussed in great detail during the preparation process and are adjusted individually, taking into account your wishes.
We are pleased to offer accommodation in a cafe (3 cafes on the territory of different capacities), a Finnish tent (up to 50 people) or barbecue pavilions (up to 30 people). You can use the services of our kitchen and order snacks and drinks from the menu, or you can bring everything with you by paying the rent of the sites.
Dear guests, sports and not so 🙂 We will be glad to offer you both a serious sports program and a light entertainment, everything to make your stay fully consistent with the idea of ​​an ideal corporate vacation .
As part of a corporate trip, we hold competitions, tournaments, sports days in sports: armwrestling, badminton, streetball, shooting, volleyball, beach volleyball, kettlebell lifting, handball, darts, athletics (running, jumping, throwing, relay races), table tennis , orienteering, mini-football, football, tourism, chess, checkers.Outdoor, folk games: bigball, taking the city, towns, golf, rounders, bouncers, tag, hide and seek, blind man's buff, classic (Russian curling), ringo, frisbee, petanque (bocha), Thai football, lacrosse.
Examples of sports programs:
TRP to Life Complex. For reference: since 2016, passing the "Ready for Labor and Defense" standard has become a mandatory item in the school curriculum, and for citizens over 18 years of age, participation in the implementation of the TRP standards is voluntary and aims to increase honor in society, receive a pleasant incentive in the form of a badge and certificates, as well as, in general, rank themselves in the category of persons advocating for the improvement of the population.In our program, we propose to test ourselves for readiness to pass the TRP standards. Compliance with the standards of the complex is applied depending on age and gender. The program is carried out in a light form, but in all standard sports: running, shooting, throwing, jumping, etc. The sports competition is diluted with elements of a comic relay race using game equipment. The identification of the winner is carried out according to the assessment of the results of the team members and is checked for reference with the indicators of the current standards.
Family holiday "dad, mom, I am an active family". Family active pastime, including: tourism skills, joint entertainment and games, intellectual tasks, etc. The competition between the teams is held in pre-selected sports areas. We in every possible way welcome family trips as part of a corporate party and we will always find something to keep the children busy.
Summer mini-Olympics. Duration 60-120 minutes. Sports are negotiated in advance and, in accordance with this, the participants are divided within the team.The number of teams can be any, the number of participants in each form can vary depending on the wishes of the customer. Kinds of sports: running (relay race), air rifle or bow shooting, skeleton, table tennis, badminton, field hockey, football, etc. Changes in the program of the competitive part are possible due to weather conditions.
Based on the results of each type, the winners are determined and they are awarded with memorable gifts, medals or distinctive signs (tokens, badges).
Approximate options for sports and entertainment programs:
"Merry starts". Duration: 60 minutes. From 12 participants. The difficulty of the game is medium. In our starts we use the classic principle of passing the "relay" baton. But we know that new tasks will not let you get bored! We are waiting for everyone who is ready to actively move and have fun at the same time.
Sample Missions: Bananas – Giant bananas are used as a baton. Ready, set, banana! A voodoo doll is a very simple task at first glance – while running, you need to mint the doll's rag head.The team that drops its head the most times will receive a tricky task at the next stage. Angry birds – "Do you like to ride? …". The task of the teams is to deliver the dangerous cargo from point "A" to point "B".
"Spartakiad of the Peoples of the North". Duration: from 90 minutes. Number of participants: from 12 people. The difficulty of the game is difficult. Once a year, the northern peoples gathered together to show themselves and to see others. You are one tribe out of many who decided to take part in the Olympics! You will be divided into teams, given route sheets and go ahead, prove that you are the best! Examples of tasks: Bear fights – the strongest will be chosen from your tribe in a doubles duel.Do you want to feel like a bear? But you have to! Hunting – two teams meet on the same field and each opposes the most important and strongest player – the Captain of the opposing team. The captain of the team appears in the form of a bison, a deer or just a target – at the choice of the participants. The shooting range – spears, bows, bone tomahawks – all of these should be able to use each of the tribe! Prove to everyone that this is not the first time you have thrown an ax!
Halt (additional option) – during long competitions you can have a snack! There is nothing better than a delicious bun cooked over a fire, and if you also put a grilled sausage or sweet jam in it.Mmmm … Hot tea and homemade food – nothing tastes better in the fresh air!
Pioneer dawn. The recommended program duration is 2 hours. Age category: from 7 years old. Number of participants: from 12 people.
The pioneer summer has sunk into oblivion, but many still fondly remember the pioneer times. If you consider yourself to be such people, then come to us. Immediately upon arrival, you will fall into the strong hands of the pioneer leaders, who will teach you how to properly pack your suitcase, how not to oversleep on the line, how to quickly clean up the territory, how to cook lunch in the fresh air, and also learn pioneer songs and pioneer dances with you.(Pioneer ties are paid additionally, in case you want to leave them as a souvenir).
Hiking trail. The recommended program duration is 2 hours. Age category: from 7 years old. Number of participants: from 12 people.
Two or more teams with an equal number of players participate in the game. The main goal is to collect as many notes with keywords that are given after successfully passing each stage and compose a key string from them, which will determine the place of the general gathering of commands.This is a complicated program for the strong in spirit and strong in body. Let's go from simple to complex, from navigating the compass and lighting a fire to finding and revealing secret messages.
Puzzle games.
Fort Boyard. Duration: 60 to 120 minutes. From 10 participants. The difficulty of the game is medium.
The well-known TV game can be played for you! The fort's treasury has long been famous for its innumerable reserves of gold, but not many manage to become its happy owners.Can you do it? In this case, your goal is to complete all the tasks of the inhabitants of the fort, to fight in mini-games with the "Council of Shadows" and then, perhaps, you will be allowed to open the treasury. Did you hear the jingle of falling coins? Then congratulations – you won!
Examples of tasks: shackles – each member of the team put chains on their hands, the players must free themselves in a short time. Elder Fura's riddles are classic riddles from the original Fort Boyard game. Ancient Tablet – Players decipher ancient scripts to get 3-digit combinations.If everything is done correctly, then three combination locks will open and you will receive a key.
Pokémon . Duration: 90 minutes Number of participants: from 12 people. The difficulty of the game is simple.
Let us recall the famous animated series about an alternative universe, where instead of the animals we are used to, Pokemon lived, as well as the controversial but very popular online game about them. We will prove to everyone that nothing can replace real live communication and nothing trains and develops a real team spirit like this comic competition.Players are divided into teams, each team will have the same tasks. Teams go in search of Pokémon. Your task is to find all the Pokémon and collect them. Because each animal has its own special characteristics, then you have to strain yourself.
Examples of tasks: Collect them all – you need to find all the Pokémon that live in our territory. Leaderboard – the team's task is to line up the Pokémon in the leaderboard so that they do not repeat in battles Pokémon battle – fight the Pokémon trainer, win it with your personal Pokémon …
---
Interactive programs (master classes).
The peculiarity of these programs is the maximum cognitive activity of the participants, who gain new knowledge in different fields, and also create real masterpieces under the guidance of experienced animators. They achieve the maximum effect when they are carried out not before the active game program, but after it.
In the distant 90s, it was popular to paint jeans for yourself, tear them, cut them, pour them with different compounds, turning ordinary clothes into a squeak of fashion.Our program will help to show your child's creativity to the fullest! We will tear, cut, decorate T-shirts, and in the final we will make a fashion show in new outfits. This will not leave anyone indifferent!
Duration: 60 minutes. | Age category: from 10 years old. | Number of participants: from 1 person.
An interactive program with a variety of balls, from the smallest to the largest, with a diameter of one meter !!!
Running time: 60 minutes | Age category: from 7 years old | Number of participants: from 1 person.
Merry RasKolbas – master class in ball modeling (SHDM)
In your hands colored airy "sausages" will acquire very interesting shapes, much more unexpected than traditional animals and swords. You and your children will not only learn how to make many shapes yourself, but also get a full set of positive emotions from this process.
Duration: 60 minutes. | Age category: from 7 years old. | Number of participants: from 1 person.
Crossword on physical education – on the topic "Kinds of sports
Horizontal
3. A team sport, currently the most popular and widespread in the world
5. Putter in golf for putting stakes – rolling blows with which the ball is rolled into the hole
8. In volleyball, each team may have a defensive player called
as a substitute. nine.Popular team sports ball and bat game, descendant of cricket
13. Winter Olympic sport, which combines cross-country skiing with rifle shooting.
17. A sport that includes three types of sports: swimming, cycling and running on highway
19. Kind of skiing.
23. In sports competitions in this sport, the object of the competition is the height of the summit, the technical complexity of the traversed route, its nature and length.
25. Basketball-based team sport ball game
26.Sports ball game similar to volleyball rules for school-age children
28. attacks from the edges of the net
29. Towing the kite exclusively on snow with skis or snowboard
33. Team sports game on the ice rink
35.How many sets of awards do gymnasts currently play in international tournaments?
37. Until now, this game is traditional, which is played in pubs in the UK, the Netherlands, Scandinavia, the United States and some others. In addition, it is played on a professional level.
38. Provençal national sport, ball throwing
41. Boots with frames attached to them, in which two to five wheels are fixed, intended for movement on a hard, level surface, similar to movement on ice on traditional skates
43.A sports game that uses a bat and a ball. The goal of the game is to earn more points (runs) than the opposing team.
Vertical
1. The type of combat sports, as well as a comprehensive self-defense system, developed in the USSR
2. Arcuate, maximally bent position, with the back to the reference plane, supported by arms and legs
4. Which Olympic Games (winter or summer) twice included lacrosse
6.Japanese martial art created by O-Sensei Morihei Ueshiba as a synthesis of his studies of martial arts, philosophy and religious beliefs
7. Sports team ball game, a kind of baseball. The ball is softer than a baseball and has a lower speed in flight. Literally from English – soft ball
10. Winter Olympic sport, which is a descent on an ice chute on a two-run sleigh on a reinforced frame.
11. Board logic game-progenitor, for two opponents, appeared in India no later than the 6th century AD
12. Winter Olympic sport, which is a downhill downhill on specially equipped ice tracks on a controlled sled
14. A sport from the class of sports all-around, in which participants compete in five disciplines: show jumping, fencing, shooting, running, swimming
fifteen.a short, quick pass to the attacker in the 3rd zone, who is already in the air with his hand ready to strike at the moment the setter touches the ball.
16. Kind of sport or sports discipline, which consists in overcoming various distances by swimming in the shortest time
18. characteristic tapping of the ball on the floor before serving.
20.a powerful hit on the ball at the top of its trajectory
21.Gymnastics to rhythmic music that helps you follow the rhythm of your exercises
22. Sports team ball game
24. tallest volleyball player of the Russian national team
27. pre-learned coordinated action of team players
29. Sports game with a racket and shuttlecock that flies far and straight, gaining incredible speed
thirty.Hand wrestling.
31. The Art of Composing Dance
32. The only card game recognized by the International Olympic Committee as a sport
34. What physical qualities are most manifested in the game of volleyball?
36. variant of the attack, when the setter connects a player from the 6th zone to the attack. In this case, the attacking player beats, pushing off from behind the 3-meter line.
39. A sport in which either two players compete ("singles") or two teams of two players ("doubles")
40. This martial art came to Japan from the island of Okinawa at the end of the 19th century
42. One Period in Baseball
43. A small vessel with a motor as a power plant, the races on which were not included in the program of the Olympic Games Open a crossword puzzle in MS Word, OpenOffice Writer (*.rtf) 90,000 Athletics at the 1904 St. Louis Olympics
Athletics competitions were held at different times from July to August. Medals were awarded in 25 disciplines, two more than before. For the first time a decathlon competition was held. The athletes also competed for the first time in the team running 4 miles, triathlon and throwing weight at 56 lbs (25 kg), but these competitions were soon canceled.Most of the medals (68 out of 74) were won by US athletes, missing out on only two types of medals in each category.
Finish of the final 60m race
The sprint program did not differ from previous Games, and seven races were held in it. Archie Khan and Harry Hillman won three races each, and Frederick Skull was the best in 110m hurdles.

Archie Khan
In middle and long distance running, the list of competitions has changed slightly.The distance in the team race increased to five miles, and there was only one obstacle race, and at a distance of 2590 m Jim Lightbody became a three-time champion and silver medalist in these disciplines.

Jim Lightbody
In the jumping disciplines, everything went unchanged, and seven sets of awards were played. Mayer Prinstein defended his triple jump title and also won the long jump competition. Rei Yuri again became a three-time champion of the Games in three standing jumps.

Rei Yuri during the high jump
One additional competition was held in throwing – throwing weight of 56 pounds. It was won by Canadian Etienne DeMarto . In hammer throw, his title was defended by John Flanagan , and in shot put and discus throw, their first titles were received by Ralph Rose and Martin Sheridan , respectively.

John Flanagan during hammer throw competition
All-around events were first held at the Olympic Games, and included two disciplines – decathlon and triathlon.Decathlon at the Games was somewhat different from the modern one – instead of a disc, they threw a hammer, instead of a spear, a weight of 56 pounds, and instead of running 400 m walked 880 m.The winner was the British Tom Keely , and the Americans Adam Gunn and Thruxton Hare took the second and third positions. Eventing included the long jump, shot put and 100 yards. 118 athletes competed in it at once. The champion was Max Emmerich , the silver medalist John Graieb , and the bronze medalist William Merz .

British Olympic Gold Medalist in St. Louis Decathlon – Tom Keely
The marathon champion was Thomas Hicks , although he finished second after Frederick Lorza , the latter was disqualified, as he covered part of the distance by car.
The distance of the marathon race passed along dusty roads, crossed hills and plains. Lorz , who was in the leading group, suddenly stopped twelve kilometers after the start: severe cramps brought his legs together.Some fan who followed the athletes in a car took Lorza to him.

1904 Games Marathon
Soon they overtook all competitors, and eight kilometers before the stadium Lorz said that he felt better and asked the driver to drop him out of the car. He traveled these eight kilometers on foot, but nevertheless reached the stadium, where he was greeted with a standing ovation from two thousand spectators. The orchestra played the US national anthem.President's daughter Alice Roosevelt handed him a gold medal and was photographed for memory with the "champion".
This comedy lasted until the American Thomas Hicks appeared on the track of the stadium, stumbling and staggering. An official observer followed him into the stadium, who accused Lorza of driving a car for part of the distance. This caused a storm of indignation in the stands. And while the real champion Hicks was lying on the ground, unconscious, the false champion was disqualified for life.Later, however, he managed to beg forgiveness, was reinstated in the US amateur athletics union and the next year won the national marathon championship in Boston, this time without outside help.

Thomas Hicks reaches the finish line
But the real champion – was he better than the false one? One can doubt this after reading the notes of his coach Charles Luc :
"Seven miles before the finish line, Hicks fainted.